If you love beach decor, you're going to want to make this starfish craft! It's simple, easy and gorgeous. Learn how to make your own in just minutes.
Beach decor is one of my favorite types of decor! I can't get to the beach as often as I would prefer. That's I love anything that reminds me of the sun, sand, and surf when I can't be there in person.
Today's DIY starfish craft makes super easy beach wall art that looks like you spent way more time on it than you actually did! Grab a few supplies and make your own version today.
Note: If you love the beach as much as I do, in addition to this craft, be sure to check out more of my beach-themed crafts, including Beach in a Bottle Keepsake, Beach Themed Wall Art, Driftwood Wall Art: Beach Home Decor, and Easy DIY Monogram Sea Glass Art.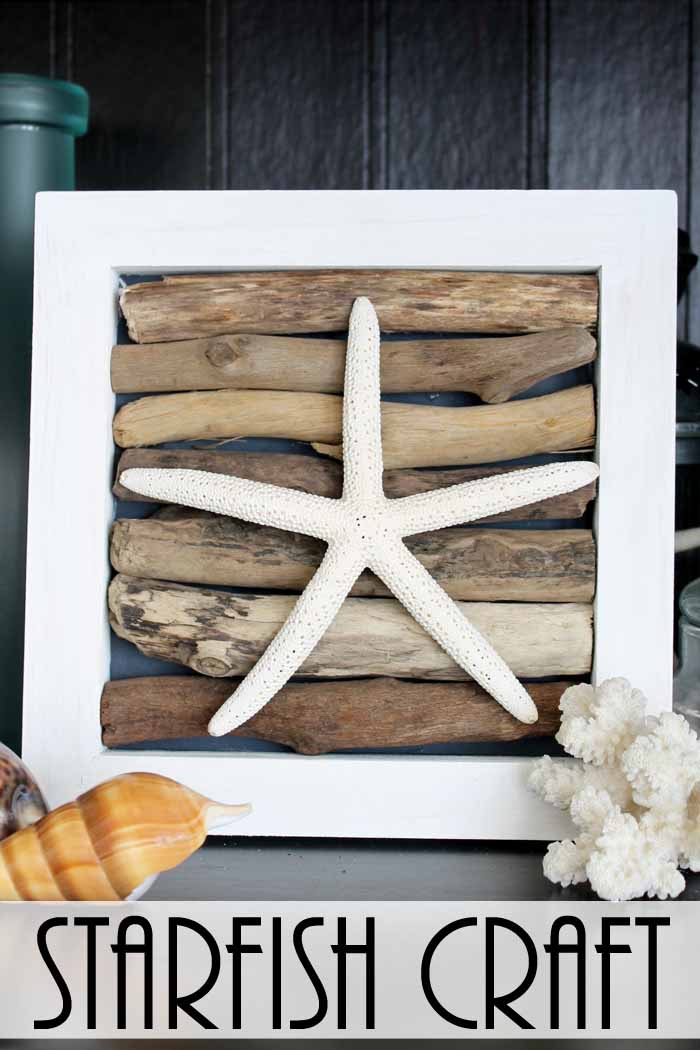 Starfish Craft Supplies Needed
If you are headed to the beach this summer, it's the perfect time to comb the beach for driftwood to make this project extra special.
No beach trip this summer? No problem! I have a way for you to make it below by ordering what you need online.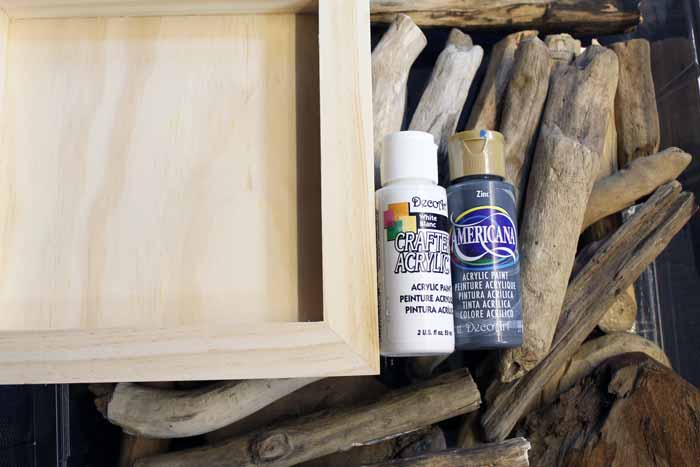 How To Make This Fun Starfish Craft
Prepare to be amazed! I love the simplicity of this craft – it's deceptively simple and yet looks incredible. It gives the perfect beach vibe that every beach fan needs. Just follow these simple steps and your own art piece will be ready quickly.
Step 1
Start by painting the wood panel. I used a dark grey on the very back and white for the sides as shown below. Remember that most of this will be covered by the driftwood so I was not too concerned about my paint lines. Allow that to dry completely.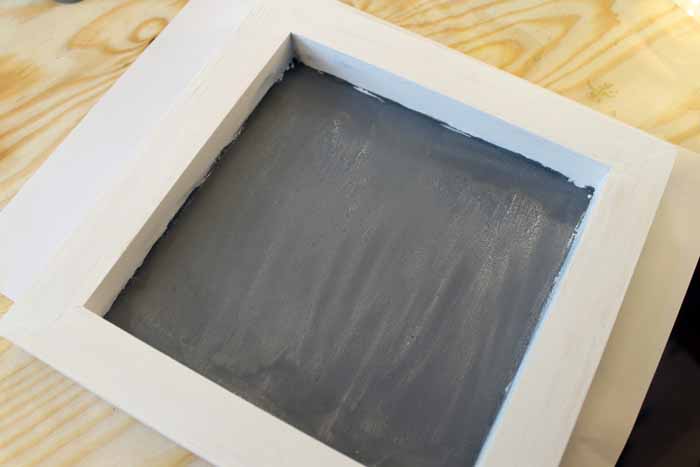 Step 2
Use a saw to cut the drift wood to the same size as your recessed opening. I personally love my Rockwell Bladerunner for projects like this one!
I recommend approaching this part of the project like a puzzle. Fit the pieces together until you like the look. Don't forget that the gray paint on the back of your recessed frame will be all that shows through any gaps. Because of that, you don't need to worry too much about filling in all the gaps.
I happen to think that seeing a little of the gray background adds to the overall effect of the wall art.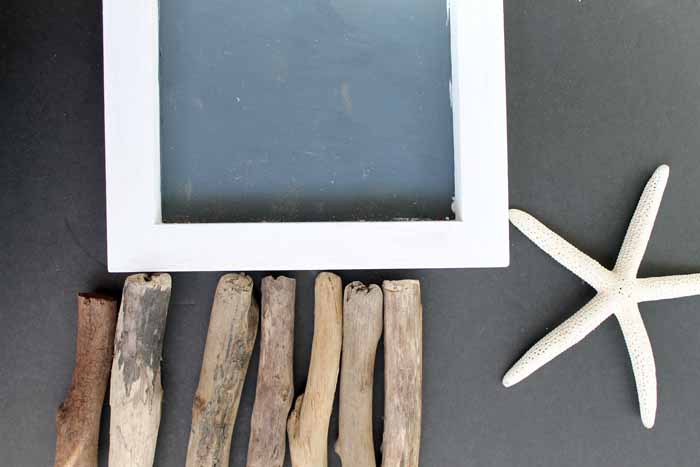 Step 3
Use hot glue to secure the pieces of driftwood to the inside of your wood panel. Then, use hot glue to add the starfish to the front of the driftwood portion of the project. Allow the hot glue to dry completely.
Your starfish craft is complete and ready for hanging! I just love how it turned out.
Where will you add this beach wall art in your home? Display it on your mantle or shelf…hang it on your wall. It'll look stunning anywhere.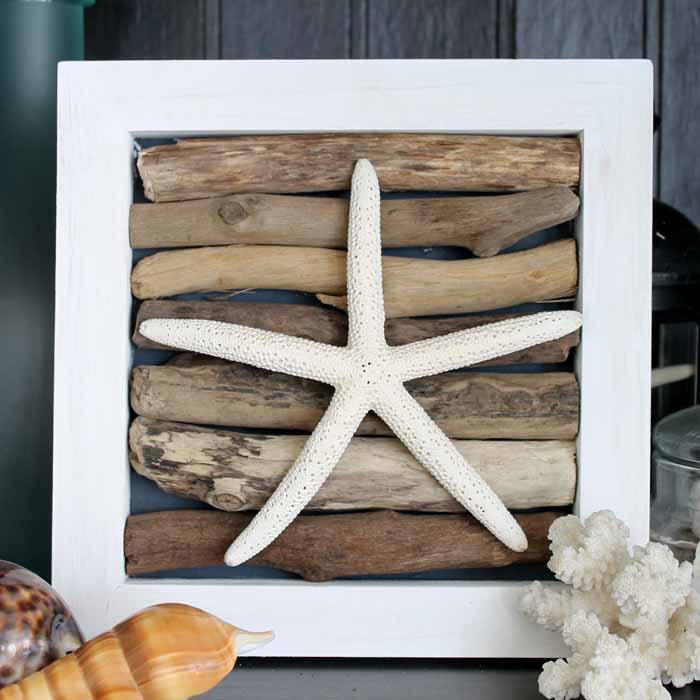 You will love the look of this fun starfish craft but even more than that, you'll love just how easy it is to make. You will have your own beach decor in just minutes!
More Beach-Themed Projects You'll Love
Love this and looking for more ideas? Try the links below!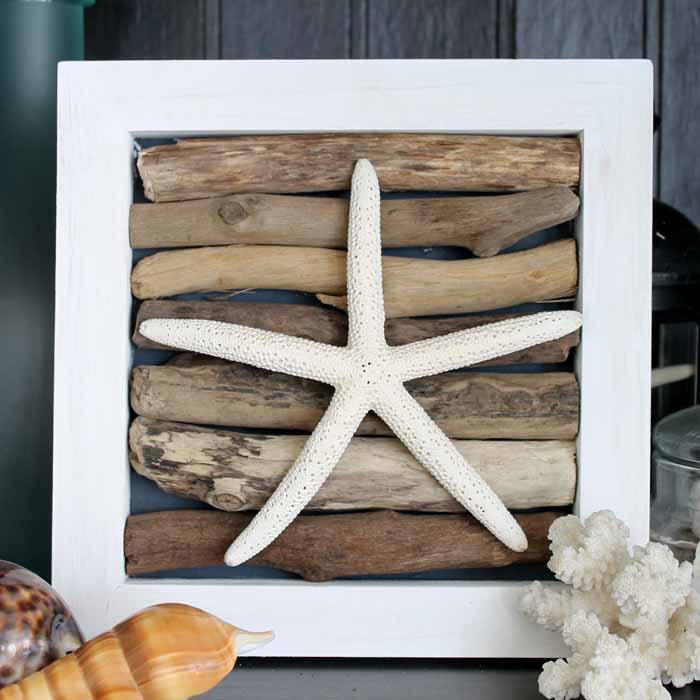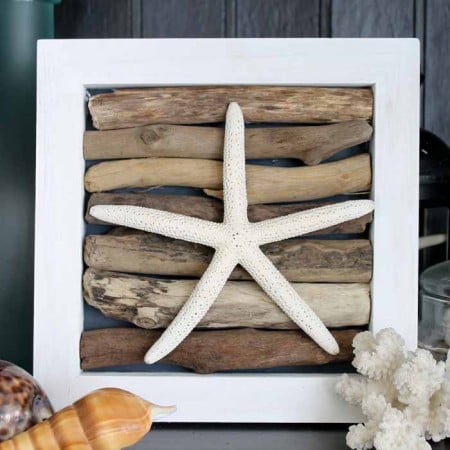 Simple Starfish Craft
Make this beautiful beath-themed wall art with a star fish and driftwood. It's easier than it looks!
Supplies
Hot glue and a glue gun

Saw

Craft paint

white and dark gray
Instructions
Paint the recessed wood frame. Paint the sides white and the back dark gray.

Cut your drift wood with your saw to the width of your recessed frame. It's ok to allow a few small gaps because what will show is the gray background.

Hot glue the driftwood pieces to the frame. Then hot glue the star fish to the driftwood. Allow to dry.
Tried this project?
tag us to show off your work!