I have seen variations of the sublimation tie dye method all over social media. I wanted to put my spin on the trend and show you how to give this shirt design a try for yourself. I am actually using both a sublimation printer and Infusible Ink in this post. So, no matter what you have, you can try some no mess tie dye at home for yourself!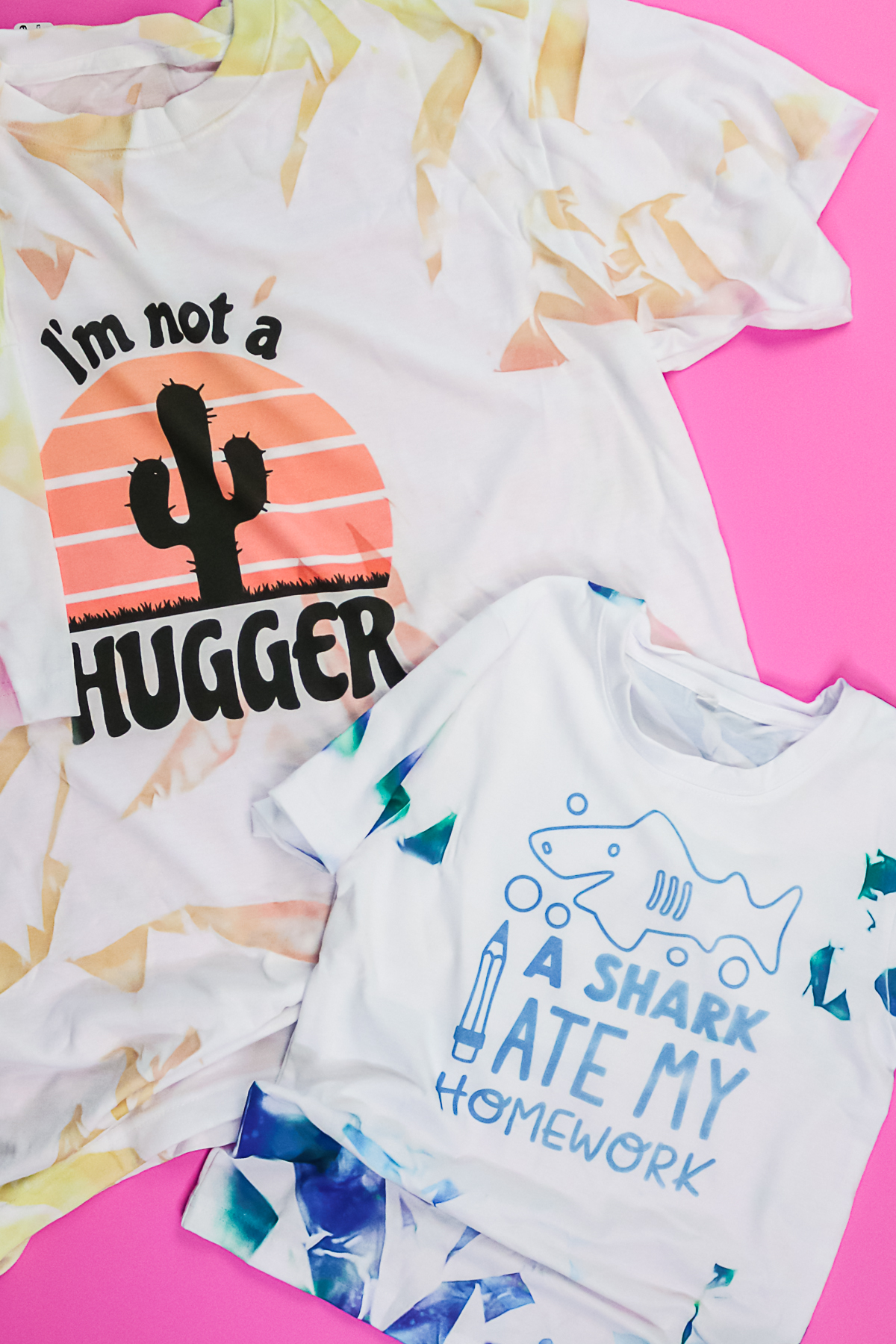 Sublimation Tie Dye
You can actually watch me make the sublimation version of the shirt below. I am also explaining the process for Infusible Ink. So, just click play below to watch!
Can't watch the video or missed some of the steps? I am also walking you through the process below!
Supplies needed:
Epson EcoTank Printer – I have the ET-4700 and here it is on Amazon and or you can find it at Target.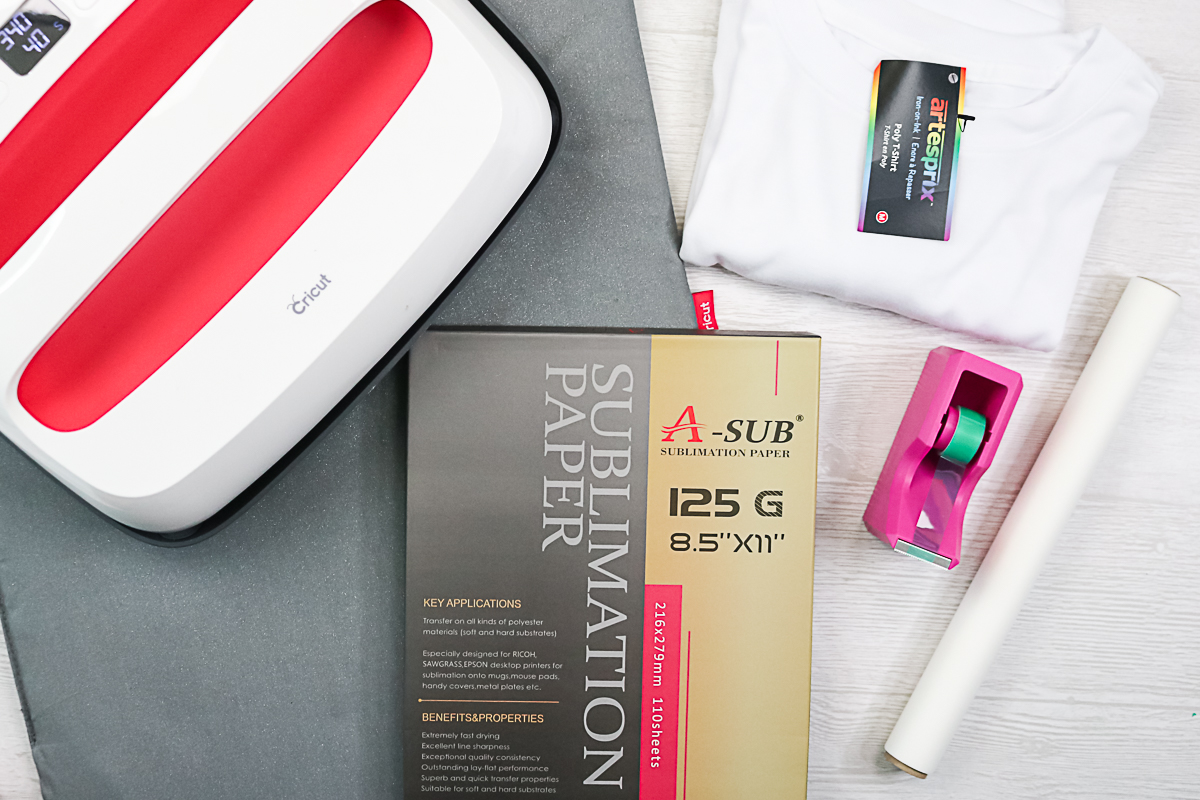 Designs Used for Shirt
Shark design is in Cricut Design Space
No Mess Tie Dye with Sublimation
Now that you have your supplies, it is time to get that tie dye look with virtually no mess. I do realize this is not traditional tie dye and it may not be for you. However, the method gives a really unique look and is something fun to make with your sublimation printer or even Infusible Ink.
Types of Prints That Work Well
First, you will need to choose your printers. I recommend one print that is an all-over pattern. This will be for the tie dye portion. I am using this pink to yellow watercolor design and I printed four sheets. Two for the front and two for the back. Then, if you want a design on the front, you will need to print that as well. I am going to add the cactus design to the front of my shirt.
Be sure to cut away all of the white edges on your pattern pieces as we will be taping them together and you don't want the harsh lines that the white area will give you. I also tore the edges of the cactus design and I will talk a bit about why I did that below.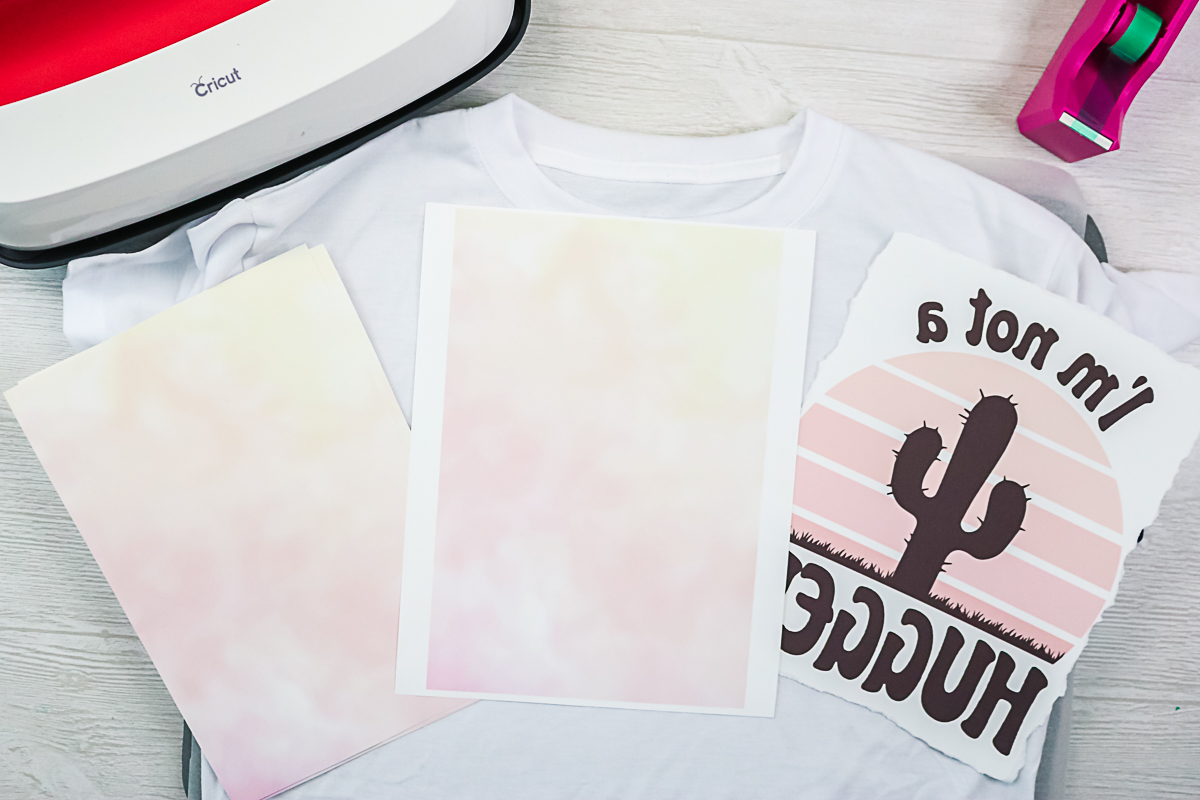 Folding Your Shirt
Traditional tie dye usually uses a folding method and even rubber bands. You DO NOT want to use anything that melts in this case. The first thing I like to do is protect the area that will have my design on the front. Gather up an area that is large enough for your design and secure that in the back with some heat tape. This will keep it from getting any ink on it during the next steps.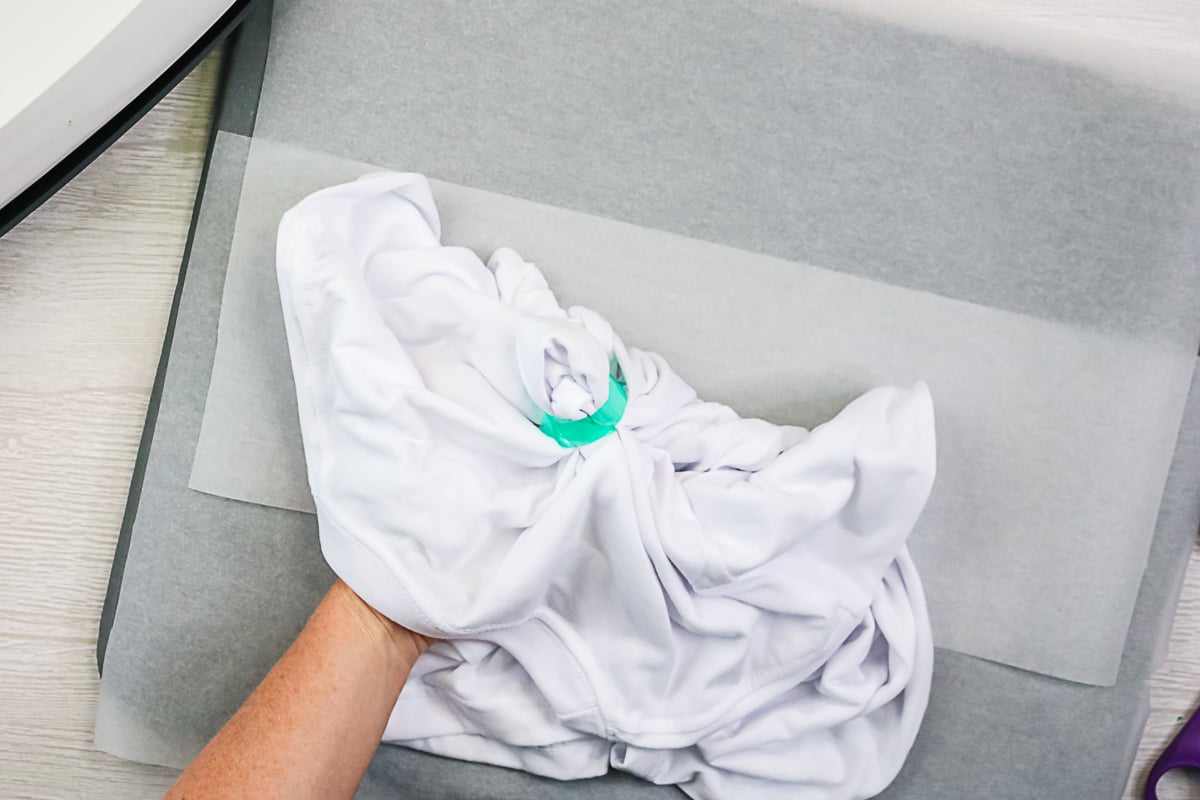 Then put that gathered area down on a mat covered with protective paper. Scrunch up the rest of your shirt so that it will fit under your sublimation prints. I like this scrunch method but you can definitely try different folds if you would like. Just remember that only what is exposed will get ink on it.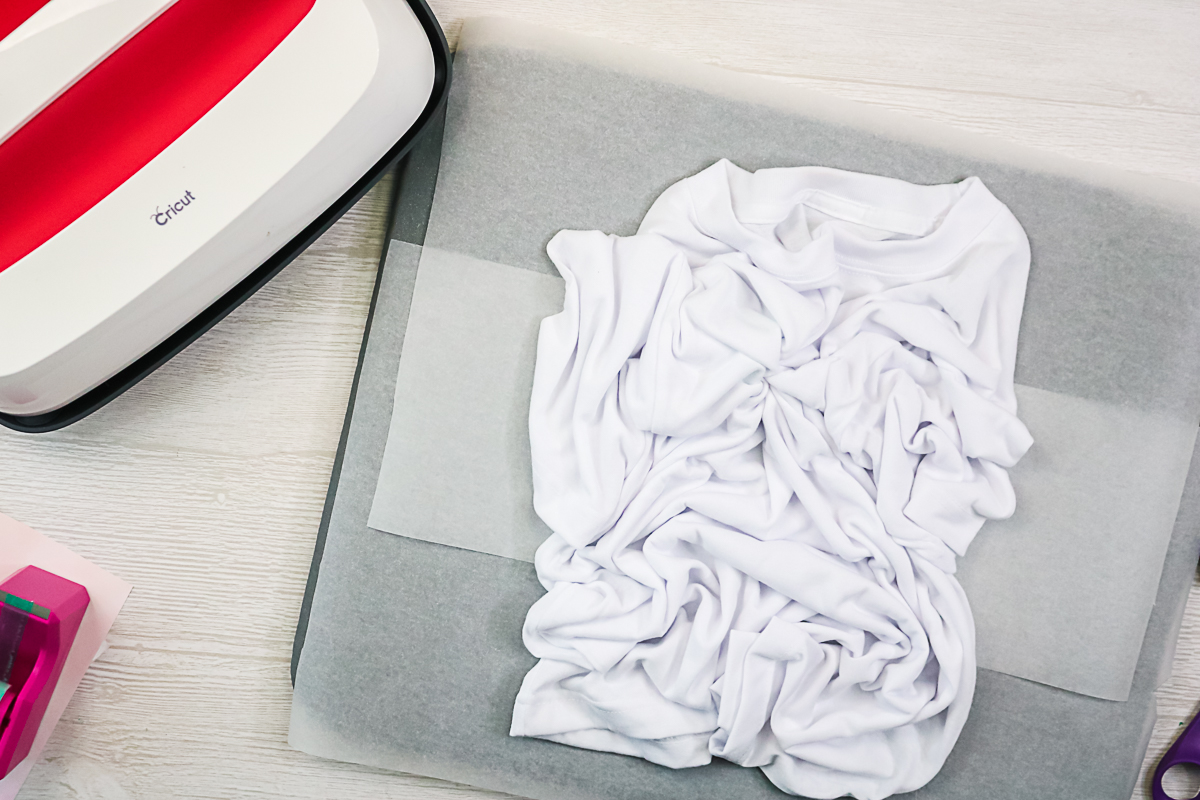 Adding Sublimation Tie Dye
Now that you have your shirt ready, it is time to add the tie dye portion. I put my two sheets together so that I liked the pattern.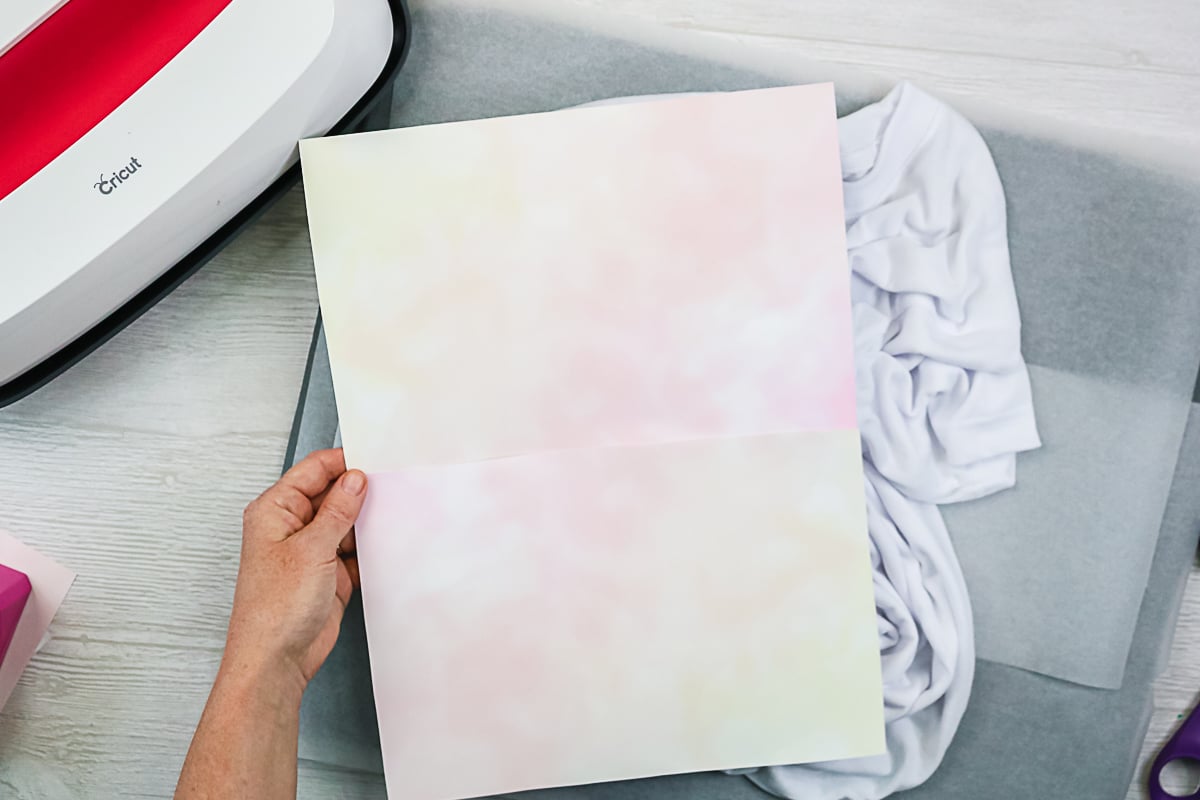 Then use some heat tape on the back to secure them.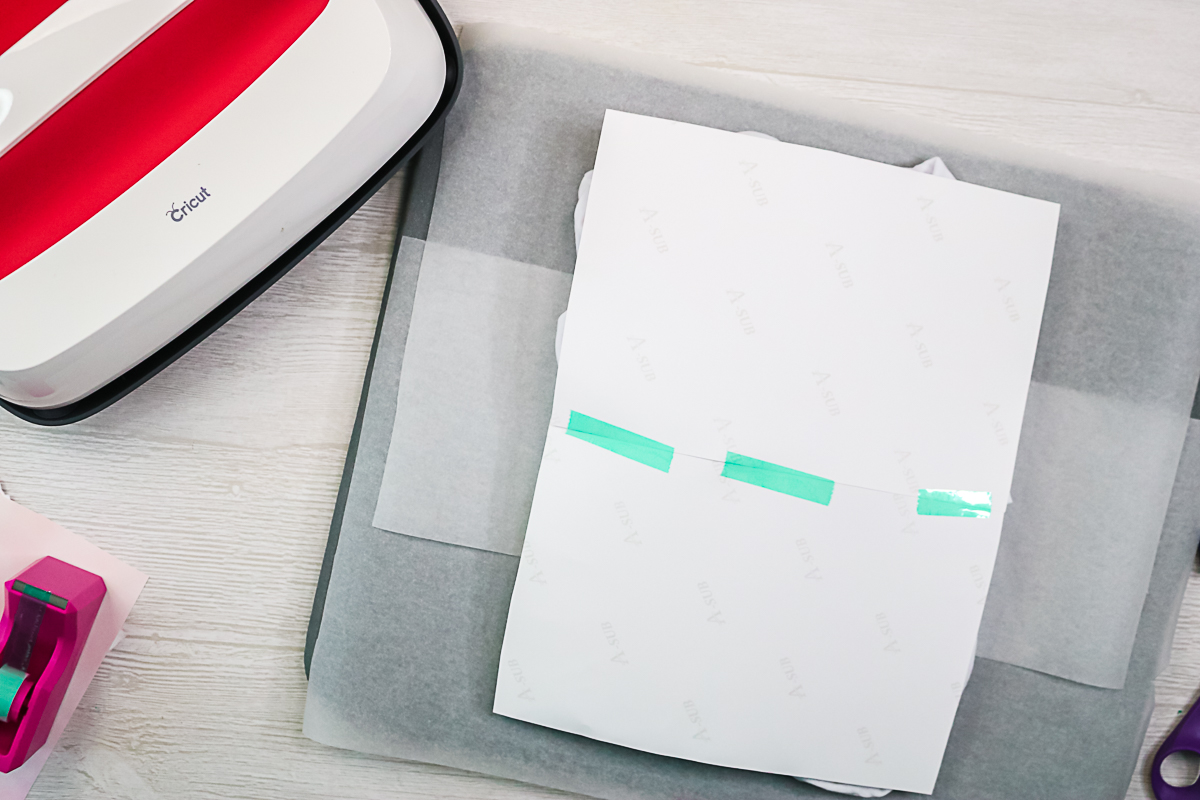 Make sure your shirt is completely under the paper and then tape the paper down in a few areas.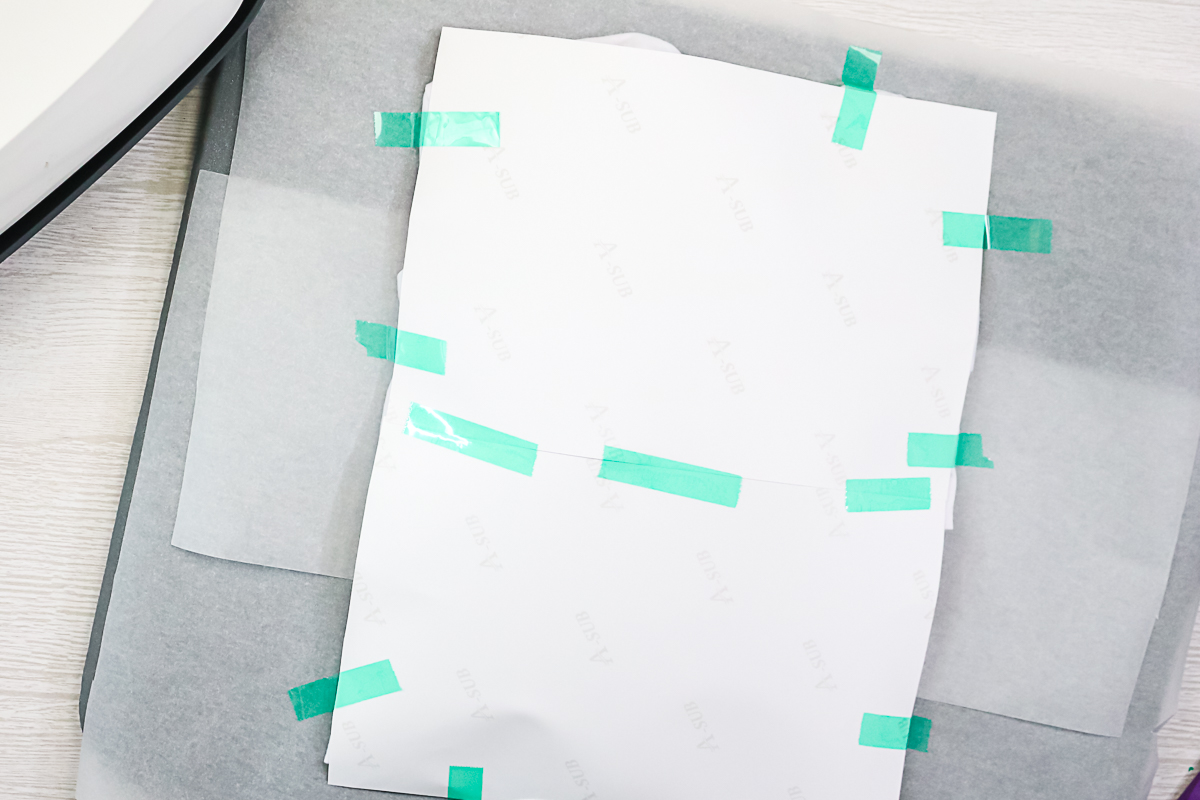 Now it is time to press! I am using my large Cricut EasyPress and was able to do this in two presses. I am using the time and temperature the is with my sublimation paper. You can use a smaller press and press a few additional times. I would say if you are using a heat press, be sure to use light pressure as you don't want to end up with press lines that won't come out.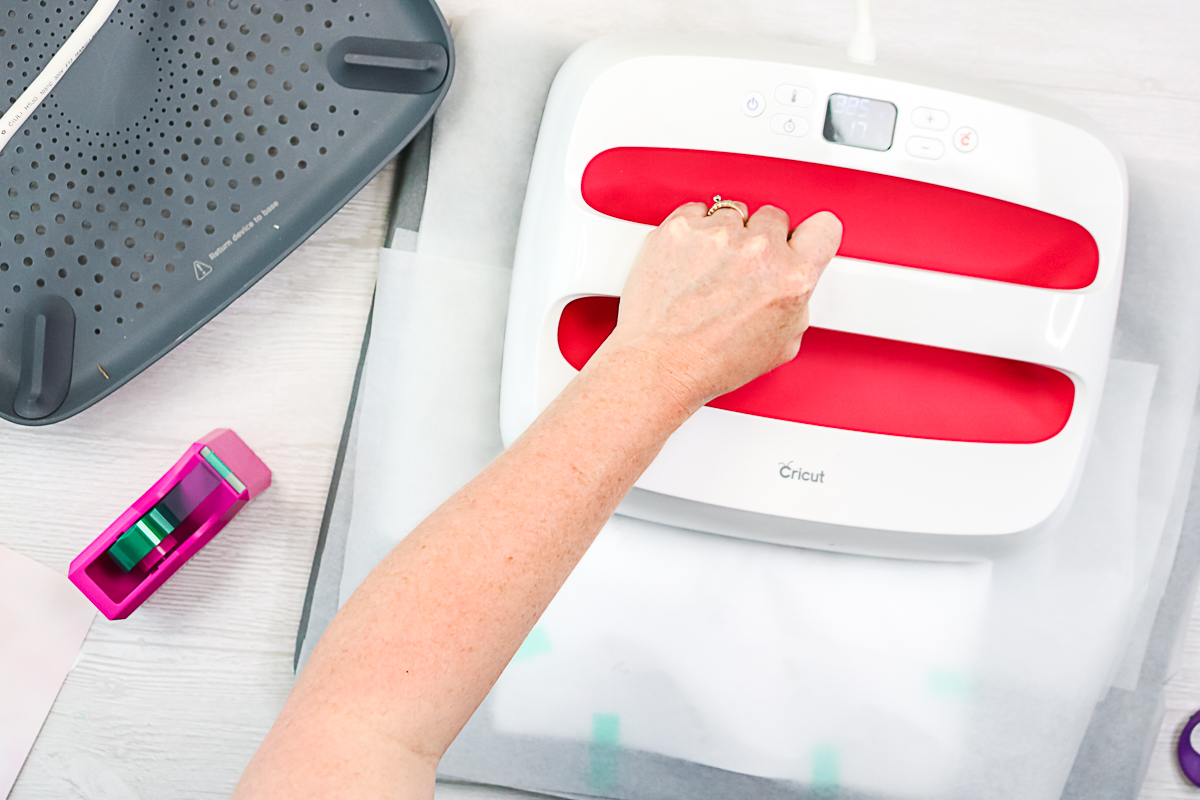 With the EasyPress, I just pressed down slightly and didn't have any issues. NOTE: I use protective paper between my sublimation print and the EasyPress. I never want to risk getting the ink on the surface of my press.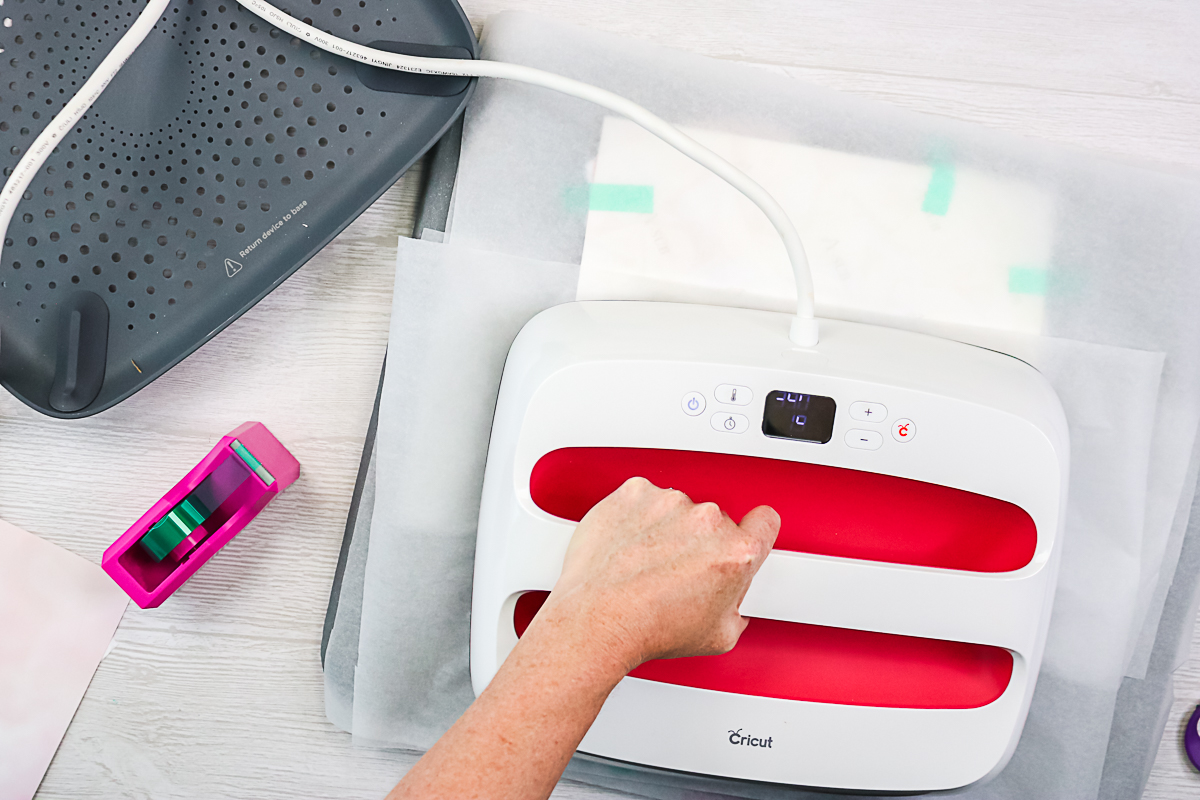 Once the pressing is complete, you can remove the paper and then spread out your shirt to see the gorgeous design! You can see the blank area on the front of my shirt just waiting for a design. But first, you will want to add the tie dye look to the back of your shirt. Repeat the steps above for the back, however, this time you will not need to leave a white area in the center.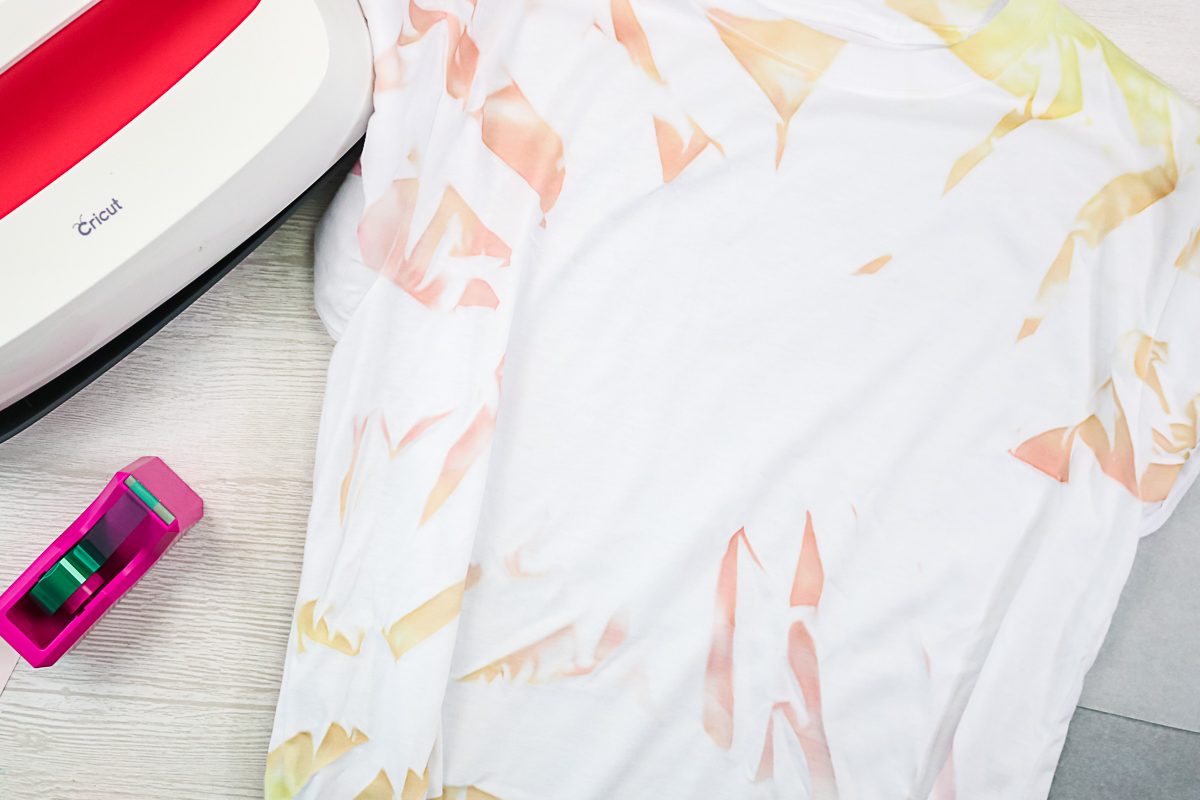 Adding a Sublimation Design to the Front
Now that you have the back complete, let's add a print to the front! I added some protective paper as well as some foam to the inside of my shirt. I then lint rolled the area and pre-pressed a bit just to make sure there wasn't any moisture left. Then put your sublimation print into place face down. You can see more about why I tore the edges of my design and used the foam in this post.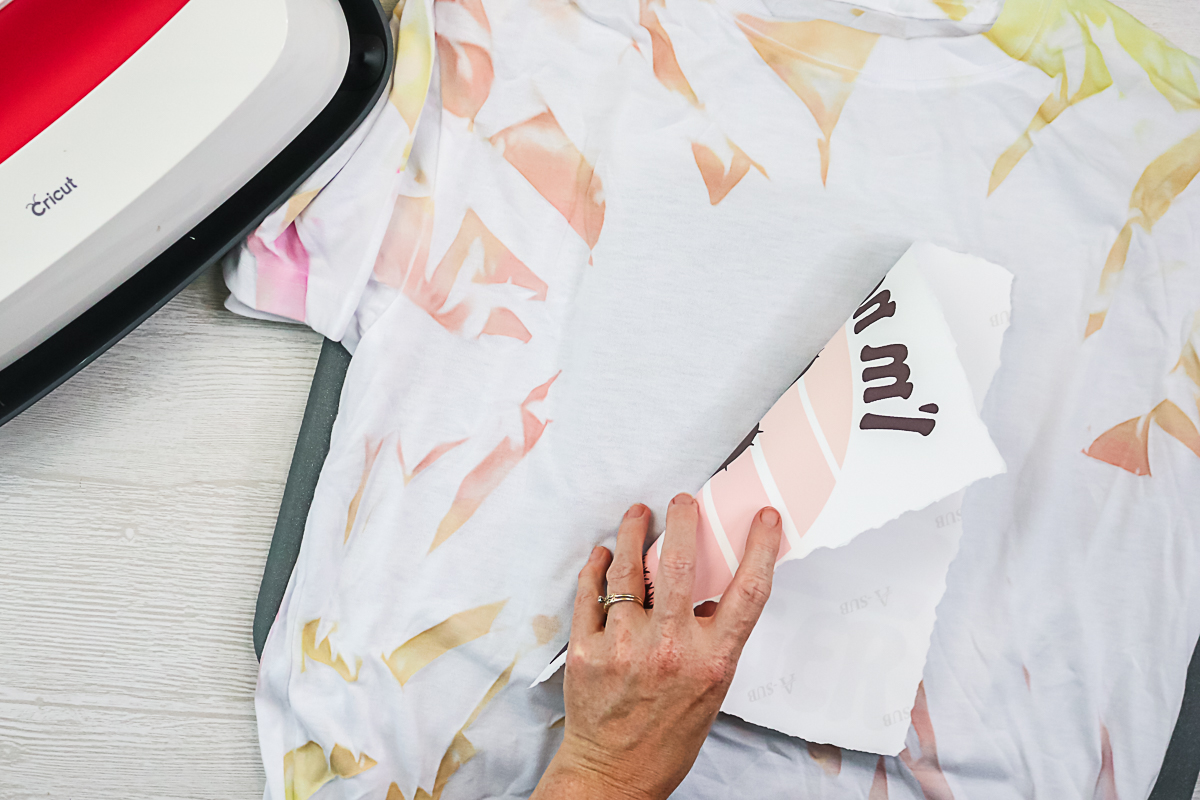 Then just tape your design into place using heat tape. Be sure to add protective paper over the top before you press!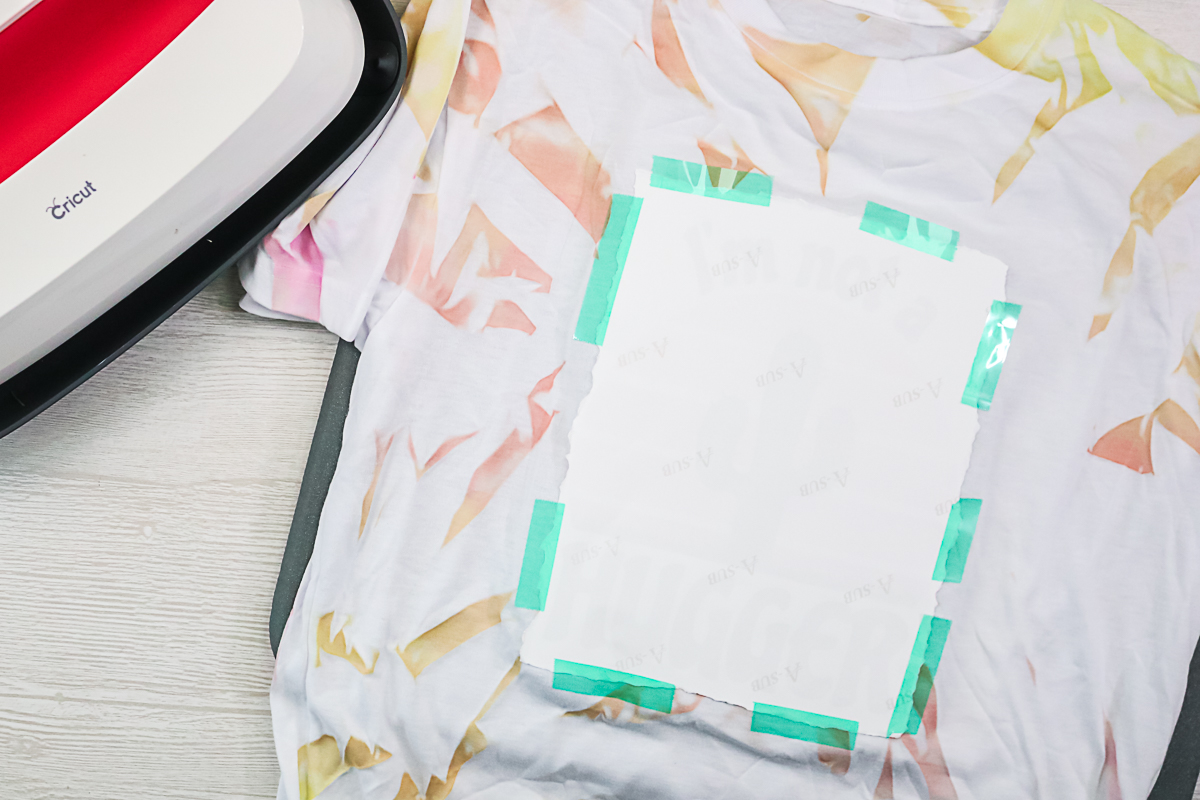 Once again, I used the time and temperature that was with my sublimation paper for this one. Just press then peel back to reveal that gorgeous design. I love how this one turned out!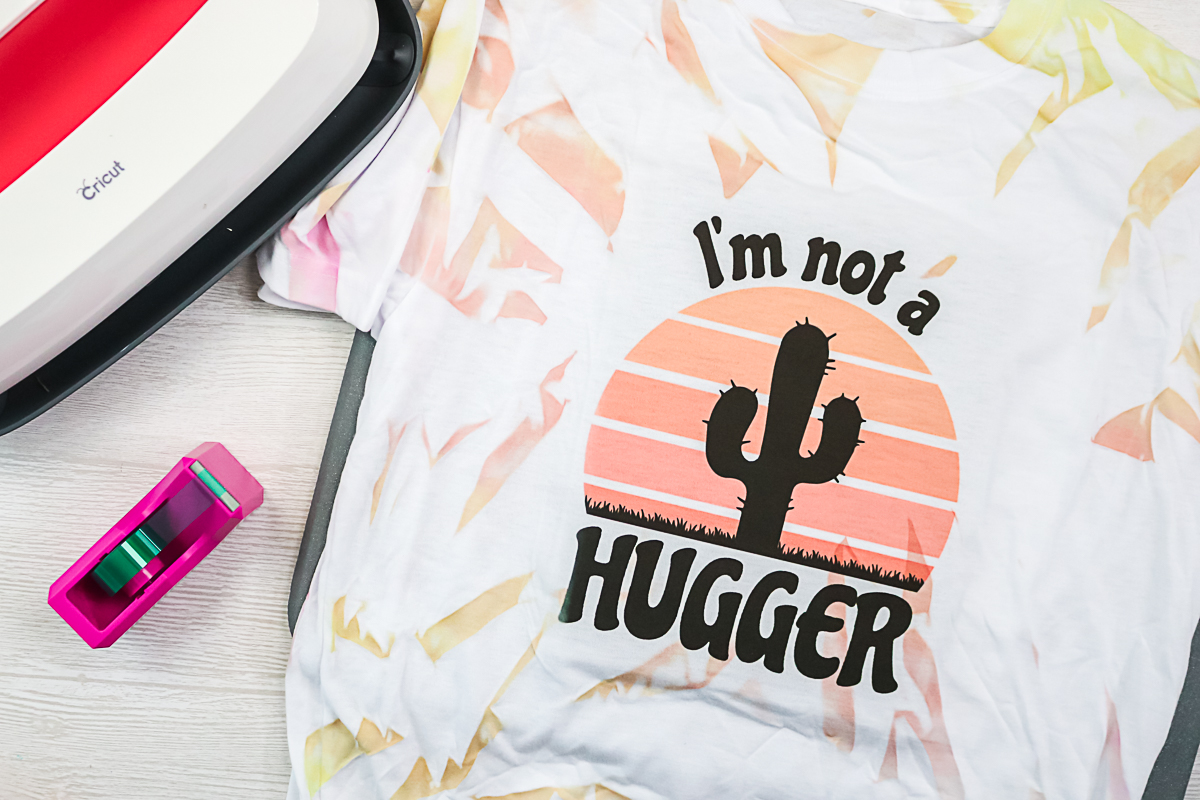 Infusible Ink Tie Dye
What if you don't have a sublimation printer? Well, you can get the SAME look with Infusible Ink. In this case, I use a patterned sheet of Infusible Ink for the tie dye portion then cut Infusible Ink for the front design.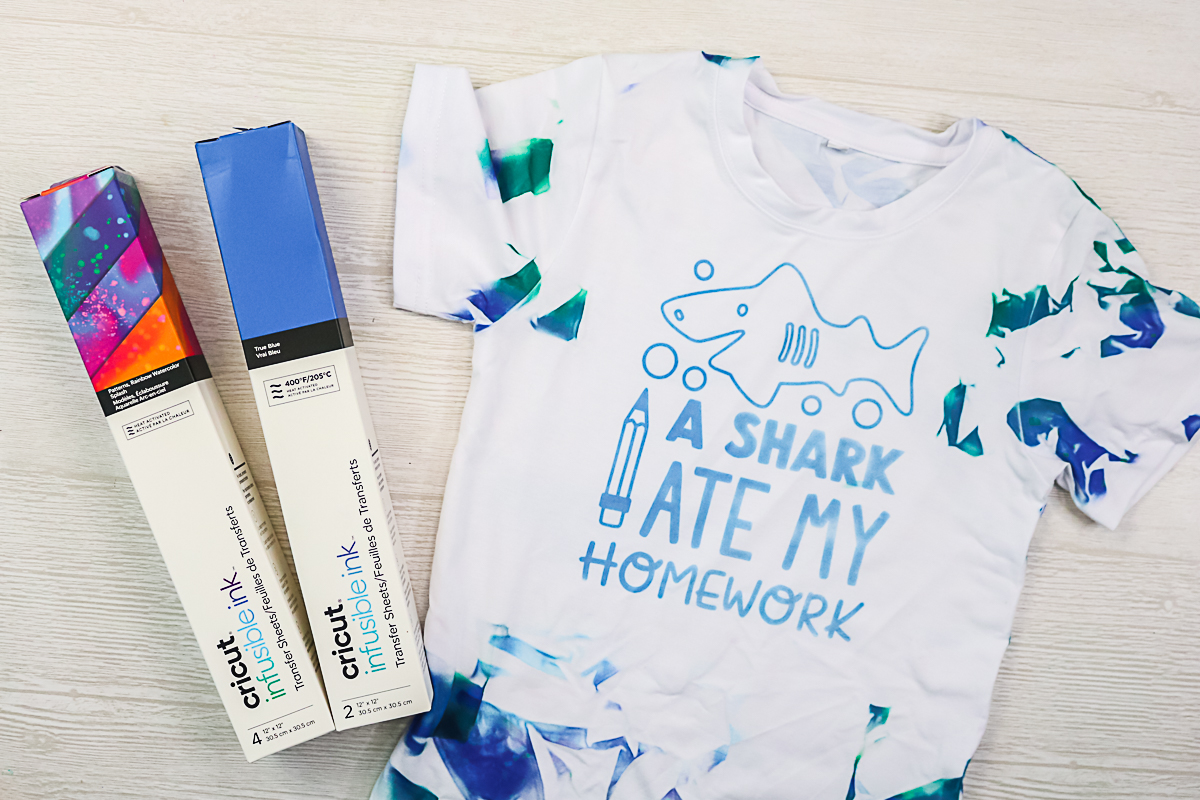 You can actually watch me make this shirt in the video below. For this one, I didn't use the heat tape to secure the area I wanted to mask on the front. I do wish I would have as the method I am showing you above for sublimation is much easier.
FAQ
I know that you may have some questions about this process and you can feel free to ask those in the comments section. However, here are a few common questions I get.
Why mask the front area?
When putting a sublimation design over any color, the bottom layer will show through the top. That means that your "tie dye" layer will show through your design and may or may not ruin the look. I choose to mask as much as possible if I am putting a design on the front. You can definitely experiment with not doing that.
Do I have to use a polyester shirt?
Yes, you do. Sublimation and Infusible Ink need polyester content to work. I recommend at least 70% polyester for the best results.
Can I use HTV on the front after the sublimation tie dye?
Definitely! Do the tie dye first then add your HTV like normal. Please note that you will still need to add protective paper when pressing the HTV. The ink from the tie dye can reactivate and get on your press.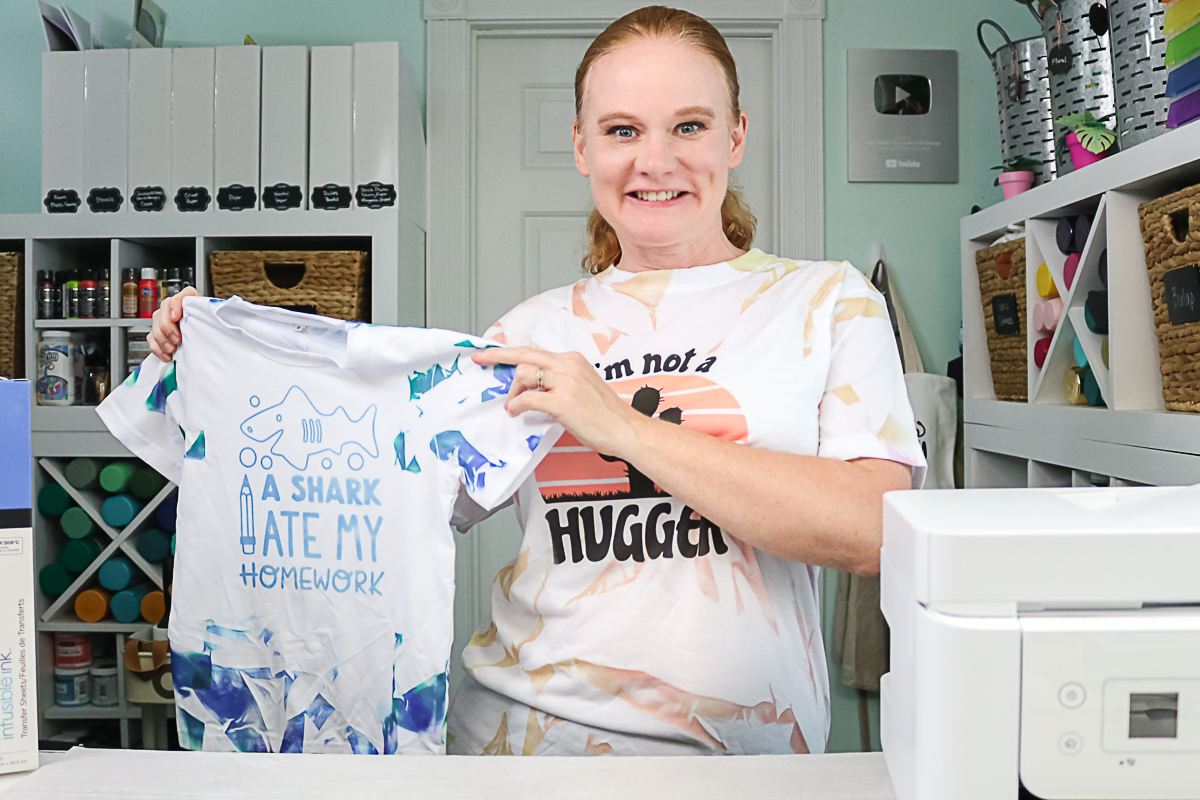 So, are you ready to give sublimation tie dye a try? I must say that I love this method for making cute shirts in minutes that are super unique as well!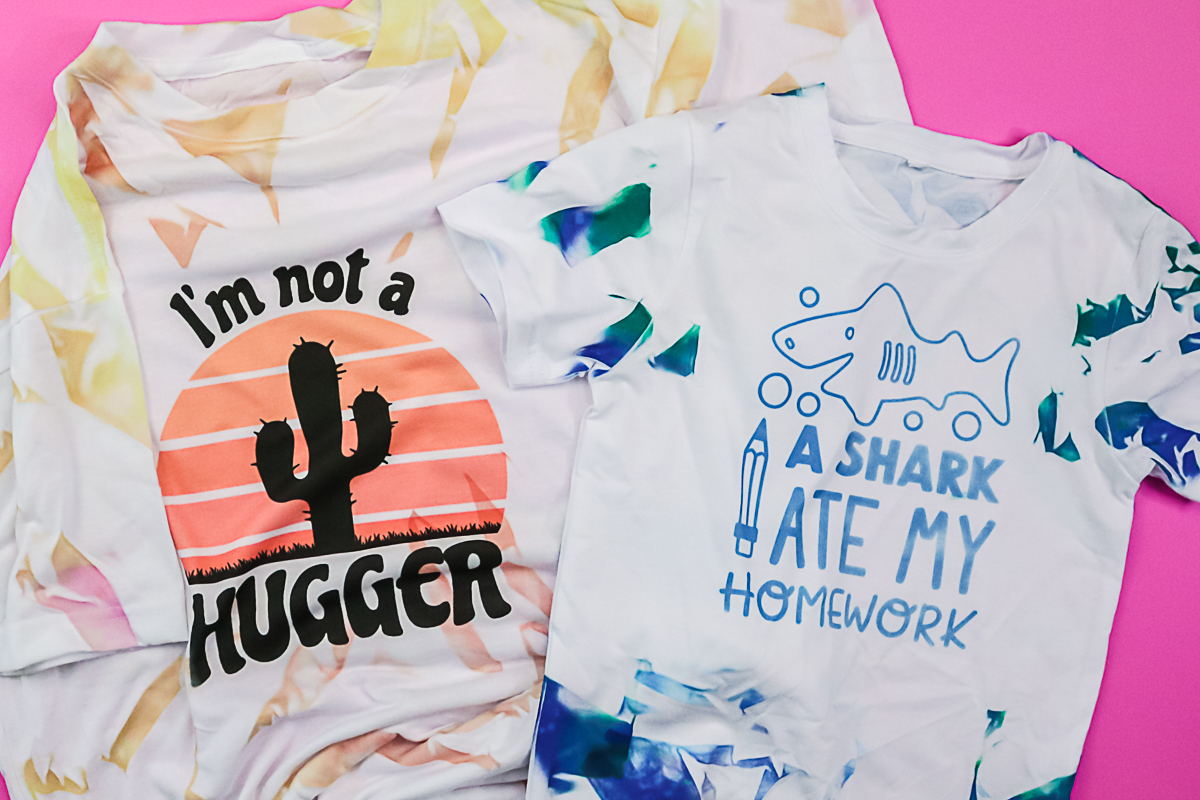 Whether you use sublimation or Infusible Ink, I know you are going to love how your shirts turn out. Definitely give this a try just once as I think you will really love it.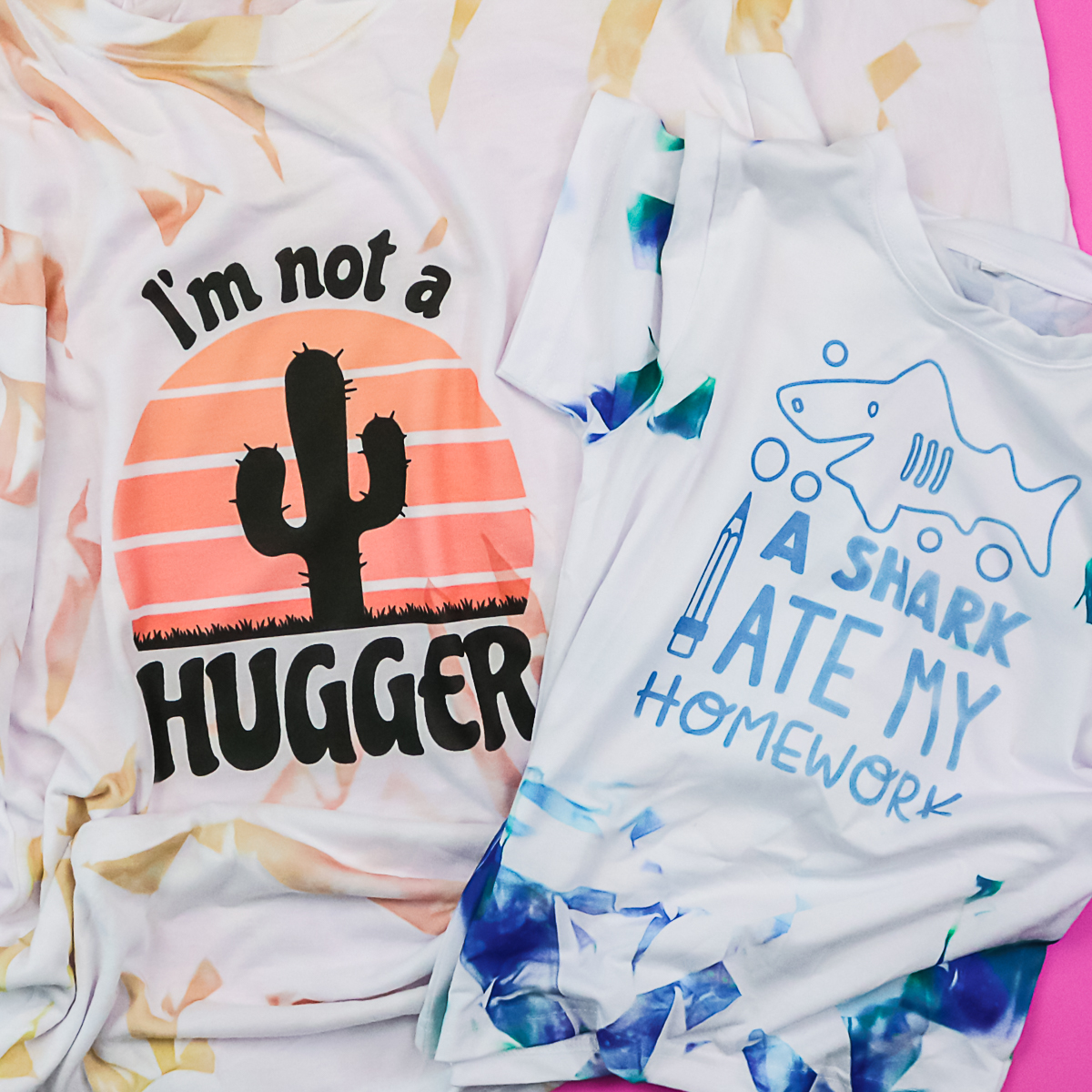 This is also a great way to get an all-over design on a large shirt with a printer that only does smaller prints! So, is sublimation tie dye something you are going to try?