With so many options available, it might be hard to choose just one Cricut Easy Press to purchase. I'm comparing four popular models to help you pick the best Cricut Easy Press for your projects.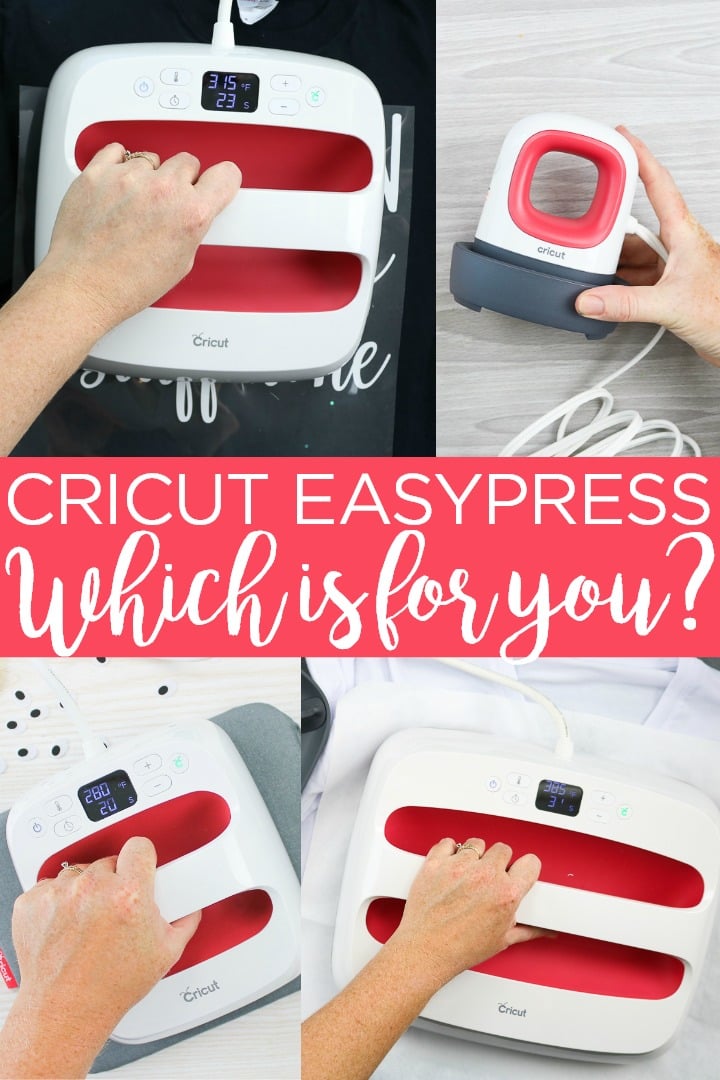 With the family of Cricut Easy Press now containing four different machines, it may be challenging to figure out which one is the best for your needs.
We're tackling the Cricut Easy Press family by covering their pros and cons and comparing them to each other to help you determine which one you should buy (or as for as a gift!).
From the Easy Press Mini to the original and everything in between, which should you add to your crafting arsenal? Read on to find out!
Video Comparing Cricut Easy Press Models
I put everything you need to know about each Cricut Easy Press model in an easy-to-follow video. You can watch that below.
If you're wondering how the Easy Press compares to other ways to add heat transfer vinyl to surfaces such as an iron or traditional heat press, I've got those answers for you too! You can see my comparison with an iron here and with a traditional heat press here.
Can't watch the video or want even more information? Keep reading – I spell it all out for you!
Cricut Easy Press Comparison
First, let's compare the different versions of the Cricut EasyPress for features and benefits.
As you read through the information on these models, keep in mind that all of these sizes can be used with heat transfer vinyl, Infusible Ink, and sublimation.
In addition, if control layouts are important to you, you should know that every size except the mini has the same controls for time and temperature.
In the box, you will find the Easy Press itself a base to put it on when you use it so the heat doesn't damage your work surface.
This is the original size of the Easy Press and still my favorite. I think you'll see why after you read the pros and cons of this size.
Pros
Perfect size for a most crafts.
Can use on larger heat transfer vinyl projects by pressing multiple times.
Not too heavy.
Easy size to store.
Cons
Larger Infusible Ink or sublimation projects may not be possible.
Pressing twice or three times for XL (or larger) shirts can be annoying.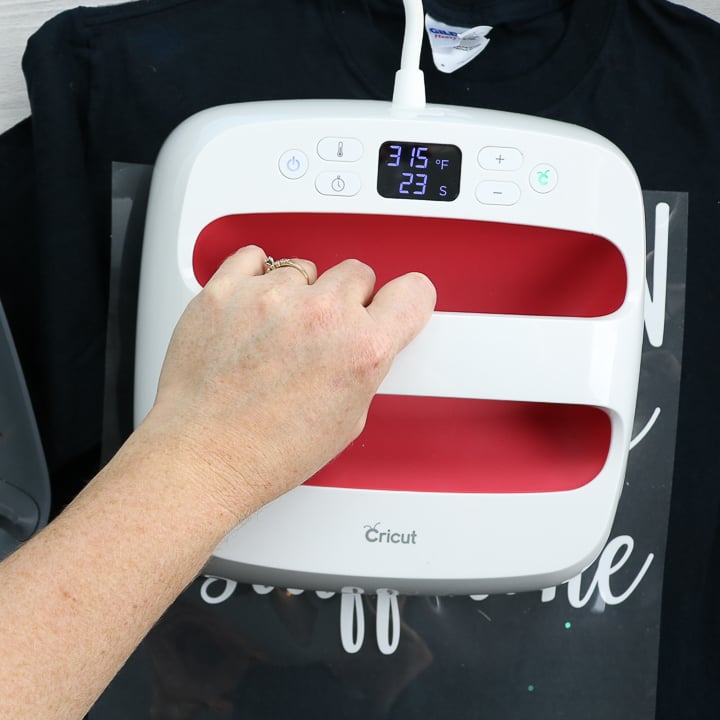 Just like with the original size, the 6×7 press comes with a base to protect your workspace.
While the 9×9 above is my favorite, I reach for the 6×7 model all of the time too. It's very lightweight and perfect for working on small projects. Let's breakdown the pros and cons of this model.
Pros
Super small size is great for small workspaces.
Size is perfect for things like onesies and other projects that are small.
If you need a lightweight Easy Press, this is going to be the best option.
Cons
Large projects can be cumbersome because you need to do multiple presses.
Limited size on Infusible Ink and sublimation projects.
This is the largest of the EasyPress family and it also comes with the press and a base.
This model really is HUGE which is perfect for those that do a ton of large projects. Keep reading for all of the pros and cons.
Pros
Makes large projects go so much faster.
Great for large sublimation or Infusible Ink projects.
Cons
Super heavy so it is not great for those with hand or wrist issues.
Large size is harder to store.
Draws a lot of power so needs its own outlet with no extension cord.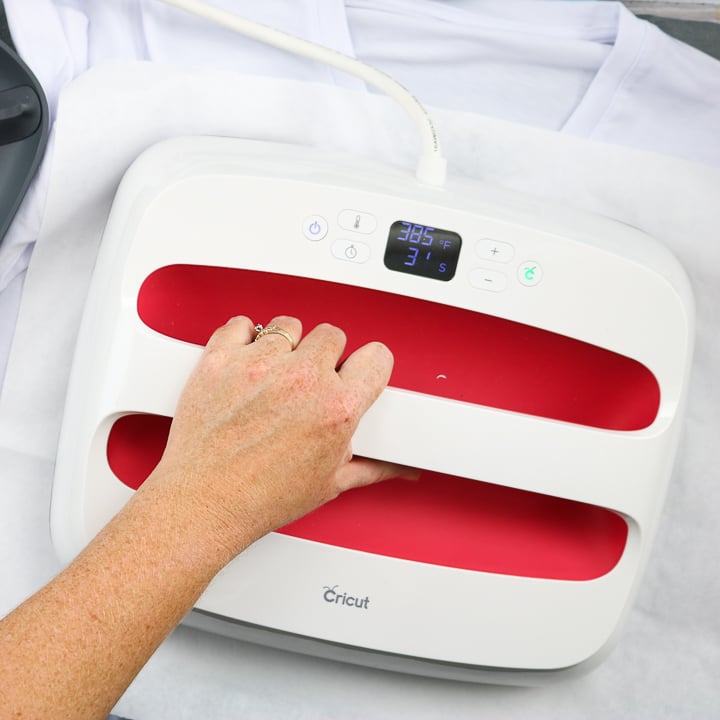 This is the newest member of the Easy Press family and you might just be surprised by the wide range of uses for this one.
Check out the pros and cons below, and you can also learn even more by seeing me use the Easy Press mini in action.
Pros
It's the only way to make all of those odd sized and shaped projects like hats, shoes, and so much more.
Infusible Ink and sublimation are compatible.
The super small size makes it easy to use and store.
It can double as a mini iron for sewing.
Stocking size for those shopping for gift ideas.
Cons
Not really practical for large projects as it would take way too long to press those.
Because of the limited use, it may not be used as often as the other Cricut Easy Press sizes.
No timer so you will need to time on your own.
Only three heat settings so you can't set a specific temperature.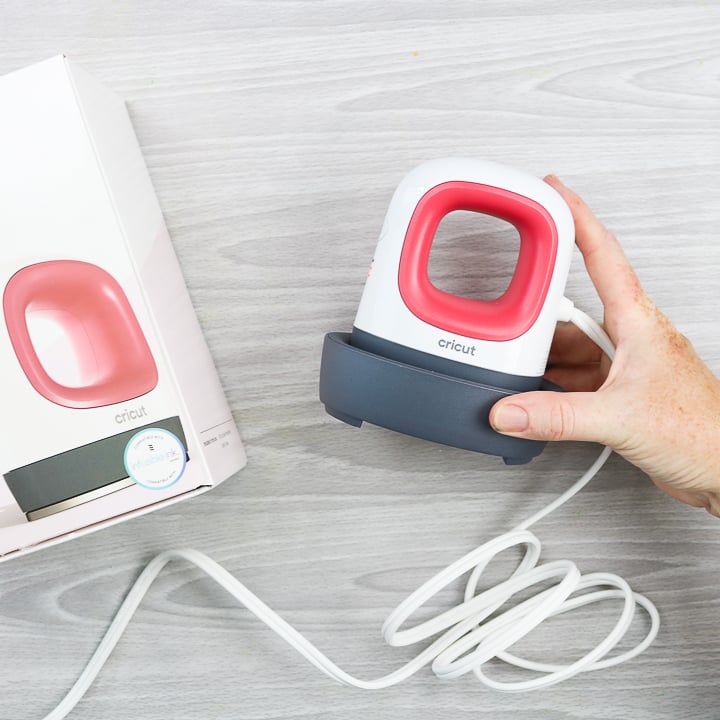 Which Cricut Easy Press is Best?
Now that you know the pros and cons of each model, which Cricut Easy Press is right for you? The answer is…it depends!
Basically, it depends on what type of crafter you are. And, if you do a large variety of crafts as I do, you may want more than one model.
Here are my recommendations for each size:
9×9 Cricut Easy Press – This is the one I generally recommend for every crafter. It is a great middle of the road size and perfect for most projects. If you are a general crafter and can only get one model, this is the one.
6×7 Cricut Easy Press – If you make a lot of small projects and already have the 9×9, you might want to consider getting this smaller size as it will make those smaller projects so much easier.
12×10 Cricut Easy Press – I only recommend this one for those that do a lot of large projects. If you do mainly XL (or larger) shirts, this is the Easy Press for you.
Easy Press Mini – This model is really meant for the crafter that loves to experiment and push the limit. If you want to add iron-on to all the things, including rounded surfaces, this one needs to be on your wishlist.
I hope this information helps you to narrow down your choices! Note that there are a ton of other scenarios that could apply here, and you might find that you don't fit into just one model.
If you find that you're still having a hard time deciding which Cricut Easy Press is right for you, drop me a comment below and I'll try to help! Be sure to include what type of crafter you are and what projects you want to make with your Easy Press so I can help you narrow down the choices.
Easy Press Accessories Worth Considering
If you have decided which Cricut Easy Press you want to add to your crafting "tool box", I do want to make one final suggestion.
Be sure to add an Easy Press mat to your wishlist. I have tried the folded up towel under my projects and it just doesn't work all that well. The Easy Press mat is 100% worth the investment.
I would recommend the 12×12 mat with any of the Easy Presses except the 12×10. For the largest EasyPress, definitely go ahead and get the larger 20×16 mat.
Where To Buy The Cricut Easy Press
Now that you know which Cricut EasyPress you want, where can you find one to buy? The great news is that you can get them just about anywhere! From craft stores to Amazon to the Cricut website, comparison shop for a better deal.
I would recommend waiting for a deal if you want to get one of these for yourself or someone else as a gift. You can get deals from time to time that will make it worth the wait. So plan ahead if you want to try to save a little money on your purchase.
If you do want to shop now, I am including some links below for you.
Projects To Make With Your EasyPress
I hope y'all enjoy your new toy (once you get it) as much as I enjoy all of mine! If you want a little inspiration for your first project, I highly recommend these ideas!
Once you figure out which Cricut EasyPress is right for you, the possibilities are endless!
New to Cricut?
Sign up for our email list to download the Beginner's Guide to Cricut Design Space for FREE today!
Sign up to get the guide emailed to you!