Have you ever wondered what the best way to clean kitchen cabinets is? Do you love all-natural cleaning ideas that are right in your cabinet? Well, the ideas in this post fit both of those criteria. Grab a sponge and a few items from your cabinets to get your kitchen cleaner than it has ever been before! You are going to love the results!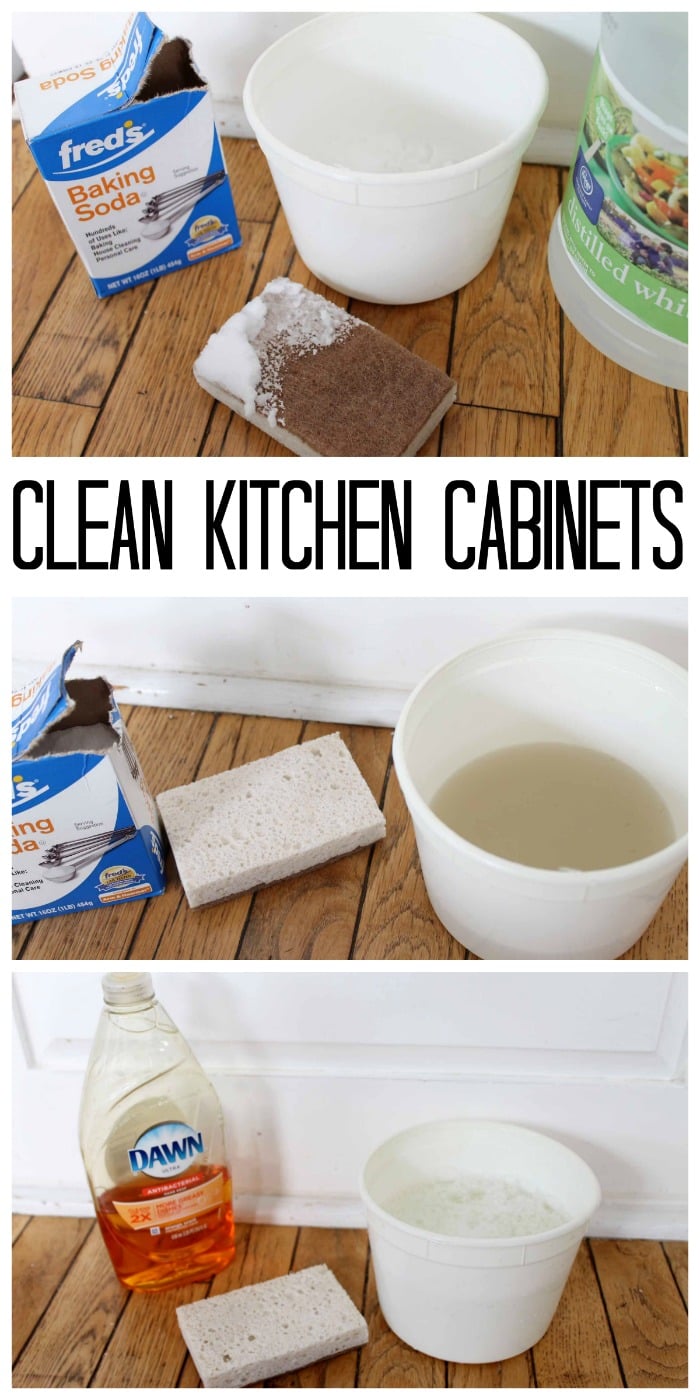 The Best Way to Clean Kitchen Cabinets
Before you get started, remember to test each method on an inconspicuous part of your cabinets to test on your surface. Not all methods are safe for all surfaces.
We are going to start from simple to more robust. So, start with the first method and work your way down this post depending on how dirty your cabinets are. By the end, you should have cabinets that are clean and gorgeous!
Natural Way to Clean Kitchen Cabinets
You can actually get most dirt and grime from your cabinets with just baking soda and water. Sprinkle a little baking soda on a damp sponge and start scrubbing. Rinse occasionally and add more baking soda as needed. You may just be amazed at what this simple cleaner can remove.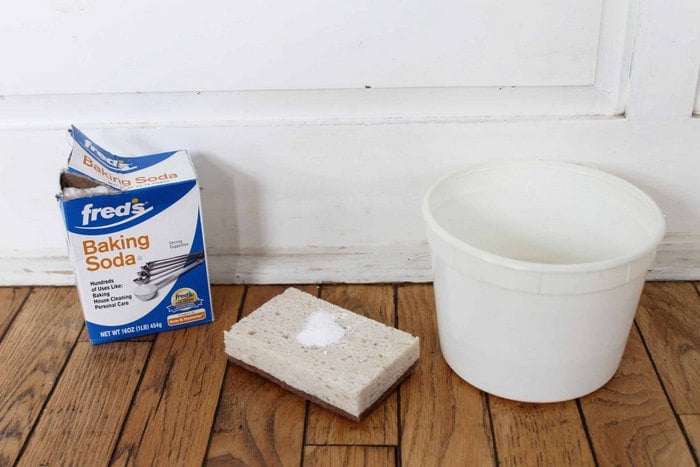 The water below was after I used this method on a few of my cabinets. There is so much cleaning power in a box of baking soda. This is definitely the place to start when cleaning kitchen cabinets. If you find the mess is too much for this method, however, you also have a few more tools you can try.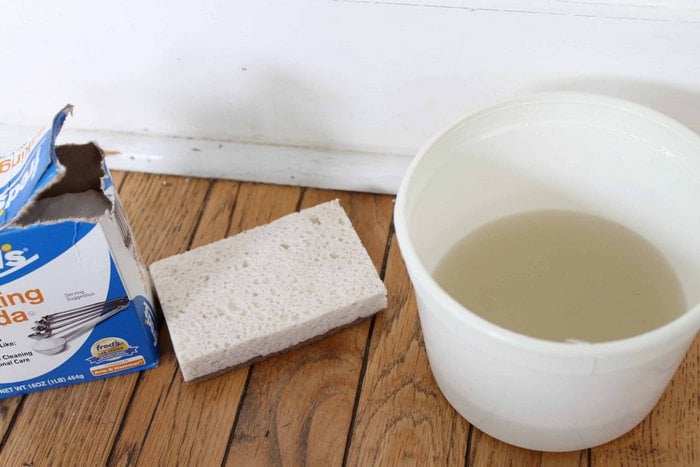 Cleaning Solution for Kitchen Cabinets
Mix baking soda and vinegar in a small bowl until it becomes a paste. Remember that when combining these two there will be a bubbling reaction. That is okay! Just mix until you get a paste-like consistency.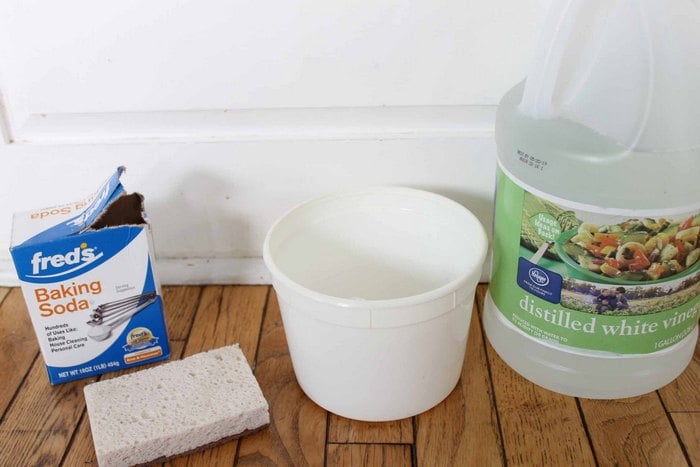 Apply that paste to your sponge and start scrubbing those cabinets. Again rinse occasionally and add more paste as needed. Remove all residue with clean water once you are happy with the appearance of your cabinets.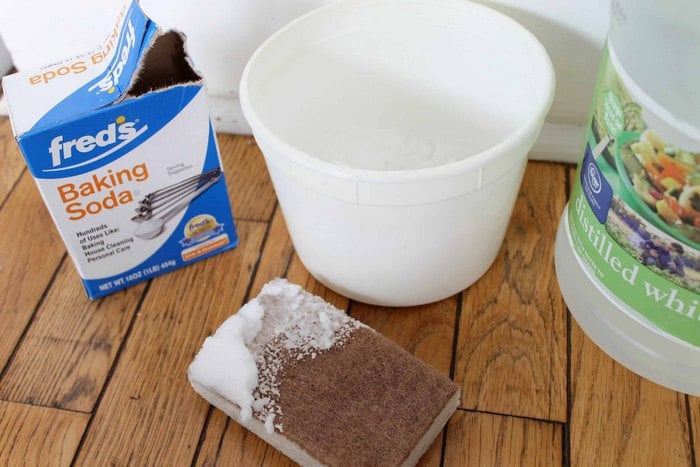 I went over the SAME cabinets as when I just used baking soda. I wanted to see just how much more dirt I could get off with this method. The water below is definitely dirty! This may very well be the best way to clean kitchen cabinets!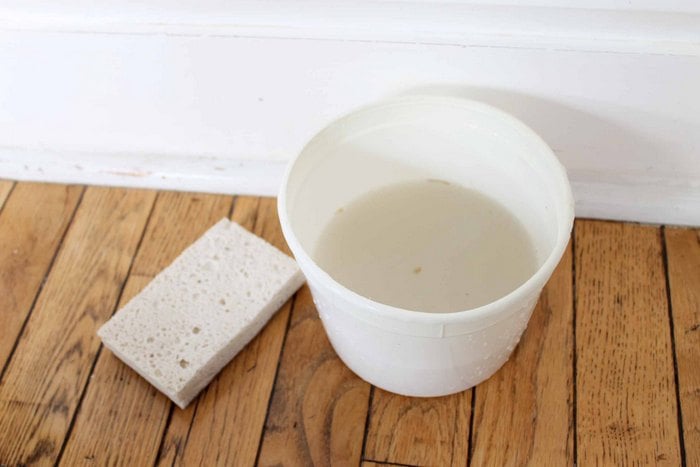 Degreaser for Kitchen Cabinets
I did, however, want to mention one more method. If you have cabinets that get a ton of grease splatter, the best cleaner is often the simplest. Dishwashing liquid is meant to cut those greasy messes on dishes and it can do the same for your cabinets. Just add about 2 tablespoons of dish liquid to 2 cups of warm water. Mix this well and wipe down those cabinets. That greasy mess will be gone in no time!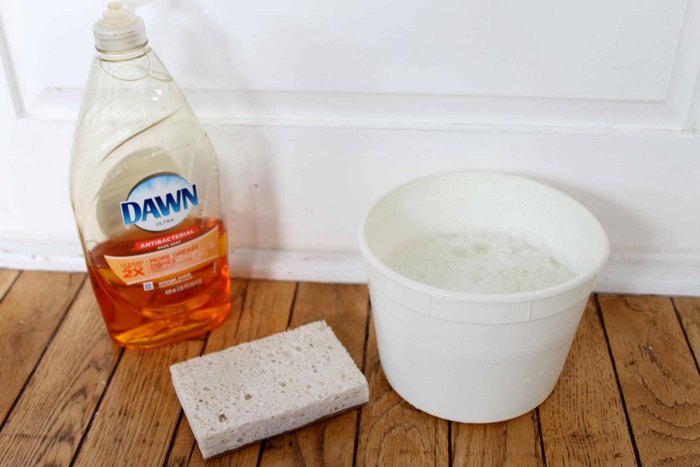 Add the Supplies to Cozi
Pick up everything you need for this during your next trip to the store! Don't want to forget? Be sure to download the free Cozi app and add the supplies and instructions to your app! Just click the button below to add everything you need to your list.
You can get the Cozi app for free in the app store and also click here to learn more about how it can help you to organize your home and family!
Do you have any other tips and tricks? What do you think of my methods for the best way to clean kitchen cabinets? Will you be trying them? Be sure to let us know in the comments below! If you are looking for a natural way to clean kitchen cabinets, these ideas might just be for you.
Found that this is the best way to clean cabinets and want more? Try the links below!
Want to see my favorite cleaning supplies and products?
I have gathered all of the products I love using around my home into one great section of my Amazon storefront. You can click here to shop! If you're looking for just about anything to clean your home, I probably have an option that you will love!