It is almost that time when your front door will really need this winter wonderland wreath. That time after Christmas and before any other major holidays when you need options for a gorgeous winter wreath. This simple pom pom wreath is easy to make and it is perfect for welcoming guests. Want other options? Be sure to check out all of our wreath projects for even more ideas.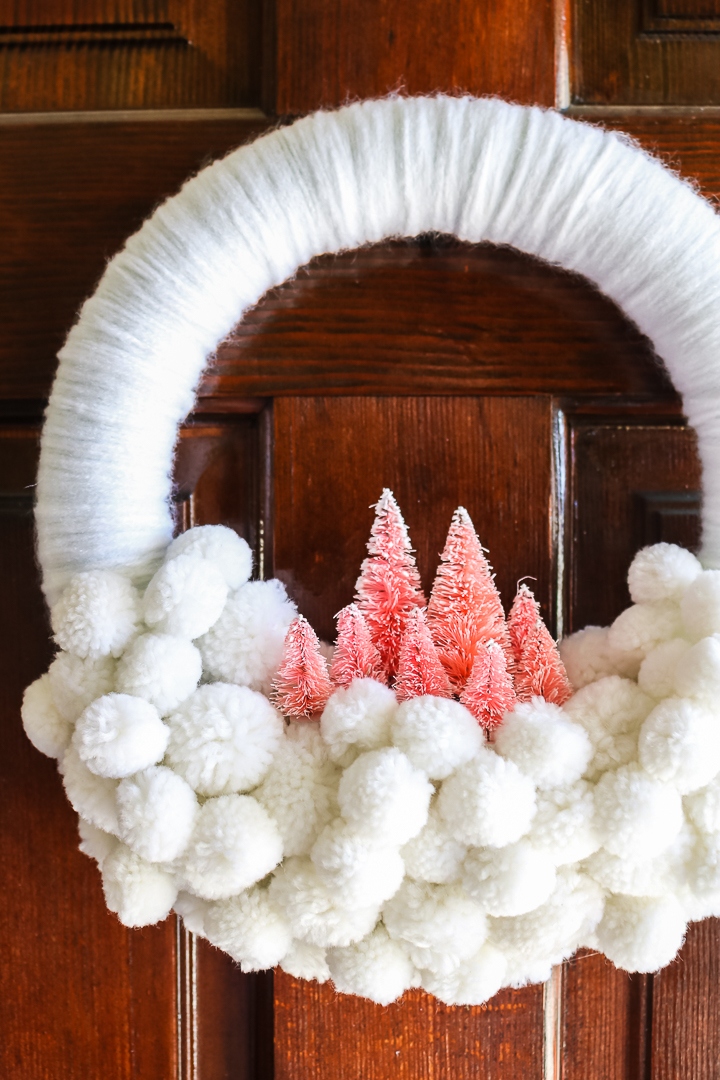 Winter Wonderland Wreath
Grab your wreath form and add on some winter white then accent it with colorful bottle brush trees. Here I am using pink but you can pick from a wide array of colors to change up this wreath to fit your style.
Supplies needed:
NOTE: If you have trouble finding those yarn pom poms that are already made, you can use this tutorial to make your own.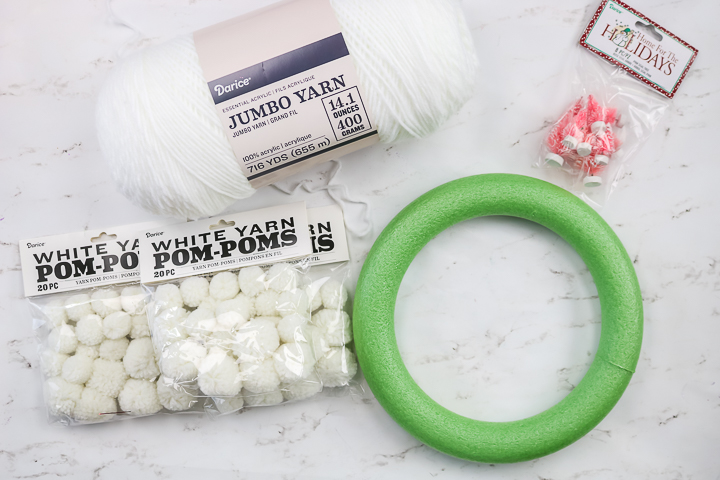 How to Make a Winter Pom Pom Wreath
Now that you have your supplies, sit down and start wrapping that wreath form in yarn. You will love how great this winter wonderland wreath looks on your door all season long. In fact, you can hang this one up before Christmas and use it all the way until spring.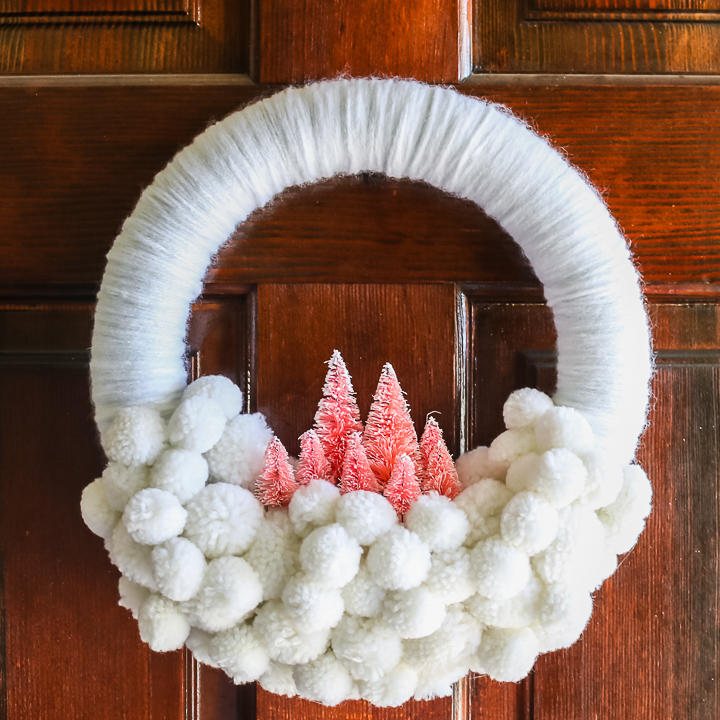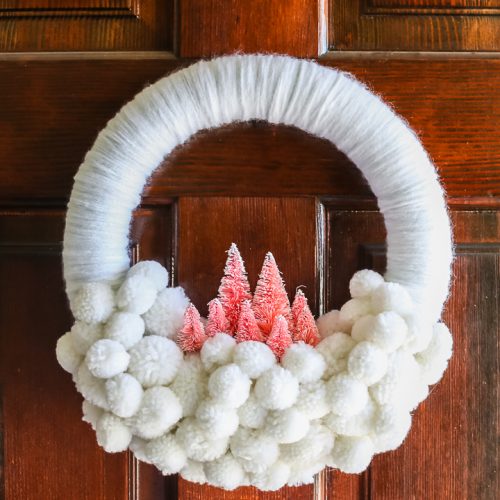 DIY Winter Wonderland Wreath
Make this DIY winter wreath in just a few minutes with these easy instructions.
Instructions
Wrap the wreath form with yarn. Get the yarn as close together as possible so the wreath form does not show through. Alternately, you could use a white wreath form to make this a bit easier.

Trim the end of your yarn and secure it in place with hot glue once the wreath is completely covered.

Start adding on pom poms with hot glue. You will need several pom poms to get the same look on your wreath. You can definitely make these from yarn if you would like instead of buying the ones that are pre-made.

Once you have your pom poms in place, add in bottle brush trees of all sizes with hot glue. You can add as many or as few as you would like. Then hang this one on your front door.
Tried this project?
tag us to show off your work!
I love how simple this yarn wreath is to make and what a big impact it has on my home's decor. Change this one up to match your home's decor this season. You can definitely add this one above a mantel as well as on a door.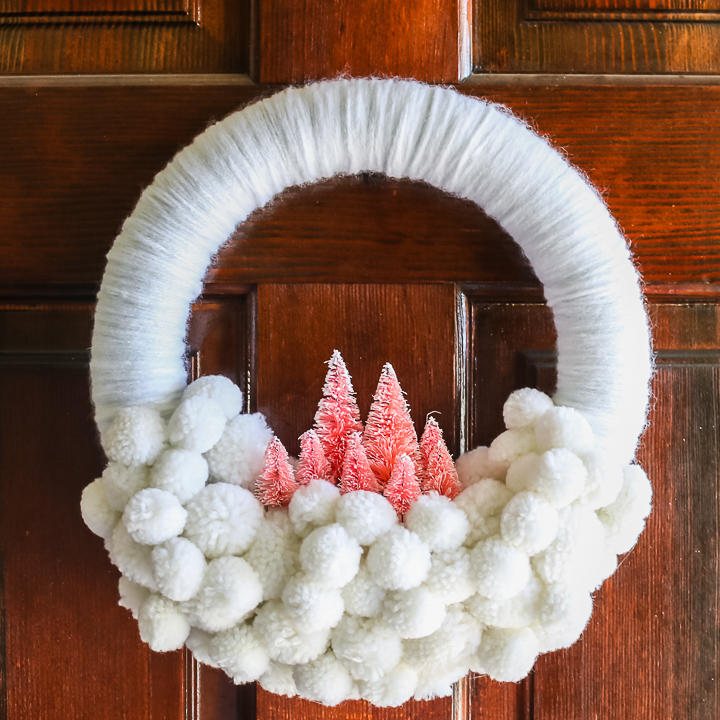 Add green trees for a more traditional look or add in a rainbow for a fun twist that would be perfect for a kids' room. Really there are so many ways to change up this project and make it all your own. You can also pick up enough supplies to make several of these and give them as gifts.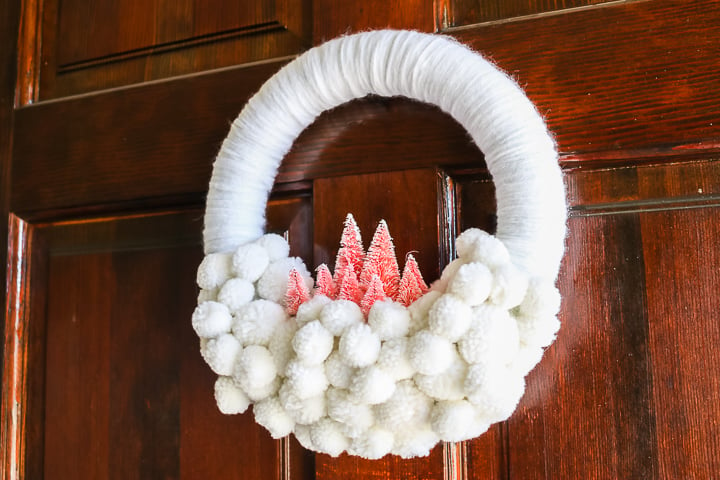 A winter wonderland wreath may be just what you need this season. Brighten up your door and your home with a slightly colorful touch of white. If you need me, I will be obsessing over all the bottlebrush trees. I love them so much and want to use them on ALL the projects!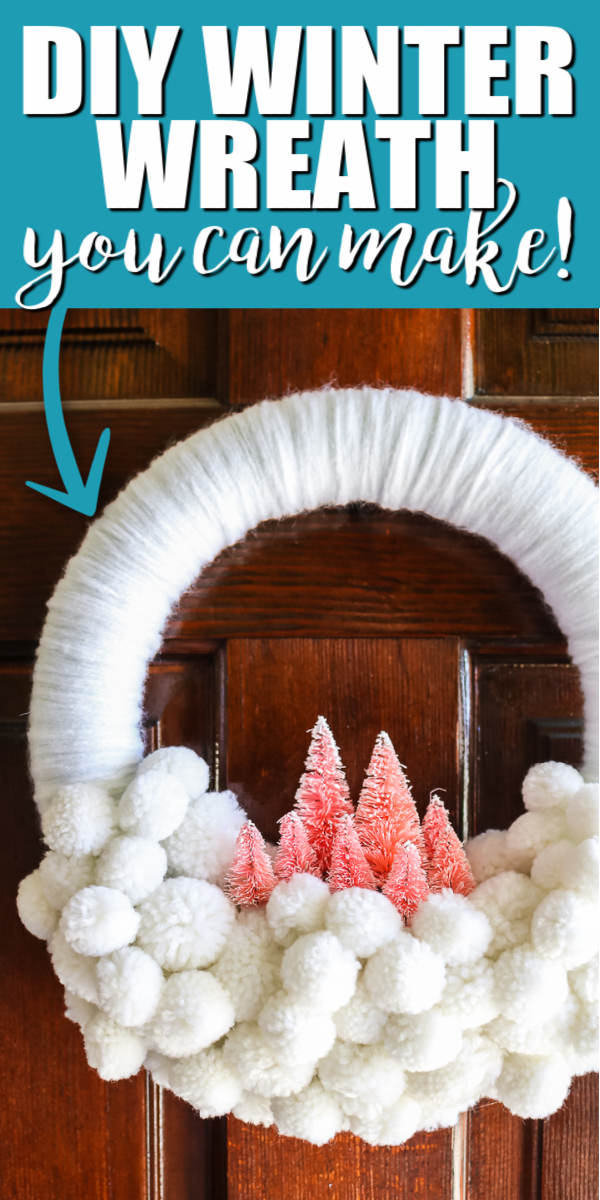 Love this winter wreath idea and want more? Try the links below as well!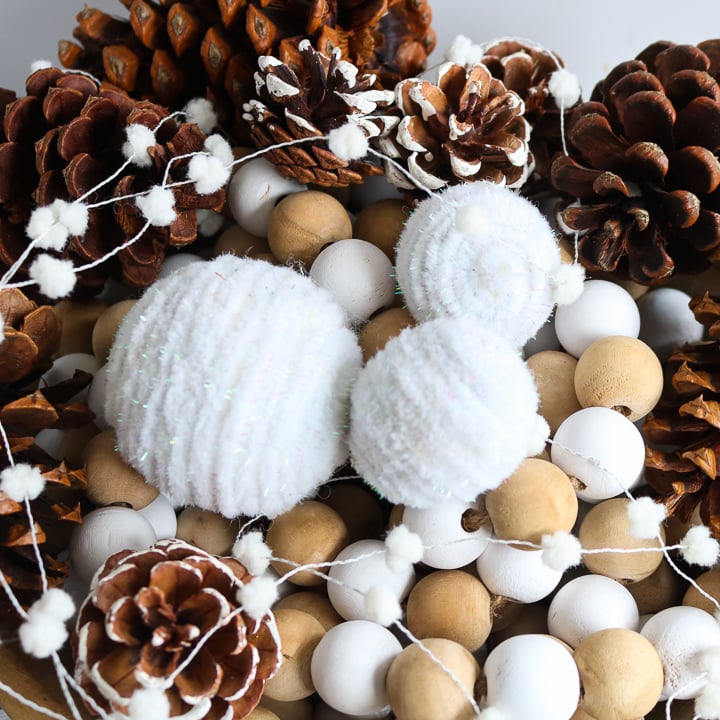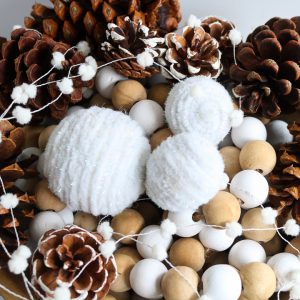 DIY Snowballs with Pipe Cleaners
Learn how to make these pipe cleaner fake snowballs to make your home's winter decor sparkle.
Read More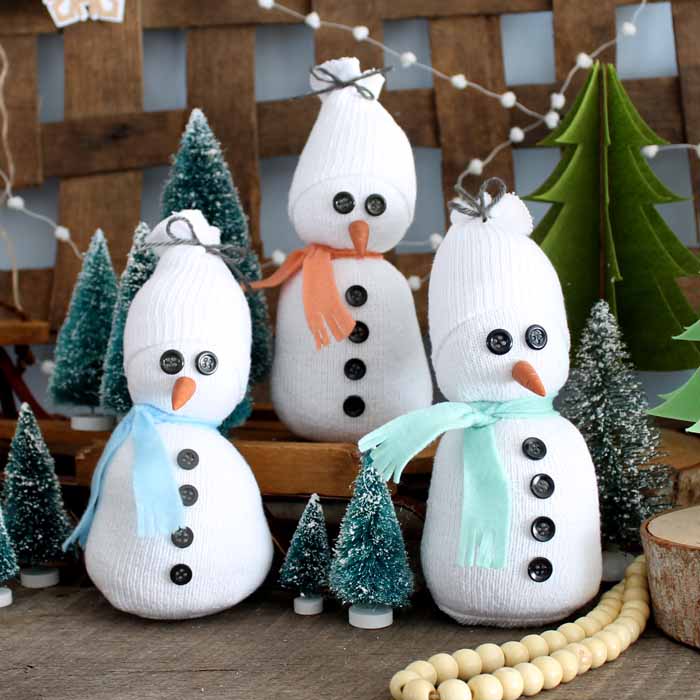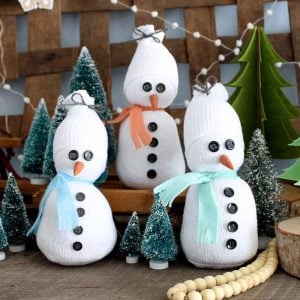 DIY Sock Snowman
A quick and easy craft that kids love to make. It looks amazing as part of your seasonal decor!
Read More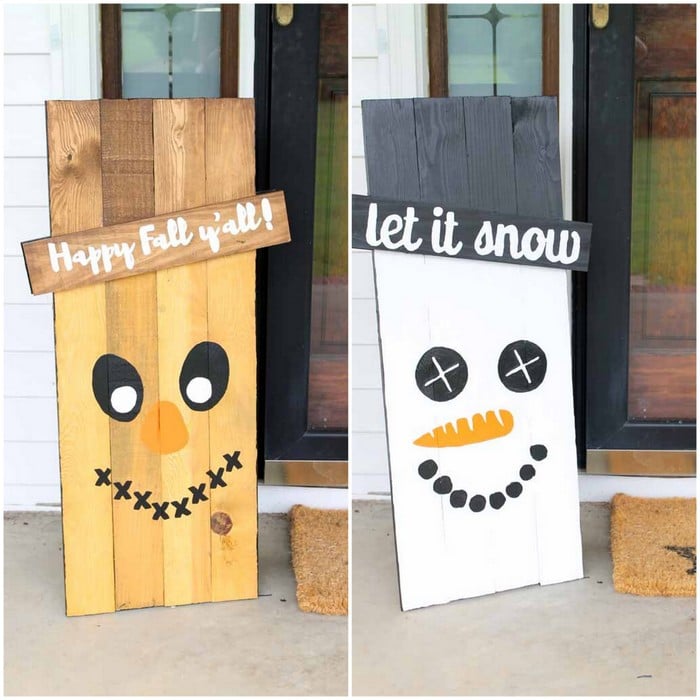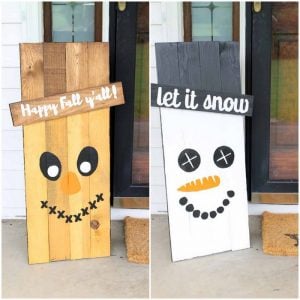 Reversible Snowman Scarecrow
Make DIY reversible holiday signs in minutes with this tutorial as well as printable template.
Read More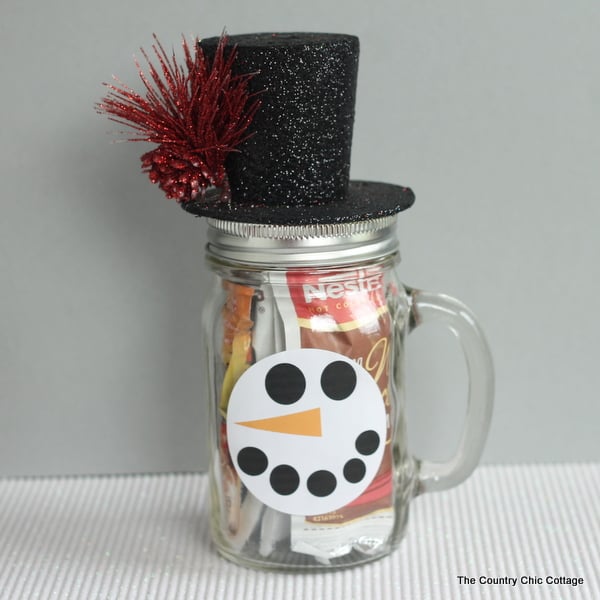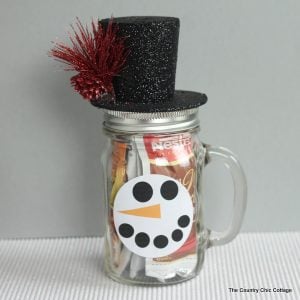 Snowman Hot Chocolate Jars
Whip up these cute snowmen and add in a small gift! Everyone loves getting hot chocolate for the holidays.
Read More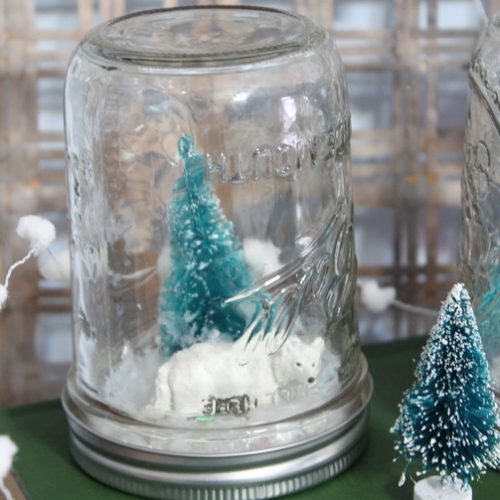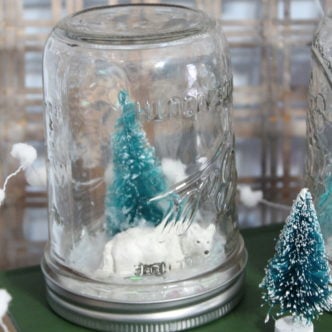 Waterless Snow Globes
Make waterless snow globes for Christmas – it's a fun craft you can do with kids.
Read More