This sock snowman craft is quick and easy to put together (under 15 minutes) and makes a great DIY gift idea or cute no-sew decoration.
I have been wanting to try my hand at making a sock snowman for a while now. I see pictures of them from time and time and always find myself thinking how adorable they are.
Plus, what a great way to use those extra socks that mysteriously show up around the laundry room without a match!
For now, let's learn how to make a sock snowman!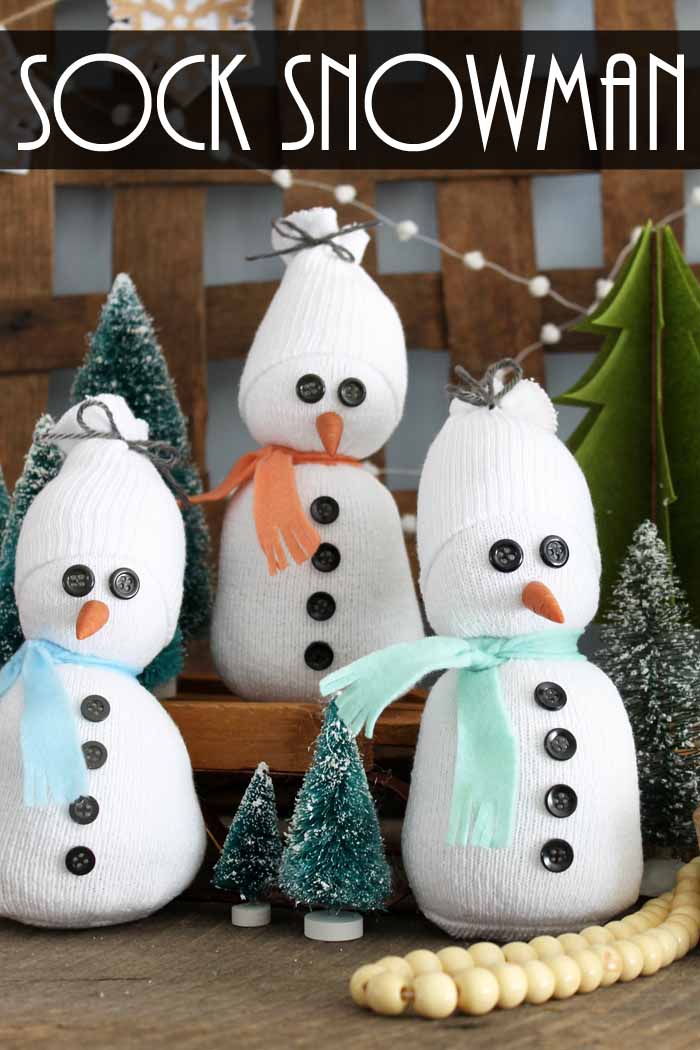 Supplies Needed For Making a Sock Snowman
This project uses common items that you probably already have around your house, but the most important item is the sock!
Socks
Marbles, rice, or anything else to weight the bottom
Twine
Yarn
Hot glue and glue gun
Black buttons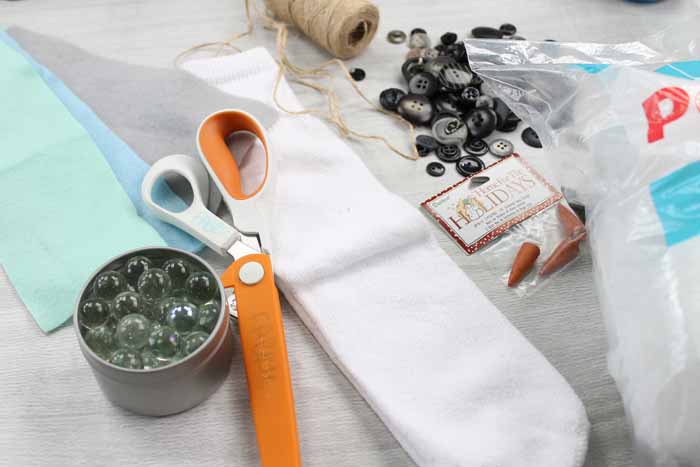 How to Make a DIY Sock Snowman
This craft is so cute that I love having little DIY sock snowmen all around the house! Follow this step-by-step guide to make your own.
Step 1
Start by cutting the top off of your sock. This piece will become the hat later, so just set it aside for now.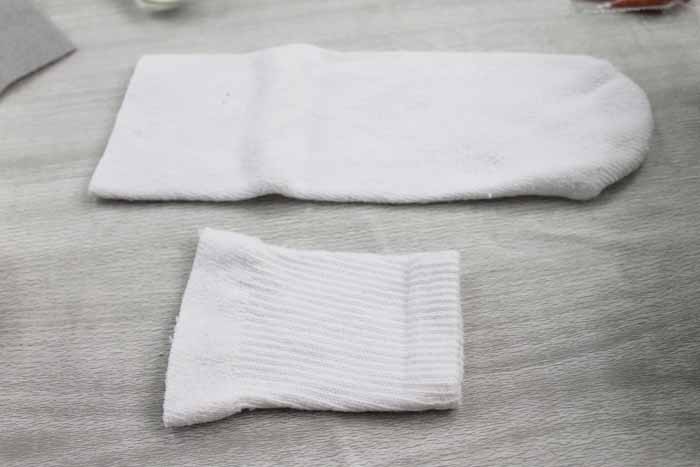 Step 2
Add something to the bottom of your sock to weight it down. This will help your sock snowman stand up.
I had marbles on hand so I added those. Rice would also work great. Basically, anything that will add some weight to the bottom is perfect.
Then add a bunch of stuffing to fill the sock up completely.
Step 3
You should have something that looks like the image below once you have stuffed the sock full.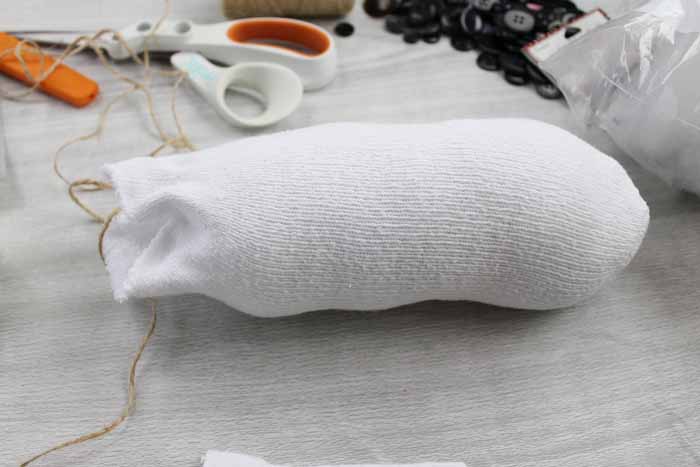 Step 4
Tie off the top as well as a portion in the center with twine. This step makes the head and body portion of your snowman.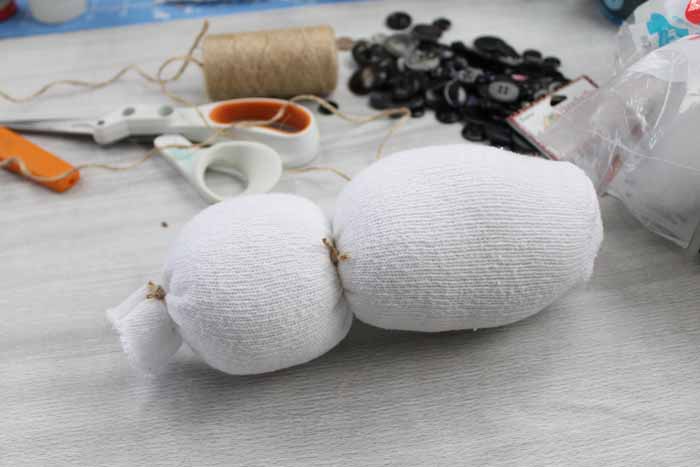 Step 5
Then use that top piece that you cut off earlier to add a hat to the snowman.
I used a little bit of gray yarn to tie off the hat just for a decorative touch. You can use any color yarn you would like or use twine again here.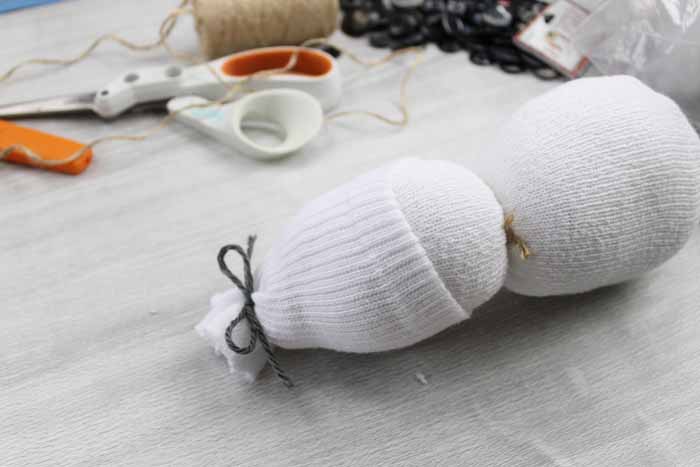 Step 6
Now we need to add a scarf. You will need a thin strip of felt cut from the long side of a felt sheet.
Use your scissors on both ends to create some fringe.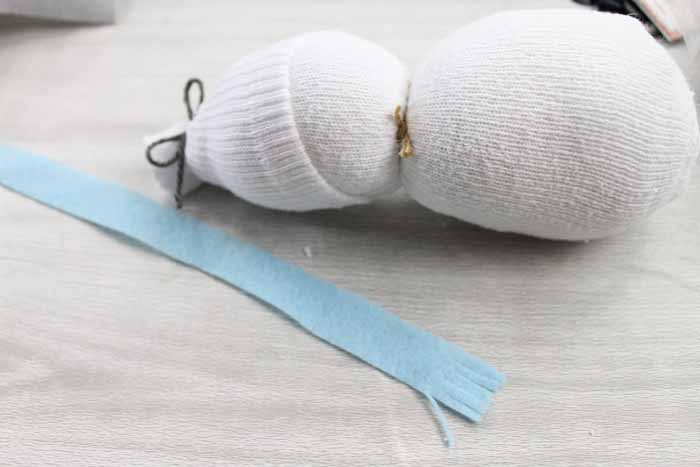 Then tie the scarf around the neck.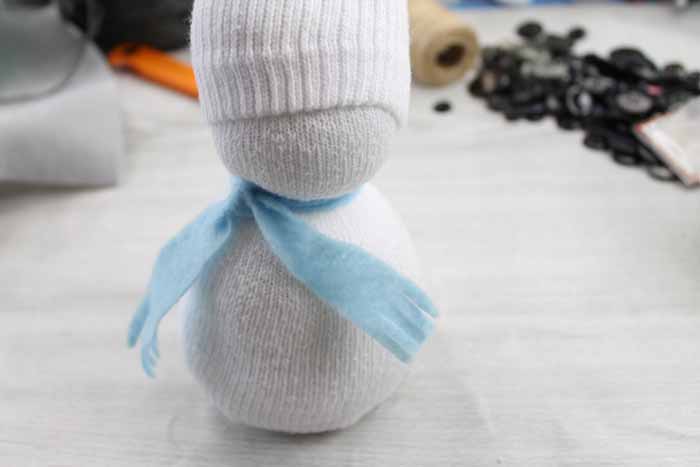 Step 7
Add buttons and a snowman nose with hot glue.
Your little sock snowman is now ready to display anywhere in your home!
You may need to adjust the stuffing and weighted portion with your hands until it sits well. It shouldn't take much time or effort. Once it's standing, however, it stays upright just perfectly!
This sock snowman is definitely easy enough for the kids to make. This is the perfect craft idea for a snow day! Go ahead and gather the supplies and have them on hand for the next time the kids are home from school.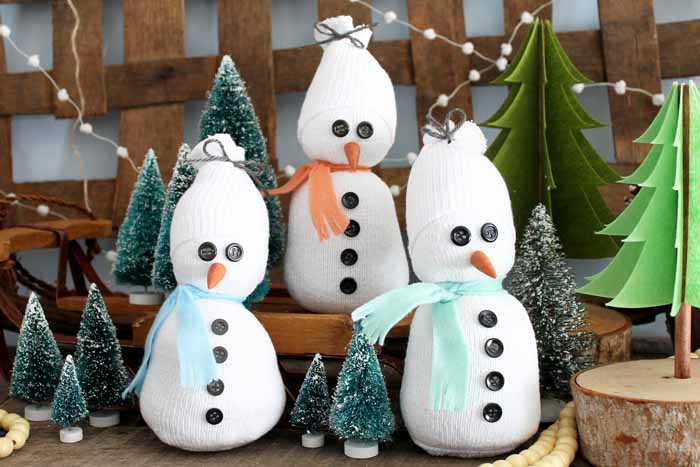 Want to make those felt trees as well? You can click here to see how to make those. I have been enjoying them on my mantel all winter. These sock snowmen joined them as well for a fun, whimsical touch!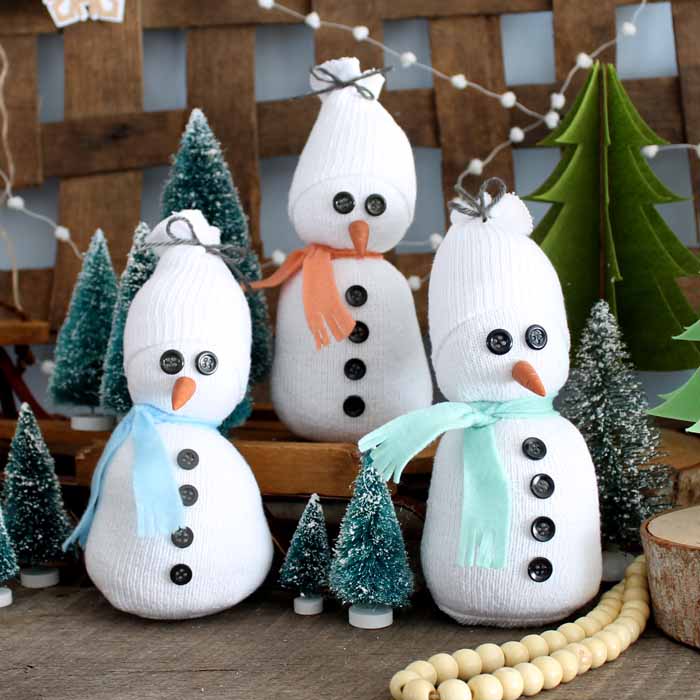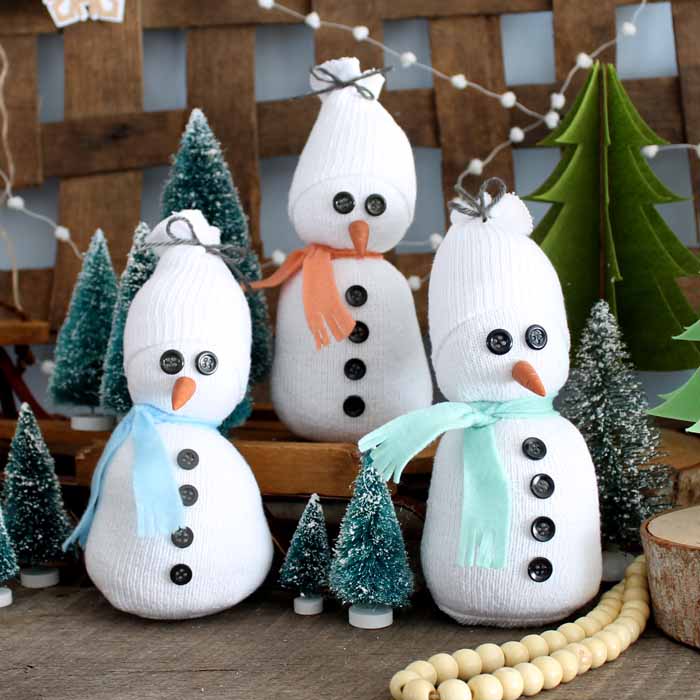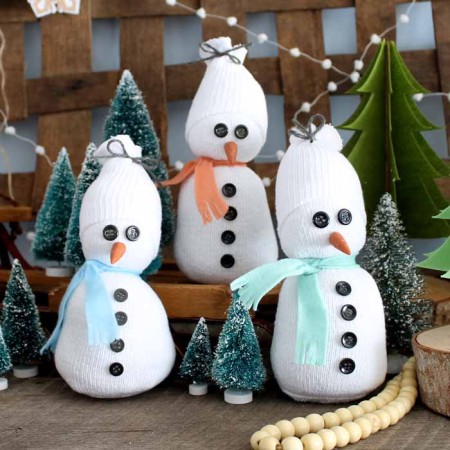 DIY Sock Snowman
A quick and easy craft that kids love to make. It looks amazing as part of your seasonal decor!
Supplies
Socks

Stuffing material

Marbles

could also use rice or anything to add weight

Twine

Yarn

Felt

Black buttons
Instructions
Cut off the top of the sock and set aside. It will become your snowman's hat in a moment.

Add weight to the bottom of your sock then fill with your stuffing.

Create the body and head of your snowman by tying twine around your snowmen a couple of times.

Take the piece you cut off of the sock and pull if over the top of your snowman's head for the hat. Take a colored piece of yarn to tie the top of the hat in a toboggan style.

Cut a thin strip of felt and tie it around your snowman's neck. Use your scissors to cut fringe at the ends of the scarf.

Use your glue gun to attach the buttons, eyes, and nose.
Notes
Note: Once you fill your sock with your weight and stuffing and tie it off, you may need to adjust the weight a little to make your sock snowman stand up. Once you get it standing, it's good to go!
Tried this project?
tag us to show off your work!
More DIY Snowman Project Ideas
If you love this sock snowman, you're going to love these other snowman craft ideas!