Hydrogen peroxide is a fantastic all-natural cleaner. After you learn how to clean with hydrogen peroxide, you will be using it all over your house. These 25 ideas are pure genius!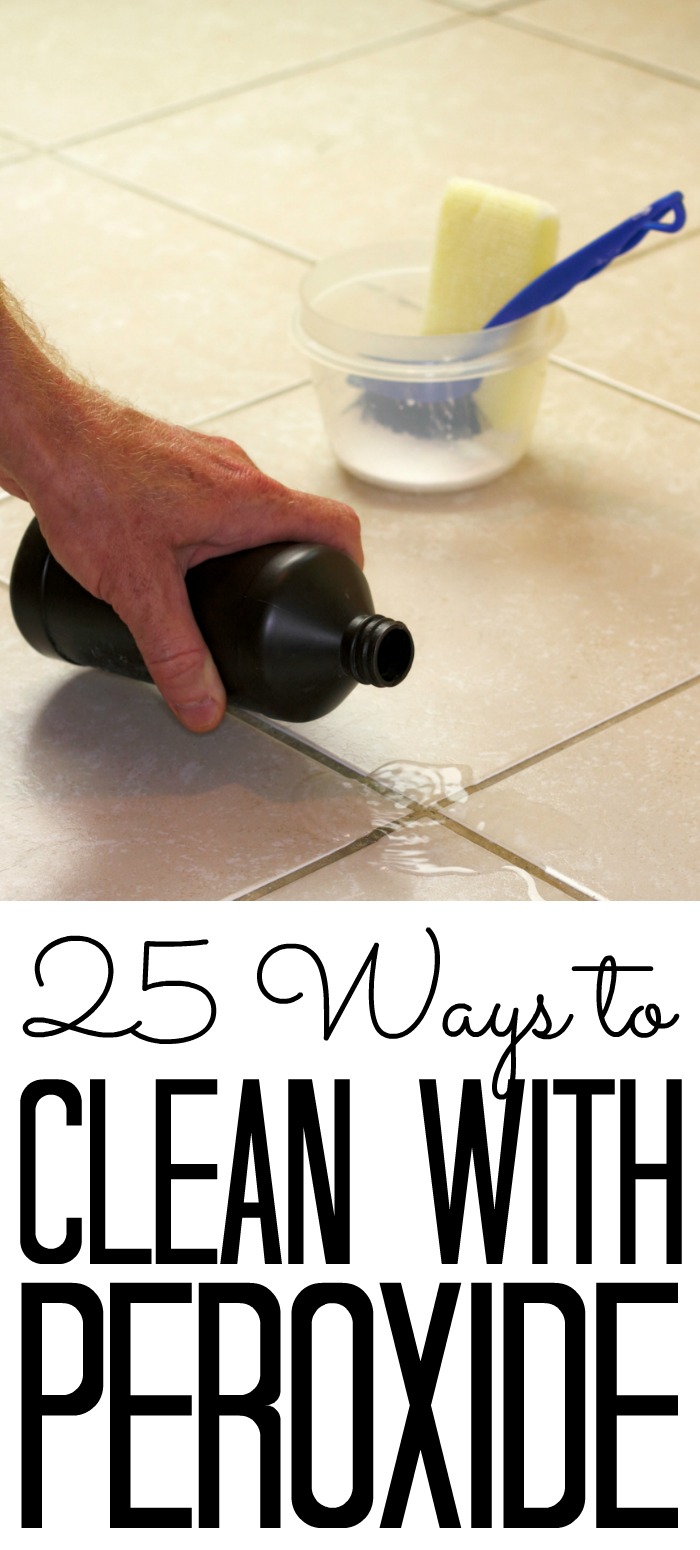 Use Hydrogen Peroxide To Clean Your House
Stock up on hydrogen peroxide because this amazing stuff isn't just for your first-aid kit. You can use this all over your house – from your kitchen to your bathroom and everywhere in between. In fact, I compiled all the different ways you can use it and organized them by room.
I even have some safety tips to share with you – so keep reading!
Is Hydrogen Peroxide Good For Cleaning?
Yes, hydrogen peroxide is a safe all-natural cleaning agent that you can use in almost every room of your house.
We all probably grew up with peroxide in the cabinet, using it mostly for when we had scrapes from bike wrecks or a cut from playing outside. Little did we know that that magical bottle contained a powerful disinfectant that can be used on a multitude of different surfaces!
It can be used straight, though you have to be careful, or mixed with other powerhouses to create an all-natural disinfectant cleaning spray.
What Should You Not Mix When Cleaning With Peroxide?
Never, ever, ever mix peroxide with vinegar! When those two liquids are mixed together, you create a corrosive acid that can irritate the eyes, lungs, and skin.
How To Clean With Hydrogen Peroxide In Your Home
Keep reading for how to clean all the different rooms in your house with hydrogen peroxide. It can be used everywhere!
PLEASE NOTE: When cleaning with peroxide, always test all surfaces. Peroxide acts as a bleach so treat it as such. Hydrogen peroxide should always be stored in a brown bottle to maintain its effectiveness. The peroxide mentioned below is the 3% variety that they sell in any drugstore.
Cleaning With Peroxide In The Laundry Room
Did you know you can use hydrogen peroxide to clean your clothes? It's true!
Here are some of my favorite ways I use hydrogen peroxide in my laundry room.
Use in place of bleach in the wash. Add 1 cup to your load to whiten whites.
To bring yellowed lace back to life, soak in a sink full of water and 2 cups of peroxide. Soak for at least one hour.
Mix equal parts of blue Dawn and peroxide. Apply to stains on clothing and let sit for 30 minutes before laundering.
Mix equal parts peroxide and liquid laundry detergent. Apply to wine stains. Blot the stain and wash it with water.
How To Use Hydrogen Peroxide In The Kitchen
You can also use hydrogen peroxide in the kitchen – it's a powerful disinfectant. Here are some of my favorite ideas:
Clean cutting boards after cutting chicken with peroxide to kill salmonella. Allow to sit for maximum germ-killing power.
Soak stained plastic food containers in peroxide overnight to remove stains.
Wash your fruits and veggies with peroxide before eating.
Clean sponges by mixing peroxide with water in equal parts. Soak your sponges for 10 minutes to clean.
Make a paste of peroxide and baking soda. Apply to dirty pans with baked-on messes. Allow to sit then scrub clean.
Add 1/2 cup peroxide to your dishwater for cleaner dishes.
Spray on your fridge, let sit, then wipe clean. This will clean and sanitize.
Spray the inside of your microwave down with peroxide as well. Allow to sit then wipe clean.
Clean cookie sheets with a paste of baking soda and hydrogen peroxide.
Bathroom Cleaning Ideas With Hydrogen Peroxide
You can use hydrogen peroxide to clean tile grout and disinfect areas in your bathroom. Here are all the ways you can use it in your bathroom.
Mix peroxide 50:50 with water in a spray bottle. Use to disinfect bathroom surfaces.
Pour over your toothbrushes or soak in peroxide to sanitize.
Remove mold with hydrogen peroxide.
Wash plastic shower curtain liners with 1 cup of peroxide in the rinse cycle to remove mold and mildew.
Add 1 cup of peroxide to the toilet to clean. Let stand 30 minutes then scrub.
More Home Cleaning Ideas With Hydrogen Peroxide
Here are even more of my favorite hydrogen peroxide cleaner ideas. It is useful all over your house. From mopping with it to using it in your trash cans, these ideas are so clever!
Add 1/2 a cup of peroxide to a bucket of hot water to mop your floors.
Clean toys with peroxide to sanitize.
Mix 50:50 with water for a window cleaning solution.
Clean your humidifier with a solution of 1-pint hydrogen peroxide to a gallon of water. Run through the humidifier.
Walls and countertops can be cleaned with just hydrogen peroxide in a spray bottle.
Pour peroxide into the bottom of your garbage cans. Allow it to soak then wipe clean.
Apply to any hard surface such as doorknobs to disinfect and get rid of germs. Be sure to allow it to sit before wiping away.
Make Your Cleaners Stronger With Hydrogen Peroxide
Hydrogen peroxide can be a great all-natural cleaner for your home. Add it to your cleaning arsenal to eliminate toxins. Can you think of other ways to clean naturally with peroxide?
Print The Complete Cleaning Guide
Now you can print the complete guide to natural cleaning and keep it as a handy reference around your home!
There are 225 ideas for using vinegar, cream of tartar, lemons, hydrogen peroxide, steam, baking soda, corn starch, salt, and rubbing alcohol to clean!
Yep, all of those things you probably have around your house already can be really powerful all-natural cleaners.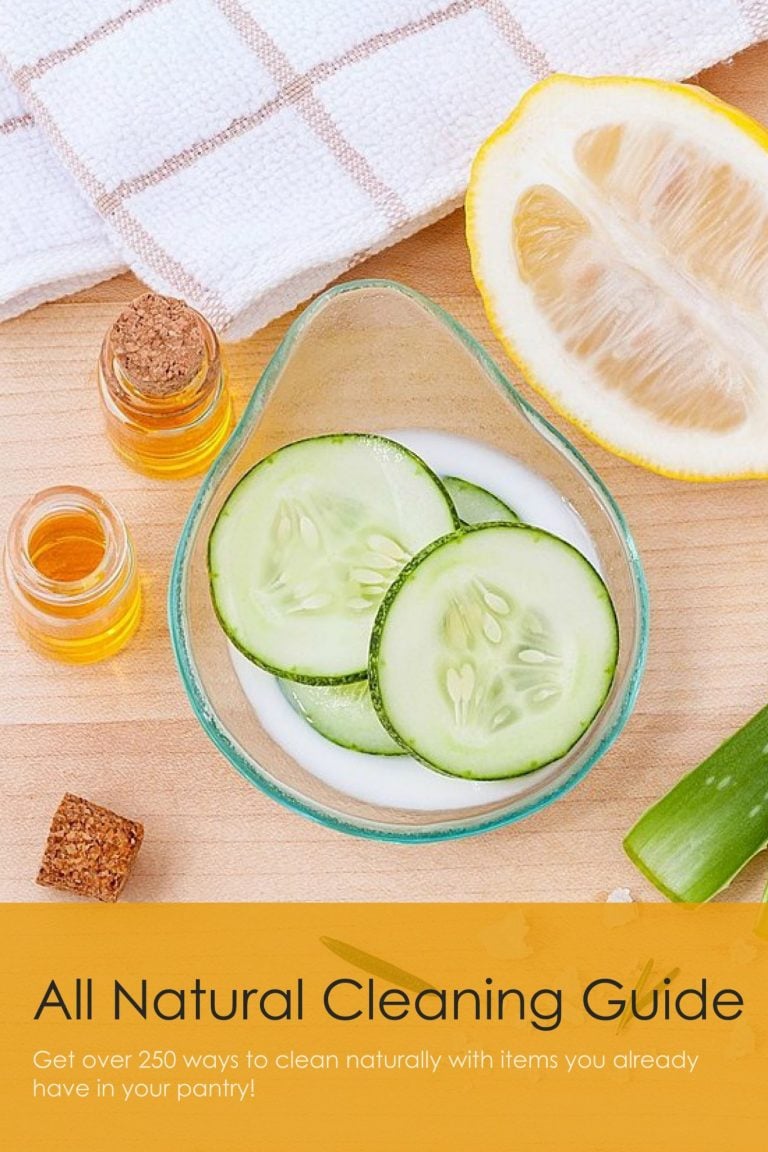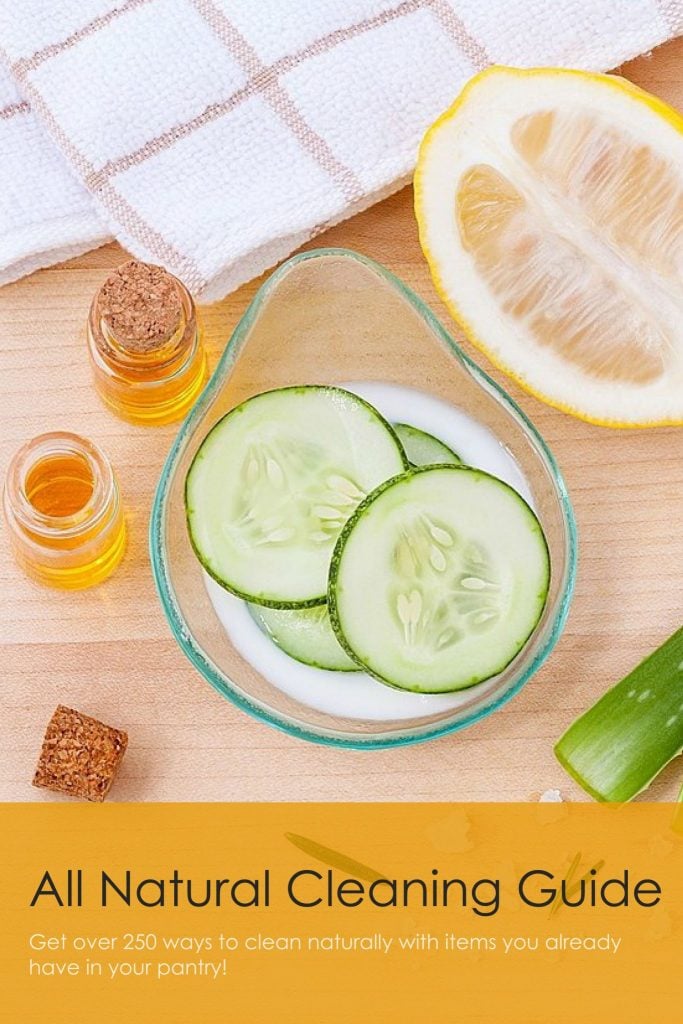 Just click here to add this download to your cart. Then, just download it to your computer.
You can then print on your home printer and keep this complete guide to natural cleaning handy all year!
I have had many requests for a printable version of my cleaning series and thought this is the perfect time to release this series!
More Natural Cleaning Solutions
If you have missed any of our all-natural cleaning series, check out more ways to clean with items in your pantry:
Want to see my favorite cleaning supplies and products?
I have gathered all of the products I love using around my home into one great section of my Amazon storefront. You can click here to shop! If you're looking for just about anything to clean your home, I probably have an option that you will love!