In need of some 80s party decorations? I have you covered in today's post with a free printable banner plus some other free printables from some other bloggers at the bottom of this post. You can print as many or as few of these as you would like and throw an 80s themed party for someone you love. If you were a child of the 80s or even just love the style from then, these printables are perfect for you!
Need more party printables? Be sure to check out our hop here from a few months ago. Between the two, you should be able to throw an amazing party on a budget.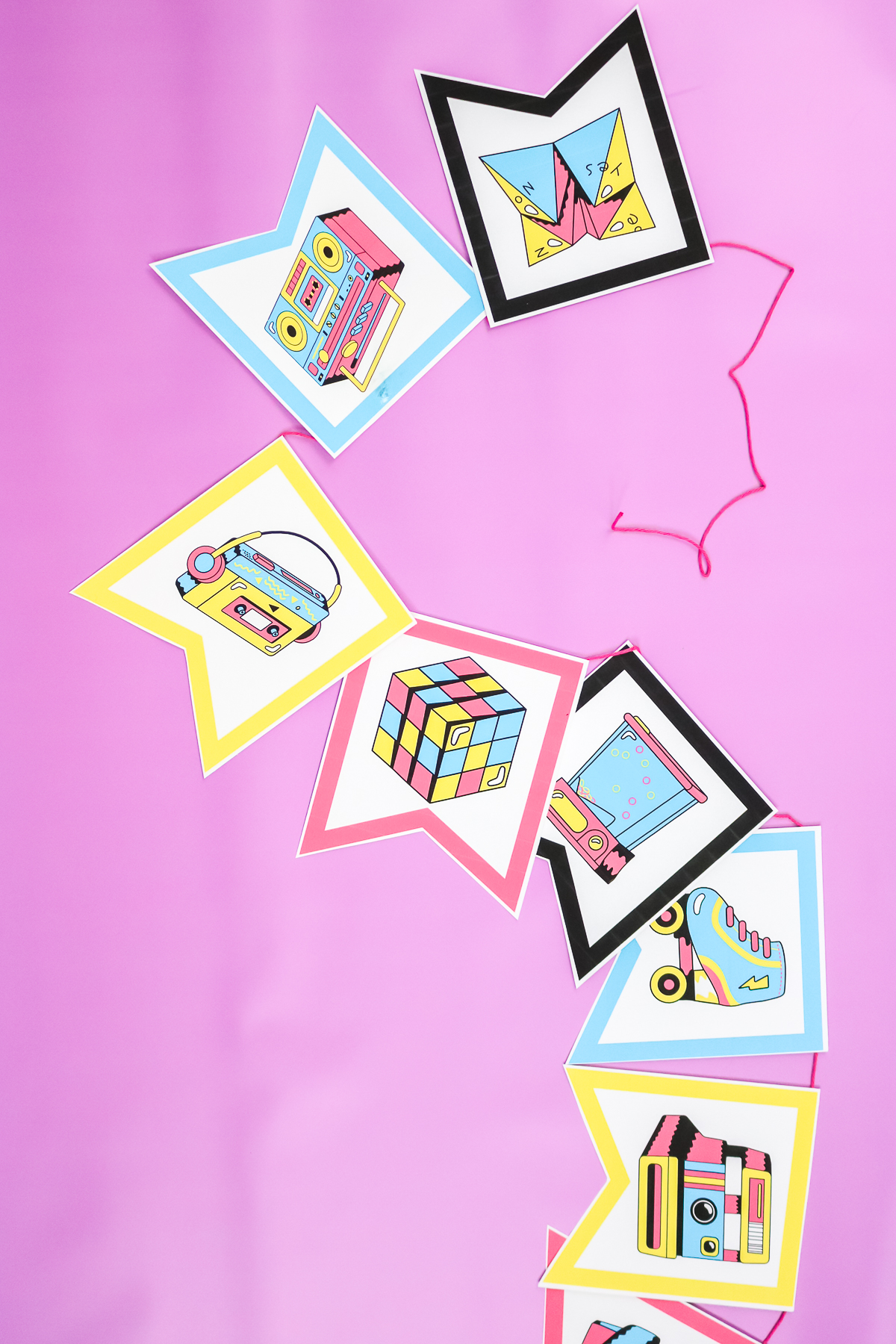 We are dedicating today's hop to our friend Linda from Fun for Little Ones. She was a part of our printable hop each month and unexpectedly passed away. Our hearts are broken but we heard that Linda loved Madonna so an 80s themed printable hop was formed in her honor. Linda was an amazing person and will be missed by so many. If you want to help support her, please visit her blog here and click around at the amazing content.
80s Party Decorations
To print the 80s party banner, just sign up for the newsletter in the box below and you will get the printable banner in your email. From there, you can follow the instructions below to assemble your own version. Look for a box below with a picture of the printable you would like and add in your information. Already get the newsletter? Just add your information again as you will not be signed up for anything further.
Please note that this banner is for personal use only. You can also contact me if you have any issues receiving your free printable.
Assembling an 80s Party Banner
Once you fill out the form above, check your email and follow the instructions to get your printable. Then follow the instructions below to assemble a party banner for your 80s themed bash.
Print your banner onto white cardstock.
Cut around each flag with a pair of scissors.
Use adhesive to attach twine to the back of each of the flags. You can use any color of twine that you would like. If you are using glue, be sure to allow your banner to dry. In a hurry? Use a dry adhesive so your banner is ready in minutes.
Once you have added all of your flags, it is time to hang up your 80s party decorations and get ready to party!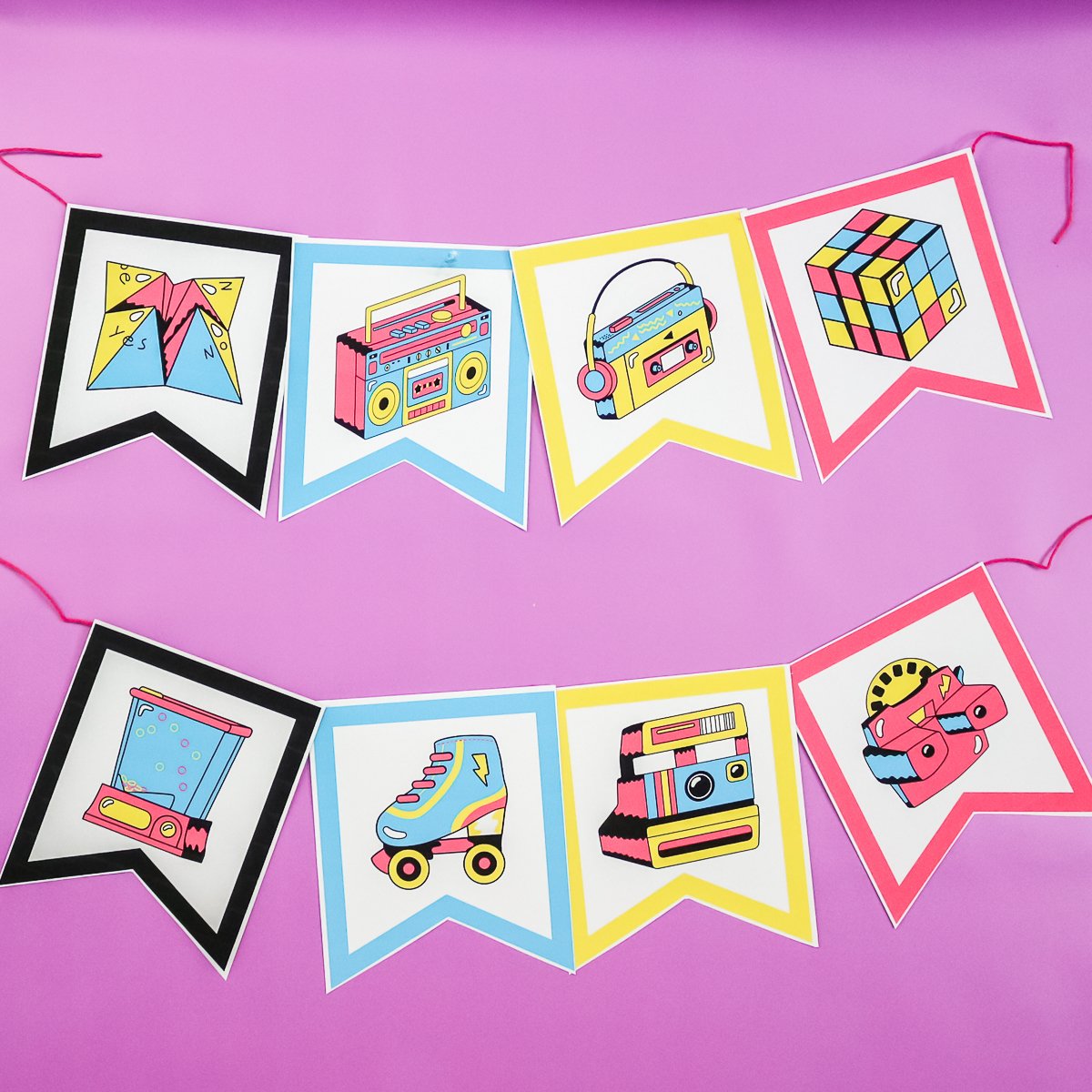 This cute banner is full of memories for me! If you were a child of the 80s, I am sure you remember a few of the items pictured. You might even be ready to break out your walkman and dance! Or even print a cootie catcher and have fun with some friends.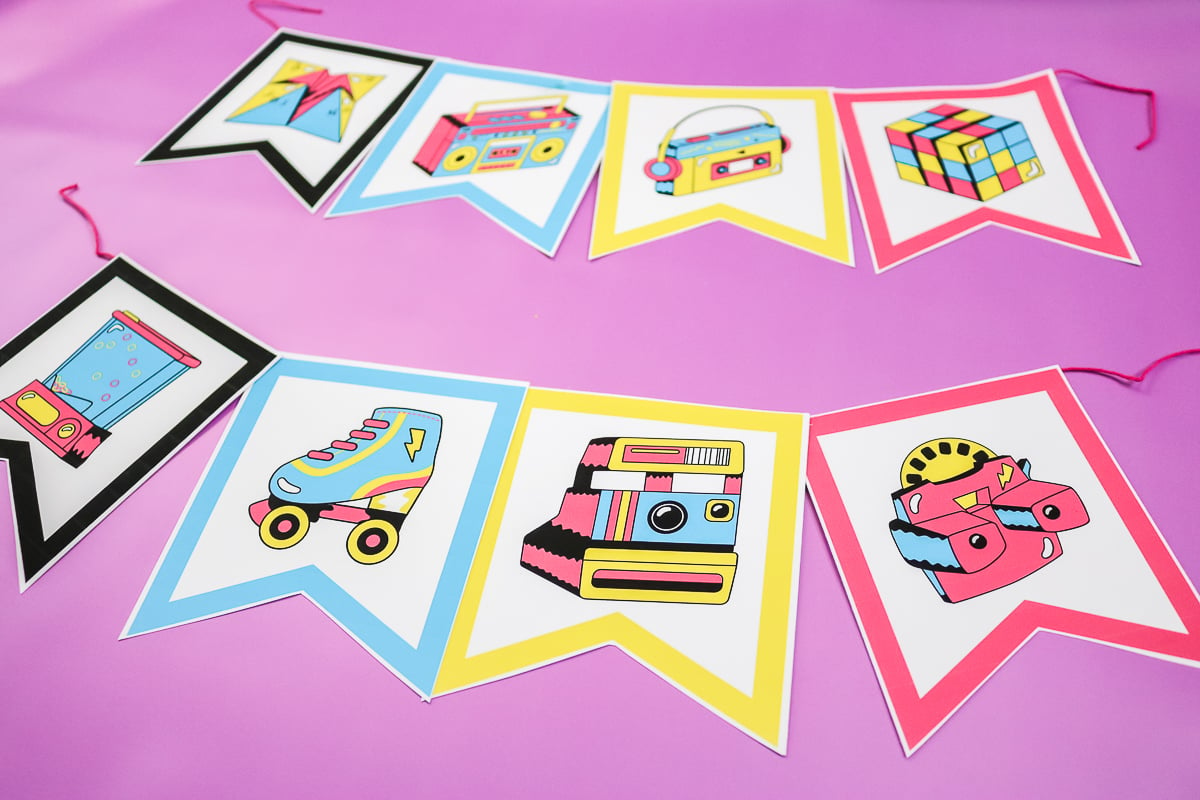 So, be sure to add this banner to your next 80s party. It will look amazing hanging up and I know you will have an amazing time celebrating all things retro.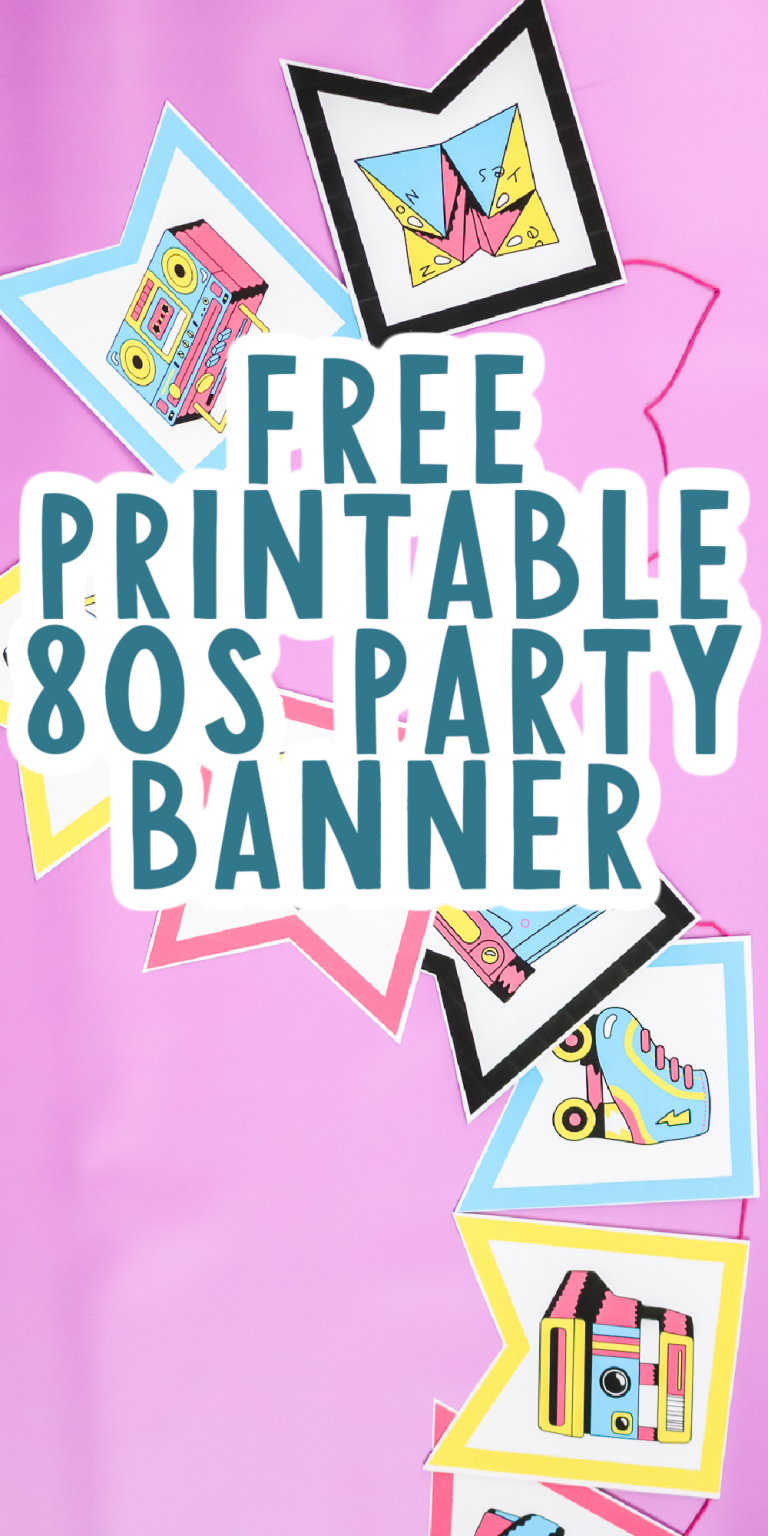 More Free 80s Printables
I promised you even more fun ideas with an 80s theme. Just click around below to each of the bloggers that have joined in the hop this month. You will need to follow the instructions on each page to get each printable.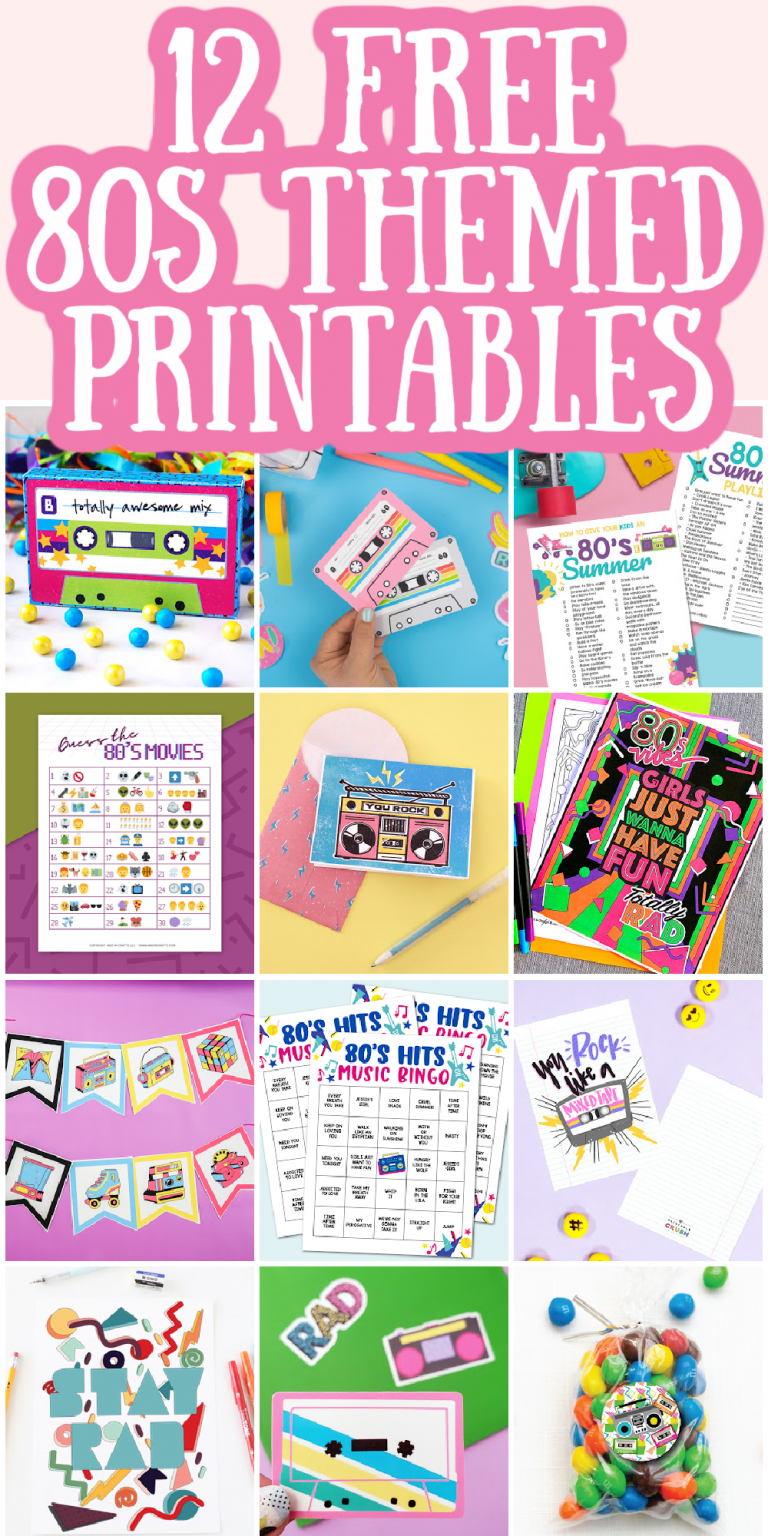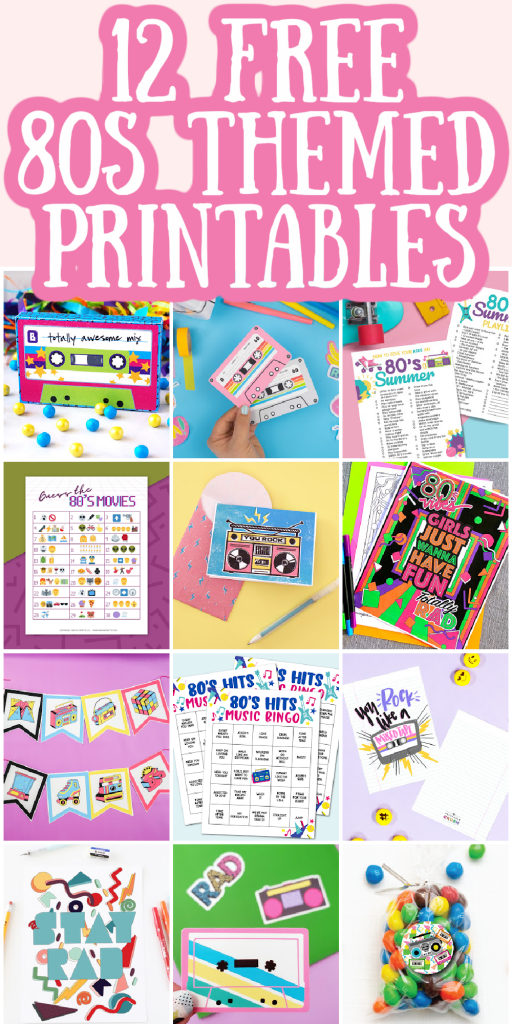 So, now that you have all of these 80s party decorations, all that is left to do is to start planning your party. I know you and your guests will have an amazing time.