Supplies needed to make your own Beach Sign Knock Off:
TOTAL = $22.12 (and this is plenty of supplies to make two signs if you wish)!
While you are waiting for your completed canvas to dry, pick a font on your computer that mimics the original inspiration. Print your BEACH letters as large as you can while still fitting on the canvas. I used whole sheets of paper and taped them together to fit.
Once you are happy with your letters and their placement, put your graphite paper under your copy paper.
Trace around each letter and the graphite will transfer your letters to the canvas.
I then free handed a line all the way around the outside edge of my canvas in white.
Then I painted freehand four of these rough circle shapes. I loved how the original appeared to have rusty holes where it had been hanging somewhere for years. Since I had room, I put four of these holes on mine instead of just two. Allow your entire canvas to dry before continuing to the next step.
Now it is time for our secret ingredient…cinnamon. No, I am not crazy. Cinnamon makes a really lovely rust on any surface. Plus, it is so super simple to use, so lets give it a try.
Spray small areas of your sign with the sealer and while it is still wet, sprinkle with cinnamon. You can play with different techniques on different areas. For instance, on my "bolt holes" I sprinkled the cinnamon on the wet sealer then took my finger and traced the circle. So the "rust" also comes out looking circular!
Try a light dusting of cinnamon in some areas. It gives the appearance that the "rust" is just starting to peek through the paint. Other areas of the sign I really dumped on the cinnamon to give large "rusty" areas. You can also experiment with the spray, sprinkle, spray technique. Spray on your sealer, sprinkle on cinnamon, then immediately spray again. This gives a whole other look to your "rust" techniques.
Keep layering on sealer and cinnamon rust until you are happy with your finished sign. You can control just how rustic this sign gets. You can go over the same area multiple times if you are not happy with your results the first time. When you are finished, give your completed sign a few really good coats of the spray sealer right on the top. Allow the entire thing to dry and you are ready to display your rustic sign creation. I would say this looks pretty good especially for 12% of the original price. Order some canvases today and stock up on cinnamon. You will want to use this technique over and over again once you get the hang of it.
Now are you ready to link up your summer decor projects? Today I am joining the following ladies to find the best summer decor around: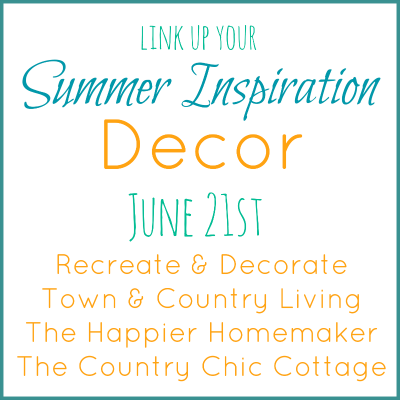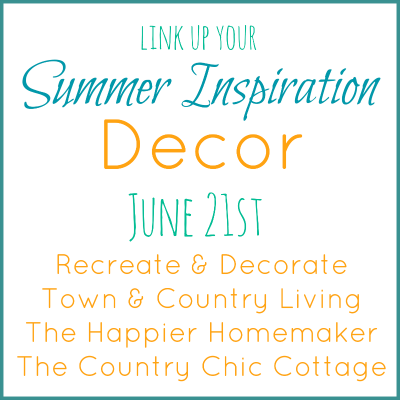 Now grab a button above then link up your fabulous summer decor projects! Guess who will be pinning from this party this weekend? Yep this girl!! Get in your fabulous ideas now!
');