Y'all are going to love this bridal shower recipe idea! This is a really fun way to gather heirloom recipes for any bride to be at a shower. I have the free printable recipe cards and all of the instructions below. We used this for my daughter's wedding shower this past weekend and it was a huge hit. A great hand written recipe from your family is the ultimate gift and this is the perfect way to get everyone to write them down!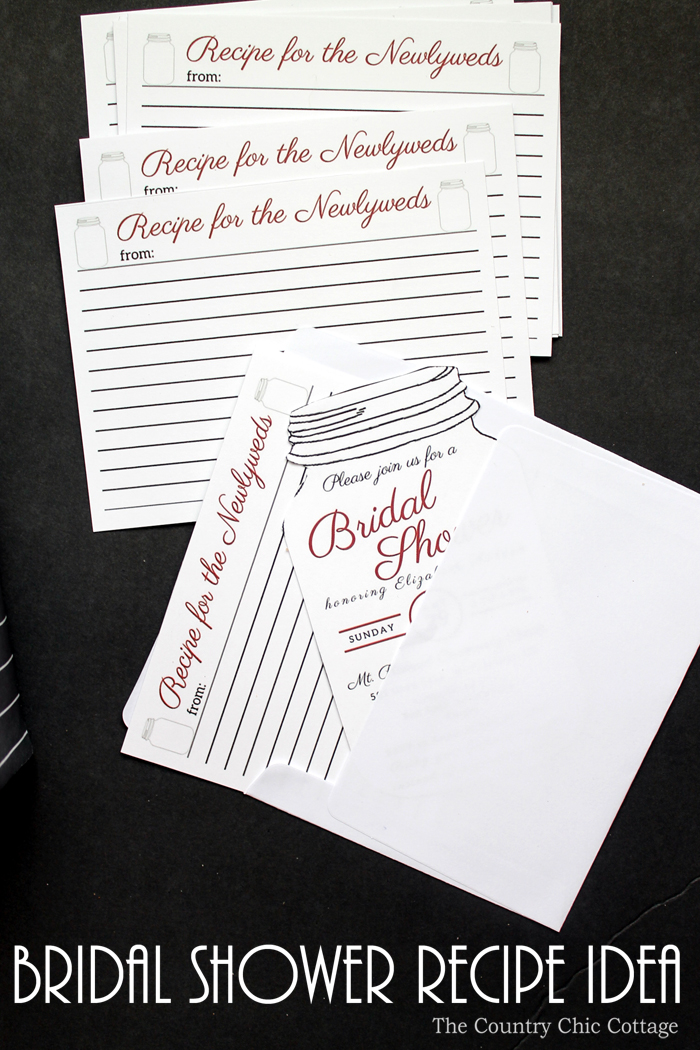 Note that some links may be affiliate links. Start by clicking here to download our free printable recipe cards. They will print four to a page. I printed them onto white card stock and used a paper cutter to cut into equal sized cards. We then added two of the recipe cards with each bridal shower invitation. At the bottom of the invitation, we included a note that read "bring your favorite recipe instead of a greeting card".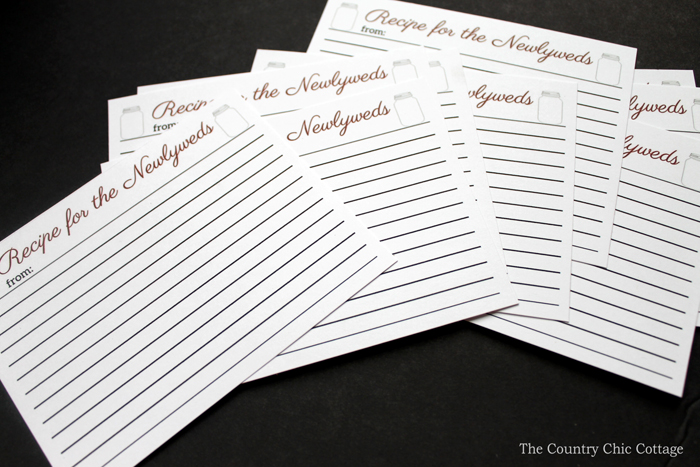 At the shower, I created a recipe box for everyone to add their recipes. I started with just a plain paper mache box.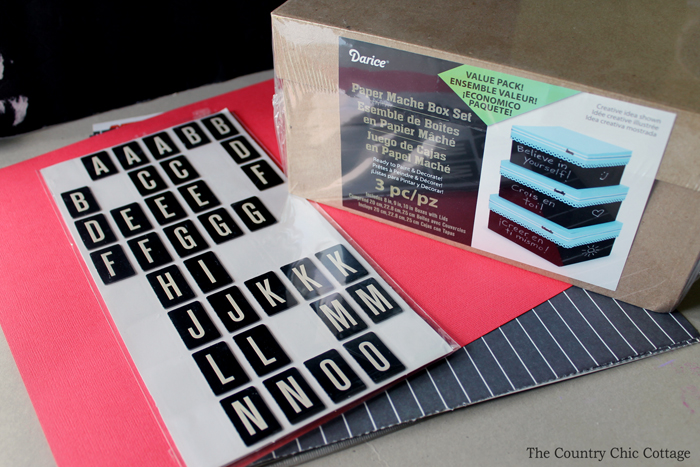 I used Mod Podge to add on papers that matched her wedding colors.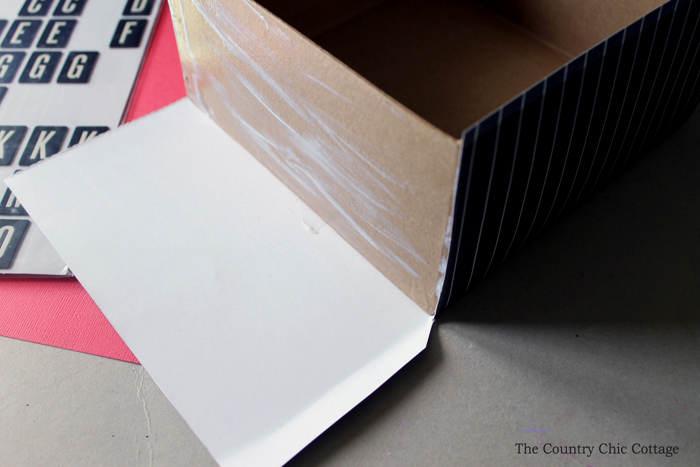 I covered the top and the bottom of the box.
I also added the word "RECIPES" to the top of the box. I printed extra cards to take to the wedding shower as well. I thought there may be some people that had forgotten their cards or those that wanted to fill out another recipe. If nothing else, they are extra blank cards for the newlyweds.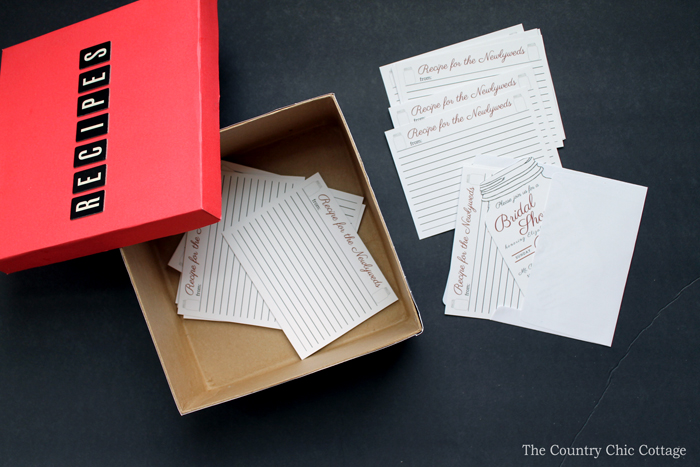 Everything would then fit easily into the box after the shower had ended. This bridal shower game becomes a great gift for the couple. We all love heirloom recipes and this is the perfect way to pass those on from generation to generation.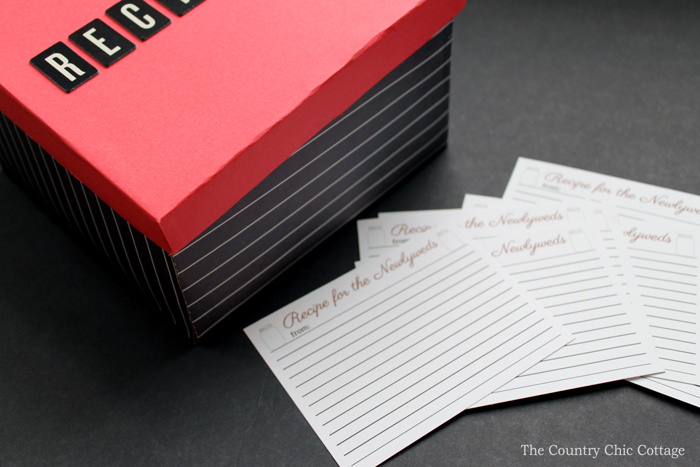 We set up the station below at the bridal shower. Everyone really loved this bridal shower wedding idea! I used my mason jar chalkboard to indicate where the recipe cards were to go. Learn more about that mason jar centerpiece by clicking here.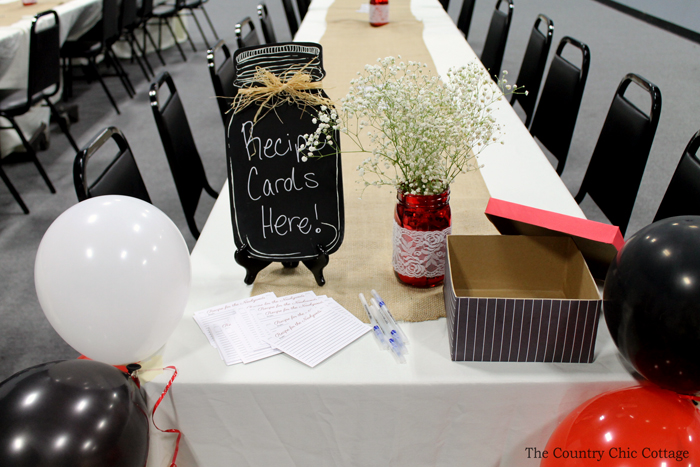 We had a great time at the shower and this bridal shower recipe idea was just perfect. I am not a huge fan of traditional bridal shower games. This was a fun twist that everyone enjoyed and turned into a great gift for the couple after the shower ended. Now that is my type of wedding shower activity!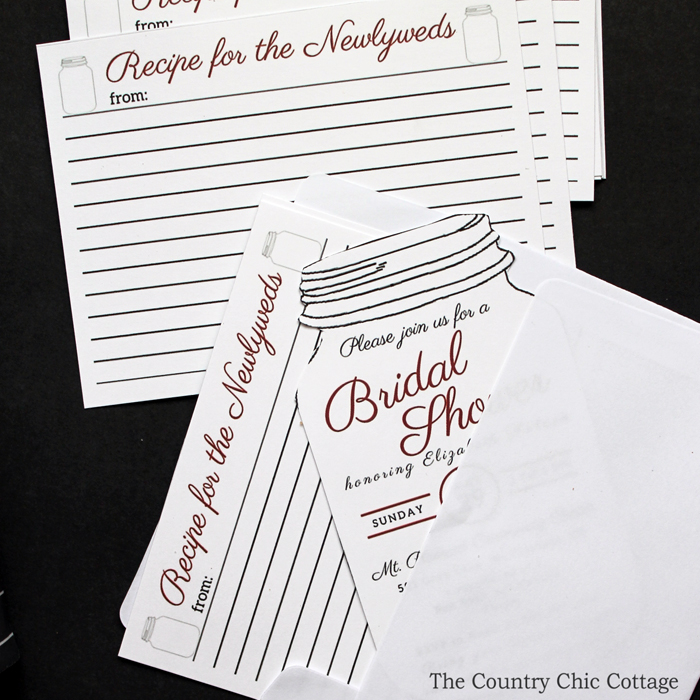 Loved this bridal shower recipe idea? Planning a wedding and need an idea for a DIY bouquet? Click here to see how to make the version below!