Help a new couple start their lives together by having wedding shower guests write down one of their favorite family recipes on one of these bridal shower recipe cards. Use this tutorial to grab the printable recipe cards and make a special box to hold them.
When we celebrate weddings, a common thing to do is give the newlyweds gifts to help them begin their lives together. Often those gifts are things like blenders, Instant Pots, and other household items. Those types of items are extremely helpful for a new couple.
However, I always look for a way to add a personal touch to special events like this. When my daughter had her wedding shower, I had an idea. I sent out printed recipe cards inside all the invitations and asked the guests to bring (or send back if they couldn't come) a favorite family recipe written on the card.
This Bridal Shower Idea was just one of the many we used, and it was a huge hit! We received so many amazing recipes that she and her new husband will enjoy for many years to come.
A homemade gift, such as a great handwritten recipe from family members, is the ultimate gift. This bridal shower recipe card idea is the perfect way to get everyone to write recipes down and share them!
Y'all are going to love this bridal shower recipe box idea! This is a really fun way to gather heirloom recipes for any bride-to-be at a shower. I have the free printable recipe cards and all of the instructions below.
Note: If you want more bridal shower or wedding inspiration, we have plenty of ideas! Check out our DIY Bridal Bouquet, Free Bride Tribe And Bride To Be SVG, and Burlap Wedding or Wedding Shower Favor Bags.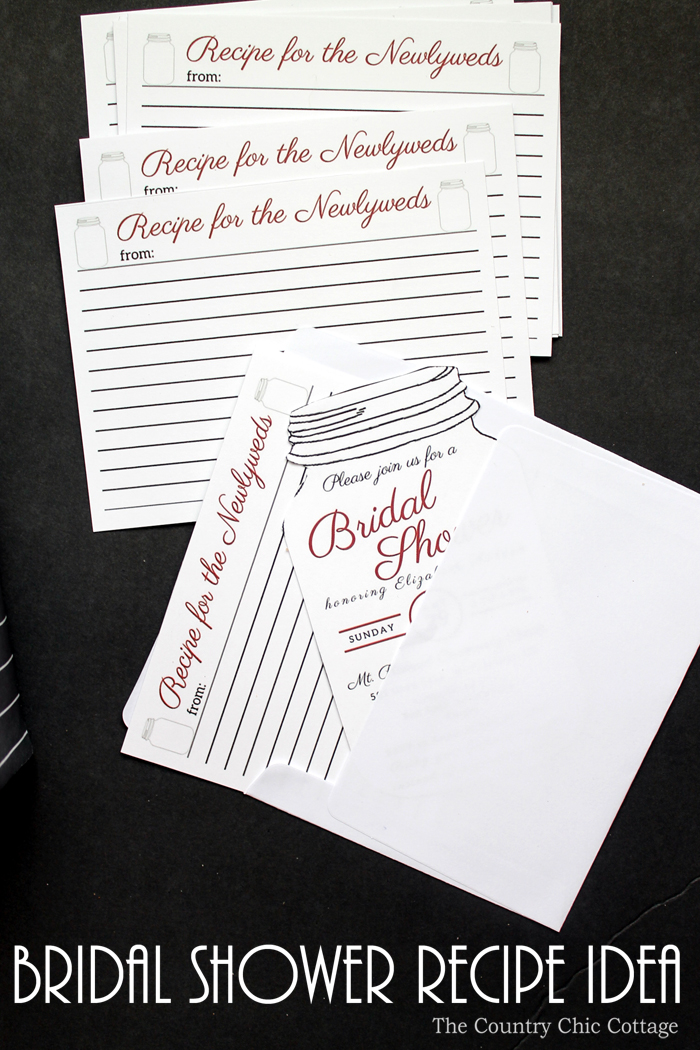 Grab The Printable Bridal Shower Recipe Cards File
Start by clicking here to download our free printable recipe cards. They will print four to a page.
I printed them onto white card stock and used a paper cutter to cut them into equal-sized cards. We then added two of the recipe cards with each bridal shower invitation.
At the bottom of the invitation, we included a note that read, "Please bring your favorite recipe instead of a greeting card".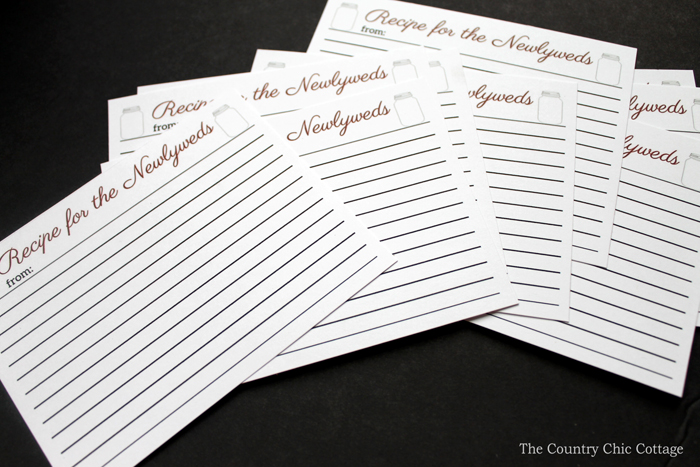 How To Make A Box To Hold The Bridal Shower Recipe Cards
At the shower, I created a recipe box to hold all the recipes for the new bride. Here's the process I used.
Supplies Needed
Here's what you'll need to gather for this craft.
Decorative paper (such as scrapbook paper)
Bridal Shower Recipe Card Box Instructions
This is a very simple project that you can complete in just a few minutes! Simply follow these step-by-step instructions.
Step 1
Grab a plain paper mache box.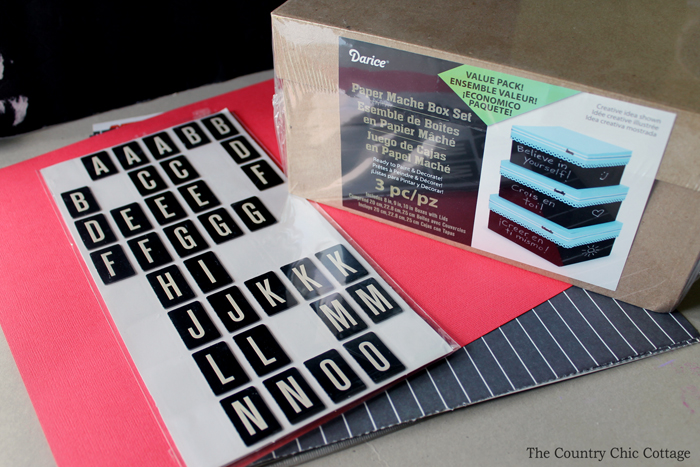 Step 2
Gather papers that match the bride's wedding colors and use Mod Podge to cover the paper mache box with decorative paper.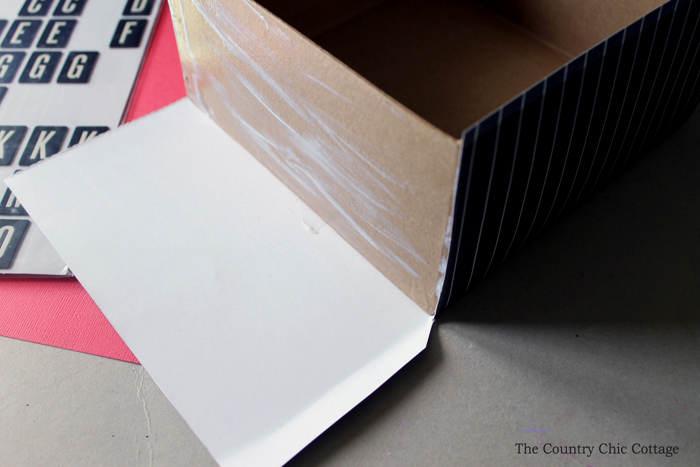 Note: I covered the top AND the bottom of the box.
Step 3
To finish the box, I added the word "RECIPES" to the top of the box with sticker letters.
Step 4
As a finishing touch, I printed extra cards to take to the wedding shower.
I thought there may be some guests that forgot their cards or a few that would want to fill out another recipe. If nothing else, they would be extra blank cards for the newlyweds!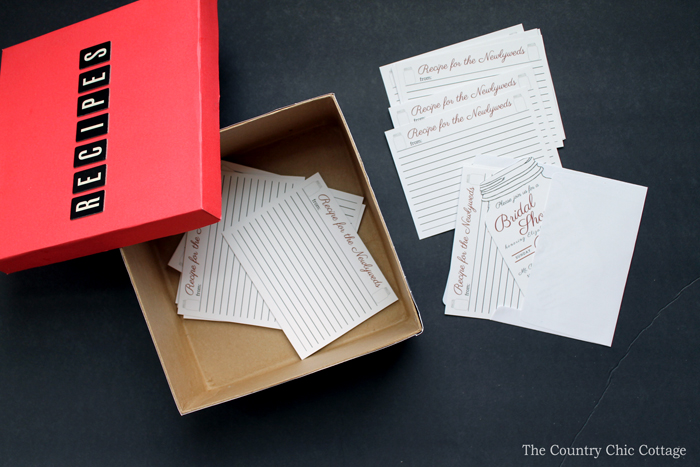 Isn't it great that everything easily fits into a cute box after the shower ends?
FAQs
Here are a couple of questions that I see readers ask about making this bridal shower gift idea. If you have a question, please check to see if I've already answered it below. Don't see your question? Leave it for me in the comments!
Could I use any small box?
For this project, I used a paper mache box for a couple of reasons. First, it was the size I wanted it to be (not too big or too small). Second, a paper mache box has that nice lid on top to give it a polished and finished look.
I would strongly recommend against using a shipping box for this project because the box itself is more utilitarian, and it doesn't have a lid. However, you could use a small gift box (if it has a lid) instead of a shipping box.
Can I use a different type of adhesive?
Mod Podge is ideal for this project because it will adhere the paper to the box without causing the paper to dimple or wrinkle. However, if you don't have Mod Podge, you could use a very thin layer of craft glue. Make sure to keep the glue layer thin so the paper stays smooth.
How can I incorporate this idea at the bridal shower?
We included a couple of cards with the invitation. However, I figured there would be a desire from some guests to participate in this gift idea at the shower, so I wanted a way to encourage them to do so.
We set up the station at the bridal shower, and many guests commented on how much they loved this idea! I used my mason jar chalkboard to indicate where to place the bridal shower recipe cards.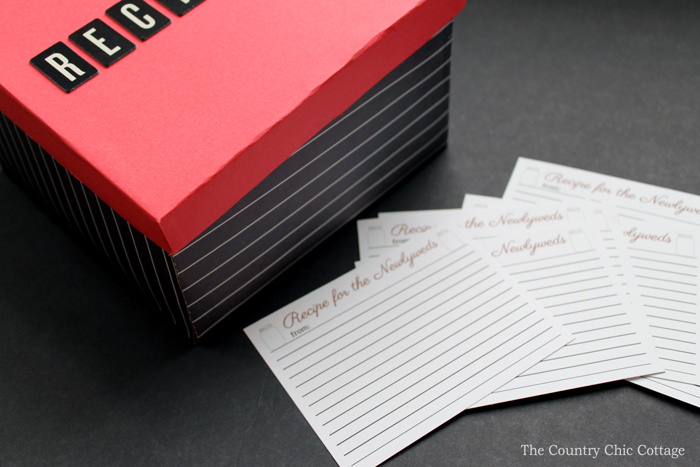 This bridal shower idea becomes a great gift for the couple. We all love heirloom recipes, and this is the perfect way to continue passing them on from generation to generation.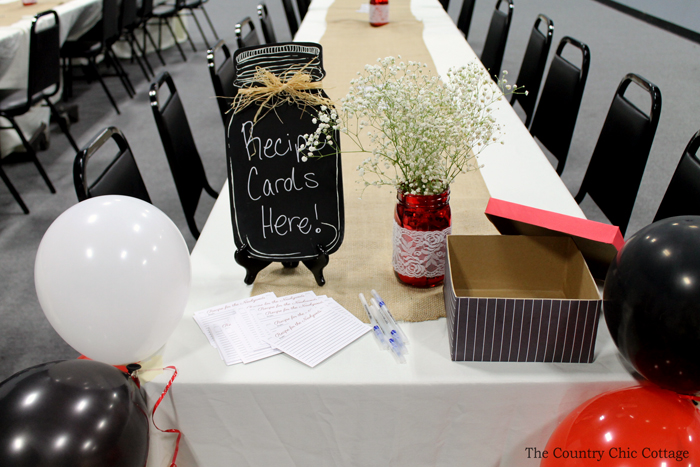 More Bridal Shower And Wedding Inspiration
Did you love this bridal shower recipe card idea and want even more? Check out these beautiful DIY projects!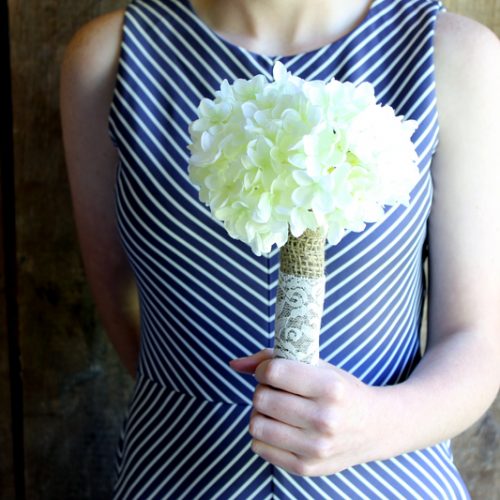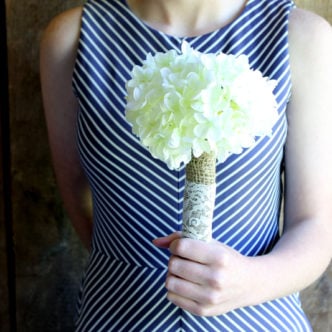 How To Make A Wedding Bouquet
Learn how to make a wedding bouquet with our simple step-by-step instructions. Using your favorite artificial flowers and accent colors, you can have your DIY bridal bouquet for you and your bridesmaids ready for your special day in just a few minutes!
Read More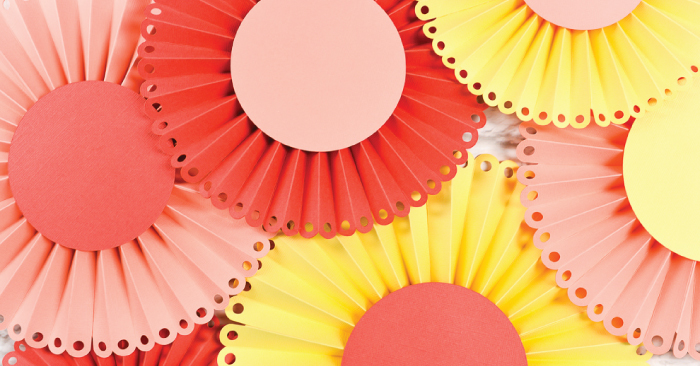 How to Make Paper Rosettes with the Cricut Scoring Wheel
Create these gorgeous paper rosettes for a baby shower, bridal shower or wedding. I will show you how to do it using the Cricut Scoring Wheel.
Read More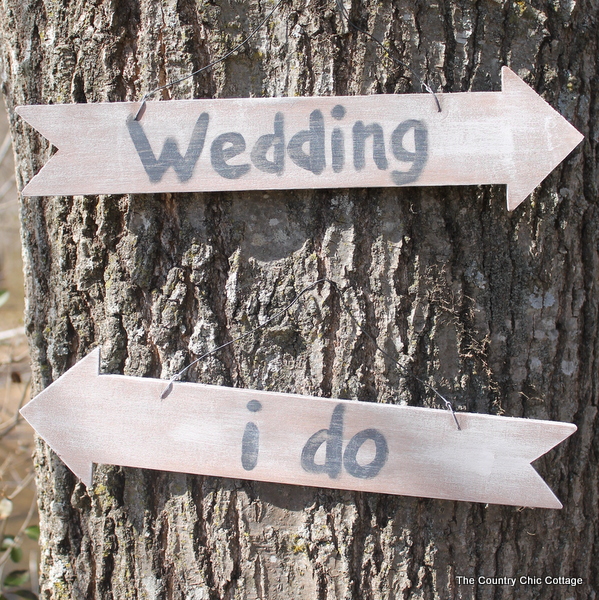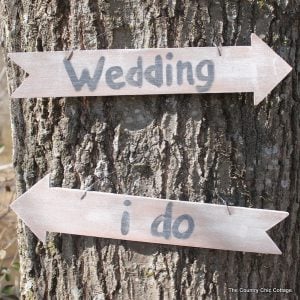 Rustic Wedding Signs
These rustic wood wedding signs are such a joy to create! Perfect for outdoor wedding celebrations, receptions, luncheons, or bridal showers, these DIY personalized wedding signs are almost effortless and create a super rustic aesthetic for the wedding couple and their guests.
Read More
DIY Floral Monogram Letters
Make these cute Floral Wooden Monogram Letters for your next special occasion! Makes a great baby shower or bridal shower decoration or gift idea!
Read More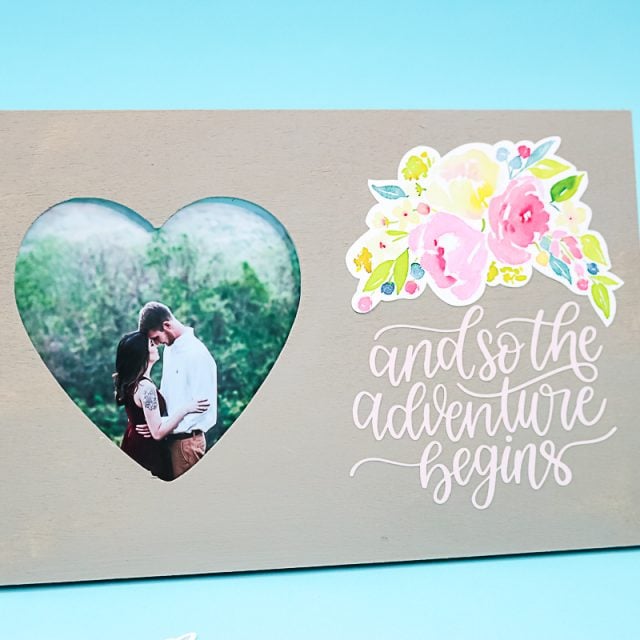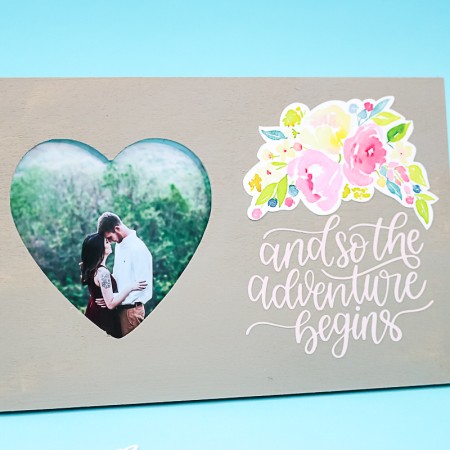 Wedding Picture Frame
Add special details to a wedding picture frame using your Cricut machine and a dollar store frame.
Read More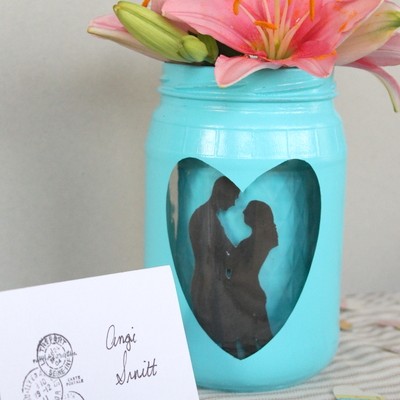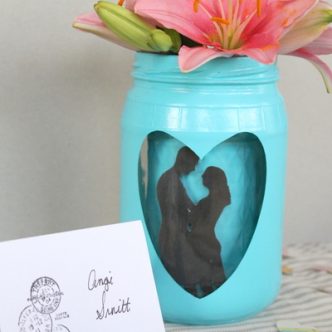 Wedding Mason Jar Centerpieces
Save money and add a special personal touch to any wedding by making these silhouette mason jar centerpieces!
Read More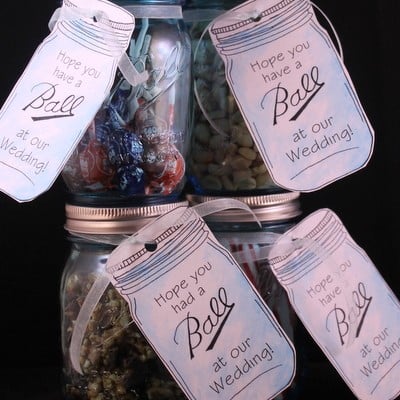 Mason Jar Wedding Favors
You're going to love these simplistic mason jar wedding favors! The perfect idea for the guests at your ceremony or in your wedding party, these crafty wedding favors using mason jars are so easy to make and such a joy to create!
Read More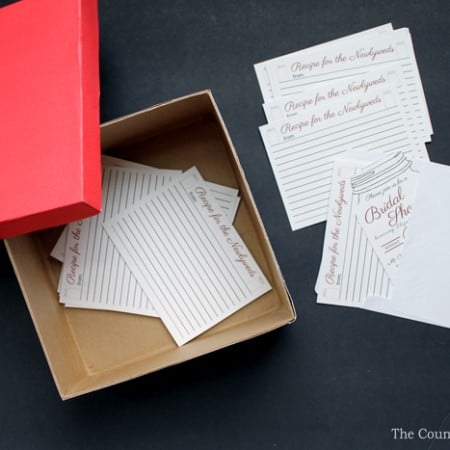 Bridal Shower Recipe Cards Gift Idea
Follow this tutorial to make a custom box to hold bridal shower recipe cards. It's an easy but priceless gift idea!
Supplies
Paper mache box set

Mod Podge

Decorative paper

Letter stickers
Instructions
Get a plain paper mache box.

Mod Podge decorative paper all over the box and lid to match the bride-to-be's wedding colors.

Add the word "recipes" (or the word of your choice) on the top of the lid with letter stickers.

Print out extra blank recipe cards to set out at the bridal shower or include them in the box as part of the gift.
Tried this project?
tag us to show off your work!