Make this burlap scarecrow garden flag to add a little fun to your flowers this fall. This project is easy to make yourself at home with a bit of burlap and some paint. There is some sewing involved but it is minimal and I know that you can do it! It is time to get started making this adorable flag for your home.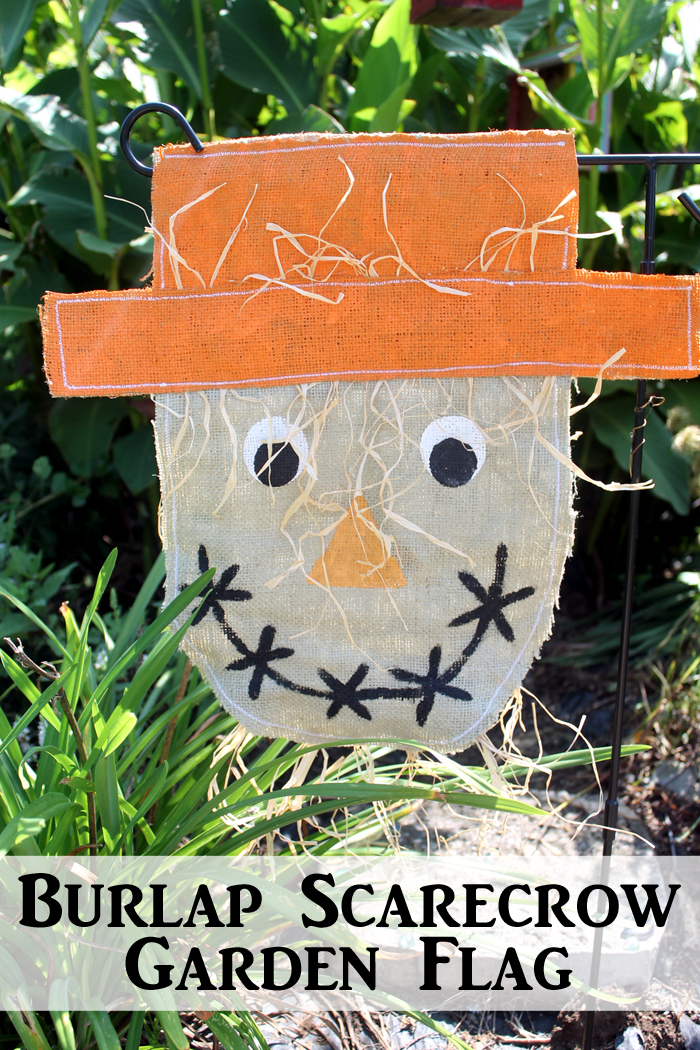 Supplies needed to make your own burlap scarecrow garden flag:
Some links may be affiliate links which means you do not pay anymore.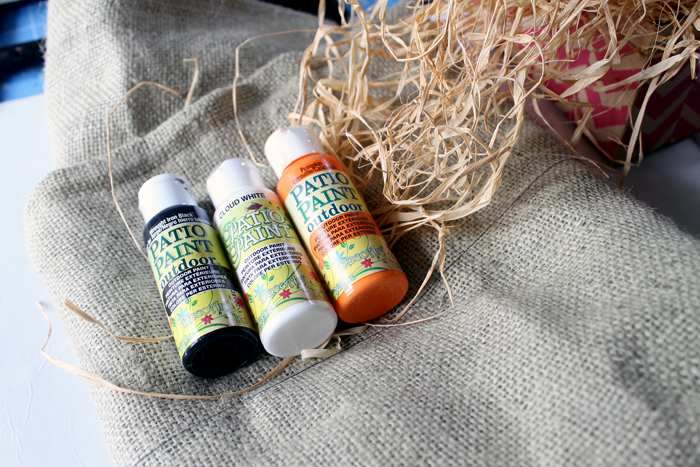 I made a short video for you to follow to make your own burlap scarecrow garden flag. You can watch it below. There are brief instructions listed below the video for those that can't watch or if you miss any of the steps.
Steps to creating your own burlap scarecrow garden flag:
Cut burlap into two 4 x 18 strips and two 12 x 18 pieces. The large pieces should be rounded on one 12 inch side.
Use orange outdoor paint to paint the two strips plus the top 5 inches or so of the large pieces. Allow to dry.
Use a round sponge brush to make eyes on your scarecrow with the outdoor paint.
Paint on a mouth and nose with outdoor paint. Allow everything to dry completely.
Sew the two large pieces together from where the painting starts all the way around the rounded edge and up until the painting starts again. Leave the painted portion open! Add raffia bundles to the "neck" area of your scarecrow while sewing.
Layout one long strip upside down, pieces of raffia, your sewn scarecrow heads, more pieces of raffia, and your other long strip.
Pick up carefully and sew around the long strips on your sewing machine.
Finish by sewing across the top as well as up some on each side as shown below. Just leave a large enough pocket to fit in your garden flag hanger.
Trim any raffia if desired with scissors and hang in your garden!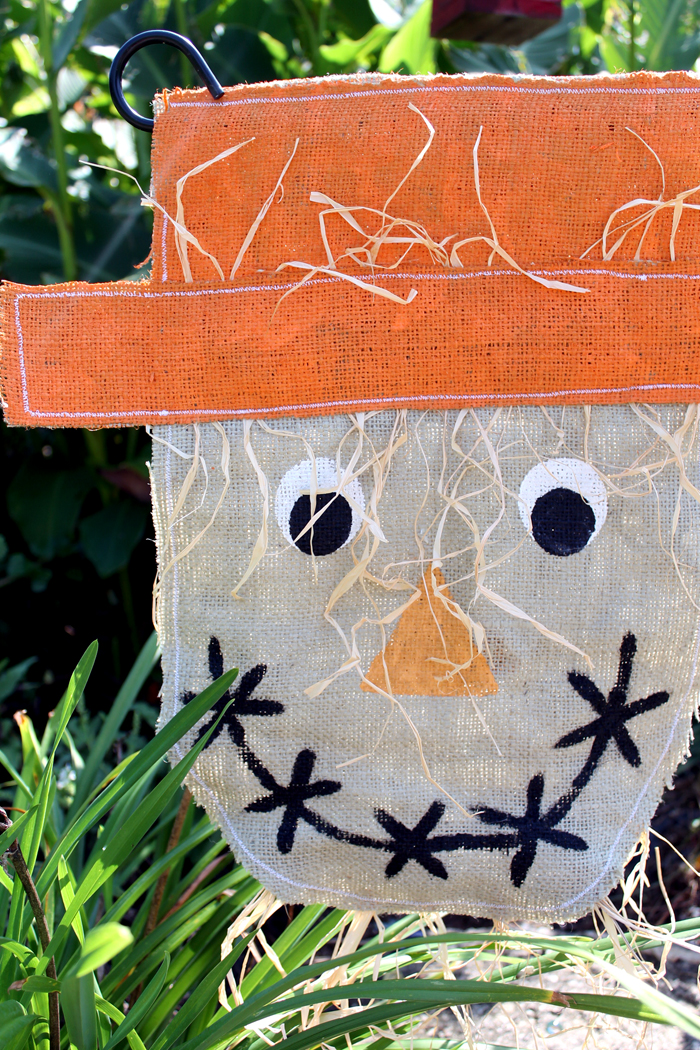 This cute burlap scarecrow garden flag is perfect for your outdoor fall decor. I love the touch of whimsy he gives to my flower bed. Give this project a try for yourself.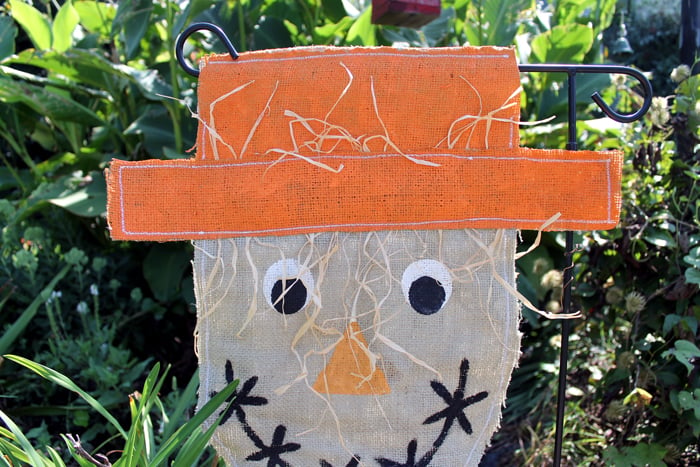 You will love the results just as much as I do! Intimidated by the sewing portion? Try starting with this no sew monogram burlap garden flag. Now break out the burlap and your sewing machine and get started on your own burlap scarecrow garden flag!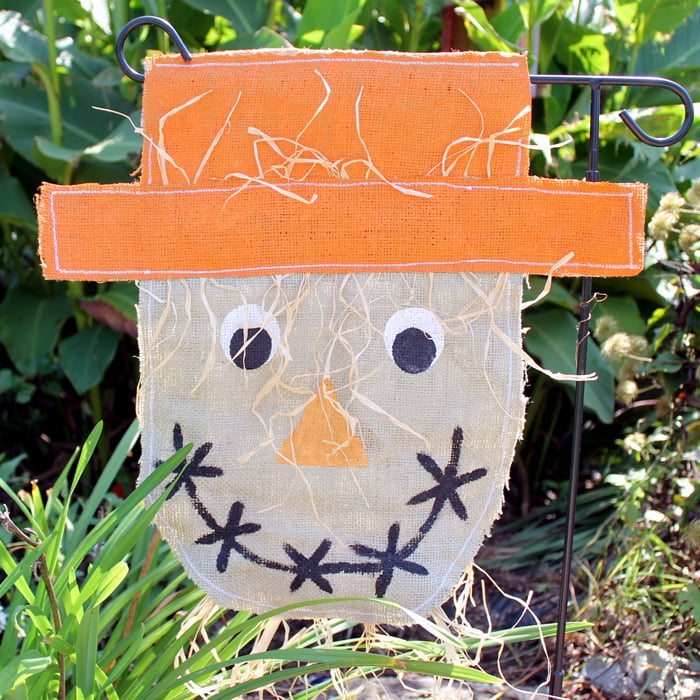 Want more ideas for creating your own garden flag? Give this mason jar garden flag a try as well!