Sunflowers are the image that embodies the transition from summer into fall. Follow along with this tutorial to make a cheery burlap sunflower wreath that's perfect for your front door this fall.
Fall is one of my favorite crafting seasons because there is so much crafting potential and inspiration!
For example, I saw a gorgeous rustic sunflower centerpiece on The Honeycomb Home the other day, and I was inspired to make a sunflower wreath for our front door.
As I was thinking about how I wanted to make this project and what I wanted it to look like (one large sunflower or multiple small sunflowers, etc.), I came across some scrap burlap that I had from another project.
Burlap is the perfect material for this craft. It's rustic by nature and lends a great texture to this DIY sunflower wreath project. Plus, it's a very "fall-like" material!
This burlap sunflower wreath will make a great addition to your door this fall, and it's quick to put together, so it's ready in just minutes.
Note: if you love fall decor, be sure to check out our Fall Mason Jars, Easy Farmhouse-Style Fall Centerpiece, and Fall Porch Decor!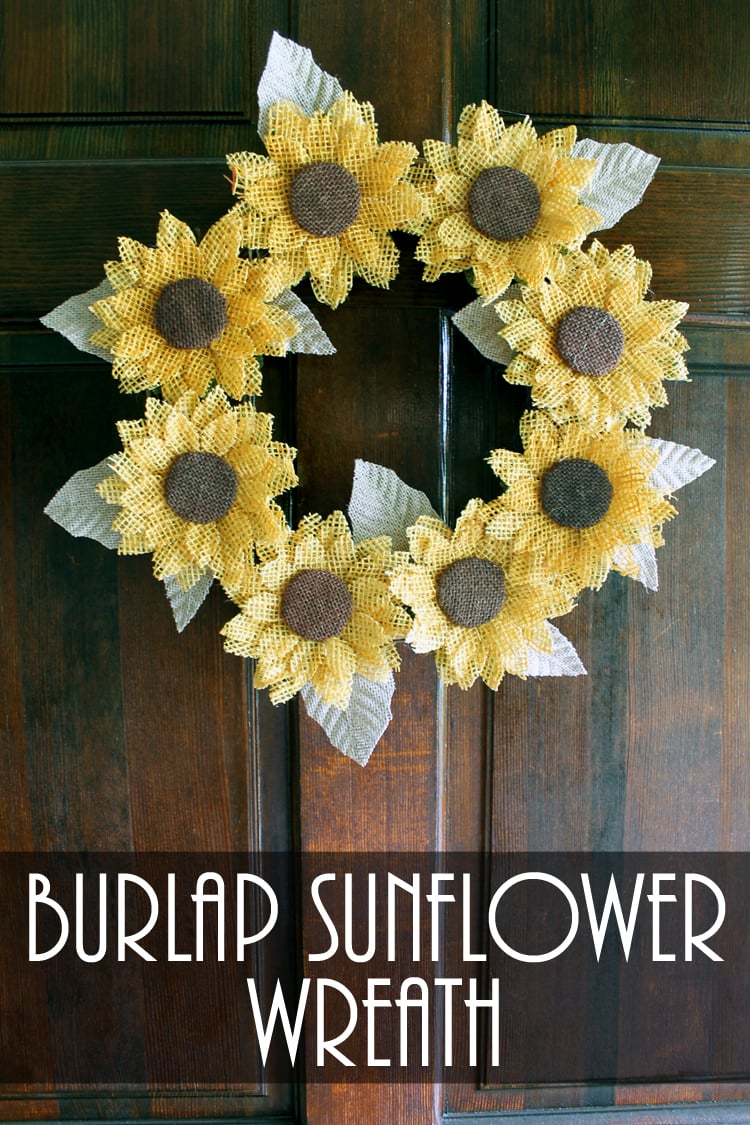 How To Make A Sunflower Wreath DIY
I love how simple this project is to make, and the final product just "screams" late summer and fall. It's the perfect transition from your bright, cheery summer decor to your bold fall decorations.
Supplies Needed
Here's everything you'll need to make this fun burlap wreath! I've included some handy links to make finding certain items a little faster.
Burlap sunflowers (I used eight)
12-inch grapevine wreath
Burlap poinsettia
Hot glue and glue gun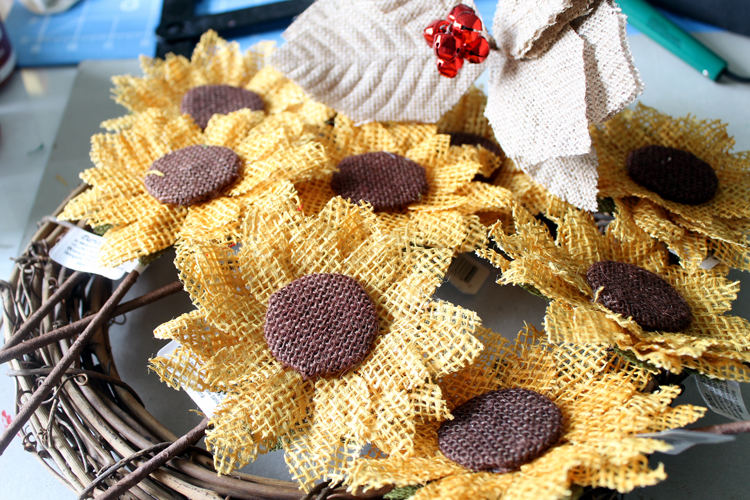 DIY Sunflower Wreath Instructions
This project is actually much easier than it appears at first! The gorgeous burlap sunflowers are the secret to making this craft project a quick and easy one.
Follow these step-by-step instructions to create your own burlap sunflower wreath.
Step 1
Start by using a pair of strong scissors or wire cutters to remove the stems from all of the burlap sunflowers.
Step 2
Arrange them on the grapevine wreath until you are happy with the placement. Use hot glue and your glue gun to secure them into place.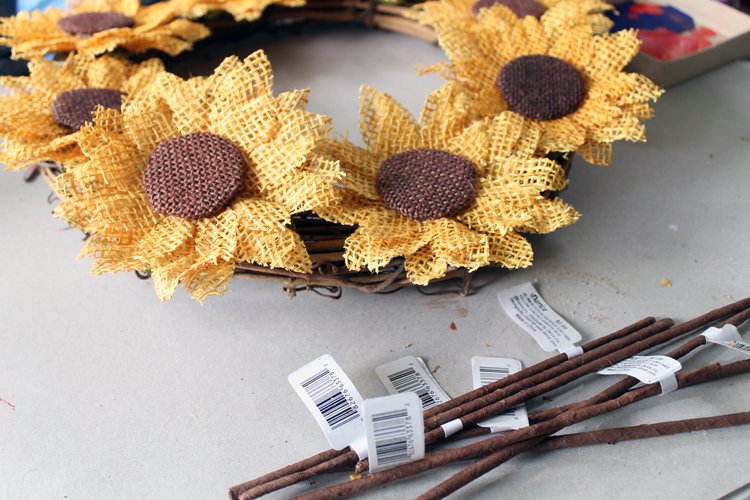 Step 3
I used the petals from the burlap poinsettia as the leaves for my wreath. Just trim all of the burlap "leaves" from the flower with a pair of scissors.
They make great leaves, and you don't have to worry about cutting them out of burlap yourself! Gotta love time-saving tricks like that!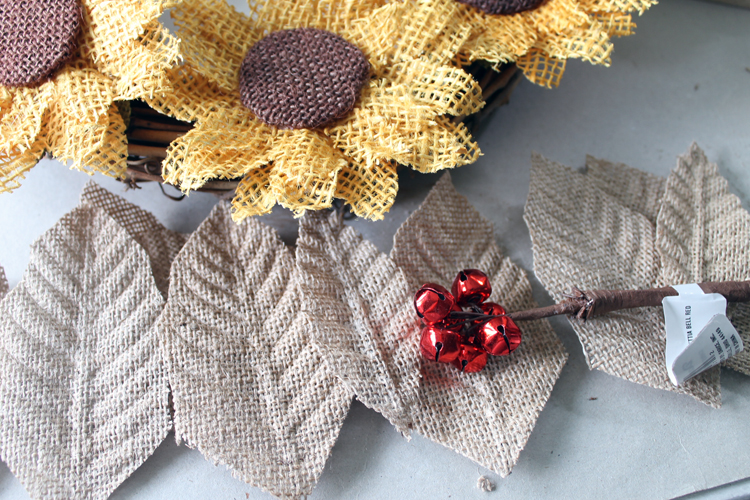 Step 4
Arrange the leaves onto your wreath by sticking them under the burlap sunflowers. Use hot glue and your glue gun to secure them into place.
I randomly placed my leaves both on the inside and outside of the burlap sunflower wreath.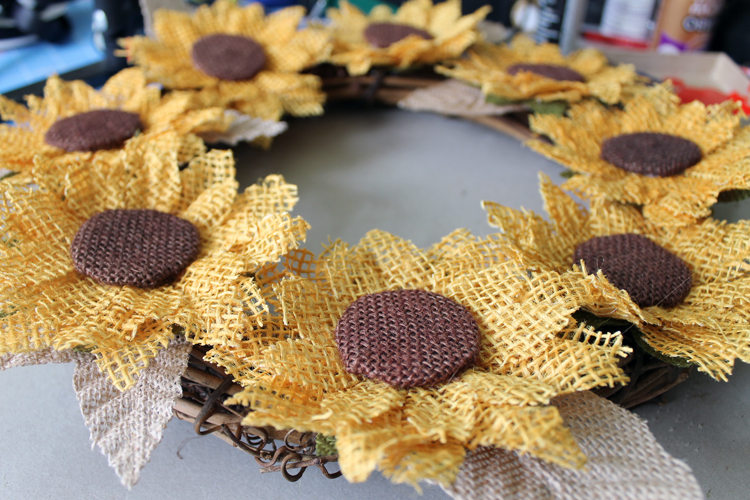 Your gorgeous burlap sunflower wreath is done, and you can now hang it on your door. It's perfect for fall but could actually work for spring or summer, I think. If you love burlap and sunflowers, this is the wreath for you!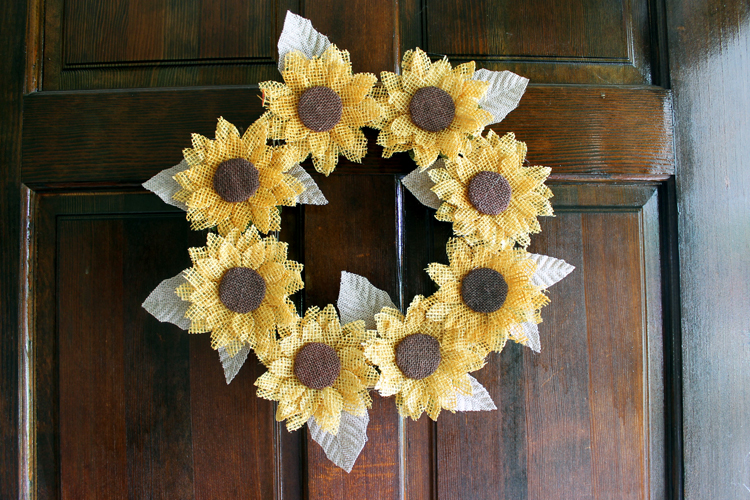 FAQs
Here are a couple of questions that I see readers ask about making this sunflower wreath project. If you have a question, please check to see if I've already answered it below. Don't see your question? Leave it for me in the comments!
What should I do if I can't buy these burlap sunflowers?
If you can't find the sunflowers, you have several options for making this wreath. First, you could take yellow and brown burlap and create similar-looking flowers yourself. Just know that this is the most time-consuming option.
Alternatively, you could buy different types of sunflowers to use. Although I love the look of the burlap flowers, this wreath would look amazing with bold faux sunflowers or a different style of craft sunflowers (made from burlap or other materials).
No matter which type of "flower" you use, the basic process for making the wreath stays the same.
Where can I find the supplies for this wreath?
If the links I provided above don't work (sometimes items go out of stock), I recommend checking out Michael's, Hobby Lobby, and Etsy for any supplies you need. If those sites don't have quite what you're looking for, try doing a Google search to find what you want.
Can I use a different type of wreath base?
For some projects, there is some flexibility in the wreath base that you use. However, for this sunflower wreath, a grapevine wreath base is the best choice to provide a great-looking final product.
If you absolutely much use something like a foam base, I recommend spray painting it brown before making your wreath.
Add this burlap sunflower wreath to your list of projects to complete this season. It'll add a special touch of fall to your porch (or indoor) decor!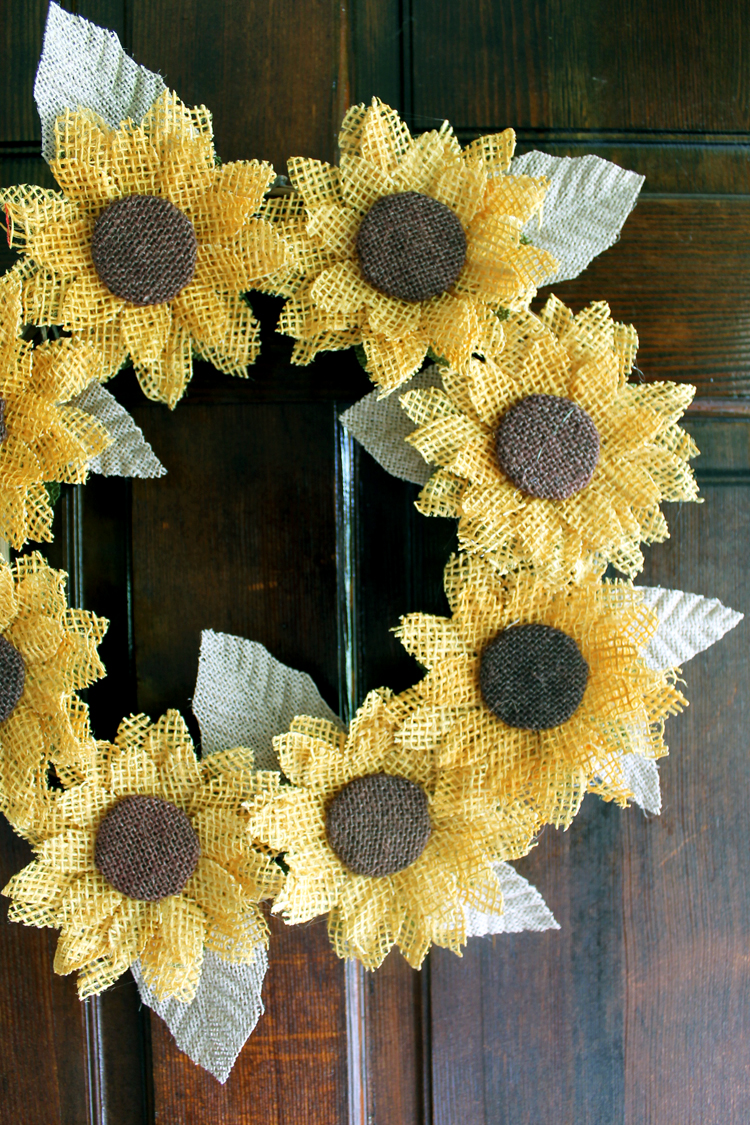 More Fall Crafting Inspiration
Do you love sunflowers or burlap? You might want to try these other craft ideas as well!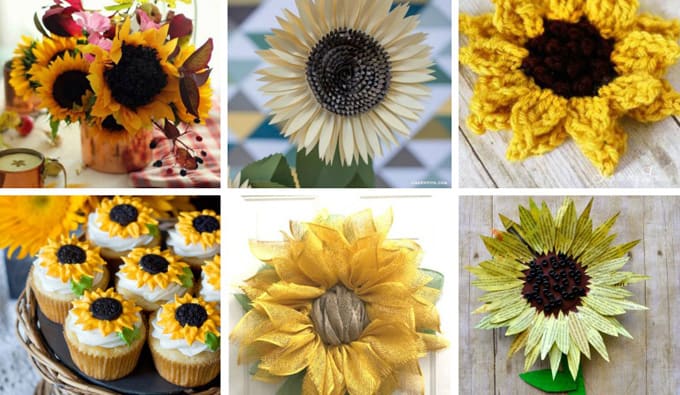 Sunflower Crafts & Recipes: 50+ Sunflower ideas for kids and adults
Making sunflower crafts is a fun way to usher in the fall season. These sunflower craft ideas range from preschool through full fledged adults, so have fun!
Read More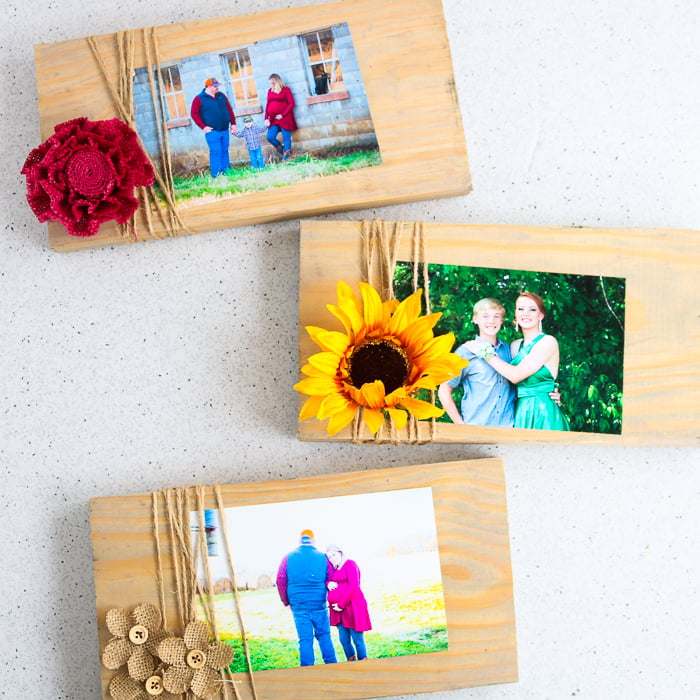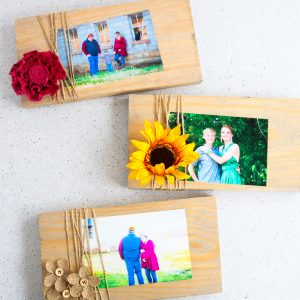 How to Make a Picture Frame from Scrap Wood
Here's how to make a picture frame using scrap wood. Add fun embellishments and personalizations to create rustic, creative homemade picture frames in just a few simple steps.
Read More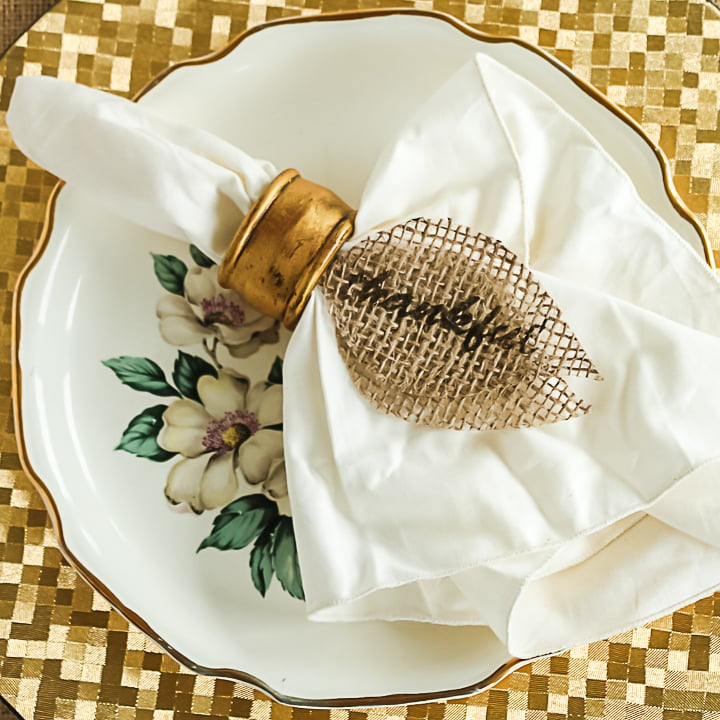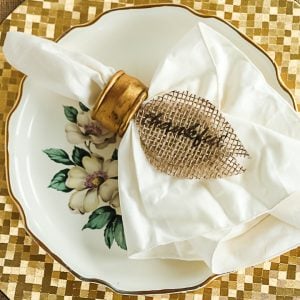 DIY Burlap Leaves
Make leaves from burlap for Thanksgiving with this easy craft idea.
Read More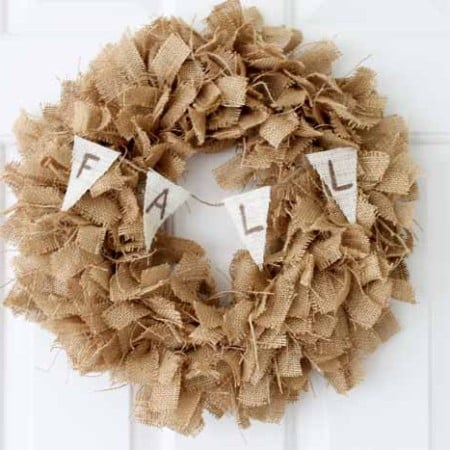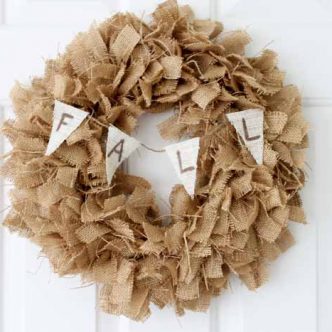 How to Make a Fall Burlap Wreath
This simple DIY burlap wreath is the perfect way to add a touch of rustic decor to your home! Use this simple technique to create this burlap wreath in just a few minutes.
Read More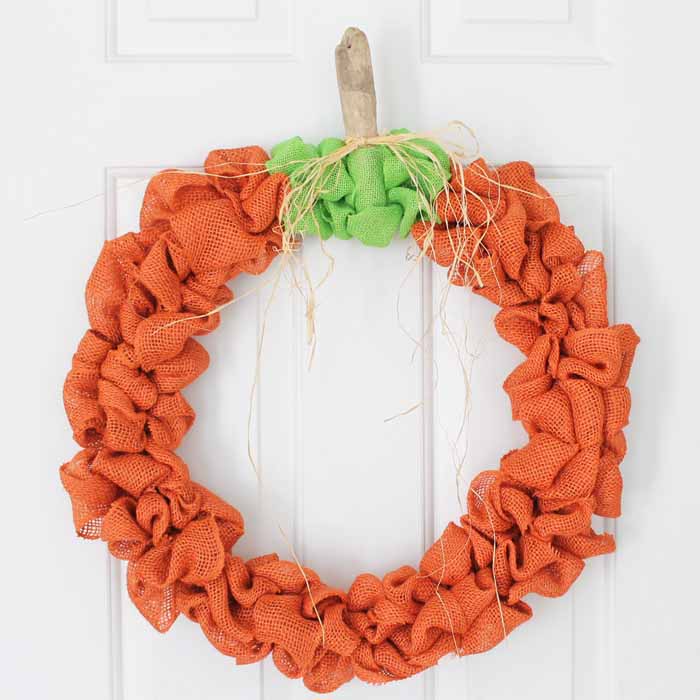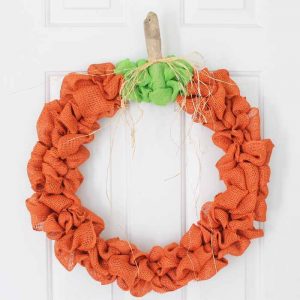 Fall Burlap Pumpkin Wreath
Make this adorable fall wreath to grace your front door and add that perfect fall color – in just 15 minutes!
Read More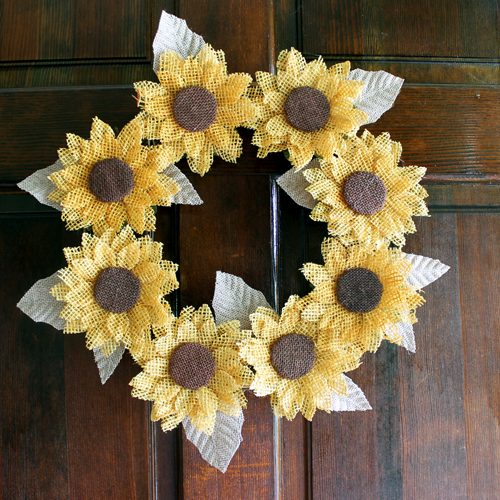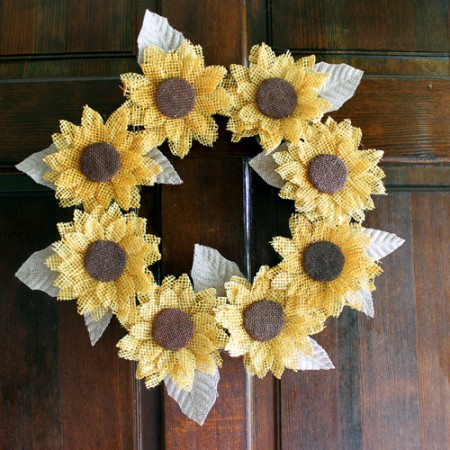 Easy DIY Burlap Sunflower Wreath
This rustic, cheerful burlap wreath is a breeze to put together and makes the perfect addition to your fall decorations.
Supplies
Burlap sunflowers

I used eight

12-inch grapevine wreath base

Burlap poinsettia

Hot glue and a glue gun

Scissors or wire cutters
Instructions
Using scissors or wire cutters, cut off the stems from the sunflowers.

Arrange the flowers on the grapevine wreath until you like the placement. Then secure them in place with your hot glue gun.

Next, cut off the petals from the burlap poinsettia to use as the leaves on the wreath.

Arrange the leaves behind the sunflowers, adding them in randomly to look natural. Secure them in place with hot glue and your glue gun.

Your wreath is complete and ready to display!
Tried this project?
tag us to show off your work!