A fall centerpiece is the perfect decor piece for your fall decorating. Save money by making a lovely farmhouse fall centerpiece for your table!
Fall is a season that provides so much inspiration for decorating. From farmhouse fall porch decor to fall wreaths, I have so much fun transforming my home with fall decor.
One thing that many people don't think to add to their autumn decorations is a fall centerpiece. A great centerpiece will take your season decor from good to wow!
Here's a fall centerpiece design that only takes a few supplies and can be ready in just minutes. It's a rustic style centerpiece that will fit right in with any farmhouse decor. You, too, can add some farmhouse style to any fall gathering that you might be hosting this season.
Note: If you crave more fall inspiration, check out our Simple Fall Farmhouse Wreath, Simple Fall Fairy Light Luminary, and Three Tier Stand for Fall Decor projects.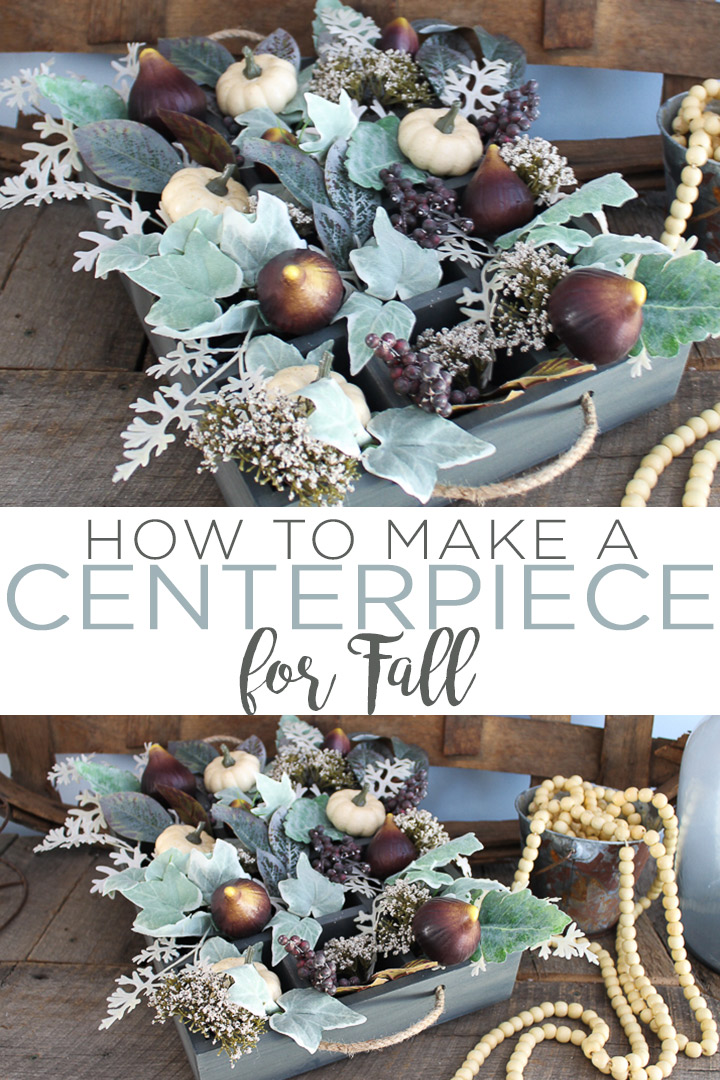 How To Make A Fall Centerpiece
Are you ready to start crafting? This design will match nearly any fall decor, and you can easily customize it to make it fit your home.
Supplies Needed
Here's everything you'll need to make this DIY project! I've included some handy links to make finding certain items a little easier and faster.
Unfinished divided wood crate
Rope
Grey stain (or stain in the color of your choice)
Fall florals
Rag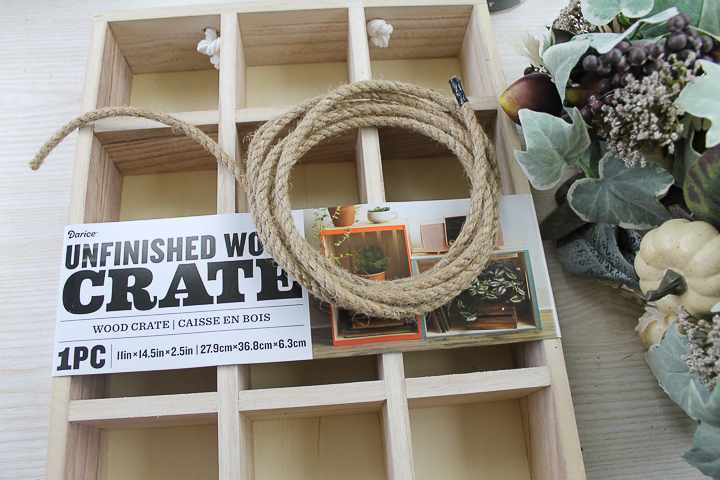 Instructions
Here's the process I used to make this seasonal project. Just follow the step-by-step instructions to see for yourself how easy it is to make a farmhouse-style fall centerpiece.
Step 1
Remove the rope handles that are attached to the wood crate with a pair of scissors.
Step 2
Next, stain the entire crate in the color of your choice.
Just brush on the stain, allow it to sit a few minutes, and wipe away the excess with a rag. Repeat for the entire tray, and then allow to dry completely.
I used grey because I love it! To me, it adds a rustic farmhouse look all within a few minutes.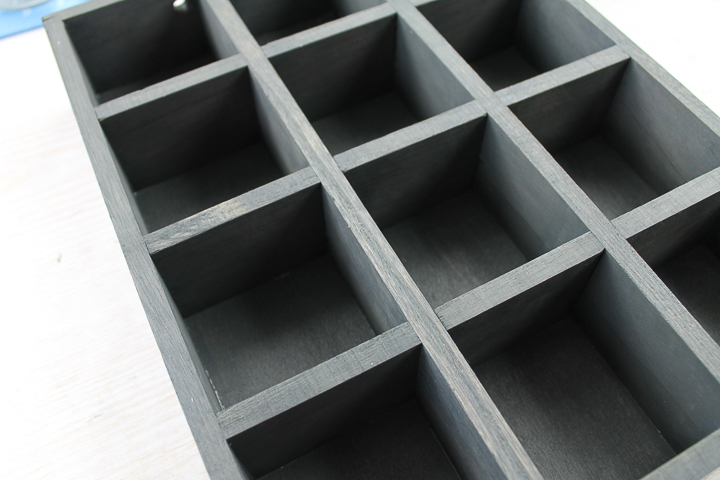 Step 3
Once the stain dries, you can add more rope to the holes for handles. Just knot the rope on the inside to secure.
Repeat this for both sides of your wood crate.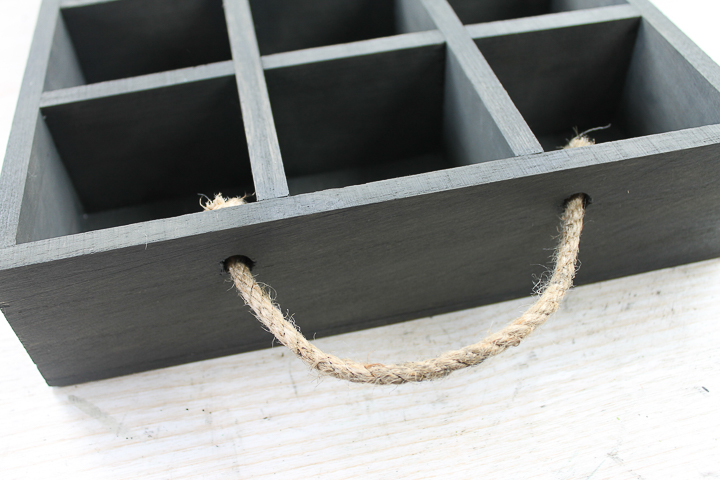 Step 4
Then all that is left to do is to fill your tray with fall florals!
I just added my pieces to the tray without any glue, but you can add glue if you would like.
I like having the option to change this design up for other seasons. Add in Christmas florals after the fall, winter florals follow after the holidays, and then the crate can be decorated for spring.
With that plan, this fall centerpiece can actually grace your table all year long!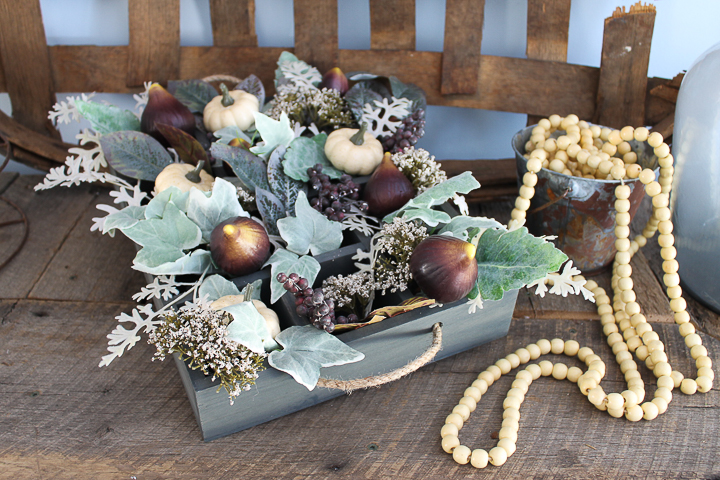 And that's it! In less than 15 minutes, you have some fall table decor that everyone will love.
This project is perfect for a fall dinner gathering or even for your Thanksgiving meal. If you love farmhouse-style decor, be sure to get the supplies to make your own version!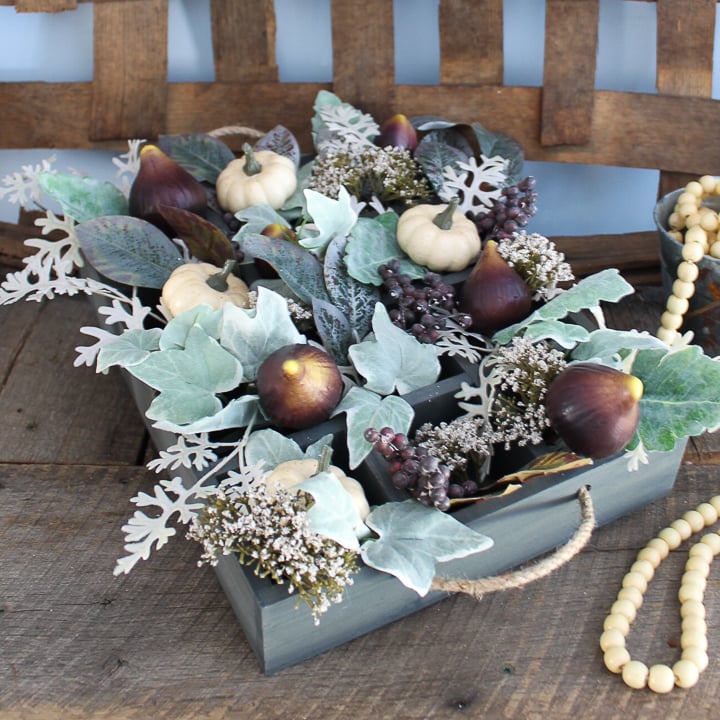 FAQs
Here are a couple of questions that I see readers ask about making this seasonal fall centerpiece. If you have a question, please check to see if I've already answered it below. Don't see your question? Leave it for me in the comments!
How do you decorate a fall centerpiece?
I like to start by adding a mix of leaves and flowers. Use a variety of shades and sheens to create visual interest. Then to add in some additional texture, I like to include small pumpkins and gourds.
Why isn't this fall centerpiece taller?
A good centerpiece decorates the table without interfering with conversations between guests around the table. For example, a large vase of flowers doesn't make a good centerpiece during meals because guests can't see around them. Something short like this low crate makes the perfect short receptacle for centerpiece pieces!
Does your centerpiece need to match the rest of your decorations?
Ideally, yes. But, that doesn't mean that your fall centerpiece needs to look just like the rest of your decor. All you really need to do is use some of the same colors, and you can branch out to create a unique, but coordinating, piece!
You are going to love how this fall centerpiece looks on your table this season. Plus, who doesn't love that divided wood crate? It is amazing, right?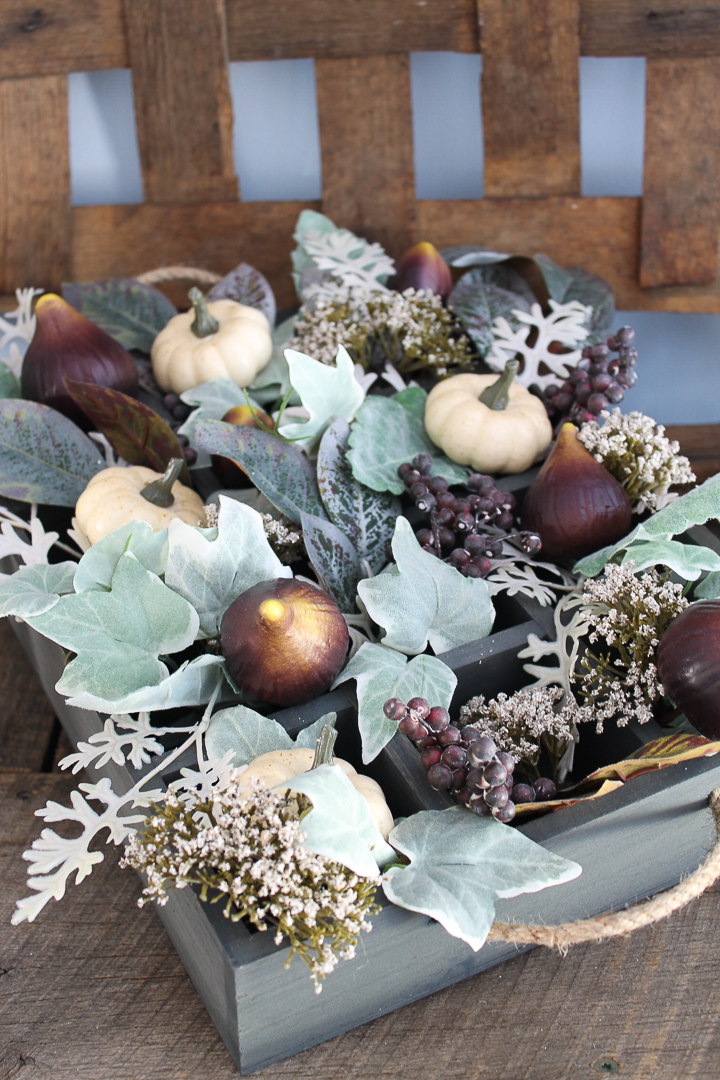 More Fall Decor Inspiration
Do you love this farmhouse fall decor idea and want more ideas? Try the links below as well!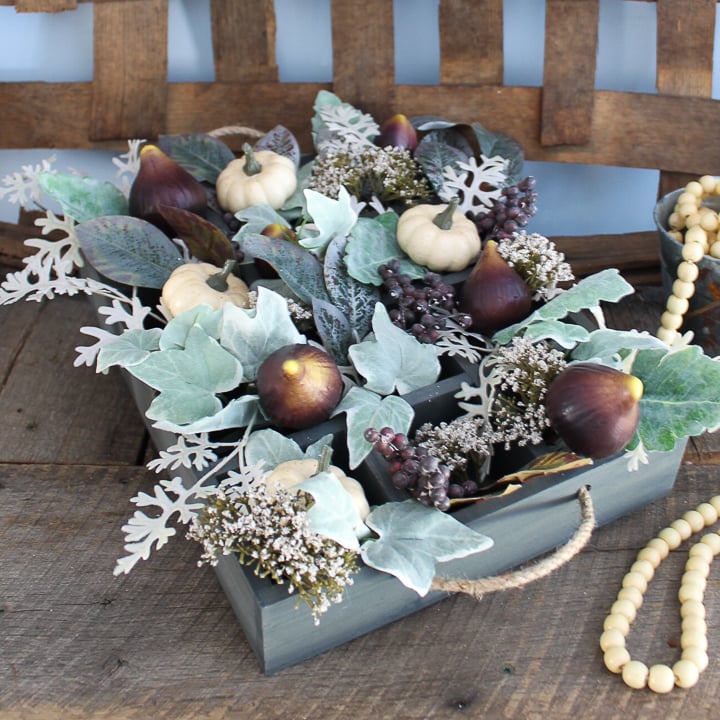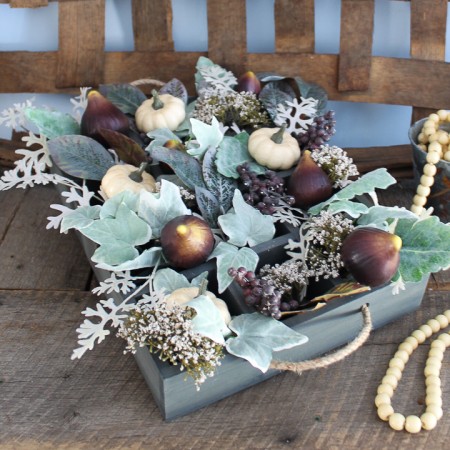 DIY Rustic Farmhouse-Style Fall Centerpiece
Make a simple and easily customizable fall centerpiece to complete your fall decor.
Supplies
Unfinished divided wood crate

Rope

Gray stain

Fall florals

Rag
Instructions
Use a pair of scissors to cut off the rope handles that come attached to the wood crate.

Next, with the color of your choice, brush the stain all over the entire crate. Allow it to sit for a few minutes, then take a rag and wipe off the excess.

Allow it to dry completely.

Once the stain dries, you can add more rope to the holes for handles. Simply knot the rope on the inside to secure. Make sure each side has a rope handle.

Fill your tray with beautiful fall florals, and your centerpiece is complete!
Tried this project?
tag us to show off your work!