If you haven't seen them before, Christmas gifts in a jar are all the rage! Not only is the jar the perfect eco-friendly way to hold a present, but you can fill them with so many creative things.
Who doesn't love a gift in a jar? Jen Goode is back again this month with Christmas gifts in a jar that everyone will love this holiday season. So, grab your jars and start adding in those gifts!
How to Dress Up a Christmas Gift in a Jar
The next time you want to put together Christmas gifts in a jar, I have a fun idea for dressing them up.
The ideas really are almost endless. You can decorate your jars with bows, ribbon, glitter, or use twine to add a pretty little tag. You can also grab free printable tags or stickers to add onto your creation.
Use Your Cricut
But, if you want to get even more crafty, you can step it up a notch and make this fun paper bow and card set using your Cricut.
If you don't have a Cricut, and you like to craft, you need one! I use mine for absolutely everything. In fact, you can see all my Cricut posts here.
In this project, for example, I'll show you how to pick your favorite colors and create custom accents to dress up those jars!
Use your Cricut machine to create all kinds of pretty accents for your mason jar gifts. I used the art I created to make these accents. You can find all of the designs in this project in Cricut Design Space.
Just head to the canvas I've already set up and the images will be there, ready for you to cut. If you have a Cricut Access account, these images are included in your membership.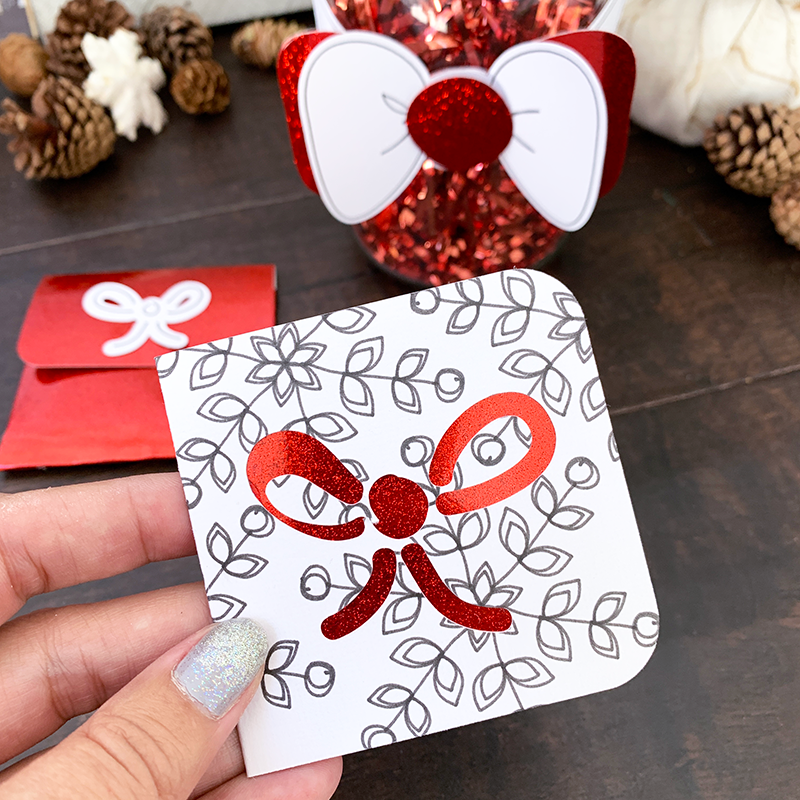 Materials to Make Christmas Gifts in a Jar Decor
Instructions
Head to the Cricut Design Space canvas I've set up to help get you started. Follow the on-screen instructions to draw and cut the pieces.
Assemble the envelope by folding and gluing the edges together.
Layer the inside card piece cut from colored card stock to the external card and adhere together.
To assemble the bow, layer the different pieces and glue together at the center of each piece. Fold each bow just to the side of the center "knot"
Attach the bow to the jar by wrapping along the body of the jar and adhering in place. Optionally, you can cut a strip of paper or a ribbon and glue the bow to the ribbon and then wrap around the jar.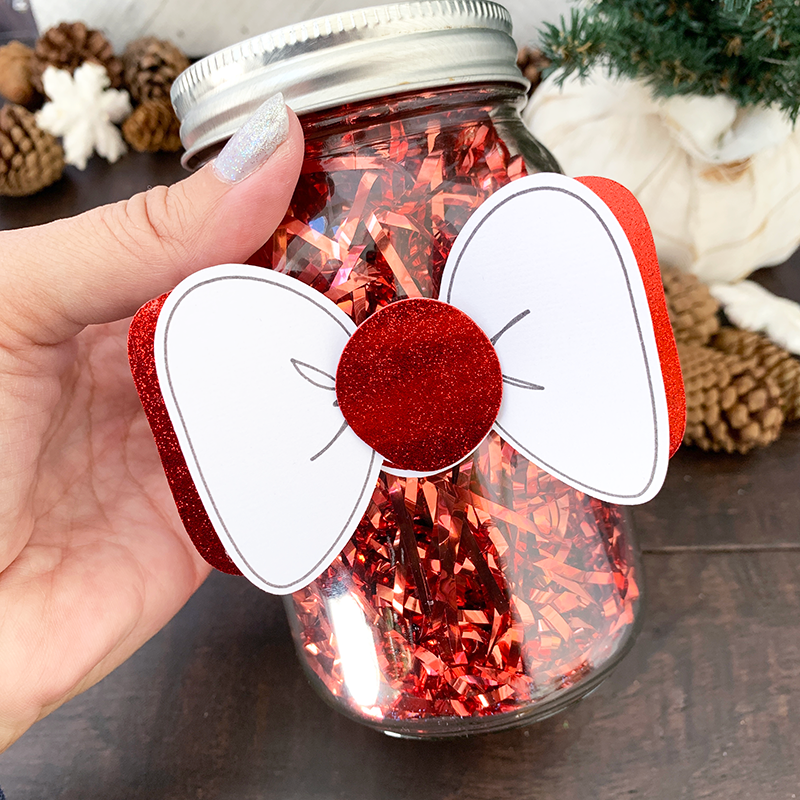 Tip: I used thick glitter cardstock for all the red in my project. This kind of card stock doesn't always stick well with standard glue. So, I used a hot glue gun and set it to high. Then I used a clip to hold pieces together for a bit while the glue cooled and set well. Just be careful with these small pieces and really hot glue.
November Digital Mystery Box
The designs in this project are a part of the digital mystery box from Cricut this month! You can see another project using the same set here. Between the two, you are well on your want to a handmade holiday filled with gorgeous creations. With the mystery box, you get all the images and background papers from this design set PLUS new Cricut fonts and 4 more design sets all for $29.99.
Ready to purchase? Click here to get your mystery box!
Need more convincing?
Read more about this cute winter cut file set and see more projects you can create with it here.
I hope you have fun decorating your Christmas gifts in a jar with these pretty paper accents. You can mix and match and create all kinds of paper pieces. Happy crafting!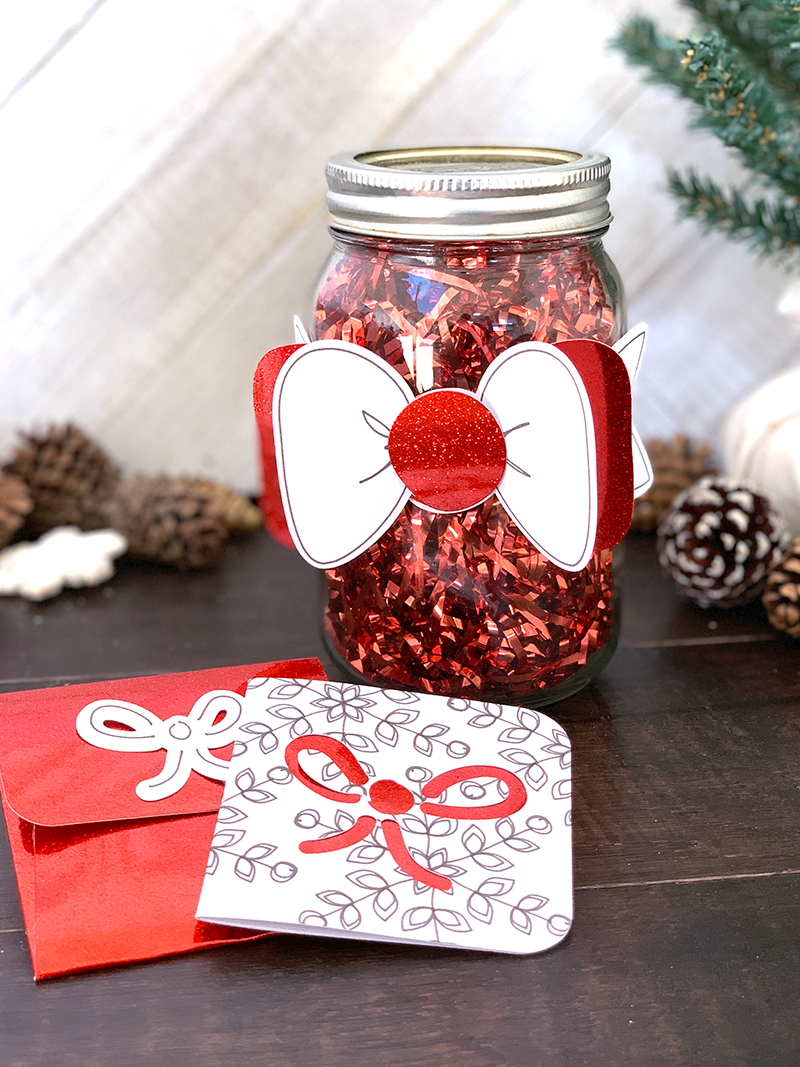 Free E-book: 10 Christmas Gifts in a Jar
Now that your jar is looking gorgeous, it's time to add your gift to it! If you are at a loss for what to fill your jar with, don't worry. I've got you covered with this FREE e-book that shares 10 of my favorite ideas!
More Gifts in a Jar Ideas:
New to Cricut?
Sign up for our email list to download the Beginner's Guide to Cricut Design Space for FREE today!
Sign up to get the guide emailed to you!