Are in the market for a Cricut machine? Wondering whether the Cricut Maker or the Explore Air 2 is the right choice? We have all of the information you need to make the best decision based on your craft style.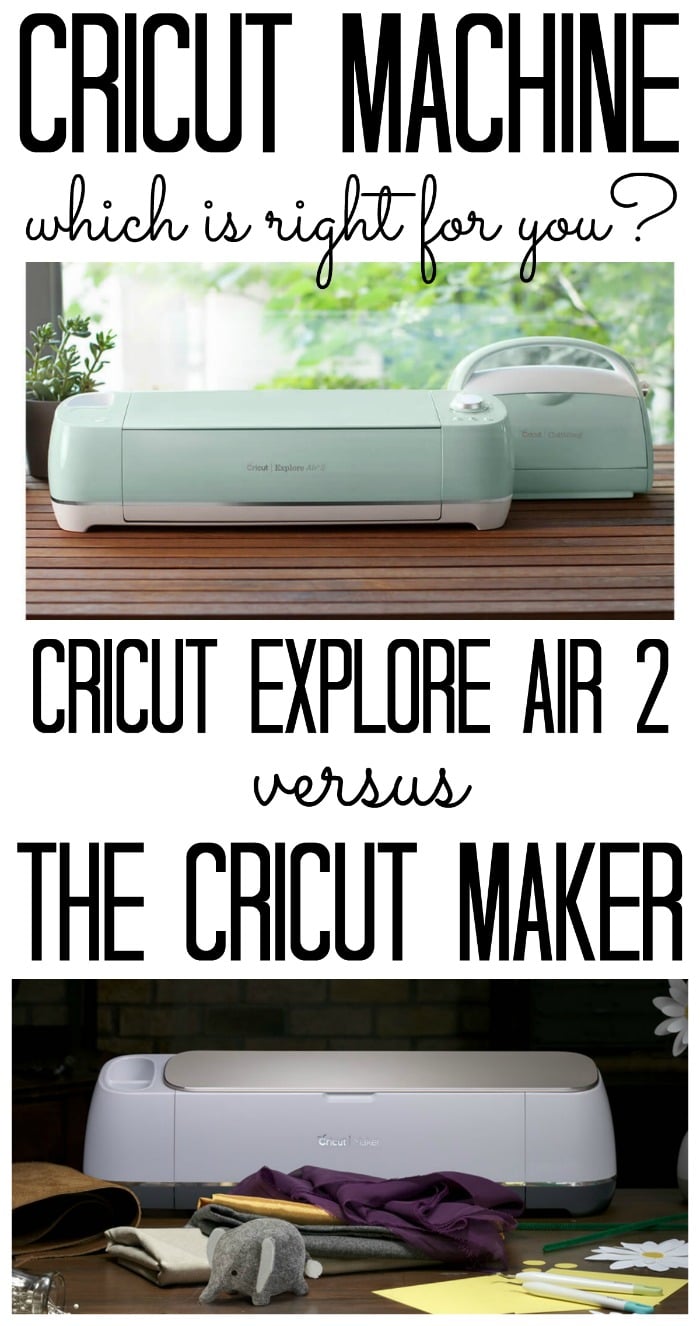 Once you've decided which machine fits your crafting style you can order the Cricut of your choice or put it on your wishlist for the holidays.
This post may contain affiliate links which means that you do not pay anymore, however, a small commission from every purchase will go to this site.
Cricut Machine Breakdown
First, what are the details of each Cricut machine? Here is a brief breakdown to get you familiar with each one. You can also see our first edition of the Maker versus Explore Air 2 post here. (In 2021 Cricut released the Maker 3 and Explore 3 machines – find my full review of all Cricut machines here.)
Cricut Explore Air 2 cuts a hundred different materials – everything from the most popular craft materials like cardstock, vinyl, and iron-on to specialty materials like glittery paper, polished foils, and bonded fabric. Versatile Fine-Point blades enable Cricut machines to cut light- to medium-weight materials quickly and accurately, down to details smaller than a nail decal. And with Cut Smart™ technology, you'll get the same results cut after cut. Compatible with Fine Point blade, Deep Point blade, Scoring Stylus, and Cricut pens.
Cricut Maker does everything the Explore Air 2 will do and so much more! It quickly and accurately cuts hundreds of materials, from the most delicate paper and fabric to the tough stuff like matboard, leather, and balsa wood. Basically, it places more creative possibilities than ever at your fingertips. Want more tools? You got em! It is compatible with the same tools as the Cricut Explore above plus the Rotary Blade, Knife Blade, and the Quick Swap Tools including the Scoring Wheels, Engraving Tip, Perforation Blade, Wavy Blade, and Debossing Tip.
Now, are you ready to learn a bit more about both machines and actually see what they can do? We have all of that and more!
The Blades
The heart of any Cricut machine is the blade. I thought the simplest way to show you the differences in the machines is to show you the blades. Below you have all of the available blades and right away you will see a dramatic difference in the tops.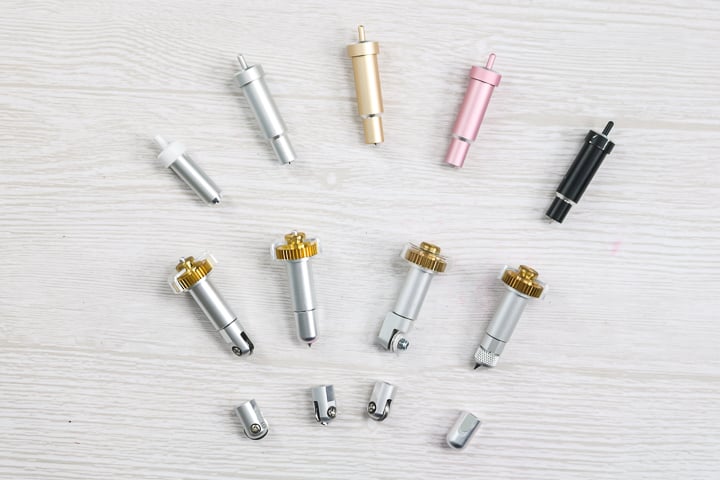 The blades on the top are the Fine Point and Deep Point Blades. Far left top is the Cricut Joy Fine Point Blade then we have 3 variations of the Fine Point Blades. The black housing is for the Deep Point Blade. Other than the Joy blade these work with either the Explore or the Maker machines. The Fine Point actually comes with both machines. You can see that the Deep Point allows you to get a little deeper but not a ton. We are actually going to use this one on a few projects below.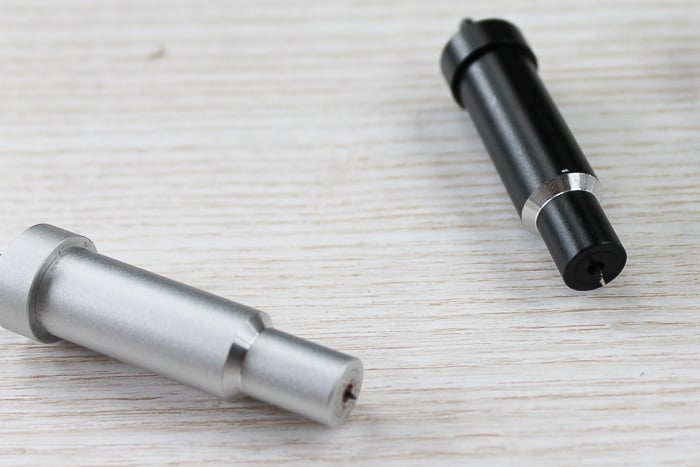 The rest of the tools are way different. They are for the Maker only and work with the Adaptive Tool System. This system is only available with the Cricut Maker and helps to control the direction of the blade and the cut pressure. It's easy to tell by the gear on top. The Rotary Blade comes with the Maker while the others need to be purchased separately. So what do they do? I am glad you asked!
The Rotary Blade is similar to a larger rotary blade you would use to hand cut fabric. Only now you can use it with the Cricut Maker to cut fabric like never before. You don't have to add anything to the back just place the fabric right on the fabric mat and start cutting. You can cut cotton, fleece, denim, and more. From the very delicate to the very thick and robust. It is truly my favorite blade of all time. You can see a few of my trials cutting with the rotary blade by clicking here.
The Knife Blade is next and you can think of this as a craft knife for your Cricut. Combined with the 10X more cutting power that the Maker provides, it really is a powerhouse. The extra-deep Knife Blade cuts through dense materials up to 2.4 mm (3/32") thick with unprecedented ease and safety. It's ideal for thicker materials like balsa wood, matboard, and heavy leather. It may very well tie with the rotary for my favorite. Okay, I will admit it would be a close race! Want to see a few test cuts with the knife blade? Click here for my experiments with this one.
The Adaptive Tool System is the latest addition to the Maker family. With one housing you have access to so many possibilities. I dive deep into all of the Adaptive Tool tips on this post here. Scoring Wheels are great for sharp score lines for all your paper crafting projects. Wavy Blade gives you wavy cuts. The Perforation Blade is perfect for tearaway projects. The Debossing tool works on a variety of materials like chipboard, cardstock, and even some types of leather. The Engraving Tool is perfect for engraving aluminum, leather, and more.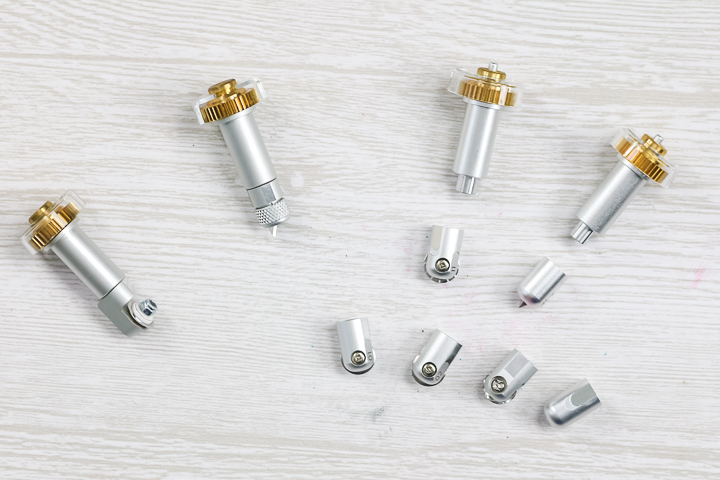 Cricut Machine Video Comparison
Now that you have a good background of both machines. I went into even more detail about some of the differences in the video below.
Want to see how to make each of the projects mentioned in the video and get some more details? Just keep reading!
Cutting Plastic Canvas with Your Cricut
I actually take requests from time to time of materials that I should try to cut on my Cricut machine. Plastic canvas was one of those materials. So why not? You can find the cut file for the bookmarks below here if you would like to cut them yourself.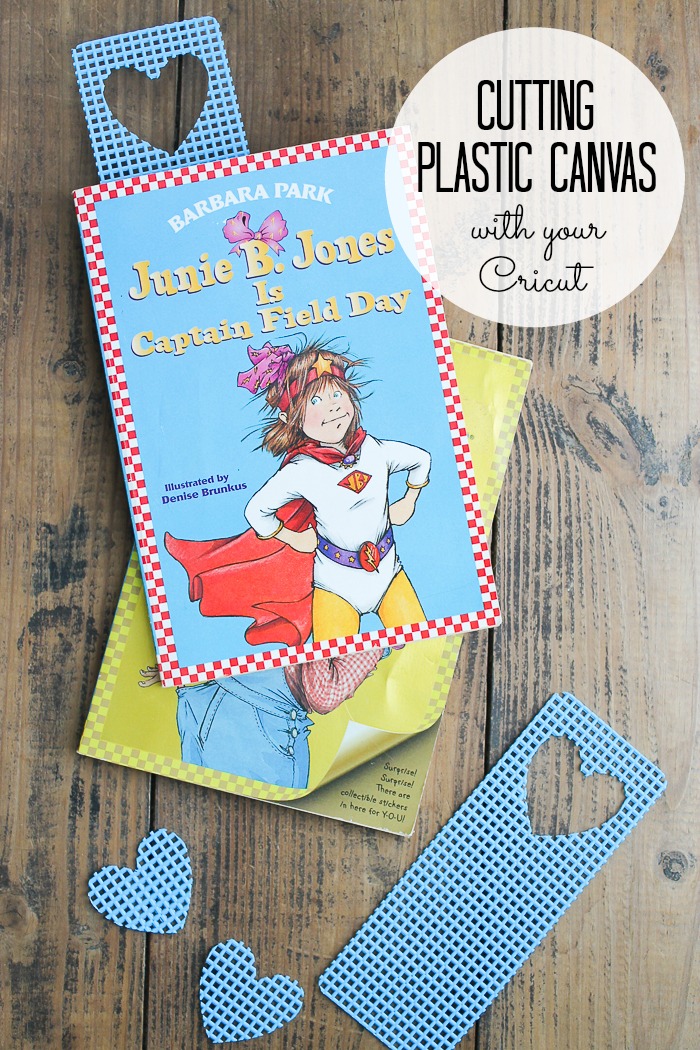 You can actually cut plastic canvas with the Deep Point blade and it cuts super easy. I did have to choose more pressure in Cricut Design Space to get a good cut, however. I would also recommend not doing too intricate of a design. It cuts fine either way but intricate designs tend to get lost on the open weave of the material itself.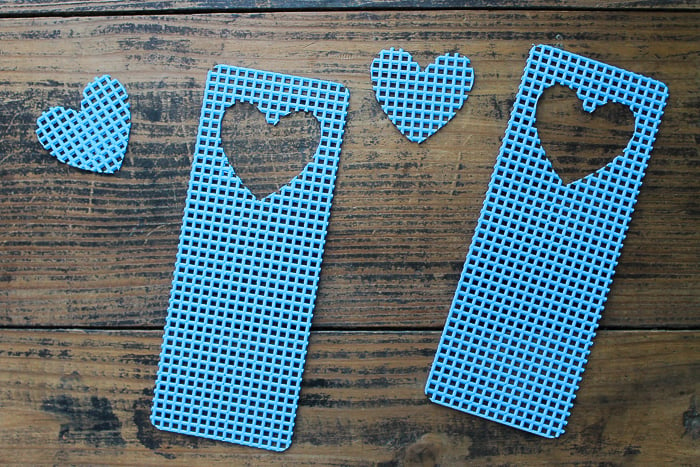 Since this one cuts with the Deep Point blade, you can cut it with either the Cricut Maker or the Explore Air 2. Just pick "plastic canvas" when choosing your material and I would also recommend a strong grip mat to hold the material still. If you are having trouble with the material moving, use masking tape on all four sides.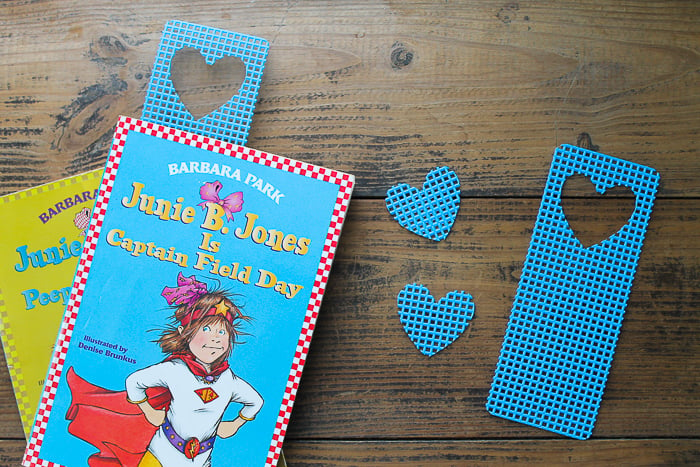 This is one fun material to stretch your Cricut Explore Air 2 machine. Grab some plastic canvas and make a few projects!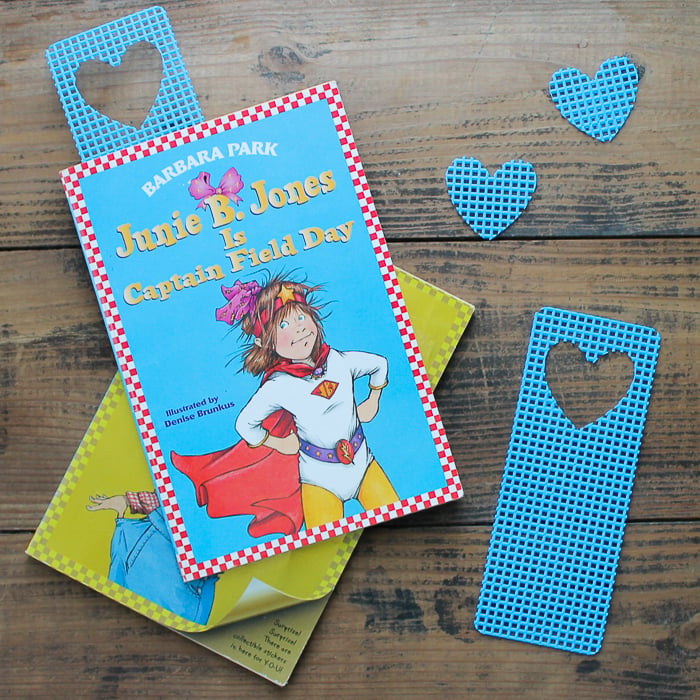 Cutting Aluminum Cans with Your Cricut
What a Cricut machine can cut metal? Oh yes, it can! I actually cut thin copper in this post and wanted to expand on that a bit for this post. I wasn't even sure if this one would work but I was excited to try. You will want to read on and follow all pointers below if you want to try to cut coke cans. You can also click here to get the cut file for the succulent I used.
First, cut the top and bottom off of your cans and cut a slit all the way down them with metal shears. Flatten them as much as possible. Add them to a strong grip mat. You can also tape down the edges with masking tape especially if they are not laying down well. You will then need to use Snap Mat to position your cuts. This means you will need a smartphone or tablet with the Cricut Design Space app. You can find out more about how to use this by clicking here.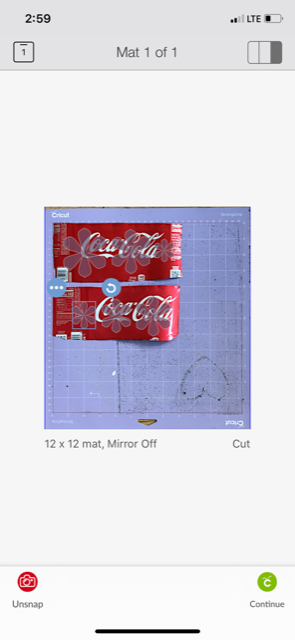 I actually used the 4 ply mat board setting which calls for the deep point blade but sometimes I had to run my material through one more time to get a good cut. Now, I think the inconsistencies in the cans, as well as the fact that they will never be truly flat really, affects your cut. If you get some cuts that are not quite all the way through, you can actually just bend them slightly and they will break right out. The video above shows me doing this if you need to see it.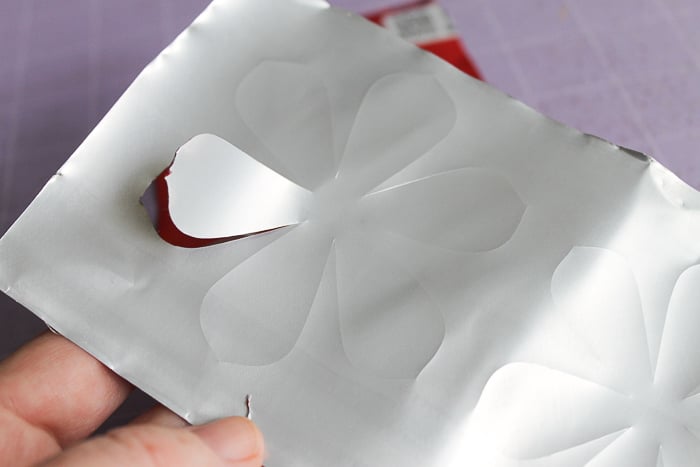 However, the inconsistencies also lead to issues with the cuts. You may have some ruined pieces. Do not expect to get perfect cuts every time with this material. You will also want to watch your Cricut machine carefully when cutting this and stop the machine if it starts to mess up.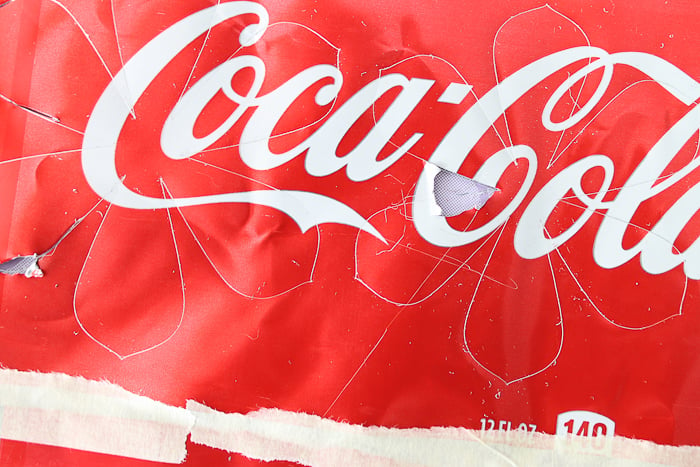 I got enough pieces for a pretty good looking succulent, however. I think it is amazing that I can cut materials like this with my Cricut machine!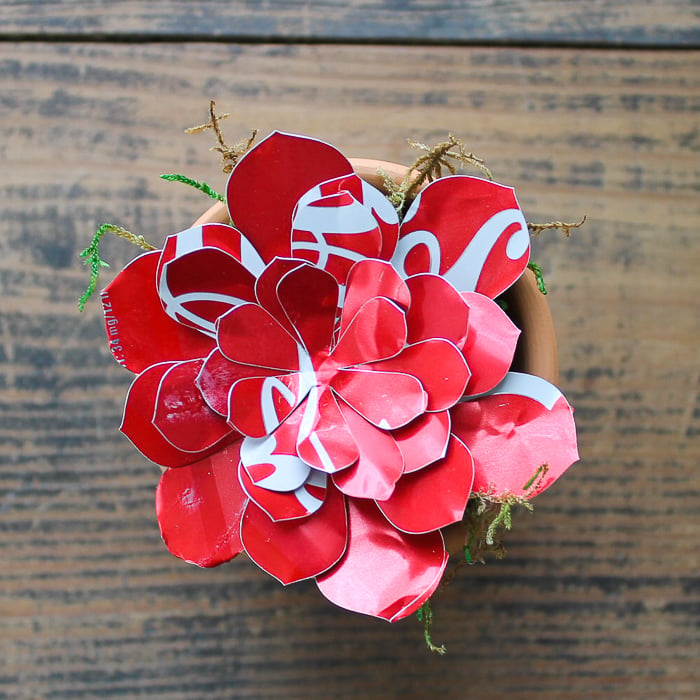 This one is also cut with the Deep Point blade so you can use the Maker or Explore Air 2 for it. Think way outside the box when it comes to projects with your Cricut machine. There is so much you can do with them besides just cut paper and vinyl!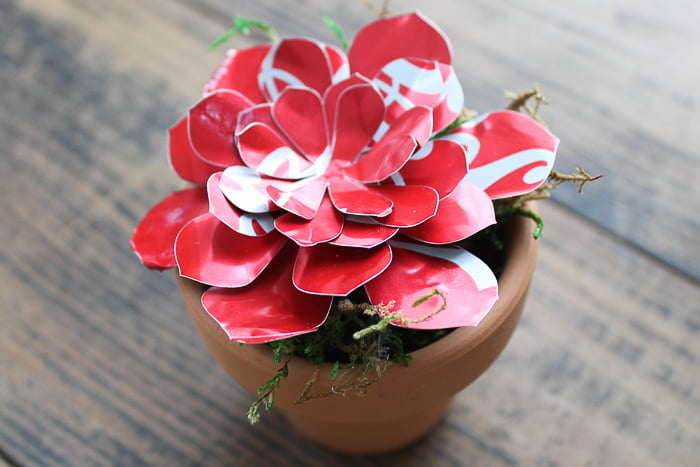 Cut Wool Felt and Flannel with Your Cricut Maker
I wanted to show a couple of projects above that could be made with either the Explore Air 2 or the Maker. Yes, the Explore Air 2 can make cool things. But you can do so much more with the Maker! Now we are going to get into some projects that you can only cut with your Maker machine. First up is cutting wool felt and flannel to make the cute ornaments below. You can find the cut file for these by clicking here.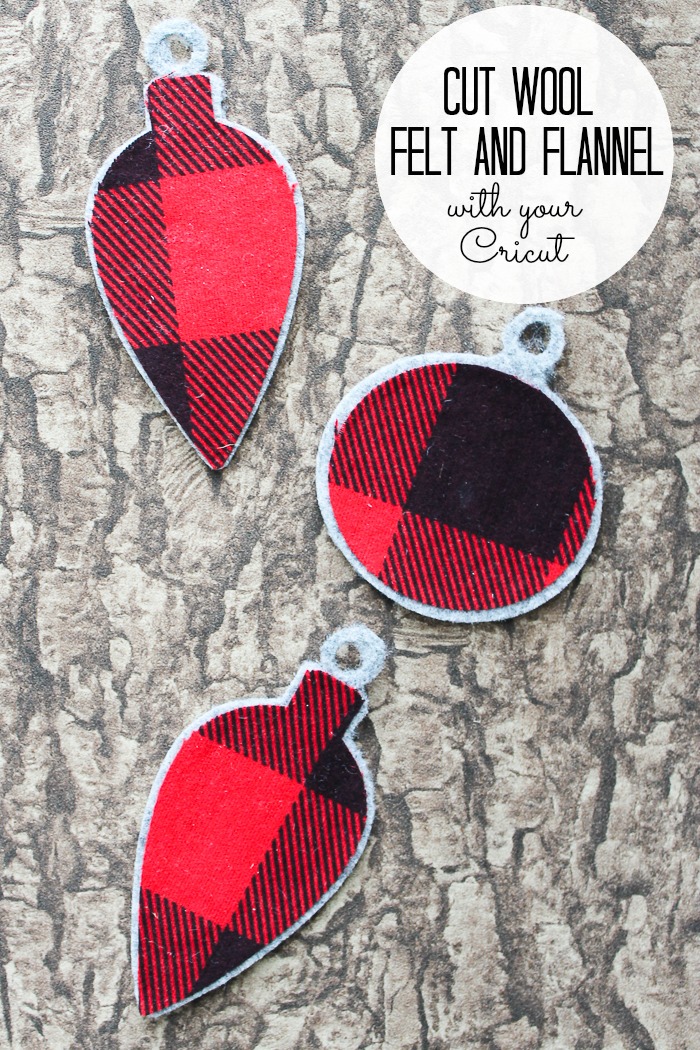 The Maker cuts felt like a dream! Just put your felt right down on the mat and use your Rotary Blade for best results. I wanted to stretch the limits on this, however. I picked up some 3 mm thick wool felt. Now it is true that the Maker can cut materials up to 2.4 mm thick. But I have actually cut 3 mm craft foam before as well (you can see that here). Materials like these that can compress when going into the Cricut machine usually work great even if they are a little thick.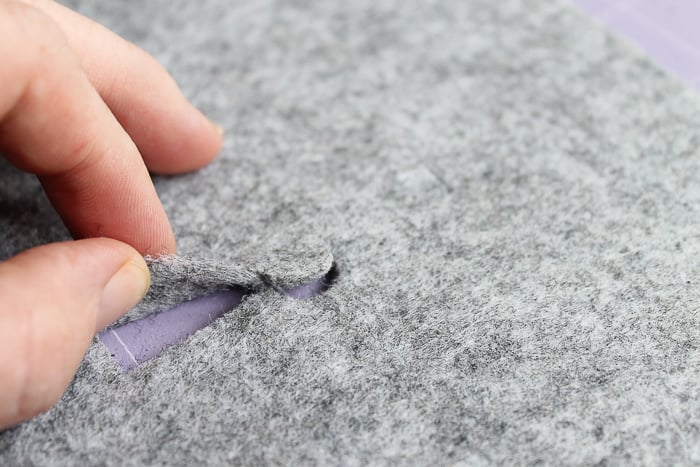 So, to cut this thick felt, I used a heavy fabric setting then after each cut, I would check the cuts BEFORE unloading the mat from the machine. If it didn't cut through just hit the green "C" on your machine to make another cut right over the top of the first one if needed. I actually did 4 passes to get my wool felt to cut. It also did not do great with super intricate cuts so keep that in mind with your designs.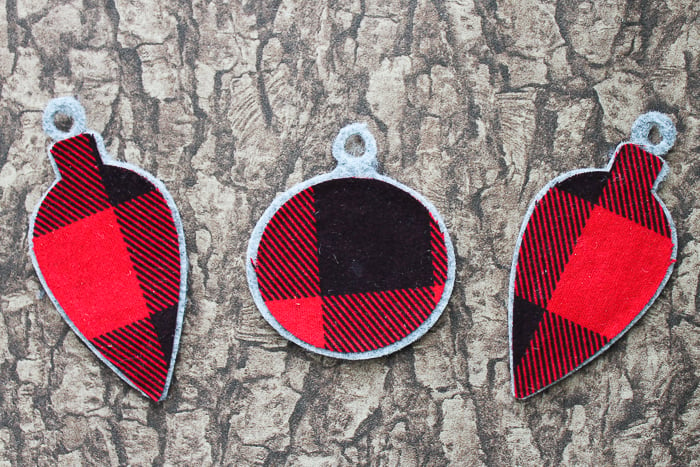 I wanted to add a layer of flannel to these ornaments as well. Cutting flannel is as easy as putting the fabric on your mat and cutting away on the flannel setting. Remember that the Cricut Maker requires no backer on fabric when cutting so it is great for projects like this one.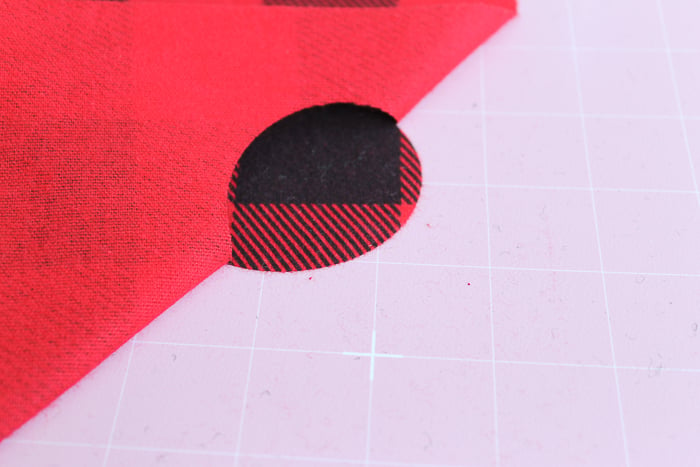 I then used glue to put the two pieces together and had a few cute ornaments in no time at all….thanks to the Cricut Maker.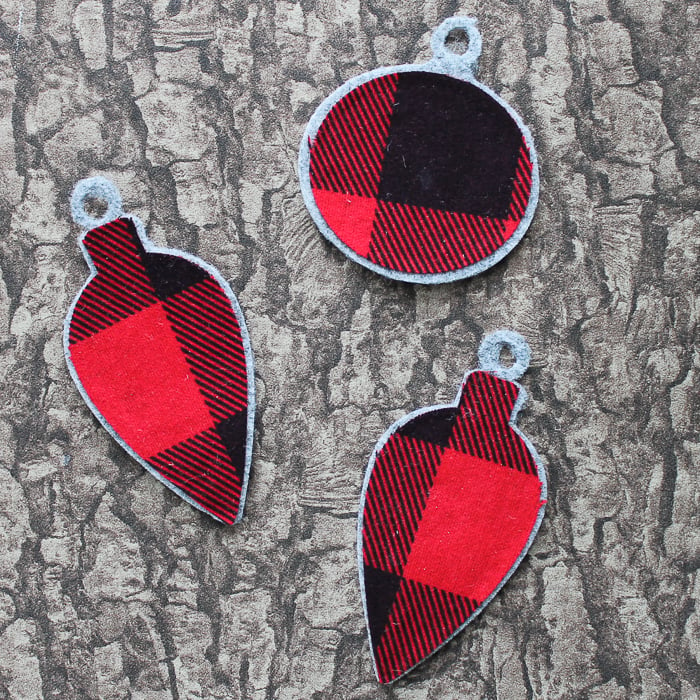 Cut Thermal Barrier Fabric and Batting with Your Cricut Maker
I wanted one project that would really show the wide variety of fabrics that the Maker can tackle. A pot holder or mug rug is the perfect one! I actually did a cut file here for this Christmas shaped one here but just think of all of the shaped potholders you can make for yourself and to give as gifts. Making gifts is actually one of the best parts of owning any Cricut machine.
So, how does this little project show versatility? It actually has three fabrics included in this one project. The first is this thick batting that goes in the middle. Yes, I cut that with my rotary blade and it worked perfectly! Try the Insulbrite setting for this one and remember to check your cut before removing your mat from the machine.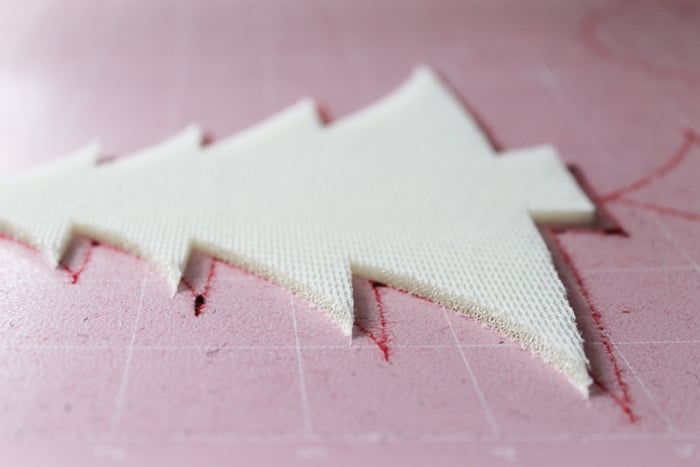 Next is this super thin thermal barrier fabric. From thick to thin, the rotary blade cuts it like a dream! I used the lame setting for this one.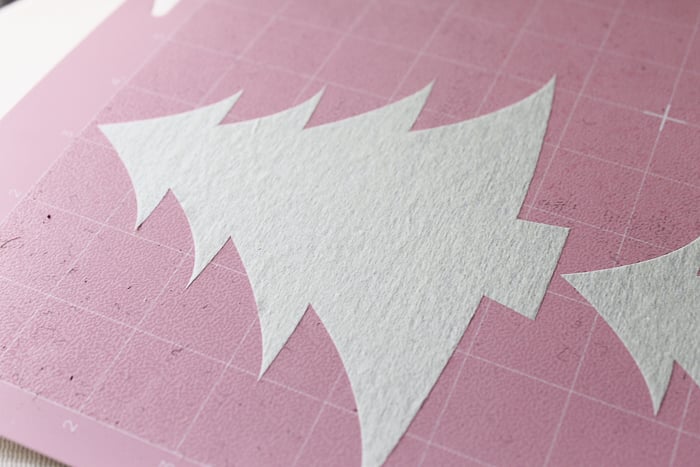 Then, of course, the flannel itself which we already talked about above. Then just stack your layers and sew up your project.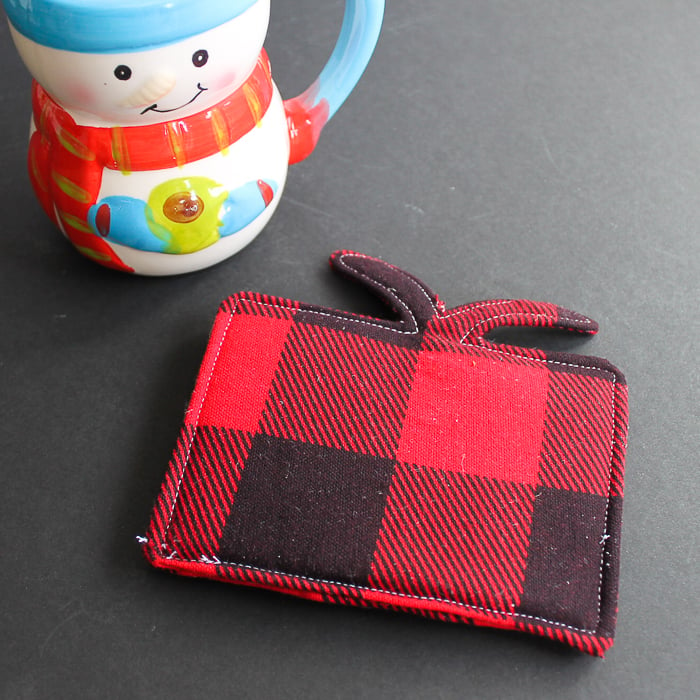 I really love how easy the Cricut Maker makes sewing projects. You can easily find hundreds of patterns in the Design Space digital library. Pick a project and the machine cuts all the pieces you need. It doesn't get much better than that!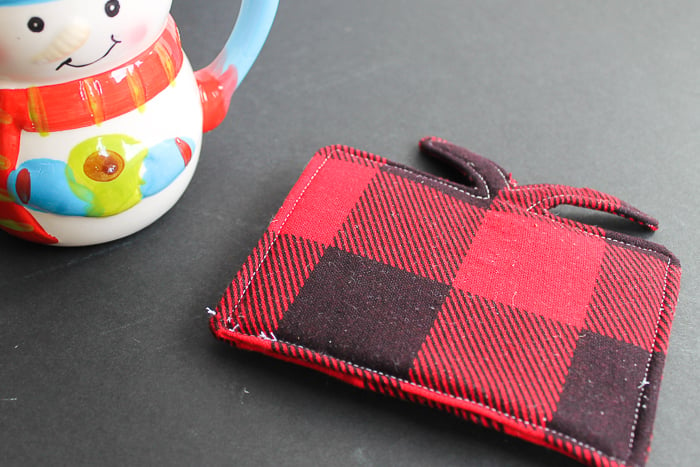 Embossing and Cutting Leather with the Cricut Maker
This wouldn't be a complete post on a Cricut machine without mentioning the Knife Blade and Scoring Wheel. I had to try this technique and I was beyond excited when it worked! You can both emboss and cut leather with your Cricut Maker. You can find the cut file for the one bookmark here but, as you can see, I went on to make a more customized version as well. Actually, this technique opens up so many possibilities with your Maker!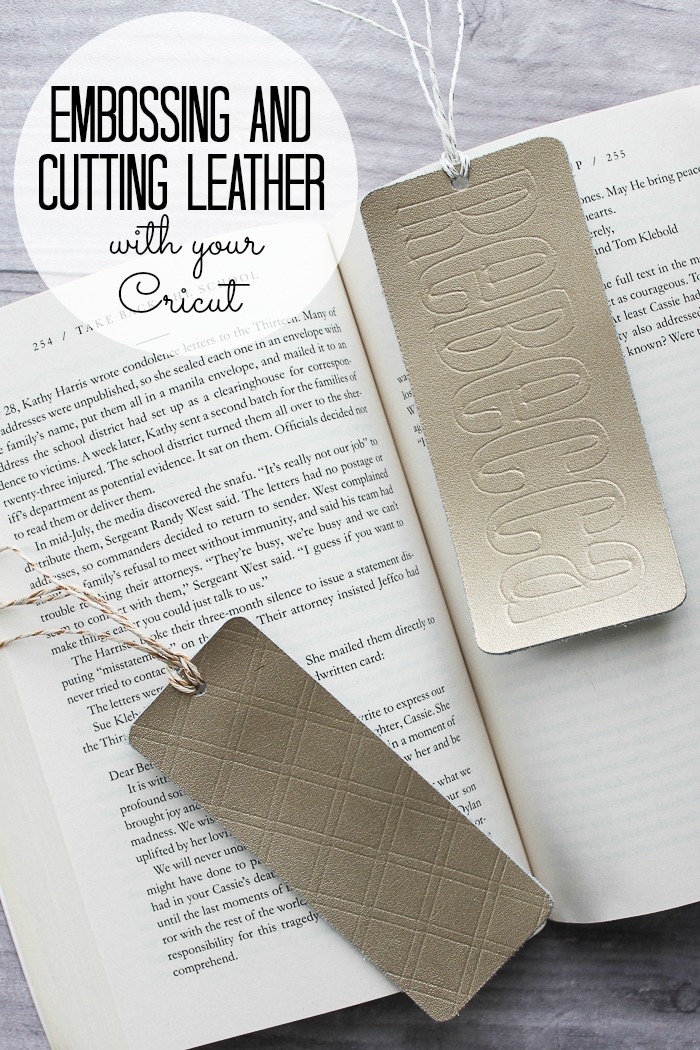 The scoring wheel combined with the force of the Maker allows it to emboss leather! My mind is spinning with ideas! The Maker will actually score your project first then the software will prompt you to change blades. In this case, I used the Knife Blade to cut genuine leather.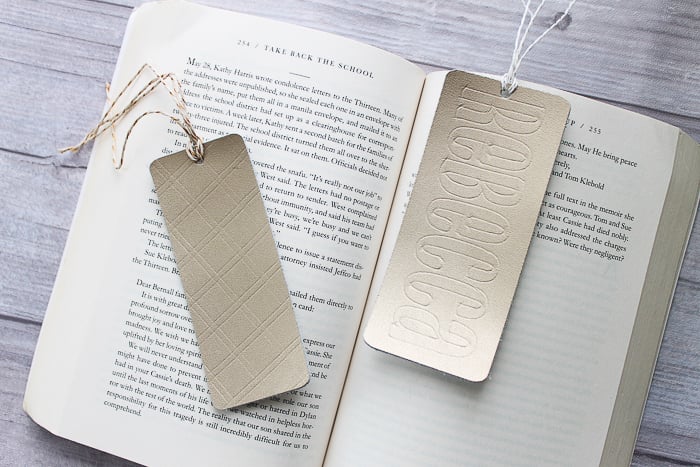 Once cut, I punched a hole and added some string. This quick and easy gift idea is sure to impress anyone! All you need to do to start designing your own projects is to learn how to add score lines. We have a tutorial for that here.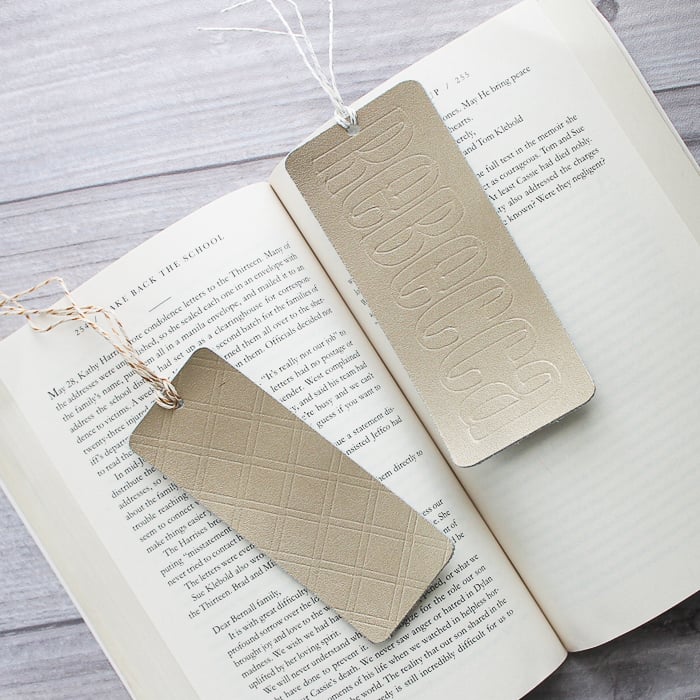 So, which Cricut Machine is for you?
Now that you have all of the information, how do you decide? I have a few pointers!
Think about all of the craft projects you have made in the past 6 months and what materials those used. Make a list.
Add to that list any materials that you would love to work with but haven't had a chance yet.
Now, look at your list. Can those materials be cut with the Explore Air 2 or are you going to need the Maker? If the answer is that eventually you are going to want the Maker, then just jump in now and get it! Spending the extra money now will make you a happier crafter in the long run. You seriously can't go wrong with either Cricut machine. As a girl that loves ALL crafts and ALL materials and experimenting with them all, I would pick the Maker every single time. It is the Cricut machine for me.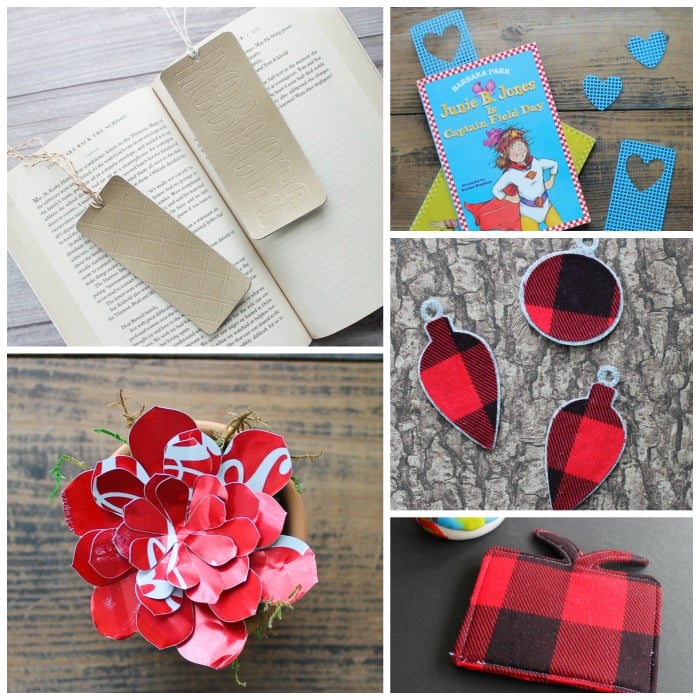 Once you decide on which Cricut machine to buy, be sure to click here and download our free beginner's guide to get started with Cricut Design Space. That is the software you will use to both design and cut your projects. It is super user-friendly and easy to use for even those that are novice computer users. Remember that you can upload your own designs to either machine as well. Click here to learn how to do that. You can run the Design Space software on iOS, Android, Windows, and Mac. Keep in mind that you will need a computer to use the Knife Blade as it doesn't work on mobile.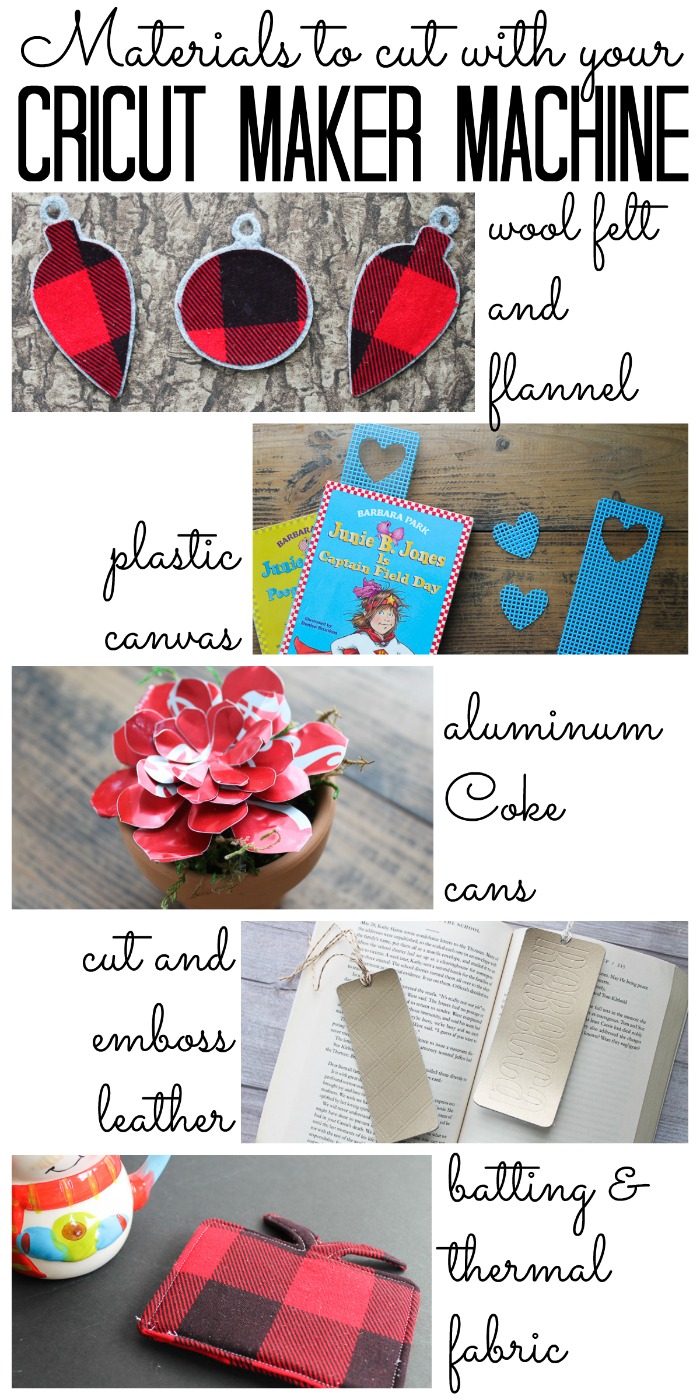 So, tell us, what is the first project you will make when you get your Cricut machine? Or perhaps you already have a machine? Then tell us your favorite project of all time!
New to Cricut?
Sign up for our email list here to download the Beginner's Guide to Cricut Design Space for FREE today!
Sign up to get the guide emailed to you!