This post and photos may contain Amazon or other affiliate links. If you purchase something through any link, I may receive a small commission at no extra charge to you. Any supplies used may be given to me free of charge, however, all projects and opinions are my own.
I have finally found the best way to clean shoes! You won't believe just how easy it is to have your shoes looking like new again!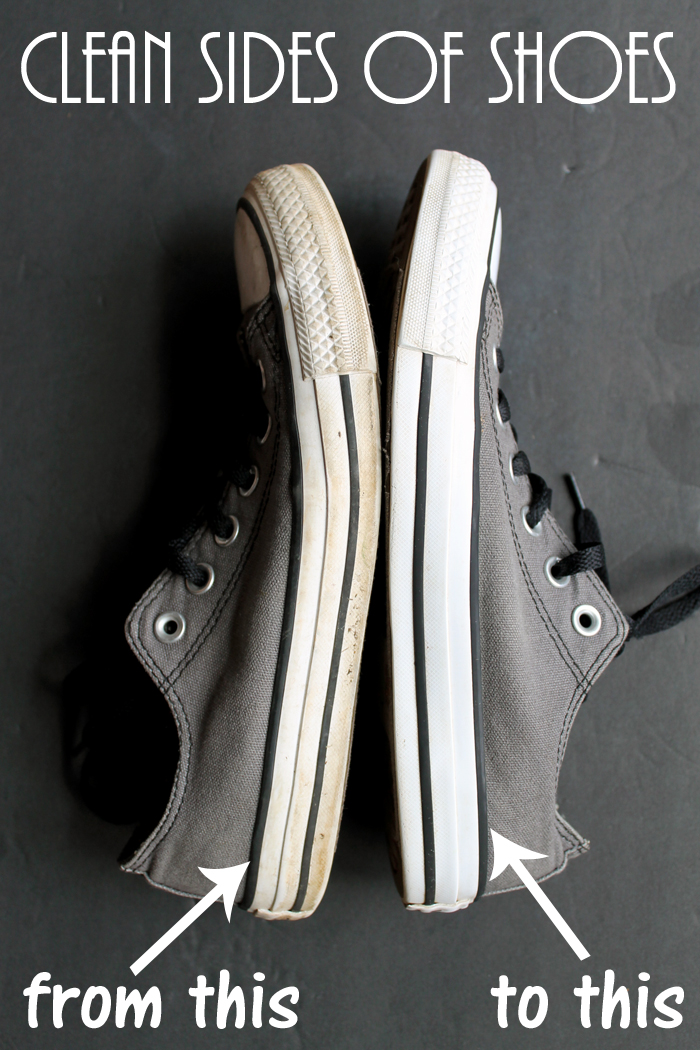 It is amazing just how fast shoes get dirty! If you have kids, you have had to clean the sides of shoes. I recently stumbled upon a hack for this that works so darn well. It had me yelling "where have you been all of my life?!?!?"
So today I thought I would share that hack with you all. Trust me. You will want this information for your shoes and the shoes of your kids.

How to clean my shoes at home?
We have all seen those dirty sides of shoes. You use your shoes for a few weeks and it seems like they loose some of their sparkle. You use your shoes for a few months and they look like the ones below. The dirt and mud just seem to stain the sides of the soles.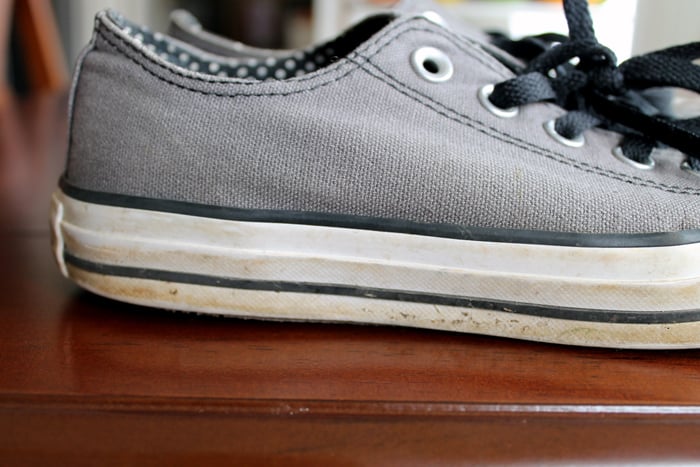 Enter in a super simple solution that you probably have at home…..nail polish remover. Yep that is right! I was skeptical at first. Would this stuff really be able to clean the sides of shoes?
What can you clean shoes with?
I broke out some cotton pads and did a little experiment. I cleaned one shoe with the nail polish remover and left the other alone. This way you could really see what a difference this little wonder can make to all of your shoes.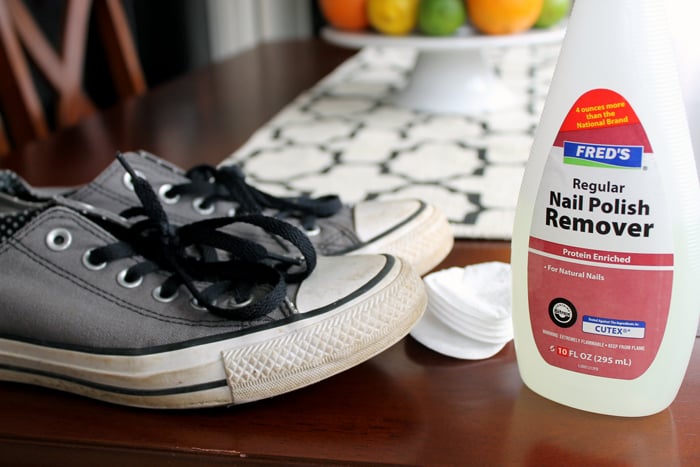 The results are below and they are ASTOUNDING! Seriously these shoes have not been this clean since they were new! A little nail polish remover and it looks like we have a new pair of kicks. Seriously, this is the best way to clean shoes, ever!
Need to buy the kids new shoes for back to school? Try giving their old ones a shine! You may just find they have more usable shoes than you thought! And all with a bit of nail polish remover. I am in awe. Clean the sides of shoes with nail polish remover and you will never go back!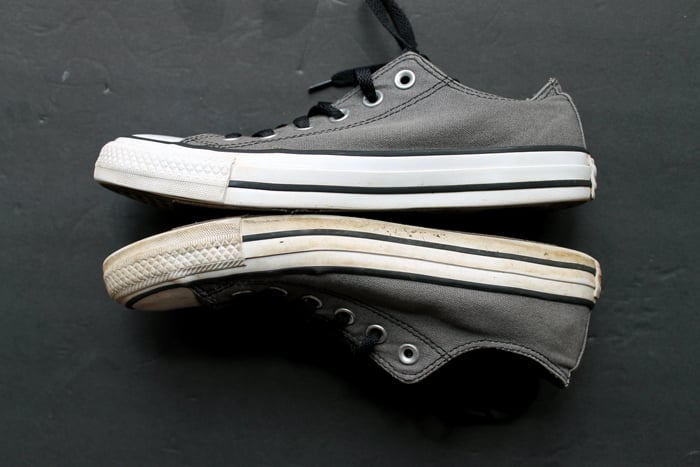 Can you put shoes in the washing machine?
The answer is yes, you can! It isn't the best way to clean shoes, but it works. Simply put your shoes, insoles and shoe laces into your washing machine and wash on a gentle cycle. It works best if you add in some bulk, like towels.
Also, I only recommend putting your shoes in the washing machine after you've cleaned them sides of them. This ensures that you're getting most of the dirt off of them.
Want more cleaning ideas? Check out this post with 10 quick and easy cleaning ideas!
Save
Save
Want to see my favorite cleaning supplies and products?
I have gathered all of the products I love using around my home into one great section of my Amazon storefront. You can click here to shop! If you are looking for just about anything to clean your home, I probably have an option that you will love!