Are your favorite pair of shoes looking a bit worn out and dirty? I hate it when that happens but luckily, I have finally found the best way to clean shoes! You won't believe just how easy it is to have your shoes looking like new again.
Isn't it amazing just how quickly shoes get dirty, especially for kids? I really don't understand it sometimes. I just want to know what they're doing to get them so dirty!
If you have kids, I bet you know exactly what I am talking about. Chances are that you've had to clean the dirty rubber on your kiddo's shoes plenty of times. It can be such a chore…until now!
I recently stumbled upon a hack for cleaning the sides of shoes that works amazingly well. So well, in fact, that it had me practically yelling, "Where have you been all of my life?!?!?". 😀
So, today I want to share this cleaning hack with you with the hope that it will make your life just a little easier. Trust me. This hack is good.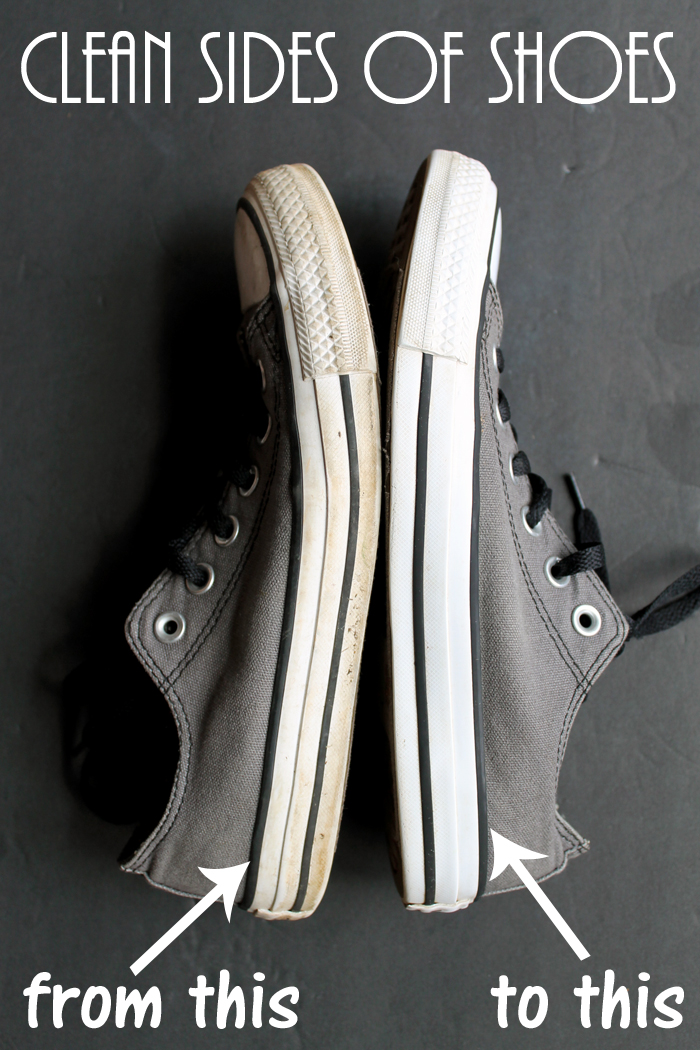 What Is The Best Way To Clean Shoes At Home?
We have all worn our shoes until they lose some of their sparkle and become dull and dirty. Even if you don't step in mud or mow the grass, shoes just get dirty over time from use. With time and wear, they look like the one in the image below.
The dirt and mud just seem to stain the sides of the soles. Ugh!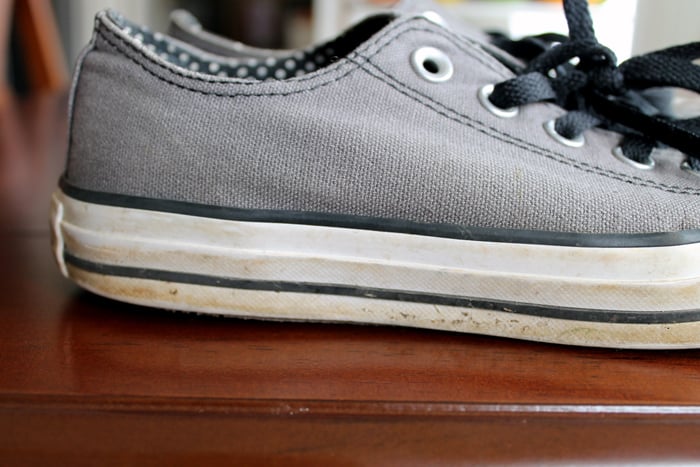 That's where my new super simple way to clean shoes comes in – and all it takes is a product that you probably have at home: nail polish remover. Yep, you read that correctly.
Sound too good to be true? Trust me, I was a total skeptic at first.
How To Clean Shoes With Nail Polish Remover
This trick really couldn't be easier because the nail polish remover does all the work for you!
I pulled out some cotton pads and did a little experiment. I cleaned one shoe with the nail polish remover and left the other alone.
To clean the shoes, all I did was put some nail polish remover on the cotton pad and rub the rubber soles of the shoes. No scrubbing needed!
I simply rubbed over the rubber on the sides of the shoes a couple of times all the way around.
This way we could all see what a difference (if any) this little hack can make for all of your shoes.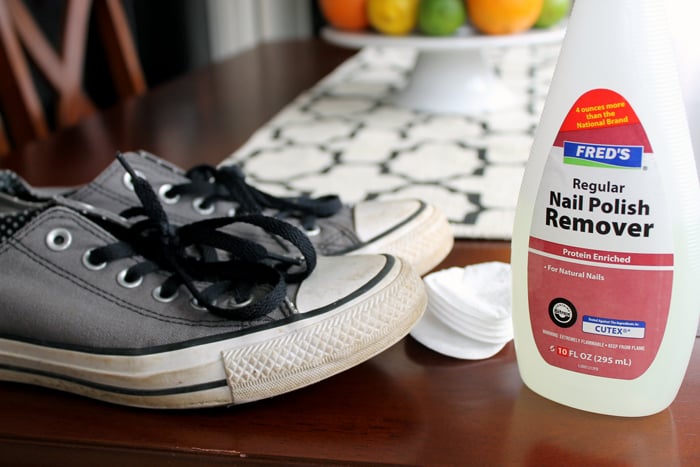 The results are astounding (see the comparison picture below)! Seriously, these shoes have not been this clean since they were brand new! A little nail polish remover was all it took to transform my everyday shoes into a new pair of kicks.
This is the best way to clean shoes, ever! I'll never go back to my previous, time-consuming methods.
Use This Hack For Your Kids' Shoes
This hack works on anyone's shoes, but it will come in especially handy on your kids' shoes.
Do you think you need to buy the kids new shoes for back-to-school? Maybe not! Try giving their old ones a shine! You may just find they have more usable shoes than you thought!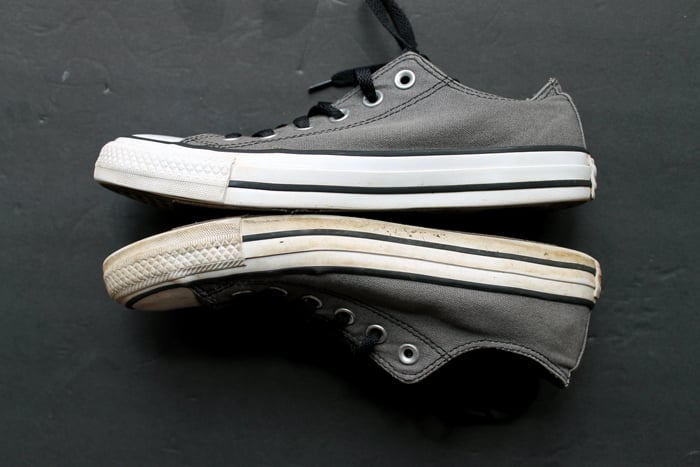 Can You Clean Shoes In The Washing Machine?
The answer is yes, you can! It isn't the best way to clean shoes, but it does work.
To do this:
Simply put your shoes, insoles, and shoelaces into your washing machine.
Start your machine's gentle cycle. (It works best if you add in some other items, like towels.)
Using the washing machine to clean your shoes will work the best if you do it after you've cleaned the rubber sides. This ensures that you're removing most of the dirt so that your shoes get clean.
The Best Way To Clean Shoes: Final Thoughts
Achieving such amazing results with just a bit of nail polish remover left me in awe. I had no idea there was such an easy way to clean the rubber sides of shoes. Clean the sides of shoes with nail polish remover just one time, and you will never go back to your old method!
If you loved this idea, you may also enjoy 10 quick and easy cleaning ideas!
More Cleaning Inspiration
Want to see my favorite cleaning supplies and products?
I have gathered all of the products I love using around my home into one great section of my Amazon storefront. You can click here to shop! If you're looking for just about anything to clean your home, I probably have an option that you will love!