Instead of having all your craft supplies scattered around the house, use these craft room organization ideas to make your craft supplies organized and easy to find. Once you employ these craft room organization methods, you'll never "lose" any of your craft supplies again!
Picture this. You want to make a card using your Cricut machine. But, as you go to get started, you see your craft supplies all over the place. You KNOW you just bought some Cricut supplies, but now that you're wanting to start a project, can't find where you put them.
Does this scenario seem familiar to you?
The Benefits Of Craft Room Organization
If the scenario I described seemed familiar, maybe it's time to employ a few craft room organization methods to eliminate the frustration and wasted time that lack of organization causes.
Good organization is all about having a "home" for everything and having everything in its home. Without having a system in place, you won't stay organized and you won't find what you need when you need it.
Because I'm a craft blogger, I have a dedicated space for crafting. However, anyone (blogger or not) can gain some benefit from the organizing ideas I'm sharing below. Don't forget: having an organized home reduces clutter and stress. 🙂
Are you ready to get those craft supplies organized? Here are my must-have craft room organization ideas that you can use in a dedicated crafting area or anywhere!
Note: If you love having an organized home, also check out Organizing Toys in a Child's Bedroom, Office Organization Ideas, and Spice Drawer Organization.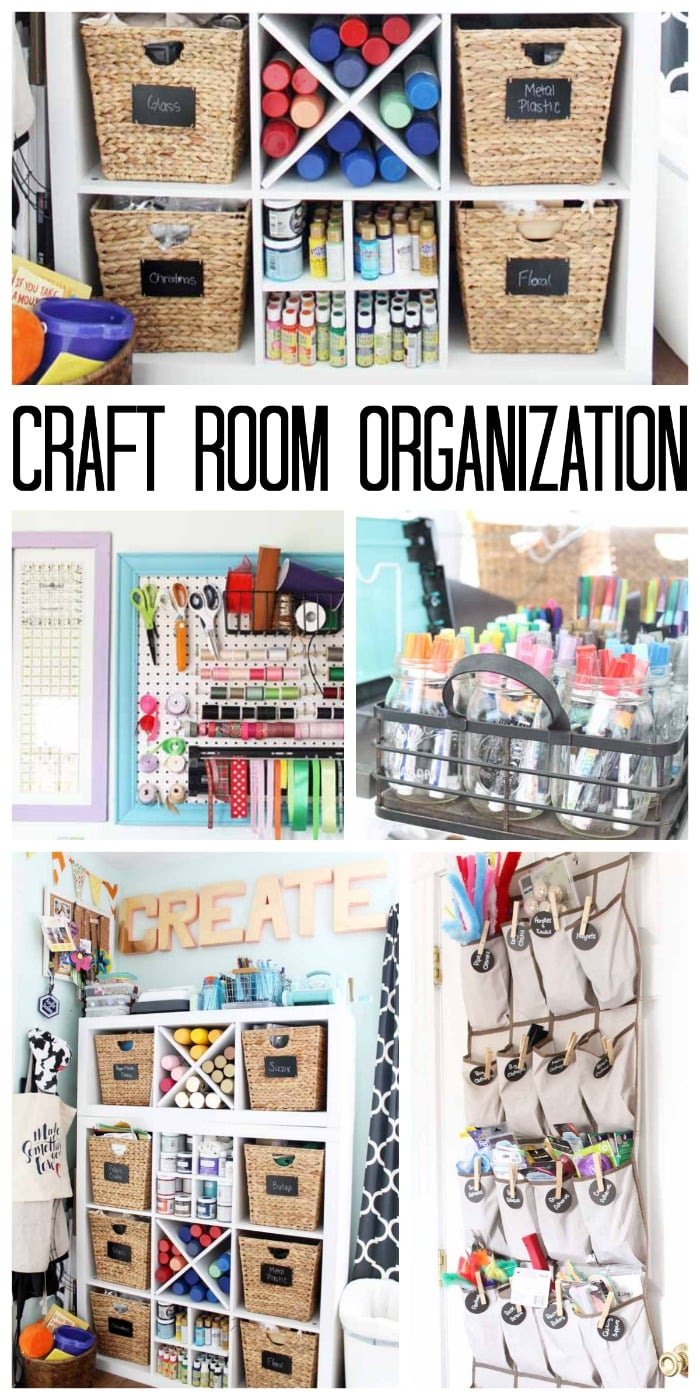 Craft Closet Organization
I am going to keep this tour to my craft room, but a few weeks ago I gave a tour of my craft closet. You can see that full tour here!
This closet is actually in an adjoining room as my space actually doesn't have a closet.
If you have a small (or no) crafting space and have to keep your craft supplies in a closet, those tips will be very helpful!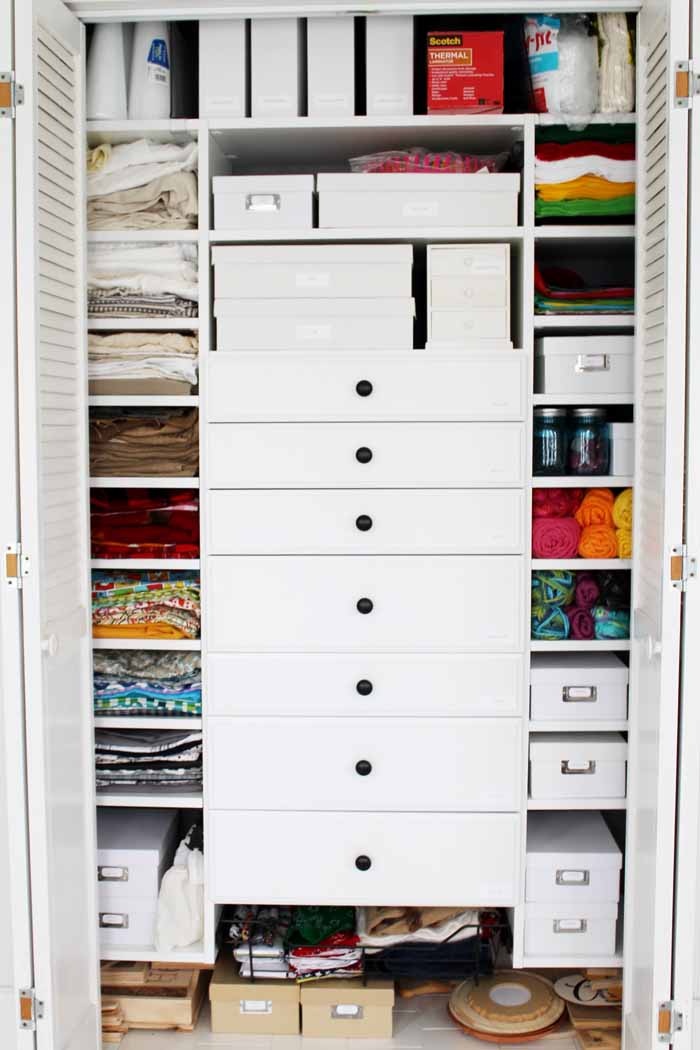 My Top Craft Room Organization Tips And Ideas
I am going to start this tour on one wall and move around the room. And, of course, I am going to start with my favorite area of the entire space. This wall turned out just like I wanted it to and is just perfection!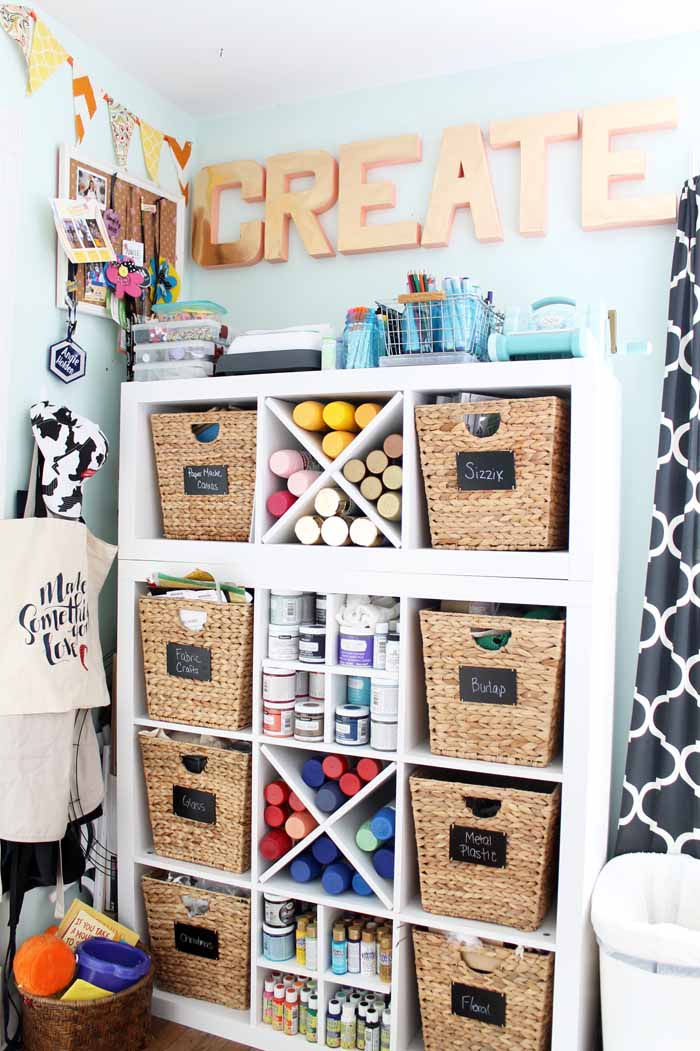 Cube Organizers And Dividers
The cube organizers are from the BHG collection at Walmart. It's a brilliant modular collection that you can customize any way you want so that you can maximize your storage capabilities.
I have found that cube organizers make terrific craft room organization tools. But, these cubes from the BHG collection are amazing because they also offer a variety of divider styles you can add to the cubes as well.
The chalkboard front baskets are actually from the collection as well. The tops of the cubes even hold a variety of craft supplies.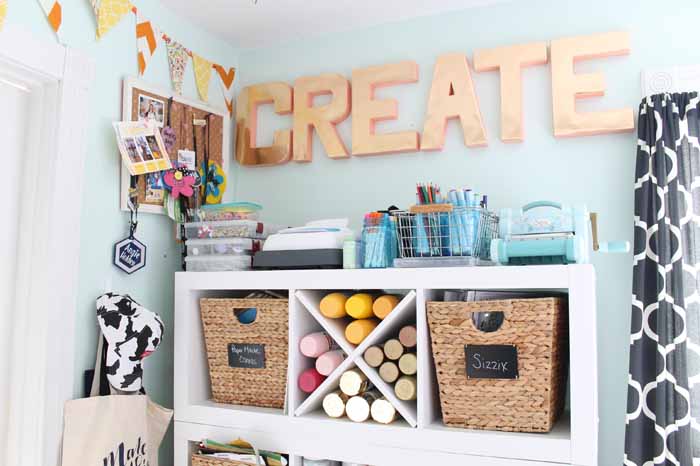 Solutions like these are ideal because they're affordable. When craft room organization fits the budget and does a great job of keeping you organized, there's really NO reason to not get organized!
If you like this setup, you can get all the supplies you need from Walmart!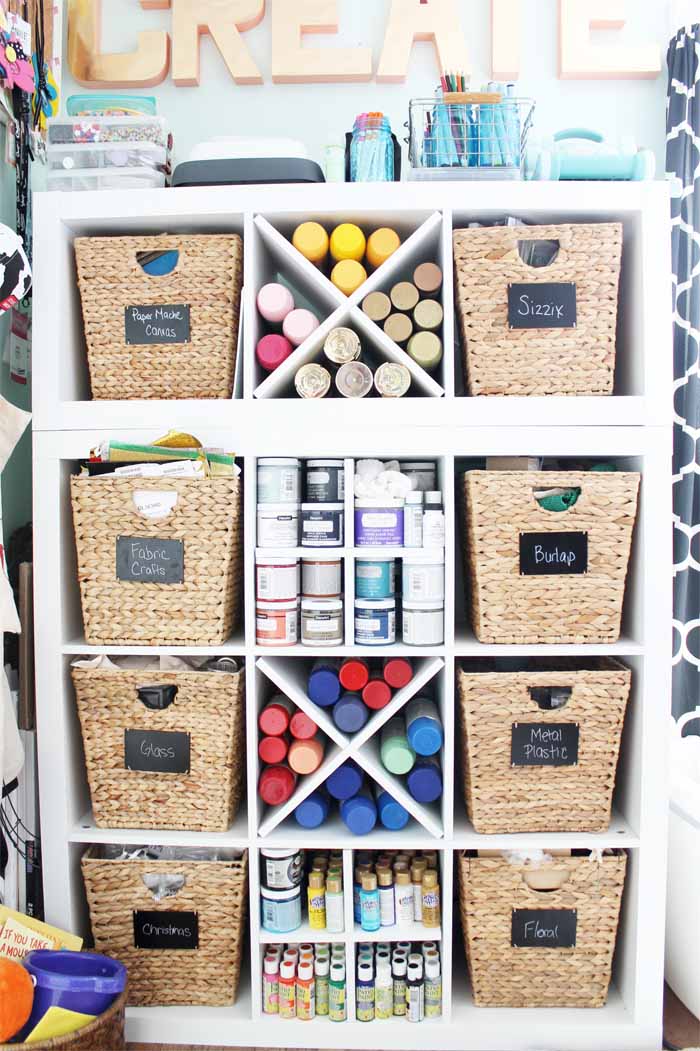 For me, the dividers are the icing on the cake. Paint bottles (especially when you have dozens of them as I do!) are hard to keep organized, but these dividers keep my paint organized and looking amazing.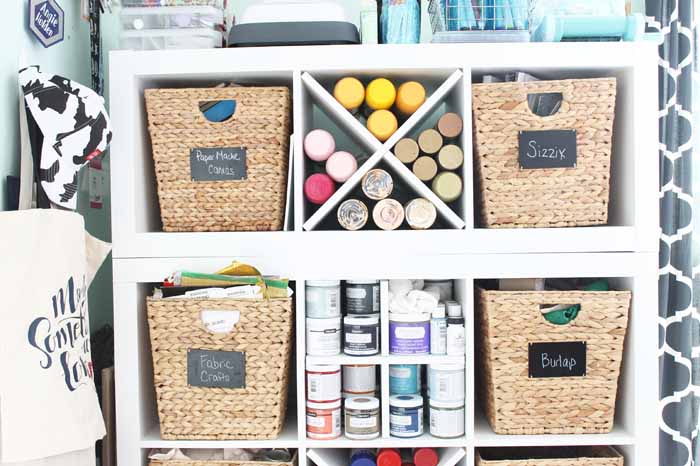 There is also a small basket on the floor in this area. I have to have a few toys for my grandson on the rare occasion when he is allowed up here!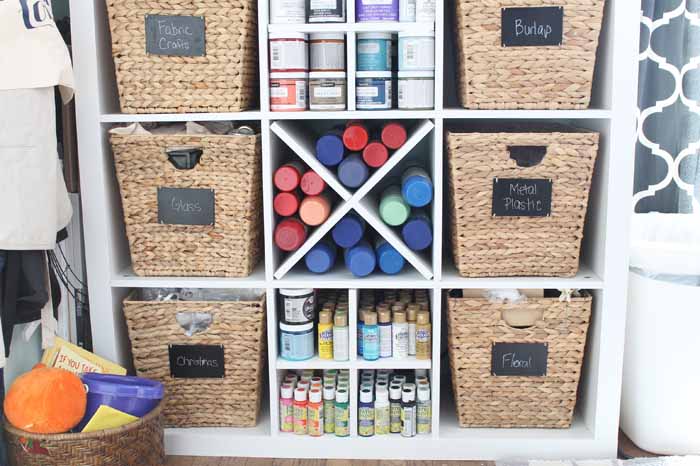 Use A Variety Of Buckets And Baskets
Moving to the left as we look at the room, there is another cube organizer. They truly do an amazing job with organizing craft supplies, so they are one of my favorite things to use!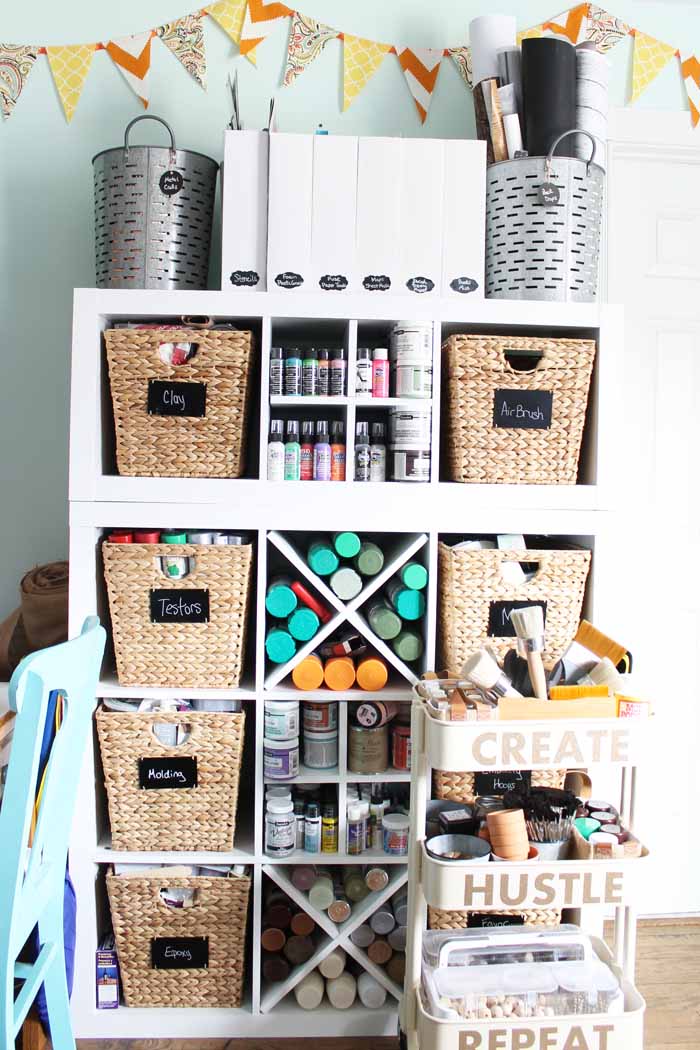 But, on the top of this cube organizer, I have some large metal baskets as well as some magazine file folders.
Note: I did want to keep this tour a bit real, so I did clean up for y'all but I left everything out that I use as a blogger.
In this case, the metal container to the right has backdrops. That means that all of those wood backgrounds you see in the pictures here are not always real wood!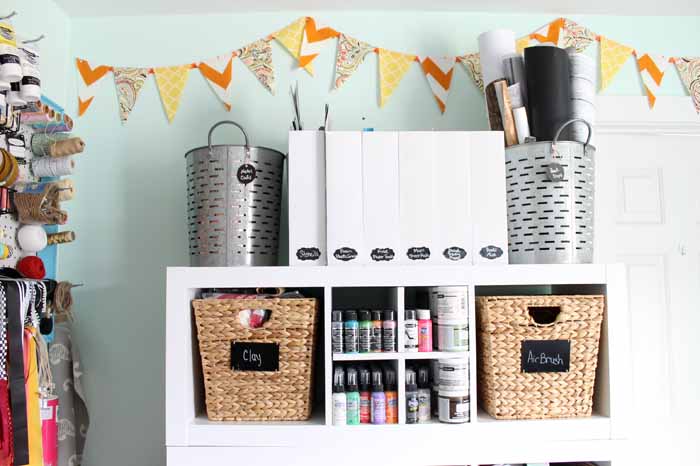 More of the same baskets and dividers here. Standardizing all of my labels as chalkboard labels has really helped to bring consistency to the look!
But, they help make functionality more simple too because I frequently change up what's in the baskets as I get new supplies or clean something out.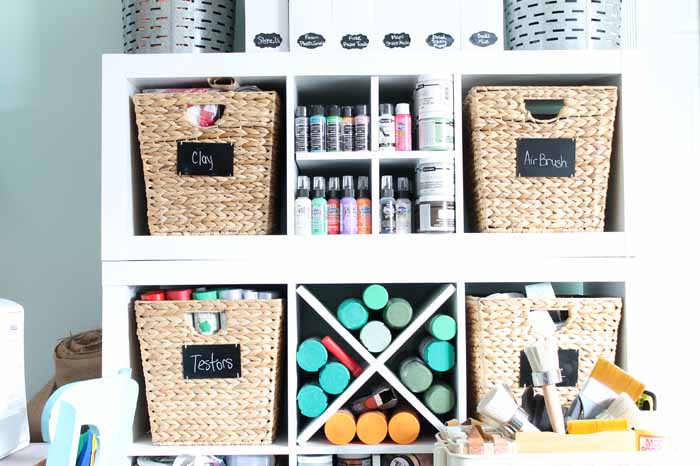 Rolling Cart For Mobility
Last year, I added this rolling storage cart from IKEA, and it's been even more of a blessing in my craft room organization than I initially thought.
I simply applied some vinyl to the front to personalize it a little with brushes and other items that I am constantly reaching for. By having them in a rolling cart, I can always have them nearby!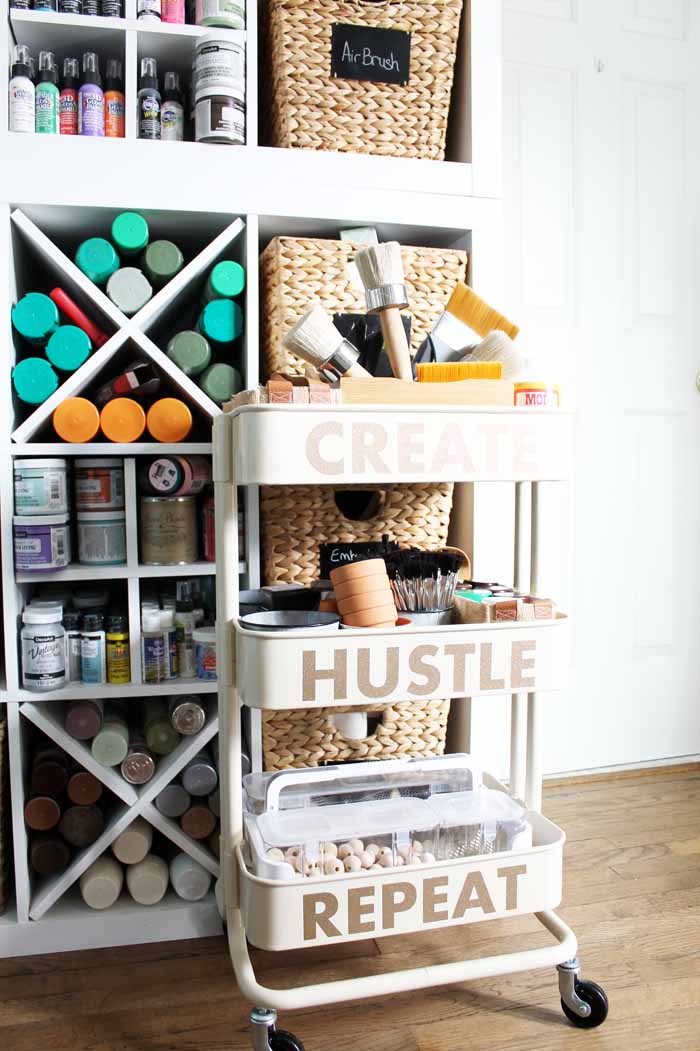 These carts are super inexpensive and great for craft room organization!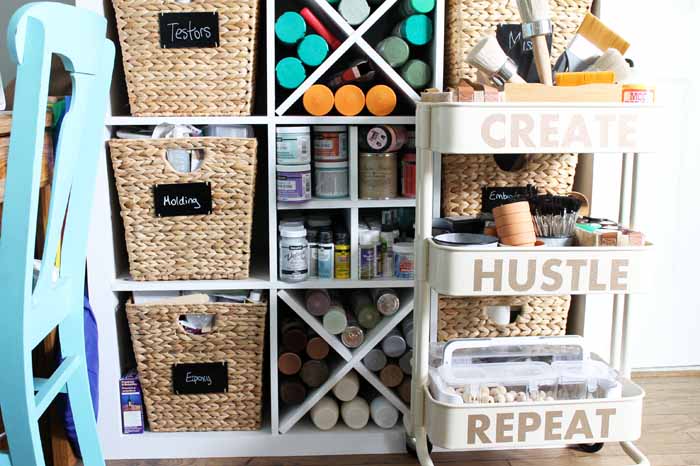 Pegboard Craft Room Organization
To the left of that cube organizer and the rolling cart is a sewing area. I don't do a ton of sewing, so even though this space is small, it's a perfect size.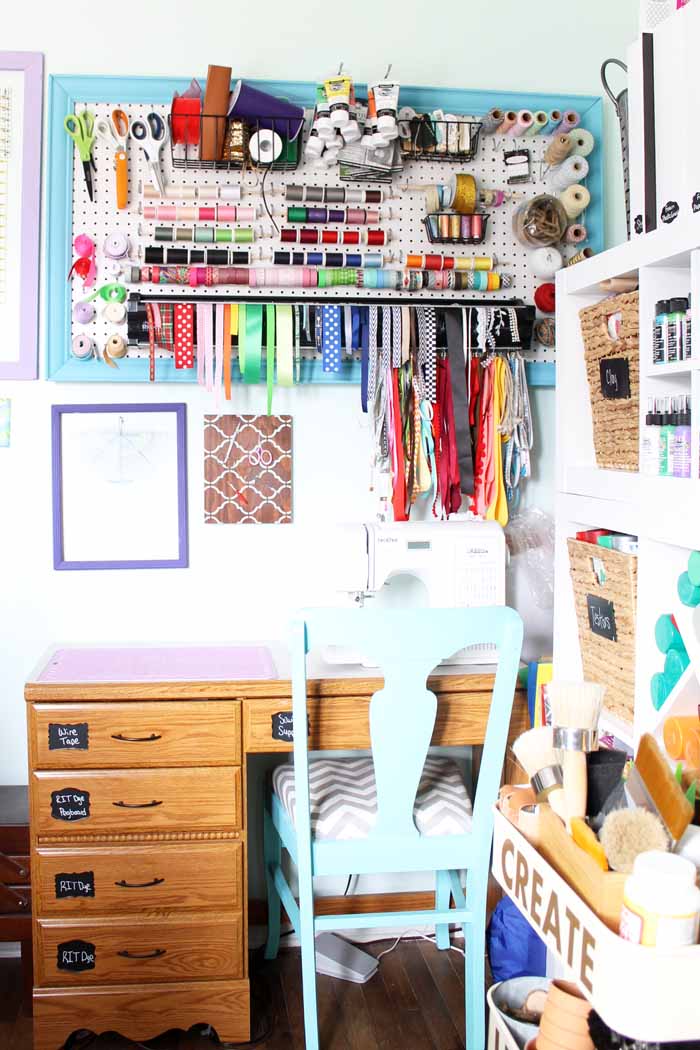 And that pegboard is also a lifesaver! I would recommend using one in any craft room if you can.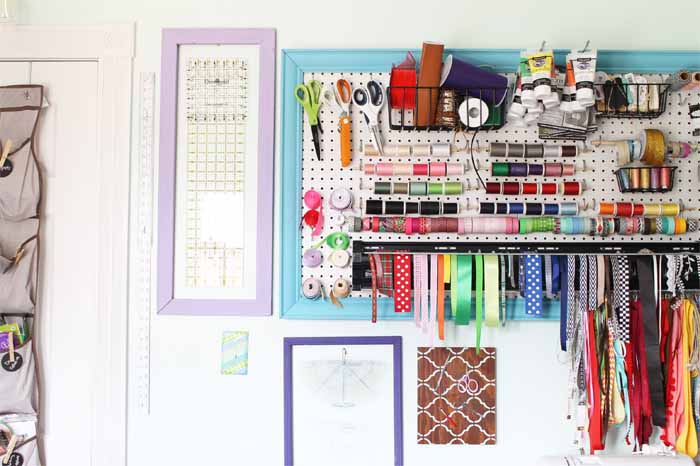 There are a few things hanging on the wall. I added frames around them to give them some definition and a "home."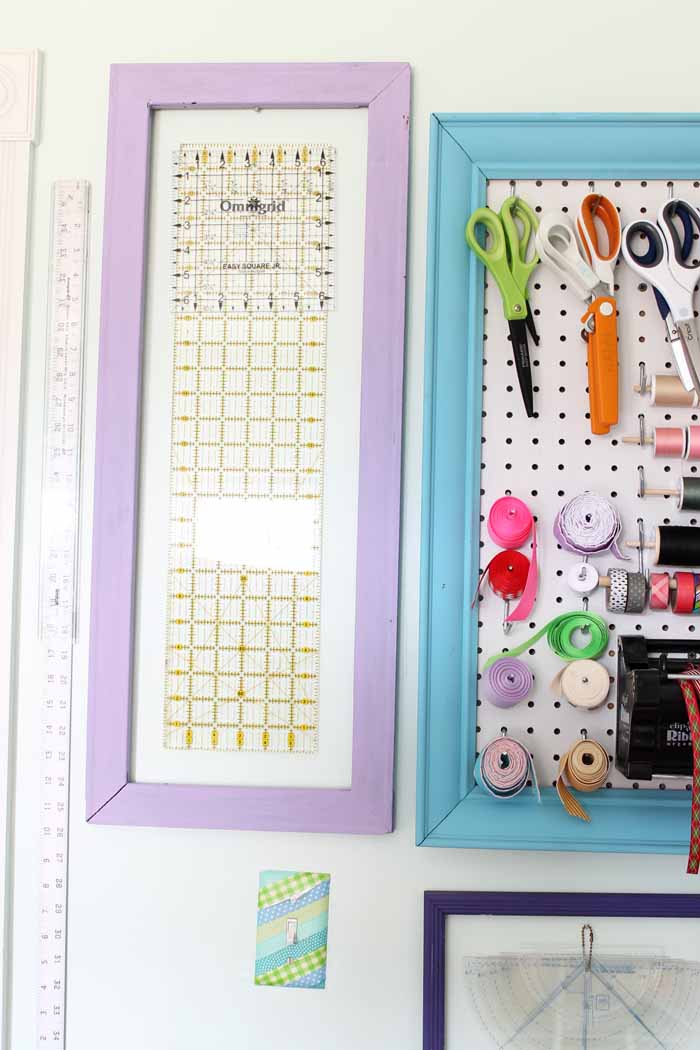 Back of the Door Organization
As we continue around the room, you will see the door to the room. I just had to add some organization to it as well because I don't believe in wasting perfectly good craft room organization space!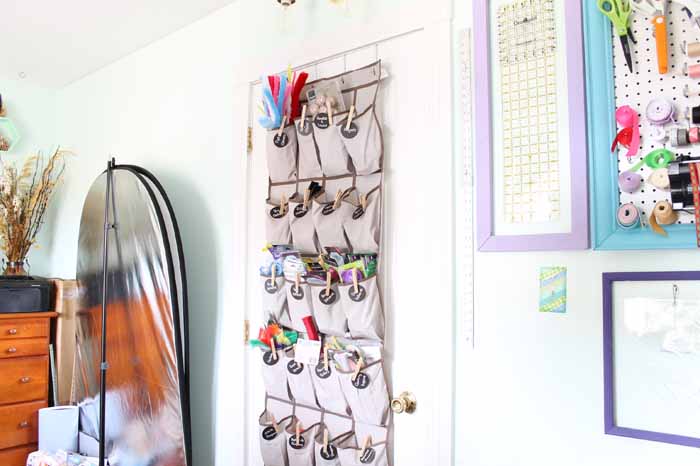 I put a shoe organizer over the door and added a variety of craft supplies into the pouches. Chalkboard labels were a perfect fit here too.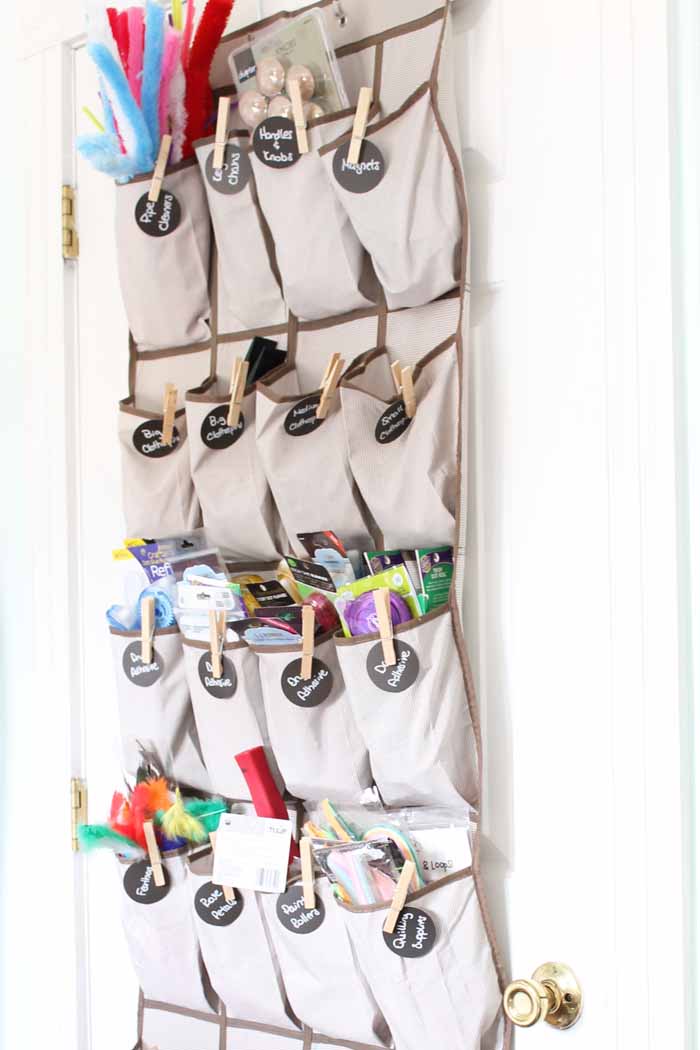 Dresser
In the next corner, I have a small chest that I use to store a variety of props for taking pictures. Those large reflectors are also used for shooting images around here.
The mess on the floor? Well, that is just real life! As things come in or I have HUGE projects happening, that stuff all gets stored here until I'm ready to use it.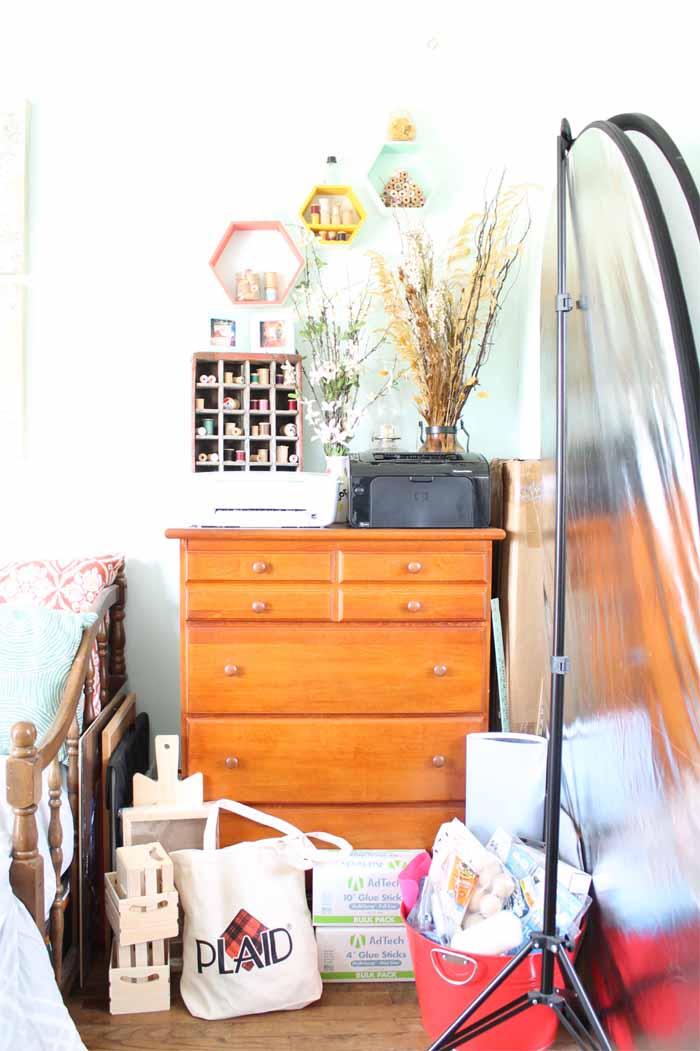 On top of that dresser is a printer center for the upstairs crafting room.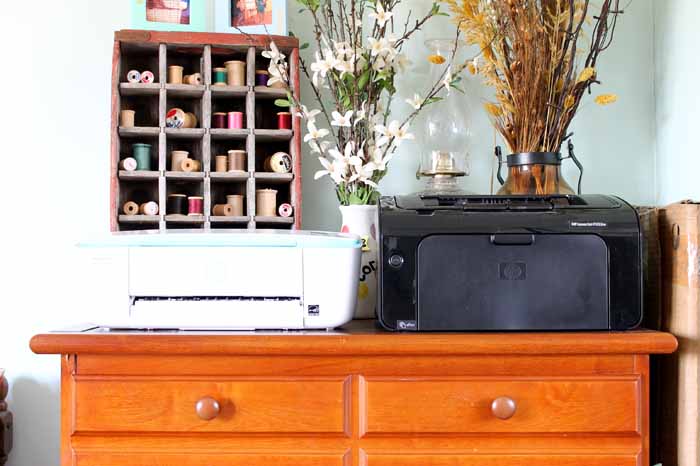 As we continue to move to the left, you'll see a daybed. We use it for guests and the kids use it to hang out while I am working.
Craft Room Organization In The Form Of Art
These walls mostly contain art that can also be functional. Those small hanging organizers are holding succulents.
I use these items a ton in my crafting but figured why not show off my extras in the craft room?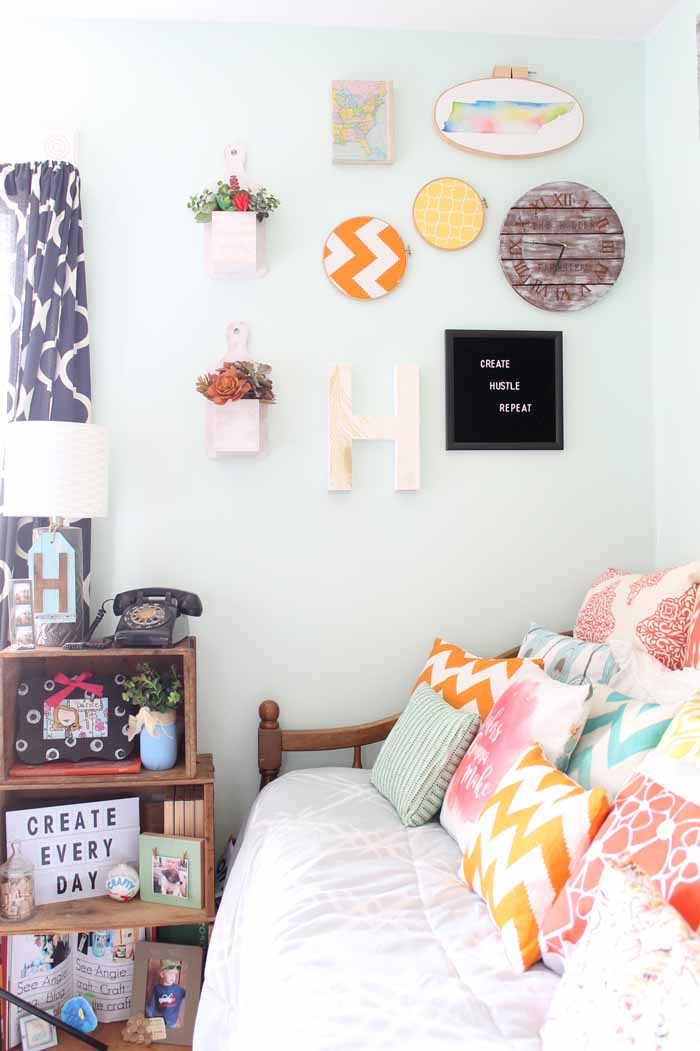 Next to the bed, I have some stacked crates that act as a nightstand. But, it also doubles as a place to put special mementos.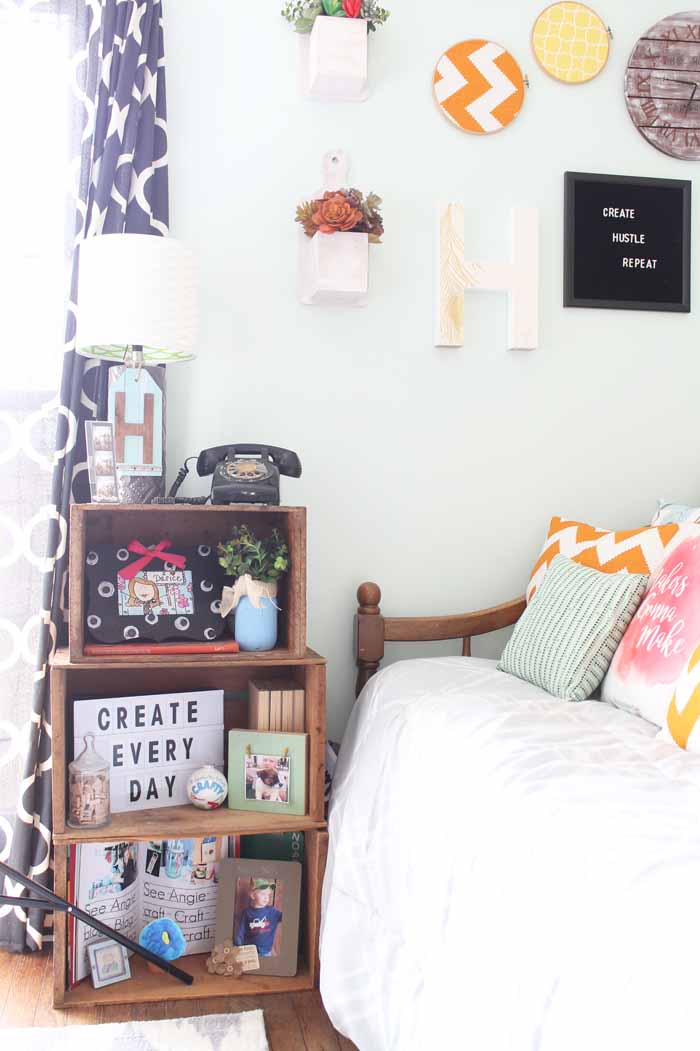 And that rotary phone on the top actually works! 😉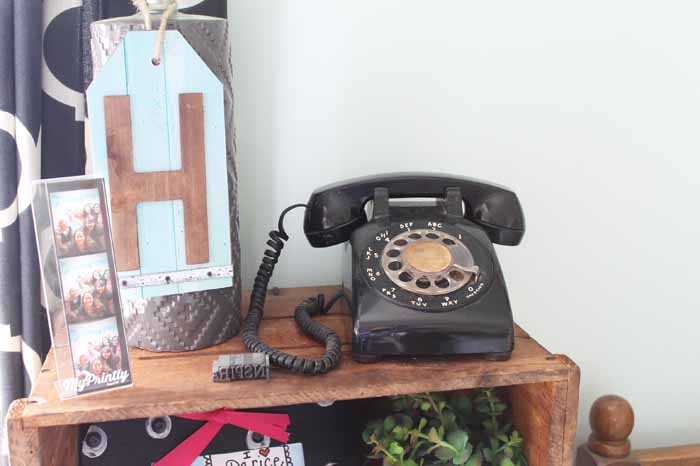 Custom Craft Table
The very center of the room contains a large custom-made craft table. My husband made it a few years ago. Again, keeping it real, I wanted to take my pictures with my full setup. I use tons of lights to take images for this site.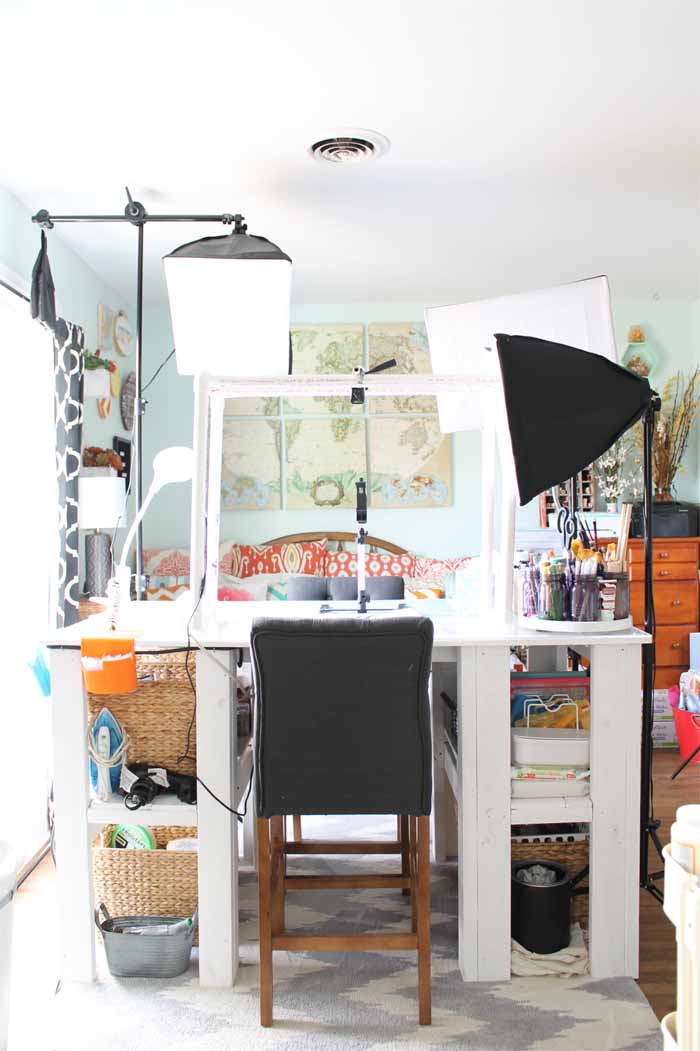 There is also a PVC pipe setup that helps me to shoot videos for this site.
Note: Any bloggers that want more information on my setup can see that here!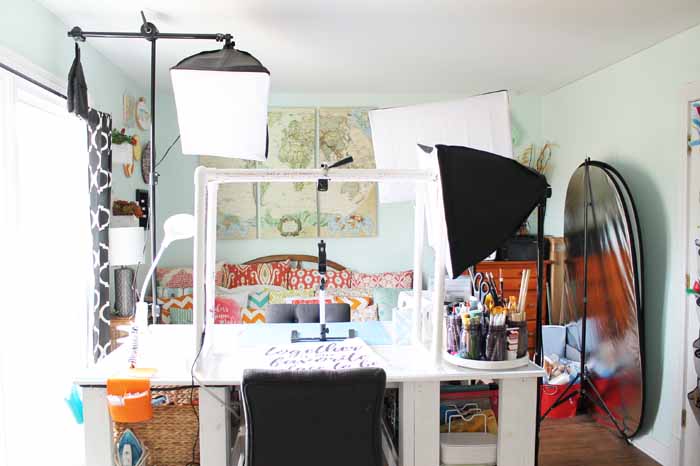 The craft table itself is also part of my craft room organization because it contains storage on both sides.
I have a lazy susan sitting on the right side of the table with mason jars holding things like paint brushes, scissors, and pencils.
You can find a couple of hobby holsters hanging off the table on the left. They are great for storing glue guns and sticks.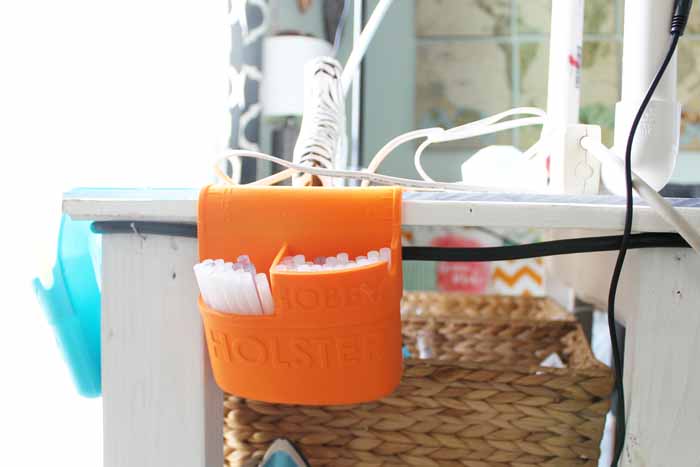 The end of the table next to the window holds more supplies in baskets.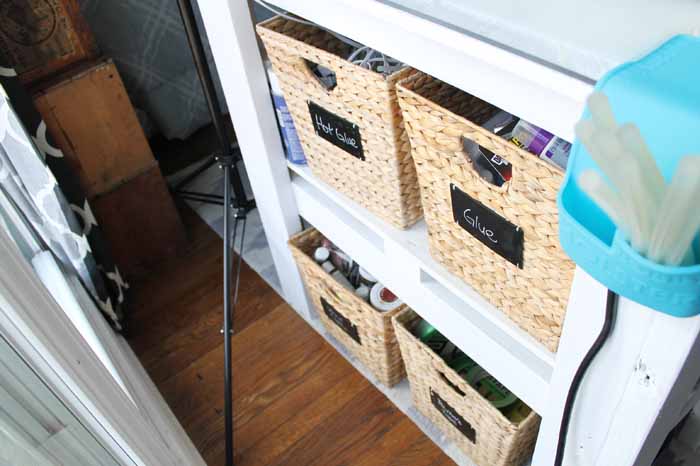 The other end of the table also holds a few more supplies.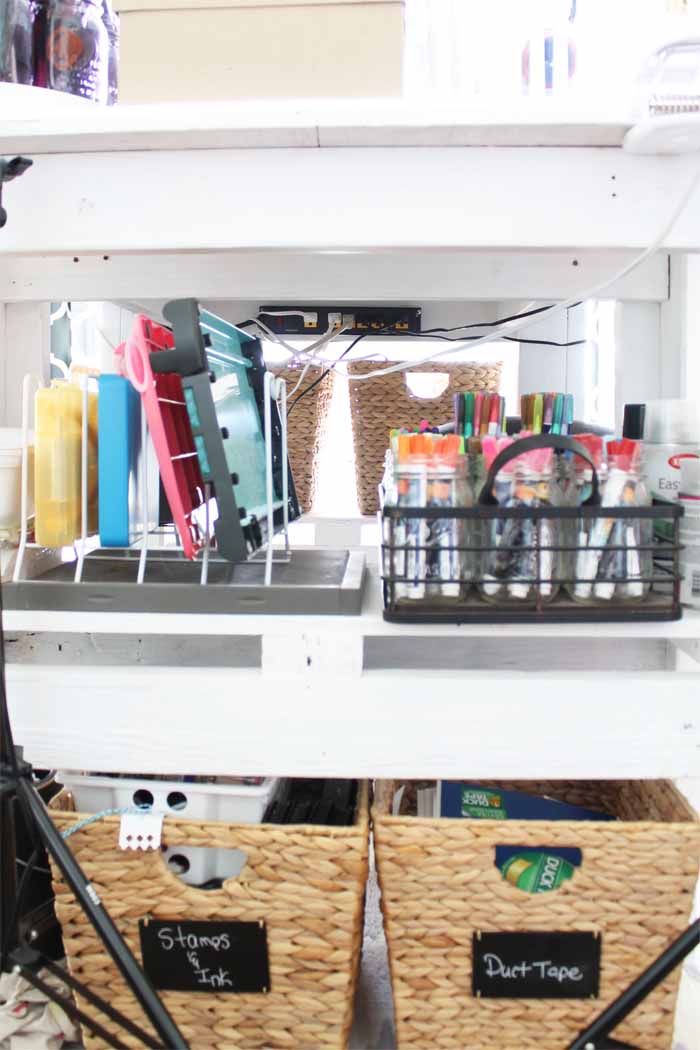 More Craft Room Organization Ideas
I have a tray of mason jars with a variety of paint pens.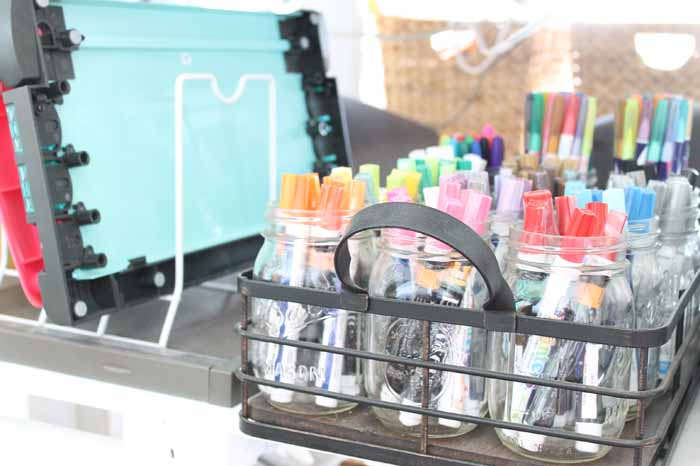 Did you know that you can also use a file folder organizer to hold craft supplies? This is just one of many everyday items I use in my space for craft room organization!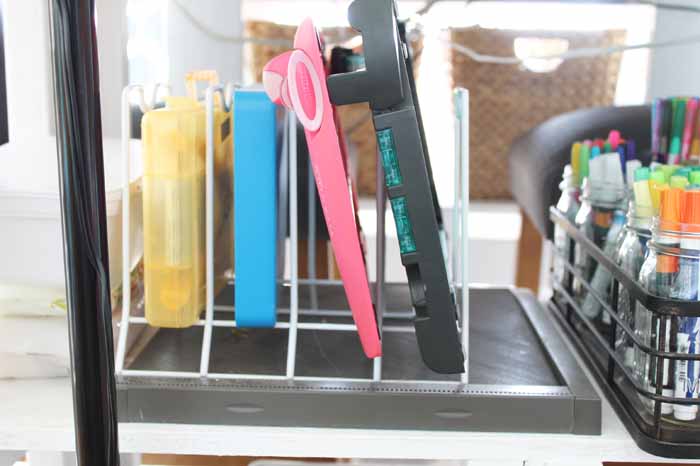 The other side of the table actually has another chair. I love being able to work on both sides but also to have someone over to craft along with me!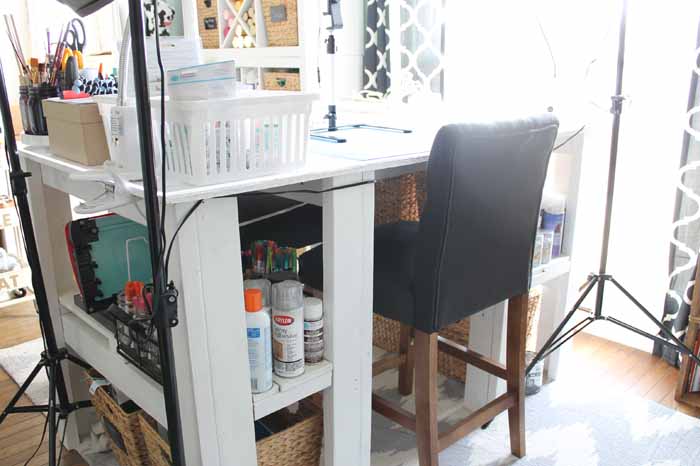 I hope you enjoyed this little tour of my craft room!
Hopefully, you got some craft room organization ideas that you can use for yourself as well.
FAQs
Here are a few questions we get about craft room organization. If you have a question but don't see it down below, please leave it in the comments so I can answer it for you.
How do you organize craft supplies in a small space?
I am fortunate enough to have an entire room for crafting, which offers a lot of storage and organizing opportunities. If you're working with a small space, my best advice is to take advantage of any vertical space you can.
Stack cubes and other items, add shelves to the walls, use both sides of the door. If you get creative and make good use of your space, you can store an amazing amount of crafting supplies in a very organized way!
How do you organize craft supplies on a budget?
You don't need to spend a ton of money to get organized! In fact, you can find helpful organizational tools at your local dollar store or Walmart.
Beyond that, you just need a little creativity. Repurpose items you already have and give furniture and other accessories for dual purposes (storage AND organization).
Which of these craft rooms is your favorite? I would love to hear about your craft room organization ideas in the comments below.
More Craft Inspiration
Declutter Your Home in 31 Days!
Clear the clutter and organize your home with our daily emails! Every day for a month we will send you a prompt to declutter! Sign up for our email list below to get started.