All this week we are going to have some amazing inspiration for craft room organization. As craft bloggers, many of us have dedicated spaces for crafting. Anyone, blogger or not, can gain some organizing ideas from these spaces. I am going to start this week with a tour of my craft room below. You can also scroll all the way to the bottom and see a list of the bloggers on our tour this week so you can also gaze at their amazing craft rooms!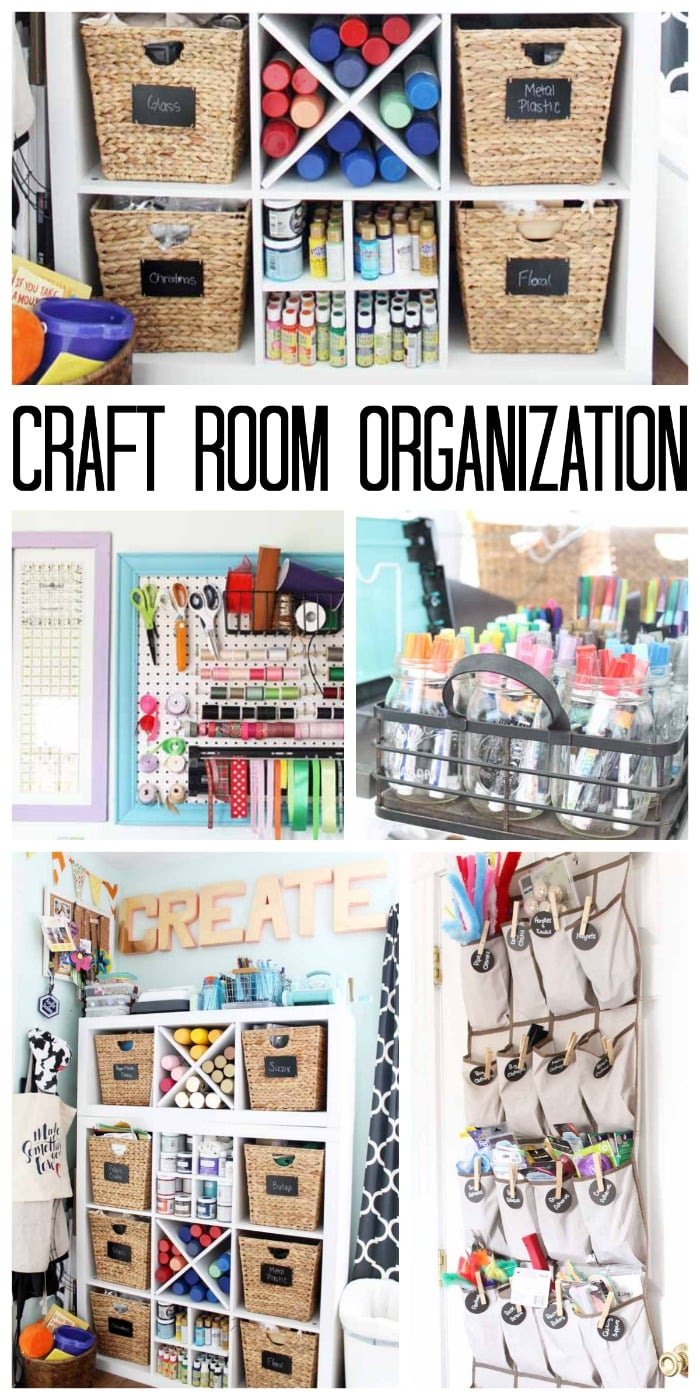 Craft Closet
I am going to keep this tour to my craft room but a few weeks ago I gave a tour of my craft closet. You can click here to see that full tour. This closet is actually in an adjoining room as my space actually doesn't have a closet.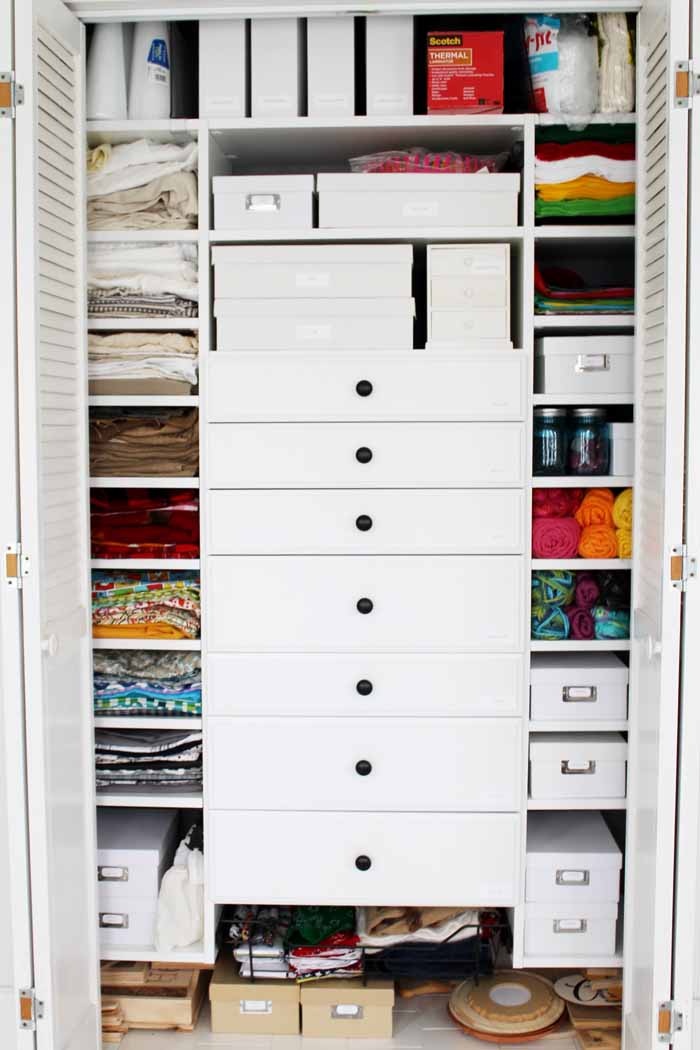 Craft Room Organization
I am going to to start this tour on one wall and move around the room. And, of course, I am going to start with my favorite of the entire space. This wall turned out just like I wanted it to and is just perfection!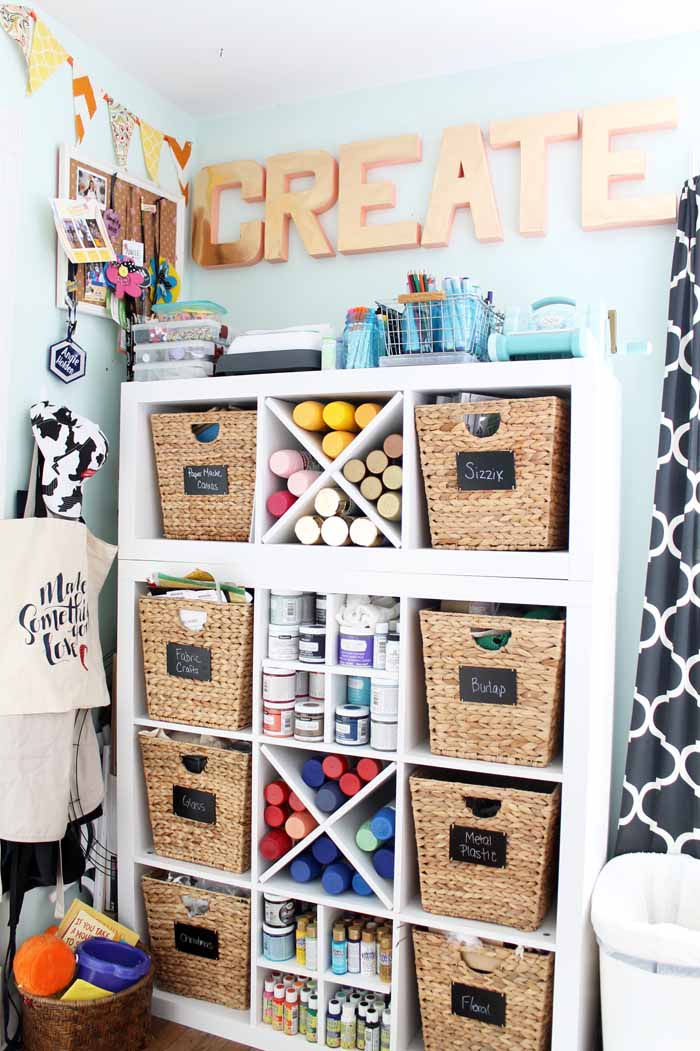 Cube Organizers and Dividers
The cube organizers are actually from the BHG collection for Walmart. They have a variety of dividers you can add to the cubes as well. Those chalkboard front baskets are actually from there as well. The tops of the cubes even hold a variety of craft supplies.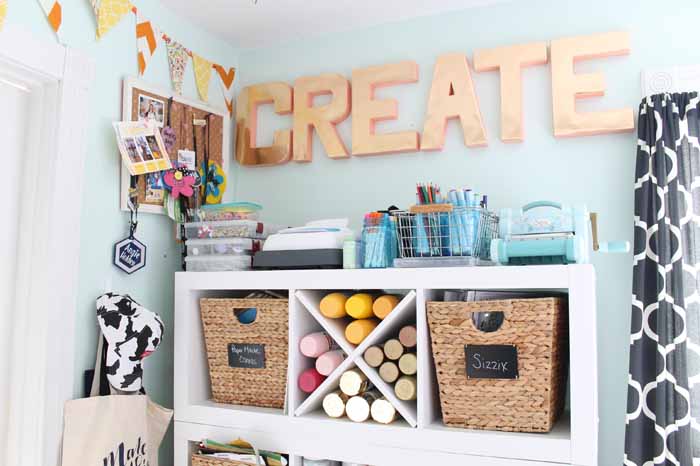 So, you see, craft room organization does not have to be expensive. You can get your supplies from Walmart!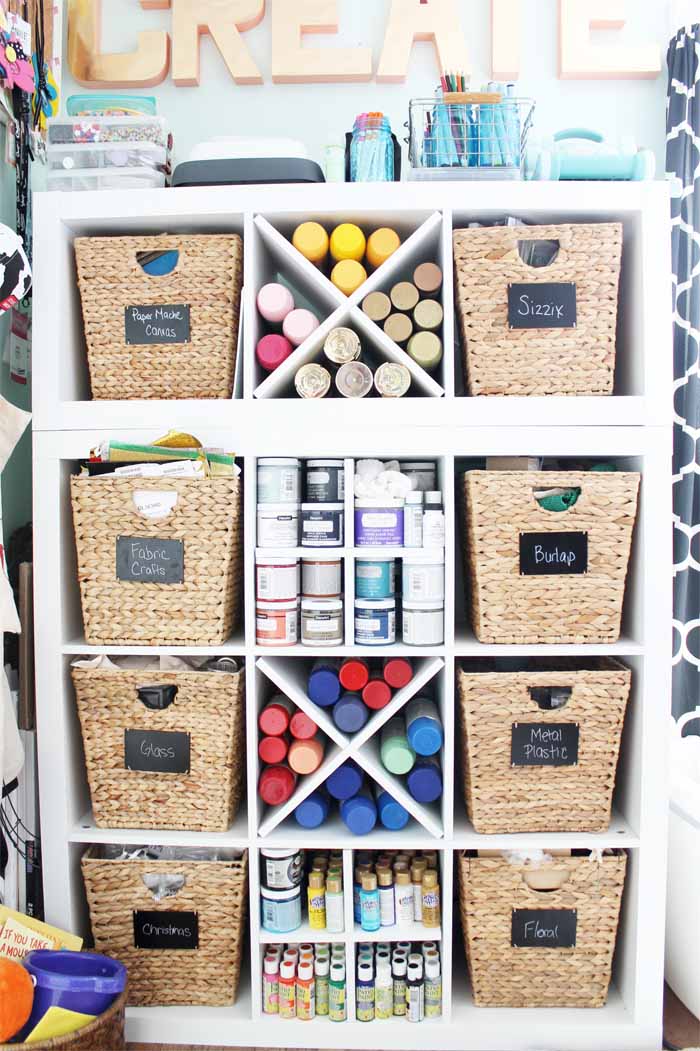 For me, the dividers are the icing on the cake. They help to keep my paint organized and looking amazing.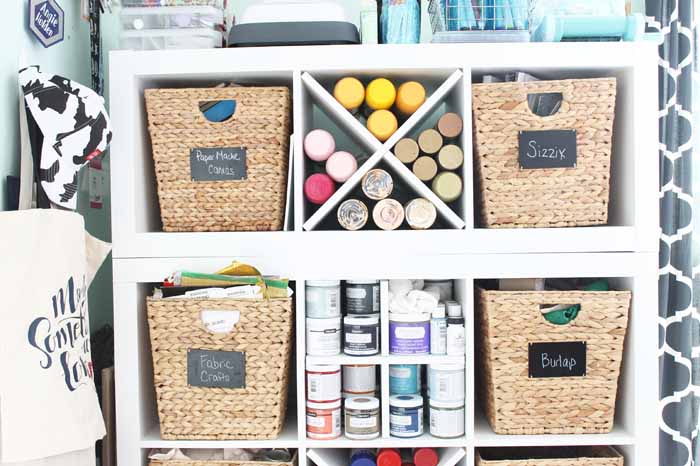 There is also a small basket on the floor in this area. I have to have a few toys for my grandson on the rare occasion when he is allowed up here!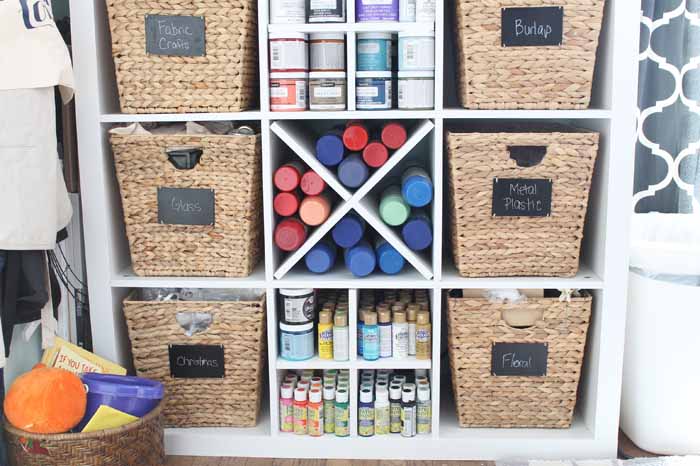 Moving to the left, there is another cube organizer.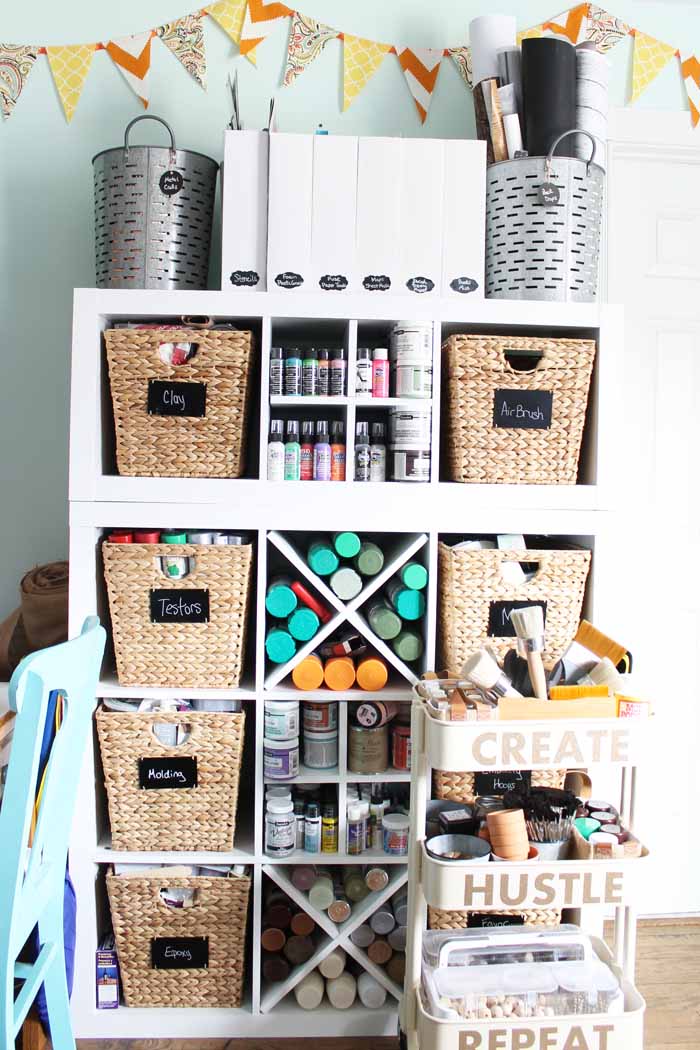 The top of this one has some large metal baskets as well as some magazine file folders. I did want to keep this tour a bit real. I did clean up for y'all but I wanted to leave everything out that I use as a blogger. In this case, the metal container to the right has backdrops. That means that all of those wood backgrounds you see in the pictures here are not always real!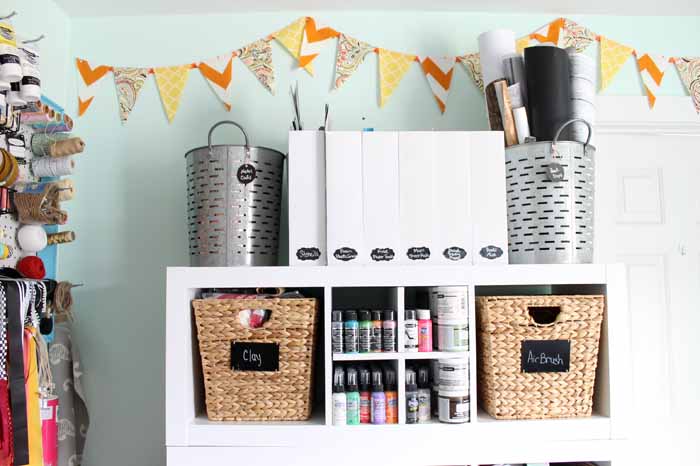 More of the same baskets and dividers here. I did want to say that keeping all of my labels as chalkboard has really helped. I change these up frequently as I get new supplies or clean something out.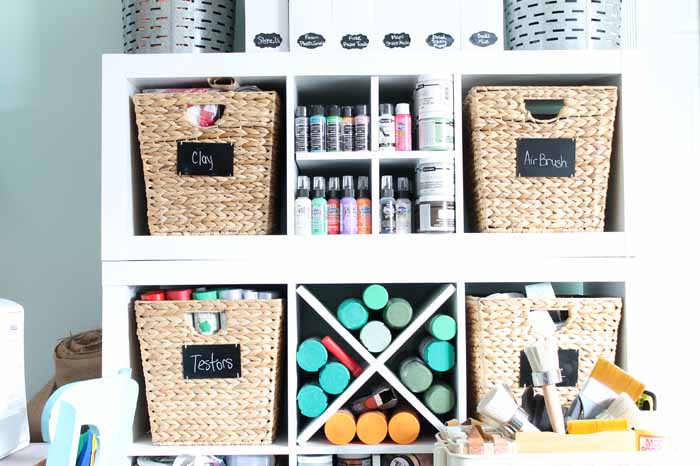 Rolling Cart
Last year, I added this rolling storage cart from IKEA. I just applied some vinyl to the front.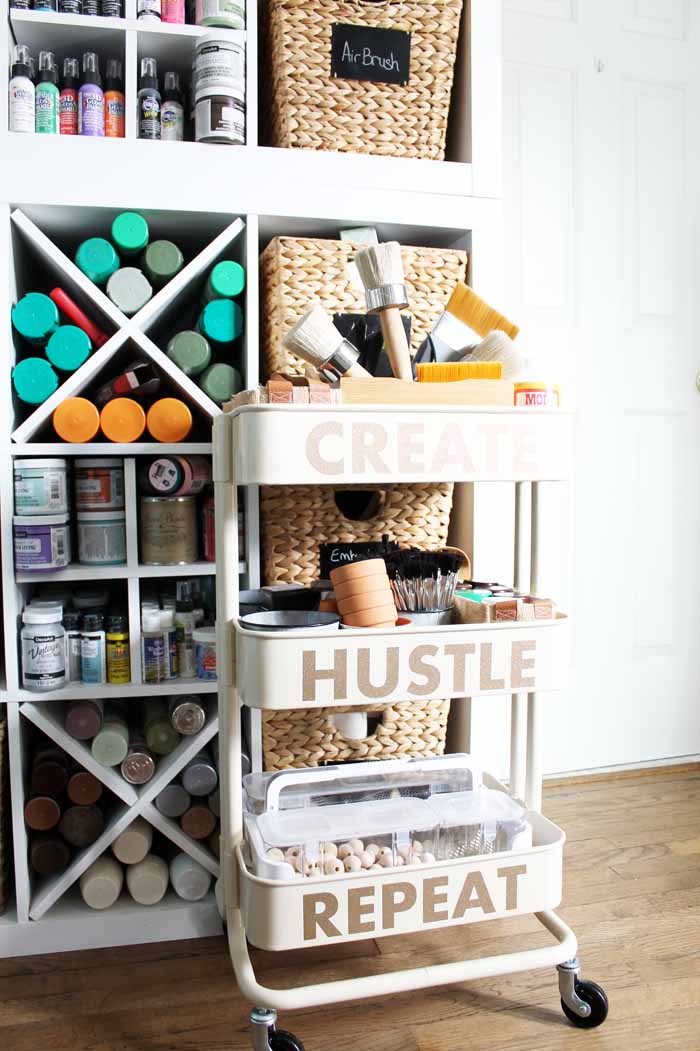 These carts are super inexpensive and great for craft room organization!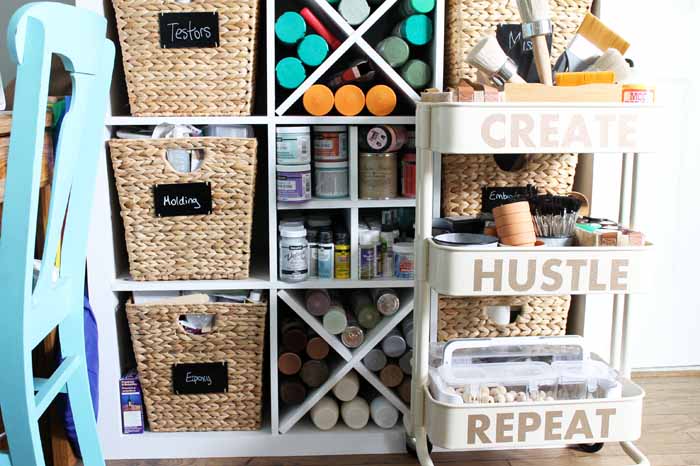 Pegboard Organization
To the left of that is a sewing area. I don't do a ton of sewing so this space is the perfect size.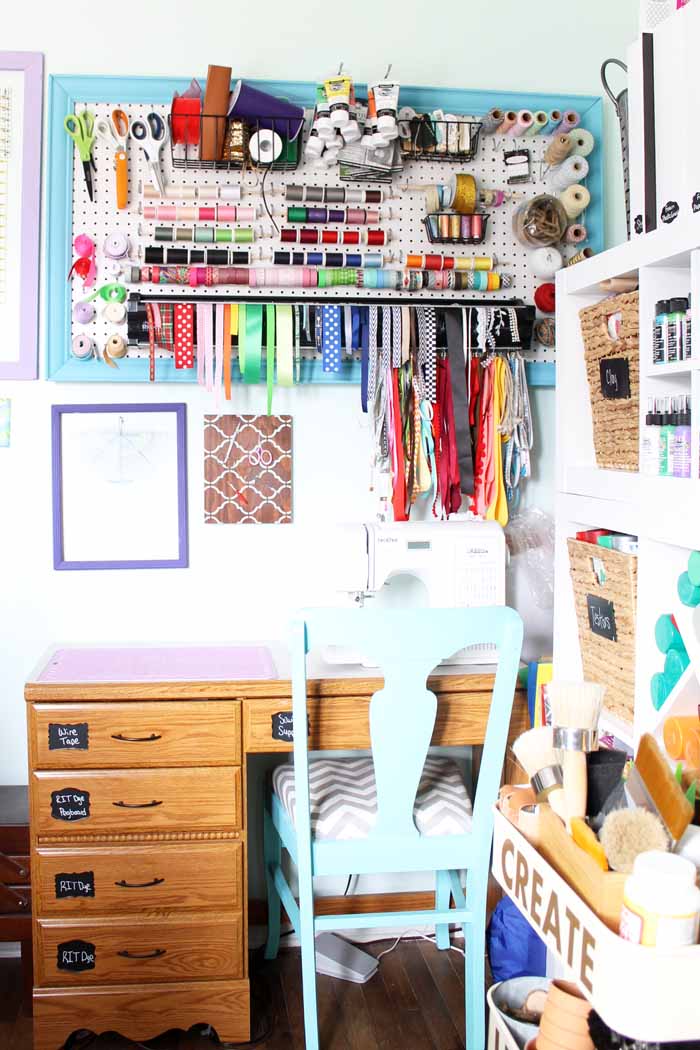 And that pegboard is also a lifesaver! I would recommend using one in any craft room if you can.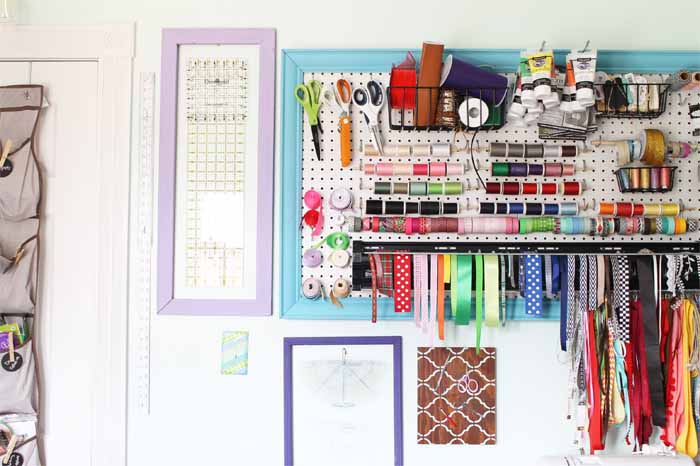 There are also a few things hanging on the wall. I also added frames around those to give them a home.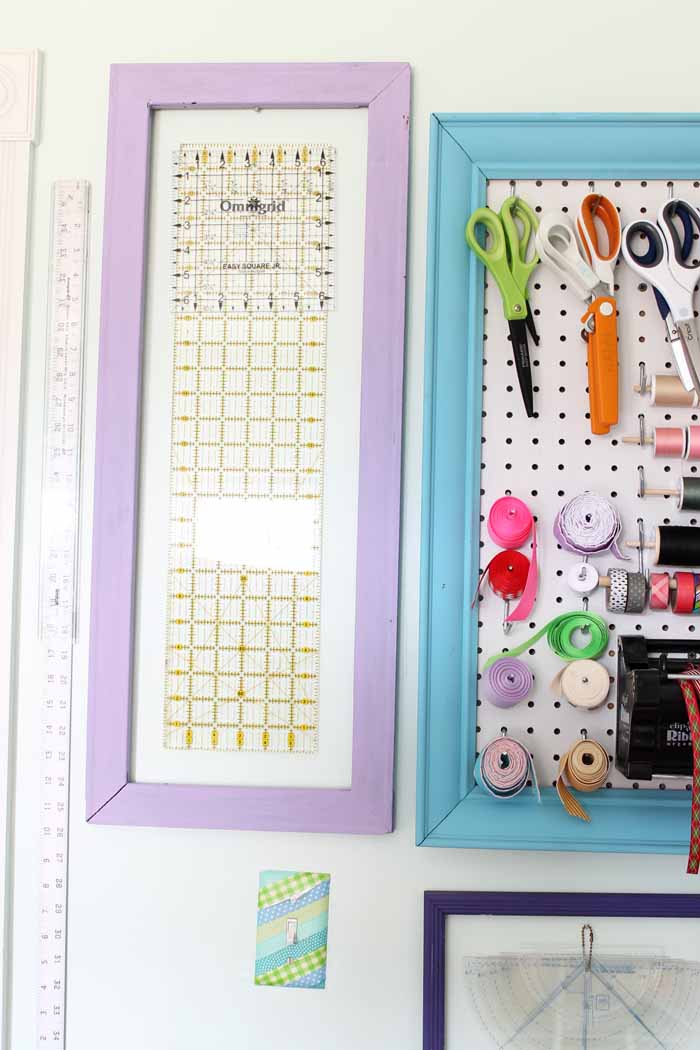 As we continue, you will see the door to the room. I just had to add some organization to it as well.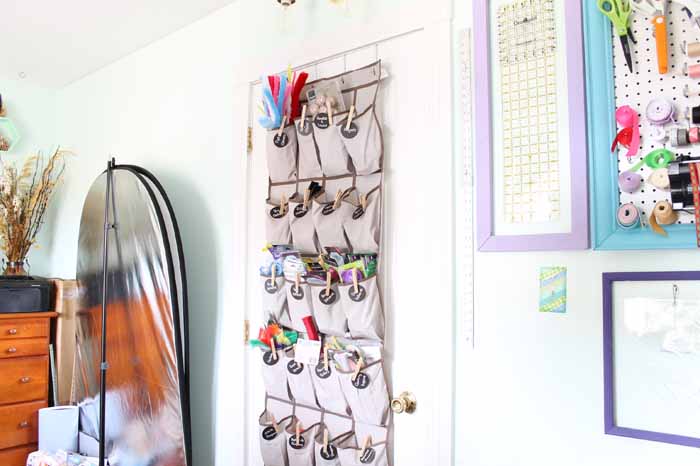 Back of the Door Organization
I put a shoe organizer over the door and then added in a variety of craft supplies. Chalkboard labels were used here again.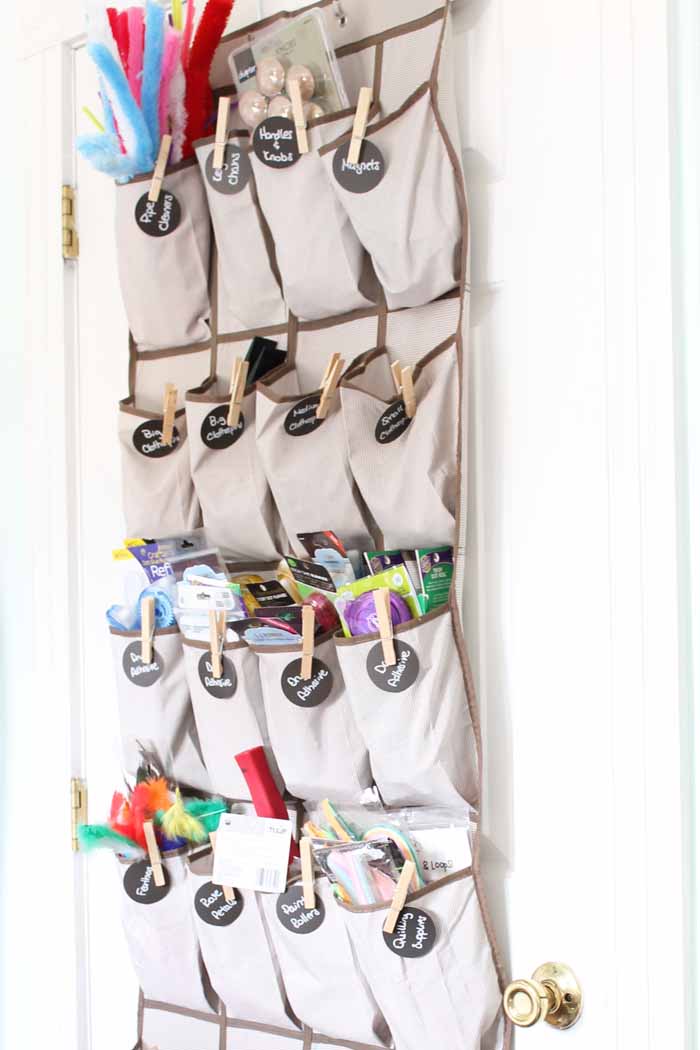 In the next corner, I have a small chest that I use to store a variety of props for taking pictures. Those large reflectors are also used for shooting images around here. The mess in the floor? Well that is just real life! As things come in or I have HUGE projects happening, that all gets stored here.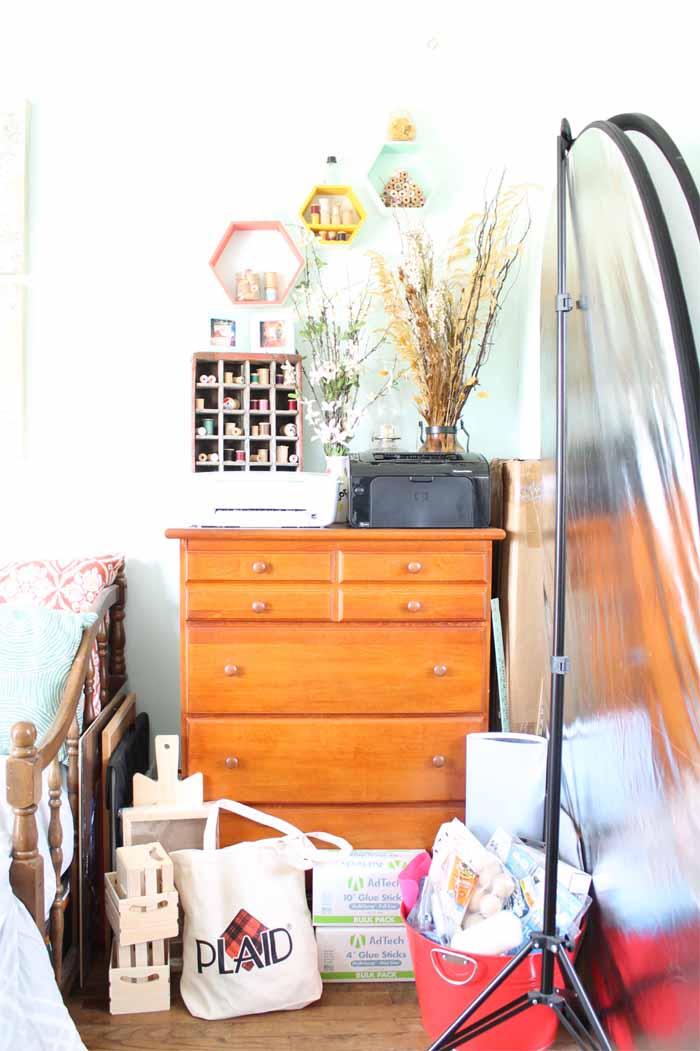 The top of that dresser is also printer central for the upstairs crafting room.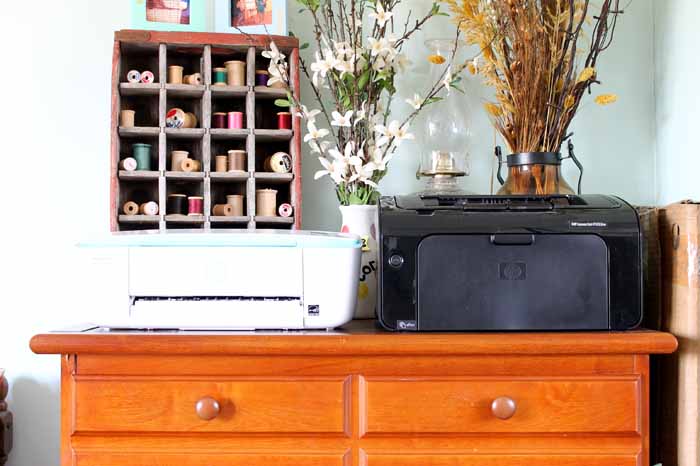 To the left is a daybed. It can be used for guests and also for the kids to hang out while I am working.
Art as Organization
These walls mostly contain art but that can be functional as well. Those small hanging organizers are holding succulents. I use these a ton in my crafting but why not show off my extras in the craft room!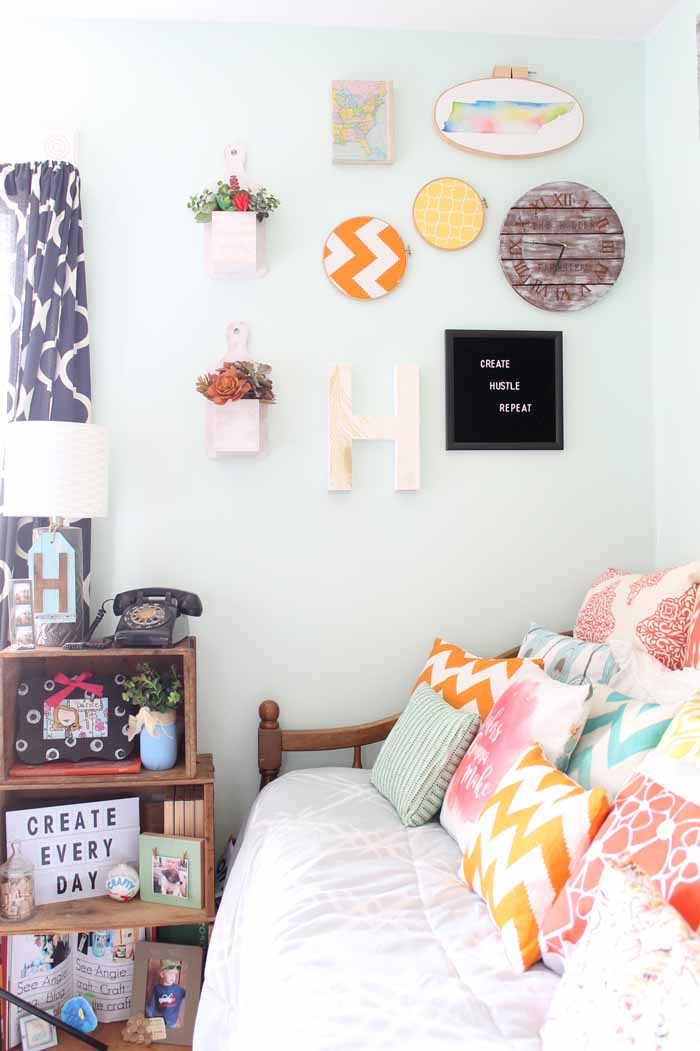 Next to the bed, I have some stacked crates that act like a nightstand but it is also a place to put special mementos.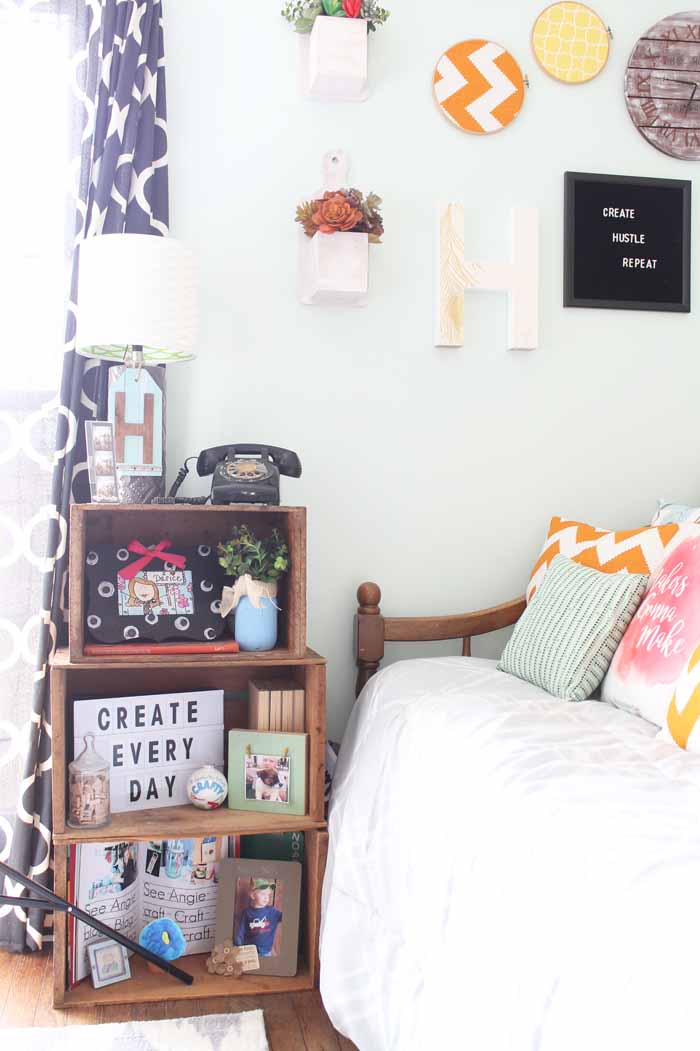 And that rotary phone on the top actually works!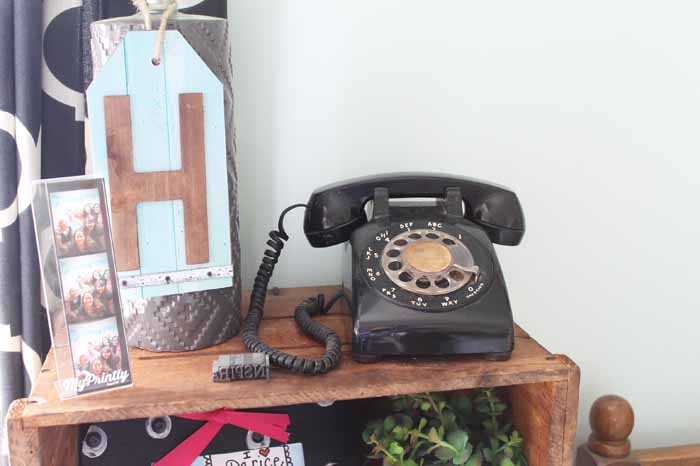 Custom Craft Table
The very center of the room contains a large custom made craft table. My husband made it a few years ago. Again, keeping it real, I wanted to take my pictures with my full set up. I use tons of lights to take images for this site.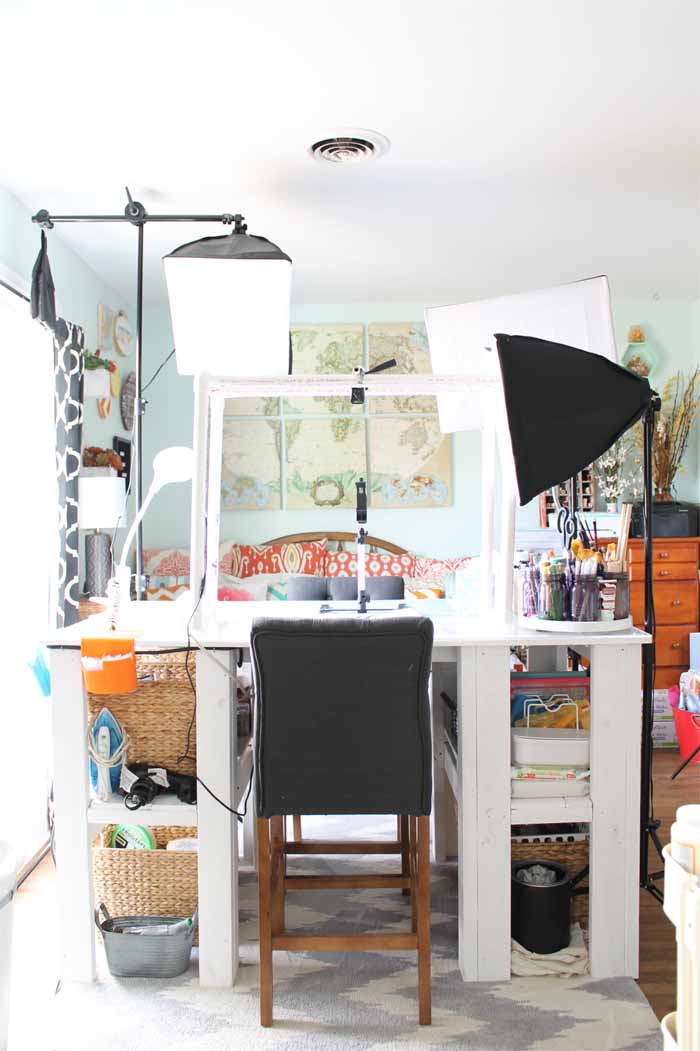 There is also a PVC pipe setup that helps me to shoot videos for this site. NOTE: Any bloggers that want more information on my set up can see that here.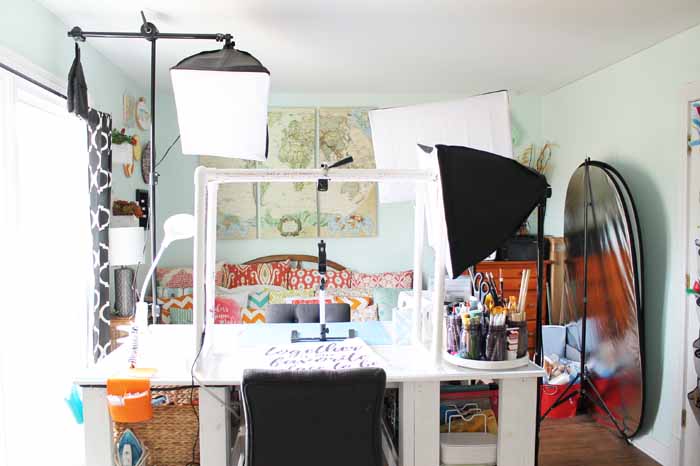 The craft table itself contains storage on both sides. I also have a lazy susan on the right with mason jars holding things like paint brushes, scissors, and pencils.
On the left, you can find a couple of hobby holsters hanging off the table. They are great for storing glue guns and sticks.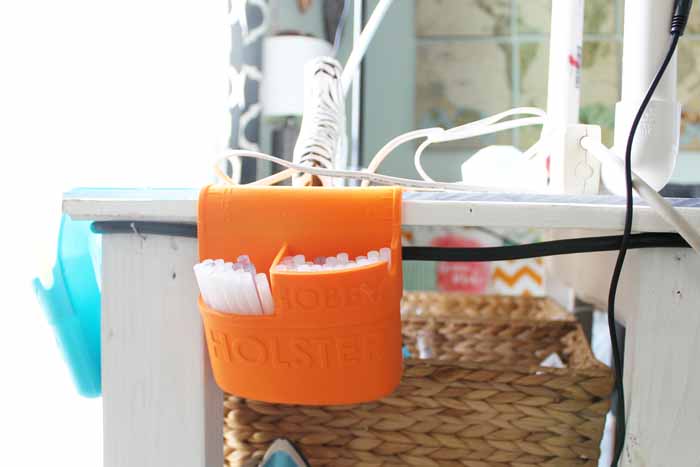 The end of the table next to the window holds more supplies in baskets.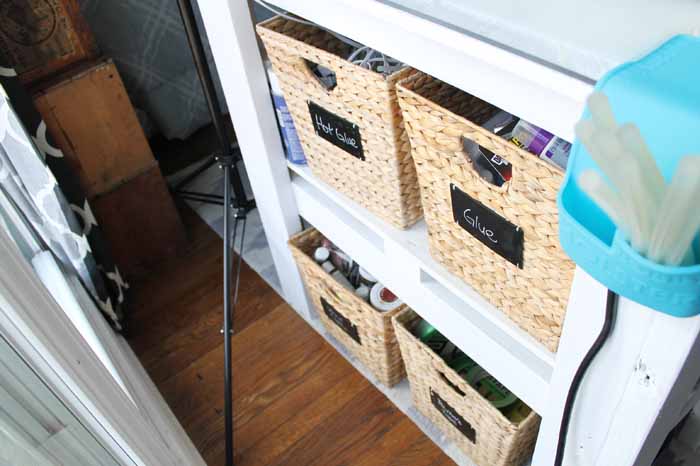 The other end of the table also holds a few more supplies.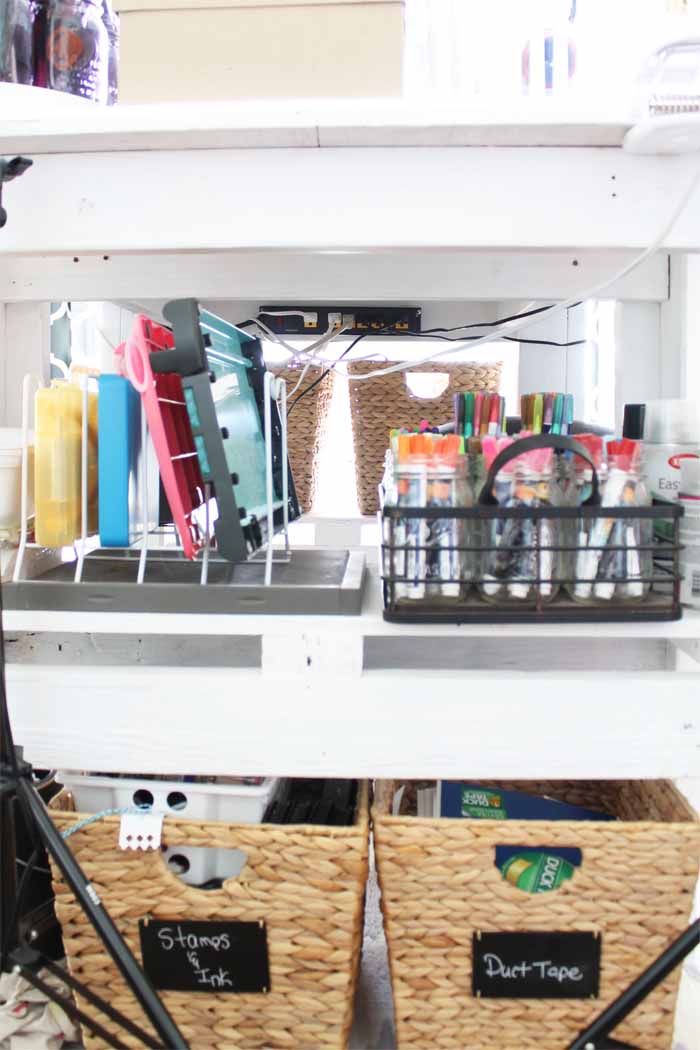 Other Organization Ideas
I have a tray of mason jars with a variety of paint pens.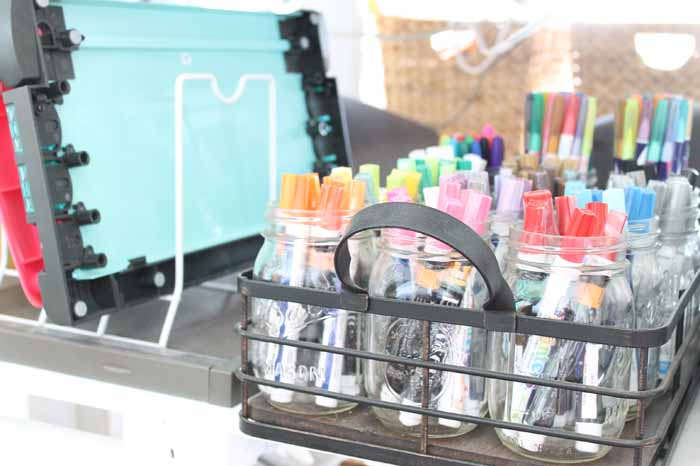 You can also use a file folder organizer to hold craft supplies! This is just one of the items I use in my space for craft room organization.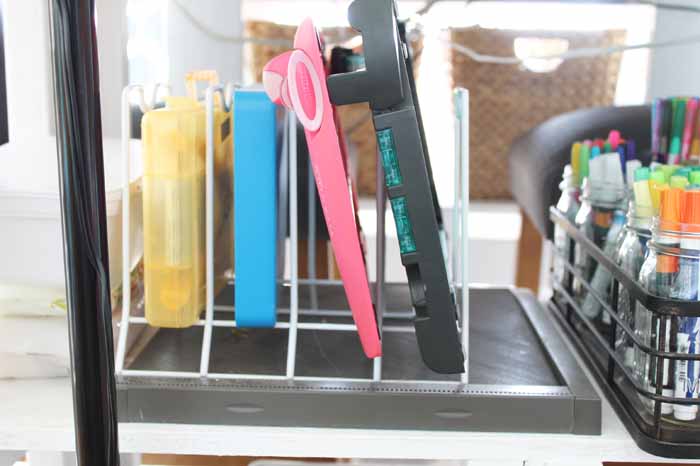 The other side of the table actually has another chair. I love being able to work on both sides but also to have someone over to craft along with me!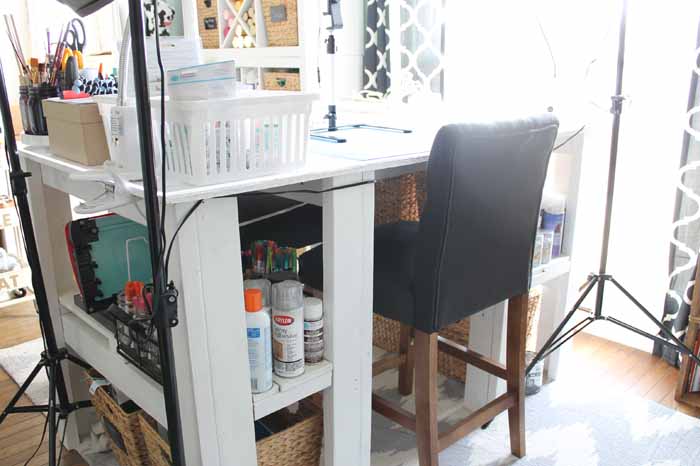 I hope you enjoyed this little tour of my craft room. Hopefully you got some craft room organization ideas that you can use for yourself as well. Now, are you ready for some more great craft rooms?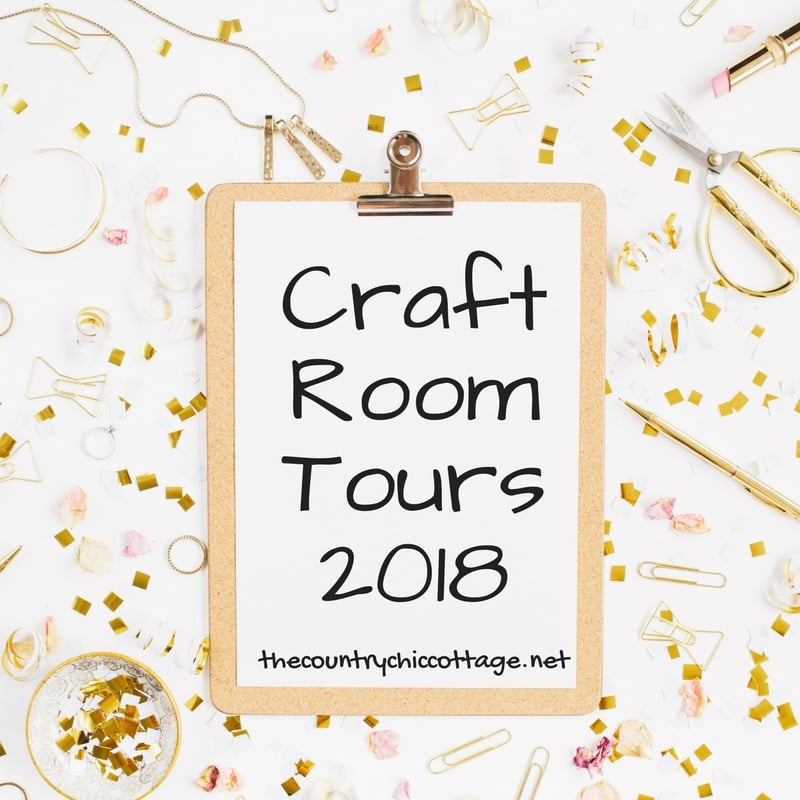 Monday
Tuesday
Wednesday
Thursday
Friday
So, tell us, which of these craft rooms is your favorite? We would love to hear about your craft room organization ideas in the comments below.
Love This Idea for Storage and Want More? Click the Links Below!
Declutter Your Home in 31 Days!
Clear the clutter and organize your home with our daily emails! Every day for a month we will send you a prompt to declutter! Sign up for our email list below to get started.