Organizing toys in a child's bedroom is always an issue that I struggled with — that is until now! When BHG Live Better sent me my challenge for this month, I was stumped because I was tasked with revamping a bedroom or bathroom, which I had recently done for my home. I had avoided my son's room though — it was looking pretty shabby, and he had no good toy storage in his room. I then remembered the awesome cube storage available at Walmart for BHG Live Better, and problem solved! He gets great toy storage in his bedroom and I get to tell y'all about it.
Are you ready for more organization tips? Check out my DIY Acrylic Calendar or my DIY Wooden Crate Cabinet Organizer.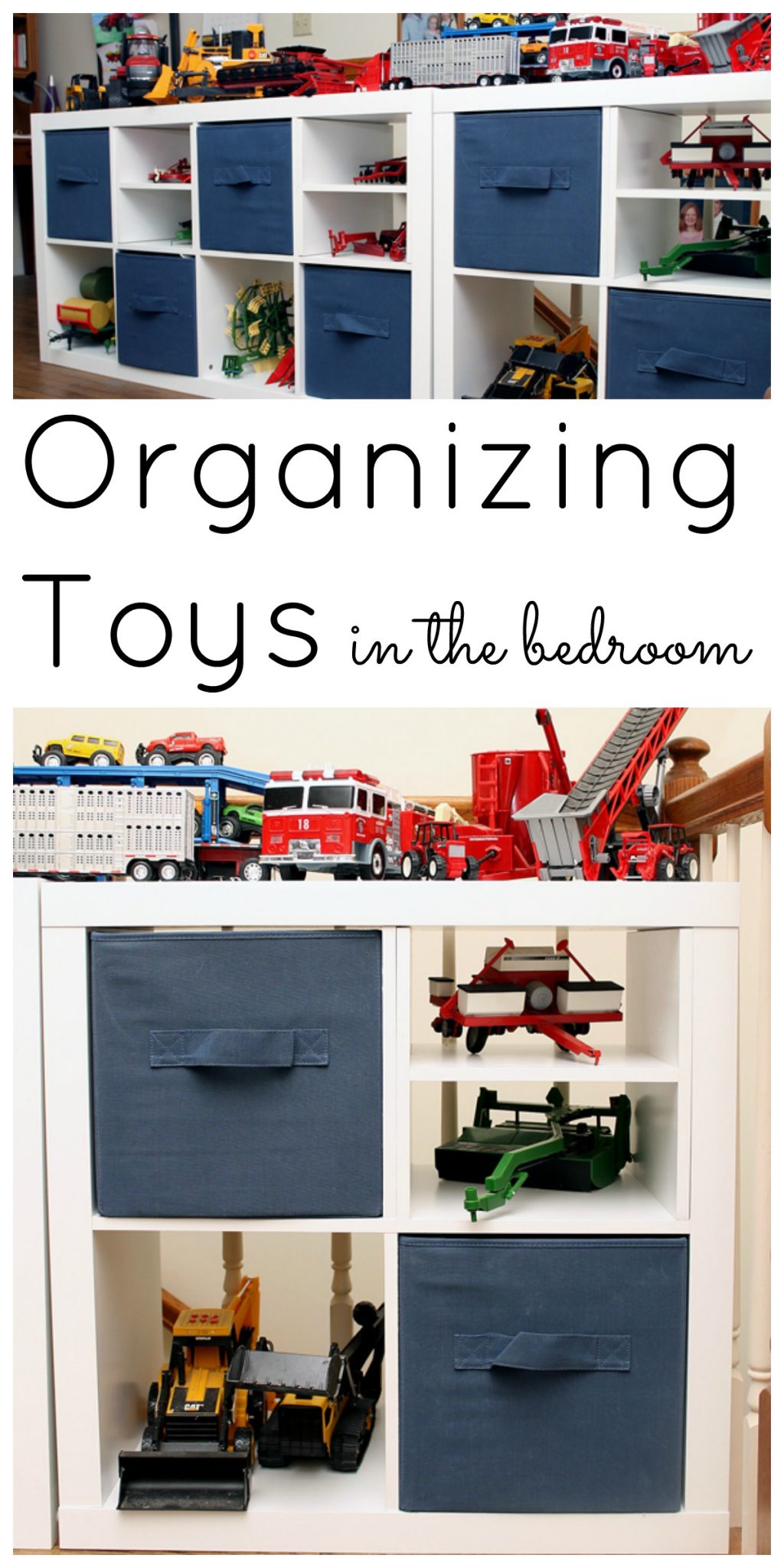 Let's get organized
First a back story of this room. On our home plans this is actually called a "game room," but when my third child was born, it made a fabulous nursery. However, it does open up to the steps going to the second floor so the privacy is non-existent. That being said, my son still does not want to give up the space in this room because it is LARGE! Moving to a "real" bedroom in our home would mean downsizing by about half, and no boy with this many tractors wants to downsize.
Once I realized that the cube storage would fit perfectly along the stair railing, I was sold. This is crazy easy for organizing toys with the extra bonus of a little more privacy and closing off of the room.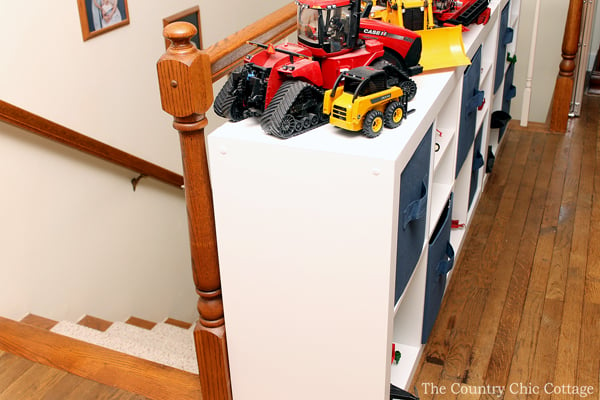 What you'll need for organizing toys:
NOTE: Links are affiliate links which means a portion of your purchase goes to support this site.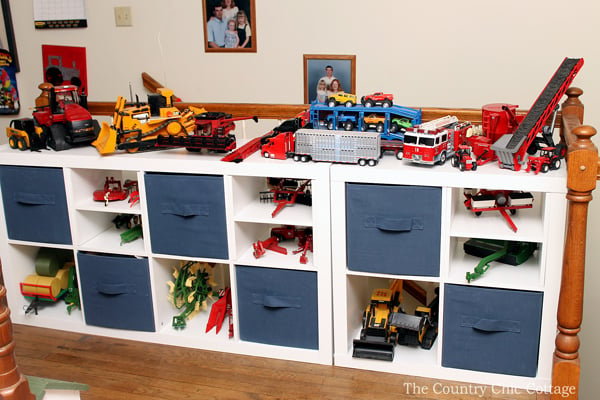 How to use cube storage for organizing toys
The actual cube organizer is available in different colors, white, black and a brown/wooden finish. The organizer is pretty easy to put together, too! Just follow the directions that come with the package.
Step 1: Cube organizers
I am so in love with organizing toys in these cube organizers. Honestly, it will not be long until I have cube storage in every room in my home. I swear y'all.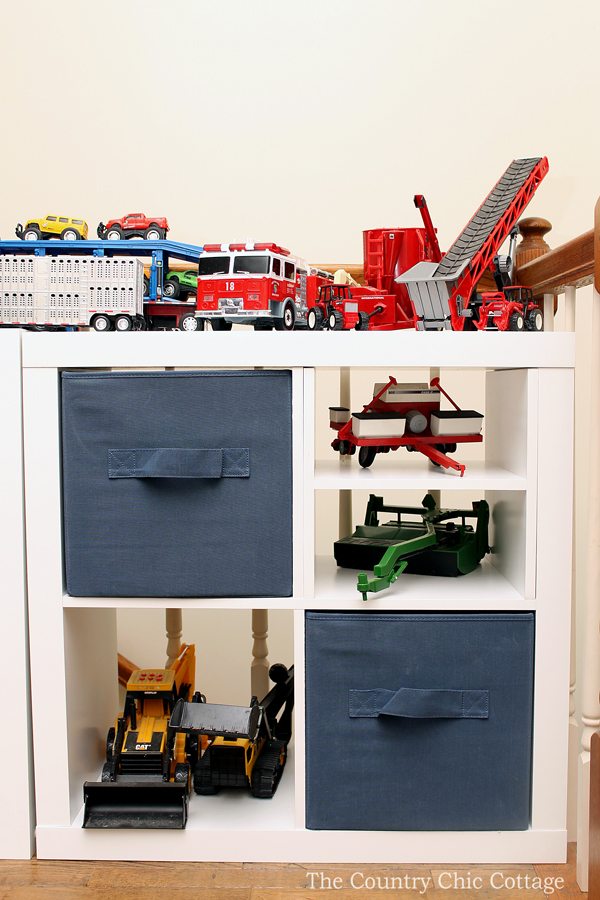 Step 2: Open shelves
The fabric baskets are perfect for holding a variety of toys that I thought would be better kept out of sight, but the open shelves are perfect for showing off my son's collection of tractors, trucks, and so much more. You could also use the open shelves for books, movies, or other more aesthetically pleasing toys!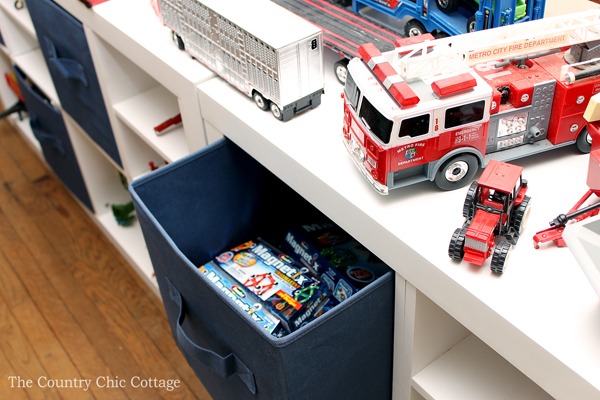 Step 3: Organizing toys
When organizing toys, I decided to put the smaller items on the divided shelves — which is yet another reason I love the cube storage from BHG Live Better. You can get a variety of those dividers to suit your needs.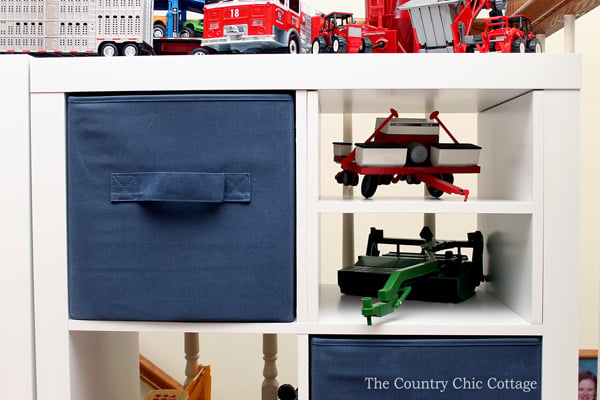 Step 4: Celebrate your organization!
I am in love with organizing toys with the cube storage and how great the room looks with just this one simple tweak. But the best part is that my son loves it!
I always find that when the kids are on board, the organization will actually work. So if you are looking for ideas for organizing toys in a child's bedroom, look no further than the cube storage at Walmart from Better Homes and Gardens. I think you will love it as much as I do!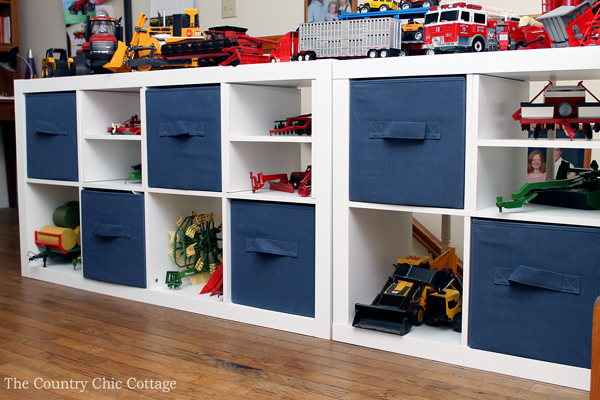 How to customize your toy room organization
Change up the canvas cubes. The best thing about the canvas cubes is that you can find them in almost any color or pattern that you want — I've even seen some that are monogrammed! Change them up seasonally for an easy room facelift, or let your little ones each choose a color to help organize their own toys.
Utilize open cube inserts. Like I said before, I opted for the small shelf insert in my cube organizer, but you can get so many different kinds. There are drawers, paper dividers, and more — it's definitely worth checking them out to get the most out of your storage.
Decorate the old fashioned way. Grab some Mod Podge, find wallpaper or scrapbook paper, get some paint or stickers, and have a decorating party! I have seen some really cute designs on the insides of the open cubes, which adds a nice pop of color without being overwhelming.
NOTE: This post was sponsored by BHG Live Better however all projects and opinions are my own.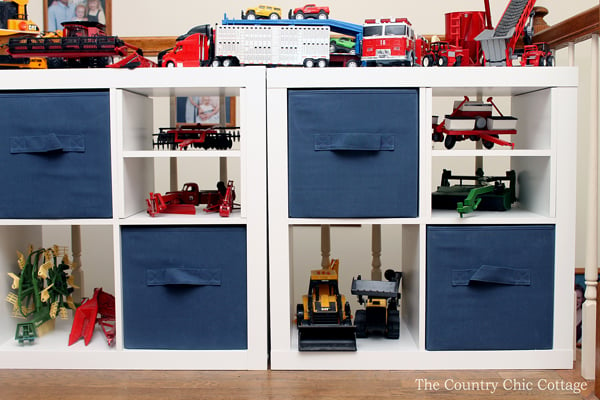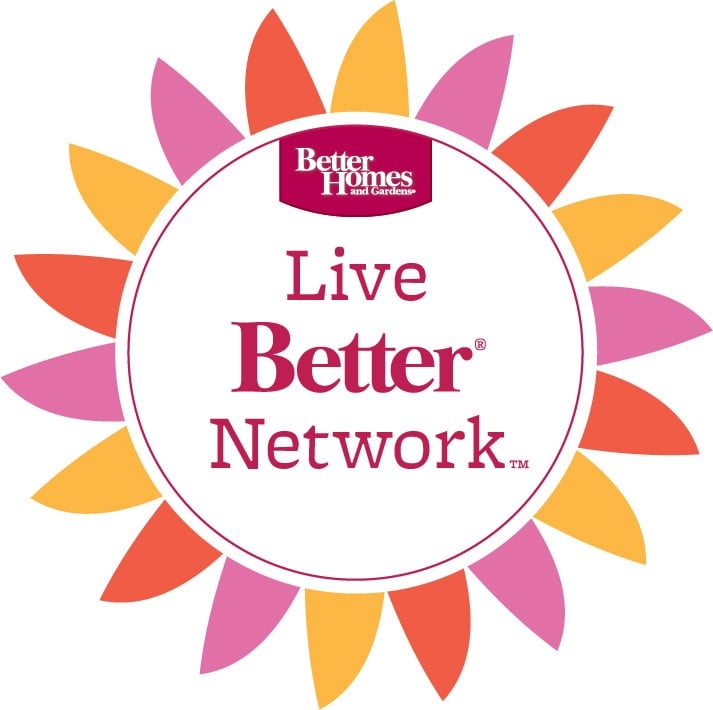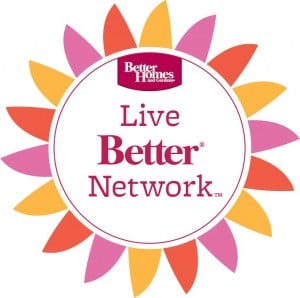 Love this idea for DIY quick organization and want more? Try the links below as well!
Declutter Your Home in 31 Days!
Clear the clutter and organize your home with our daily emails! Every day for a month we will send you a prompt to declutter! Sign up for our email list below to get started.