I know many of you have asked for a Cricut course or someone to teach you about your Cricut machine. I thought I would take some time today to review Cricut Academy which is a set of classes that will walk you through how to use your machine as well as more advanced functions. Let me start off by saying that this course is not sponsored or endorsed by Cricut. I do have access to the entire course in order to give you a fair review. Now, let's jump in!
Don't want to do a paid course just yet? Try our free 7-day Cricut classes and see if those may help!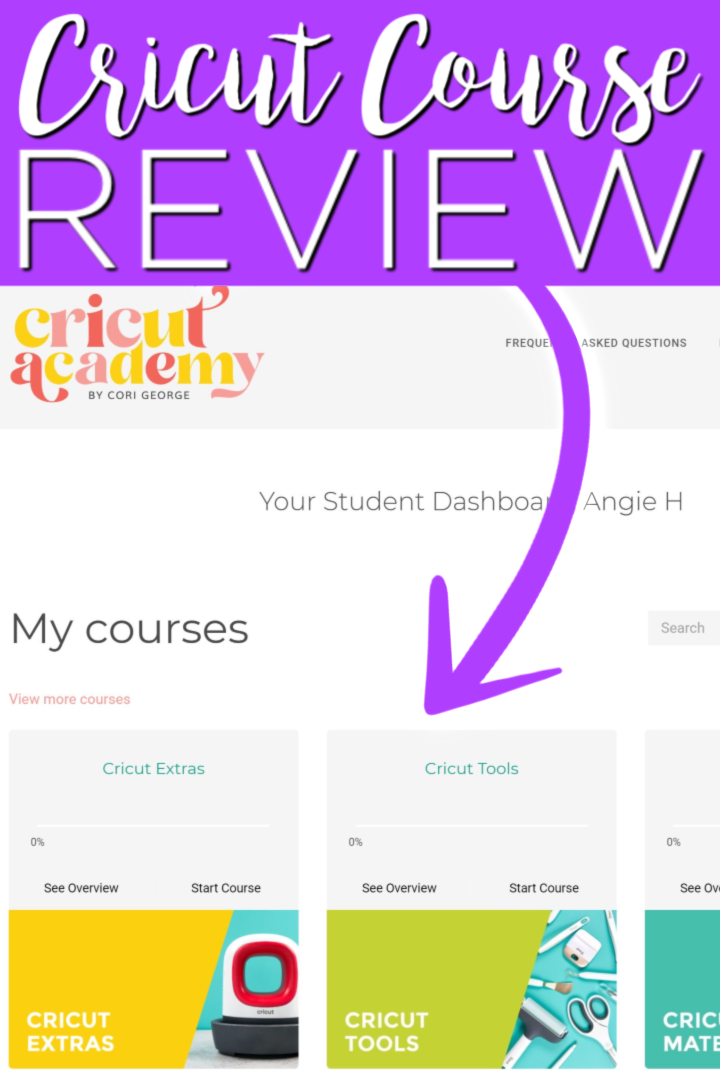 NOTE: Cricut Academy has closed for new students as of this writing. As an alternative, I would suggest the Cricut Basics books! Pick the book for your machine and get started learning right away. You can click here to see more about the books.
What is Cricut Academy?
It is a Cricut course taught by Cori George from Hey, Let's Make Stuff. It is an organized, online course with over 200 lessons covering Design Space, tools, materials, mats, blades. project tutorials, and more! If you are tired of searching YouTube every time you have a question, this might just be the answer you have been looking for all along.
This is a self-paced course which means that you can work through the lessons as quickly or as slowly as you need to. You can also refer back to the lessons you have completed as a refresher at a later date.
What is included?
The course modules are as follows:
Cricut Design Space for Desktop, iOS, and Android – you get one course for each version so there is no longer an issue finding out exactly how to do something on your particular device. These modules all cover everything you need to know about Design Space from the most basic to more advanced techniques.
Cricut Materials – details on cutting and using over 20 material types so you can get it right the first time without wasting material.
Cricut Tools – here you will find everything you ever wanted to know about blades, mats, pens, scoring tools, and so much more. Don't know which tool you need for what project? Cricut Academy can help.
Machine Information – there are courses on the Maker, Explore, and Joy. So, whichever machine you have, you will find a course just for you that explains all about your machine.
Cricut Glossary – this is one of the most useful features of the entire course, in my opinion. You can quickly see what all of those Cricut terms mean. It is a great way to refresh your memory while working on a project.
Resource Library – with your monthly membership, you get free SVG files every single month. In fact, there are at least 15 files a month that include a commercial license. That alone is a $40 value!
Project Ideas – don't know where to start creating? There are several project ideas that are exclusive to Cricut Academy to get you started.
Make Money with Your Cricut – this is one of the most exciting modules for me. After all, taking this course costs money so you need to make it back somehow. Learn how to turn your Cricut into profit.
Adobe Illustrator for Cricut – want to make your own SVG files? This class will help you to do just that.
Cricut Extras – from the EasyPress to the BrightPad and more, you will find information on additional products from Cricut as well.
Okay, that is a TON of information and I just glossed over the big topics. There is seriously so much packed into this course to help you learn your machine.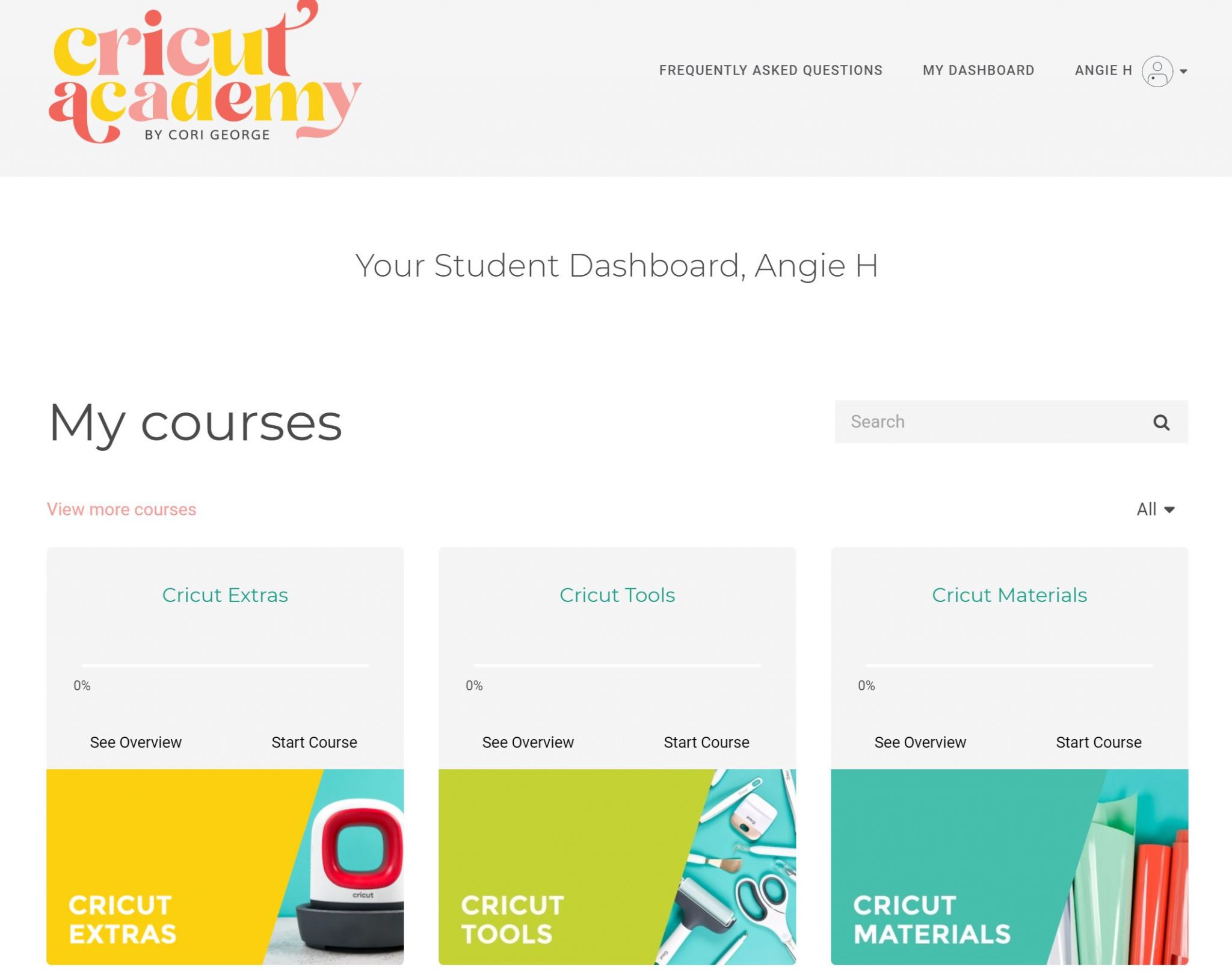 With your Cricut Academy membership you also get:
Free printable vinyl guide and printable keyboard shortcuts guide
Access to an exclusive VIP Facebook group, where you can ask questions, get advice, build community, and share your Cricut creations
Exclusive Facebook Lives that include Design Space tutorials, Cricut crafts, industry updates, and more
Automatic entry into a big monthly giveaway
Now that is a ton of value.
Want to see more?
Want to take a look inside the course as a sneak peek? I took a quick video of some of the modules so you can see the format of the course itself as well as how the entire thing looks once you are enrolled. You can watch the video below.
For me, actually seeing inside the course is worth 1,000 words about how great it is. You can see the content that you get and how well it is laid out. I would encourage you to watch the video above even if you can't have the sound on. I think you will still be able to tell more about the course in the video than any other way.
How much is it?
NOTE: Cricut Academy has closed for new students as of this writing. As an alternative, I would suggest the Cricut Basics books! Pick the book for your machine and get started learning right away. You can click here to see more about the books.
All of this sounds great, right? The bottom line always comes down to money. Can you afford this course? There are two options for purchase:
Monthly membership at $12.99 per month
Yearly membership at $129.90 (which is like getting 2 months for free)
You can cancel either membership at any time so there is no commitment for any time period. I do want to add here that you can absolutely enroll for just one month and watch all of the videos and cancel. However, Cricut is always changing things and this course will keep you up to date with all of those changes. So, you may want to consider sticking around longer to get those free SVGs and updates about your machine.
Is it worth it?
Now that you have seen the course and the price, the only thing left is to ask yourself if it is worth it for you. Here are a few things to consider:
How much time do you spend hunting tutorials for your Cricut machine? With Cricut Academy, you can save that time to do other things like actually create with your machine.
Do you love SVG files? You get over $40 worth a month that includes a commercial license with your membership. That could turn into even more cash once you start selling your handmade goods.
Speaking of making money with your Cricut, there is a course all about that included with your membership. That means you can start using that advice right away to build your handmade business.
Looking for a community of like-minded individuals? You get one built right in with the private Facebook group.
Do written instructions and screenshots help you learn? Cricut Academy is full of these step-by-step tutorials for all aspects of your machine. Please note that these lessons are not printable so you will not be able to print a manual or book from the course.
For me, I think that starting with a course like this when I first got my machine would have been so darn helpful. I had to learn by doing or searching out the answer on Google or YouTube. That can get frustrating fast. Take the frustration out of your Cricut by enrolling in Cricut Academy.
Now that I know my machine, would I enroll? If you are not a beginner, I would say if things like the SVG files and the Adobe course interest you, then by means enroll! I think you will be surprised by how much you still have left to learn about your Cricut and you will get the files as a bonus.
How do you enroll?
NOTE: Cricut Academy has closed for new students as of this writing. As an alternative, I would suggest the Cricut Basics books! Pick the book for your machine and get started learning right away. You can click here to see more about the books.
I hope this Cricut course review has helped you to make a decision about Cricut Academy and also whether or not it is right for you. If you still have questions, feel free to leave them below.