These Cricut dollar store crafts are all easy to make and perfect for baby showers. If you are looking for an inexpensive baby gift, look no further than your local dollar store. Pick up a few items then personalize them with your Cricut for something they will never forget. Add this painted acrylic sign to your gift basket as well to record baby's stats.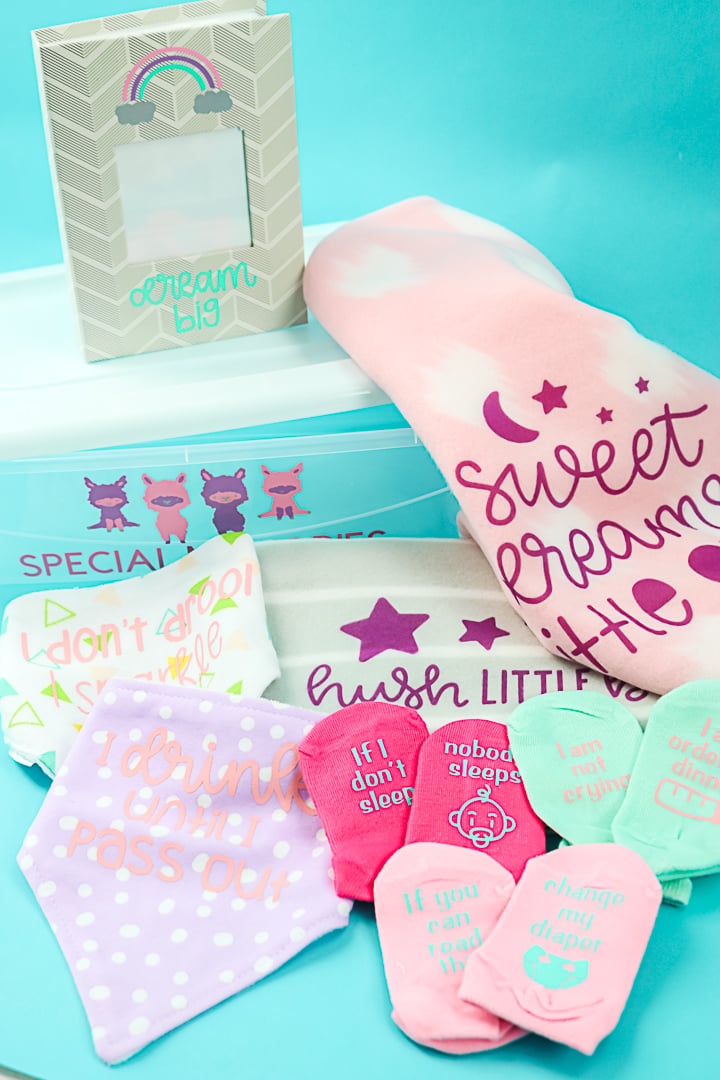 Baby Shower Dollar Store Crafts
I ended up making an entire baby gift basket with items from the dollar store. Here is what we will be making today:
Socks with cute sayings on the bottom with iron-on. These socks were 2 for $1 so super affordable.
Bibs with funny sayings with iron-on. The bibs were $1 each and you will want to make sure these are cloth bibs that do not have a plastic backing.
Baby blanket with Infusible Ink design. You can get these 100% polyester blankets for $1 and personalize them easily with Infusible Ink sheets.
Baby photo album with vinyl design. Pick up albums or even frames for $1 and add cute vinyl designs for something mom and dad will love.
Baby memory box with a vinyl design. This $1 bin serves as our gift basket but also a bin for baby's memories.
So, are you ready to make these Cricut dollar store crafts? They are so easy and you will love how they turn out.
Table of Contents
Video Tutorial
Want to see me make each of these crafts in a video? You can watch below as I walk through the steps for creating each of the items and putting them together into a gift basket.
Can't watch the video or missed some of the steps? You can also follow along with the instructions for each project below.
Cricut Dollar Store Crafts
Make a quick run to the dollar store for your surfaces then pick up your Cricut supplies using the links in each of the cards below. You will be ready to make a cute baby shower gift in no time at all. Remember when you order from the Cricut website you can use code CCC2021 for 10% off and free shipping on orders over $50 (excludes machines, Access, and digital goods). That way you can save a bit on your materials as well as those cheap surfaces from the dollar store.
This project is made with Design Space files. Click here for my profile. Once on my profile, find the image of the project you want to create, click it to open it up, and then you can make it yourself.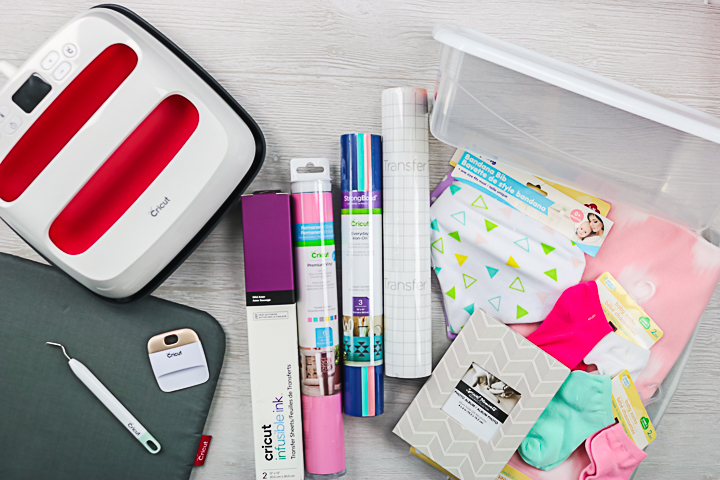 Funny Baby Socks with Sayings
First up is making those cute baby socks with sayings. I came up with four designs for these and ended up making three pairs of socks. You can make these in a variety of sizes for baby all the way up to toddler.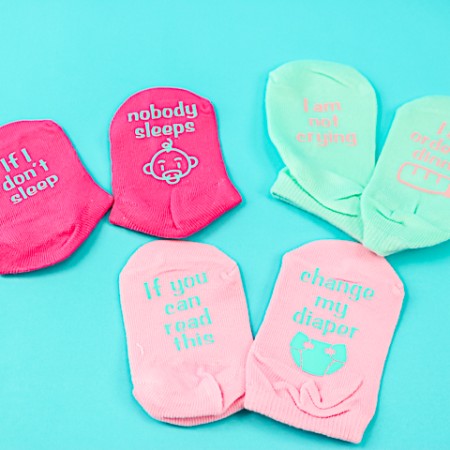 How to Add Iron-on to Baby Socks
Make these funny baby socks in minutes with this quick and easy idea for personalizing.
Supplies
Instructions
Weed away all of the excess from your design including around the outer edge as well as the centers of any letters.

Lay the socks where the bottom is flat and face up. Press for a few seconds with your EasyPress then add your design to the right location.

Then press at the recommended temperature for the time indicated. You will want to press from the front and the back if your iron-on product calls for that.

Allow the socks to cool and remove the carrier sheet. Please note that the product I am using is a cool peel. You will want to look at the instructions for the product you are using. I like to press once more on baby gifts after the carrier sheet is removed. Cover your area with a teflon sheet or parchment paper then press for about 1/2 the time at the same temperature. This makes sure your design is stuck before giving to a child.
These socks are so cute and perfect for a baby shower! Which design will you use on your funny baby socks? You might even add some funny socks for mom to the gift as well.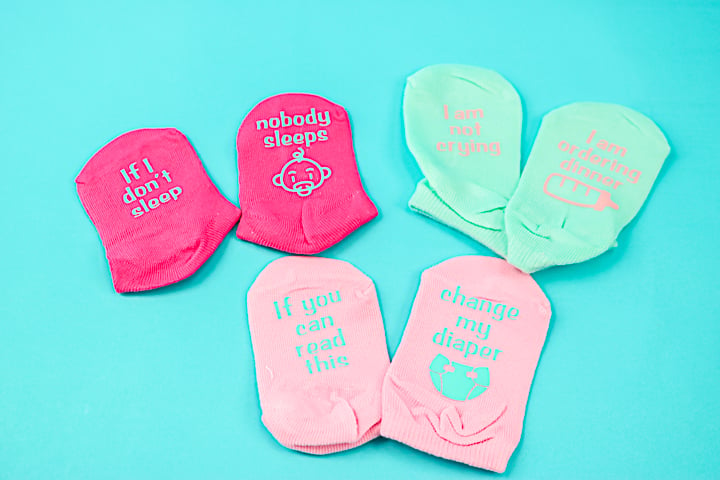 Funny Baby Bibs with Iron-on
Why stop at socks? Baby bibs make great Cricut dollar store crafts as well. Find bibs that are all cloth for the best results then add whatever funny saying you would like.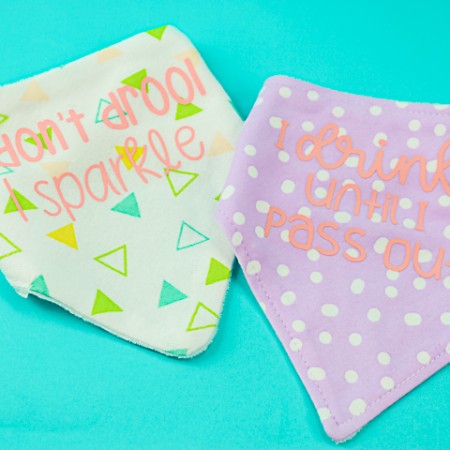 How to Add Iron-on to Baby Bibs
Grab your iron-on and make custom baby bibs in minutes with your Cricut machine.
Supplies
Instructions
Again, you will follow the same basic instructions as for the baby socks above. Put your iron-on face down on your mat and mirror your cut. Once cut, weed away all of the excess from your design.

Press the bib by itself for a few seconds. Then add your design and press at the recommended temperature for the time indicated. You will want to press from the front and the back if your material calls for it. Then allow to cool (if required) and remove the carrier sheet. Once again, I use a protective sheet and press once more after removing the carrier sheet to make sure everything is stuck.
There are so many cute and funny sayings that you can add to a baby bib. This gift is useful as well as cute which makes it the best for baby showers.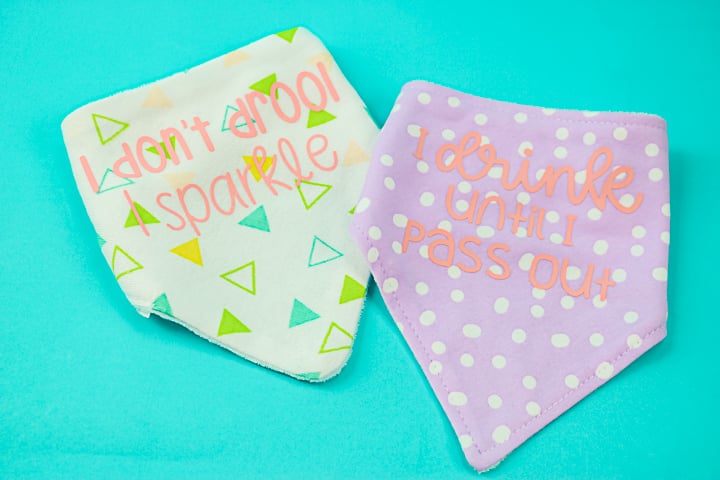 Infusible Ink Baby Blanket
If you didn't know it, Infusible Ink will work with any 100% polyester surface. Take a look around your dollar store as I bet you can find some baby blankets that will work with this product. With Infusible Ink, you don't have to worry about the product coming off as it is infused into the fibers of your blanket.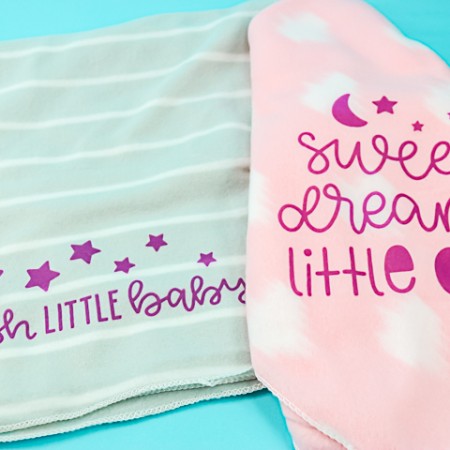 Custom Dollar Store Baby Blankets
Add Infusible Ink Transfer Sheets to baby blankets from the dollar store for a cute addition to any baby gift basket.
Instructions
Cut your Infusible Ink sheet using your Cricut. Place your material ink side up on the mat and mirror your design. Then cut using the Infusible Ink Transfer Sheet setting.

Weed away all of the excess on your design. Be sure to use tweezers if you need help lifting the pieces for this one as weeding tools can damage the ink. Preheat your blanket for a few minutes then lint roll it before adding your design into place.

Put white cardstock on your EasyPress mat to protect it. Then add your blanket, your design, and cover with the butcher paper in the Infusible Ink packaging. Press at the recommended temperature for the full time. Then you can peel back your design while it is still warm. Your blanket is done and ready for your gift basket!
These blankets are my favorite of all of these dollar store baby crafts. They are soft and the Infusible Ink just brings them to life!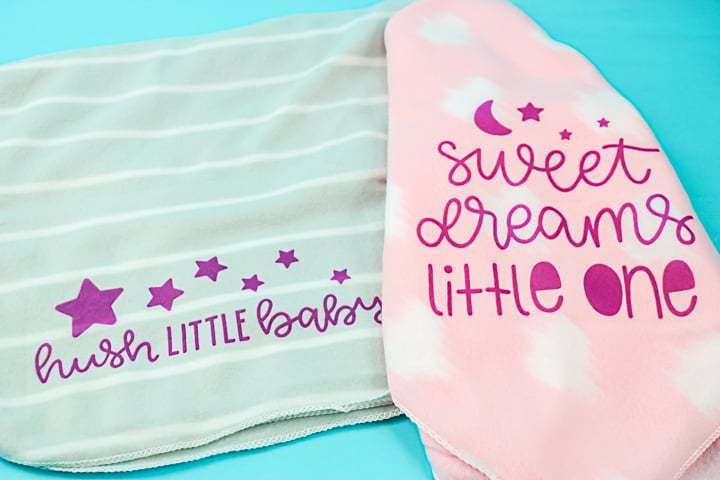 Custom Dollar Store Photo Album
Any parent will appreciate the gift of a photo album. After all, you need somewhere to put all of those pictures of your precious little one. So, why not customize it with your Cricut machine.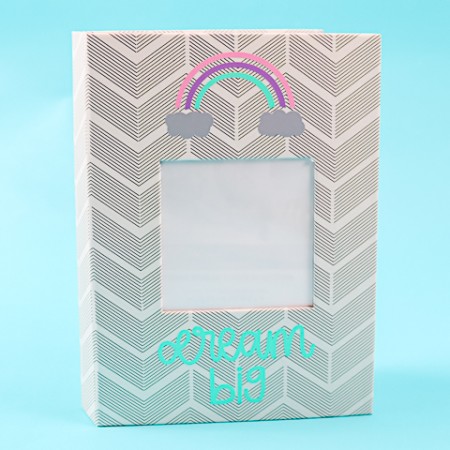 Adding Vinyl Decals on a Photo Album
It only takes minutes to make a photo album something extra special with your Cricut machine.
Instructions
Cut your vinyl pieces with your Cricut machine out of whatever colors you would like.

Weed each piece to remove any excess material.

Add transfer tape to the front of each piece and burnish well.

Peel away the backing leaving the vinyl on the transfer tape.

If you have multiple layers, be sure to add them all to the same piece of transfer tape before putting on your project.

Apply the vinyl to your photo album and burnish well.

Then peel back transfer tape leaving your vinyl decal on your photo album. Repeat for as many decals as you would like. You can also see our vinyl basics post here.
Seriously, vinyl is one of the easiest ways to customize any surface. It is easy to use and you can cut it into just about any shape.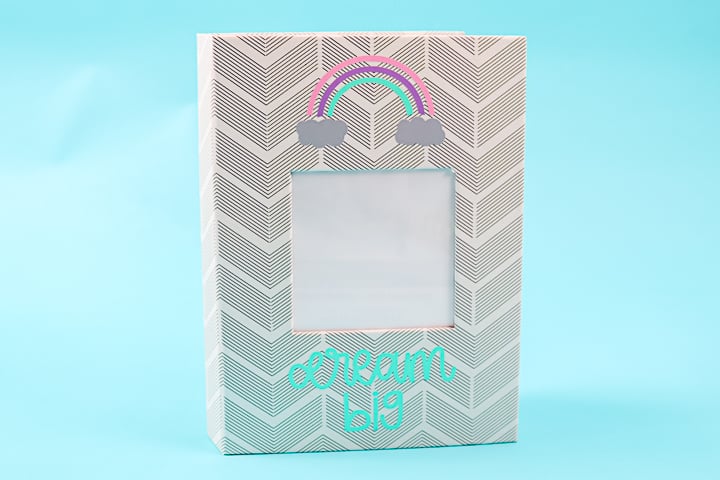 Baby Memory Box
You can use the same instructions as for the photo album above to make a cute memory box that is perfect for a baby shower. This will also serve as our basket to put the rest of the gifts in. You can add this same design using this Cricut cut file or make a design of your own.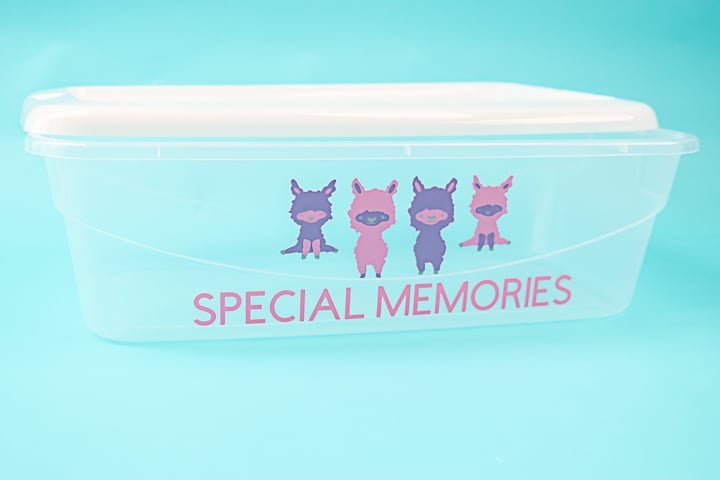 Baby Gift Basket from the Dollar Store
Now that you have a bunch of ideas for making custom gifts from dollar store supplies, it is time to put those together into a cute gift basket. Add all of your projects to the memory box then you can add ribbon or wrap in a clear wrapping.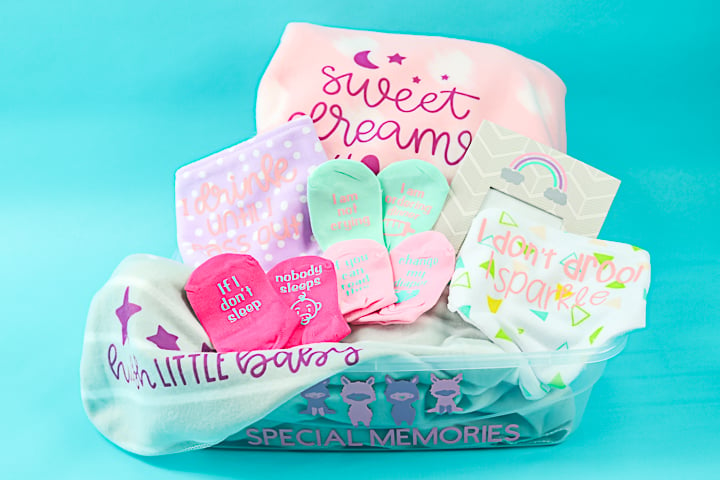 I like to layer the items in the basket so that you can see everything. Use the lid of the box to give your box some height. Mine is behind that pink blanket in the back.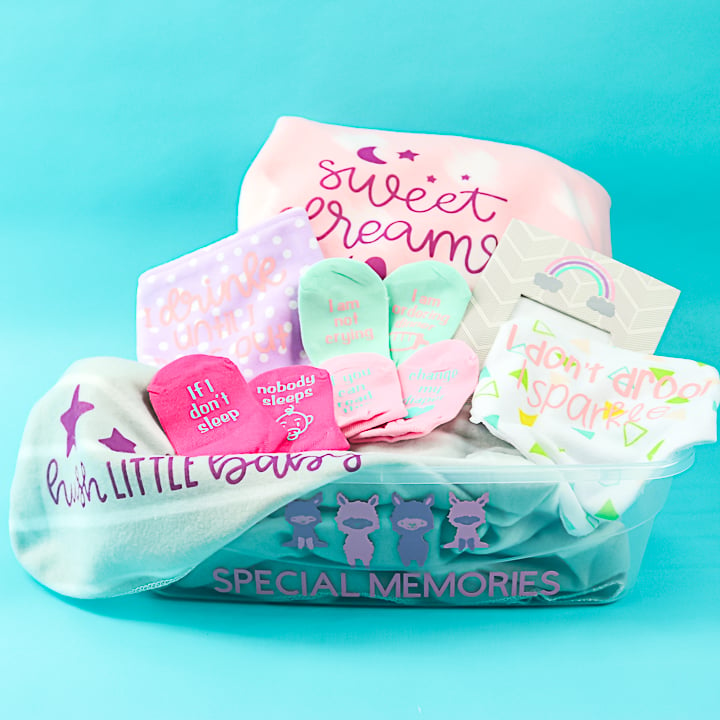 I love a gift where everything can be used by the gift recipient. Here the gift basket is usable and I have used the blankets almost like tissue paper. There is nothing to throw away once this one is unwrapped. I would love to know which of these gift ideas is your favorite.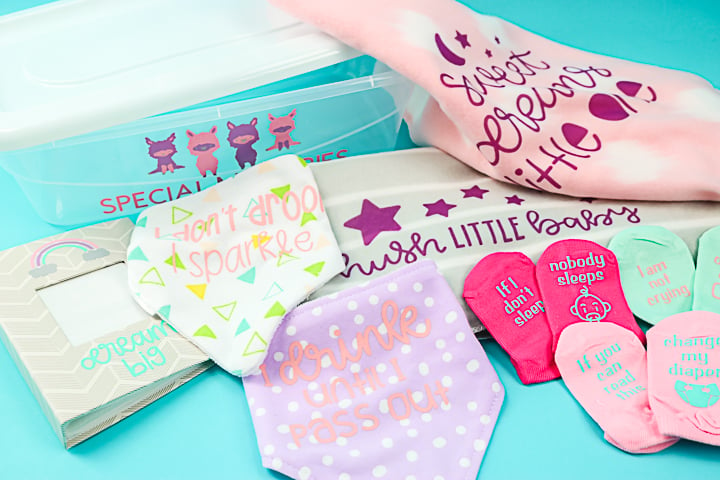 Do you have any other Cricut dollar store crafts that you would add to this baby shower gift basket? There are so many possibilities for fun things to customize at the dollar store. All you need is your Cricut machine and a little imagination.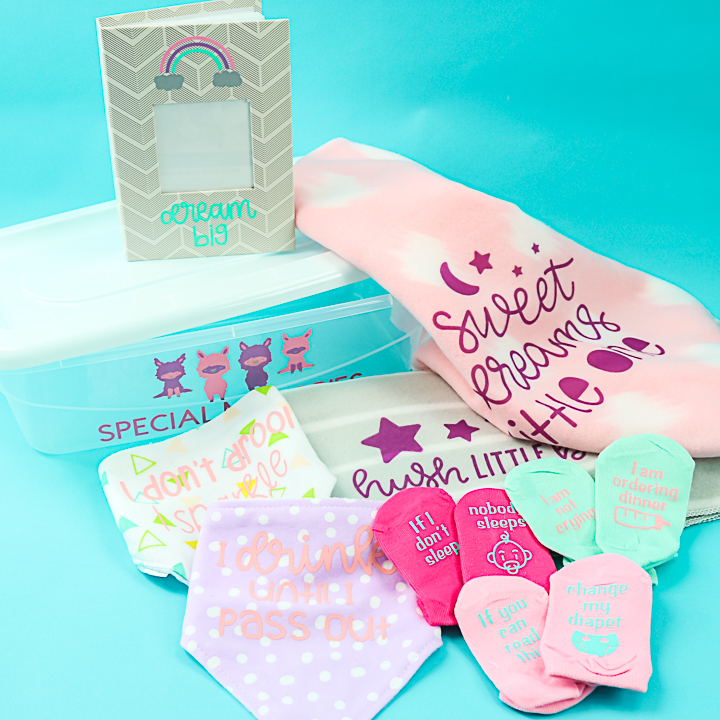 So, what are you waiting for? Got a baby shower coming up or another occasion where you need a gift? Head to the dollar store and look for inexpensive items that you can customize. Everyone will love the results!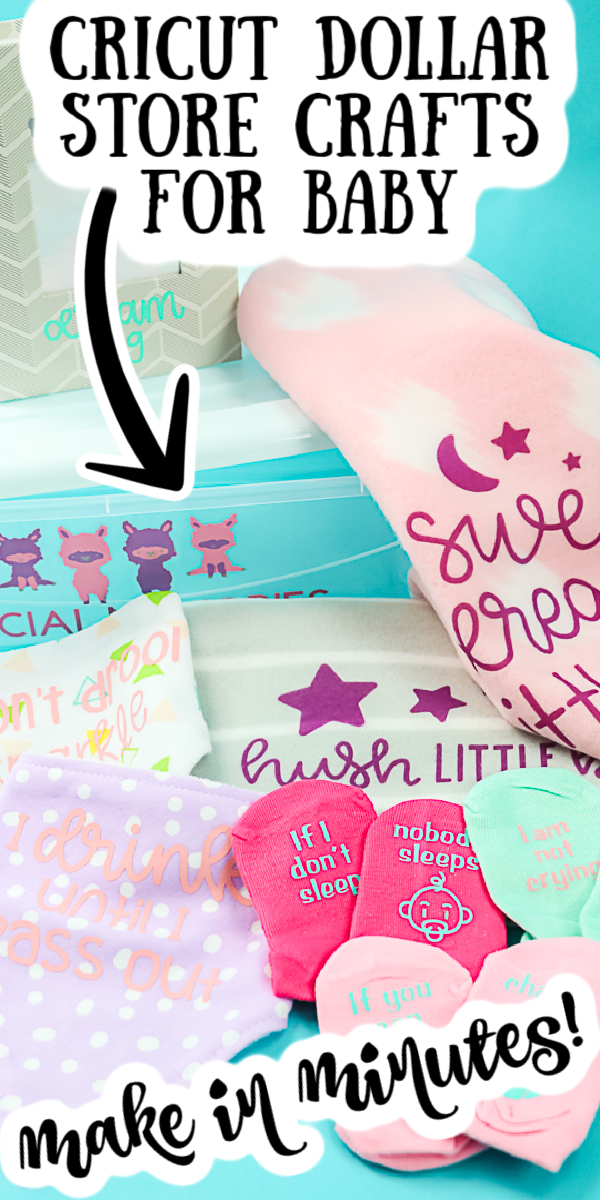 Love these dollar store crafts you can make with your Cricut? Try the links below as well!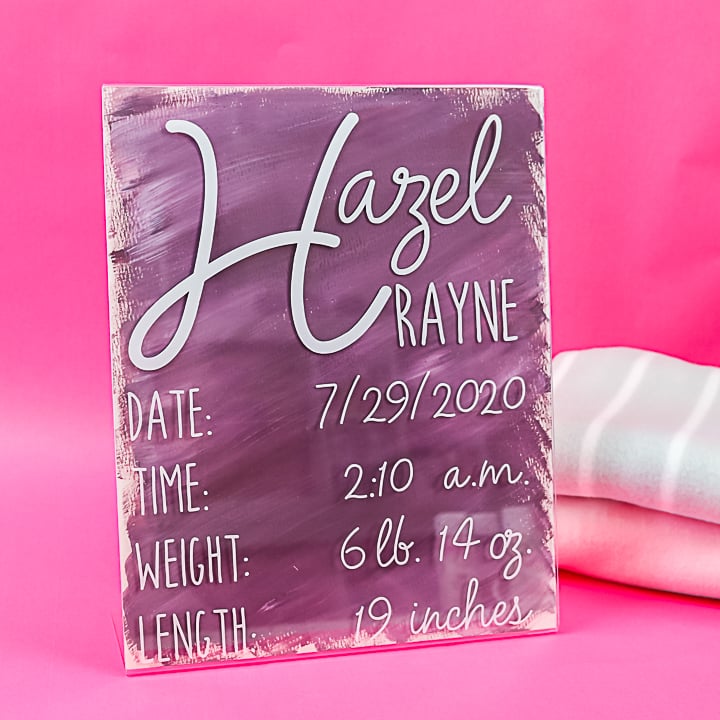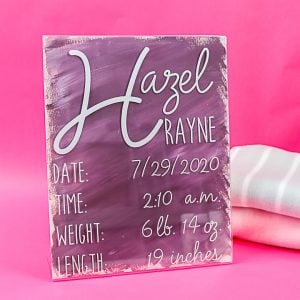 Dollar Store Sign for Baby
Make this cute acrylic sign with supplies from the dollar store and your Cricut machine.
Read More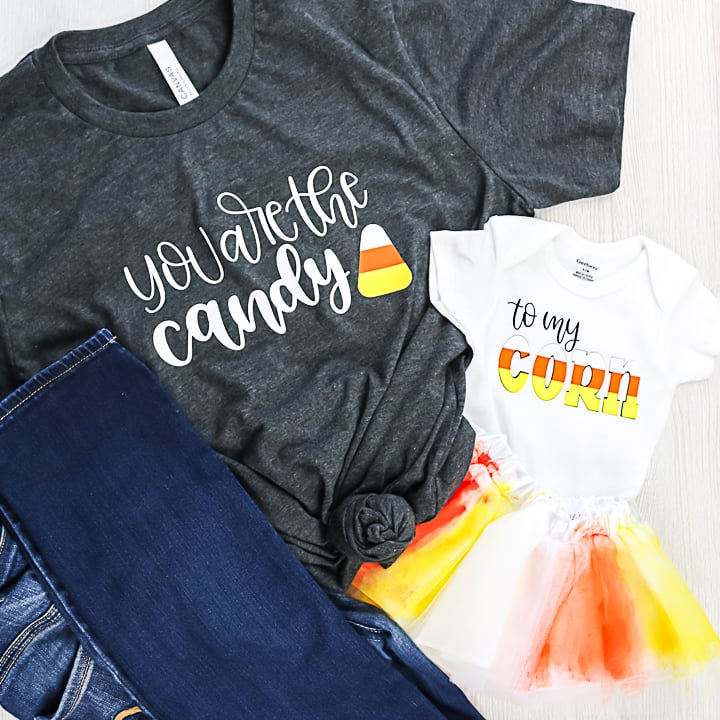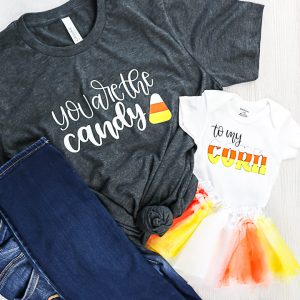 Matching Shirts for Mommy and Baby
Celebrate fall and Halloween with these cute matching mommy and me shirts that anyone would love!
Read More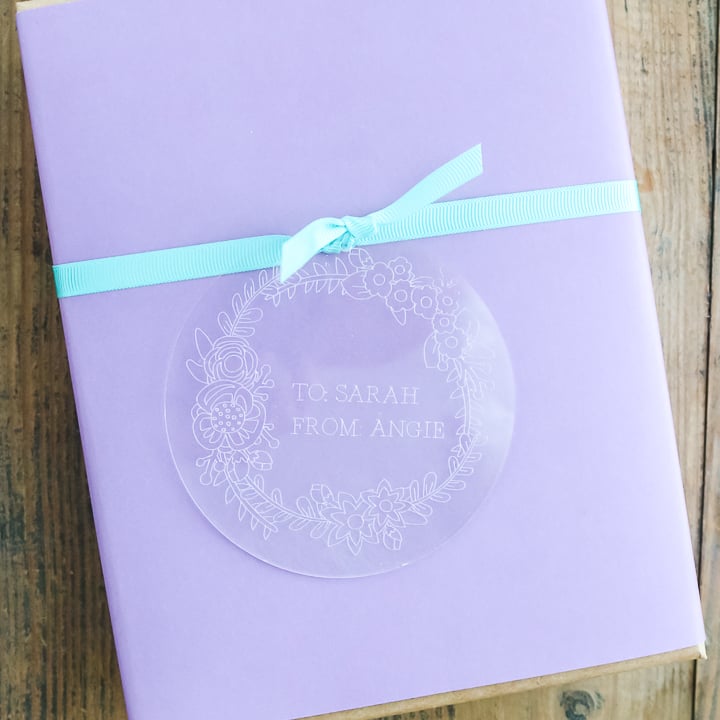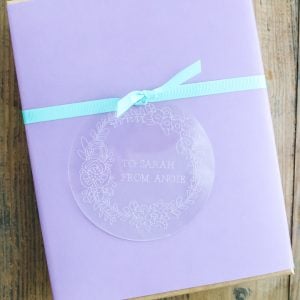 Cricut Maker Engraving Acrylic
Did you know that you can engrave acrylic with a Cricut Maker? Follow along to see how and start making your own projects today!
Read More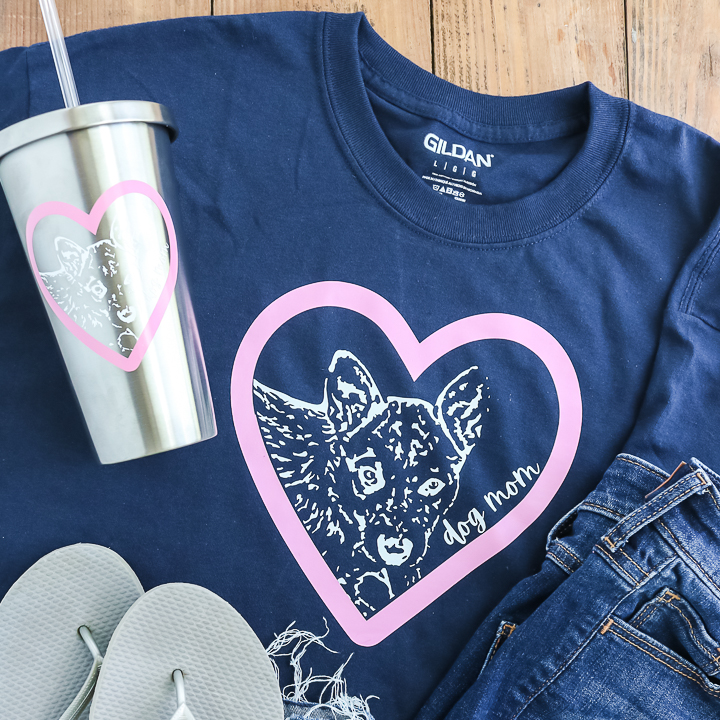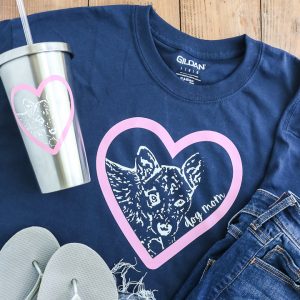 Projects to Make with a Picture SVG
Turn any picture into an SVG file then make these projects with your Cricut machine.
Read More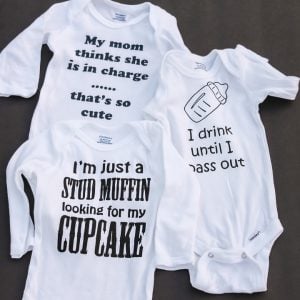 DIY Baby Onesies with Iron-on
Use heat transfer vinyl to customize those onesies in addition to our three free SVG files.
Read More