Did you know that you can make your own koozie with a Cricut and heat transfer vinyl or Infusible Ink? It is so easy to make custom koozies yourself right at home. Perhaps you want to make party favors or even gifts for someone you love. Either way, you can design your own koozie right in Cricut Design Space or even use one of our designs below! This is a part of Cricut flowers week where we are sharing projects all week long. You can scroll down to the bottom of this post to see them all and enter to win a HUGE Infusible Ink prize pack as well!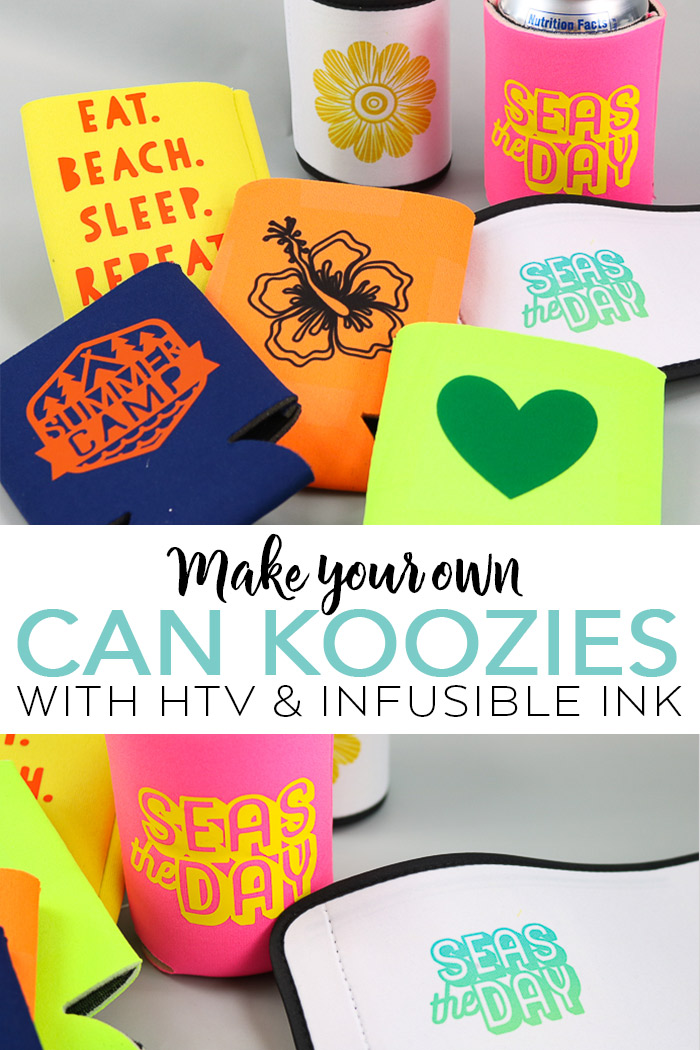 Some links below may be affiliate links which means that you do not pay anymore, however, a small commission will go to this site.
Video on How To Make Custom Koozies
Everything covered in the post below is actually in a video that you may want to watch instead. Whether you want to use heat transfer vinyl or infusible ink on your DIY koozie project, we have the instructions in the video below!
Can't watch or missed some of the steps? No problem! Just keep reading. We are going to cover using heat transfer vinyl first then you will find the instructions for using Cricut Infusible Ink on a can koozie.
Supplies needed to make a DIY koozie with heat transfer vinyl: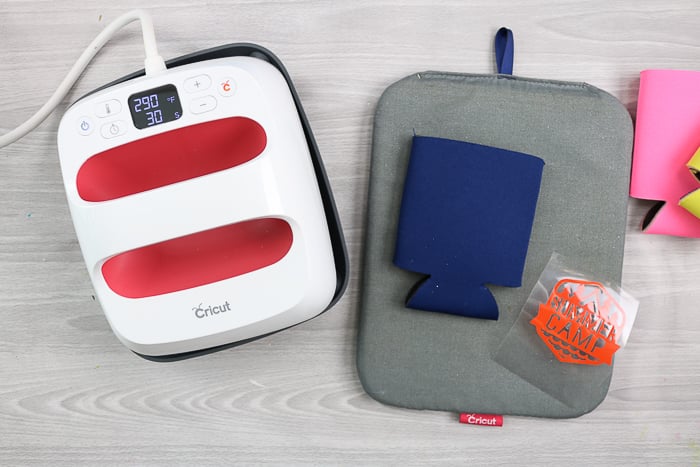 How to Make Your Own Koozie with Heat Transfer Vinyl:
Start by cutting your design from the heat transfer vinyl of your choice using your Cricut machine. You will want to cut the design with the good side of the material down on your mat. Be sure to mirror the design before cutting. Once cut, you can weed the excess away from your design. Weeding tools make this easier but are optional. You only want to be left with exactly what you want to transfer to your can koozie.
Look up the time and temperature for the type of HTV you are using on the Cricut heat guide here. Set your EasyPress to these settings. NOTE: You can also use an iron for this step. Add the can koozie to the EasyPress mat or a folded towel. Put the Teflon protective sheet on top and pre-heat your material for about 15 seconds. Remove the sheet and cool. Then put your weeded HTV design on top. Cover with a Teflon protective sheet and press with the EasyPress for the recommended amount of time.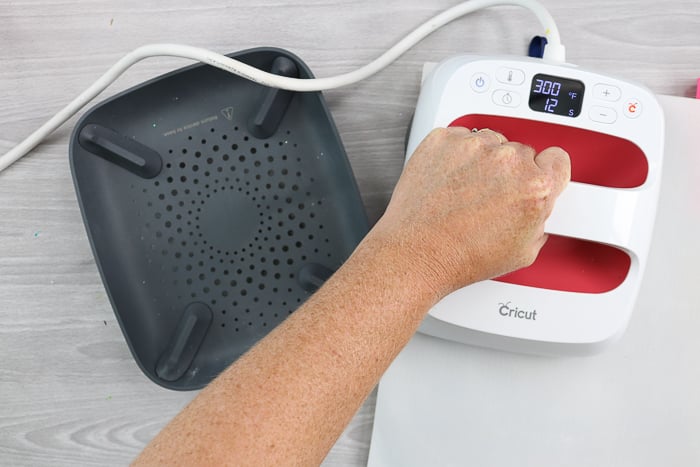 Allow your DIY koozie to cool. Then peel back the liner from your design. If the HTV is not stuck, return the liner and repeat the pressing process. If it has adhered, then remove completely and you are well on your way to making custom koozies with heat transfer vinyl!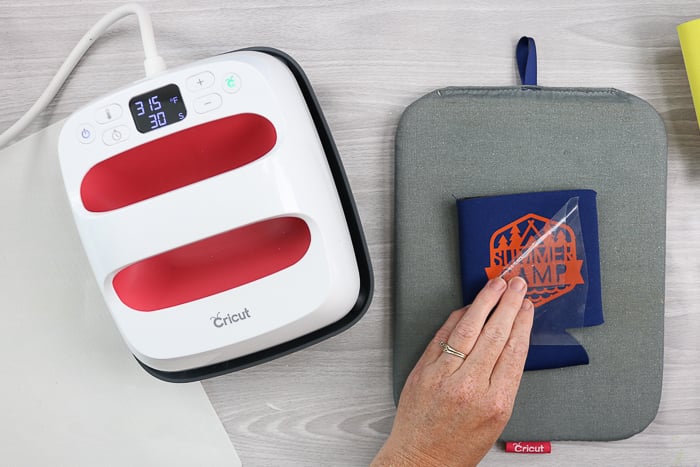 Now that you know how easy it is to make your own koozie with heat transfer vinyl, you can dream up a ton of designs! I actually made the three designs below while experimenting with heat transfer vinyl on custom koozies. I am sure you can design your own koozie and come up with some amazing projects as well. But I couldn't just stop here! Read on to learn more about using Infusbile Ink for this project instead.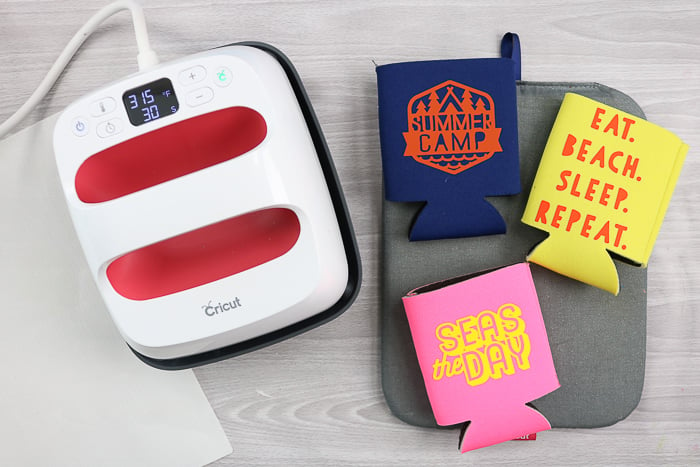 Supplies needed to make personalized koozies with Infusible Ink: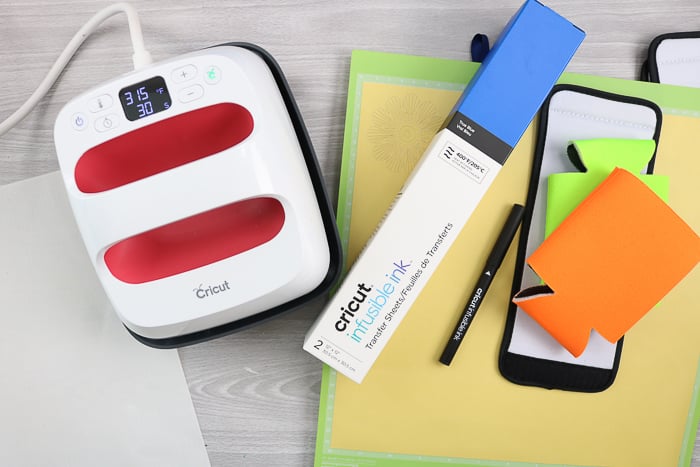 Making Custom Can Koozies with Cricut Infusible Ink Sheets:
First up, we have the Cricut Infusible Ink sheets then we will also use the markers below. Cut your design from a sheet. Remember to cut liner side down on the mat and mirror your design before cutting. It is also better to remove the mat from the material and not the material from the mat. You can see more about cutting here.
Then, you will want to weed your design. Bend the Infusible Ink to crack it then lift away excess with your fingers or with tweezers. Do not use weeding tools. You can see more about the weeding process here.
Now it is time to make your own koozie with Cricut Infusible Ink sheets! Add white cardstock to your EasyPress mat.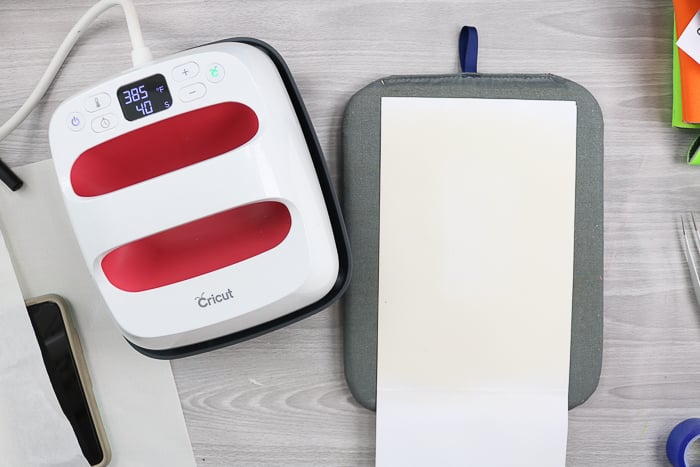 Put the koozie on top of the mat. A little bit about what type of koozies will work with Infusible Ink. You want something that is either labeled for sublimation or has a high polyester content. The Infusible Ink process is a chemical reaction and these are required in order for your finished custom koozies to be permanent designs.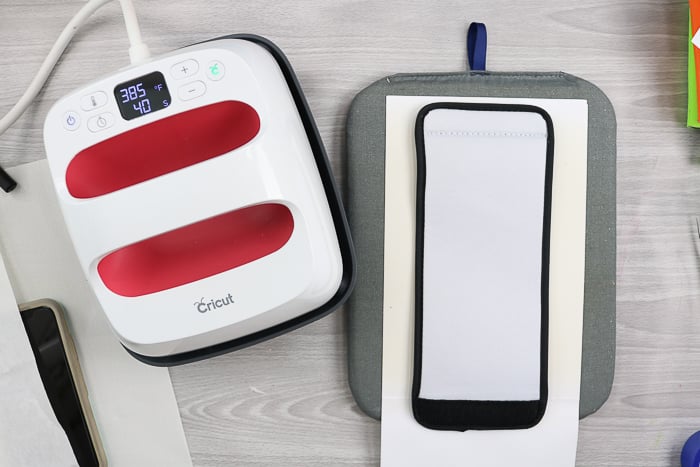 Be sure to lint roll the surface as any debris can affect your final project.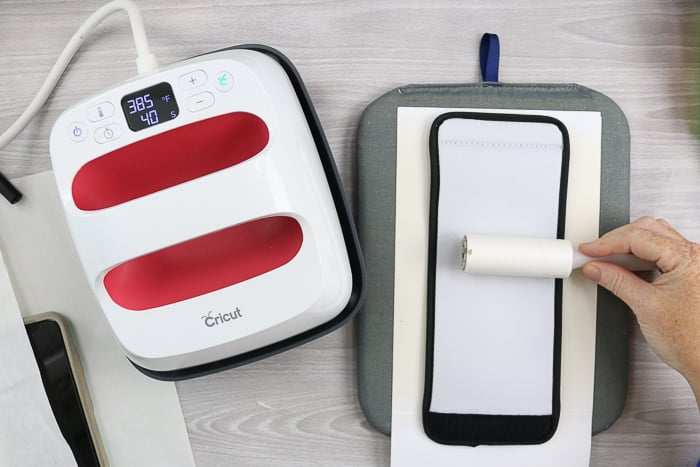 Then add butcher paper over the top.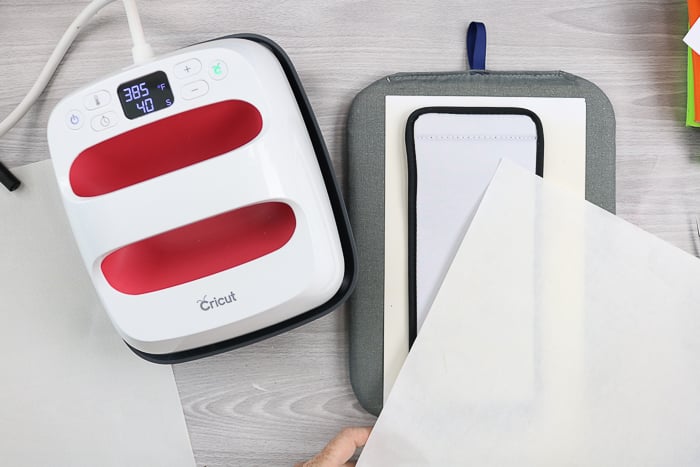 Press for about 15 seconds with the EasyPress to remove moisture.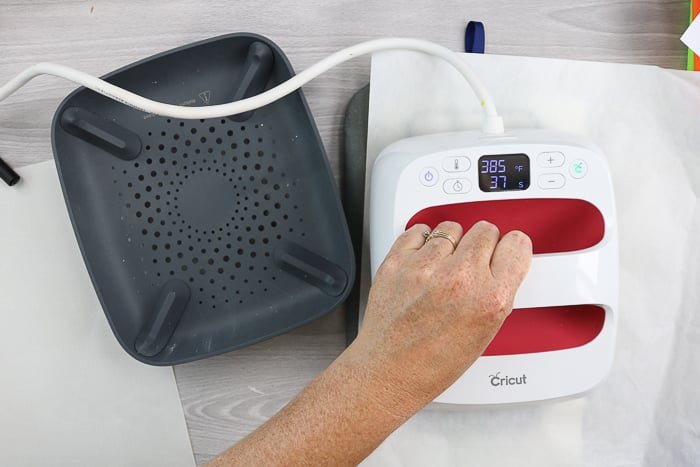 Remove the butcher paper and allow to cool. NOTE: These velcro koozies can curl up while hot but they will go back to being flat once cool.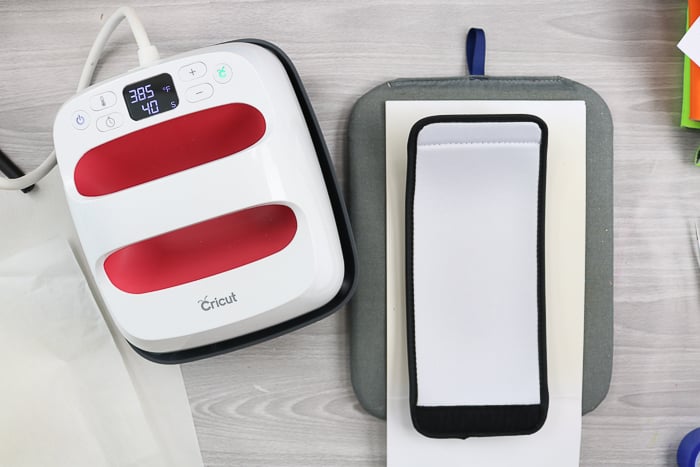 Once cool, add your weeded designs to your can koozie. I like these velcro versions because it is easy to put a design on the front and back.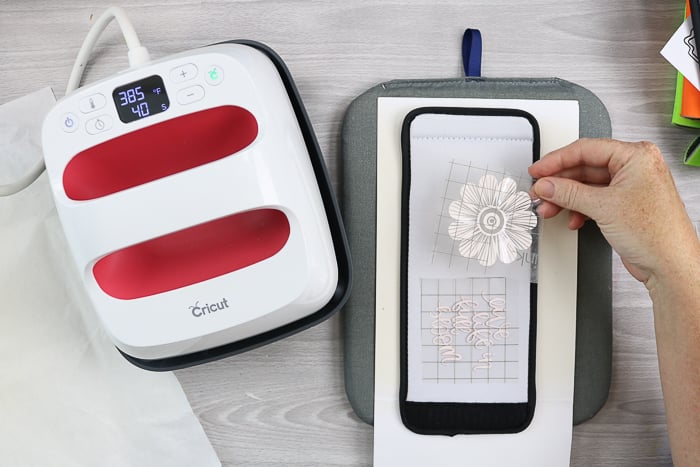 Then put the butcher paper back over the top.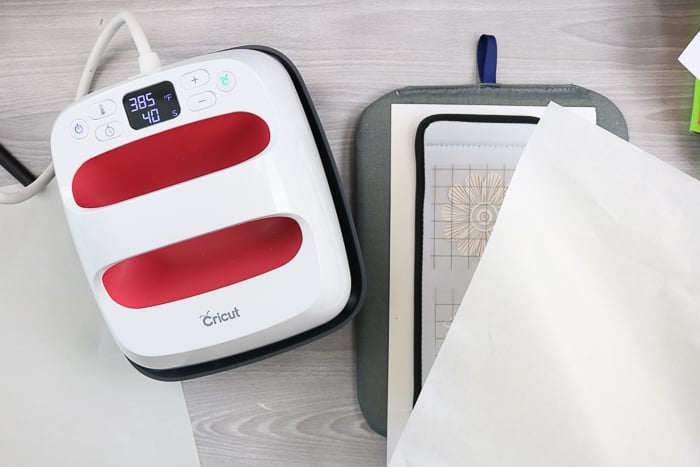 Press according to the heat guide. Be sure the EasyPress covers your entire design as you will want to press just once.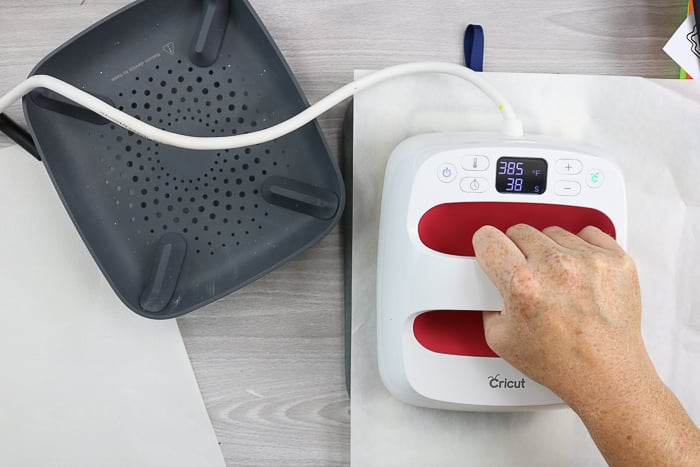 Be sure to lift the EasyPress straight up so as not to move the stack while hot. Allow to cool completely. Then remove the butcher paper.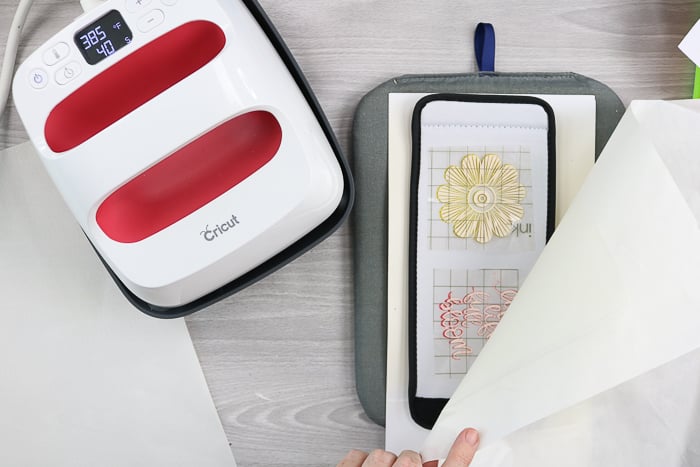 Remove the backing paper and you will see that your design is now on your DIY koozie!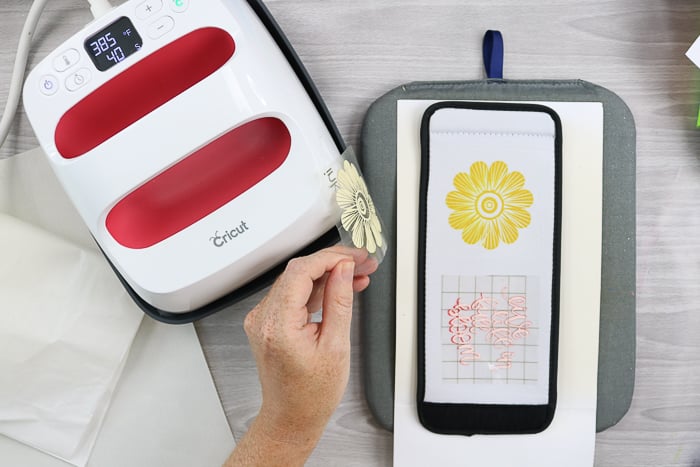 You have just learned to make your own koozie with Infusible Ink! Once the pressing is complete, your design is permanent and no further steps are needed.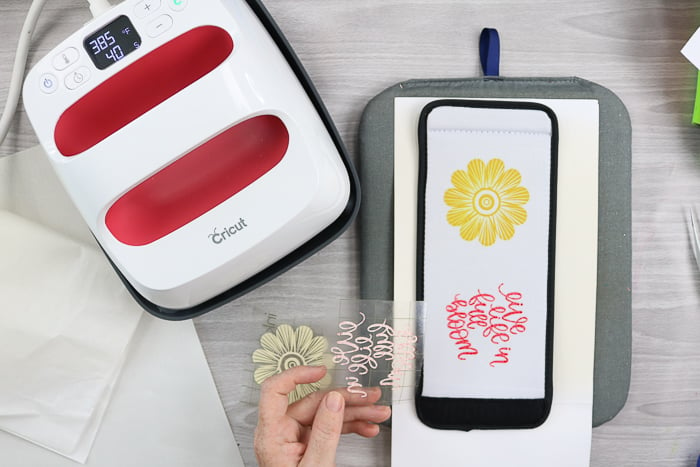 I did want you to note the color difference that comes from the Infusible Ink sheets. You can see the roll I cut my design from compared to the yellow of the completed flower.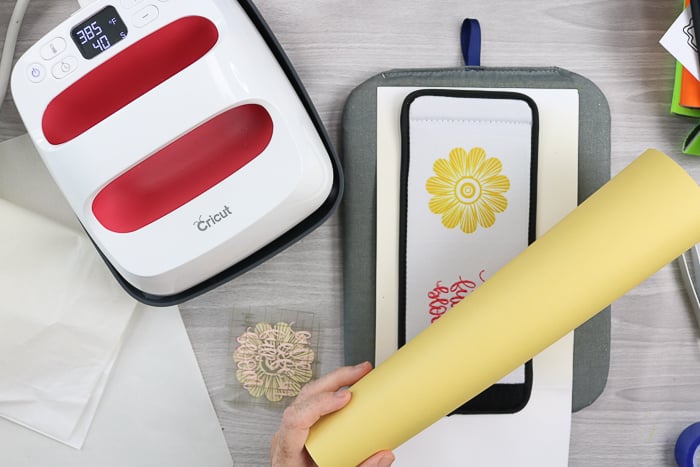 You can also see another example below with the Seas the Day. Remember to look on the outside of the box of Cricut Infusible Ink Sheets for color when designing your projects. The colors will really pop after pressing so you can't really look at the sheets before being pressed.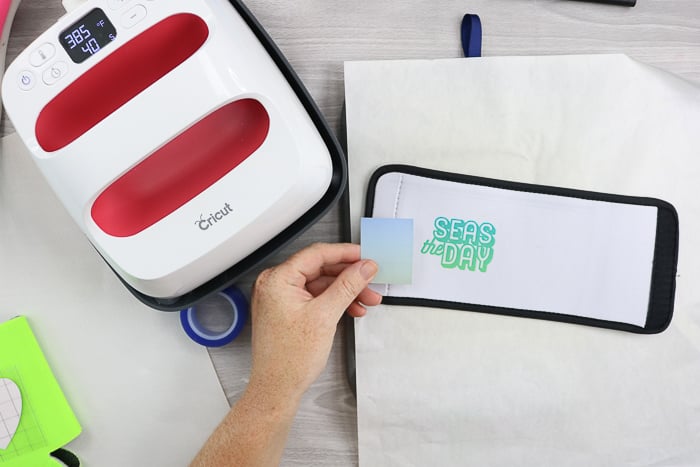 DIY Koozie Printing with Infusible Ink Markers and Pens
You can also use these same methods for making a DIY koozie using the markers and pens instead. Just draw your design mirrored onto copy paper that is rated for use in a laser printer. Then press it in a similar manner as above. You will want to cover your mat with butcher paper and your koozie with white cardstock to protect your EasyPress from bleed through. You will also need heat resistant tape to hold the design in place. Have questions or want to see one pressed? Scroll up and watch the video!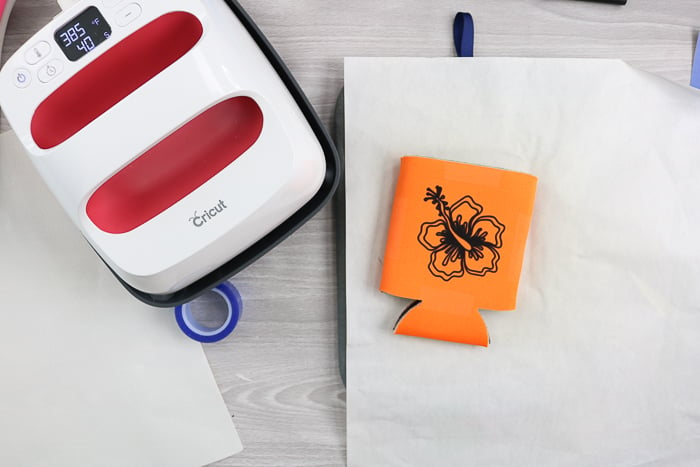 Can you use the Infusible Ink sheets on colored blanks?
I get this question all the time and the answer is yes but there is a catch! Infusible Ink will allow the color of your blank to come through the ink. So, for our example, we added a blue heart to a green koozie. The result is a dark green heart instead of a blue one. You can see the same blue sheet applied to an off white blank below as well for comparison. So, while you can apply the sheets to the colored can koozies, you cannot predict what the final color will be once pressed.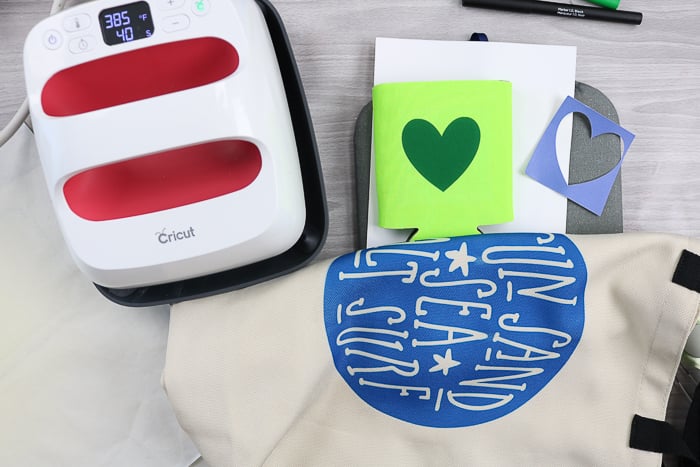 Heat Transfer Vinyl Versus Cricut Infusible Ink
So, what is the difference? Why choose one over the other for your DIY koozie? If you are going to make your own koozie with your Cricut, you should weigh your options. Here are a few things to consider:
Heat transfer vinyl can be felt on the surface even after it is pressed. So, if you are looking for a more professional finish, Cricut Infusible Ink is the way to go.
Cricut Infusible Ink is more expensive than HTV so there is a cost factor to consider.
If these are going to be used for a long time, HTV will have a tendency to crack and wear. You will not get this same effect with Cricut Infusible Ink.
Want to make a design on a colored can koozie? See our note above as Infusible Ink might not be the best option for your design.
So, in my opinion, if you are making these for a quick party favor that won't be used long, grab the heat transfer vinyl. Want to make professional looking gifts that will last forever? Cricut Infusible Ink is the only way to go. Either way, you can make your own DIY koozies right at home using your Cricut machine.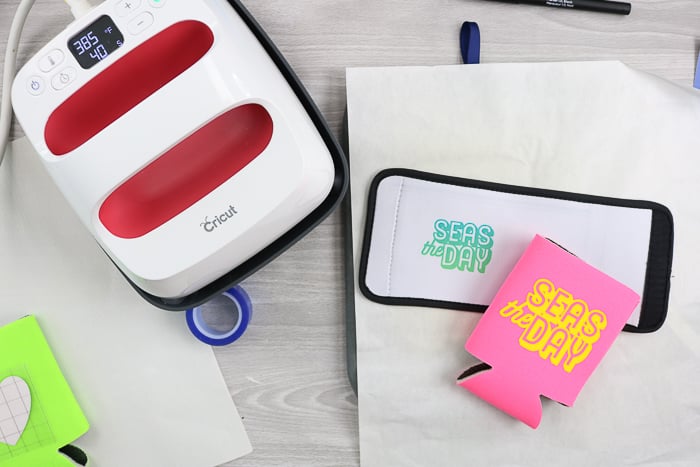 Design Your Own Koozie
The designs that I am showing are just the tip of the iceberg! Get creative and start making custom koozies of your very own with your Cricut machine. You can even use some of our free SVG files for the fronts! If you can imagine it, you make put it on a DIY koozie!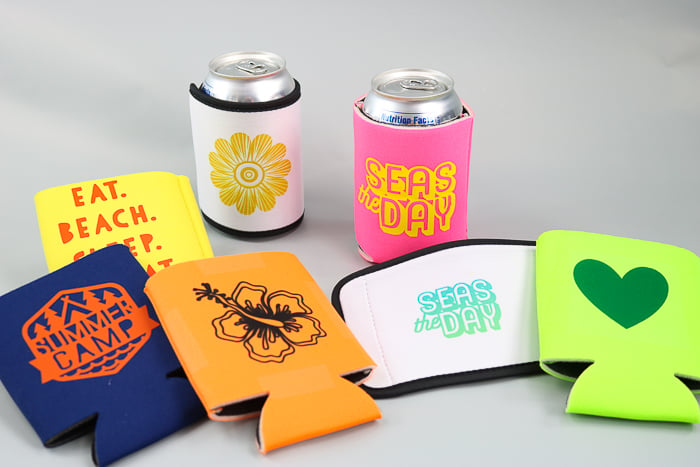 So, will you be making a few koozies of your very own? What do you think? Will you use heat transfer vinyl or Cricut Infusible Ink? You really can't go wrong with either one.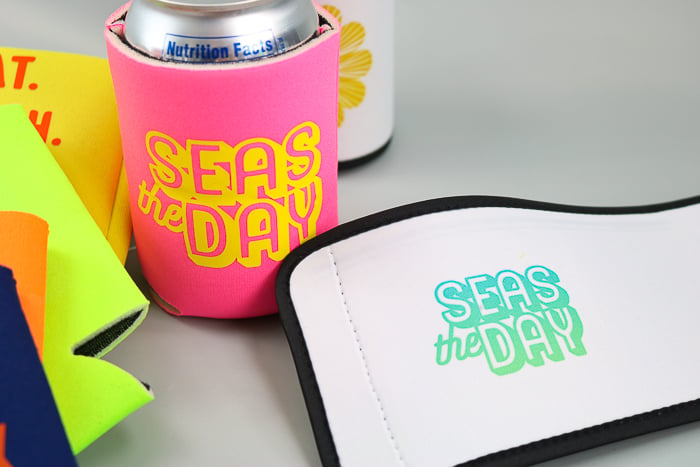 Just be wary that the Infusible Ink may change color when added to colored koozies. But the results may be fun and they will definitely be a surprise.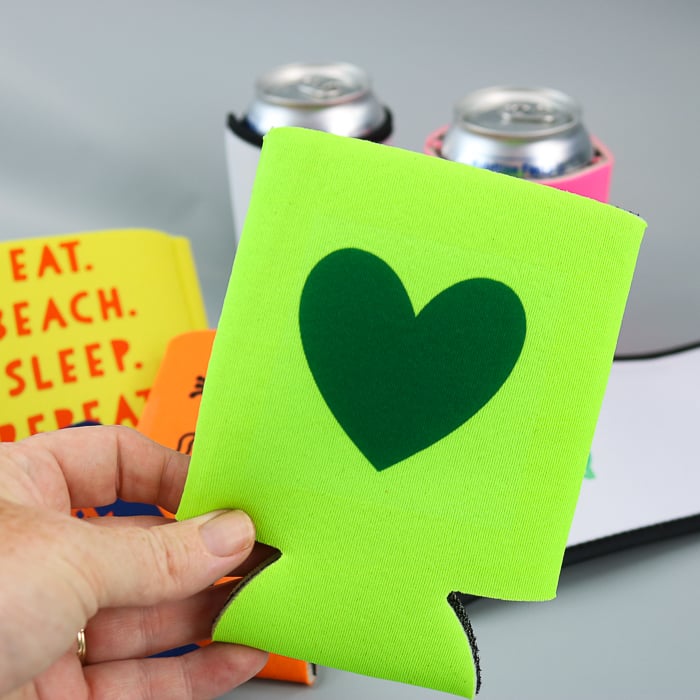 Be sure to keep custom koozies in mind when you are planning your parties and other events. Everyone loves a good koozie and now that you know that they are easy to make, you will love them as well!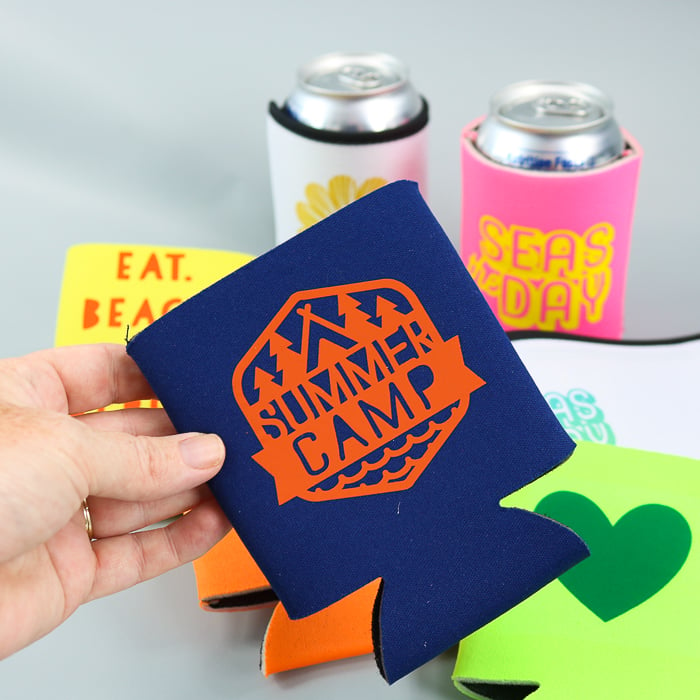 So, be sure to try to make your own koozie with your Cricut. Both of these methods will work with the Cricut Explore series or the Cricut Maker so there really is no excuse.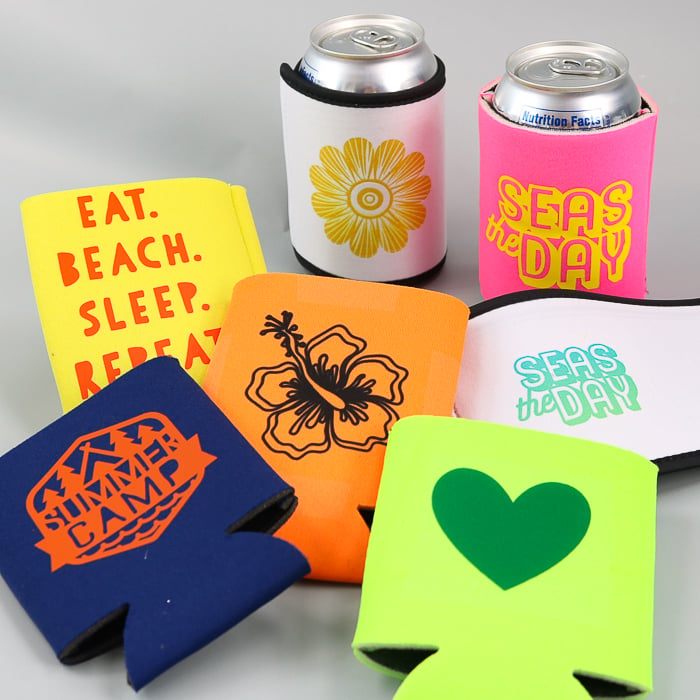 Grab your supplies and whip up some personalized koozies for any event.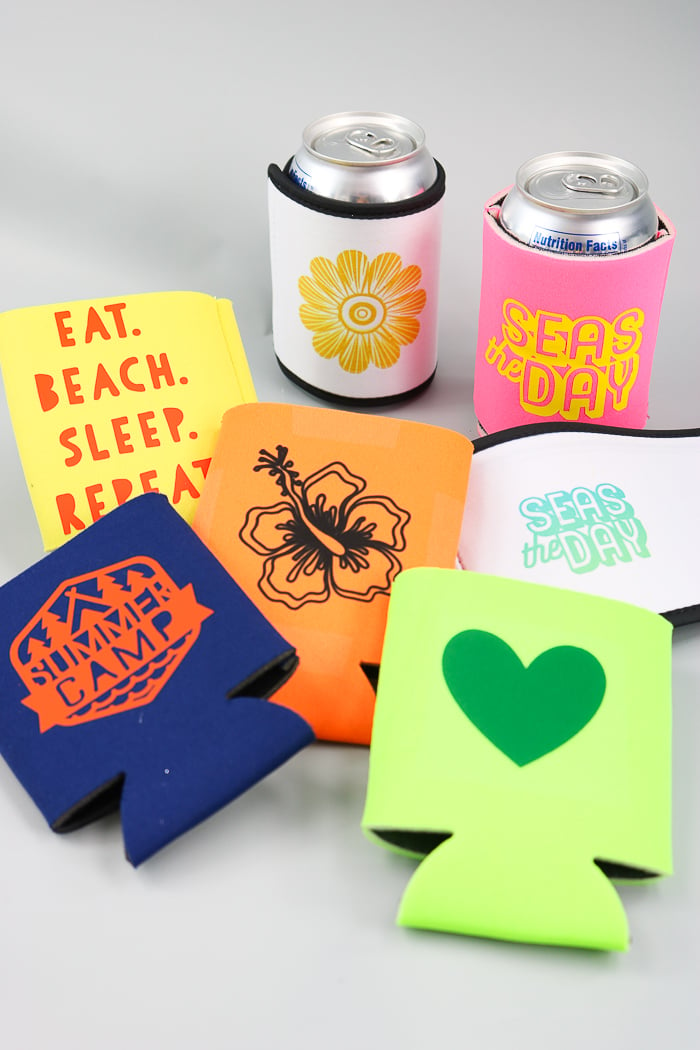 Love this tutorial on how to make your own koozie and want more ideas? Try the links below!
I promised you even more ideas with flowers and your Cricut machine! You can see those below. Just click on the image for any that you want to make and the instructions will open in a new tab on your computer.
You are invited to the Inlinkz link party!
Want to win Cricut Infusible Ink?
Haven't tried Infusible Ink yet? Well, we have a solution! Win some! You can enter in the rafflecopter form below to win this fabulous prize pack.
1 EasyPress2
1 12×12 EasyPress Mat
4 Infusible Ink Transfer Sheet Sets (4 packs)
4 Infusible Ink Transfer Sheet Sets (2 packs)
2 Infusible Ink Shirts
4 Infusible Ink Pen/Marker Sets
1 Infusible Ink Baby Bodysuit
1 Package Infusible Ink Ceramic Coasters
$200 gift card!
So, make your own koozie or try any of these other great Cricut crafts! Happy crafting y'all!
New to Cricut?
Sign up for our email list here to download the Beginner's Guide to Cricut Design Space for FREE today!
Sign up to get the guide emailed to you!