Every front door needs a terrific Halloween wreath adorning it. Learn how to make this fun light-up DIY Halloween wreath to light the way for trick-or-treaters!
If you have an eye for Halloween wreaths, you're probably noticed that there are a plethora of designs available to make. I've even made a few great ones myself, including my Trick or Treat Halloween Wreath, Scary Halloween Wreath, and my DIY Halloween Wreath with Googly Eyes.
If you're a traditional wreath enthusiast, you probably lean towards round designs. I love to mix things up, so sometimes I'll do a round design, and sometimes I'll explore with other shapes.
This DIY Halloween wreath design is sort of a combination. It's round but created in a spiderweb shape, so there's no singular large hole in the middle.
It's the perfect idea for adding to your door before the big night. The trick-or-treaters will love this adorable wreath. The fact that it lights up is a fun bonus!
Making a DIY Halloween wreath has never been easier!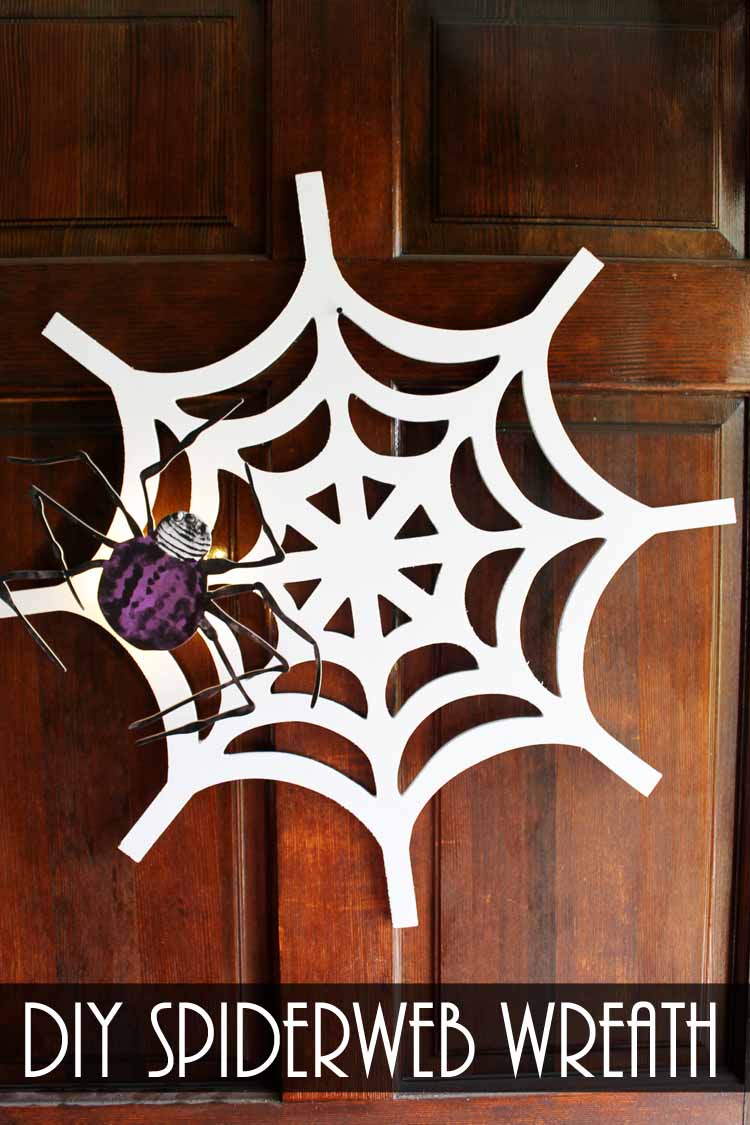 Supplies Needed To Make A Spiderweb DIY Halloween Wreath
I've included a list of everything you'll need for this project and even added links for some items to make finding them easier. Some links below are affiliate links which means that you do not pay anymore but a portion of any purchase will go to this site.
Wood Spider Web
Martha Stewart Crafts Illuminated Spider Decorations
White Paint
Hot Glue and Glue Gun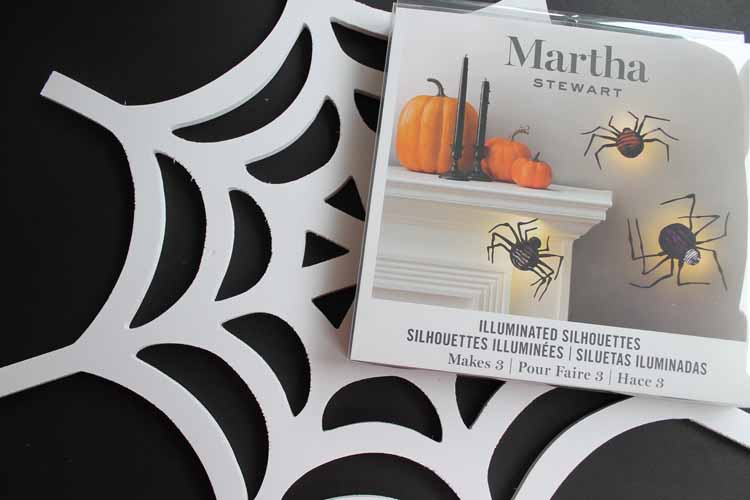 How To Make A Light-Up DIY Halloween Wreath
You're going to be amazed at how easy this project is! Just follow the steps below. If you want, you can grab the handy printable recipe card at the bottom of this post.
Step 1
Start by painting your spider web with white paint. Set it aside to dry while you assemble your spiders.
I totally forgot to take a picture of the spiderweb before it was painted! You all can just imagine it in the image above as plain wood and then imagine me painting it white. 😉
Step 2
Next, move on to your spooktastic spiders. The package with the spiders inside actually contains everything you need to light them up and attach them to your wreath.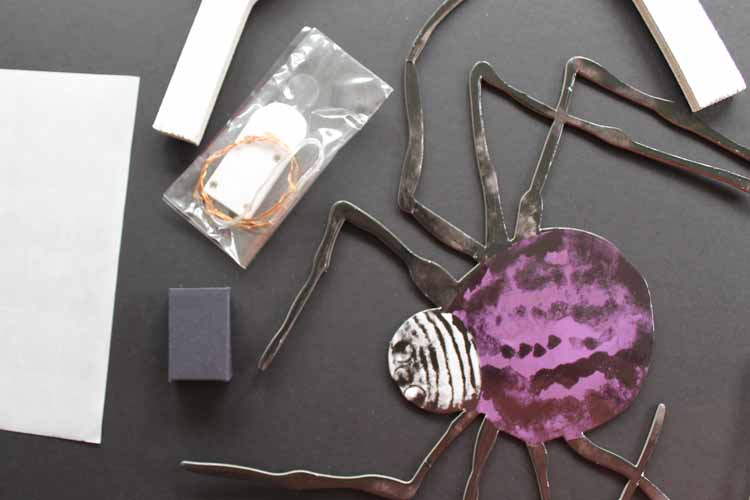 Remove the tag from the battery pack and test your lights. Assuming everything lights up as it should, add the black box to the back of your spider and tuck your battery pack inside.
Step 3
There are adhesive strips in the package for attaching the cardboard box to the back of the spider. You can also add some additional hot glue if you think the adhesive will not hold once your wreath is hanging on your door.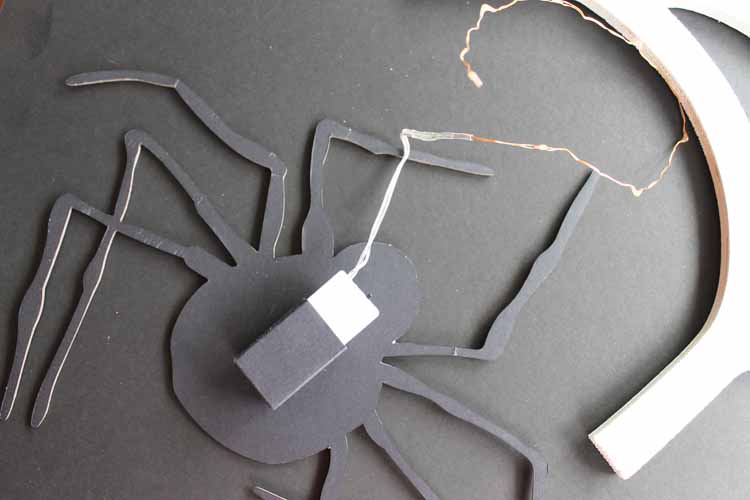 Use the adhesive strips in your package to secure the lights to the back of the spider as shown in the image below.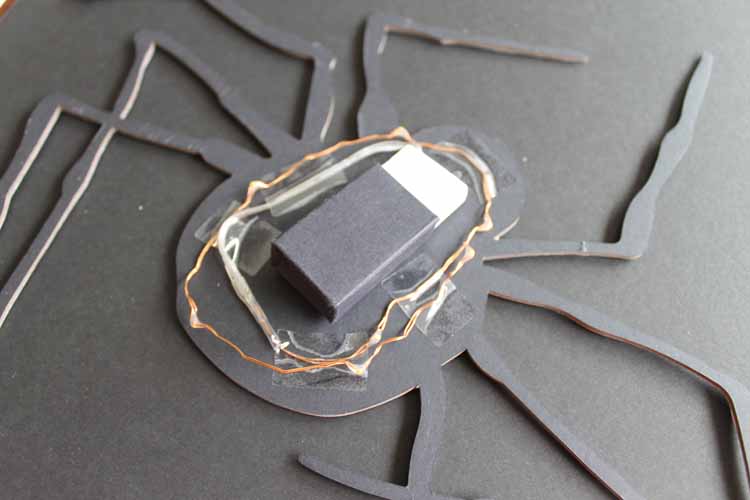 Step 4
Finally, once your web is dry, attach the spider to the outer surface.
I found that the adhesive included with the spiders did not work well on the wood web. So, I used a bit of hot glue on the black box and secured it to the spider web that way.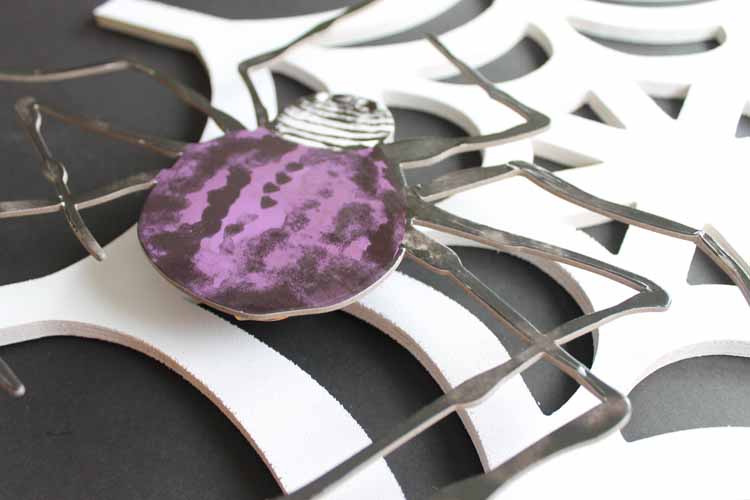 Then, you can light up your spider for some spooky glow fun!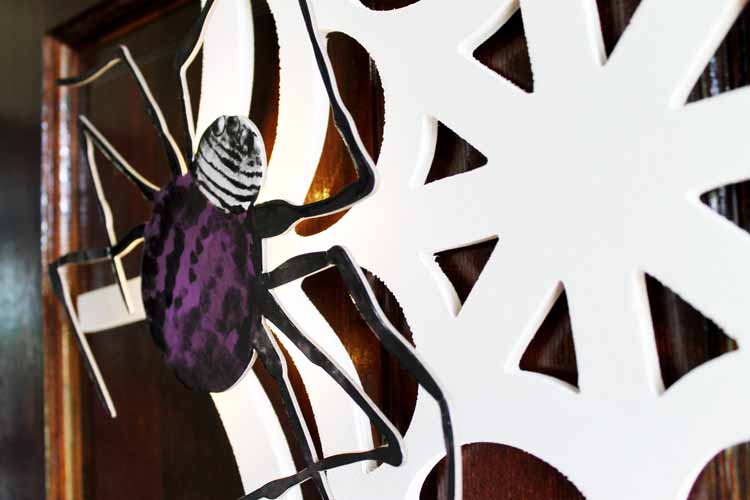 Add this fun wreath to your front door for some fright this Halloween!
DIY Halloween Wreath FAQs
Here are a couple of common questions I get about this DIY Halloween wreath project from readers. If you have a question but don't see it down below, please leave it in the comments so I can answer it for you.
Can I make the entire wreath light up?
Yes! But, you won't be able to do that as is. In order to make your entire wreath light up, you'll need to get a string of lights (preferably fairy lights) and wrap them around your spiderweb. That would look amazing at night!
What type of paint should I use on my spider web wreath?
I recommend using outdoor acrylic paint if you plan to hang your wreath on your front door where it would be exposed to the elements.
If you use plain indoor acrylic paint, you'll want to seal your spiderweb with clear spray sealant before adding the spider and putting it outside.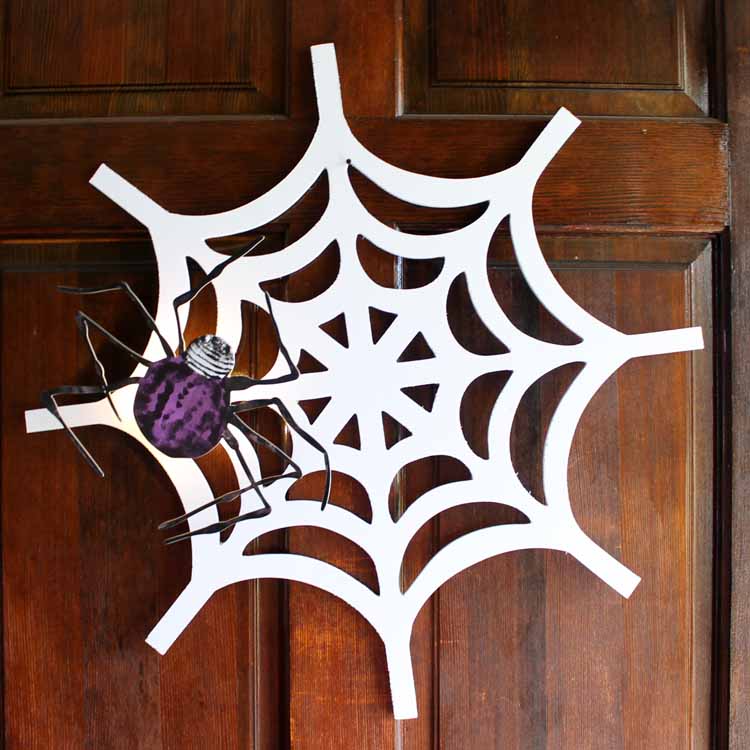 Have you ever made a DIY Halloween wreath that was easier than this one? I definitely haven't!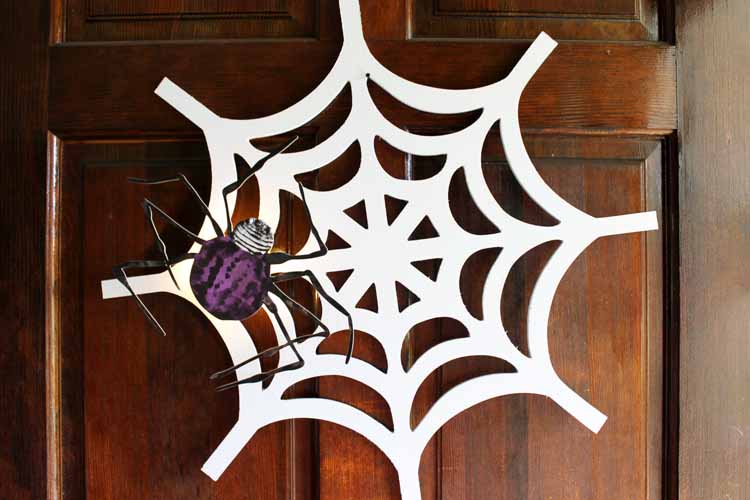 Grab your supplies and get started making your own today. Halloween will be here before you know it. If you put it off, you might get busy miss the opportunity to display this for the holiday, altogether!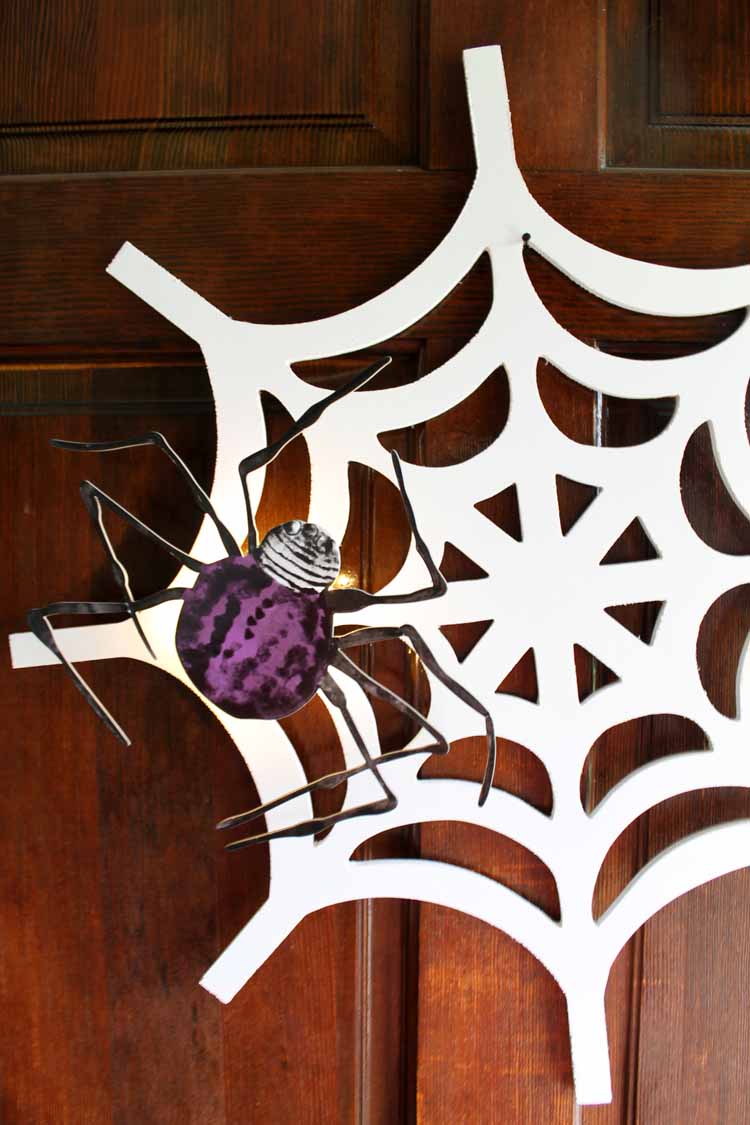 More Halloween Inspiration
If you love this DIY Halloween wreath and want more ideas, try the links below!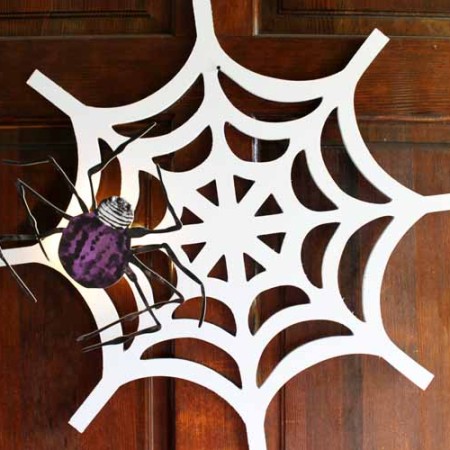 Spider Web DIY Halloween Wreath
Learn how to make a delightfully easy spider web DIY Halloween wreath that lights up!
Supplies
Wood spider web

Martha Stewart Crafts Illuminated Spider Decorations

White paint

Hot glue and a glue gun
Instructions
Paint your spider web with white paint. Let it dry.

Next, pull your spiders out of the package. The package should have everything you need to light up the spiders and attach them to your spider web.

Test your lights to make sure they work. Next, add the black box to the back of your spider and tuck your battery pack inside.

You can use the adhesive strips in the spider package to attach it to the battery pack to the back of the spider. However, I found they aren't quite strong enough to stay for long, so feel free to add a dab of hot glue for a little extra hold.

Finally, after your web dries, attach the spider to the outer surface using the adhesive strips or (preferably) some hot glue.

Enjoy your spooktastic DIY Halloween wreath!
Tried this project?
tag us to show off your work!