Snow globes delight the child in all of us! You can proudly display and enjoy a variety of snow globes throughout the year, but they make an especially nice addition to your holiday decor. Learn how to make your own unique DIY mason jar snow globe to add to your holiday decorations.
Although I love snow globes, my love for them pales in comparison to how much my kids love them! We used to buy snow globes, but one day I decided to try making them. I'm so glad I did because they're really easy to make.
If you know me, you know that I love mason jars and use them anytime I can because they're affordable and versatile. Mason jars are the perfect container for DIY snow globes, like these kid-friendly waterless snow globes!
I couldn't resist adding another fun DIY mason jar snow globe (with a snowman inside!) to my list of crafts. You can make the small DIY snowman in just a few simple steps then add him to a snowy wonderland for a unique and lovely snow globe that will receive rave reviews.
Note: If you love holiday crafting, be sure to also check out my Cute Snowman With The Cricut Maker, DIY Christmas Mugs, and DIY Holiday Gift Bags.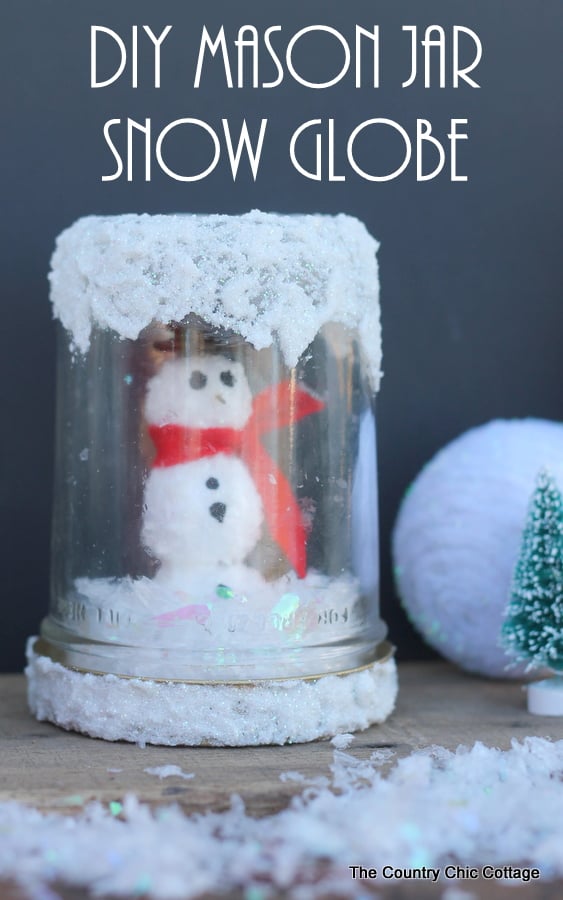 Supplies Needed
Here is a quick list of everything you will need to make this fun and festive project.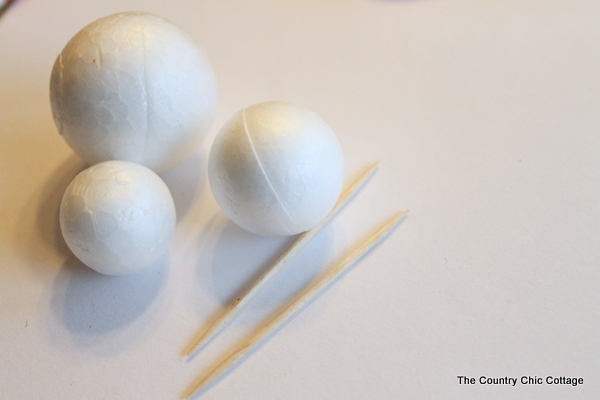 How To Make A Snow Globe In A Mason Jar
I think you'll be amazed at how easy this project is to make.
NOTE: It will take a bit of time to complete because of long dry times, so plan ahead.
Step 1
Start with your foam balls and toothpicks. Cut off a small portion on the largest ball to give your snowman an easy way to stand.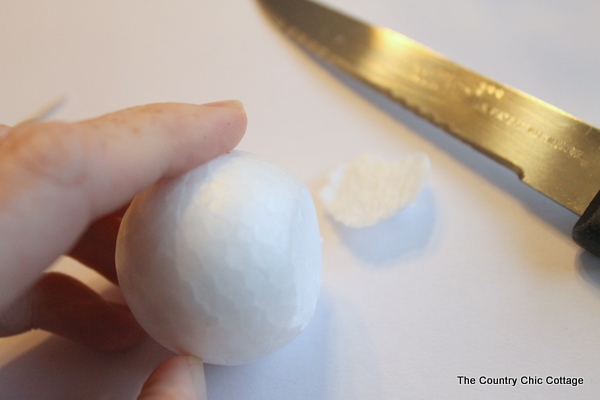 Step 2
Next, place the foam balls on top of one another and use toothpicks to connect them. Cut off your toothpicks if they are too long.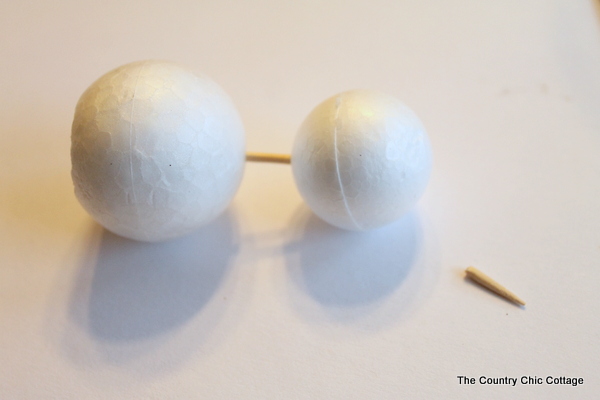 Step 3
Add a drop of hot glue between the foam balls before pushing them together. Now you have a snowman but he looks a little plain.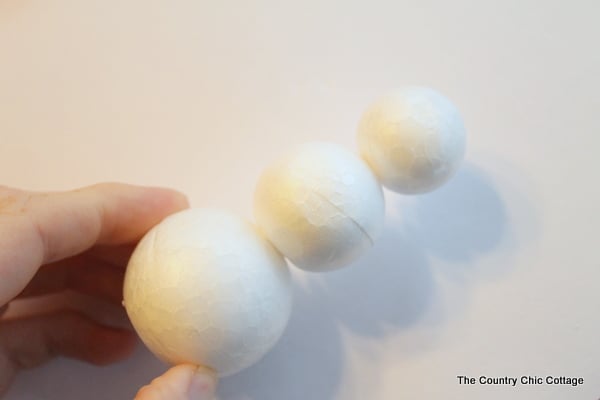 Step 4
Use the Glistening Snow-Tex and a plastic knife to give him some character. Apply a liberal coat then set it aside to dry for about a day depending on how thick your coat is.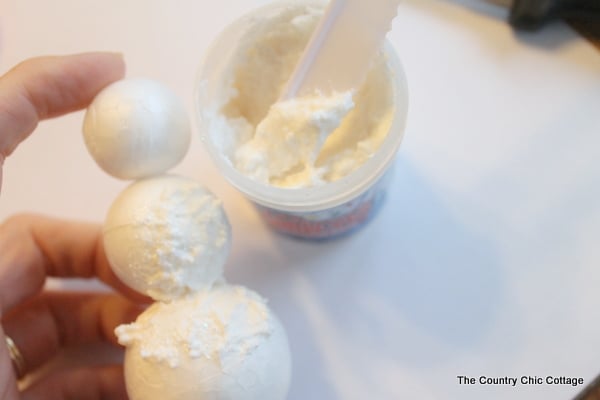 Step 5
In the meantime, you can begin to work on your jar.
Add a liberal coat of the Glistening Snow-Tex to the top of your jar as well allowing it to "run" down the sides. I used my knife and gently spread it down the jar a little to create the "run" effect.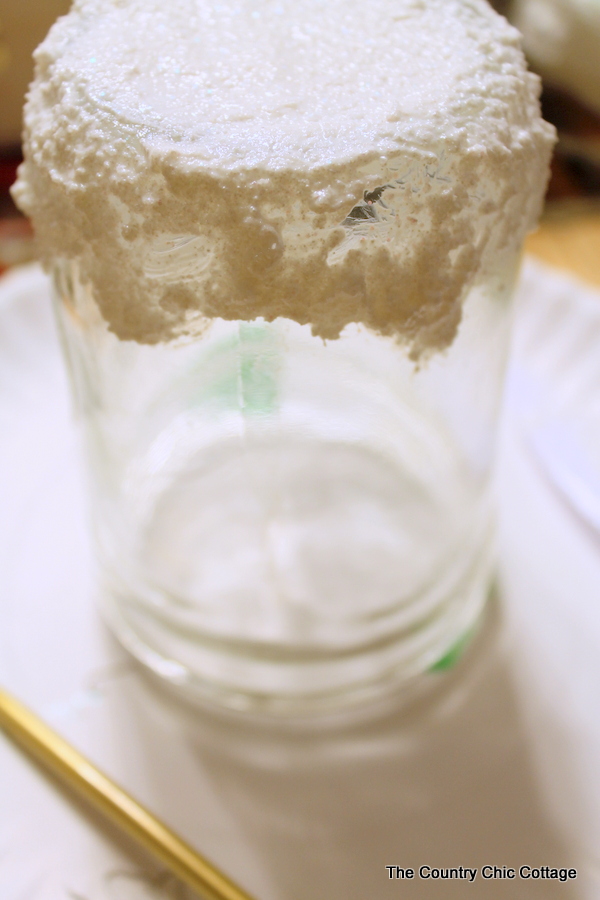 Again that will take about a day to dry. I went back with a second coat on top of that as I felt the snow globe needed it.
Step 6
Once your little snowman is dry you can begin to work on him some more.
Cut a strip of red felt and tie it around his neck. Use the "wrong" end of your paintbrush to apply eyes and buttons.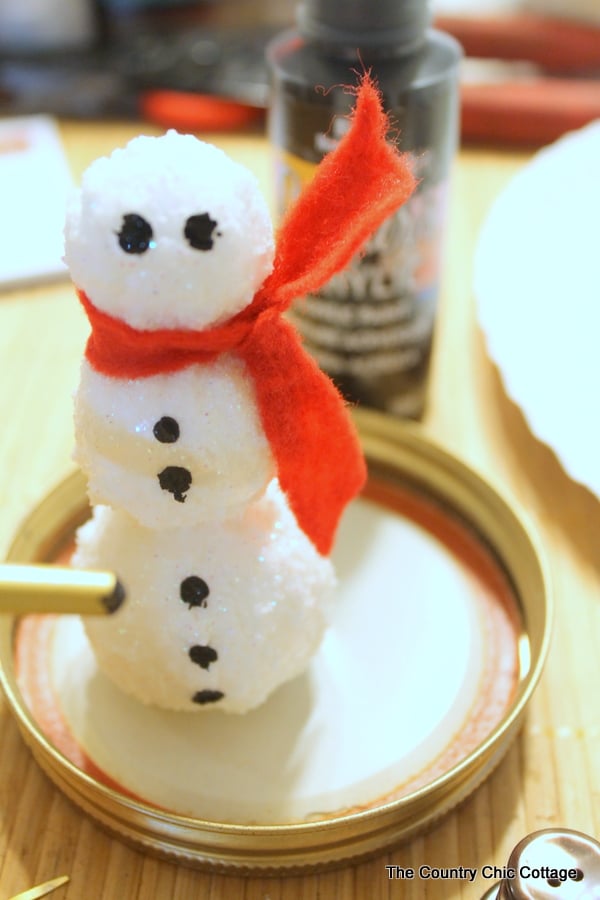 Step 7
Use one of the tines on the back of a yellow or orange brad to make a nose. Just pull it off and stick it into your foam.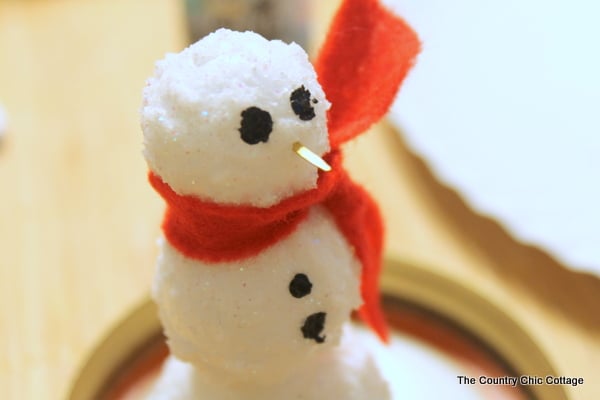 Step 8
Now let's make him a hat. Start with a stack of buttons as shown below. Hot glue those buttons together then hot glue it right on top of his head.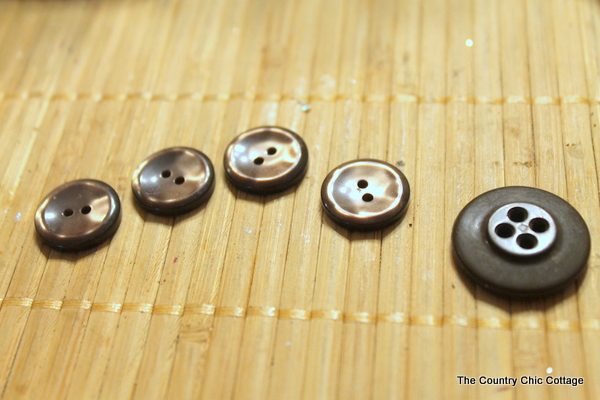 Step 9
Use hot glue to secure your snowman to the lid and add some iridescent snowflakes to the jar itself.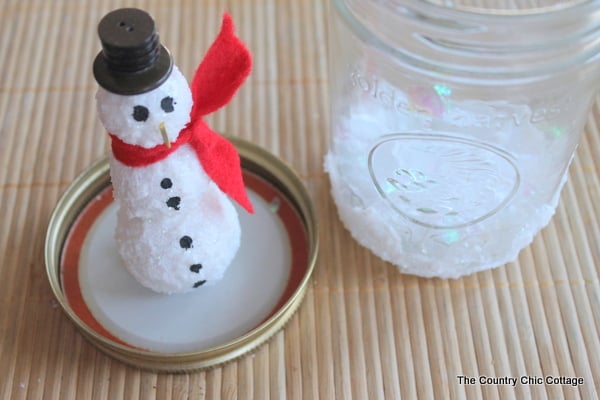 Step 10
Carefully flip the lid into the jar and screw it on tightly. I thought the lid needed a little embellishment, so I added more Glistening Snow-Tex around it with a knife.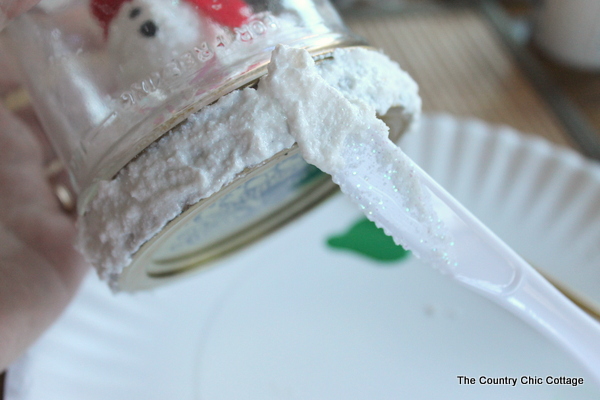 Allow everything to dry completely and you are ready to add this one to your winter decor display.
Your kids will love giving this one a shake and watching the snow fly around and fall down.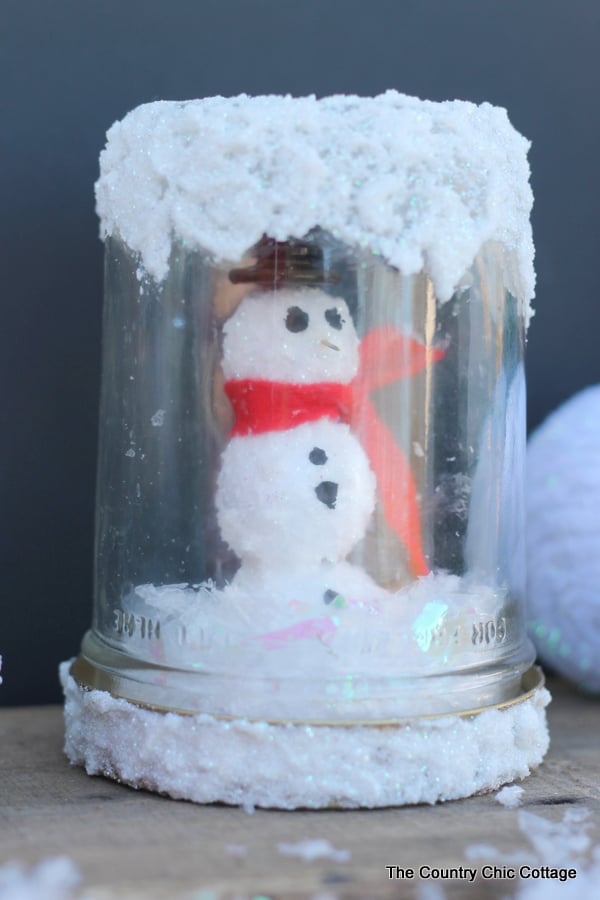 Consider making more than one of these DIY mason jar snow globes for your home! Or, if you have a little extra time, grab some extra supplies and make multiples because they make great DIY gifts!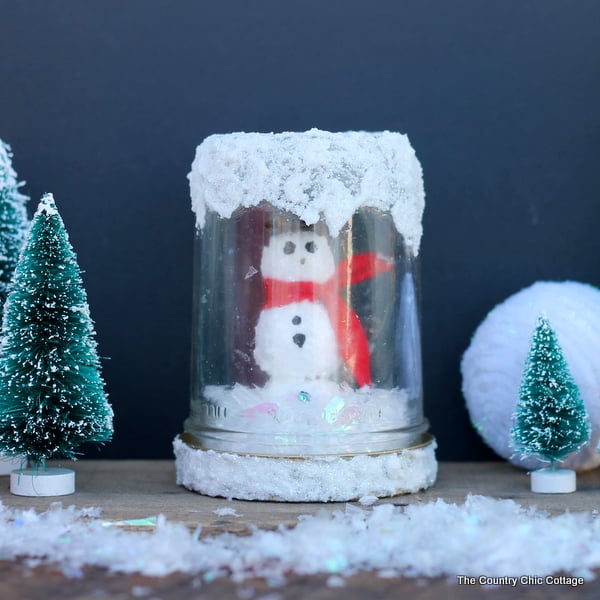 FAQs
Here are questions I frequently see readers ask about making snow globes. If you have a question but don't see it answered down below, please leave it in the comments so I can answer it for you. 🙂
What types of jars are best for a mason jar snow globe?
You can use pint-size mason jars as I did. I think they work the best for this project because they're large enough for the snowman to fit.
However, if you want to change up this snow globe craft and add variety, Consumer Crafts has these mini cruets that I love! They make adorable snow globes. Just be aware that you may need to make slight adjustments to the way you make your snowman (make it smaller) so it will fit inside.
What can I use for snow inside the jar?
I used loose iridescent fake snow inside the jar instead of water or another liquid. That way, kids can still shake up the snow globe and watch the fake snowflakes swirl around.
However, if you want to explore other options, you could use glitter inside your snow globes. I think that could be even messier, but it would look amazing if you are up to the task of cleaning up glitter!
You could also cut up some cotton balls and add in some snow glitter for a lovely effect.
Love This Mason Jar Snow Globe? More Holiday Decor Inspiration
If you can get enough of these fun mason jar snow globes and want more craft ideas for your holiday, try these ideas!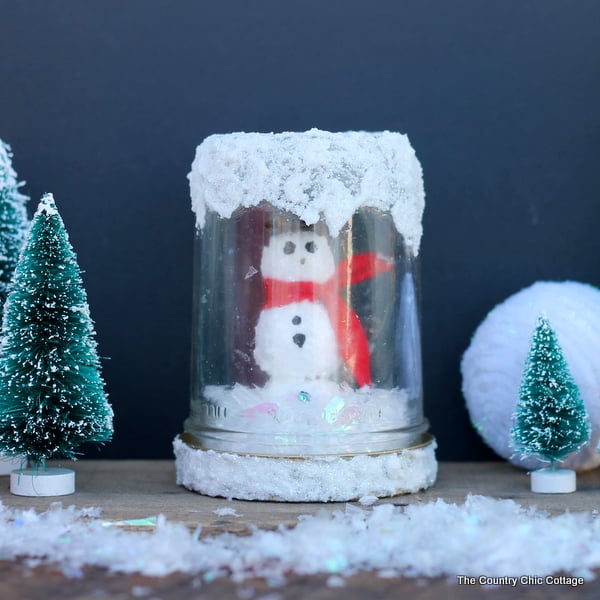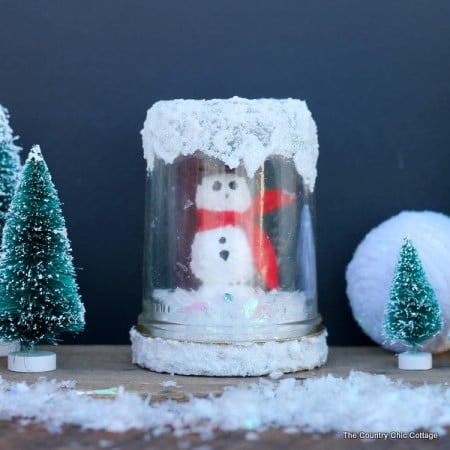 DIY Mason Jar Snow Globes
Make these easy snowman snow globes to add to your holiday or winter decor. They also make great DIY gifts!
Supplies
Wide mouth pint mason jar

Small foam balls

in 3 sizes

toothpicks

Hot glue and a glue gun

Red felt

Black craft paint

Brad

yellow or orange

Black buttons

Loose iridescent snow
Instructions
Cut off a small portion of the bottom of your largest foam ball so it can serve as a base.

Stack your foam balls on top of each other and secure them together with toothpicks and a dab of hot glue.

Coat your snowman in Glistening Snow-Tex. Allow about a day of drying time.

Turn your mason jar upside down. Apply a coat of Glistening Snow-Tex and use your knife to spread it around so it looks like it's running down the jar.

Allow it to dry for about a day. Add a second coat, if needed, and allow to dry.

Tie a small strip of red felt around the snowman's neck. Use the "wrong" end of your paintbrush to apply eyes and buttons.

Pull off one of the tines from the back of your brad and stick it into your foam for a nose.

Stack your buttons and hot glue them into a hat shape. Then glue the "hat" onto your snowman's head.

Hot glue your snowman to the inside of your mason jar lid.

Carefully flip the lid into the jar and screw it on tightly. Feel free to add some Glistening Snow-Tex to the lid to embellish it.

Allow everything to dry completely then display proudly!
Tried this project?
tag us to show off your work!
A Year of Jar Crafts
Sign up for our email list to get a FREE book with an entire year of jar crafts! 12 months, 12 crafts, tons of fun!