A pallet Christmas tree was all I wanted this year. I have visions of two of them on either side of my mantle. So, I got inspired and decided to kick off some Christmas crafting a bit early and created some easy pallet Christmas tree instructions that anyone can follow.
These are actually really easy to make as you can buy the Christmas trees premade! Yep, that is right! Read on to find out more about this pallet Christmas tree idea.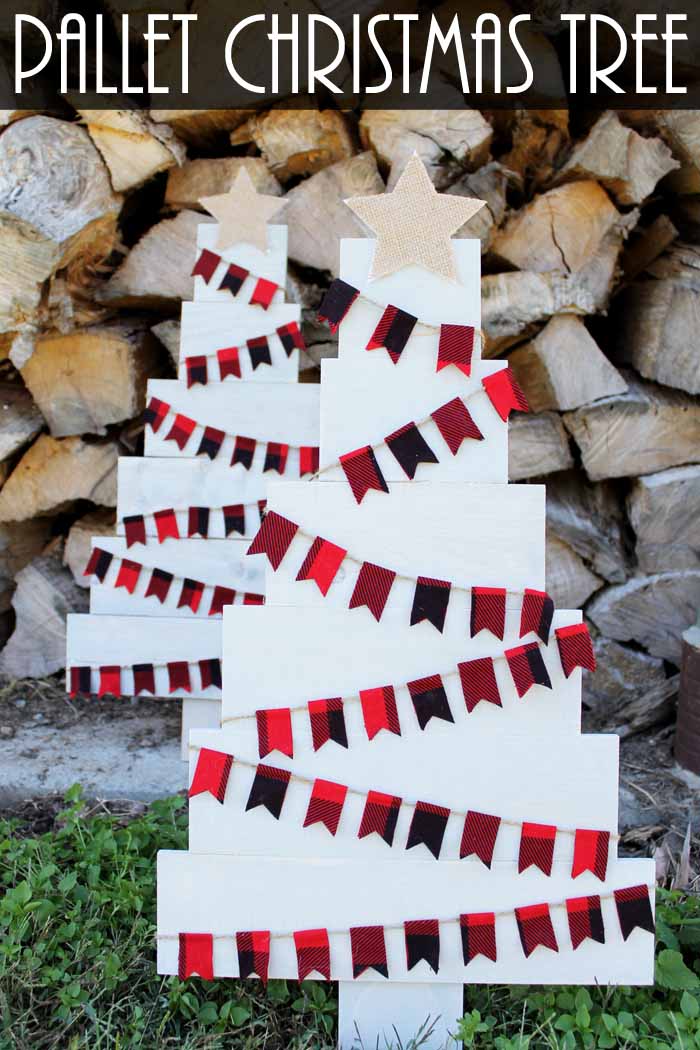 Pallet Christmas Tree:
First you will need to gather the supplies you need for this project.
Supplies needed: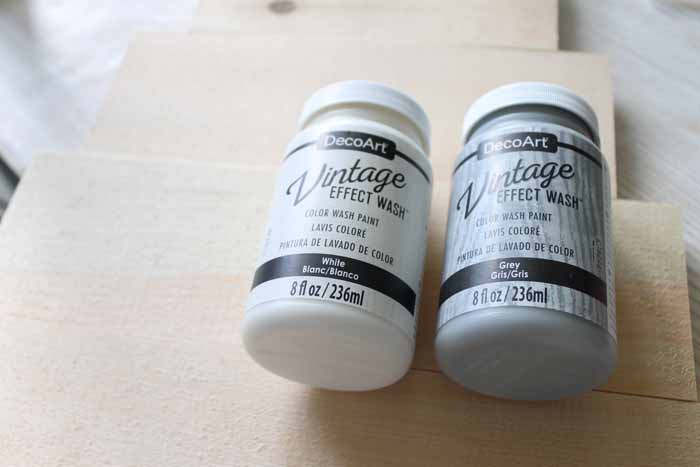 How to Make a Pallet Christmas Tree:
Gather your supplies and follow the instructions below to make your own holiday tree from pallet wood.
Step 1: Paint
Start with the pallet Christmas tree and the vintage effect wash. Paint on a coat of grey first, allow to sit a few minutes, and then wipe away any excess with a rag.
Want to see more about this product? You can click here for a video I did all about how to use this product and the effect on different surfaces.
Basically, it washes the surface with color while still leaving a bit of the wood grain to show through. It is perfect for farmhouse style projects like this one.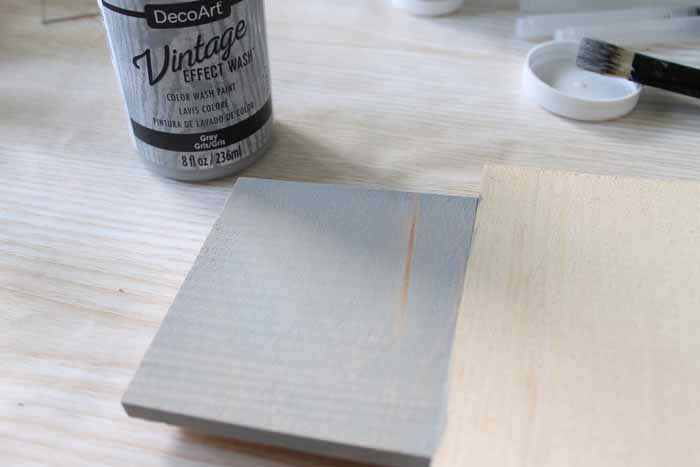 This time, however, I wanted to use two different colors of the wash on one project. I used the grey first and then the white.
Once you wipe away the excess with the grey, go right on top with the white. Allow to sit for a few minutes, and then wipe away excess with a rag. This gives your project a lighter grey appearance.
In the following picture, the one on the right just has grey while the one on the left has the white over the grey. Continue until your entire pallet Christmas tree has been covered. Set aside and allow to dry.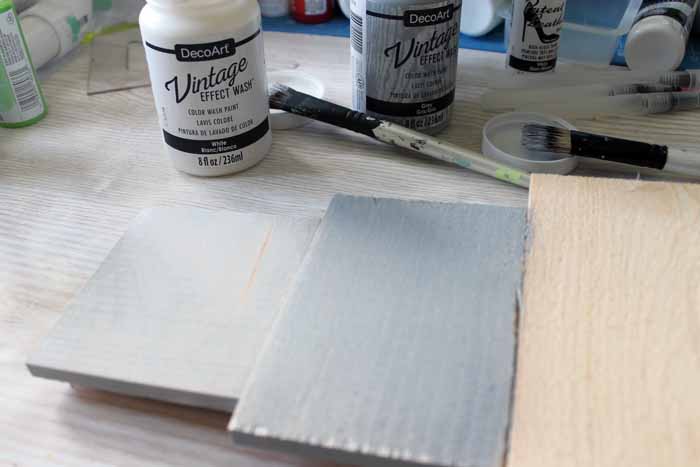 Step 2: Cut Fabric and Burlap
You can now begin to cut your fabric. Click here to access the cut file in Cricut Design Space.
There are enough pieces in that file to make two of the trees shown. Including two stars to cut from burlap, two from stiff white felt, and many, many flannel flags.
Remove all of your items from the Cricut mat once your cuts are complete. Then iron the flags in half as shown below. You might also have to trim a few stray threads from the flannel with scissors.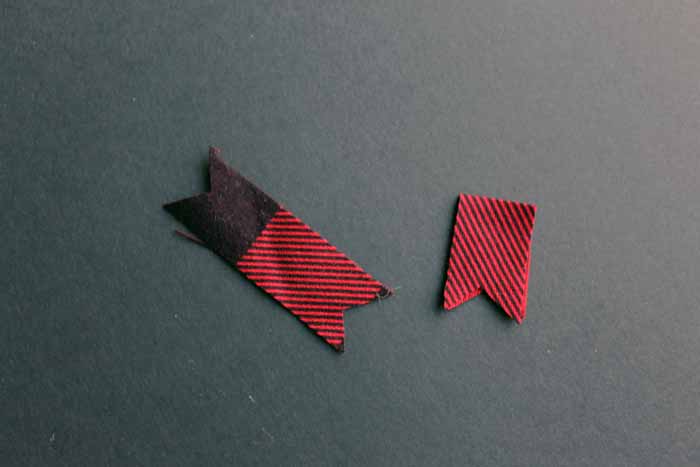 Use caution when removing the burlap from the mat! It will fray and fall apart so just carefully lift to keep it in one piece. Then you will layer the burlap over the stiff white felt. Use tacky glue all the way around the edges of the burlap and put it on top of the felt star. Set aside to dry.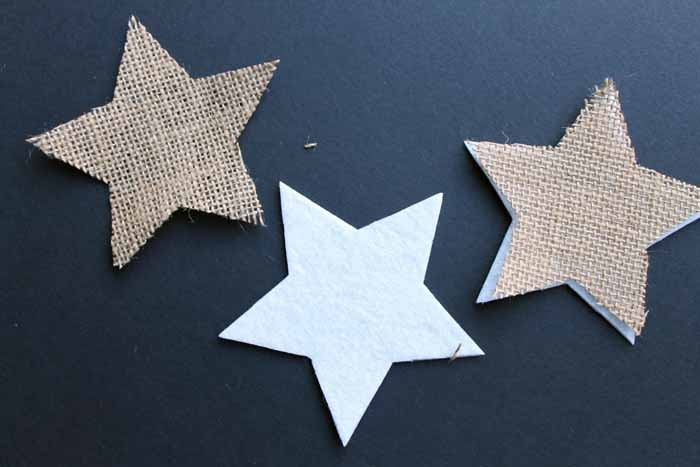 Step 3: Add Flags and Stars to the Tree
Once your tree is dry, start laying out your flannel flags onto the pallet Christmas tree any way that you like.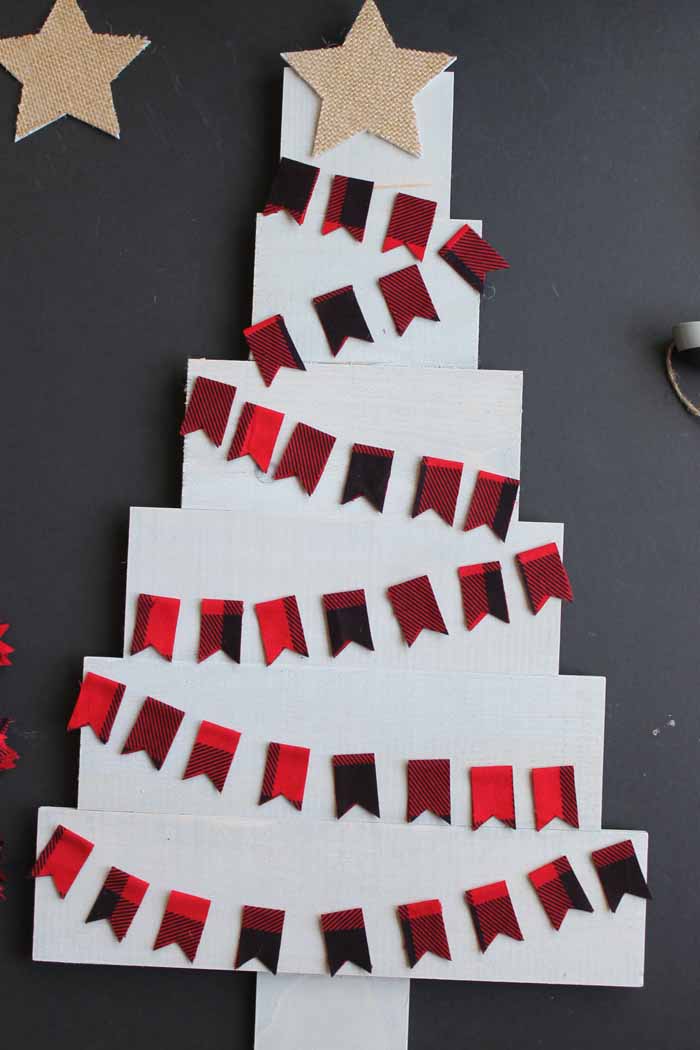 Then add the flags to the twine using the tacky glue all the way around the edges as shown below. Wrap around the twine and press together. These will then need to dry.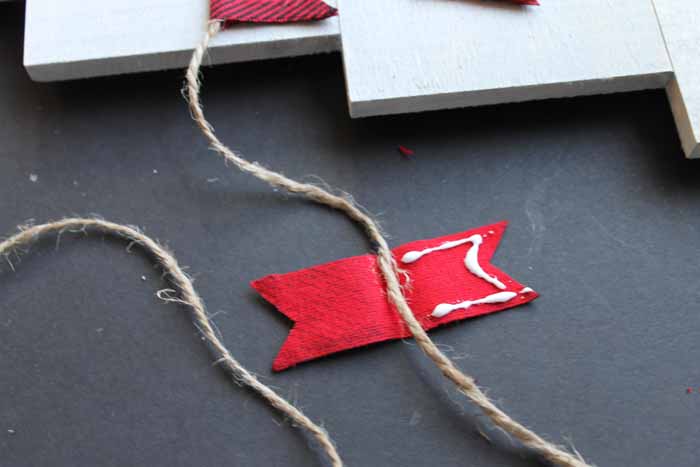 Be sure to leave excess twine in between rows as shown below in order to be able to wrap around the back and secure into place.
Once everything is dry, you can begin to assemble your pallet Christmas tree project. Use a staple gun on the back to secure each row of twine into place.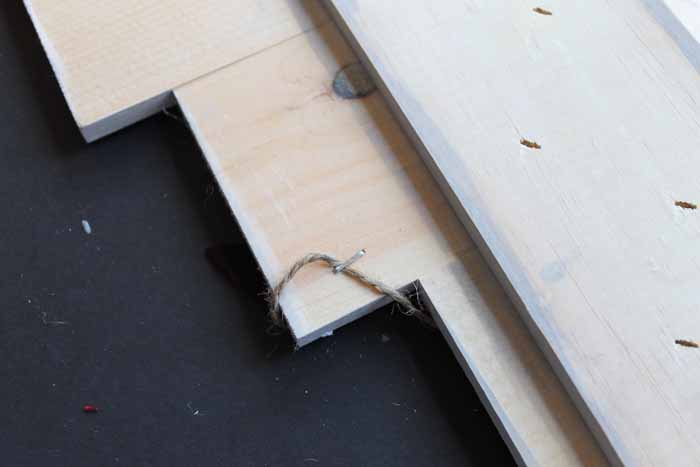 On the ends, you also want to use the staple gun, but tie the twine around it as well.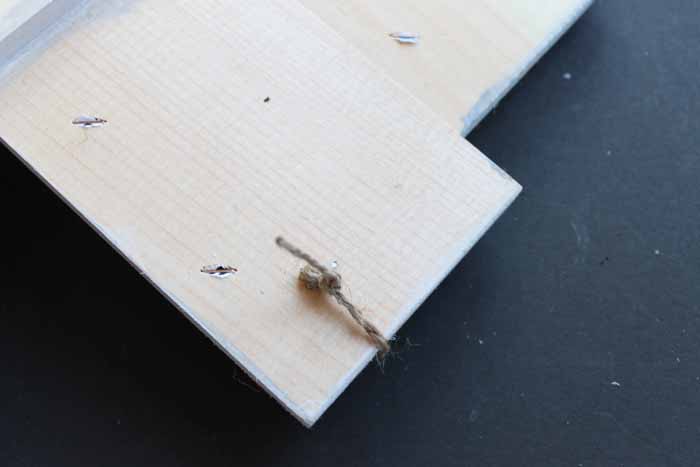 Glue your star to the top of the tree with tacky glue. Set your entire pallet Christmas tree project aside and make sure it is completely dry before using it in your farmhouse holiday decor.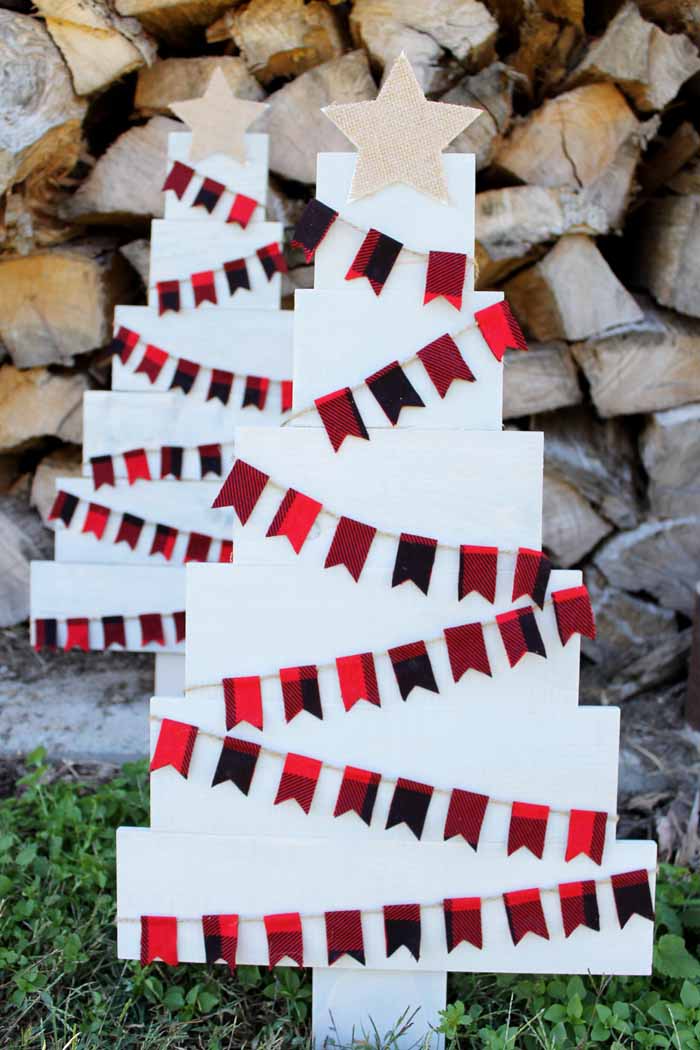 This rustic pallet Christmas tree is perfect for those that want to add a little farmhouse style to their Christmas decor this year.
I love how this one turned out! Y'all stay tuned to see them on either side of my mantle once my Christmas decorations go up. I can't wait to add them!
Would it be bad to start decorating for Christmas before Thanksgiving is over?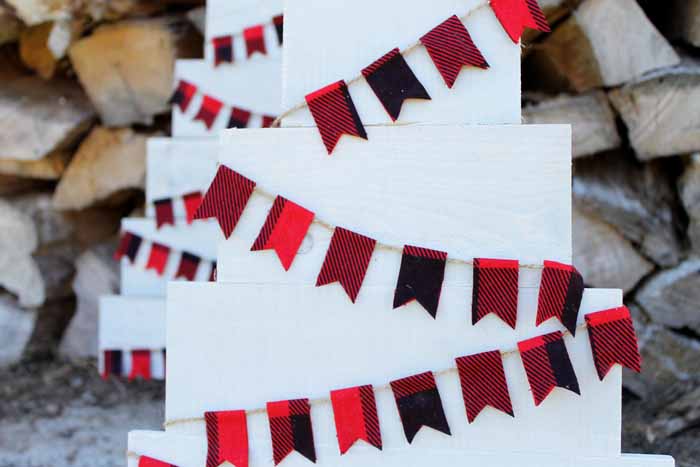 Be sure to make your own pallet Christmas tree…or two.
Don't love the plaid? Pick any fabric you love! I have cut several fabrics with my Cricut Maker and each one turned out perfectly.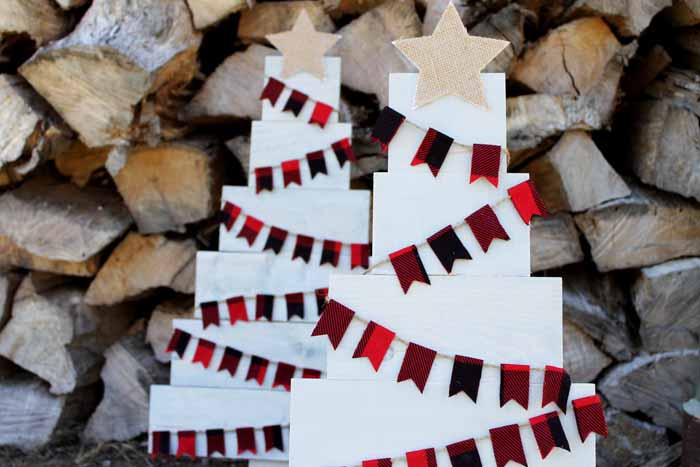 What to Know When Making Your Own Pallet Tree:
As mentioned above, you can easily purchase a premade pallet tree and use it for your pallet Christmas tree projects. But if you want to be more hands-on, you can make your own pallet tree.
But before you start sawing away, you should first read these must-know tips when making your own pallet tree:
Do this project outside.
Lay down a good size tarp to catch shavings for easier cleanup.
Wear proper safety equipment.
Be careful as pallet wood can cause splinters.
Sand your pallet tree.
Be cautious as there could be old screws or nails in pallet wood.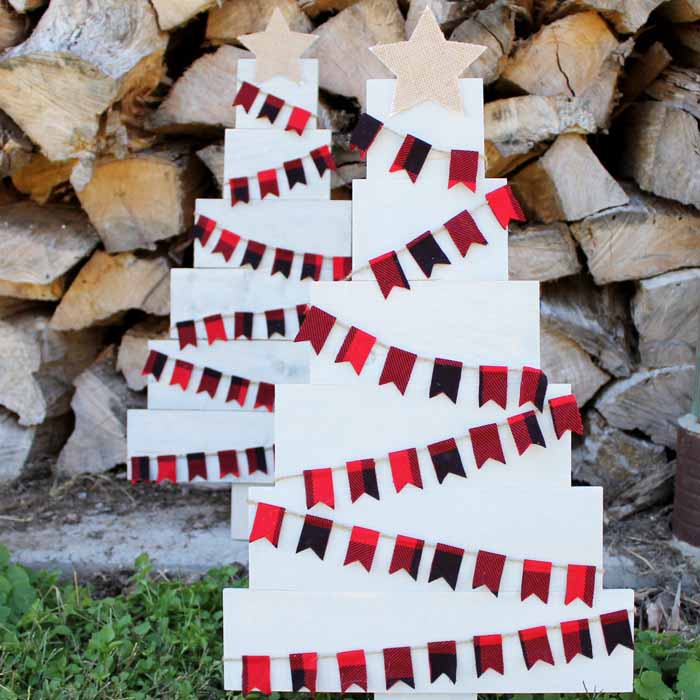 Love this and want more rustic Christmas ideas? Try these links!
New to Cricut?
Sign up for our email list to download the Beginner's Guide to Cricut Design Space for FREE today!
Sign up to get the guide emailed to you!