Today we have a fun guest post from Niki at 365 Days of Crafts. She is sharing this fabric scrap tea towel that is a great Mother's Day gift idea!
Make a fabric scrap tea towel for a fast and simple gift that is perfect for Mother's Day. The fabric scrap tea towels are an easy sew project that you can make in under an hour. You can purchase pre-made tea towels or buy them in the store.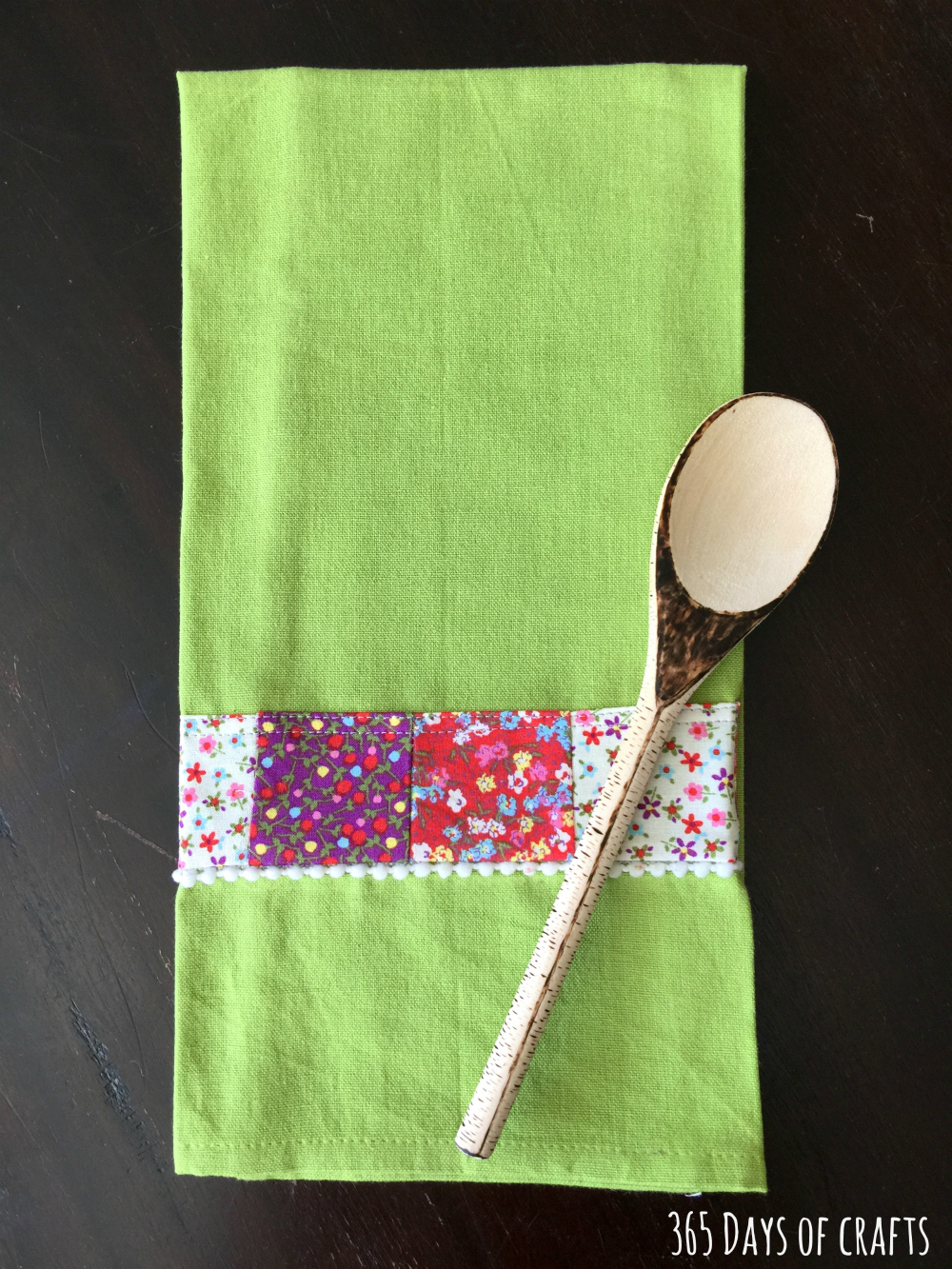 Supplies needed for the fabric scrap tea towel:
Links below may be affiliate links which means you do not pay anymore.
iron and safe ironing surface
tea towel (My very favorite brand of towels is from the Dunroven House and their products are all made in the USA. You can find the tea towels and other quality kitchen items from them in stores like Tractor Supply, Missouri Star Quilt Co and a limited variety here on Amazon.)
fabric scraps
scissors or rotary cutter and mat
ruler
needle and thread or sewing machine and thread
washable pen or white colored pencil
straight pins
mini pom pom fringe
Instructions for the fabric scrap tea towel:
Iron tea towel to remove any wrinkles or seams and set aside.
Trim fabric scraps into 2.5″ x 2.5″. If you want to use random lengths make sure the height is all the same.

Start by placing 2 of the 2.5″ squares wrong sides together and sew a 1/4″ seam along one side. Repeat this step until you have a strip of fabric long enough to go across your towel when it is open.

Square up your fabric strip by placing a ruler along the edge and trim of any excess.
Iron one edge of the fabric strip 1/4 of an inch. This side will be used for the last step.
Draw a line across the towel where you would like the fabric strip to be located. Pin the trim and the fabric strip wrong side up. You will be folding it over so make sure the trim is on the right side so it will show when the fabric is flipped over.
Sew along the pinned layers using a 1/4″ seam allowance. Fold fabric over and carefully press the fabric. The pom pom trim will melt if the iron touches it.
Sew the previously ironed edge down using a 1/4″ and then a 1/16″ and do the same for the edges.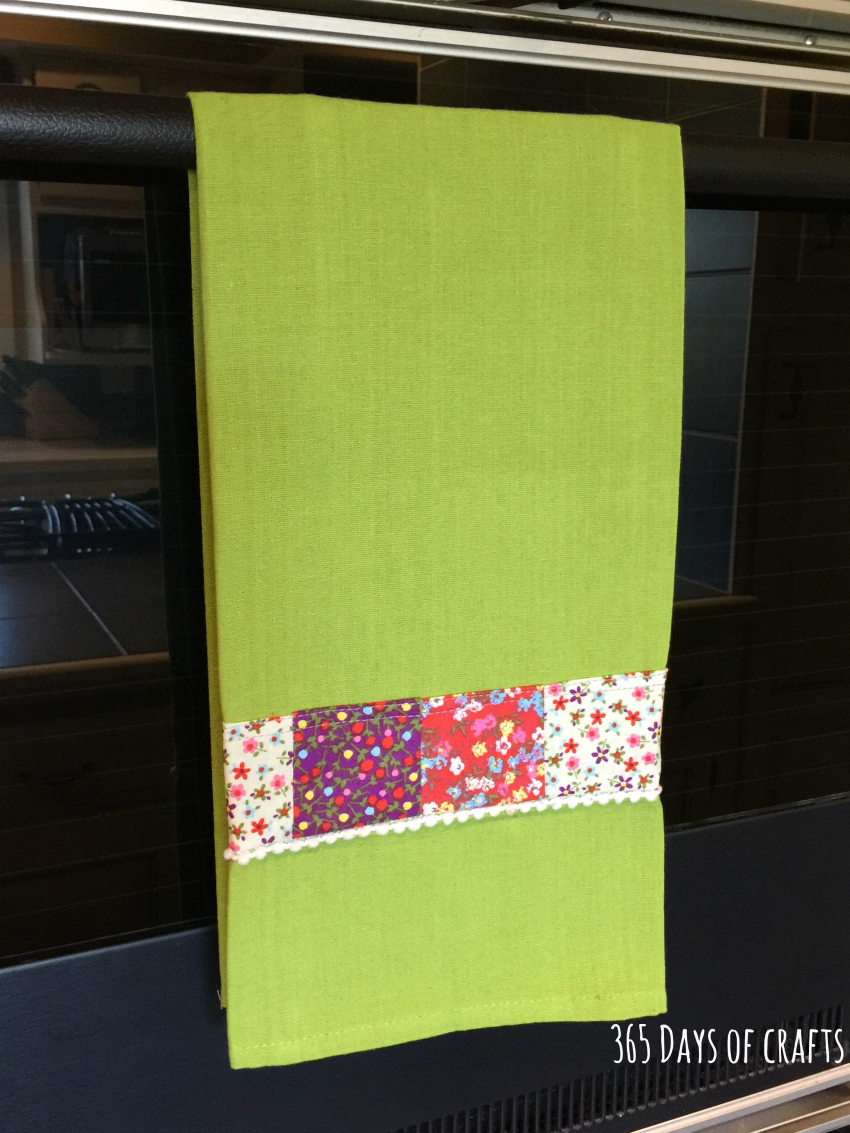 There you have it, an easy sew Mother's Day gift using your fabric scraps. You can combine the towel with other easy sew projects like the mug rug using the same scraps or this family photo collage decoupage flower pot.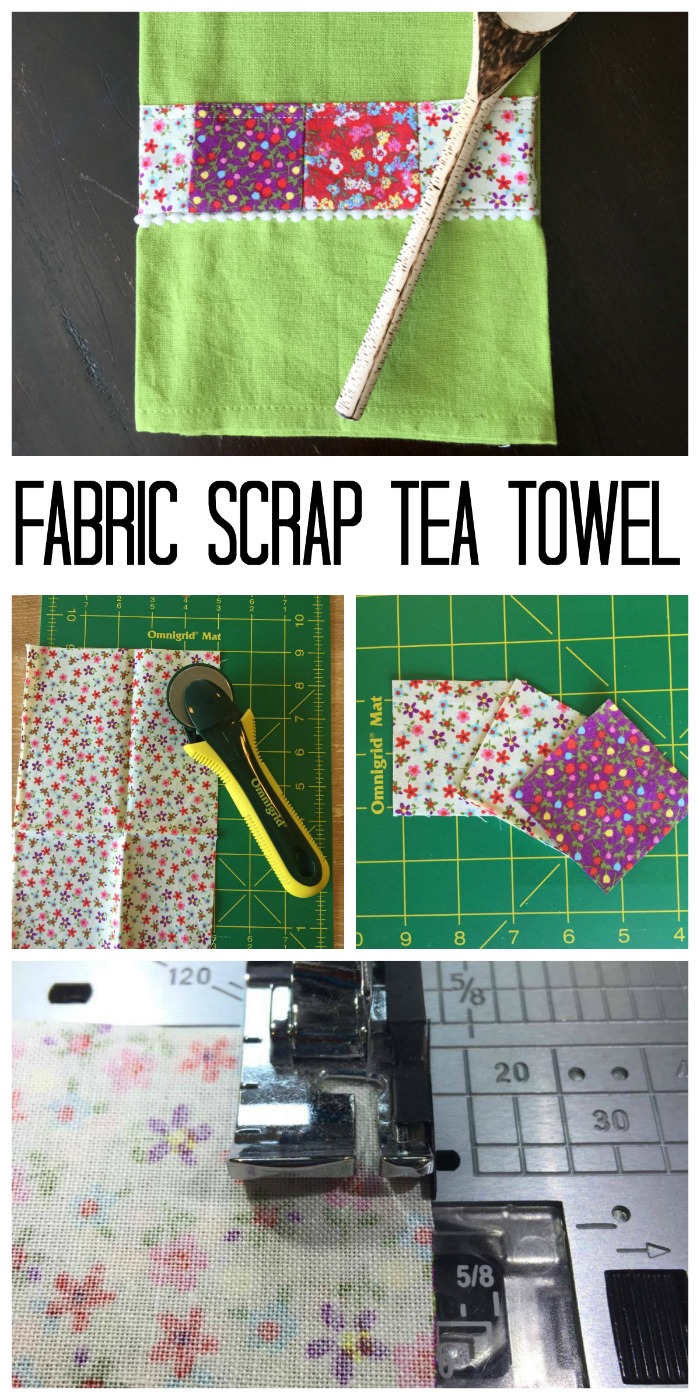 Need another Mother's Day idea? Try this handprint pillow cover!