Do you need some inspiration for decorating your front porch? I'm sharing my farmhouse fall porch decor with you to give you some ideas of ways you can add a special touch of fall to your own front porch!
Fall is such a special time. The weather starts shifting from those long, hot days of summer to short, crisp winter. As it does that, we get to enjoy warm days, cool nights, and some spectacular colors and flavors.
Decorating in the Fall is SO much fun! But, when you see all of the decor possibilities in the stores and the crafting possibilities online, it can be a little overwhelming.
I thought I would share my farmhouse fall porch decor with y'all today. I love adding some farmhouse touches to my front porch for the season. Plus, fall is one of my favorite seasons for decorating. So follow along below to see what I did to my porch this autumn!
If you love fall as much as I do, be sure to also check out my Easy Outdoor Fall Decor Inspiration, DIY Fall Leaf Wreath, and Fall Wooden Sign.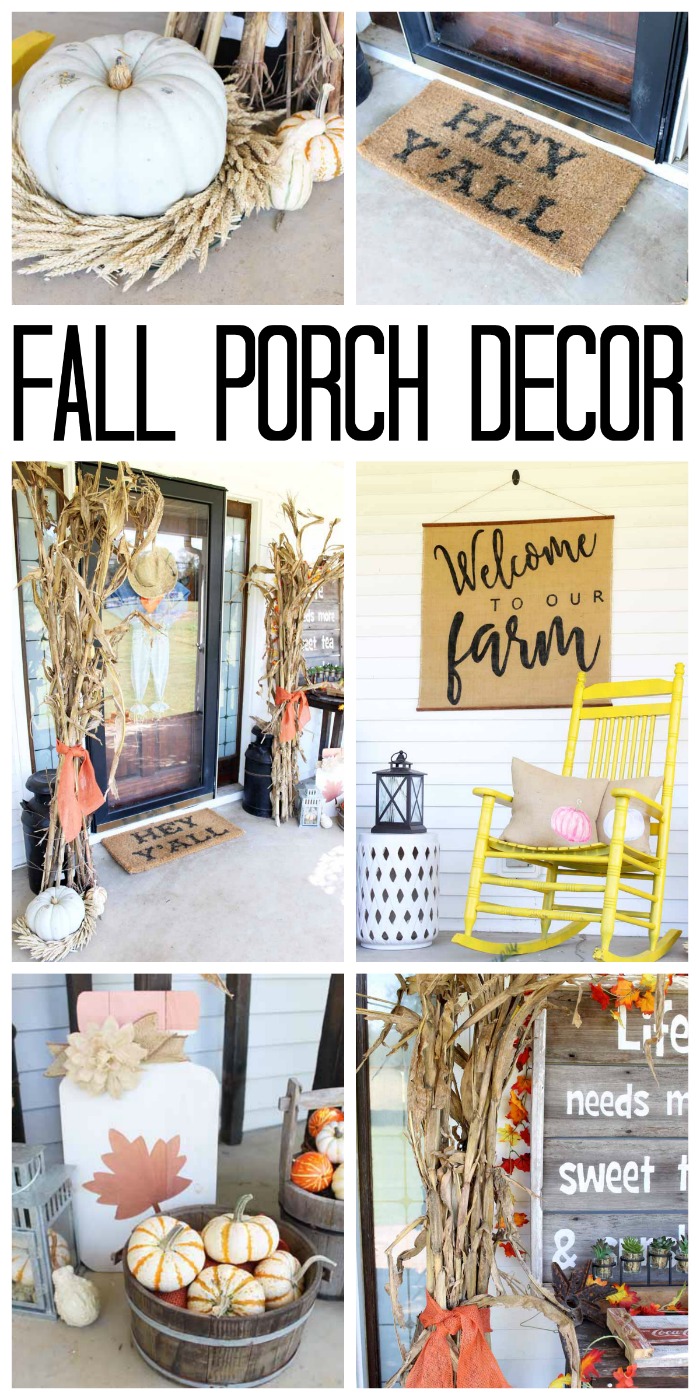 My Farmhouse Front Porch Decor Tour
Here is a wide view of both my front door as well as the small side table I have beside it. You can start by finding out more information on that sweet tea sign. Because life really DOES need more sweet tea!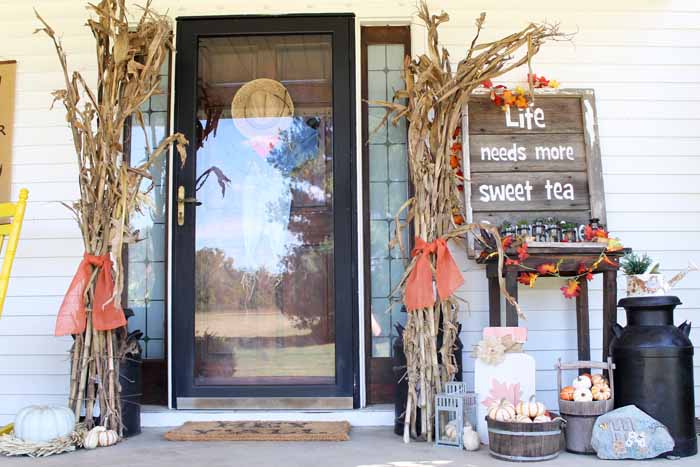 Front Door
The door itself has my scarecrow wreath hanging on it. Isn't it cute? I wouldn't put this guy out where he can be exposed to the rain and other elements. But he's perfect for the porch or front door!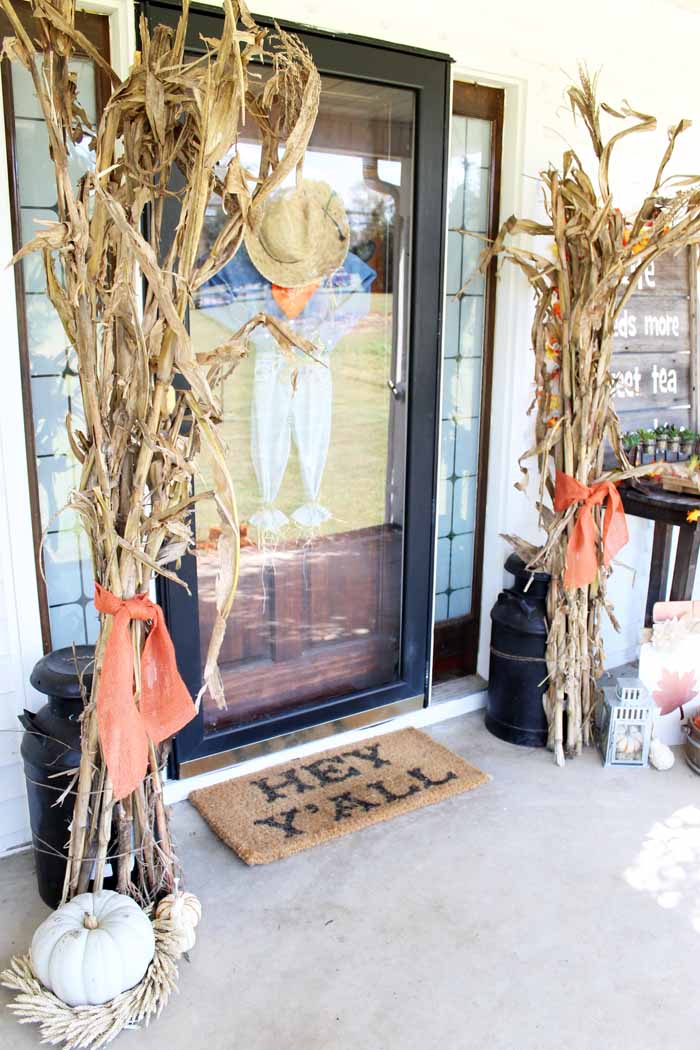 The doormat I bought a few months ago is still going strong and I still love it! It is from a local Tennessee store but you can buy them online.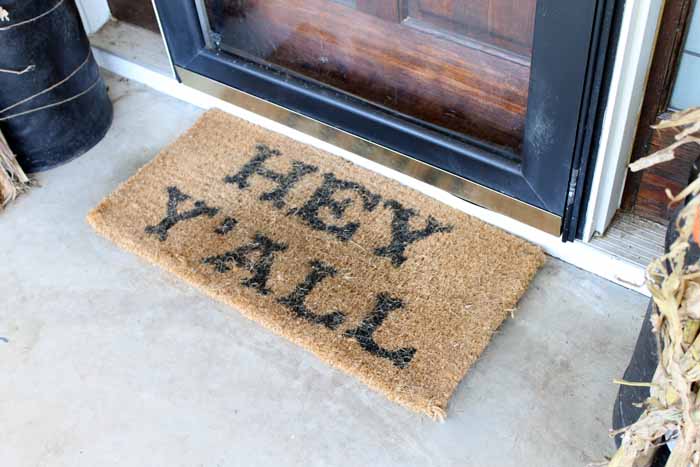 Left Side Of The Door
I added a cute blue pumpkin to my wheat wreath to flank the left side of the door. Yes, that really is a wreath because wreaths are not only for doors!
I then gathered some corn stalks and stood them up on either side of the door. I made it easy on myself by simply tying them to my milk cans that are there every day of the year. All I did was use a little jute twine because it blends in so well.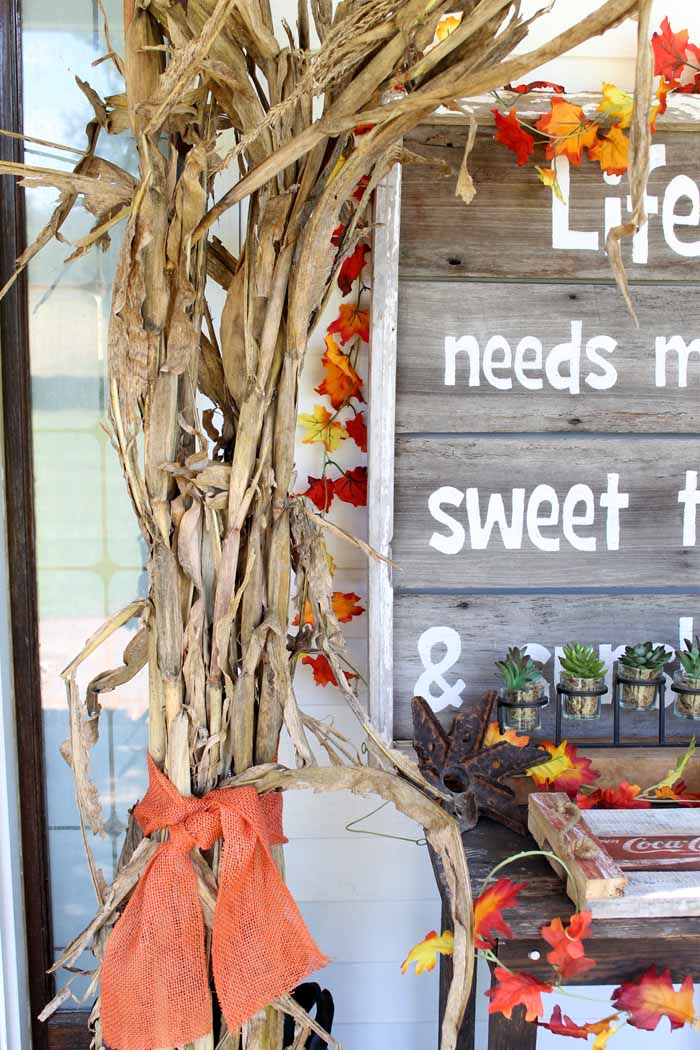 Right Side Of The Door Farmhouse Fall Porch Decor
I added a few fall touches to the right side of the door as well! That side is larger, and the eye naturally gravitates that way, so I made the most of it with some more corn stalks, my beloved sweet tea sign, and lots of mini pumpkins.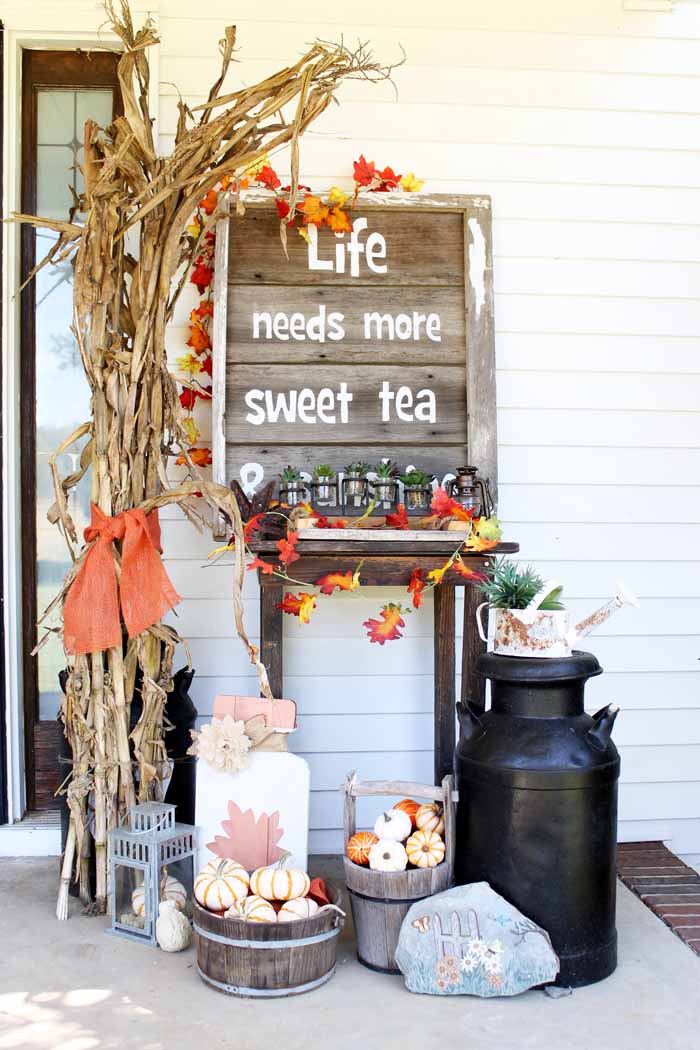 Isn't that mason jar sign a great feature? Make sure you check out the tutorial on how to make that mason jar sign.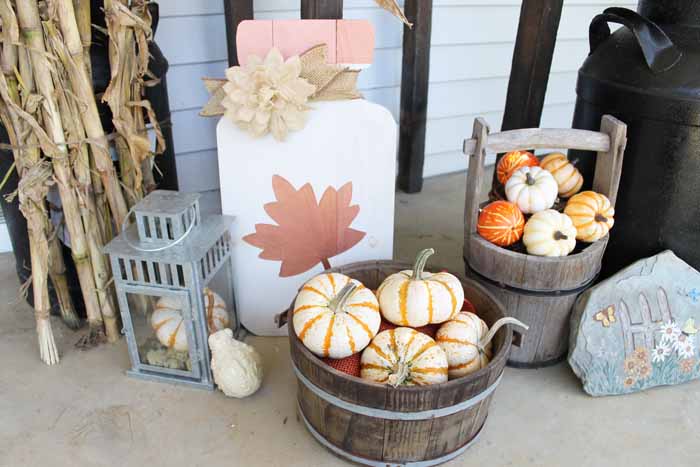 I also piled various pumpkins in containers. Pumpkins can be so colorful and delightfully funky! I love weird varieties of pumpkins….don't you? Feel free to create a big variety by mixing and matching different sizes, colors, and textures.
You'll notice that I filled the container up with other items on the bottom. While it has the appearance of being filled with pumpkins, they are really only on the top. Budget decorating hack!
The rest of my porch stayed pretty much the same as last time I showed you. I can't have a porch without rocking chairs on it!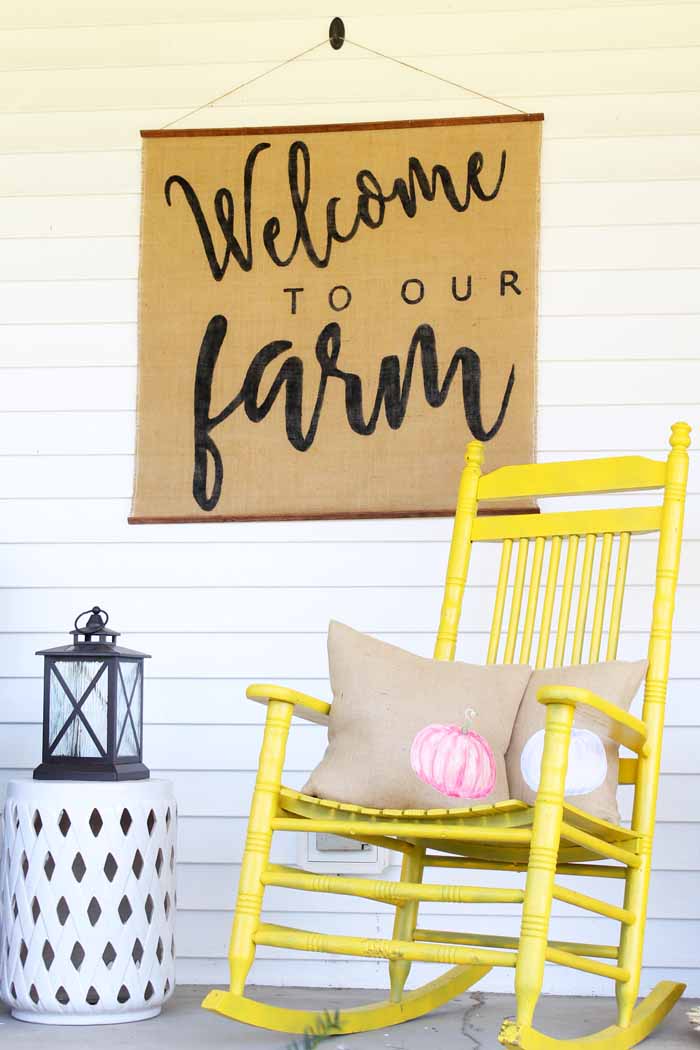 I did however add my burlap pumpkin pillows to one of the rocking chairs. They look just lovely on the porch and add that perfect farmhouse touch to the rocking chairs.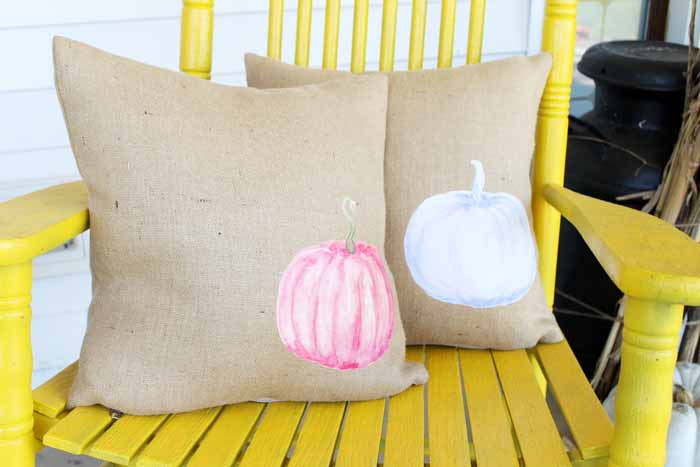 Then I also added some extra pops of color by adding a garland of fall leaves, lanterns, a watering can with a plant, and some burnt orange ribbon.
That's it! Decorating your porch for fall doesn't need to be complicated, difficult, or expensive. I simply reused what I already had and added just a few dollars worth of items that I can't save from year to year. I hope y'all enjoyed this fall porch decor and found a few ideas for your own home.
If you need me, I will be relaxing on the porch enjoying the fall temperatures. (If we would ever get any that is!) Happy fall, y'all!
FAQs
Here are a few questions we get about this project. If you have a question but don't see it down below, please leave it in the comments so I can answer it for you.
How can I decorate my very small porch in farmhouse fall porch decor?
The great thing about fall decor is that it doesn't take much to add that awesome autumn vibe to your space. All you need are a few pumpkins, maybe some leaves, a wreath, or a sign. Trust me, a little can go a long way.
I can't find a wreath I like. Can I make one?
Yes! Making wreaths is much easier (and more fun) than you may realize! It doesn't even usually take very long to make a wreath you'll love and want to use year after year. Here are a few terrific Fall Door Wreath ideas to inspire you.
More Fall Inspiration
Love this fall porch decor and want more farmhouse front porch decorating ideas? Try the links below.