Are you ready to organize craft supplies around your home? It is getting a little bit warmer here. I know that when the warm weather hits I will be ready to throw open the windows and start cleaning and organizing. I have a post for you today on 5 ways to organize your craft supplies. The ideas, of course, can be used in any area of your home but I believe they are great for crafty ladies. So, whether you have a craft room or just a craft closet, give a few of these ideas a try around your home!
This one was first published on March 28, 2013, but I am republishing with more information.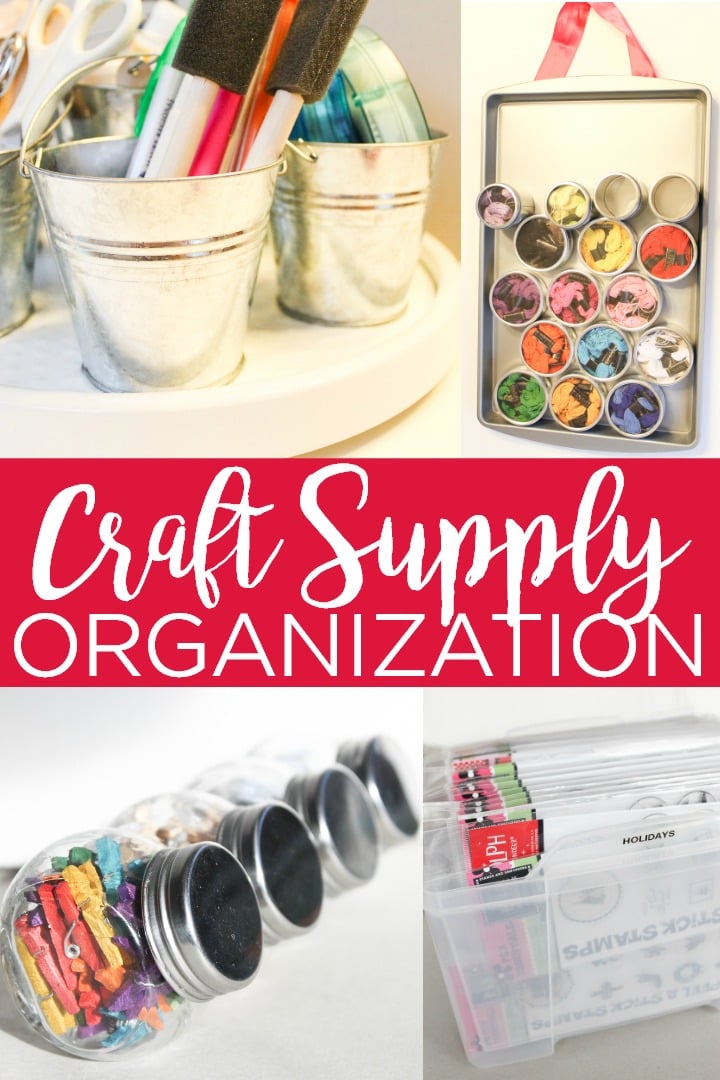 Ideas to Organize Craft Supplies
I have broken down my ideas into five different groups below. Mix and match between the 5 to find solutions that will work in your area.
#1 Lazy Susan
A Lazy Susan is one of the standards of organization in almost any space. Yes, you can even organize craft supplies into this easy to access organizing accessory. You will need:
Lazy Susan (I found mine at a thrift store and spray painted it white.) (Try these versions on Amazon if you can't find any around where you are.)
Metal Pails in two sizes (I used 6 pieces of the 2 3/4″ size and 1 piece of the 3 3/4″ size.)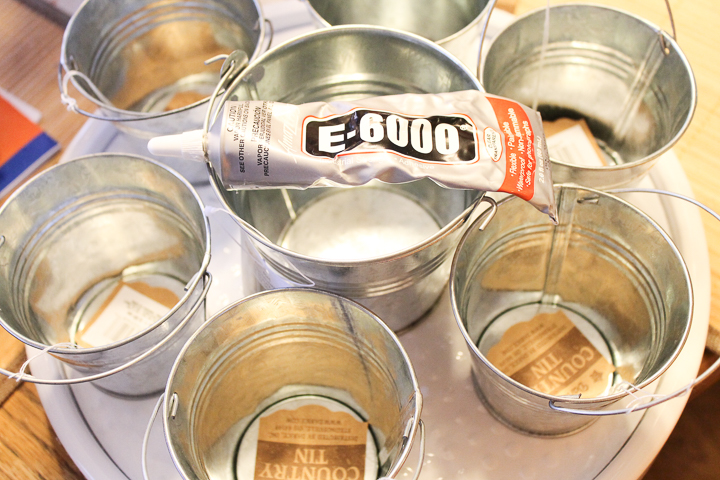 Just use E-6000 to adhere the bottoms of the pails to the Lazy Susan. Allow it to dry completely then just fill it up for instant organization. You can also try making your own lazy susan with dollar store supplies.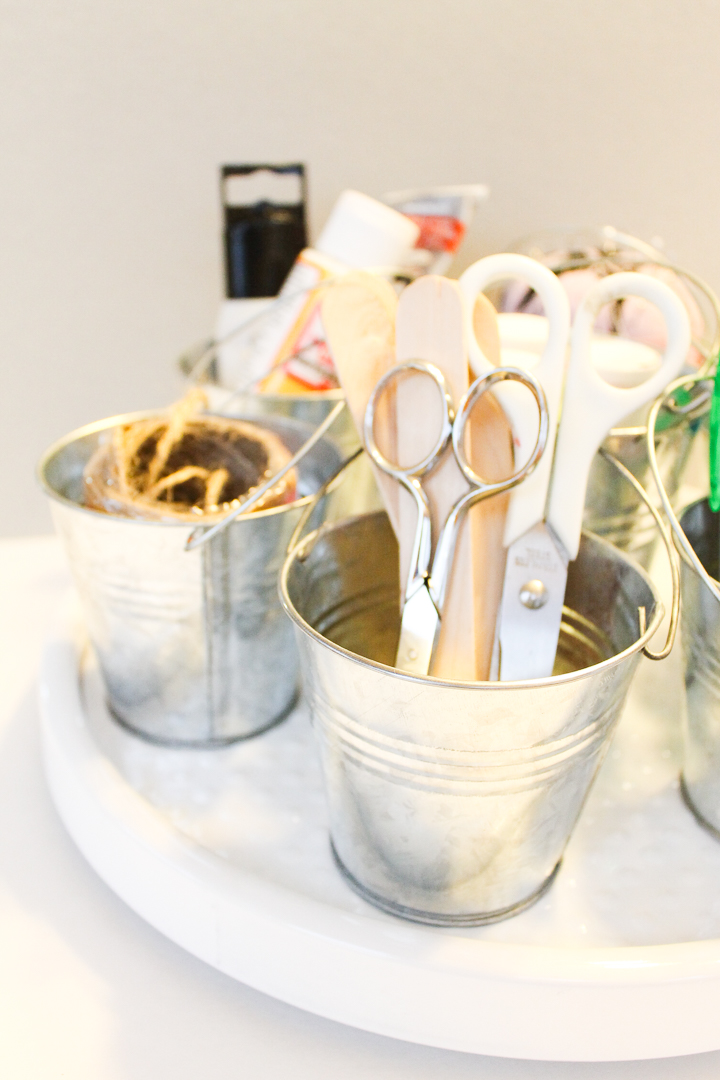 #2 Magnetic Board
Let's get some of our craft supplies up and onto the wall. A magnetic board is perfect for this. You will need:
Cookie sheet
Magnets
Aluminum Jars in various sizes
Ribbon for Hanging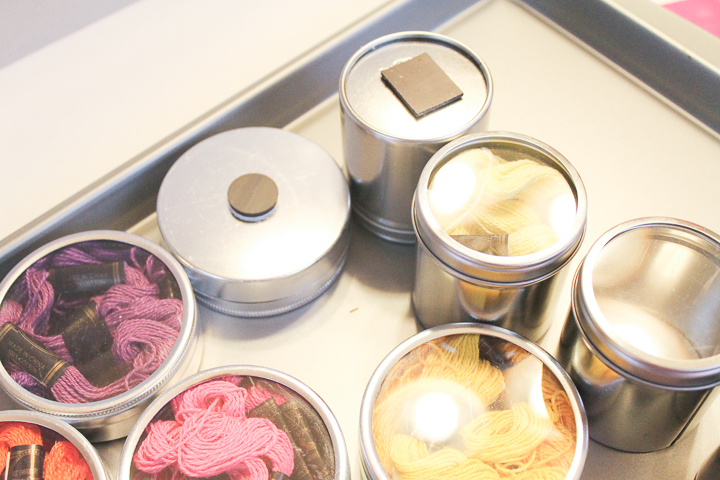 I actually used a variety of magnets because I did not buy enough originally. Learn from my mistake and be sure to get as many magnets as you have jars. Either use the adhesive that comes on your magnets or use E-6000 to adhere the magnets to the bottom of the jars. Apply ribbon to the back of your cookie sheet with E-6000 and allow to dry. Hang your cookie sheet and apply your jars for organization. Such a great way to get your craft supplies up and onto the wall. Plus the magnets make them easily accessible. I love that the jars have see-through lids as well.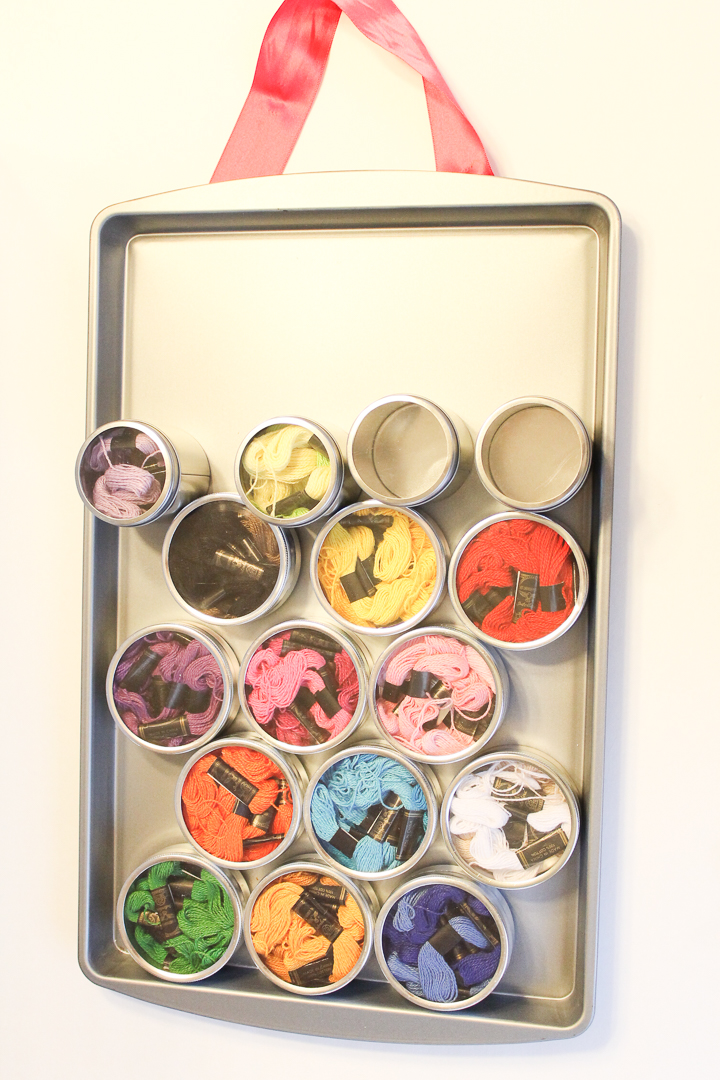 #3 File It Away
You can also organize craft supplies by filing them. I used an organizer used for filing to organize my peel and stick stamps.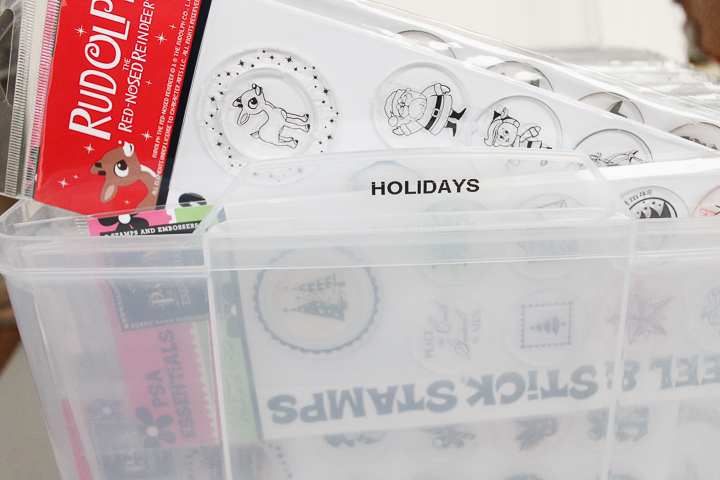 Find an organizer the correct size, fill it up, add labels, and you are on your way to an organized craft area. Remember that those file boxes are not just for the office! Think outside of the box when it comes to typical office storage solutions.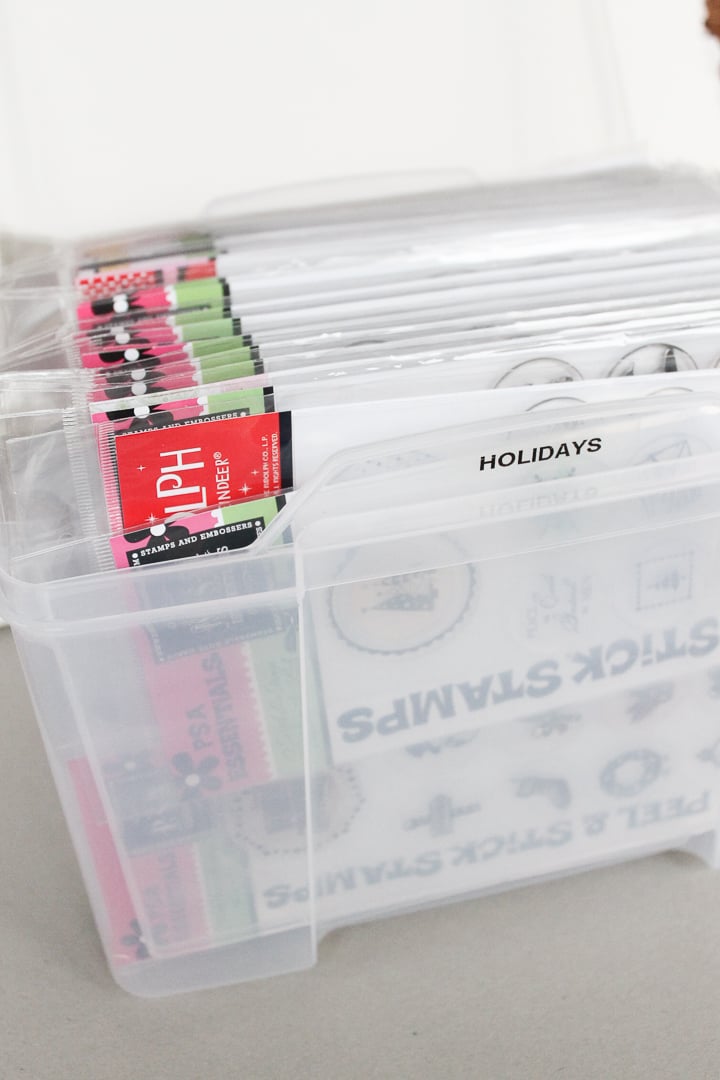 #4 Chalk Board Labels
Speaking of labels, chalkboard makes a wonderful label option as it can be changed as your storage needs change. I will ONLY use chalkboard labels in my craft room. You can get full-size self-stick chalkboard sheets to label all of your craft supplies. The ones I used are in different colors but you can also find black. Pick up whichever you love here.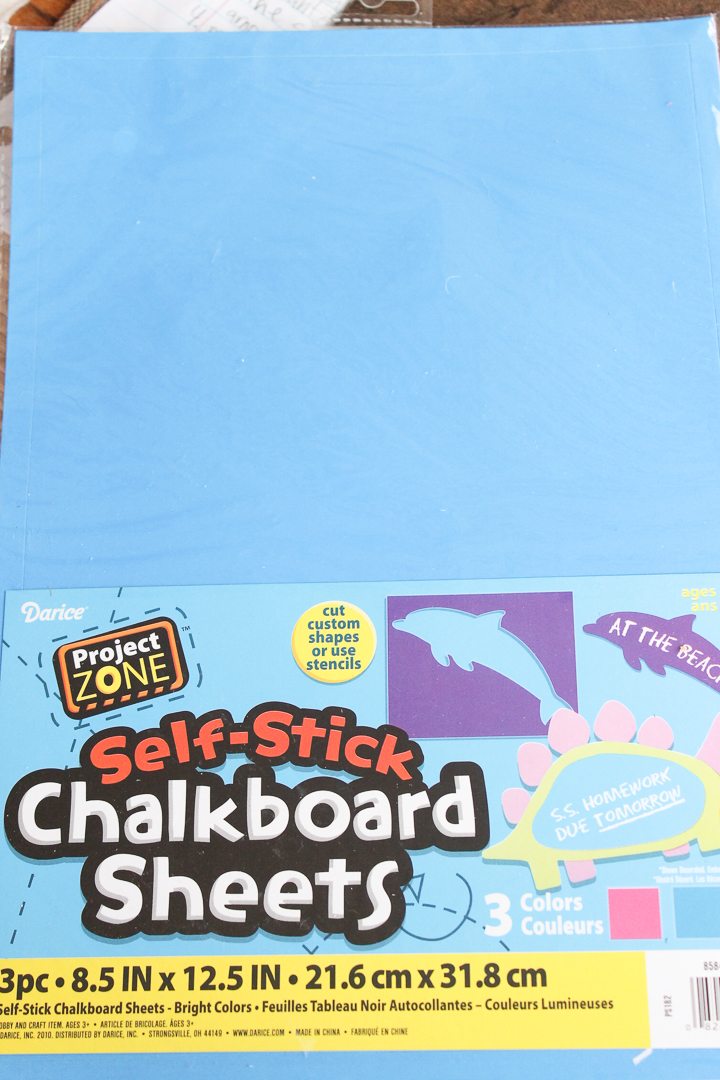 They can be easily cut with your Cricut, die cutter, craft knife, or scissors. Perfect for any organizing effort so be sure to pick up several packages.
#5 Put it in a Jar
Glass jars are a standard in my organizing efforts. There are so many options that you can find a jar for every organization problem. From small to large:
2 inch Glass Cruets (shown below)
Pint Jars in Wide and Regular Mouths
Quart Jars in Wide and Regular Mouths
Glass Jars with Locking Lids
Large Cookie Jars
And so much more!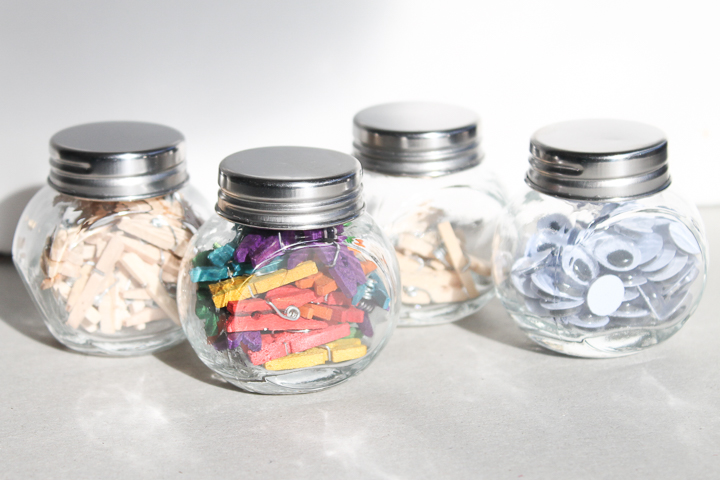 So when all else fails, put your craft supplies in a jar. They will look instantly organized. The small glass cruets are my absolutely favorite! They corral those miniature craft supplies in style.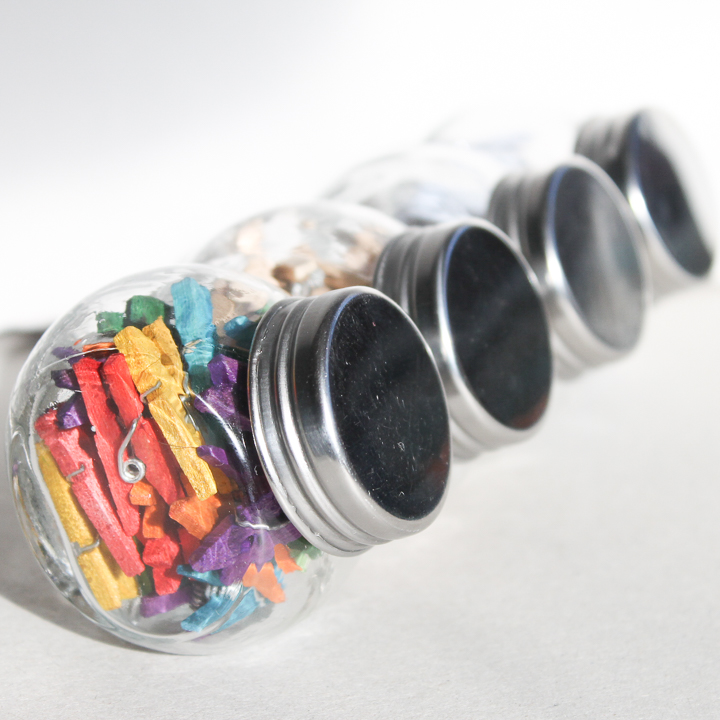 So, which of these ideas to organize craft supplies is your favorite? Be sure to give one or two of these a try with your creative supplies. No matter if your space is small or large, you can find a way to get organized this year!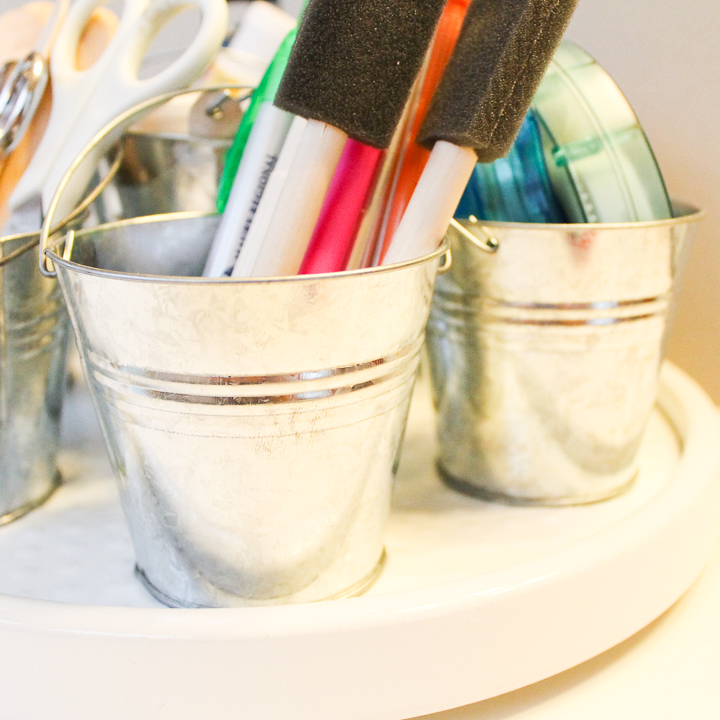 Need even more cleaning and organizing ideas for your home? Be sure to visit our cleaning and organizing gallery page to explore tons of great tips and tricks. Until then, I hope you can use some of my 5 ways to organize craft supplies in your home.
Love these ideas to organize craft supplies and want more? Try the links below as well!
Declutter Your Home in 31 Days!
Clear the clutter and organize your home with our daily emails! Every day for a month we will send you a prompt to declutter! Sign up for our email list below to get started.