If you're searching for the perfect gift for Dad this year, check out this mason jar gift idea for Father's Day! This is the perfect Father's Day DIY craft to let kids do on their own and make their own special gift for their dad or grandpa!
Dads do so much, and they often don't get the thanks they deserve. That's why I love Father's Day. It's a day when we stop our routines and take time to celebrate a super special person in our lives: Dad!
Fathers can sometimes be tough to buy gifts for, which is a huge reason why I love making gifts. I have several other homemade Father's Day gift ideas like this Trophy for Dad, Hand Print Art for Father's Day, and Wooden Pencil Holder.
Mason jars are one of the most versatile crafting materials you can find. They're perfect for everything from crafts to food to gift wrapping and much more!
Today's gift idea for Father's Day is simple enough for even the smallest of children to join in the crafting. I am also including some other mason jar gift ideas that you can make with your kids. So, what are you waiting for? Get the kids busy with making a Father's Day mason jar for Dad this year!
This was originally posted on May 11, 2016, however, I am republishing it with more information.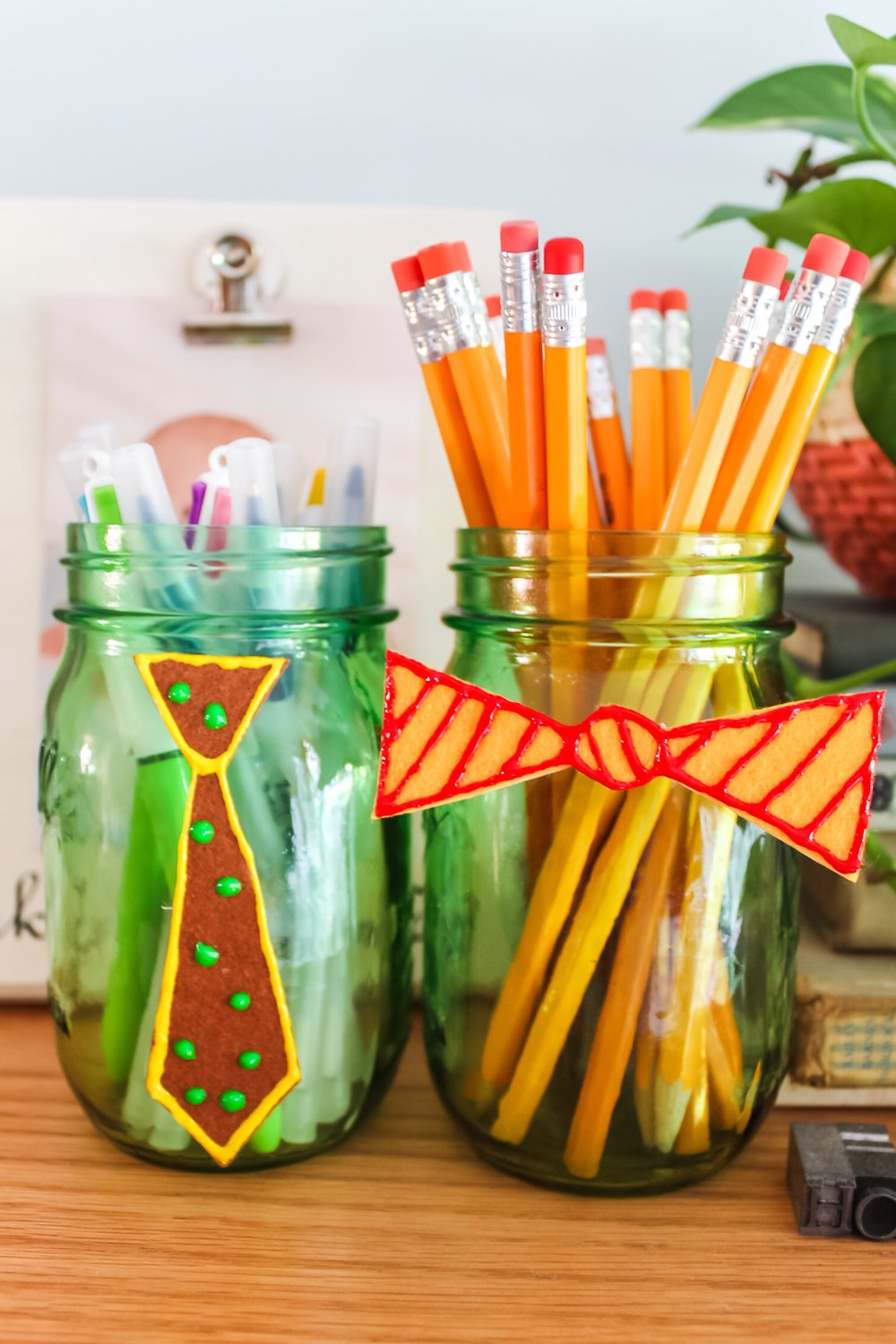 Father's Day DIY Mason Jar
You can cut your felt with scissors or I also have an option to use a Cricut machine below. Either way, the cutting is the only portion that needs to be done by an adult or an older child. You can let the kids handle the painting portion of this easy craft idea.
Supplies Needed
How to Make This Father's Day Mason Jar Gift Idea
Just follow these steps, and in a few minutes, you'll have a one-of-a-kind mason jar gift for Father's Day to give to Dad!
Cutting Tie Shapes
Trim the felt sheets into "tie" shapes. Let the kids have fun picking the colors. You can do this with scissors and freehand the cuts, or you can use a Cricut machine to do the cutting. Stiff felt sheets with cut on an Explore or Maker series machine.
Here I have a variety of free triangles and circles in Cricut Design Space. These will combine to make tie shapes easily.
Just resize the shapes and lay them out over each other until they make the shape you would like. Then pick all of the shapes and use unite on the combine menu to make ties you can cut from felt.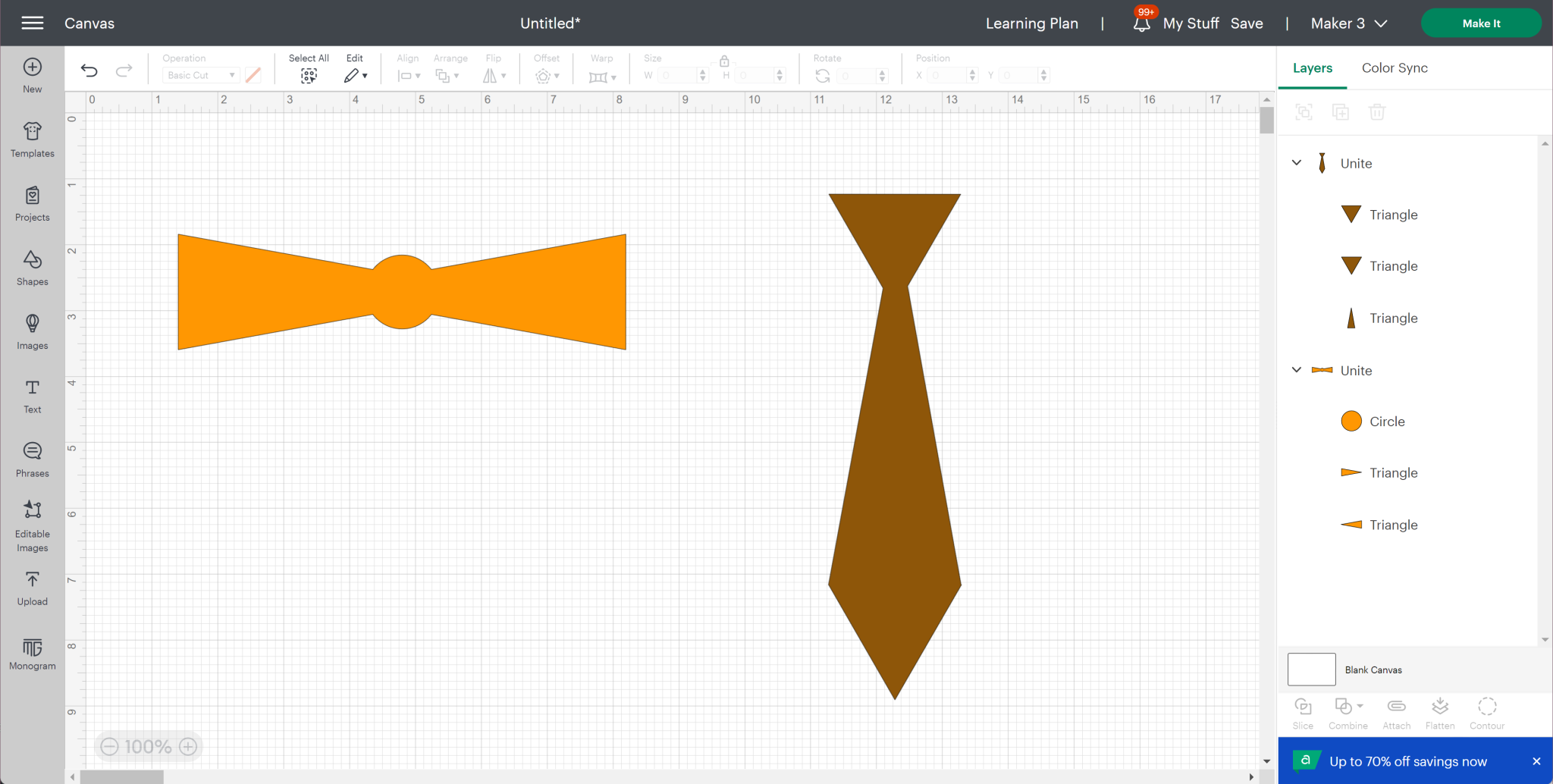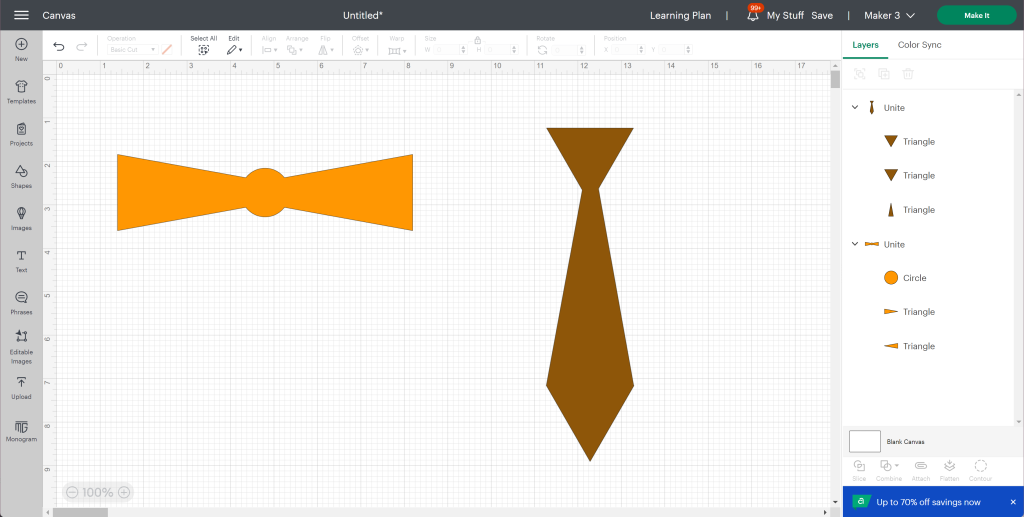 Resize the tie shapes where they will fit on whatever jar you are using. Then click make it to cut the shapes from felt using your Cricut. You can see more about cutting felt with your Cricut machine here. You can also just use scissors to cut these simple shapes if you would like.
Adding Paint to Felt Shapes
Use a variety of 3-dimensional fabric paints to decorate your ties. Then, set them aside to dry. Your ties will probably need to dry overnight.
This is where you really get the kids involved. Let them decorate the ties in any way they choose. You never know what you'll get, but it'll be unique and amazing!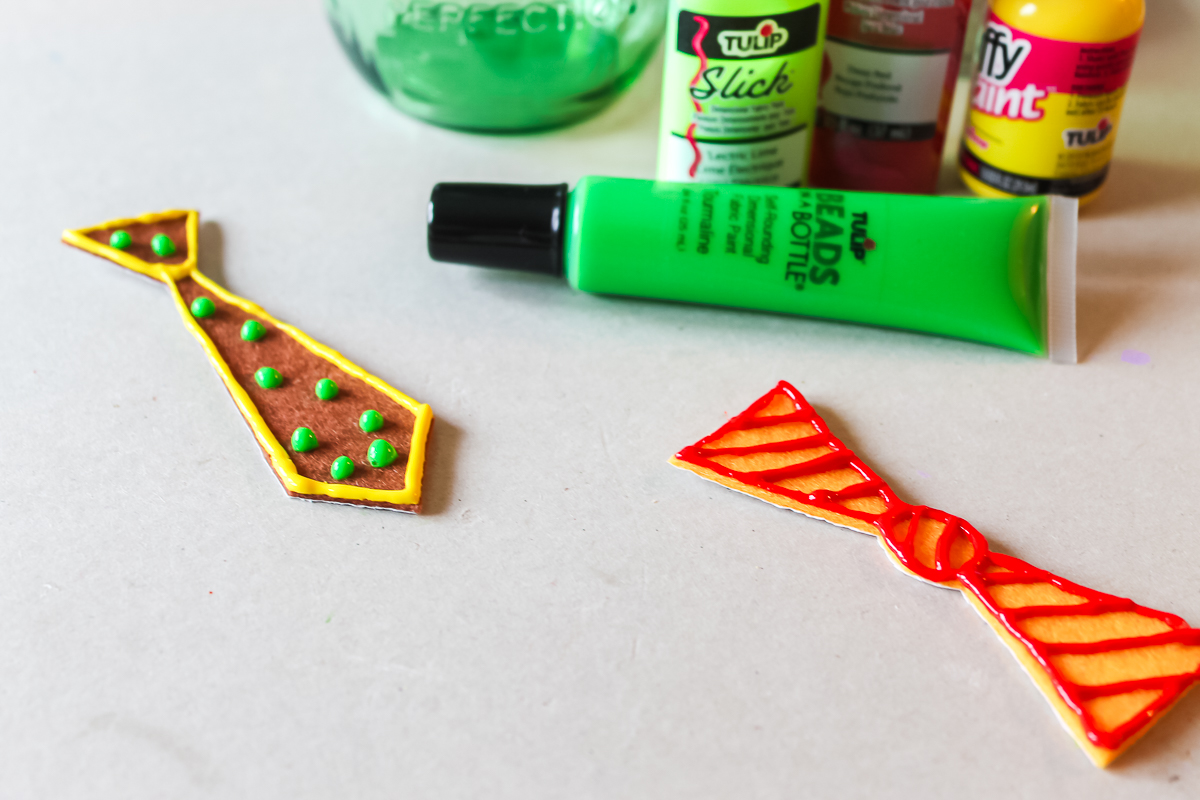 Adding Ties to Mason Jars
You will need to add the ties to your mason jars. You can use whatever adhesive you would like to secure them into place. Some stiff felt already has adhesive on the back and you can try to use that if you would like.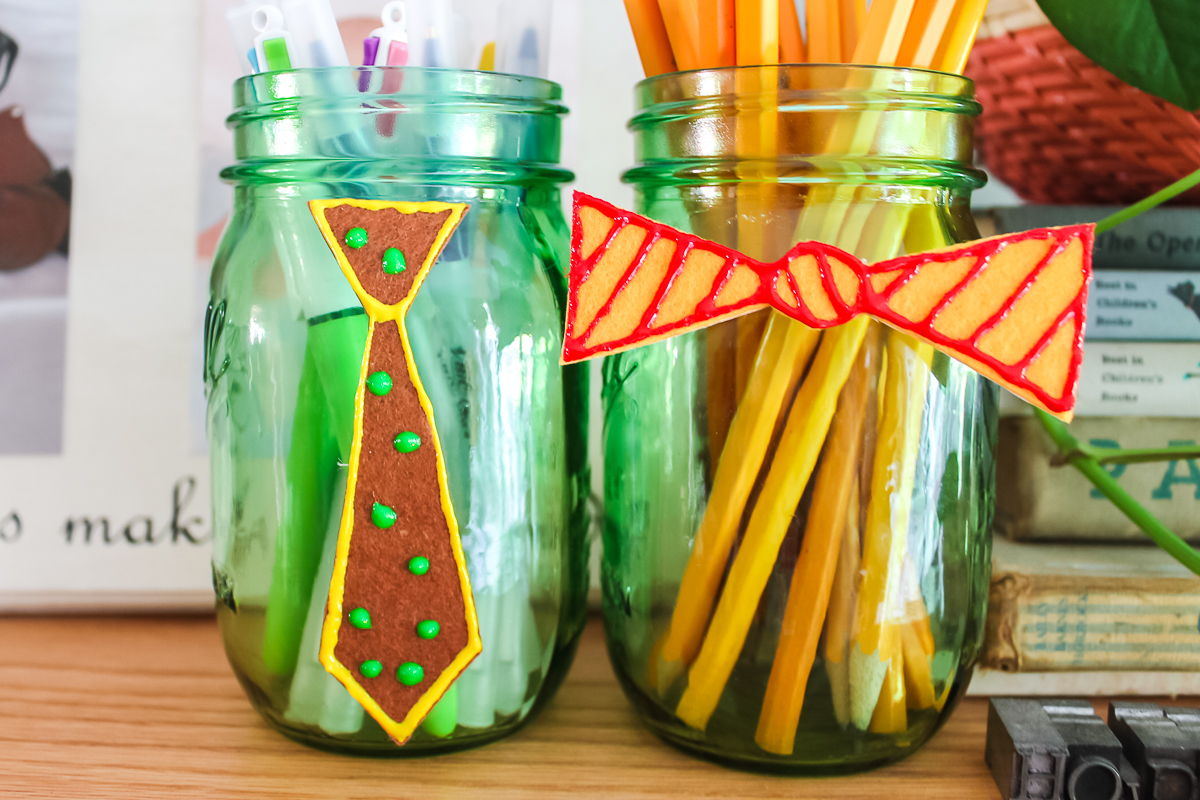 Wrap these Father's Day mason jars up in a DIY gift bag and give them to Dad this year. Don't forget the card! They will look great on his desk to hold pens, pencils, or anything else he needs to hold.
Tips and Tricks for This Father's Day DIY
I like the stiff felt for this project as it will stand up more especially for the bow tie.
This is a great craft for any felt scraps that you have laying around. The cuts are small so they work well from scraps. You can use scraps easily on a Cricut machine but utilizing the SnapMat function.
The version of felt that is self-adhesive really makes this project simple. You don't even need extra glue!
Use these felt shapes for more than just mason jars. You can add these quirky bow ties to cupcake toppers, straws, and so much more!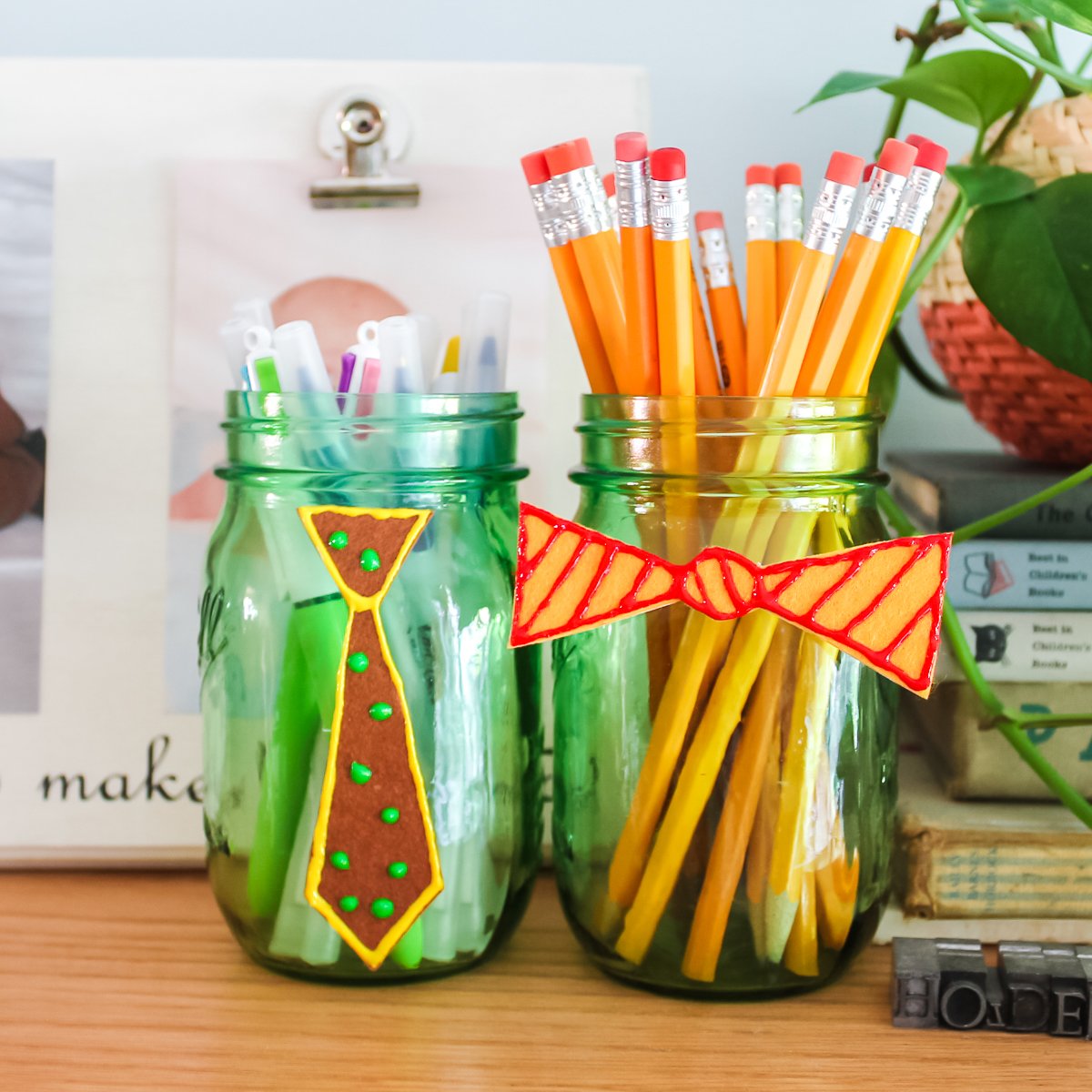 FAQs
Here are a couple of questions that I see readers ask regarding how to make a Father's Day DIY mason jar gift like this one. If you have a question, please check to see if it's already answered below. Don't see it down below? Leave it for me in the comments!
What size mason jars should I use?
I used pint-sized mason jars for this craft. If you only have large quart-sized jars, they should work too. I just wouldn't recommend using jars that are smaller than pint-size. You may want to make your ties larger if you are using larger jars.
Can I use clear mason jars for this mason jar gift idea for Father's Day?
Of course! I like the fun color that the green jars add to this craft. I think the color makes it easier to see the craft since it isn't quite as "see-through."
What if Dad doesn't need a desk pencil holder?
You can also just fill these jars with his favorite candy or another small gift that he will like. Let your imagination run wild with this idea!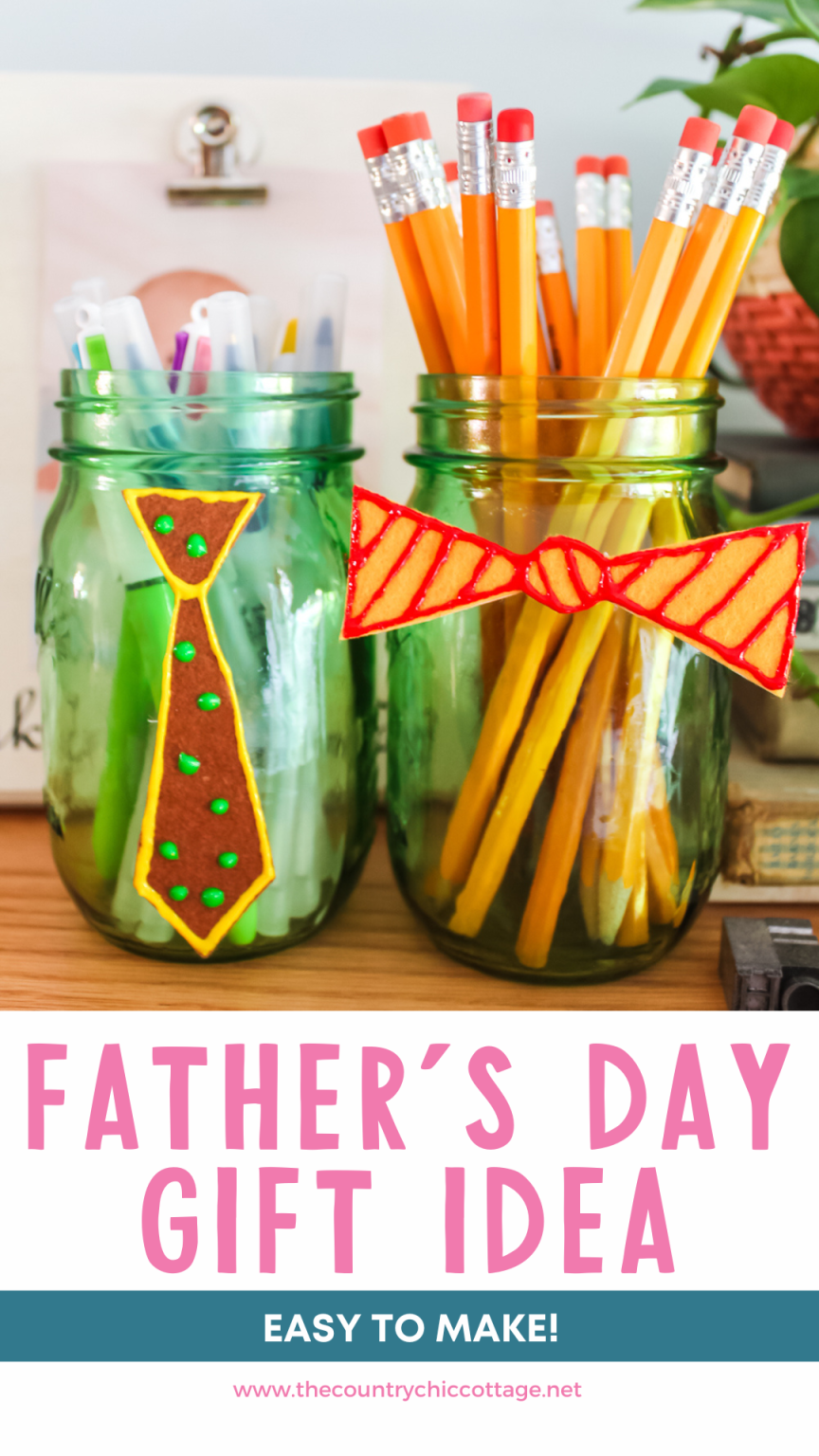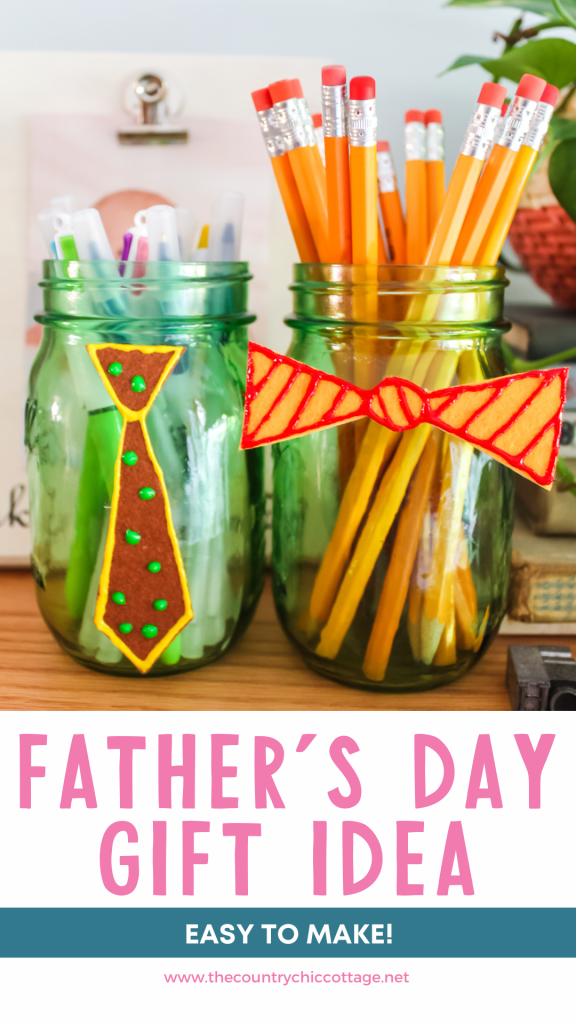 Be sure to add these Father's Day mason jars to your must-make list this year. Pick up your supplies and let the kids get to work adding their own special touch to this fun craft idea. Dad's gonna love it!
Whether you make our Father's Day mason jars or one of the other quick and easy Father's Day crafts, you are sure to put a smile on Dad's face this year!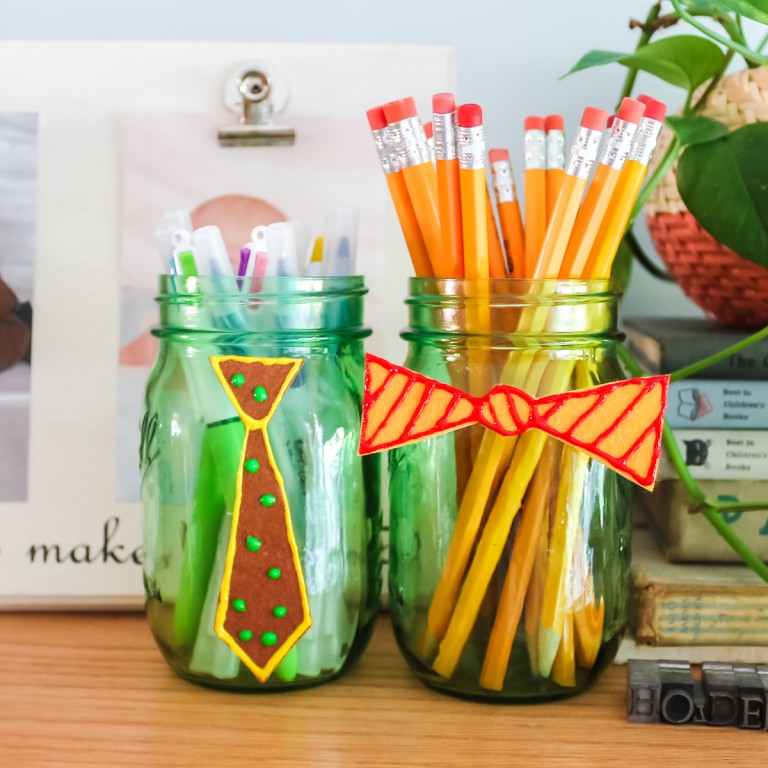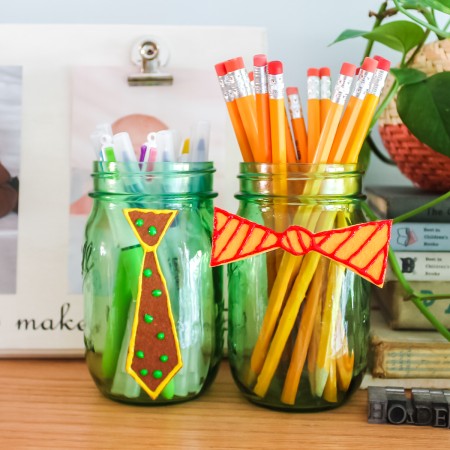 Mason Jar Gift Idea For Father's day
Let the kids help make a Father's Day gift for Dad that he'll treasure. Here's a mason jar gift idea for Father's Day that he'll love.
Equipment
Scissors or Cricut machine
Supplies
Mason jars

Felt Sheets

Fabric paint

Glue
Instructions
Cut the felt into tie shapes and let the kids have fun picking out the colors.

Decorate the felt "ties" with 3-dimensional fabric paint. Have fun getting creative with the designs! Let them dry overnight.

Attach the "ties" to the mason jars using the self-adhesive or glue.

Wrap up the jar gifts and give to Dad!
Tried this project?
tag us to show off your work!