Have you ever thought to make your mason jars look like sea glass? It sounds hard, but it's a super easy thing to do with sea glass paint. Learn how to quickly make painted mason jars yourself!
Sea glass has a very distinctive and timeless look. Maybe it has something to do with the constant churning of the ocean waves. Does anyone else pick up pieces of sea glass when they walk on the beach? 😁
If you love sea glass as much as I do, check out my Decorative Flower Pots with Sea Glass and Sea Glass Monogram!
I saw this sea glass paint a while back and immediately fell in love with it. I knew I just had to use it to paint a trio of mason jars to enjoy some additional sea glass decor for my home.
They look gorgeous in beach or nautical-themed rooms! You can use them as a vase for flowers, a candle holder, a gift holder, and more.
Without further ado, let's dive right in and get started making this simple project.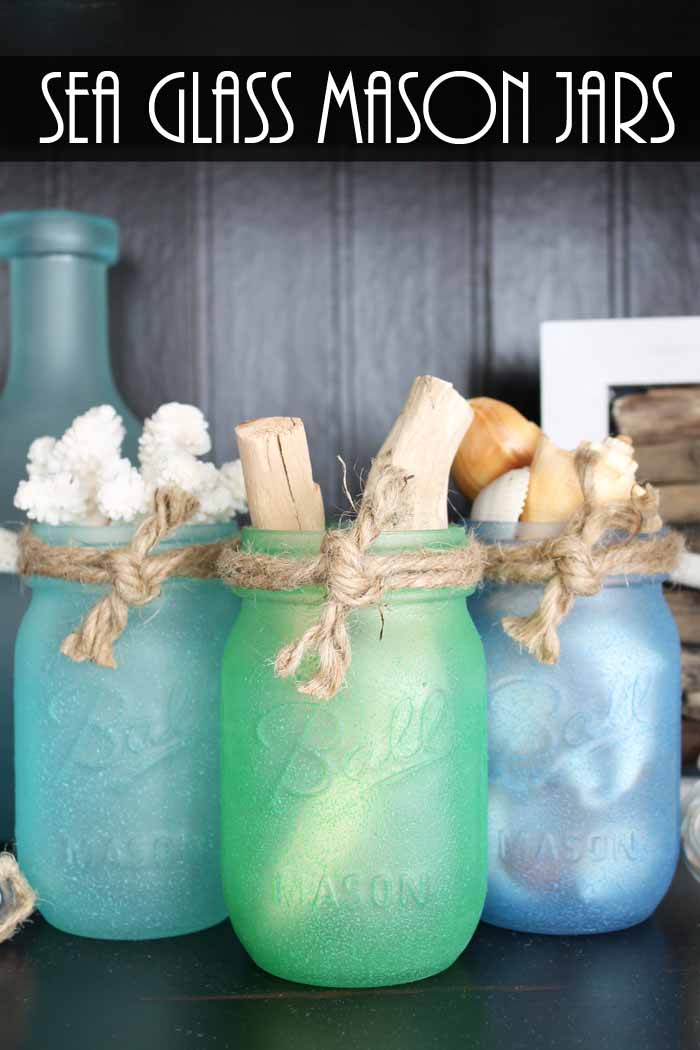 Supplies Needed To Make Sea Glass Painted Mason Jars
This painted mason jar project couldn't be easier! All you need are 3 supplies.
How To Make Painted Mason Jars
I thought I would make a quick video to show how I have been using the sea glass paint. You can actually watch me paint one of these jars live below. Be sure to like us on Facebook for more great content like this!
Can't watch the video or missed some of the steps? I've got them all written out below so you don't miss a thing. Don't forget to grab the printable project card down below so that you have it handy when you're ready to begin your painted mason jars project!
Step 1
Make sure your mason jars are clean and dry. Just to be certain, I recommend cleaning them with rubbing alcohol and allowing them to dry completely. Once they're clean, don't touch the glass surface or you'll deposit oils from your hands which will affect your paint.
Step 2
Then, use a pouncer brush to apply the sea glass paint to your mason jar. This gives the tumbled sea glass look to your jars. If you want a smoother finish, use a regular brush instead.
Step 3
Allow the paint to dry thoroughly.
Step 4
Tie on a piece of rope or thick twine to really give the authentic nautical feel of these beautiful jars.
That's it! It really is that easy, y'all. You can create your own painted mason jars in just minutes.
Pick up some sea glass paint and make some sea glass jars of your very own.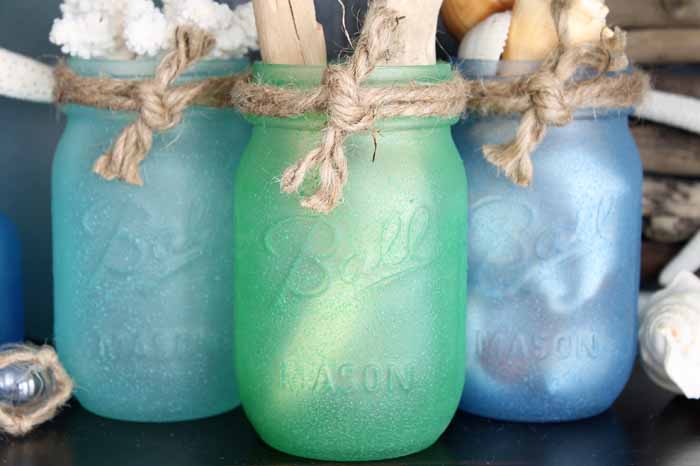 This paint would look great on some other projects as well, like the large bottle in the background of this picture or Sea Glass Wind Chimes. 😁 Give it a try because I know you will love how easy it is and the way it looks!
The very BEST part is that you only need just one coat of paint!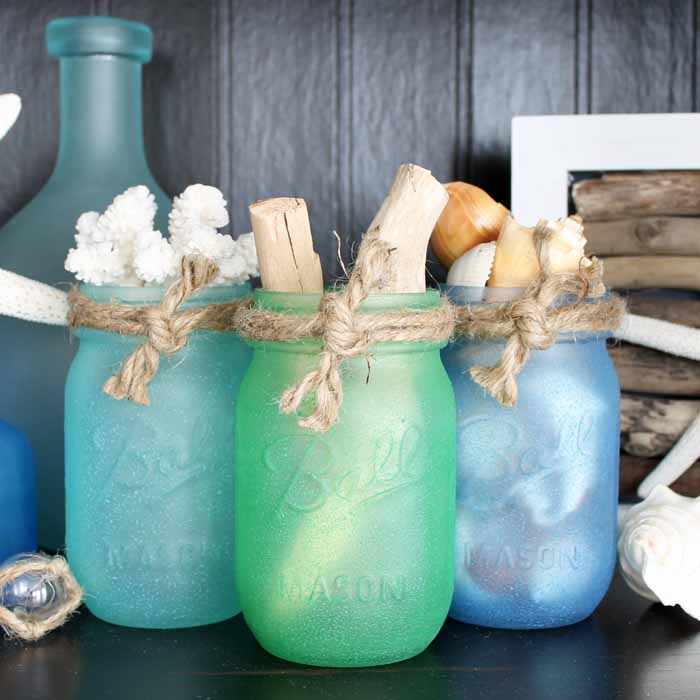 Want some more idea for crafts with jars? Try the bloggers joining in our series below!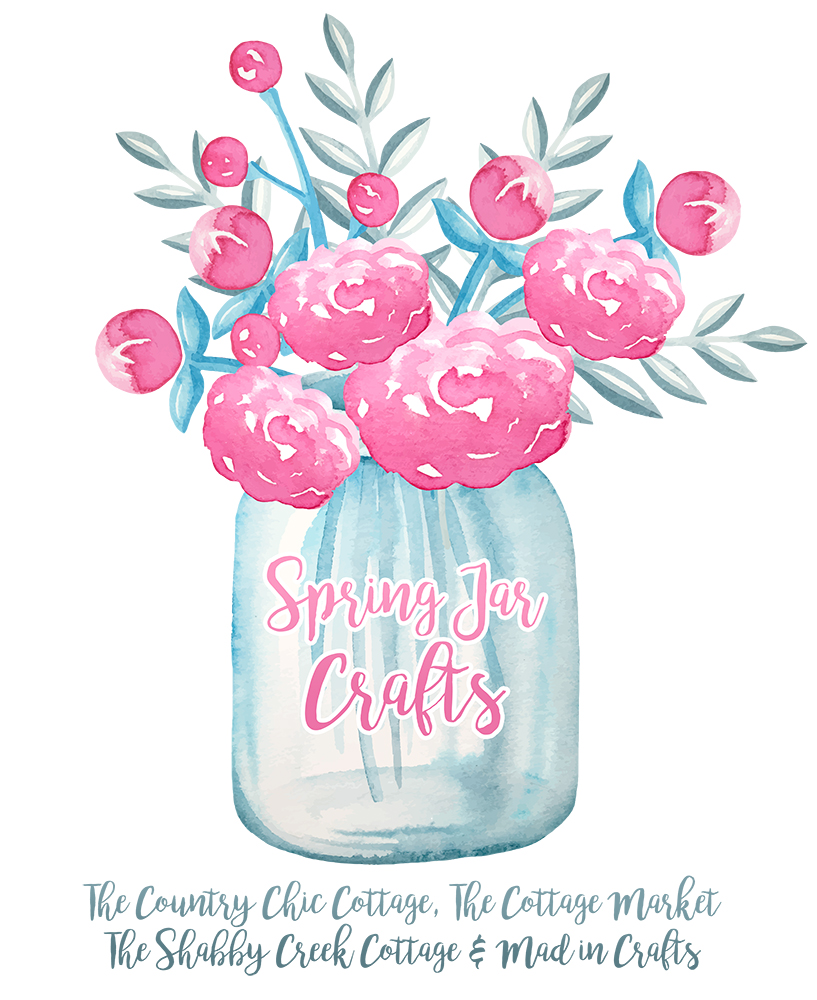 Love Painted Mason Jars? Try These Mason Jar Projects
You might also like these mason jar craft ideas. They make decorating and painting beautiful mason jars a snap!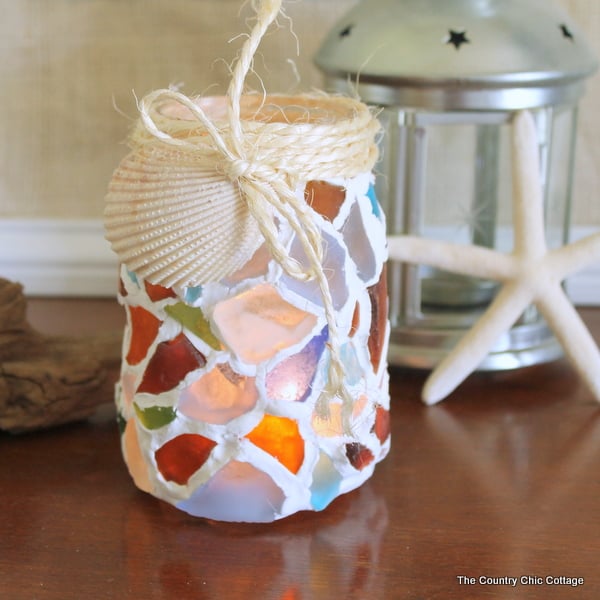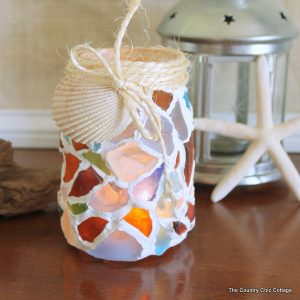 Mason Jar with Sea Glass
Add your sea glass finds to a mason jar for a gorgeous candle holder.
Read More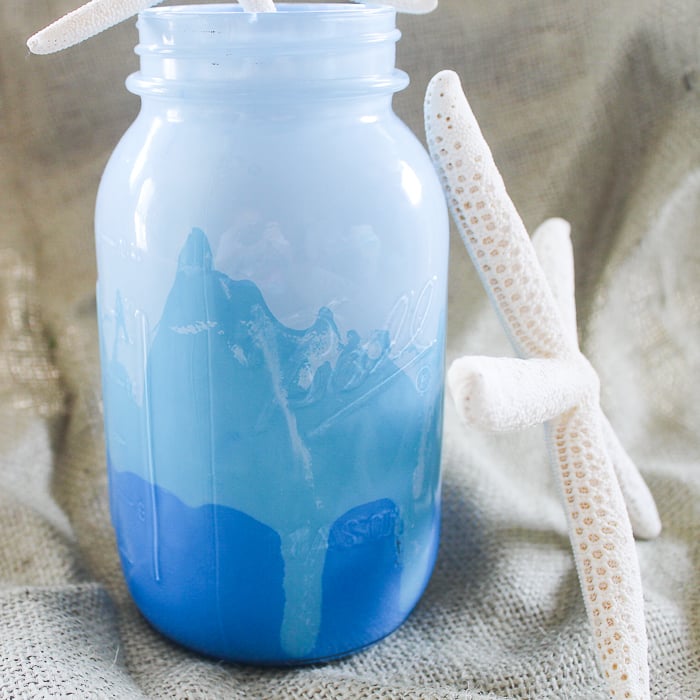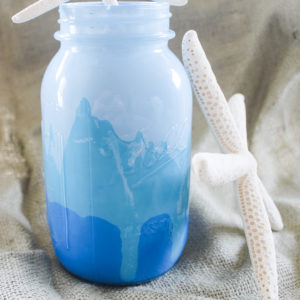 Paint Pour Mason Jars
Paint pour the inside of some jars and give them a nautical feel.
Read More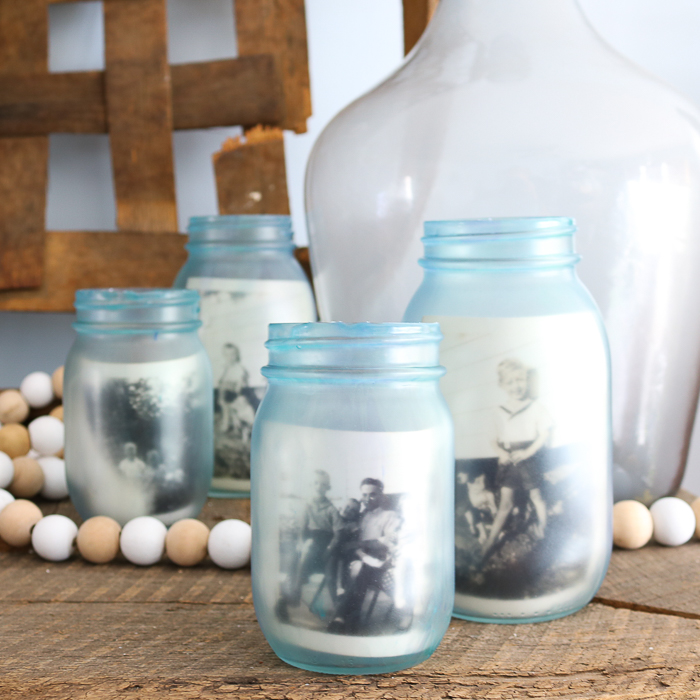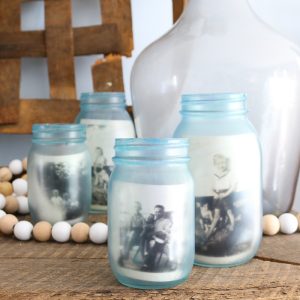 Painting Glass Jars to Look Vintage
Get that vintage look on new jars with these easy paint technique.
Read More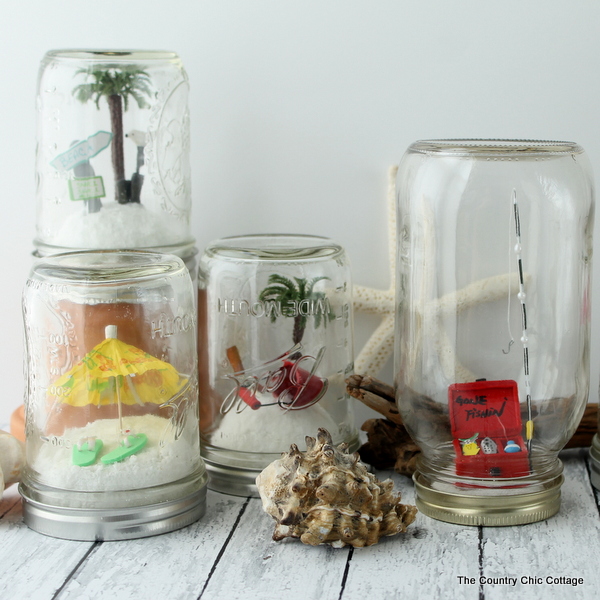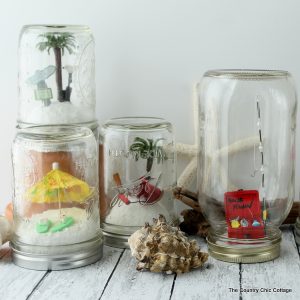 Beach Mason Jar Terrarium
Add a beach scene to a jar with these easy to follow steps.
Read More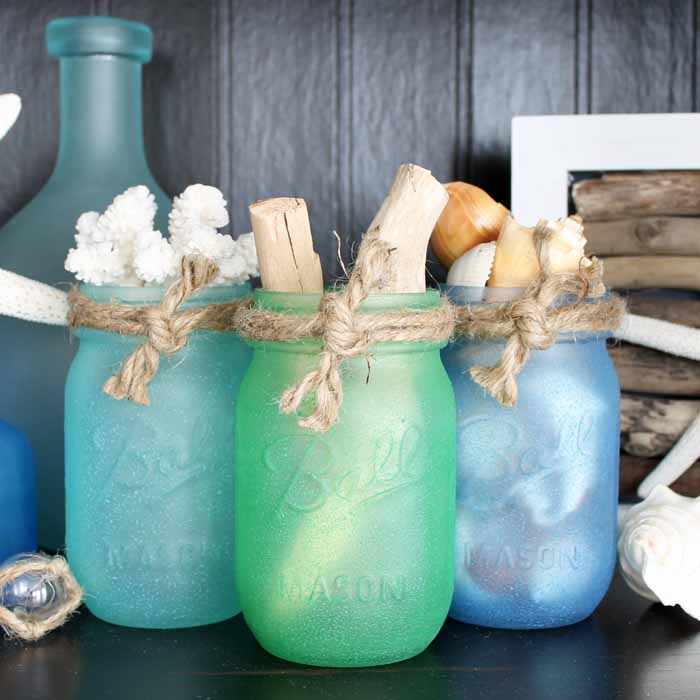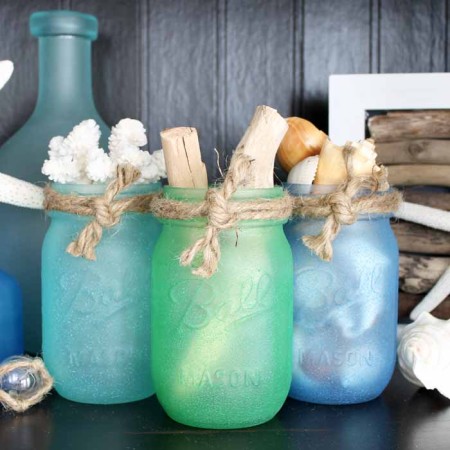 Sea Glass Painted Jars
Paint any jars to look like sea glass with this quick and simple project!
Supplies
Pint

mason jars

Sea glass paint

frosted glass paint will work as well if the sea glass paint is out of stock

Sponge pouncer brush
Instructions
Start with clean and dry sea glass painted mason jars. You can clean them with rubbing alcohol and let them dry completely. Be careful not to touch the glass surface after they are cleaned as the oils from your hands can affect your paint.

Then apply the sea glass paint with a pouncer brush. This gives you a tumbled sea glass look on your jars. You can also apply with a regular brush to get a smoother finish.

Allow your jars and paint to dry completely.

You can then tie on some rope if you want to add to the nautical feel of these jars and give them a finished look.
Tried this project?
tag us to show off your work!
A Year of Jar Crafts
Sign up for our email list to get a FREE book with an entire year of jar crafts! 12 months, 12 crafts, tons of fun!