People ask me all the time how I get everything done. I can tell you. I don't. But what I do get done usually involves a short cut. Right now it is harvest season! We have a garden every year plus people give us produce. Also, when you catch an awesome sale or clearance produce, you need to do something with it. So I freeze lots of different items. Guess what? It is easier than you think. I guarantee it! So tonight I am offering y'all
a free printable quick guide for freezing produce
. Super simple ways to freeze that fresh from the garden goodness and NOT spend tons of time doing it.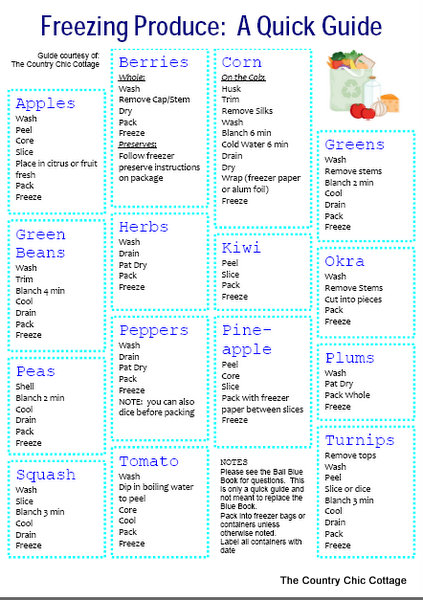 A few tips, tricks, and notes for y'all:
Buy the Ball Complete Book of Home Preserving. It is less than $14 and has everything you need to know about preserving food. I freeze and can produce and the book is indispensable. It may also be available with the Ball jars at your local Walmart. It is quite literally the bible for home preserving.
This is only a quick guide for produce that I usually freeze. There are many more things that you can freeze. Please see number 1 for how to get instructions on any produce from A to Z.
This is meant to be a quick guide that you can have handy in your kitchen. The Ball book mentioned in #1 will have all safety precautions for handling food properly. If you have any questions, please refer to the book.
Use freezer bags, special freezer containers, or other items labeled for use in your freezer to pack your produce into.
Label all your containers with what is in them and the date. You will thank me later for that tip.
Most frozen produce is only good in recipes or when cooked. Do not expect to slice your tomatoes for a sandwich. However, those frozen tomatoes will be awesome in a winter stew.
Now harvest your garden, freeze the bounty, and enjoy it all winter long! Click on the picture above or here to open up the printable guide for easy printing.
Posted at Chic and Crafty on The Frugal Girls.
Thanks for stopping by!
Angie
Weekly Newsletter
Subscribe to get our latest content by email every week!