Grab your ingredients and throw together this Halloween snack mix in just minutes. This recipe is so quick and easy. I am not even sure if calling it a recipe is appropriate. In fact, you can substitute other items into this mix if you like. Let your imagination run wild with this one! You can make this Halloween popcorn to go along with this Halloween snack mix for kids.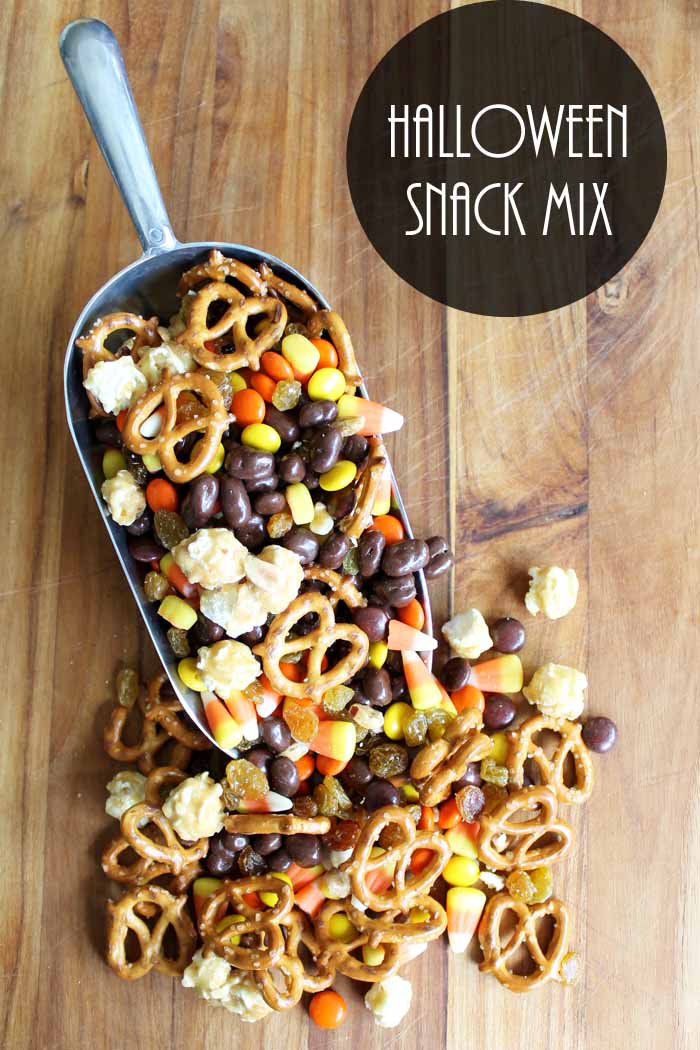 Halloween Snack Mix
This really is super easy to make. I am using my favorite ingredients but you can even substitute in your favorites. Just be sure to keep the salty and sweet mixture so there is a little of both in each bite.
Ingredients:
2 cups pretzels
8 oz package Raisinets
6 oz package Crunch n Munch
6.75 oz package candy corn
10.5 oz package Reese's Pieces
1 cup golden raisins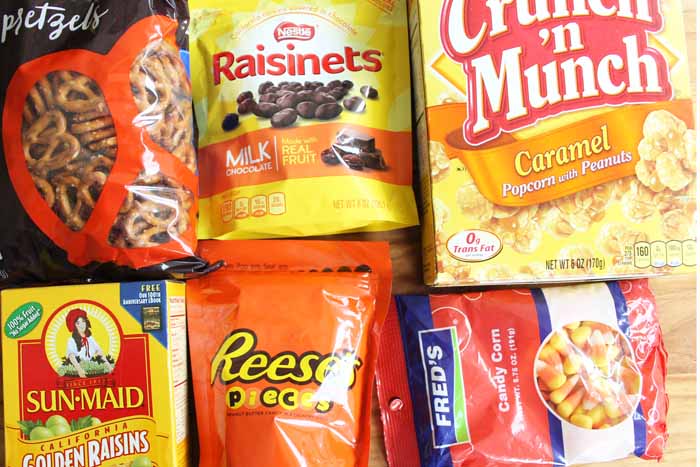 5 Minute Halloween Snack Mix
Just dump all of the ingredients into a large bowl and mix well. That is all there is! I told you this Halloween snack mix may not be able to be classified as a recipe. I love mixes like these and this one has a fun fall theme. Don't love raisins? Substitute something you love or leave them out completely. This is a mix you can customize to your tastes. Add in all of your favorites!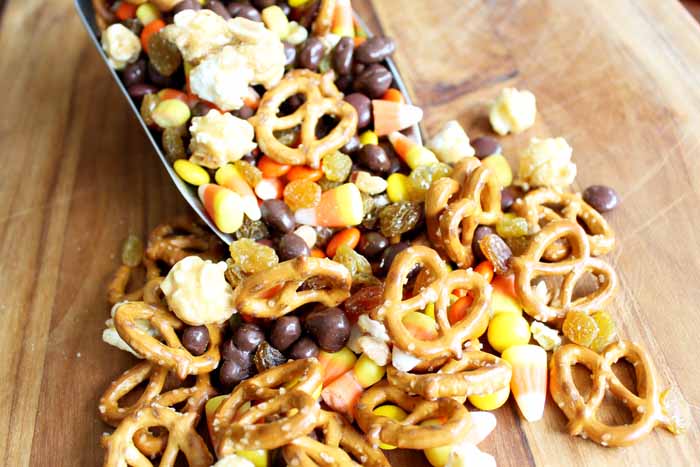 You can also add in other fall candies if you don't like my choices. There are all sorts of fall themed colors that will be hitting the store shelves soon. What will you add to your Halloween snack mix?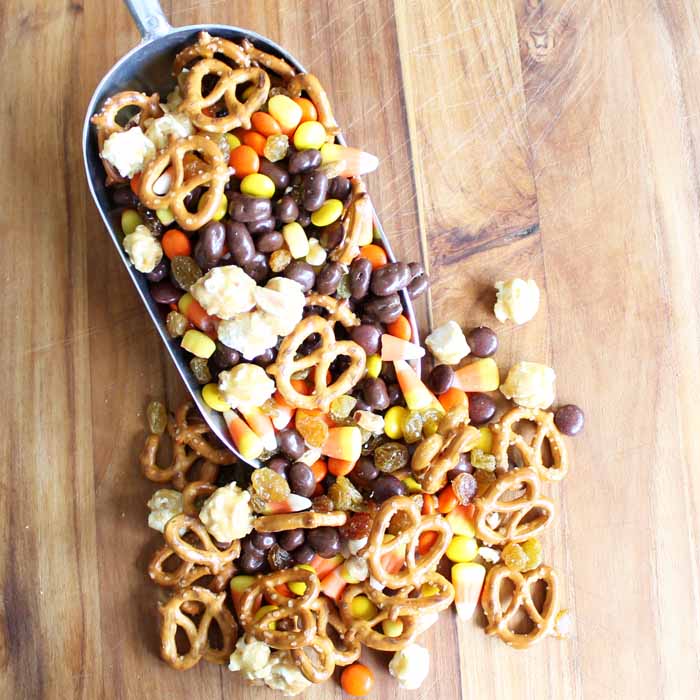 Add this to a big bowl with a scoop or package it in small zippered bags for individual treats. Either way, it is sure to be a hit with the little ones around your home this season. Even if they do pick out just the parts they love and leave the rest. Yes, that does definitely happen around here!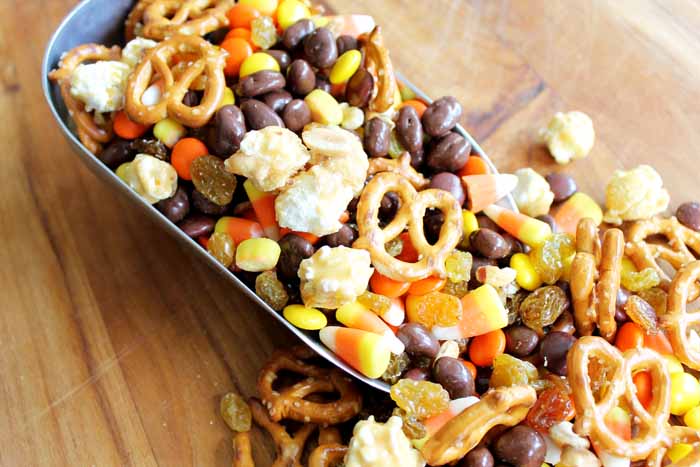 You can even add a big bag of this mix to your boo bags. Your neighbors will love the mix and it is an inexpensive addition that the entire family will love. So, grab your ingredients and whip up this Halloween snack mix!
Need to print this recipe for easy salty Halloween snacks? Try the recipe card below!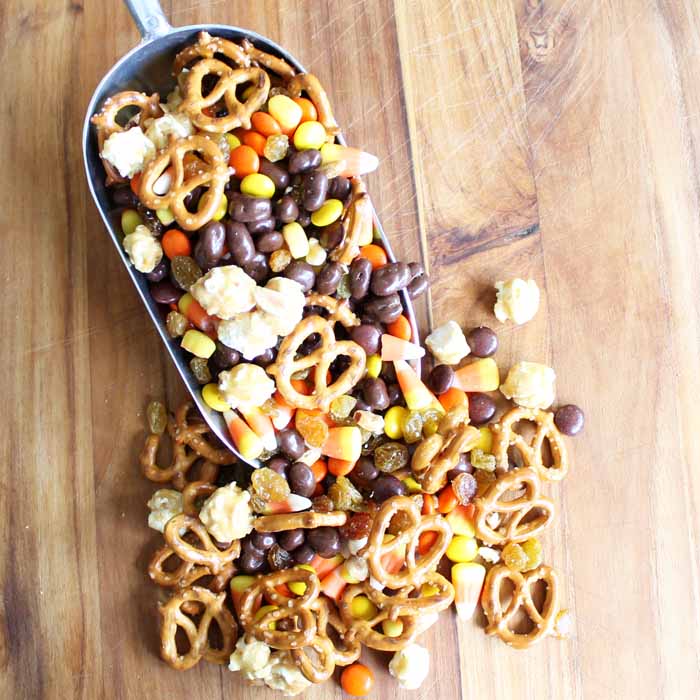 Halloween Snack Mix
This sweet Halloween snack mix is ready in just minutes and is perfect for a Halloween party! You can customize with your own favorite ingredients, but this is a reliable mix we recommend!
Ingredients
2

cups

pretzels

8

oz

package Raisinets

6

oz

package Crunch n Munch

6.75

oz

package candy corn

10.5

oz

package Reese's Pieces

1

cup

golden raisins
Instructions
Just dump all of the ingredients into a large bowl and mix well. That is all there is!
Tried this project?
tag us to show off your work!
Love this snack mix recipe for Halloween and want more? Try the links below!