Want to make your own Halloween boo bags? These are a great way to give your neighbors something for Halloween and enjoy the season. You can add your gift to a DIY Halloween mug or a bag. Jen Goode with 100 Directions is back again this month with tips to make your own boo bags! If you have not joined the boo bag tradition, what are you waiting for?
Have you joined the Boo Bag fun yet? We've been booing our neighbors and friends for years. So, today I'm going to share some tips to make your own Boo Bags. If you don't know what I'm talking about, "booing" is giving treats to friends or neighbors without telling them who gave them the treat. It's common to include a sign of some kind that is displayed at houses that have been booed, then the kids can watch as the booing spreads around the neighborhood, 2 neighbors at a time. It's fun and easy and the kids love it!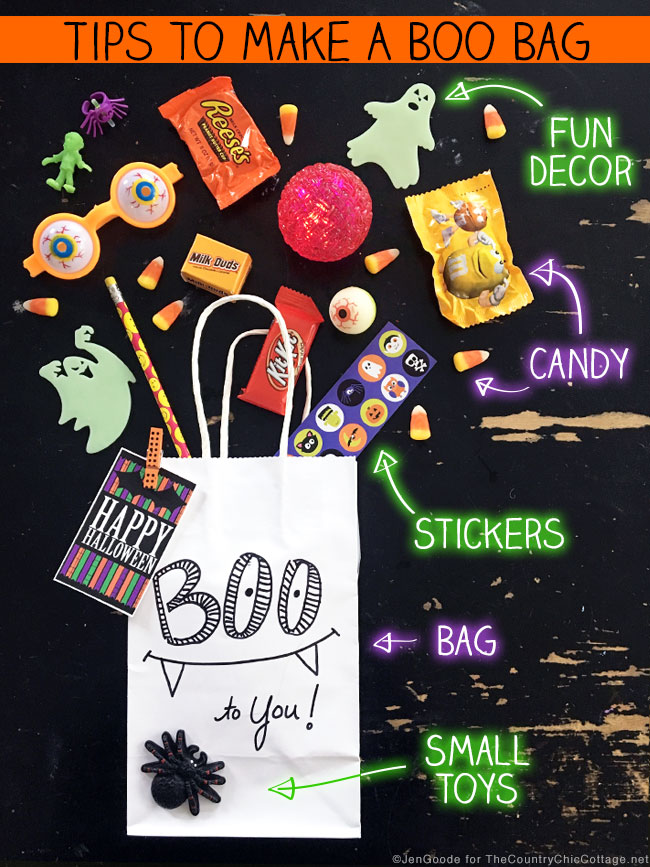 Tips to Make Your Own Halloween Boo Bags
You can customize your boo bags however you like. There are no rules or requirements for what goes into the bags. You can give the bags to whoever you want. There are a few things you need for your treats to qualify as "boo bags", the rest is up to you.
Things You Need:
Sign – the sign will get copied from friend to friend, so you need to make sure to include the sign when you boo someone. You can make your own signs or download any number of free printable "boo signs". Whoever you boo will place the sign on their door or their window so other neighbors and friends know they've already been booed.
Instructions – Make sure to include some kind of instructions with the boo treat or inside the boo bag so the recipient knows why they received the treat and how to spread the fun.
Some kind of treat – you don't even really need a "bag". We like to fill a small gift bag with a variety of candy and treats. If we are booing a family with multiple kids, I usually try to include something special for each child. The Dollar Store is a great place to find goodies to fill the bags AND my kids love the glow sticks, 10 to a package for $1, you can't go wrong!
Someone to "boo" – you can boo friends, family, neighbors. Teachers can boo each other and coworkers in the office too. There's no limit who you can boo!
More Neighbor Boo Bag Fun
You can make a ton of Halloween boo bags and start sending treats around the neighborhood. I hope you have a ton of fun booing YOUR friends!