I get questions basically daily on how to use zip files with a Cricut machine. You see, SVG and cut files from my shop and many other shops are delivered in a ZIP file format. Many people get confused when getting these types of files and don't know how to use them. Have no fear! They are easy to use and I am going to show you everything you need below!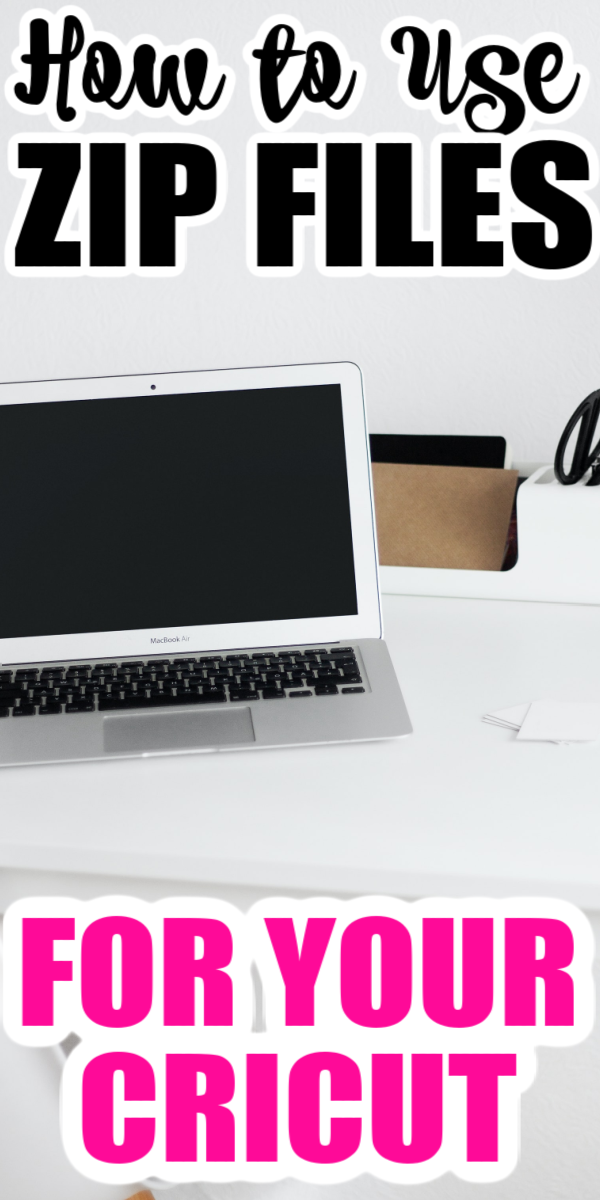 What is a zip file?
A ZIP file is a basically a folder that can contain a bunch of files. Those files are compressed or "zipped" to make them smaller for easy transmission over the internet.
Why do so many people use these for Cricut cut files?
When people sell or give away cut files, they often have a variety of file formats. For instance, my files all have DXF, SVG, PDF, PNG, and JPG formats. This is so those that have machines other than a Cricut can use them as well. So, ZIP files are an easy way to package all of those file types into one compressed file that is easily sent via email or downloaded from a website.
Why does my anti-virus flag zip files?
When you go to download a ZIP file, you may be flagged by your virus software. It will often give you a warning that you should only download ZIP files from a trusted source. This is often just a warning and not an indication of any malicious files. My ZIP files never contain any malicious or virus-containing files and can be downloaded safely. I would caution you to only download ZIP files from reputable sources.
How do you use a zip file?
So, now that you know what a ZIP file is, you need to know how to use zip files with your Cricut. First, you will need to download the file onto your computer or device. Then you can follow the instructions below to remove the files from the ZIP folder. The files must be removed in order to upload them to your Cricut machine. Remember that when you download files to your device they usually go to a default folder where you can find them later.
Please note that you may have trouble downloading ANY files to your mobile device with a link. You may have to use a computer to use your files if the below does not work for you.
Using a zip file on a Windows computer
Open up the folder with your downloads in file explorer or by opening my computer. Right-click on the zip file and click unzip or extract. Be sure to pick an extraction location that you can find later when uploading to your Cricut.
Using a zip file on a MAC
Open the folder with your downloads and double click the file. This will automatically unzip the file and make a regular file in the same folder. You may want to move this file to a place where you can find it later.
Using a zip file on an Android phone or tablet
You should be able to click the file and click extract to unzip. If this doesn't work, you may have to update to the latest version of your operating system.
Using a zip file on an iOS device
If you can, upgrade to iOS 11 or higher as zip files are much easier to work with in these later versions. If you cannot upgrade, I recommend the "iZip" app from the app store. This should be FREE and you can use it on older devices. Follow all instructions in the app to use your files. On iOS 11 and higher, find your zip file in your folders then you can click "Preview Contents" to view the items inside the ZIP file. Just save them individually to your device for use with your Cricut.
Zip File FAQ
Now that you know how to use zip files, you might still have a few questions that come up. Here are a few of the most common questions I get and their answers. Don't see an answer to your question? Feel free to ask me anything in the comment section below!
Do you have to buy software to work with zip files?
No! You should never have to buy anything to work with ZIP files. If your computer is asking you to purchase WinZip, go to add/remove programs and remove WinZip from your computer. This should fix the issue and the above instructions for PCs should work.
Opening a Zip versus Extracting the Files
You can double click a zip file on a Windows computer and the file will open. This shows you the contents of the folder but it DOES NOT extract the file. You will still need to extract those files onto your computer in order to upload them to your Cricut machine.
I am still having issues locating the SVG file?
Once you unzip your file, you should see a variety of file types that were included. I have several people that email me and still cannot find their SVG file. That is because your computer cannot recognize an SVG file. So it appears to you as an HTML file and you will NOT be able to open it. It will, however, upload fine to your Cricut machine.
Uploading Files to Your Cricut Machine
Now that you have your files and are an expert on zip files, it is time to get that information into your Cricut and cut something! You can see how to upload files on various devices here.
I hope this guide on how to use zip files helps you when using files from this site. As always, you can comment below or email me with any questions or concerns.