I thought today we would talk about what is an SVG file. I have been sharing them here for a few months now and want to make sure y'all know how to use them. If you want to get all of our SVG files, be sure to get on our free SVG files email list here! So, what is an SVG cut file? These scalable vector graphics are the best files for your Cricut machine. Read on to learn more!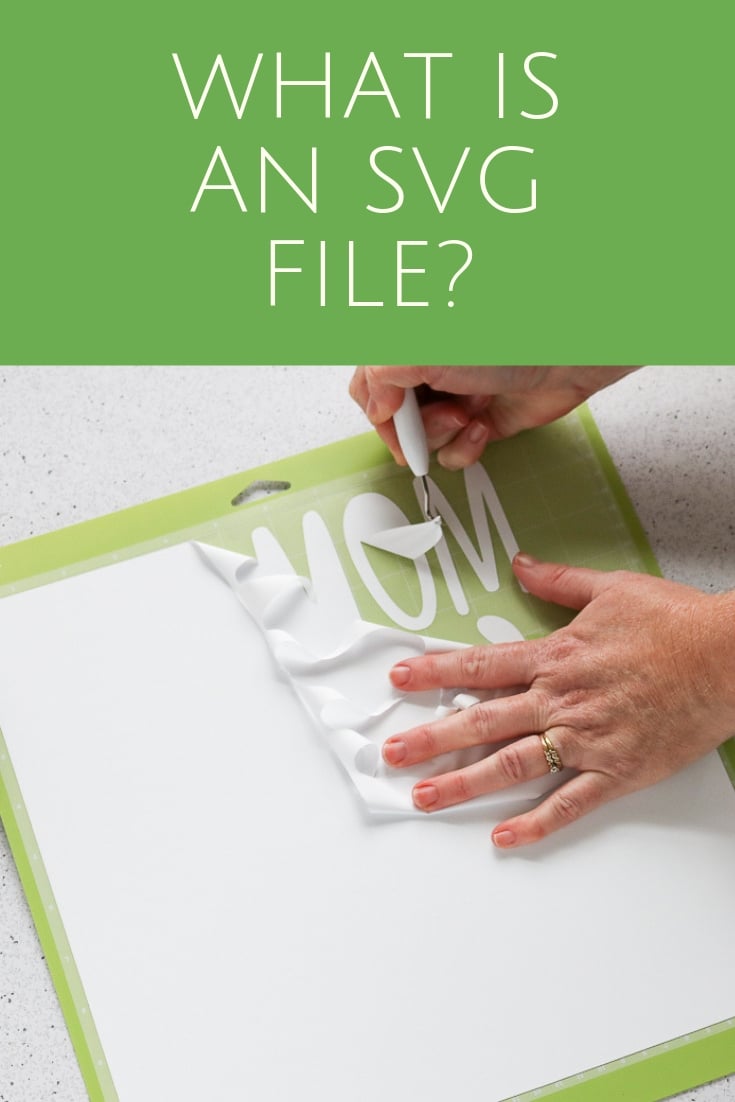 What is an SVG file?
The letters SVG stand for scalable vector graphic. An SVG file is a vector graphic format that is nothing more than simple plain text files that describe lines, curves, shapes, colors, and text. An SVG is extremely versatile when it comes to being read by software like Cricut Design Space and Silhouette Studio.
An SVG file uses shapes, numbers, and coordinates to render graphics. Therefore, it does not rely on pixels like a photo file (JPG or PNG). This makes it resolution-independent and infinitely scalable. What does that mean? Once you import the SVG format into a software program, you can make it whatever size you like without getting any pixelation or losing resolution. Now that is like magic! An SVG image is clear and crisp at literally any size.
Another benefit to an SVG cut file is the fact that they are small in size. This makes them great for downloads as well as easy to store electronically. It just keeps getting better and better right? All of these factors make the SVG file format perfect for cut files to use on your electronic cutting machine.
Using an SVG Image with a Cutting Machine
So, we have discussed what is an SVG file, now how do you use them with your cutting machine. You will need to download the SVG cut file to your computer then upload to the software used for your machine. You can find instructions for Cricut and Silhouette here:
You can find instructions for other machines and software online. I would also like to caution you to make sure you read all the license information that comes with any files you use. You can see more about SVG licensing here.
How to Make an SVG File
Programs like Adobe Illustrator and Inkscape can turn a file into an SVG. You don't necessarily have to do this to cut your file as JPG and PNG files are able to be uploaded to your Cricut machine. However, if you are looking to make SVG files to share or even to sell, you may need some instructions for making them. You can see more about the course I recommend here.
You can also turn any picture into an SVG file for a more unique look. Take that cute image of your puppy and turn it into a series of cut lines in minutes. I am sharing the best programs for converting to an SVG here.
How to View SVG Files on Your Device
The next most common issue I hear from people is that they are unable to view SVG files on their computers. Most of the time there is no program associated with SVG files so they appear as HTML files when you look at them in something like your file explorer. This makes it seem as though they will open in Internet Explorer or even Chrome. However, they will not open this way. I actually have a hack for viewing SVG files on a PC here that might make it easier for you to see what you have.
How to Get SVG Files for Free
The versatile SVG file format is perfect for all of your crafting needs. Did you know that you can get them for free from several sources? Try our links below for just a few of the freebies you can use on your cutting machine.
These are just a few of the places where free SVG cut files are available. Once you know what is an SVG cut file, you will want to download as many as possible to use when crafting. You can also try our post all out the best free SVG sites.
What is an SVG bundle?
Now that you know how great SVG files can be, you might be ready to get some bundles! What is an SVG bundle? Makers and sellers of SVG files sometimes bundle together SVG cut files to create deals. You can often get these bundles for a fraction of the cost of buying all of the SVG files individually. Want a few places to buy some bundles? Try the links below!
You will soon find your favorite sources for bundles like these. Be sure to sign up to get updates when the bundle sales go live on those sites. They are often sold for a short period of time or in limited quantities. So get 'em while they last!
So, what is an SVG file? In short, it is a file that is used to create projects of any size that are clear and crisp. Be sure to try an SVG cut file on your Cricut or Silhouette machine the next time you have a project you want to create. You might also consider an SVG bundle to save some money on those paid files!
Have an SVG and need to divide it into layers in Cricut Design Space? See how to do that here!
Need Help Organizing Your SVG Files?
Are you overwhelmed with the number of files on your computer? SVG (or digital cut) files can take up a ton of space, and it can be so hard to find exactly what you are looking for. That is where Cut File Clean Up comes in! The Cut File Clean-Up system ends the frustration of organizing your cut files so that you can find what you need and get to the best part of crafting—actually making your project.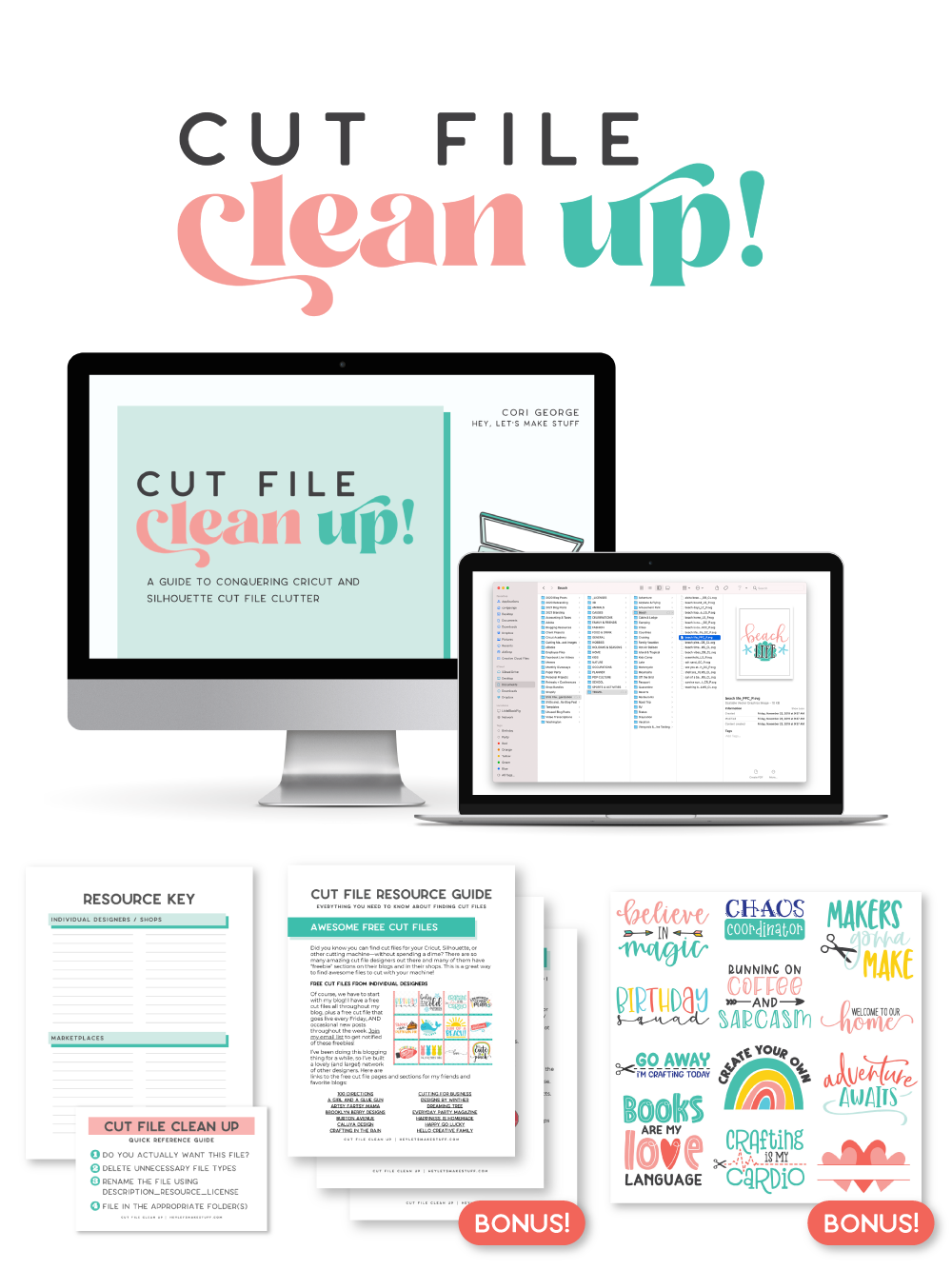 The best part is that you can get it for a deal right now with great bonuses. And yes those bonuses include even more digital cut files for your crafting. You can't get enough of those right? Grab it now.
New to Cricut?
Sign up for our email list to download the Beginner's Guide to Cricut Design Space for FREE today!
Sign up to get the guide emailed to you!