A good makeup organizer is hard to come by. We have an idea for you today that will only take minutes to pull together and will keep you organized in the bathroom! Grab some mason jars and get started on this fun project right now. You will have a make up organizer in minutes and be ready to clean out that bathroom drawer into some cute and functional storage. Do you also want to win your own Silhouette? There are details on how to do that at the bottom of this post as well!
To make this make up organizer you will need:
Some links may be affiliate links which means a portion of your purchase will go to support this site.
Mason jars (I love these smooth sided ones I found at the Dollar Tree)
Silhouette (or other cutting machine)
Rice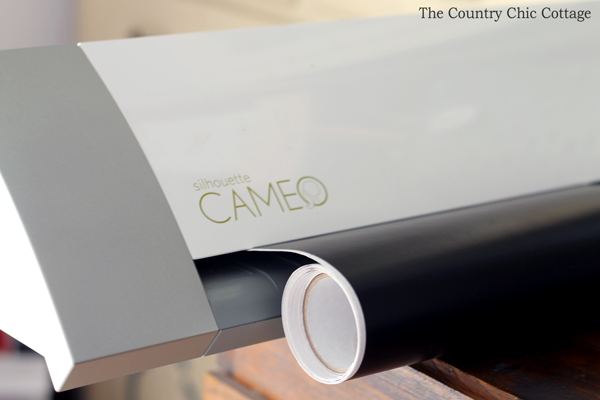 Download the file to your computer and use your Silhouette software to trace the images provided. Cut the file from the black vinyl using your Silhouette. Remove the excess surrounding the images as well as any bits in the middle as shown below.
Use transfer paper or just carefully lift off the vinyl and apply it to clean glass jars. One tip is to use rubbing alcohol to clean the jars before applying anything to them. Press down well on all edges of the vinyl to make sure everything is on there!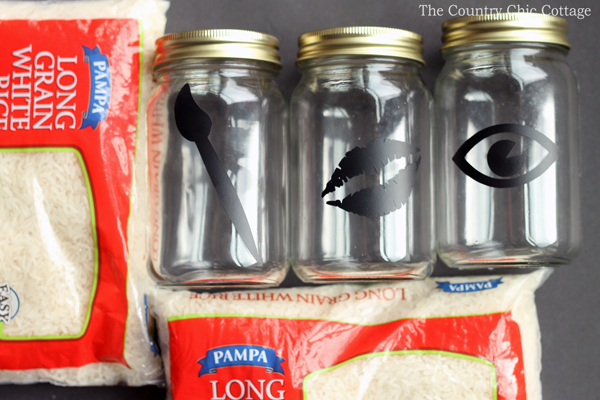 Fill the jars with rice almost to the necks. The rice will rise some once you add in your make up. Your make up organizer is now complete and just needs a few pieces of makeup and some brushes!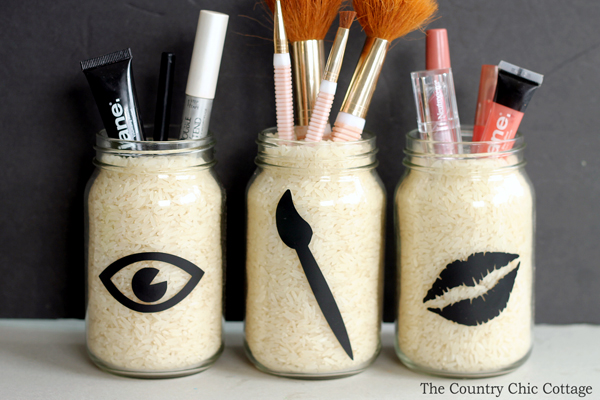 You can set this make up organizer on your bathroom cabinet to have everything within easy reach and ready for you to use each day. Don't like the idea of using rice? Try some small white beads or clear glass marbles. Either one would serve the same purpose and be equally as pretty! The rice is obviously the budget friendly choice for this make up organizer however!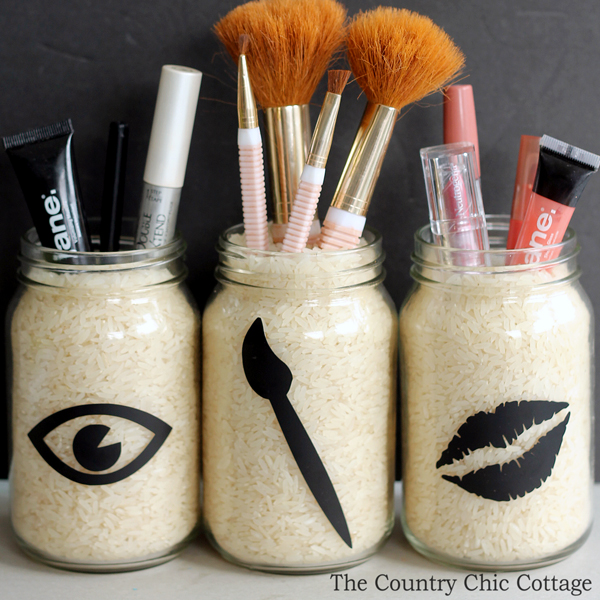 Ready to enter to win your own Silhouette? The giveaway is happening on Instagram and will run until February 10, 2016. Click here to head to my account and click on the picture! I have joined with a group of bloggers to bring you this great prize and they have each created a great project with their Silhouette as well. So if you want to see what a Silhouette can do (besides make a make up organizer), click around on the links below!

Pocketful of Posies – Sultry and Saucy One of a Kind DIY Dip Cups.
Hobnail House – Silhouette Craft Blog Hop: Cut Vinyl Art Upcycle
In The Loop – How to Create a Silhouette Using the Silhouette Cameo
Craving Some Creativity – Silhouette Project Challenge: Distressed Laundry Room Sign
DIY Passion – Cheeky DIY Tote Bags that will Make You Smile
Domestic Abiliy – Paper Boxwood Wreath
Our House Now A Home – A Silhouette Giveaway and Creating New Aall Art
My Life From Home – Silhouette Challenge: What's Cooking? Recipe Holder
Holy Craft – How to Use a Photograph to Make a Custom T-Shirt with Your Silhouette
Knock it Off Crafts –
DIY Otomi Coasters using a Silhouette Machine and Silhouette Giveaway!
One Project Closer – DIY Princess Party Decorations
Dream Design DIY – Chalkboard Workout Calendar and Silhouette Giveaway
The Country Chic Cottage – Makeup Organizer
Refresh Living – Custom Word Throw Pillows with Vintage Fabric
The Deans List – Scalloped Milk Glass for Valentine's Day
Tried & True – "Life Is Good" Bicycle Lover's Tee
Tastefully Frugal – Valentine's Day/St. Patrick's Day Reversible Sign
Declutter Your Home in 31 Days!
Clear the clutter and organize your home with our daily emails! Every day for a month we will send you a prompt to declutter! Sign up for our email list below to get started.