Make a DIY toothbrush holder to complete your bathroom farmhouse decor. It's an easy project anyone can do and will add that perfect final touch.
If you've been hanging around this site for any length of time, you probably have some idea of how much I LOVE working with mason jars. They're perfect for nearly every type of project!
So, what else can I possibly make with a mason jar?
How about a mason jar toothbrush holder? The classic mason jar is so versatile, and it's the ideal item for this project.
It wasn't long ago that I remodeled one of our bathrooms and gave it a wonderfully rustic vibe. In addition to this DIY toothbrush holder, I made a mason jar bathroom organizer. They are the perfect duo for a farmhouse-style bathroom you will love!
Spoiler alert: this mason jar toothbrush holder is so quick and easy to make that it's a bit of a stretch to call this post a tutorial!
Note: if you want more bathroom ideas, check out our DIY Mason Jar Bathroom Set, If It's Yellow Let it Mellow Printable Bathroom Art, and Bathroom Cabinet and Drawer Organization Ideas.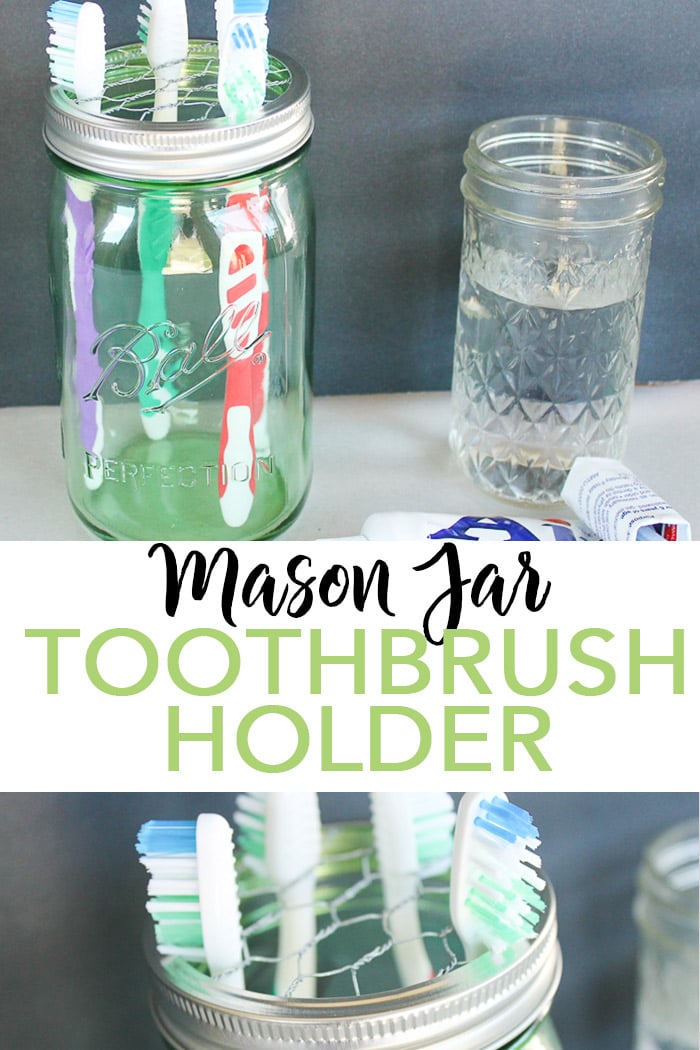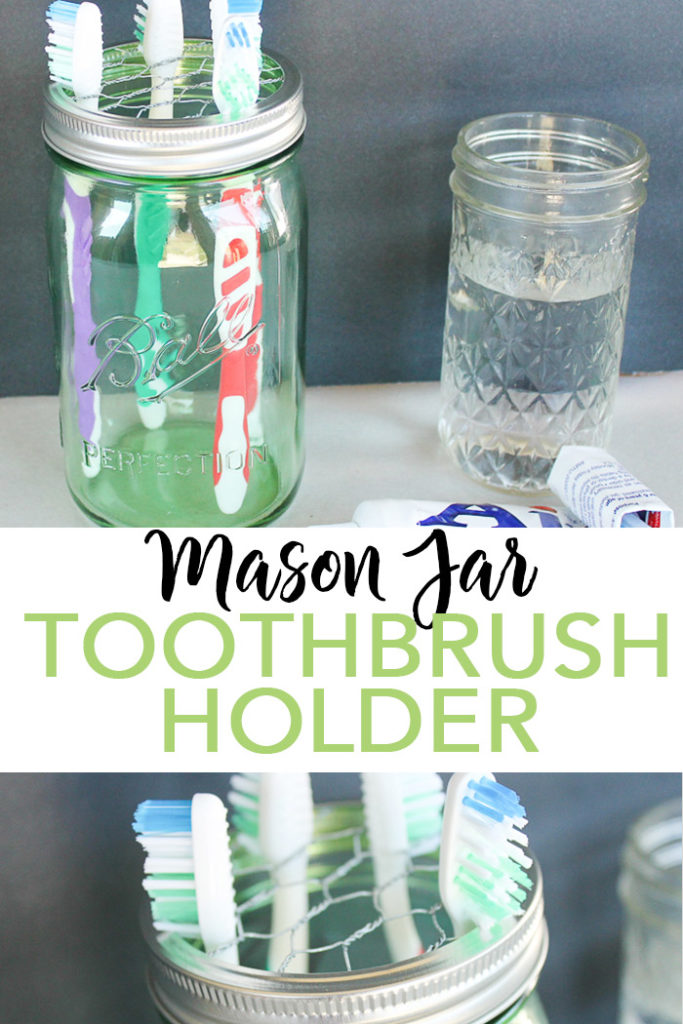 How To Make A Mason Jar Toothbrush Holder
You'll only need a handful of supplies and a few minutes to accomplish this project.
Supplies Needed
Here's everything you need to gather for this project – you only need 3 things!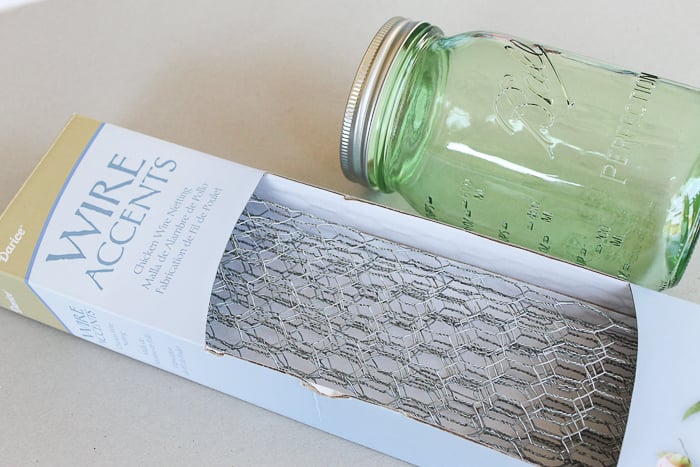 Video Tutorial
Calling all video watchers! If you want to see how to make this project in action, I made a short video for you. Check it out.
Instructions For Making A Toothbrush Holder With A Mason Jar
Just follow these step-by-step directions, and in (practically) no time at all, you'll have a DIY toothbrush holder ready for your rustic bathroom!
Step 1
Use the method of your choice to cut the chicken wire to the same size as the round lid portion of the two-piece jar cap.
You can use a strong pair of scissors, or I use these multipurpose scissors because they work perfectly without damaging the blades of the scissors.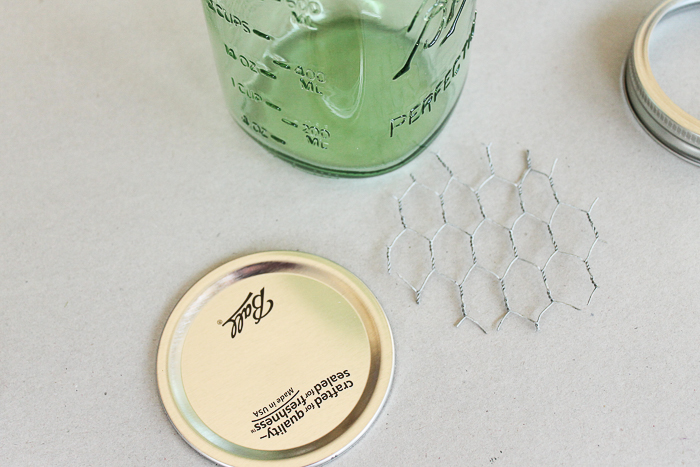 Step 2
Add the chicken wire to the band part of the lid and screw it on top of your mason jar as shown.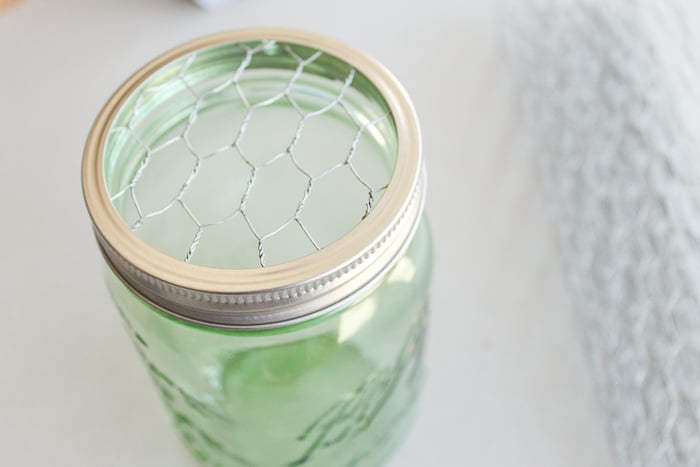 Step 3
Add in your toothbrushes, and you are ready to add this to your bathroom.
This toothbrush holder is SO much better than a plain old toothbrush holder, don't you think?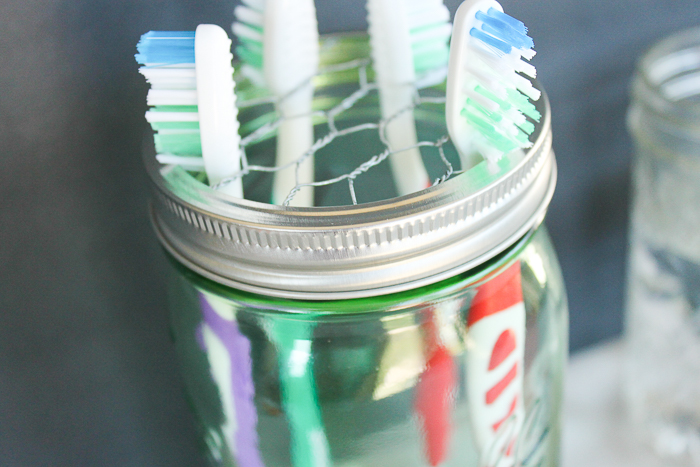 FAQs
Here are a couple of questions that I see readers ask about making DIY toothbrush holders with this method. If you have a question, please check to see if I've already answered it below. Don't see your question? Leave it for me in the comments!
Can I make this project with material other than chicken wire?
Yes! If you don't want to cut the chicken wire, there's a great new mason jar top that will hold toothbrushes. Either way works, it's just a matter of personal preference.
Will this project work with a pint jar?
Yes, you can make a toothbrush holder with a pint jar.
I am not crazy about the toothbrushes being able to touch each other, so my personal preference is to use the quart jar for our home.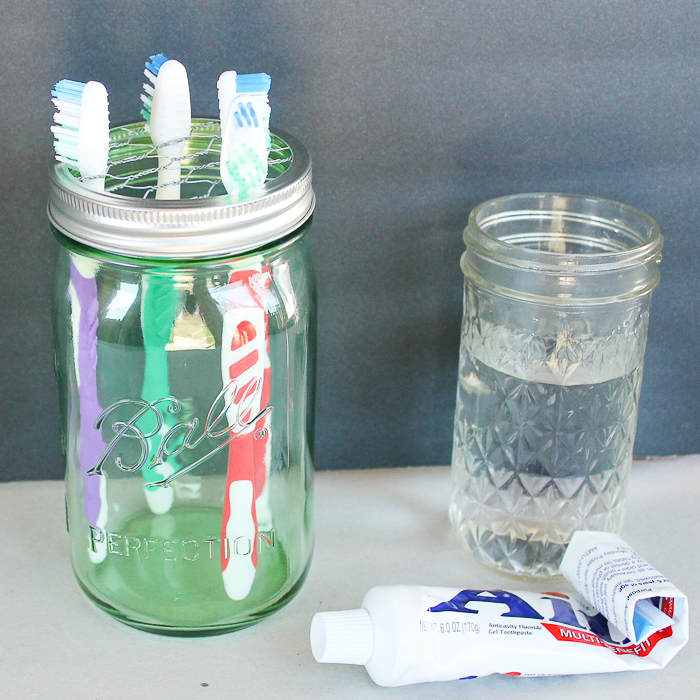 How can I personalize this project?
There are several ways you can do this. The first (and biggest) way you can personalize these mason jar toothbrush holders is to change the color of your mason jar. You can purchase tinted jars, or you could paint the jars in a way similar to what I did for this Mason Jar Soap Dispenser.
The other way to customize this project is to choose the type of lid/toothbrush holder that you want. I used chicken wire, but you can choose from a couple of different styles (and colors) of specialty lids.
By taking this basic method and customizing it for your home, you can make something that will look incredible with your decor.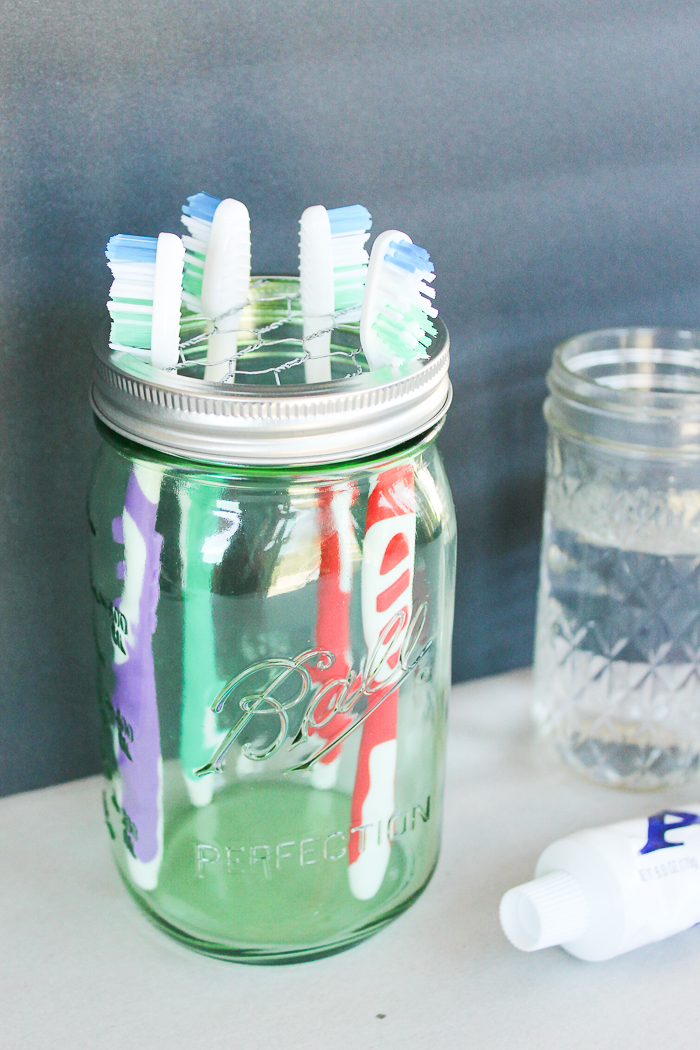 More Great Mason Jar Projects
If you love this jar toothbrush holder and want more great ideas, try the links below!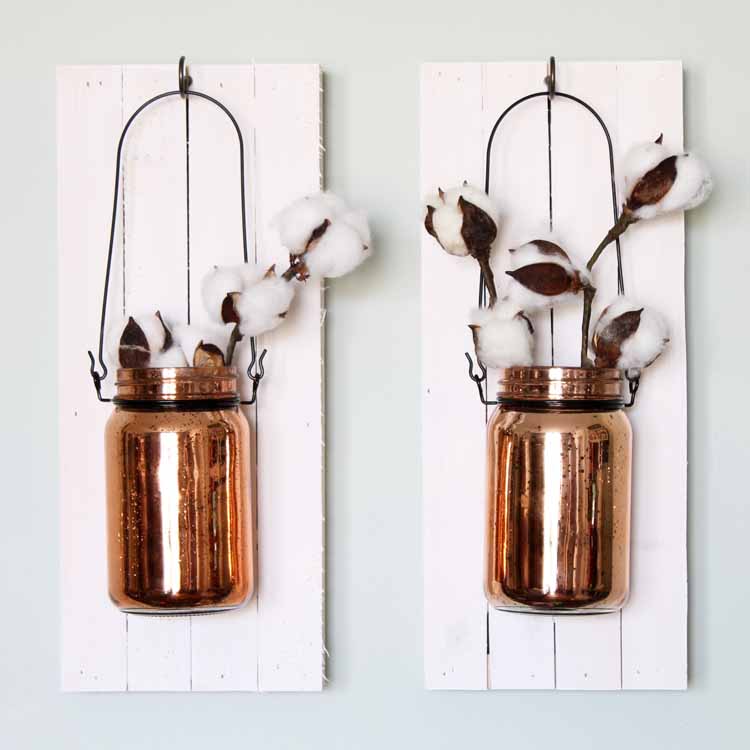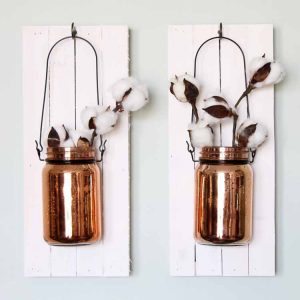 DIY Mason Jar Wall Decor
Add some rustic chic to your walls with a hanging mason jar sconce! An easy project that will make a big impact on your home's decor. With the mason jar anchored to a wood pallet box, you can make one or many of these to display photos, flowers, or twinkle lights.
Read More
DIY Mason Jar Vanity Light
How to inexpensively transform a basic vanity bathroom light into a farmhouse style vanity light using mason jars and spray paint.
Read More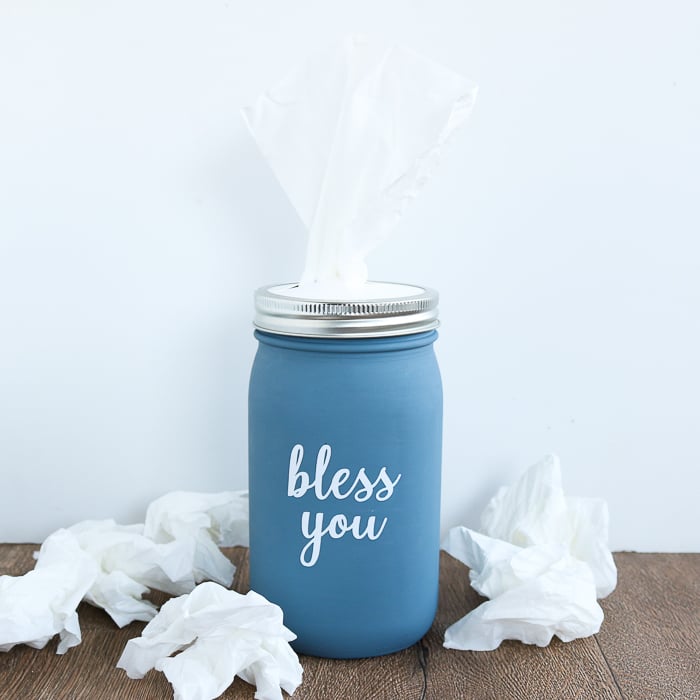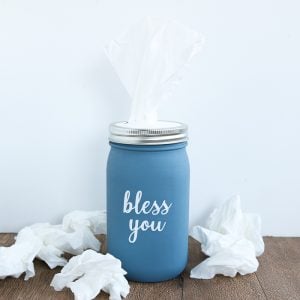 How to Make a Mason Jar Tissue Holder
This simple mason jar tissue holder is a quick craft that's great as a gift, or make it for your own home! With just a few supplies, you have a cute customizable tissue holder for the bathroom, kitchen, or your office!
Read More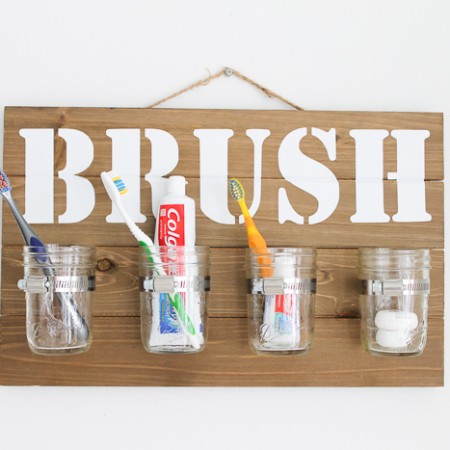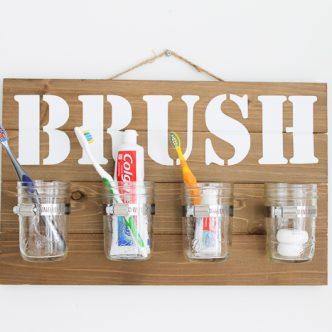 Mason Jar Bathroom Organizer Wall Decor
This fun and functional bathroom organizer is a great way to add some mason jar wall decor to your bathroom!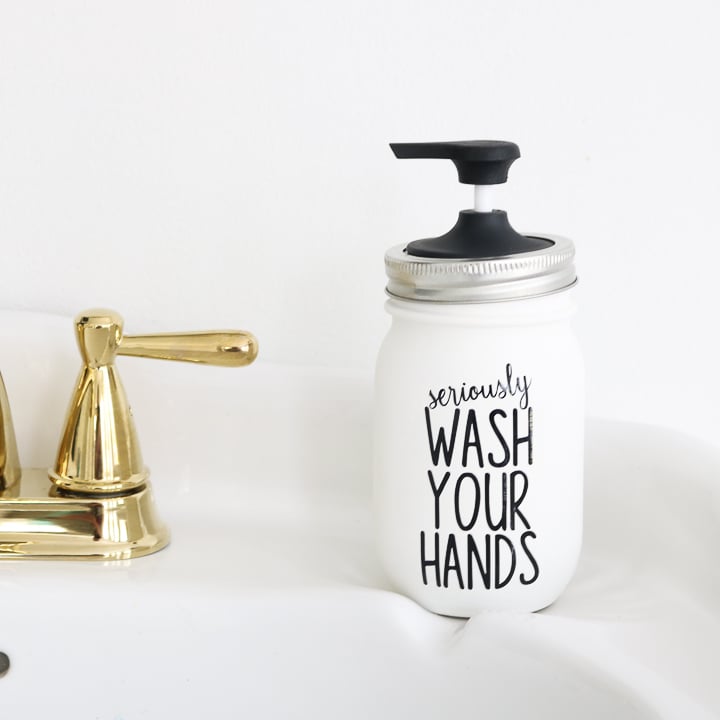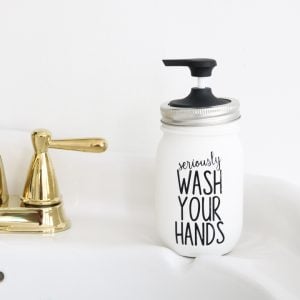 DIY Mason Jar Soap Dispenser
Seriously folks… wash your hands! Remind guests to wash up with this easy DIY mason jar soap dispenser. This tutorial even includes a free Rae Dunn inspired SVG file to add to your project.
Read More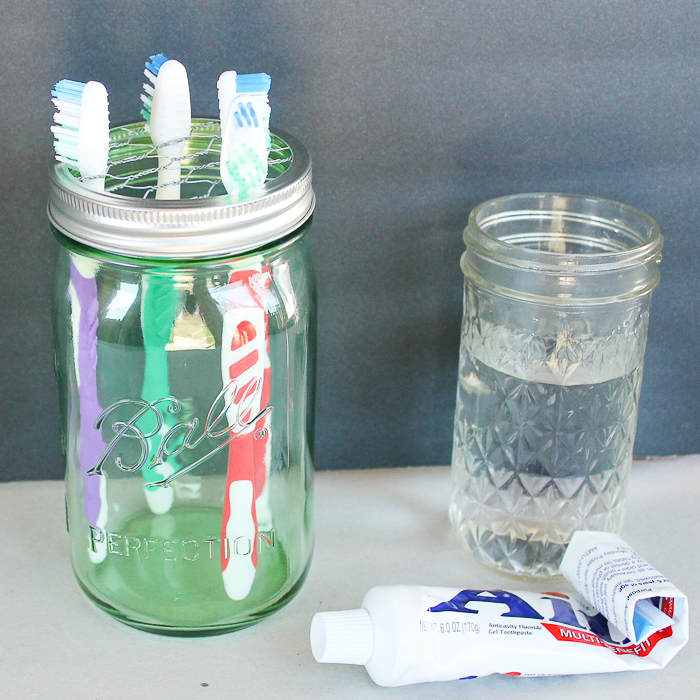 DIY Mason Jar Toothbrush Holder
Make a rustic DIY toothbrush holder in just minutes with this tutorial.
Instructions
Cut the chicken wire to the same size as the round lid portion of the jar cap.

Add the chicken wire to the band part of the lid. Screw the lid on top of your mason jar.

Add your new toothbrush holder to your bathroom and insert your toothbrushes into it..
Tried this project?
tag us to show off your work!
A Year of Jar Crafts
Sign up for our email list to get a FREE book with an entire year of jar crafts! 12 months, 12 crafts, tons of fun!