Painting glass jars is an easy craft project with big results. Today we are going to talk about making frosted glass jars for a vintage look perfect for your farmhouse style home. These jars will look just like antiques but actually, you can make them in a few simple steps. I love craft projects that are easy and have a big impact! So, y'all follow along below then pick up the supplies you need for painting glass jars for yourself.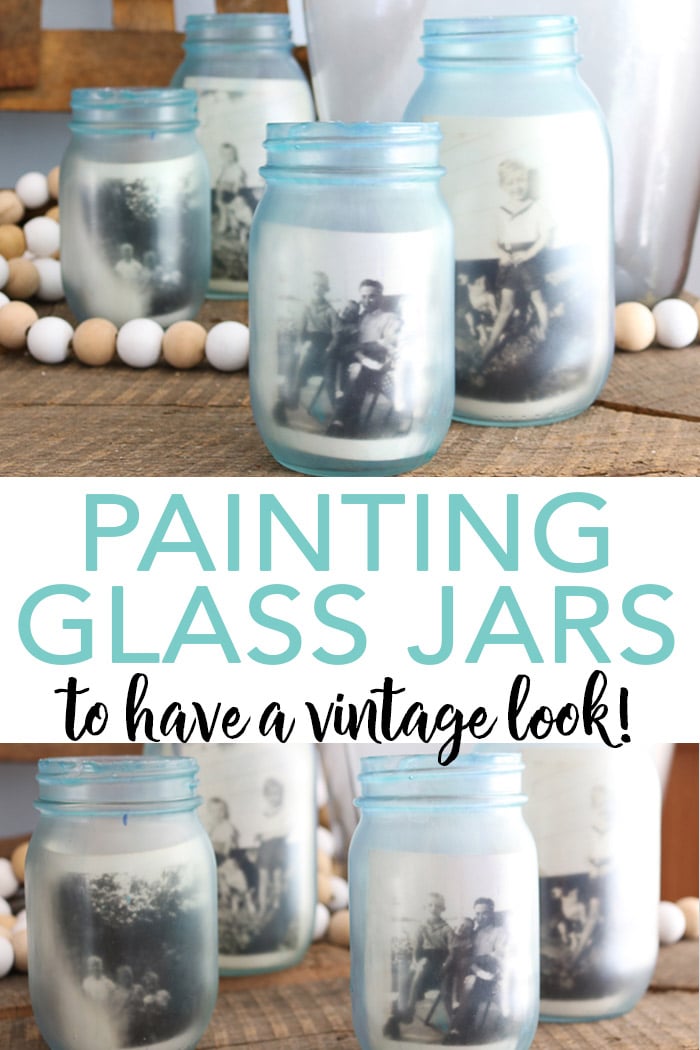 Supplies for painting glass jars:
Remember that some links below may be affiliate links which means that you do not pay anymore, however, a small commission will go to this site.
Mason jars in various sizes (I used the smooth sided version)
Frosted glass paint in sapphire, turquoise, and Aegean sea
Disposable cups
Cardboard
Black and white or color photos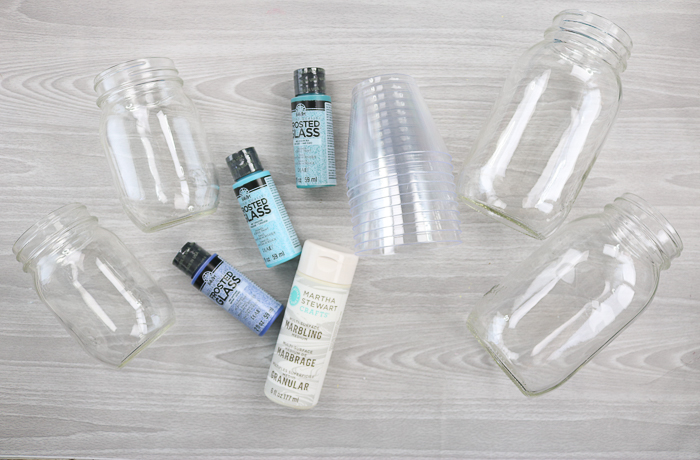 Painting Jars Video
Want to see just how to paint these jars? I have a great video for you below!
Can't watch or missed some of the steps? Try the instructions below!
How to paint frosted glass jars:
Mix the marbling medium with the paint in disposable cups. Mix 2 parts marbling medium to 1 part paint. This is NOT what the instructions on the bottle say to do but I find this works better for this project.
Stir each color well.
Turn the mason jar upside down on another plastic cup. Set on cardboard or some other disposable surface as this project is super messy.
Use your craft stick to drip the paint down the jars. There is no method to this part of the project. You just want to get a wide variety of the colors on each jar and have complete coverage. You can pick the jar up or leave it upside down. Whatever works best for you! You can also use your stir stick to push the paint around to cover any gaps.
Once completely covered, turn the jar upside down and allow to dry overnight.
Then remove from the cup and clean up the dried paint from the top edge if needed.
Painting glass jars to give them a vintage look has never been easier! Just add in your pictures and display around your home.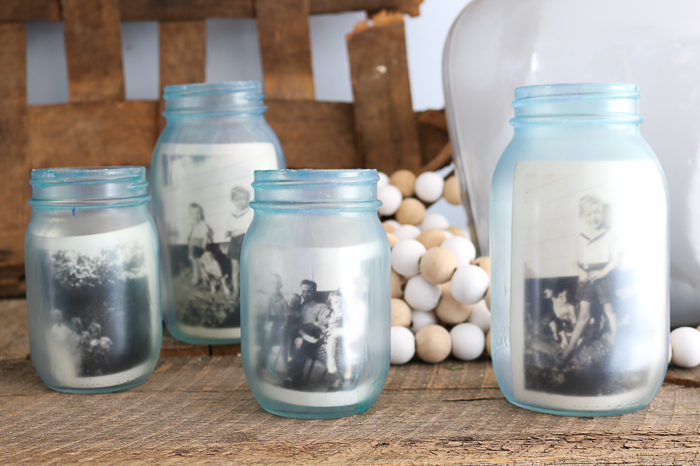 If you love all things farmhouse style, these frosted glass mason jars are definitely for you!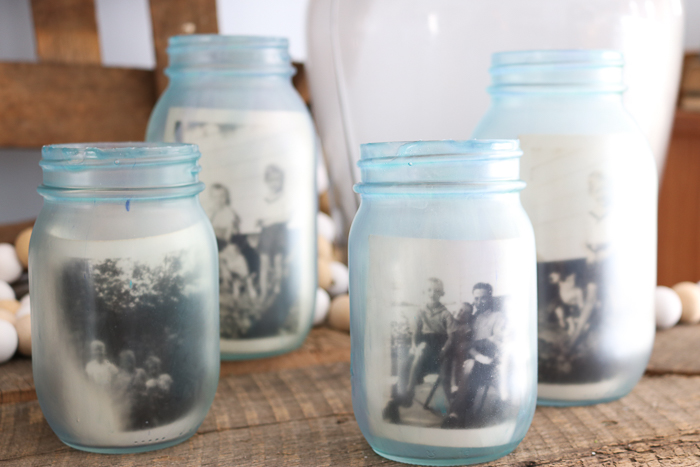 I love them with black and white photos inside, but you can add candles, wood beads, or even flowers.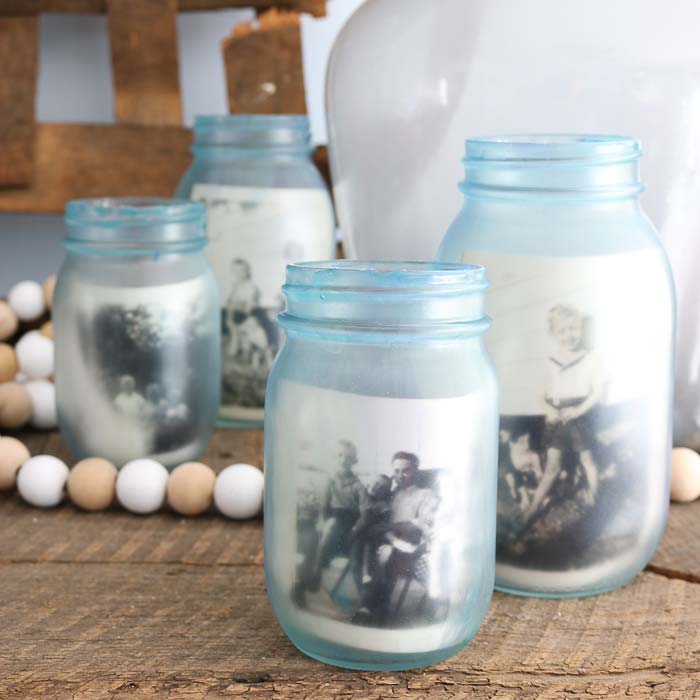 Everyone will assume you found a killer deal on some gorgeous vintage jars. You don't even have to tell them they are brand new and that you made them yourself!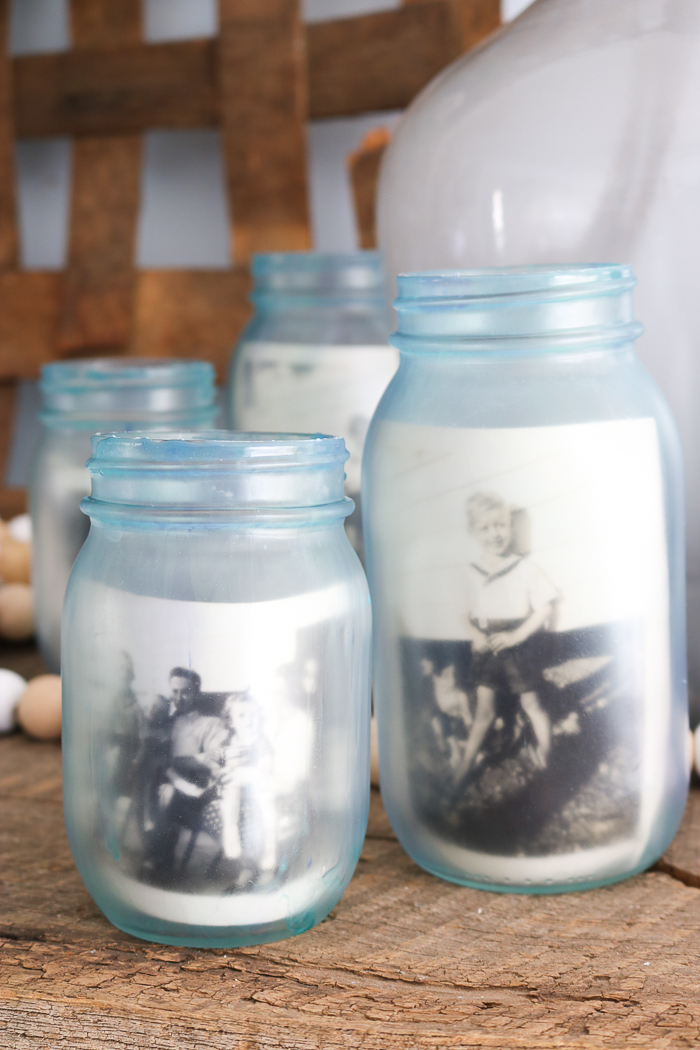 You might need to pick up tons of supplies because once you get started you will want to be painting glass jars like this for every room in your home.
Y'all enjoy and be sure to pin or bookmark this project to make later!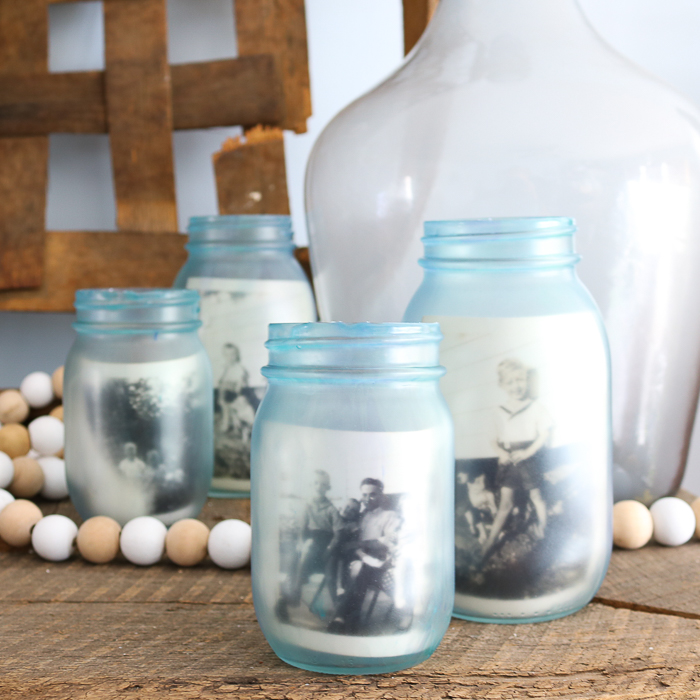 So, do you love this idea for painted glass jars and want more? Try the links below!