I get asked all of the time what pens can you use in the Cricut Joy. Do you have to buy the Cricut Joy pens? I thought I would test a bunch of pens as well as some pen adapters to see how they would work in the Joy. So, which ones did I find would work and which wouldn't? Read on to find out if your favorite pens will work in the Cricut Joy.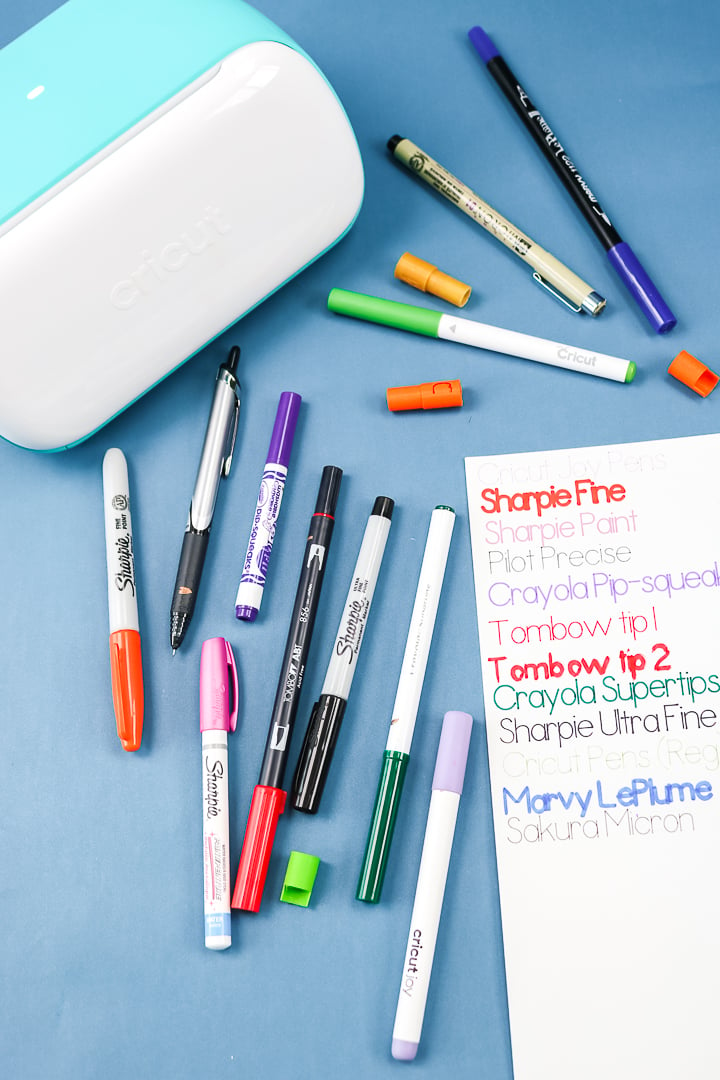 Cricut Joy Pens Video
Want to watch me test each of the pens on video? I have a full video below with a complete list of the pens that will work along with showing you how to use each of the adapters.
Can't watch the video or would like more information? Keep reading for all of that plus links to each of the supplies used in the video.
Pen Adapters for Cricut Joy
First, you may need an adapter for some of the pens that I am going to talk about using. I purchased a full set of adapters and you can find those here. I will talk about each of these adapters along with the pens you can use them on below. Most of these are marked with a letter to help you tell them apart. Please remember that using any non-Cricut accessory in your machine can void your warranty.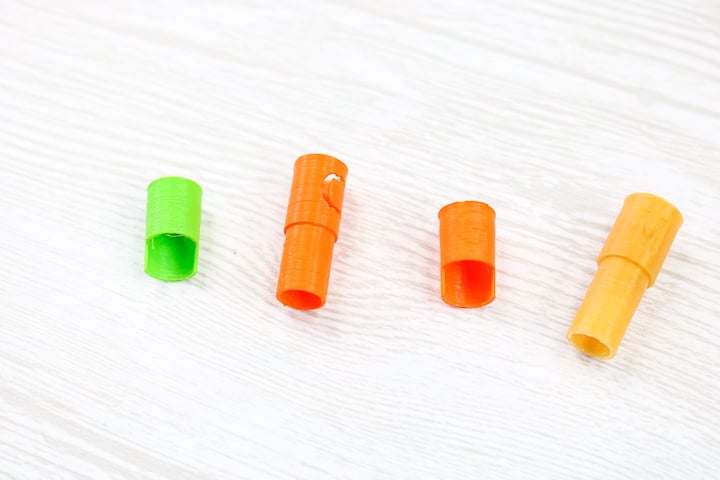 Please note that I will cover marking your pens for depth in the text below and I recommend this for use with all pens so you can make sure that the adapters work properly. I found that I could close my clamp fairly easily with all of these adapters. DO NOT force your clamp closed around any pen or adapter.
List of Pens You Can Use in Your Cricut Joy
Now let's talk about pens! I will list each of the pens that I was able to use below as well as tips and tricks for how to put them in your machine. There may be other pens that will work but these are all that I personally tested.
Pens That Work with No Adapter
First, let's look at pens that you can use with no adapter at all. This means that these pens fit right in your joy and the clamp just holds them into place. One thing to note is that you will need to mark them for depth before inserting them. I hold up a Cricut Joy labeled pen next to the pen I want to use and mark the depth with a Sharpie. Then I know exactly where to stop when adding the pen to the Joy machine.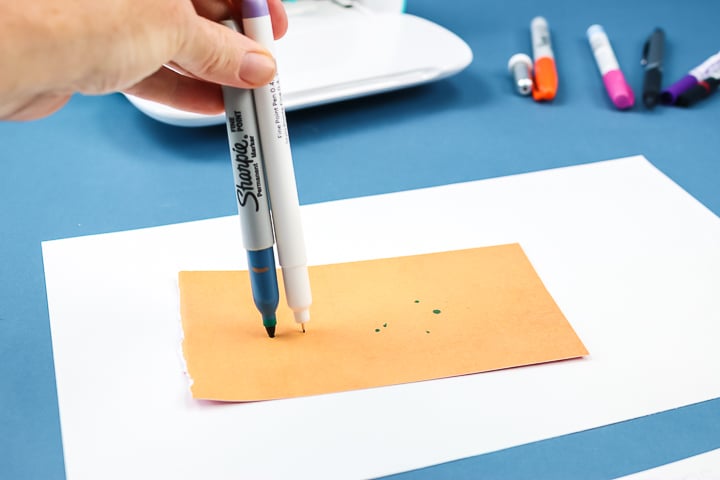 I was able to get this method to work with all of the following pens:
So, now you can pick up a few of these pens and add them to your crafting arsenal when working with the Joy. With no adapter required, there is no reason not to give this a try!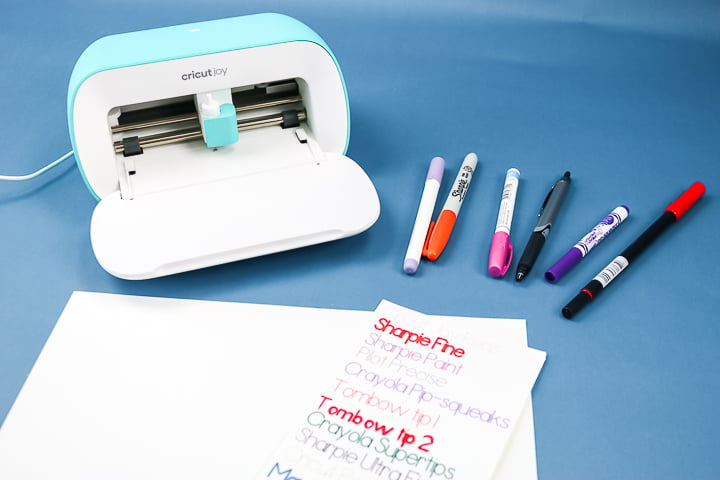 Pens That Work With the Sharpie Ultra Fine Adapter:
Now let's talk about some adapters for the Cricut Joy. This first one has a partial barrel on the bottom that goes into the clamp and then the top barrel rests on top. I actually tried it with several pens. Some of which they said it would work with and others I just had on hand. Here are the ones that will work with this adapter: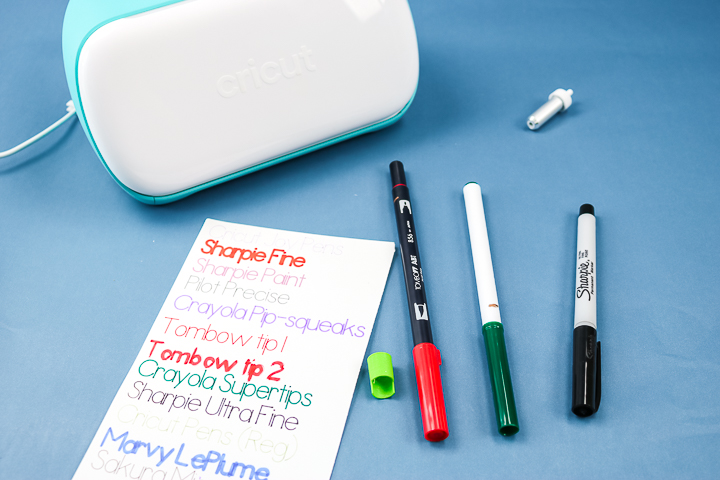 I will note here that not all fonts work great with all pens. The brush side of the Tombow, for instance, doesn't work great with the font I chose. You could probably play around and find a font that it looks great with though.
Will Regular Cricut Pens Work in the Joy?
The answer is yes! But with an adapter. You will need the Cricut Pen adapter to make this work. But then you can use all of your Cricut pens as well as Cricut Infusible Ink markers right in your Joy. I will also be testing some Cricut accessories with this soon so stay tuned!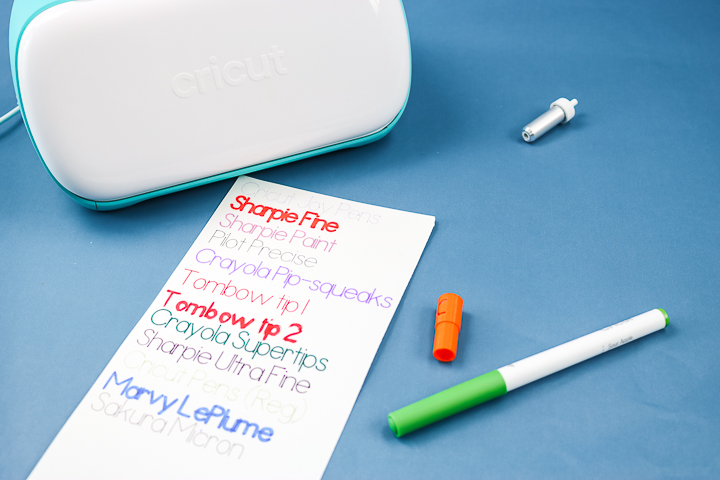 Pens That Work With the Gelly Roll Adapter:
I actually did not have any Gelly Roll pens on hand as they included this adapter as a bonus. But, while I was testing pens, I did find one that would work with this. The Marvy LePlume is a brand that I personally love to use and they worked great with this adapter.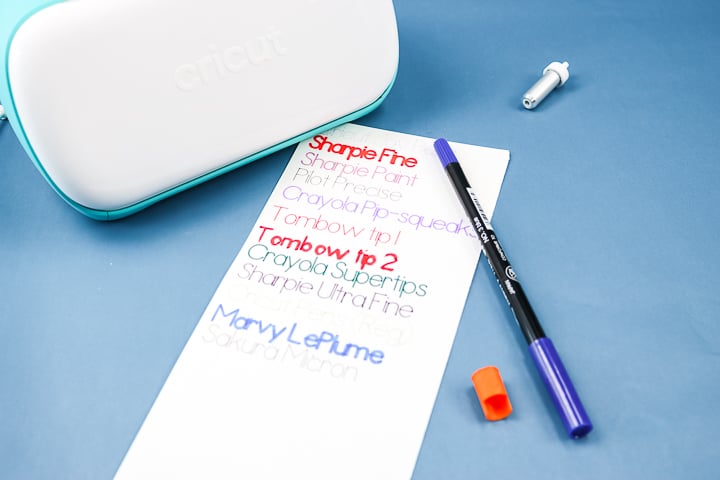 Pens That Work With the Micron Adapter:
If you love the Sakura Micron pens, you are in luck! They will work with your Cricut Joy and this adapter. I know that these are great pens and I am excited about the possibilities of using them with the Joy.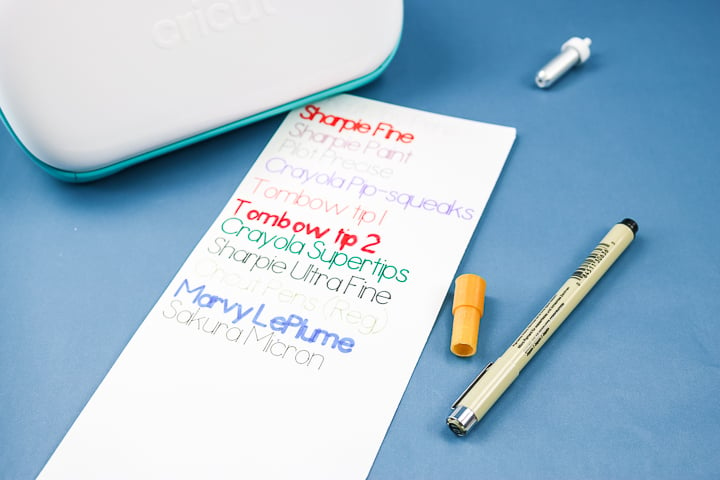 What pens will not work with the Cricut Joy?
I did have a few pens that I tried that I could not get to work even with an adapter. I am sure there are many more pens on the market that will not work but these are just the ones that I personally tried: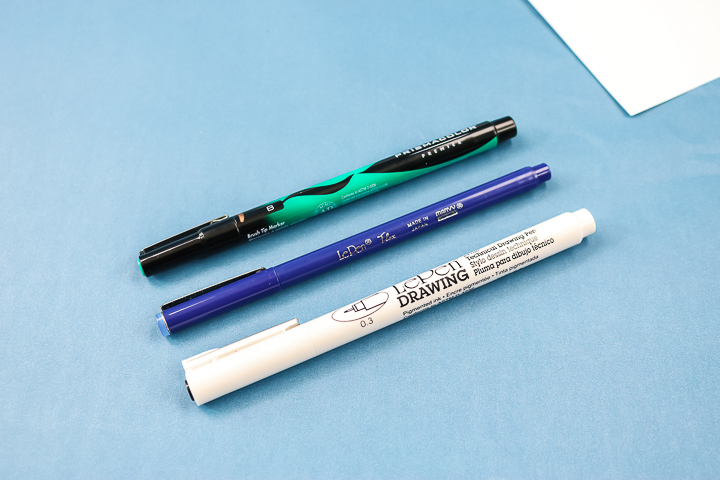 How to Use Pens in Your Cricut Joy
Just a quick refresher if you have not used any pens in your Joy before:
Open the clamp.
Remove the blade.
Add the pen. If the pen is a Cricut Joy pen, add until the groove rests on the clamp and DO NOT push down. If the pen is another pen listed above, be sure to mark the pen and add an adapter if needed. Again DO NOT push down. Add until it is at the correct depth.
Close the clamp.
Proceed by using the draw function of your Joy to write the words or draw the image of your choice. Remember that fonts that have a writing style are better for this type of project.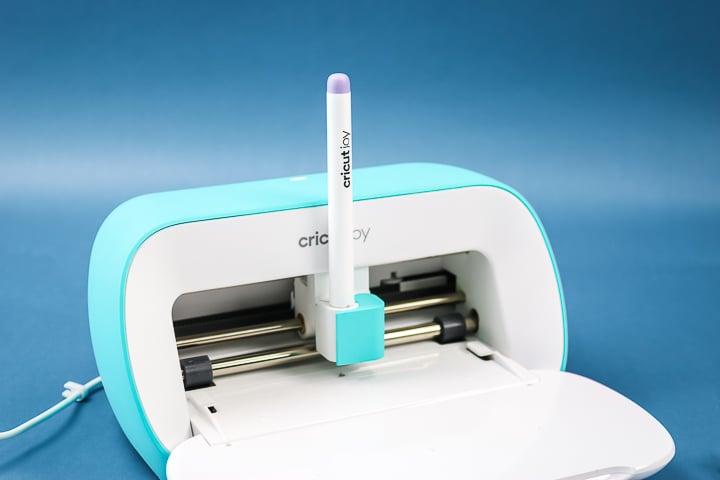 Now you are ready to draw and create some amazing projects with a wide variety of pens and your Cricut Joy machine. You can even try making some writable labels. I must say my personal favorite is the Pilot Precise. It writes great and I don't have to use any adapter.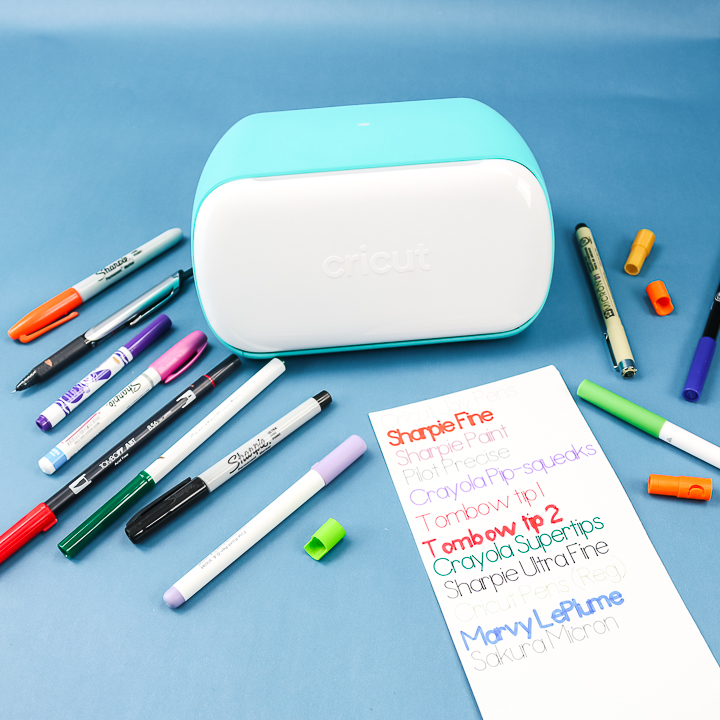 I am also super excited about the options with the Crayola markers. So many colors and so many possibilities! Plus they are super-inexpensive.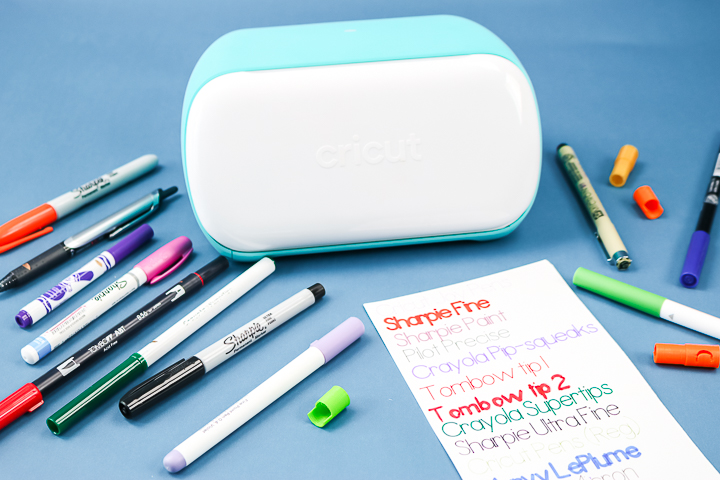 Which of these pens are you most excited to use? Now that you know what pens you can use in the Cricut Joy, what will you make?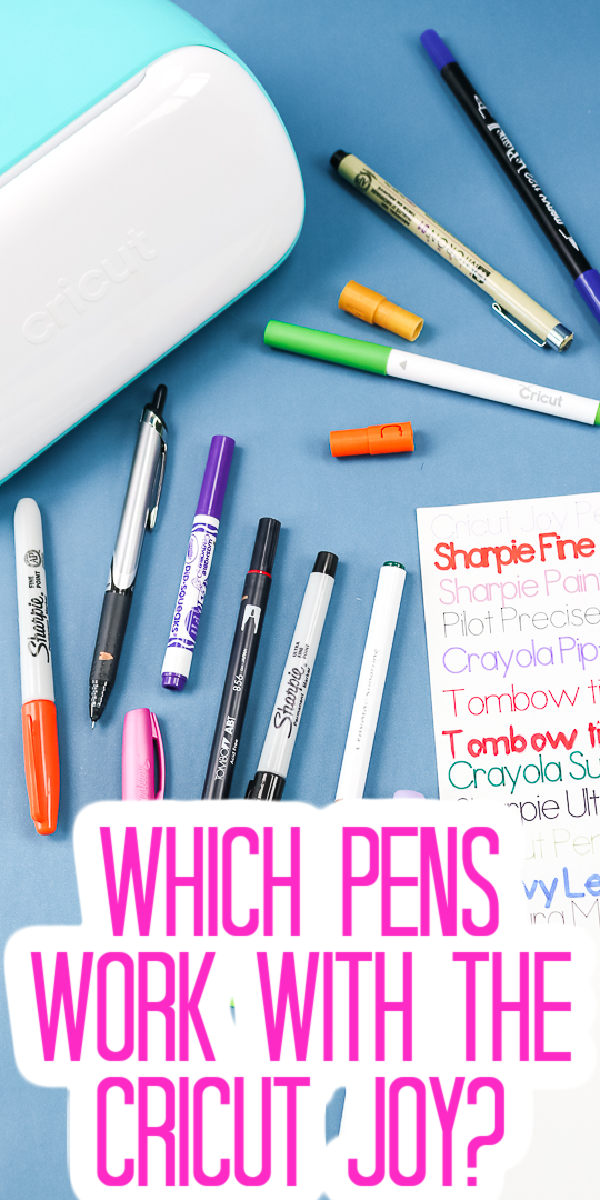 Love this and looking for more ideas? Try the links below as well!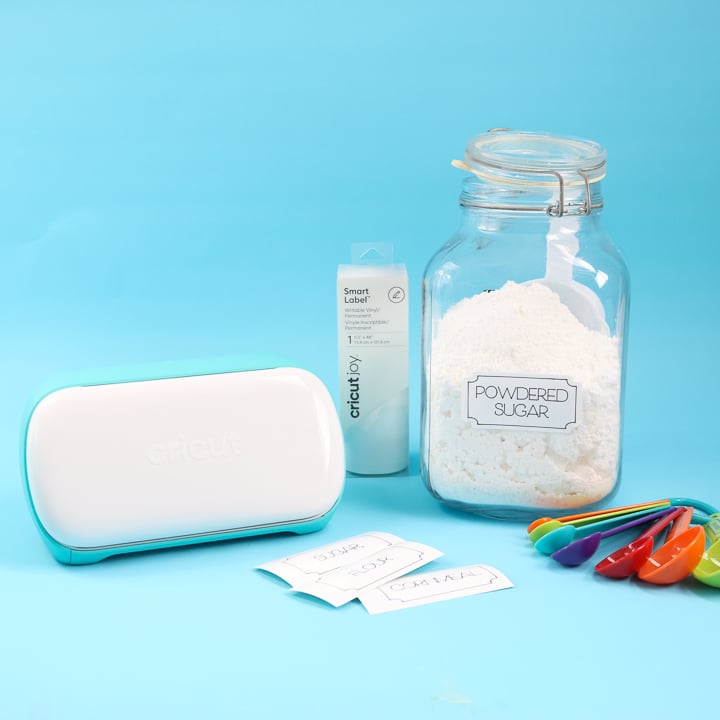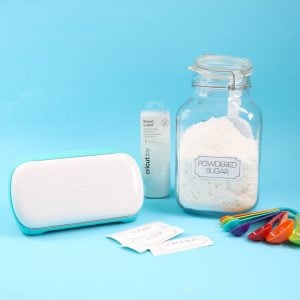 Your Guide to Cricut Joy Label Making
Learn all about making labels with the Cricut Joy and the new SmartLabel material from Cricut.
Read More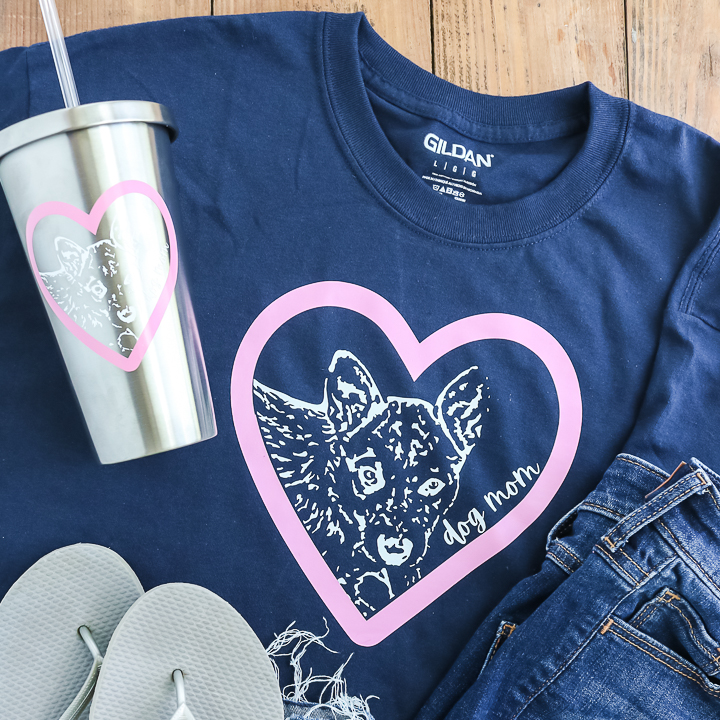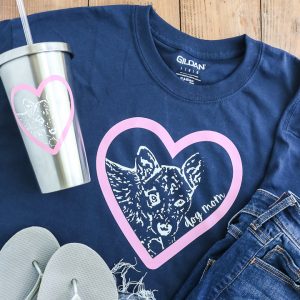 Projects to Make with a Picture SVG
Turn any picture into an SVG file then make these projects with your Cricut machine.
Read More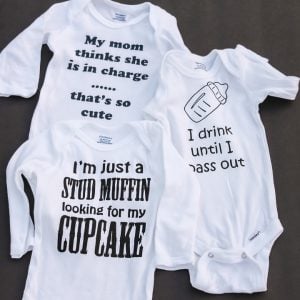 DIY Baby Onesies with Iron-on
Use heat transfer vinyl to customize those onesies in addition to our three free SVG files.
Read More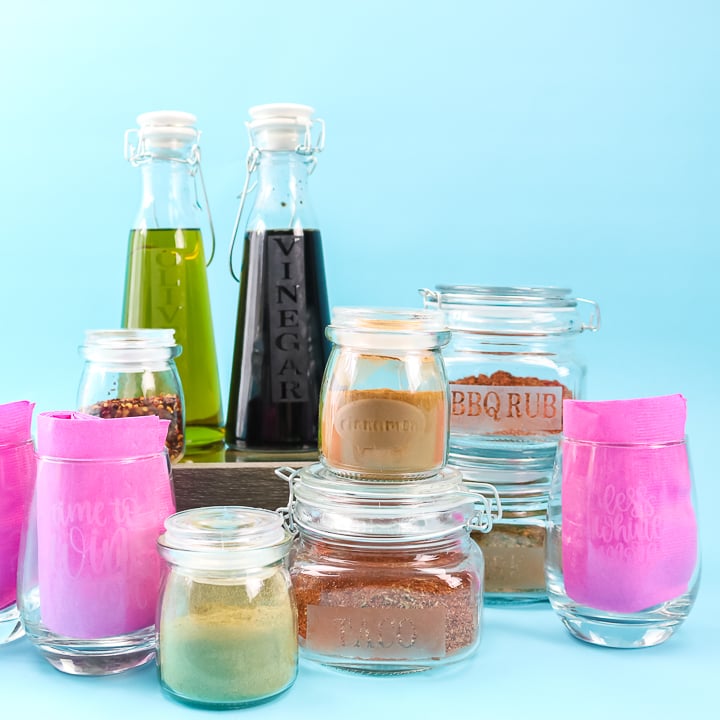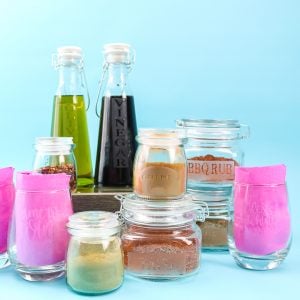 How to Etch Glass with a Cricut
Grab your Cricut machine and start etching glass with this easy to follow tutorial.
Read More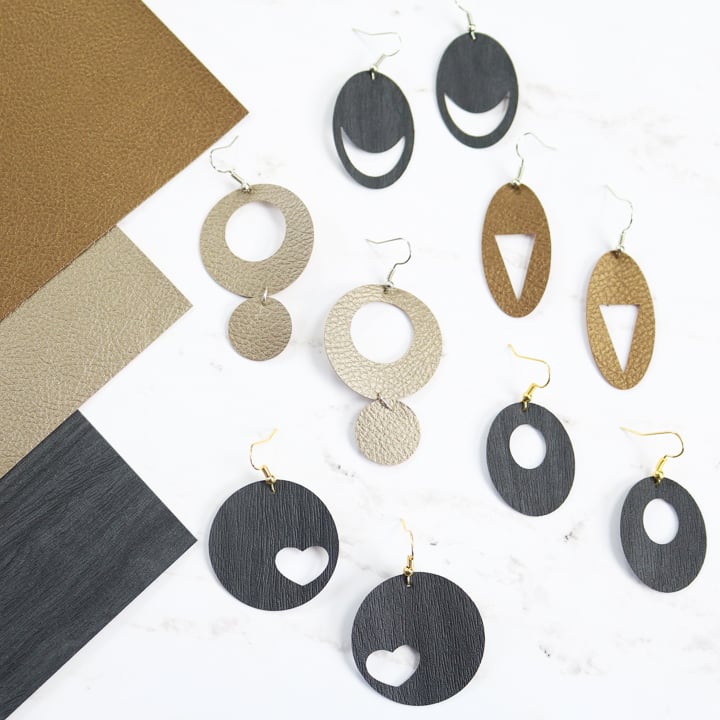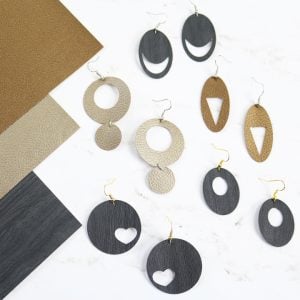 Cutting Earrings with a Cricut Machine
It is so easy to make earrings with a Cricut. You will have a pair for every occasion!
Read More