Glass etching with a Cricut is actually a super easy project. I feel like many people get intimidated at the thought of this craft so they just skip it. So, today we are going to cover how to etch glass and use your Cricut machine to make the stencils for etching. There are so many great projects that you can make with this technique so be sure to stock up on glass blanks as you will need them!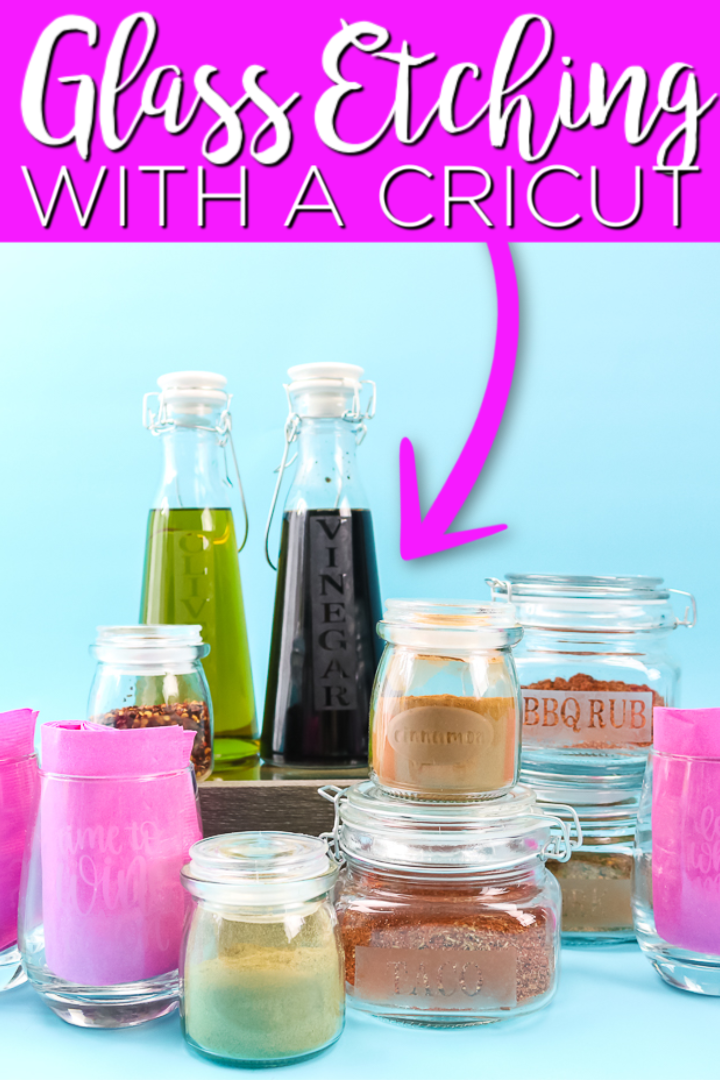 Supplies needed:
Glass Etching with a Cricut
You can actually watch the entire process in the video below. I explain everything you need to do along with tips and tricks for success.
Can't watch the video or missed some of the steps? I also have the entire process in the card below so that you can follow along or even print it out.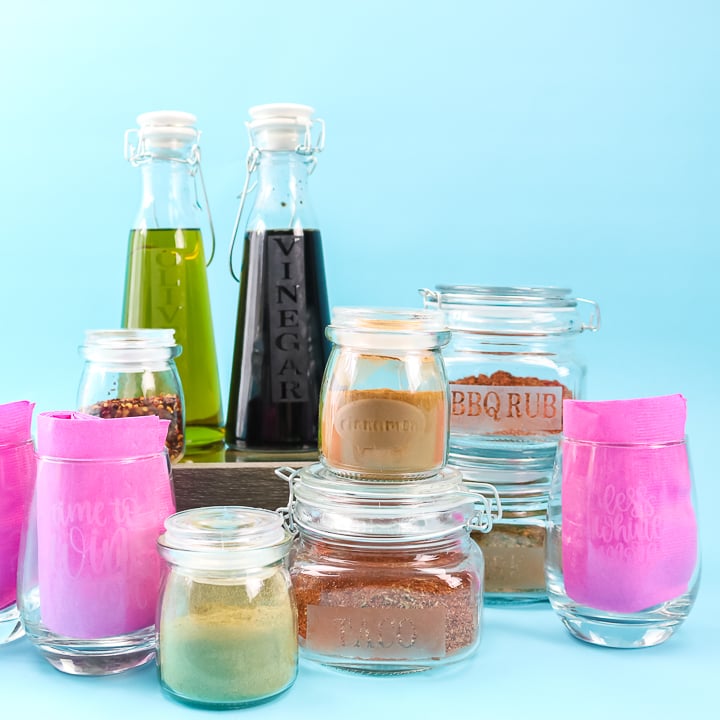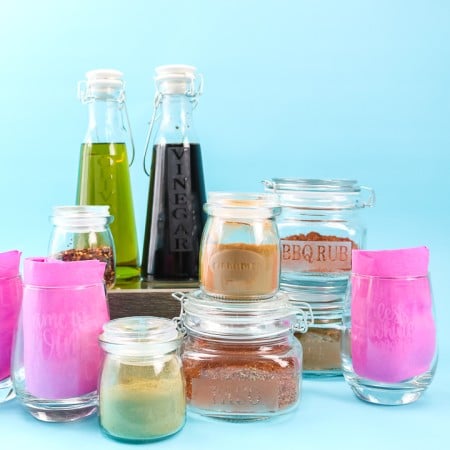 How to Etch Glass with a Cricut
Grab your Cricut machine and start etching glass with this easy to follow tutorial.
Supplies
Armor Etch glass etching cream

Cricut Permanent Vinyl

be sure to get the permanent version (this is used for masking so color does not matter)

Cricut machine

Transfer tape

Gloves

Rubbing alcohol

Glass surfaces

Scraper

Water

Cut file
Instructions
Then you are going to do almost the opposite of what you would normally do. So normally, you would remove everything and then apply a vinyl label. But in this case, we want to remove everywhere where we want etching cream to go. In this case, I removed the box around my letters and left the letters inside. The letters will end up being clear and the box etched. You also want to remove things like the centers of the letters.

Now, it's time to put the masks onto the bottles. I recommend wearing gloves for this portion as well because the oils from your hands can affect the etching cream. First, be sure to clean the glass well with rubbing alcohol. Allow to dry completely, and then continue. Apply the vinyl with transfer tape right to your glass and use a scraper to remove any bubbles. You should also add some masking tape around the outer edge just to make sure the etching cream does not get on that portion of the glass.

Apply the Armour Etch with a paintbrush. Again wear gloves for this step. You want to dab it on in a thick coat. Be sure to cover the area completely. You also want to brush in all four directions to help ensure that you have pushed the etching cream into all areas.

Then set a timer for five minutes and allow your project to sit. Come back and just rinse it off with some water, remove the stencil, and your project is complete.
Tried this project?
tag us to show off your work!
And that is how you etch glass! It is actually a super easy project, and it only takes a few minutes, and you get to make this amazing decor for your home, or for a gift, all within a couple of minutes.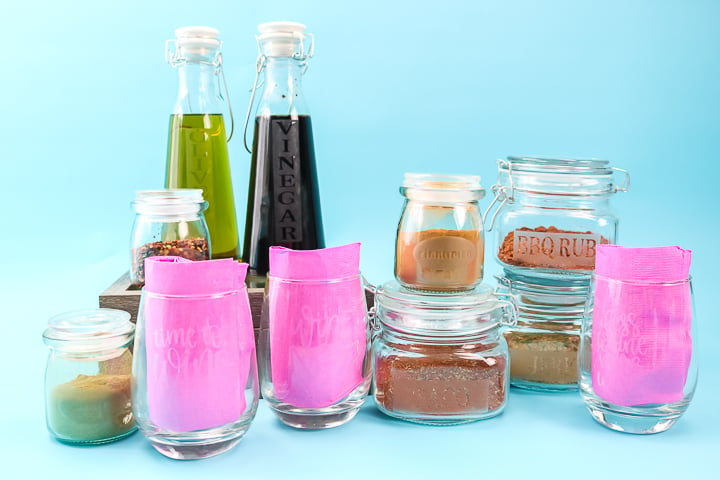 But I could not stop with just the vinegar and olive oil bottles. This is so easy to do that I just kept going. I made several things in a super short time. All of these designs, by the way, are in the cut file linked above. You can pick which you want to make. You can choose to start with some cute wine glasses.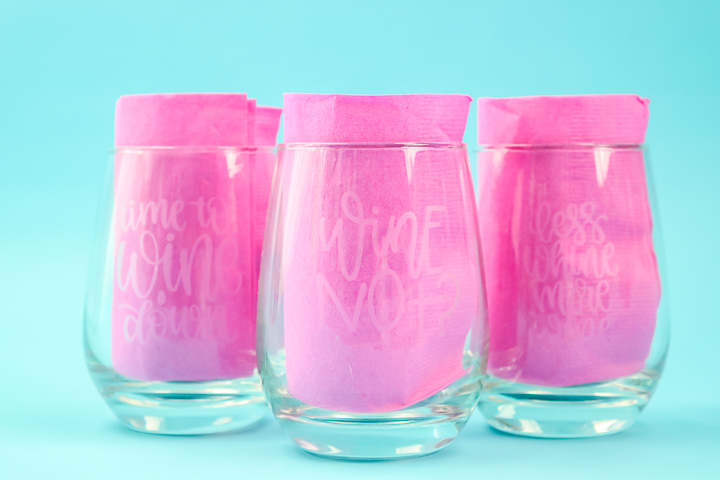 And you might also want to make some spice jars. Actually, I made a couple of different versions. These smaller ones are for individual spices.
If you're looking for a more permanent solution for your spice jars, this is definitely it. Then, I made some larger mason jars that actually are for my spice rubs and spice seasoning mixes. These would also be great even larger for your canisters on your kitchen counter.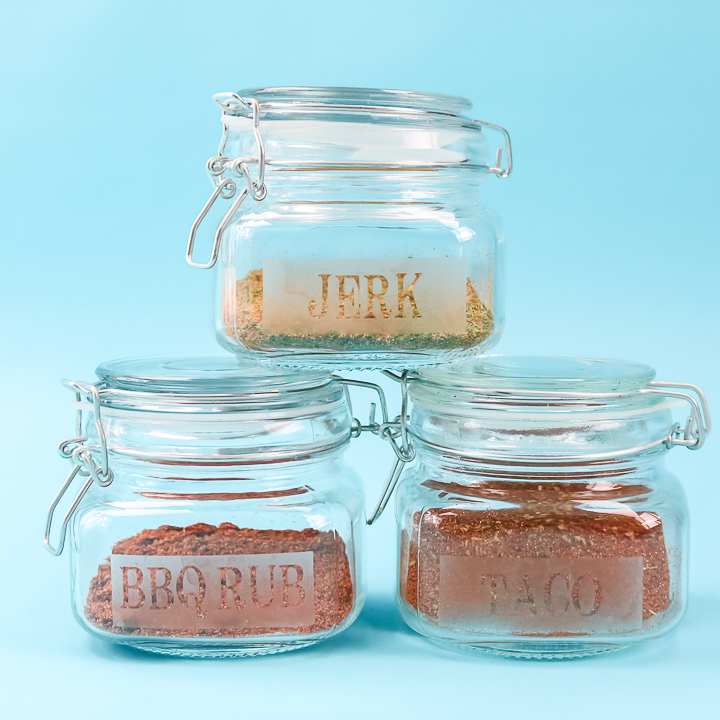 So, just about any glass that you can think of, you can actually etch it with permanent designs. Then you can make something simply amazing for your home or to give as gifts.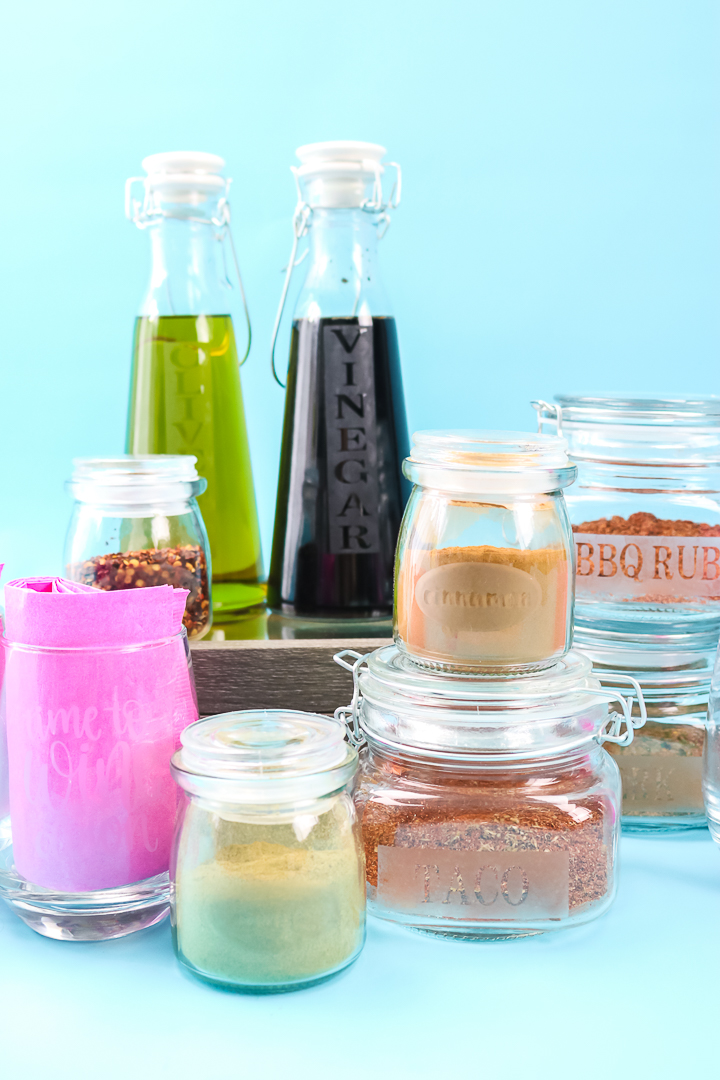 I hope you will grab your Cricut and try some glass etching. You are going to love what you can create!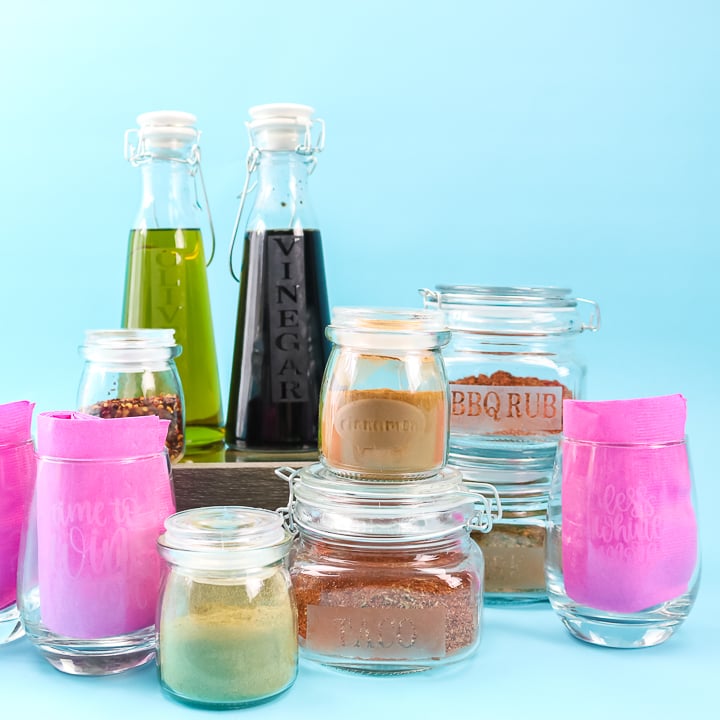 Love this Cricut craft and want more ideas? Try the links below as well!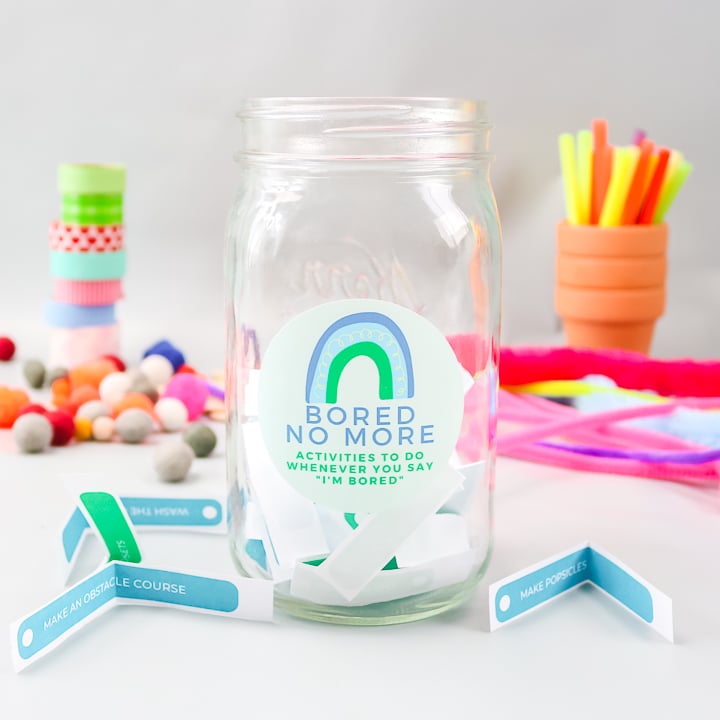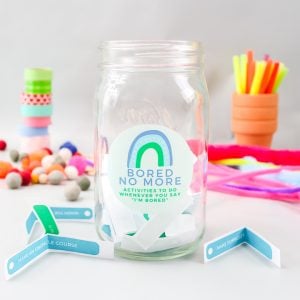 How to Use Cricut Printable Vinyl
Make stickers and more from printable vinyl on your Cricut machine.
Read More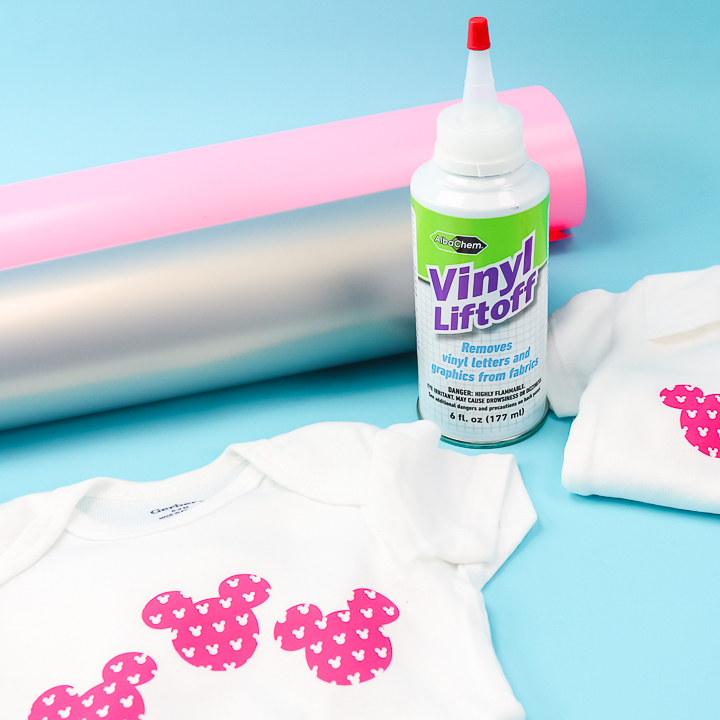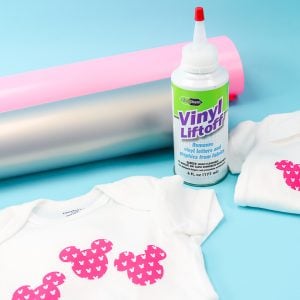 Repairing Heat Transfer Vinyl
Fixing those iron-on mistakes has never been easier!
Read More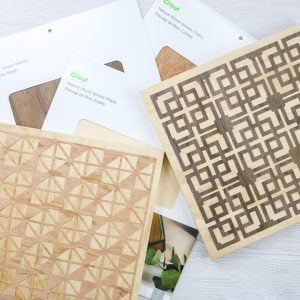 How to Cut Wood Veneer with a Cricut Explore or Maker
You can easily cut wood veneer with your Cricut machine and the deep point blade.
Read More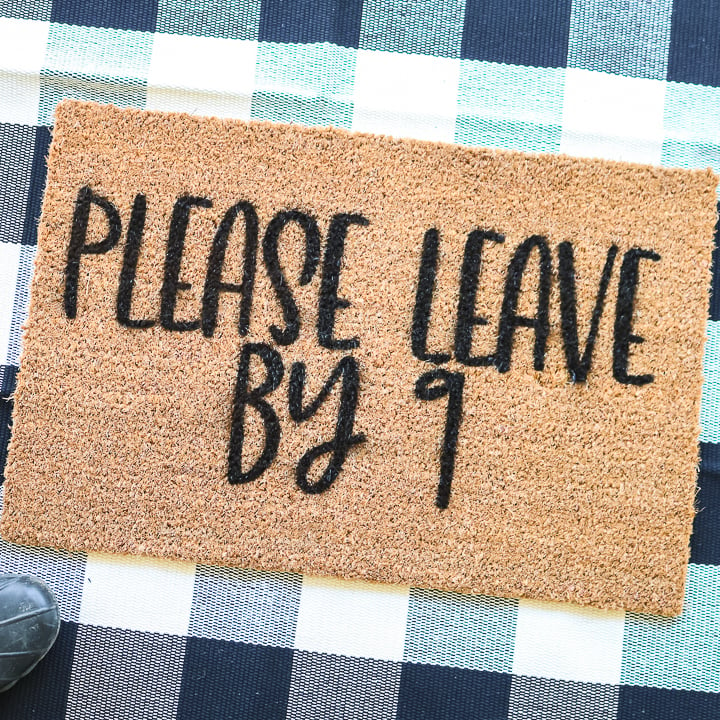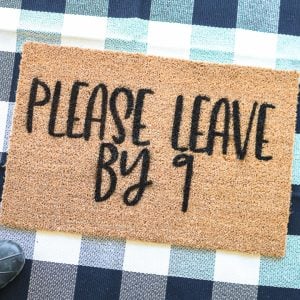 Make Your Own Doormat
A doormat is super easy to make with a Cricut machine and our instructions.
Read More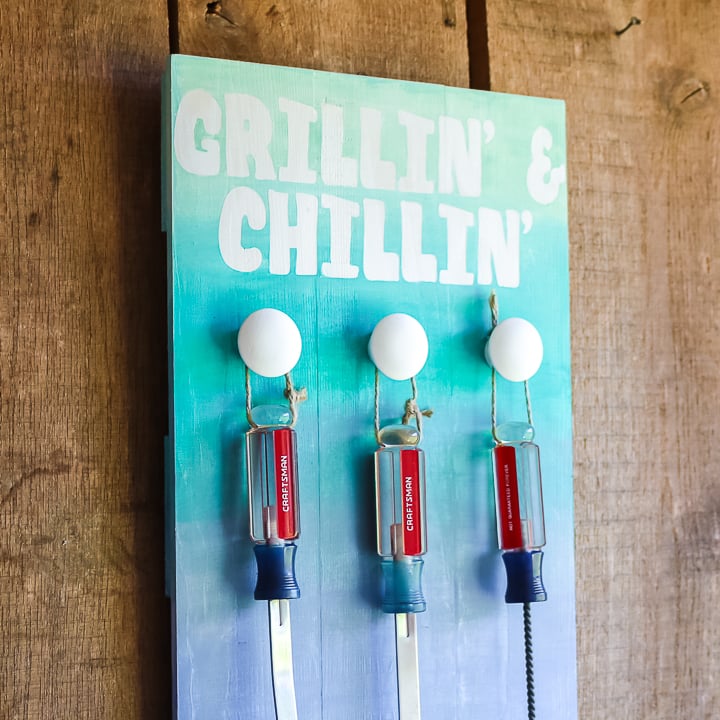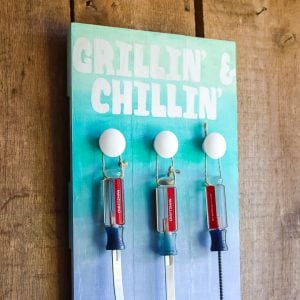 Grill Tool Organizer
Make this DIY grill storage with just a few supplies and some simple steps!
Read More
New to Cricut?
Sign up for our email list here to download the Beginner's Guide to Cricut Design Space for FREE today!
Sign up to get the guide emailed to you!