Special occasions such as weddings and graduation deserve incredible special decorations. Use this tutorial to make unique and incredible picture centerpieces for the tables at your event.
We've now been through multiple graduations and a wedding at our home, and we've created DIY decor for each of them. One of my favorite projects when getting ready for special events that may only happen once in someone's life is to create centerpieces.
I've made a few different types of centerpieces, from DIY Magnolia Garland to Mason Jar Fairy Light Centerpieces and more. Those have all been beautiful and fit our events very well, but I REALLY enjoy creating photo centerpieces!
DIY picture holders for tables allow me to showcase special moments of the person of honor's life. And, they add a unique special touch that ONLY photos can!
I am going to show you just how easy it is to make your own custom picture centerpieces in minutes. A picture holder table centerpiece will work for a wedding, graduation, bridal shower, retirement, and so much more.
Note: We have tons of centerpiece designs here! If you want even more centerpiece inspiration, check out our Paper Flower Centerpiece, Rustic Gold Centerpiece, and Felt Mason Jar Wedding Centerpiece ideas!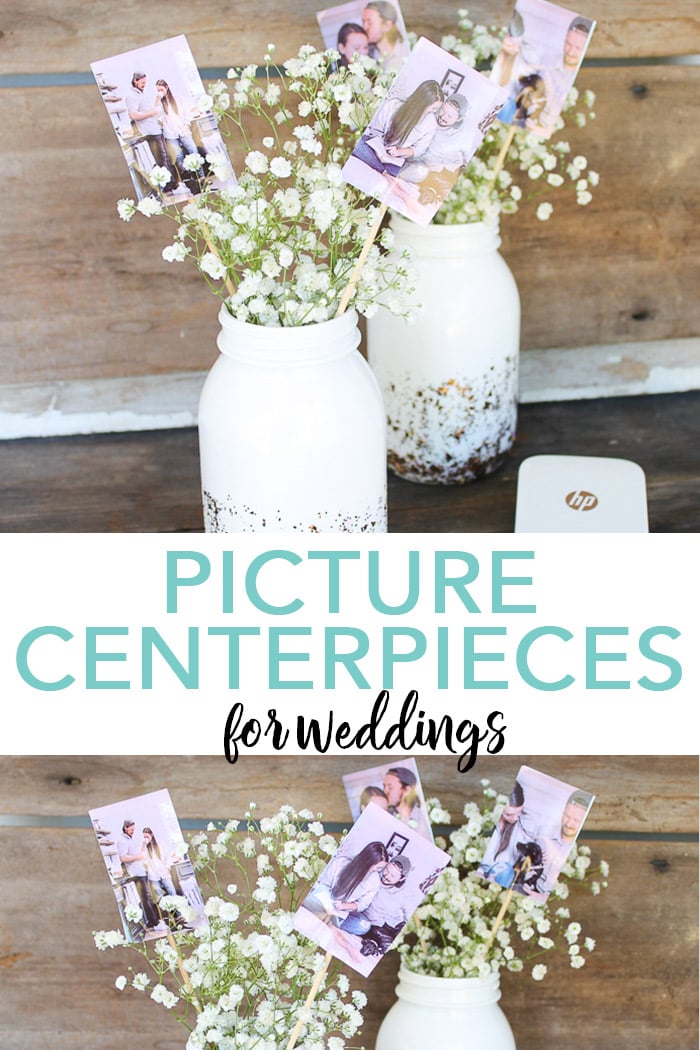 How To Make Picture Centerpieces
I love how this project turned out, as did my daughter (the bride)! If you're planning a wedding on a budget, something simple and equally gorgeous as these photo centerpieces is perfect!
Supplies Needed
Here's what you'll need to make these picture holders for tables. You probably already have many of these supplies on hand, but I've included a few helpful links to make certain items easier to find.
Mason jar
White spray paint
Glitter paint in the color of your choice
Wood skewers (metal skewers would also work)
Flowers (faux or real)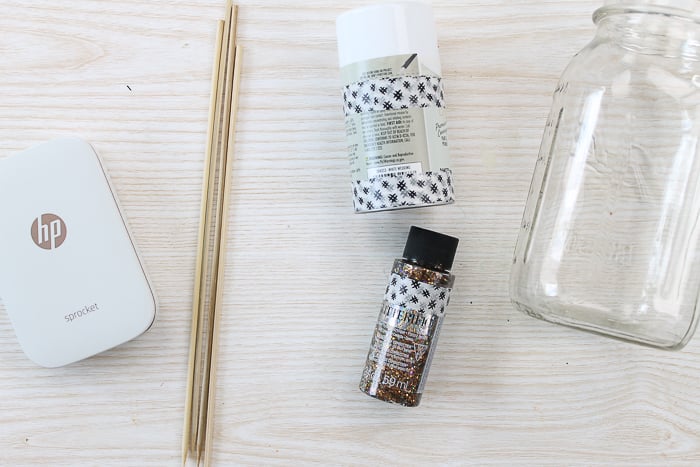 Video Tutorial
If you prefer watching videos over reading directions, I have you covered! Here's a really quick video showing just how quick and easy this one is to put together.
DIY Picture Centerpiece Instructions
Ok, if you watched the video, you now know just how easy this project is. However, if videos aren't your thing, I've also got you covered with written instructions.
Step 1
Start by painting your mason jars. Do a few coats of white spray paint over the entire thing and allow them to dry completely after each coat.
Step 2
Then come back with glitter paint in the color of your choice and just do a little on the bottom half, as shown below.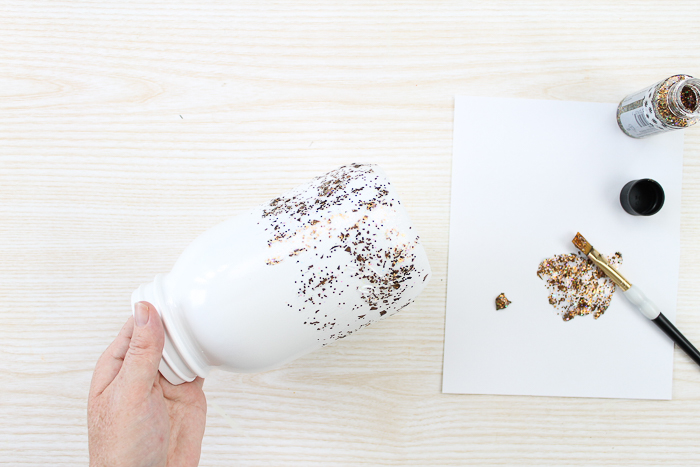 Step 3
Set your jar aside to finish drying while you work on the picture portion of these centerpieces. Print the pictures of your choice with the HP Sprocket printer.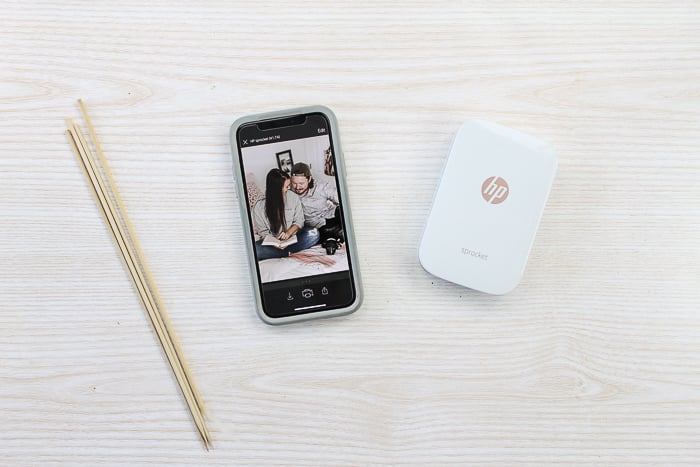 These can be anything from engagement pictures of the bride and groom to senior pictures of the graduate.
Note: You will need two pictures per skewer.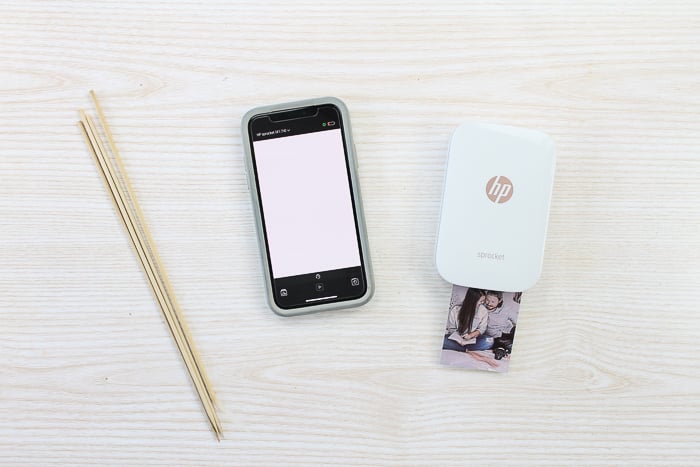 Step 4
The pictures have a peel-and-stick adhesive on the back of each one, so just peel away the protective liner on one picture, then add a skewer to the center.
Then peel and stick a second picture on the back, sandwiching the skewer in between the two. How's that for easy?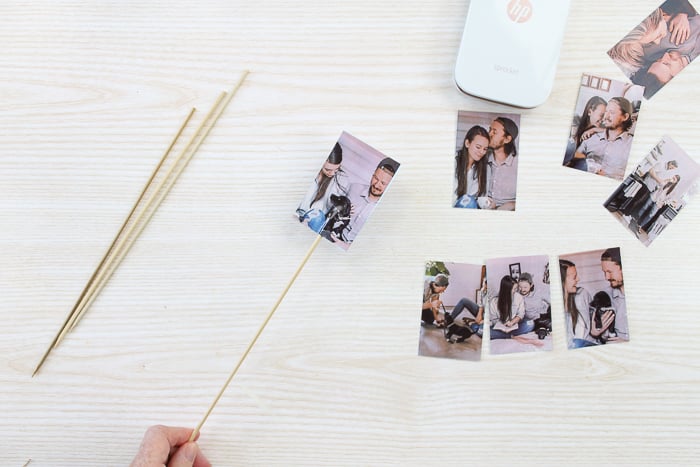 Step 5
Add flowers to your mason jars once they are dry (Baby's Breath is always a nice choice) and pop in your skewers of pictures.
I love these simple and easy picture centerpieces that you can make yourself in minutes!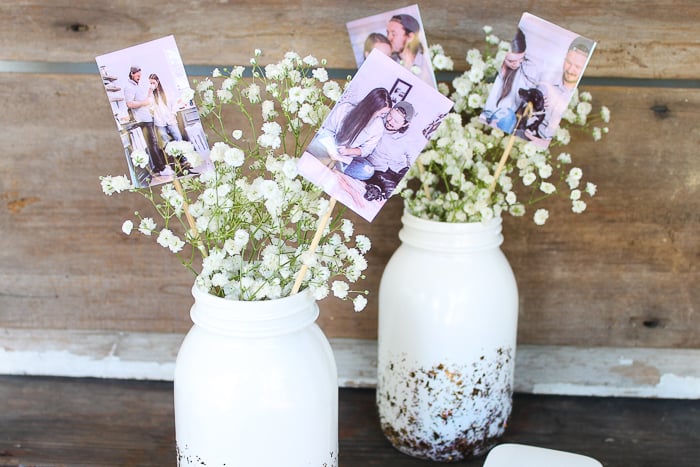 Everyone will love a picture holder table centerpiece, and the pictures you choose to showcase will become the talk of the tables while people eat!
FAQs
Do you have questions about this project? You're not the only one! Check out questions that readers often ask about making this photo centerpiece project.
Should I use real flowers or faux flowers in this display?
Since the vase part of the display is a simple mason jar, you can use either real or faux flowers. The benefit to using faux flowers in these picture centerpieces is that you don't have to deal with water, AND you can reuse the flowers for another project.
However, if you really want to use real flowers, I recommend using metal skewers instead of wood. That's because the wood skewers can soak up the water in the jars and ruin the pictures if they sit there for a while. Metal skewers would offer an equally chic look and completely prevent that problem.
Can I print the pictures on my regular printer?
Yes, you can, but it will require extra work and supplies. The benefit of using the HP Sprocket is that the photo paper has a sticker backing. If you want to use your regular printer, you'll need to buy special paper, or you'll need to laminate the photos and glue them together on the skewer.
Either way you do it, these picture centerpieces will be a wonderful and affordable highlight of your special event.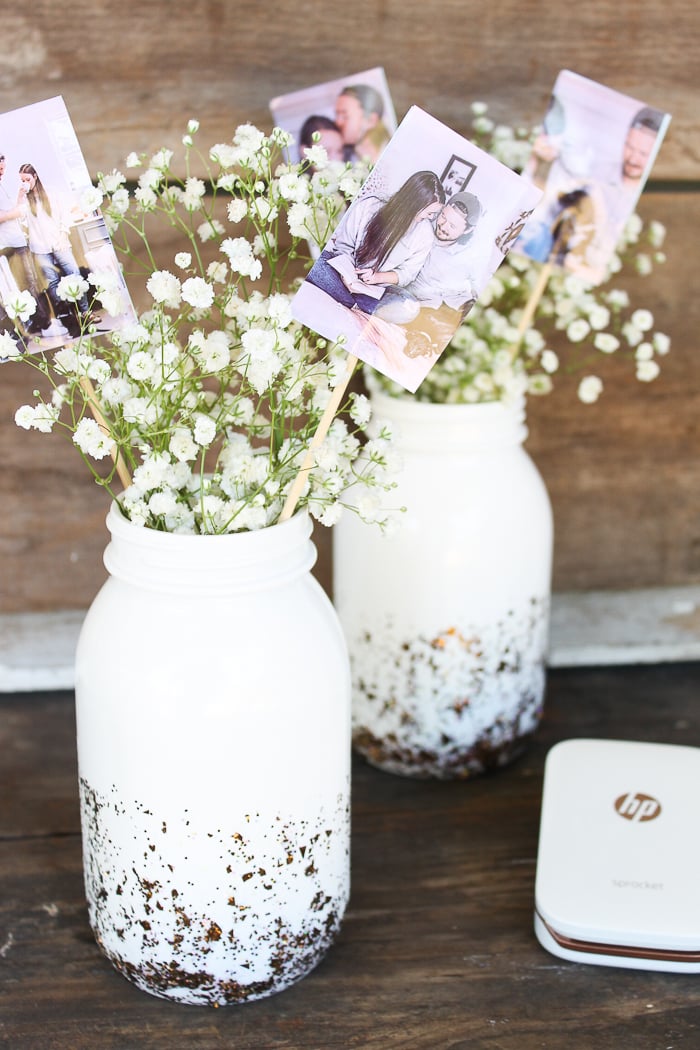 Grab your supplies to make your own photo centerpieces with pictures of the bride and groom (or graduate) today!
Then, you can keep them afterward and add them to your home's decor (which I did).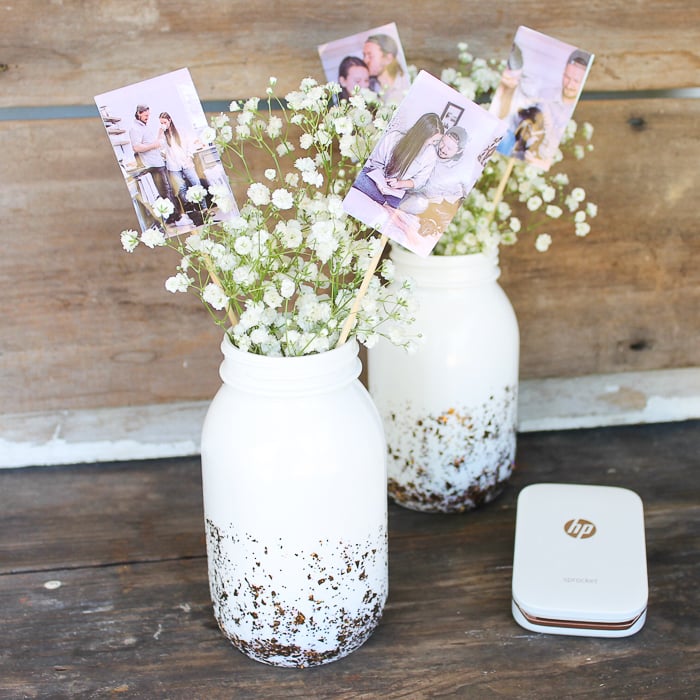 More Special Events Crafting Inspiration
If you love these picture centerpieces and want more ideas, check out the links below!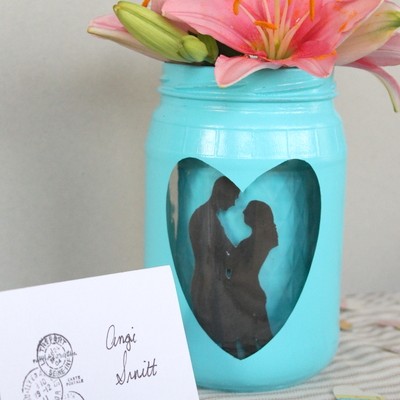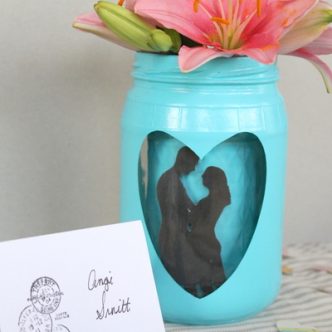 Wedding Mason Jar Centerpieces
Save money and add a special personal touch to any wedding by making these silhouette mason jar centerpieces!
Read More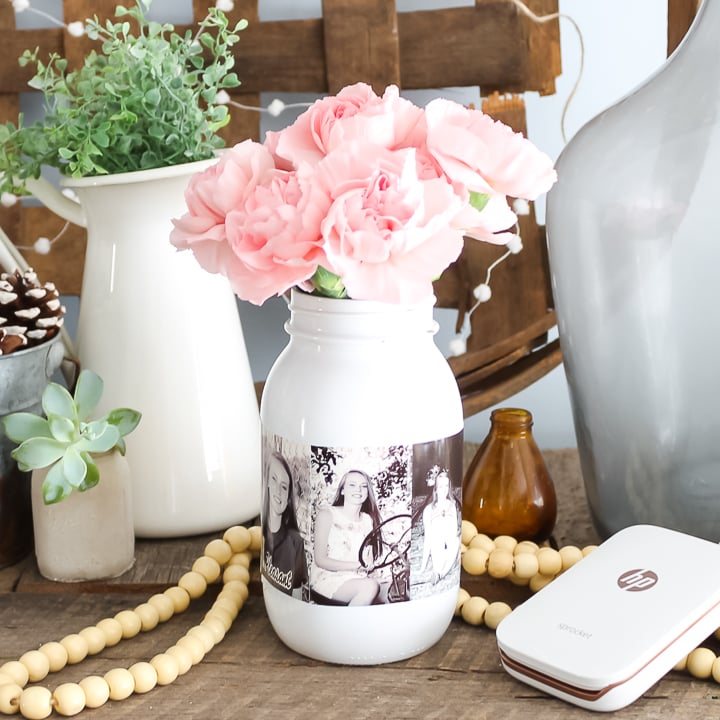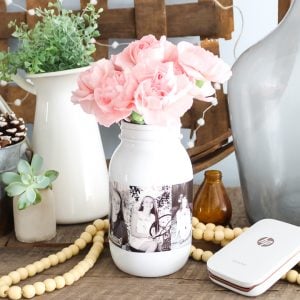 Mason Jar Centerpiece with Pictures
This photo mason jar is easy to make and will make a great gift as well.
Read More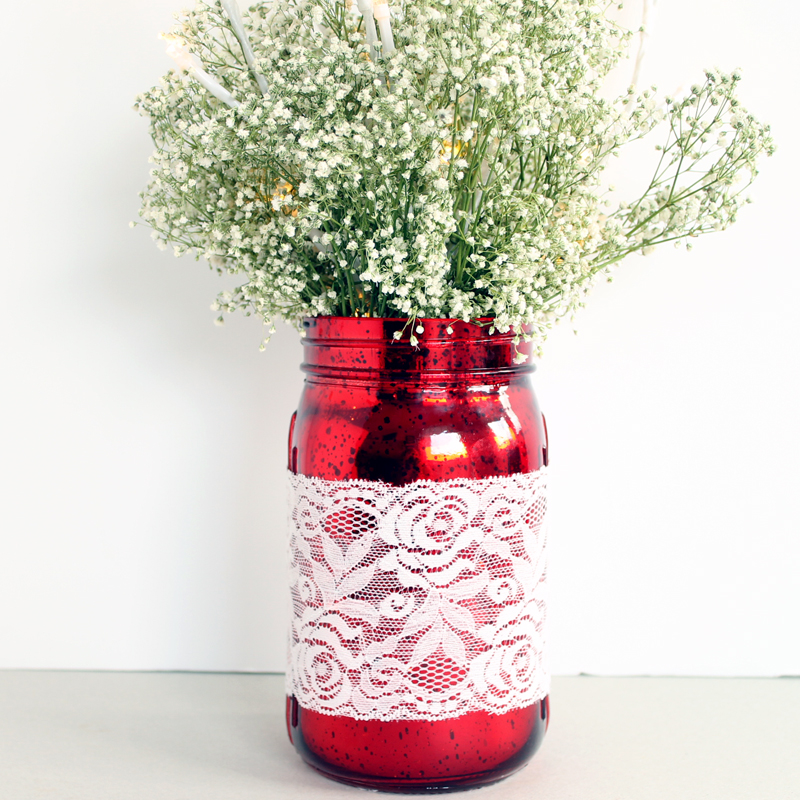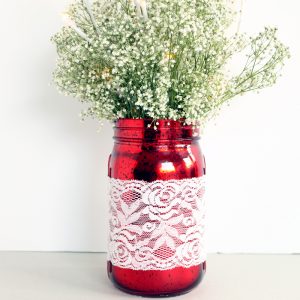 Mason Jar Wedding Centerpieces
Looking to minimize costs and DIY your own wedding decor? Incorporating mason jars into your wedding centerpieces is a great way to add a personal touch to your big day! Here's how to create beautiful mason jar wedding centerpieces on a budget.
Read More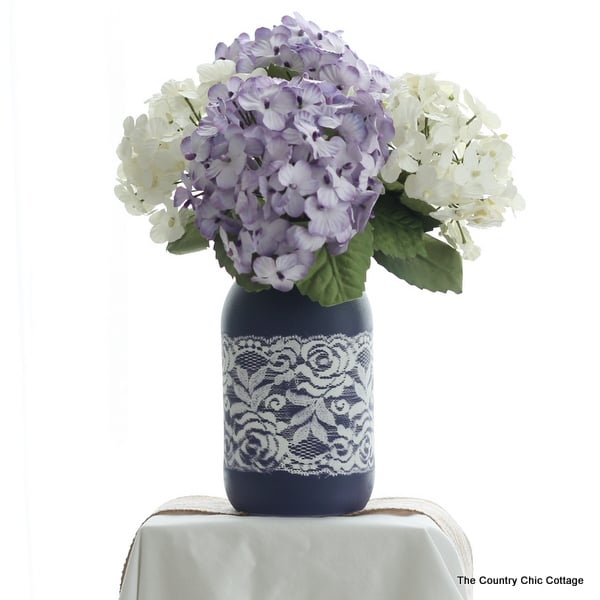 Lace Mason Jar Vase
Make a painted mason jar centerpiece for your rustic wedding. The lace-look is created with lace ribbon and paint colors of your choice. This is a very simple technique that anyone can do! Make several of these in a few hours for a beautiful centerpiece everyone will be talking about.
Read More
Mason Jar Picture Frame Vase
This photo centerpiece idea will add a special and personal touch to your wedding.
Read More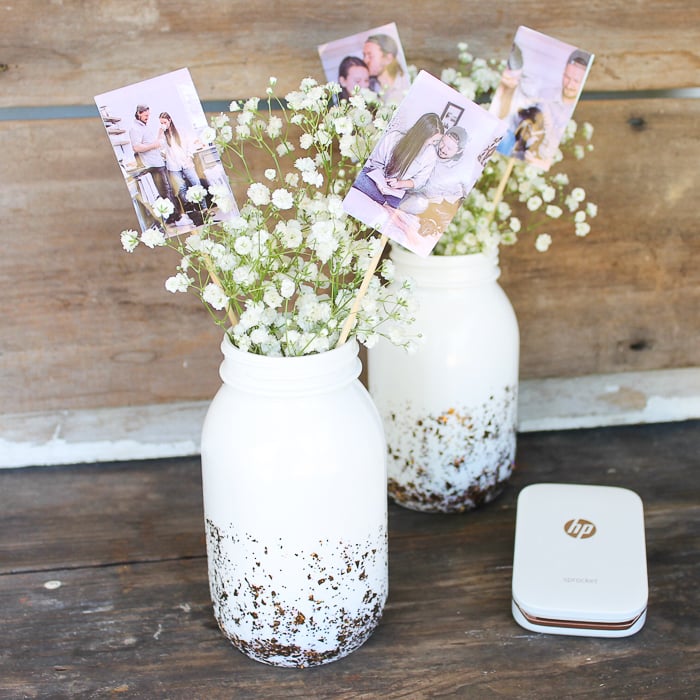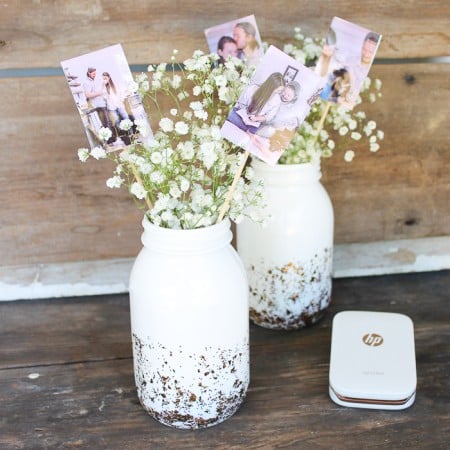 Picture Centerpieces For Special Occasions
This quick and easy project makes adding a special personalized touch to your wedding or graduation easy!
Supplies
Mason jar

White spray paint

Glitter paint

color of your choice

Wood skewers

Flowers

faux or real
Instructions
Add a few coats of white spray paint over the entire mason jar and allow it to dry completely after each coat.

Print the pictures of your choice with the HP Sprocket. You'll need two pictures for each skewer.

Peel off the backing on the photos and stick them back to back with the skewer in the middle.

Add flowers to your mason jars once they are dry and pop in your skewers of pictures.
Tried this project?
tag us to show off your work!
A Year of Jar Crafts
Sign up for our email list to get a FREE book with an entire year of jar crafts! 12 months, 12 crafts, tons of fun!