Add a little spring and summer decor to your home with some pot decoration. Chalk Couture makes it easy and this project can be completed in 15 minutes or less! I love a quick and easy project with big impact. We are also going to try out an ombre technique with the chalk paste which is something I have not done before. It was so easy y'all! So I know that you can do it too!
This is a part of Craft Lightning week where we are sharing fun clay pot crafts that take 15 minutes or less to create all week. If you have missed any of the fun, be sure to catch up with day 1, day 2, and day 3. You will also want to scroll down to the bottom of this post to see what our blog partners are sharing today!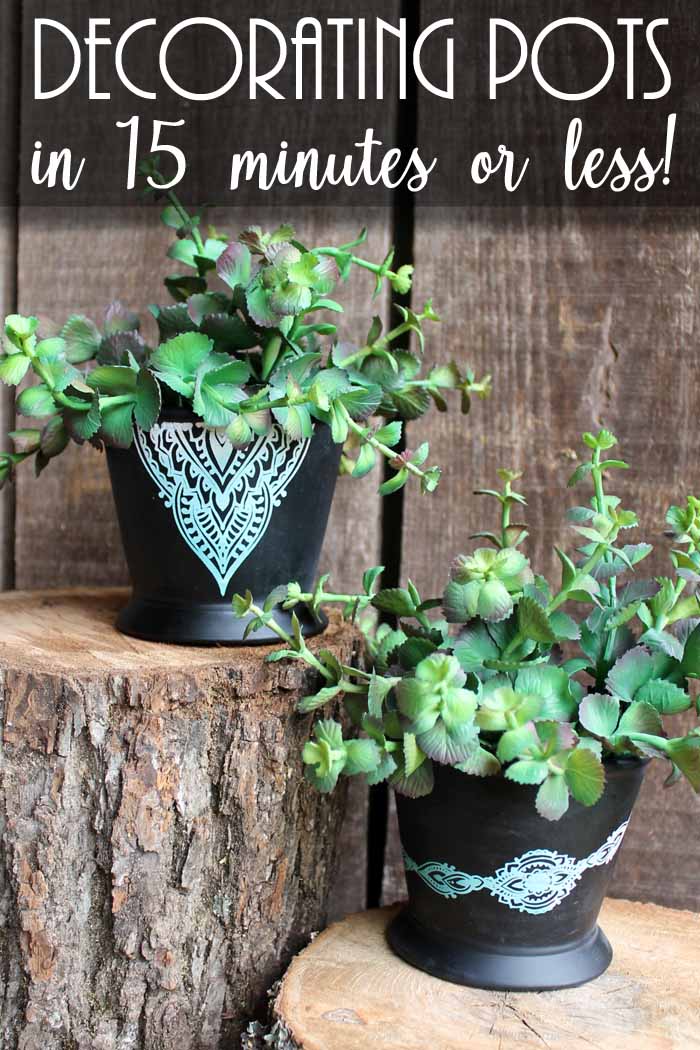 Supplies needed for this pot decoration:
I am an independent designer for Chalk Couture so links for their products are to my shop where I make a portion of the sale.
Chalkboard pots (I found mine at Hobby Lobby however I saw a few on Amazon here)
Henna Chalk Couture Transfer (get your Chalk Couture products here)
Chalkology Paste (both in white and one other color)
Squeegee
Chalk
Painter's Tape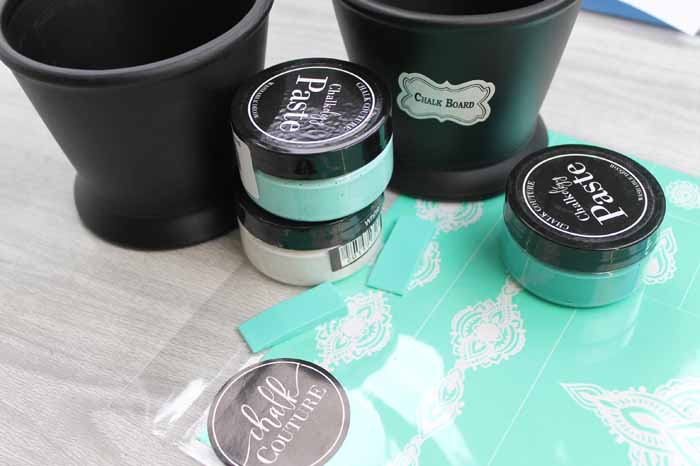 I actually did a live broadcast making some of these fun pots! I thought I would share that here in case you would like to see a video of this technique.
Can't watch the video or missed some of the steps? No problem! Just follow along below!
How to make pot decoration with Chalk Couture:
To start with, any chalkboard surface that you purchase should be seasoned before the first use. To do this, just rub a piece of chalk all over the pot and wipe clean. This prevents any "ghosting" of the chalk. In other words, it will be easier to erase later.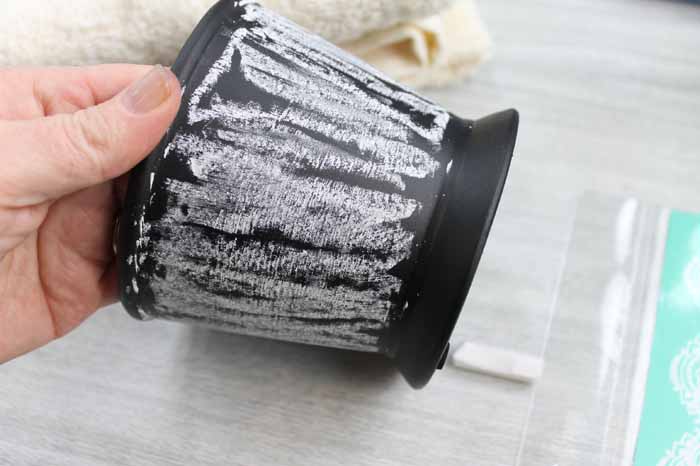 Now it is time to dive in with Chalk Couture! If you are a beginner with this product, be sure to click here to download our beginner's guide. Start by cutting your transfer along the cut lines then decide which pieces you will use. Peel the transfer from the backing and stick it to a bath towel for a second to pick up some fuzz. This is important for hard surfaces! Then just stick your transfer to your pot. Use your squeegee to make sure it adheres well and there are no air bubbles. In this case, I added some painter's tape at the top as the transfer is larger than my surface.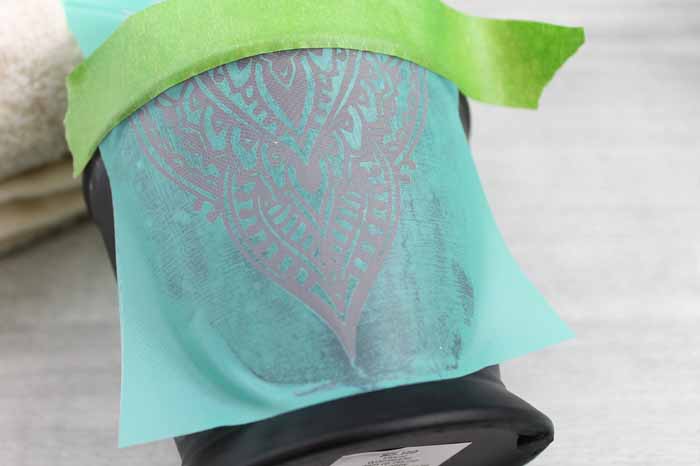 Now it is time to apply the Chalkology Paste! I am using an ombre technique in this post. Stir your product well before applying then add some white at the top and any other color at the bottom. Just dollop it on with your stir stick.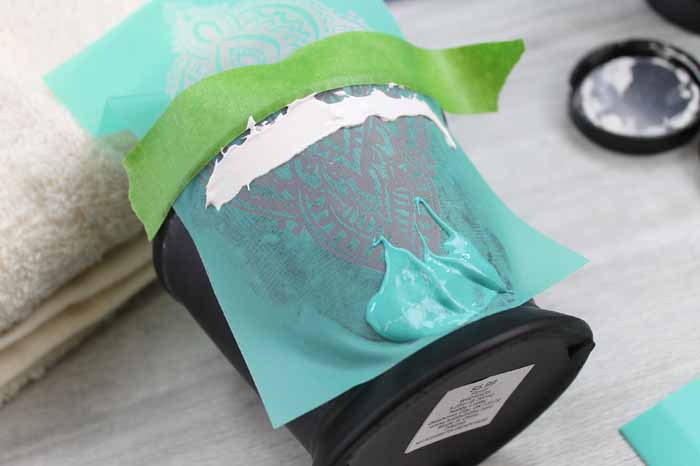 Then pull the white down from the top with your squeegee. Stop about halfway on the transfer.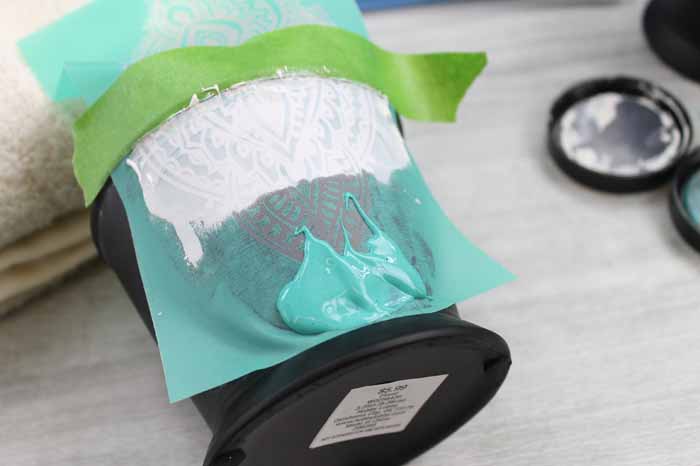 Pull your other color up from the bottom with your squeegee mixing it into the white. Then use your finger where the two colors overlap to mix the two together. Use the squeegee to remove all excess paste. This paste will need to be discarded as it is mixed so wipe on a rag or paper towel.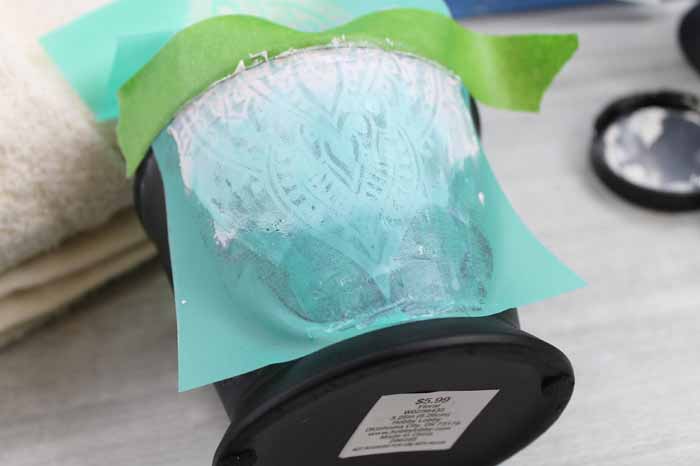 Remove the transfer as well as the painter's tape and you are left with some gorgeous pot decoration that anyone would love! Now, this design as is can be erased later. It will dry within a few minutes of application and you won't be able to rub it off. However, it is still chalk. You can wet it later and remove with water. I personally love the idea of changing up this pot decoration with the season or as I feel like it.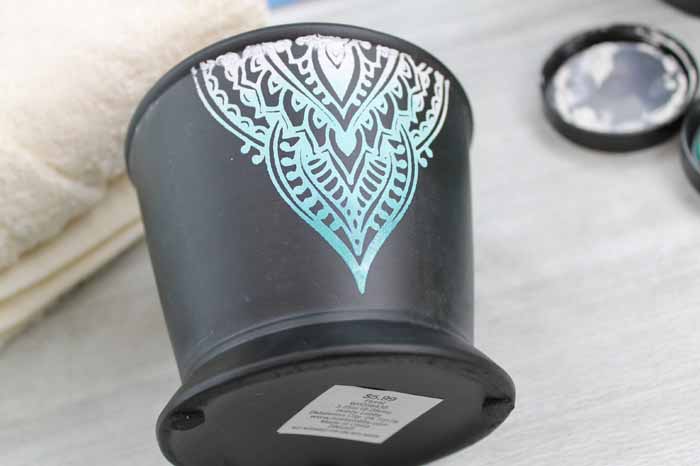 However, if you would like to make your design permanent, just use a spray sealer over the surface and it will last forever! This is important if you wanted to put these outdoors. So easy and oh so pretty! Imagine the possibilities with this product! Remember that when your project is complete you will need to clean your transfers and tools. You can find more information on doing that properly by clicking here.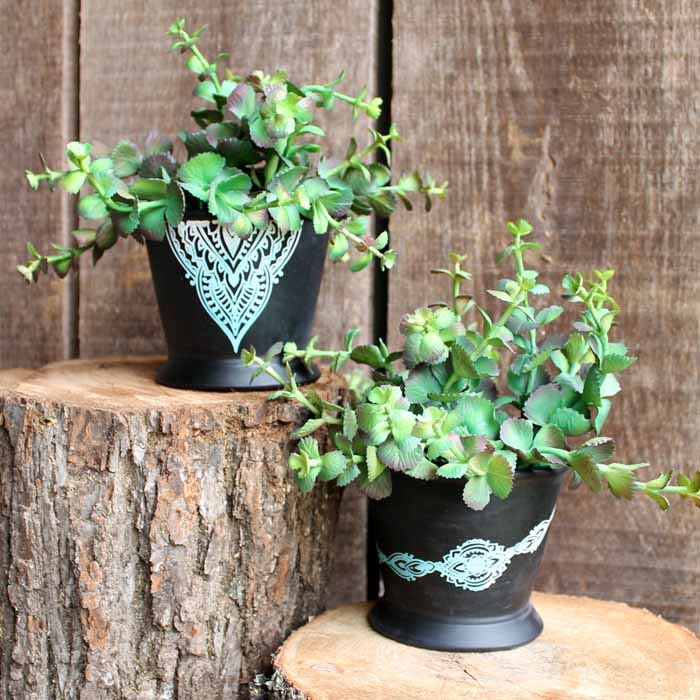 For now, I am enjoying that gorgeous ombre look on these flower pots. I am seriously obsessed with Chalk Couture because it makes projects like these so easy. Plus you can use the transfer over and over again to create tons of projects for your home.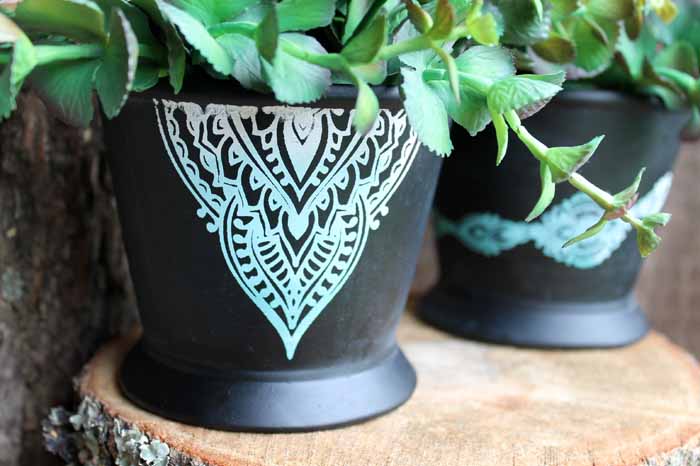 Adding pot decoration to a planter has never been so easy! Will you be adding a fun design to your planters this summer?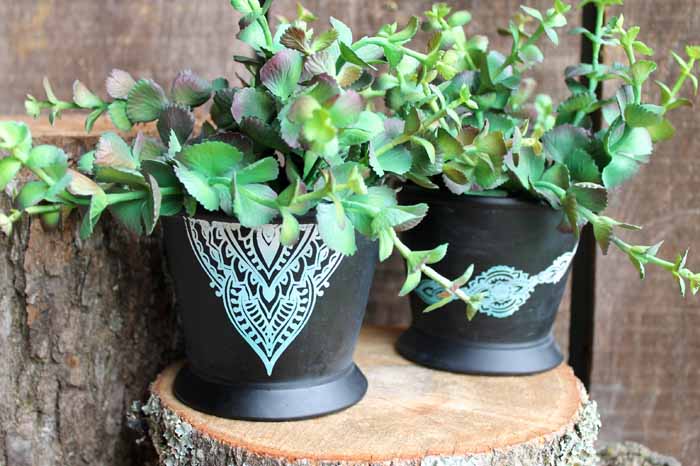 Love this and want more clay pot ideas? Try the links below!
Make an adventure fun jar like this one from Laura's Crafty Life.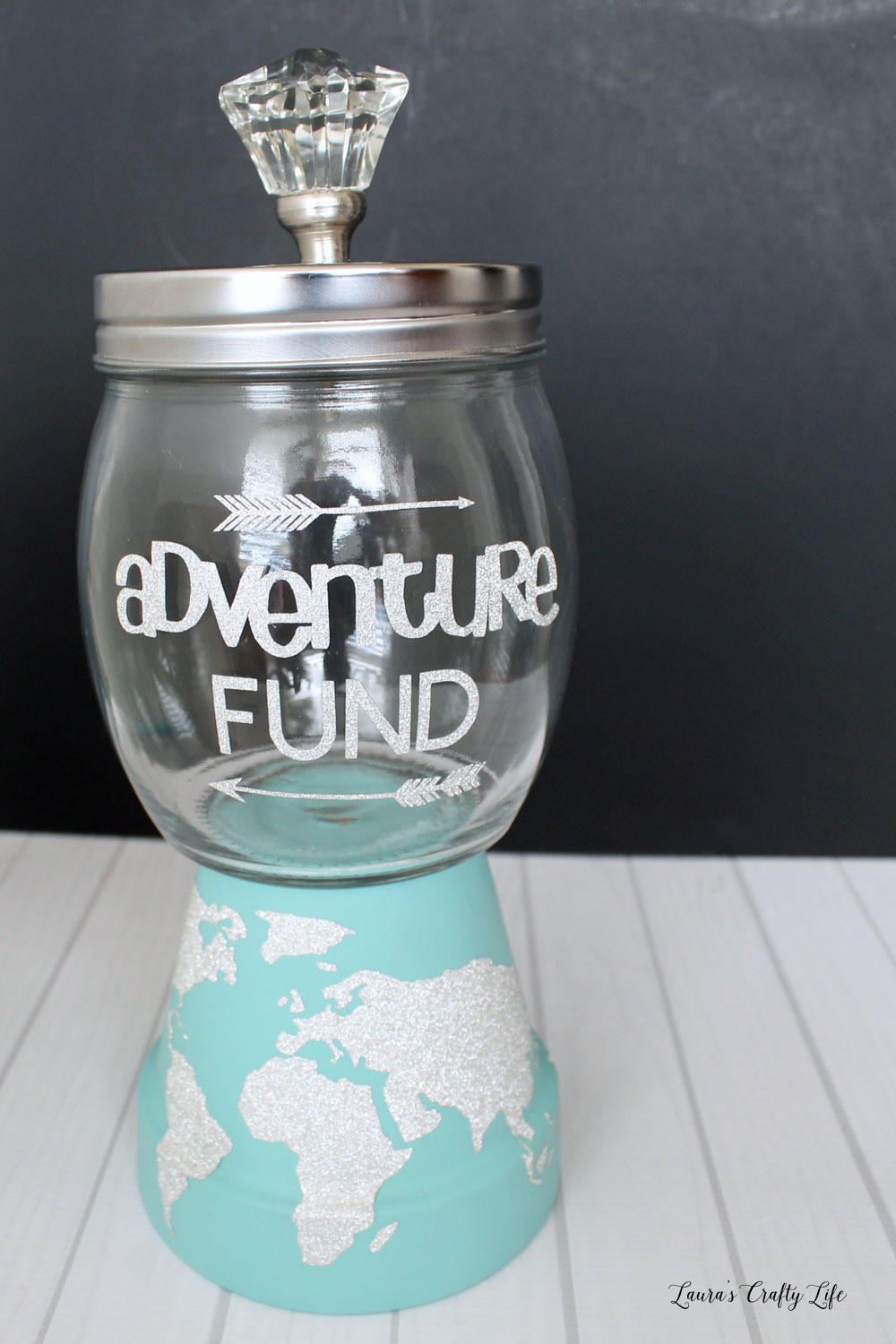 If you love all things gold, these gold ombre pots from Artsy Fartsy Mama will be right up your alley!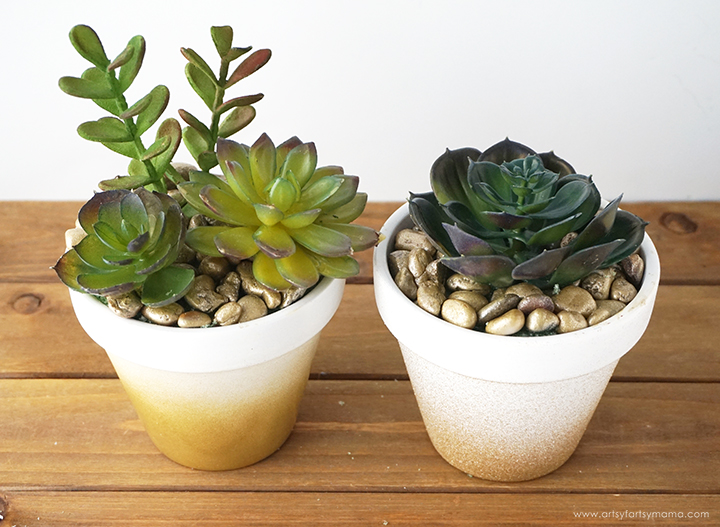 Make Easter bunnies and chicks from clay pots like these from Creatively Beth.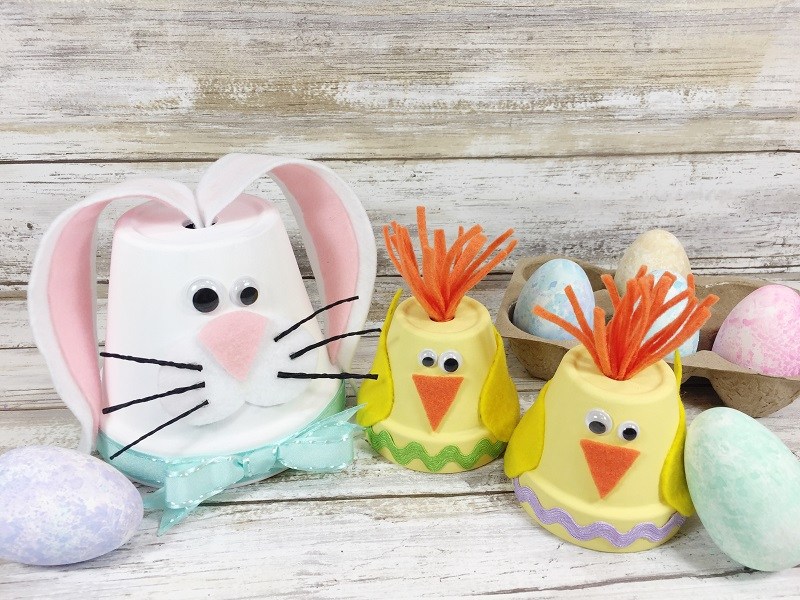 Doodle on a clay pot and make these mini pots from Jen Goode at 100 Directions.
Planning your Easter meal or a spring party? Try these clay pot place cards from Pineapple Paper Co.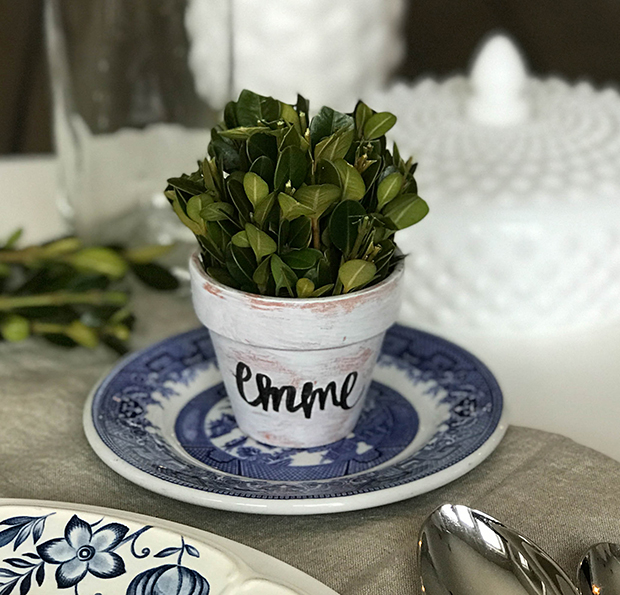 Love to sew? Try making this cactus pin cushion from Michelle's Party Plan It.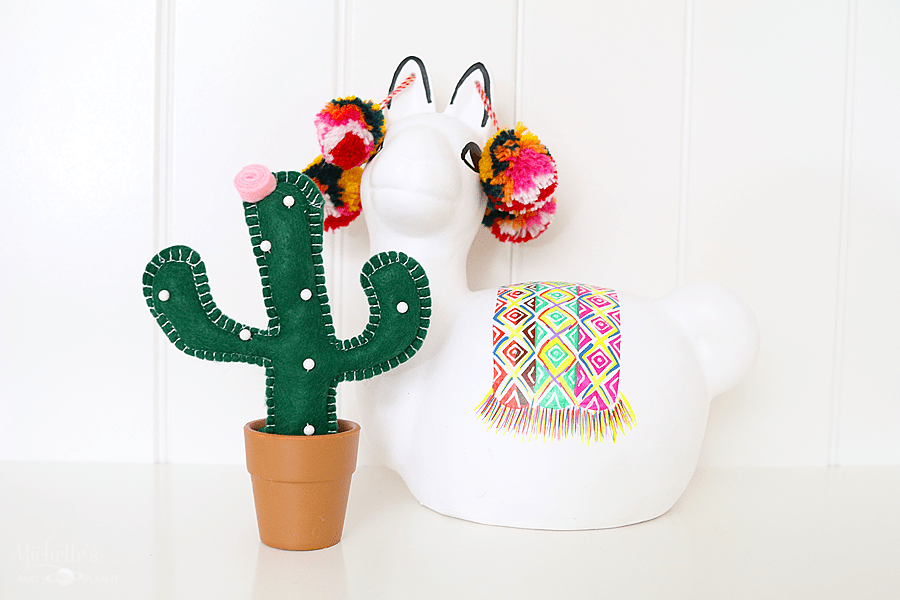 Love Rae Dunn? I know I do! Try making your own Rae Dunn inspired pots like these from Everyday Party Magazine.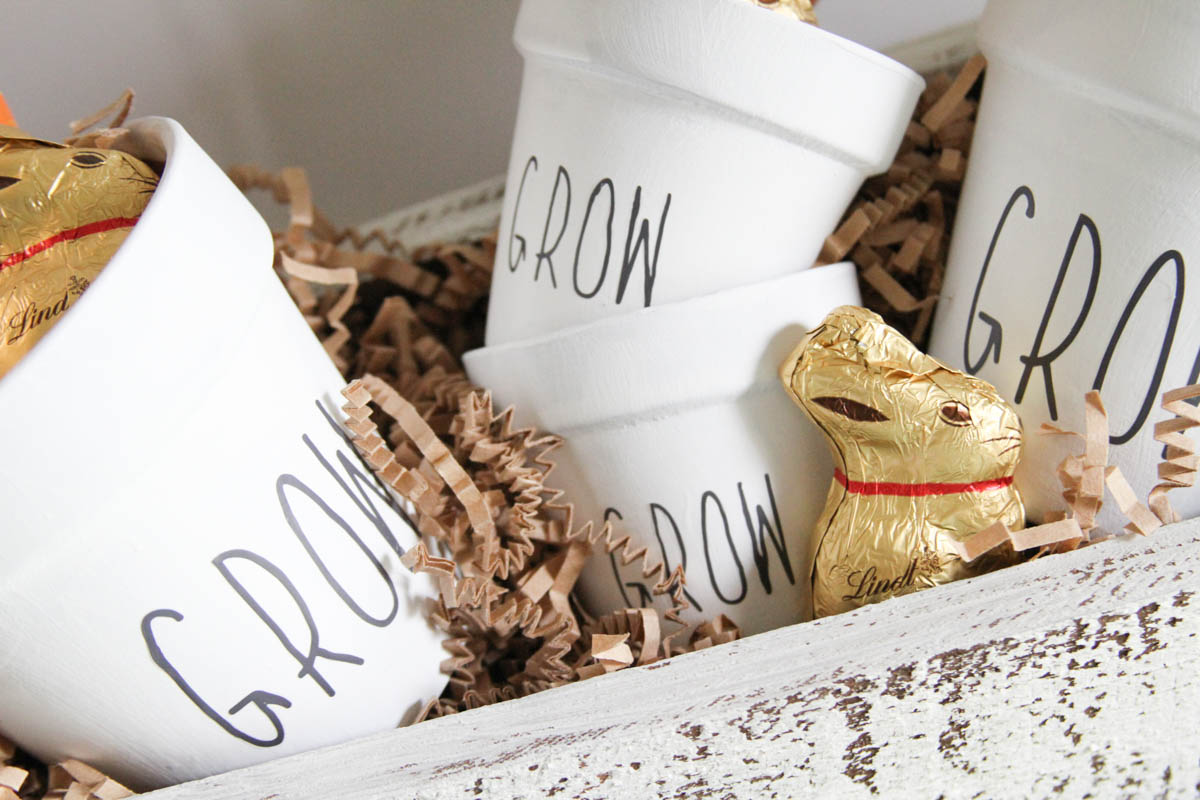 Turn mini clay pots into earrings like these from my co-hostess 30 Minute Crafts.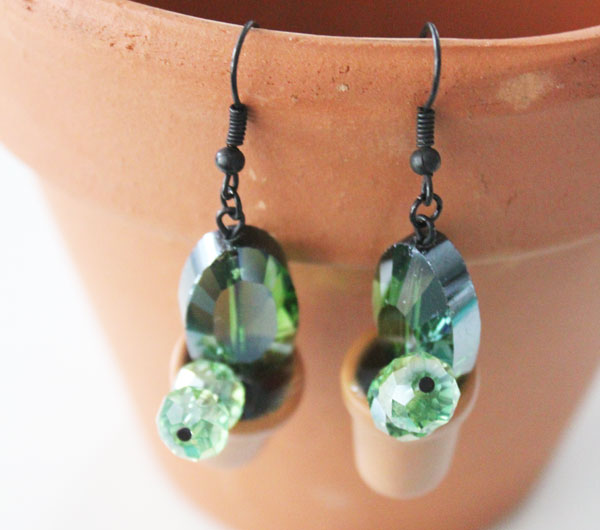 Whether you make some pot decoration or any of these other clay pot crafts, you are sure to love the fact that these projects are so simple to make!
Chalk Couture Beginner's Guide
Getting started with Chalk Couture? Sign up for our email list and then use our handy free printable guide to start creating chalkboard art in minutes!