If you love fall garland, I have a unique and beautiful idea for you. Make your own fall garland out of sweater pumpkins! Keep reading to learn how to take your shabby sweater and make a lovely pumpkin fall garland with it!
Fall garland is often colorful, gracing a room with bright fall colors of gold, orange, and red. But, if you have farmhouse-style decor, a lovely garland like that can stick out like a sore thumb. Well, today I have a perfect (and equally lovely) option for you: a shabby sweater pumpkin fall garland!
It's time to pull out your shabby sweaters and put those sweater pumpkins to work. I took the sleeves of an old white fuzzy sweater and made some small pumpkins perfect for a garland. I didn't even need to stuff them because they were so small that the sweater itself was enough stuffing.
My shabby pumpkin fall garland is perfect for your farmhouse-style home.
And, if you need instructions for the sweater pumpkins, click on over for a full tutorial. The best part is that there is NO SEWING REQUIRED!
Note: Make sure you also check out my Fall Burlap Wreath, Easy Farmhouse Style Fall Centerpiece, and Fall Porch Decor to help round out your fall decorating efforts!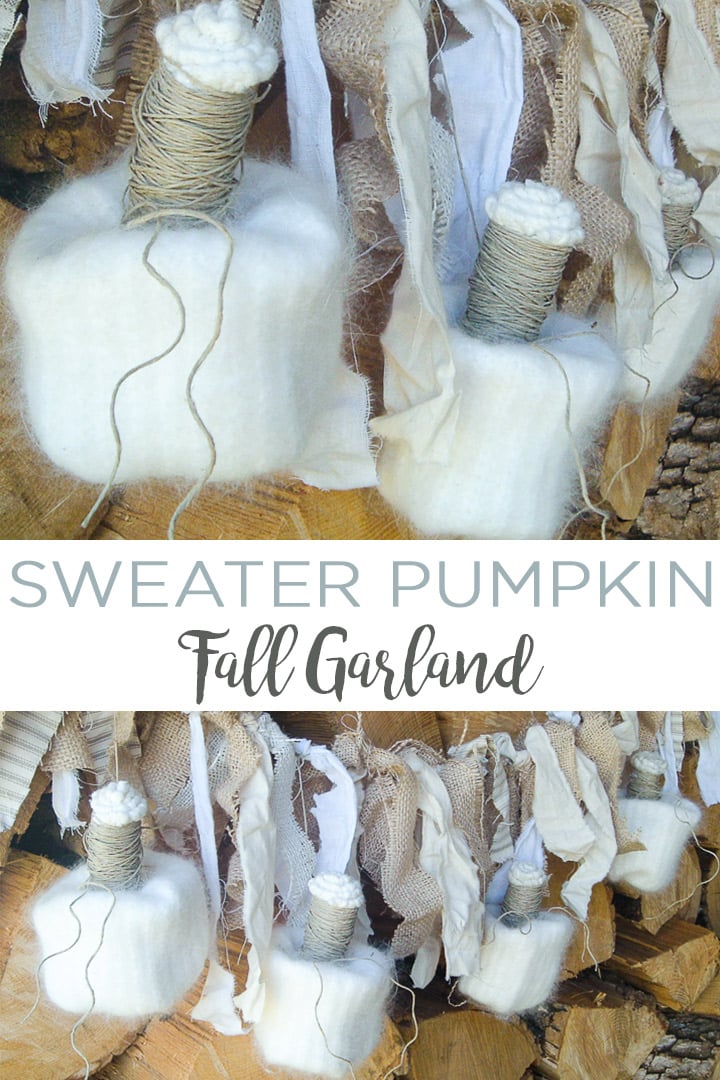 Supplies Needed For Shabby Sweater Pumpkin Fall Garland
Here's a list of everything you'll need for this fall garland project. I even added links for some items to make finding them easier.
Note: Some links below may be affiliate links, which means that you do not pay any extra but a portion of any purchase will go to this site.
Twine
Scrap fabric strips (I used Burlap, muslin, and canvas. Just any neutral scraps I had on hand.)
Hemp cording
White sweater pumpkins
Hot glue and a glue gun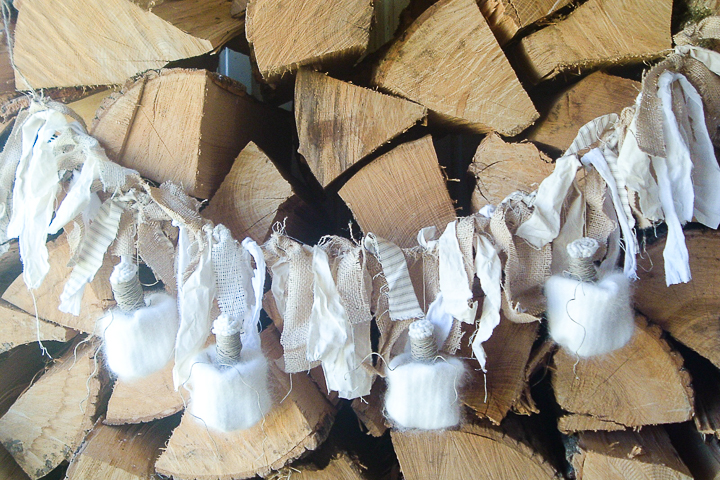 How To Make A Fall Garland From Sweater Pumpkins
Here are the steps for making your own beautiful fall shabby chic farmhouse-style garland.
Step 1
Start by making your no-sew sweater pumpkins. If you've never done that before, just use this tutorial.
Step 2
Grab a long piece of twine (as long as you want your fall garland to be) and start adding scrap pieces of fabric. Just tie these on with a knot.
Step 3
Then use hemp cording to tie on little white pumpkins.
And that's all it takes to make a fall garland you'll love! It's literally as easy as 1…2…3. 🙂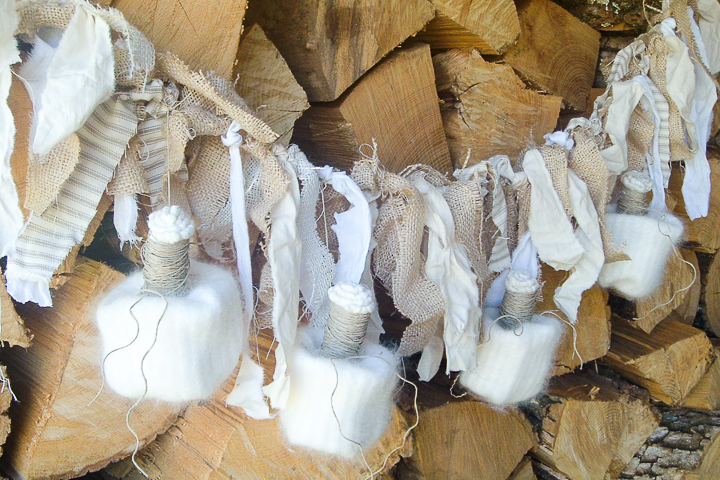 Tips For Making Your Sweater Pumpkins
For these pumpkins, I actually used part of the sweater for the stem as well. It is just a piece from around the neck and rolled up. Then, wrapped with lots of hemp cording. But, it makes a nice stem, right?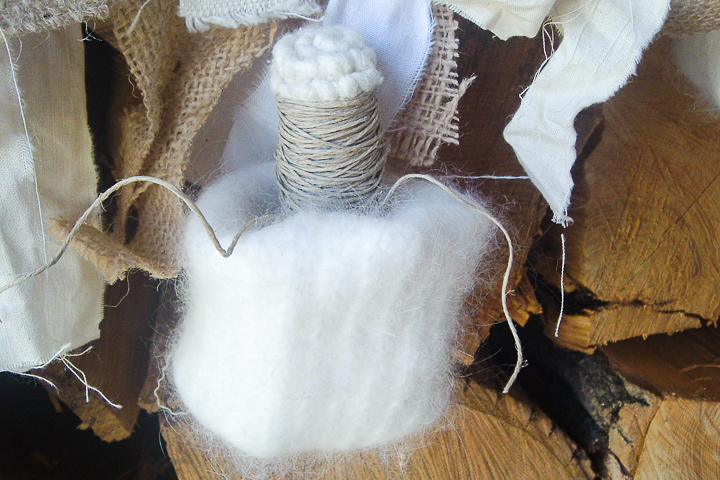 Then, I used more hemp cording to become little "twigs" to add a touch of whimsy to these little guys.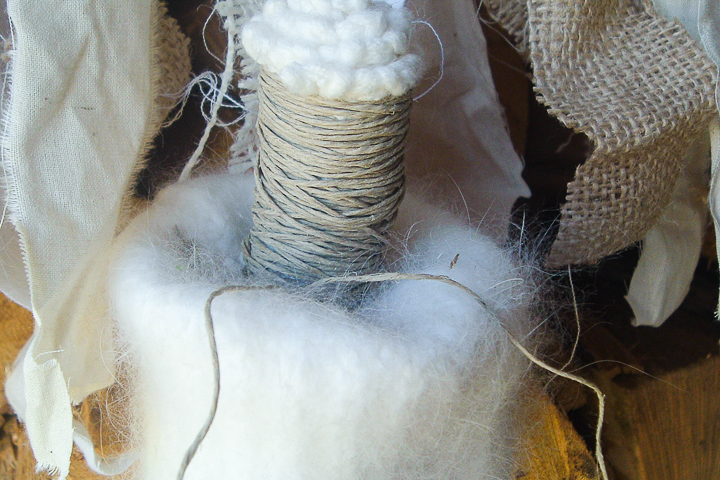 The best part about this fall garland is that literally everything is just tied on. I did use a tad of hot glue to attach the stems to the pumpkins, but that is it. Everything else is just knotted.
I love no-sew projects!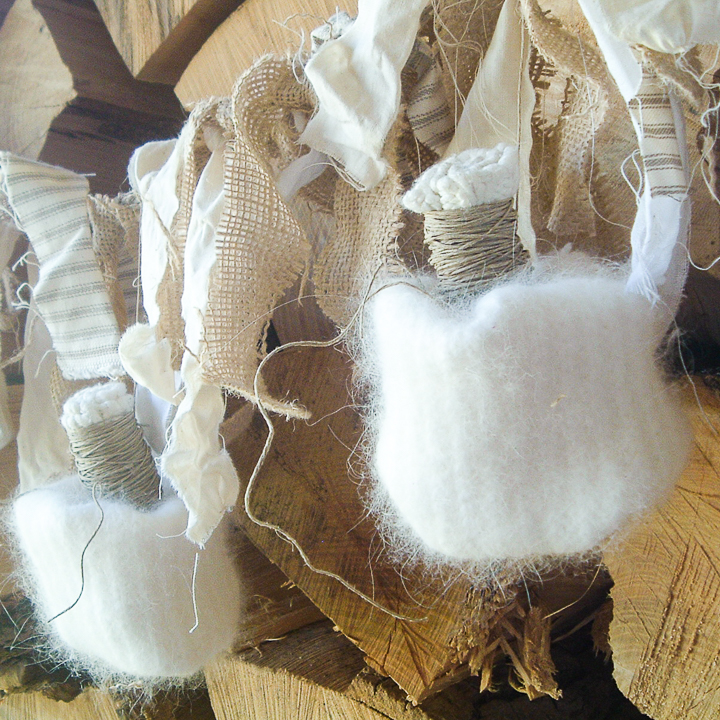 FAQs
Here are a couple of common questions I get about this fall garland project from readers. If you have a question but don't see it down below, please leave it in the comments so I can answer it for you.
How do you make a pumpkin out of a sweater?
The process is really pretty simple. It only takes a few minutes and doesn't require any sewing skills at all! If you want to see the process in detail, check out my full tutorial.
Can you use any type of sweater to make sweater pumpkins?
Yes! In addition to my full tutorial, I also have DIY Ombre Sweater Pumpkins and Easy Sweater Sleeve Pumpkins that you can check out. Then, feel free to take those ideas and expand on them to make your own unique creation!
Cute little white fuzzy pumpkins make this shabby fall garland perfect for your decor this season. If you love all things shabby chic and farmhouse, this is definitely one project that you will want to make this year.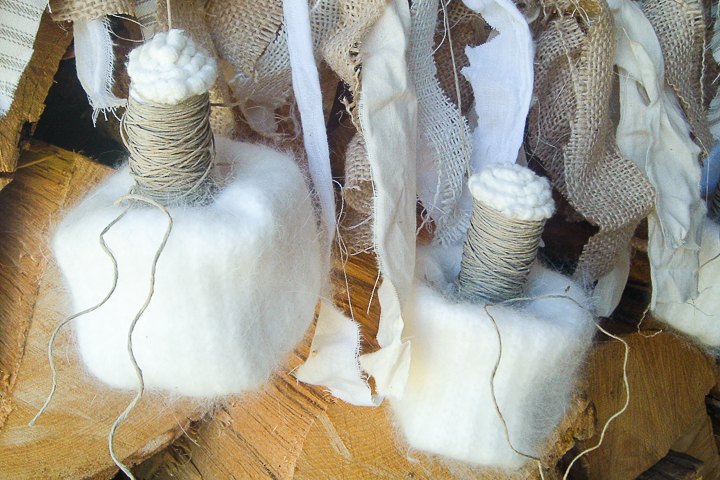 Plus, it is so easy to make that there really is no reason NOT to make one. For now, mine is hanging off the woodpile for a photo shoot, but have no fear – you will see where it ends up later. 😉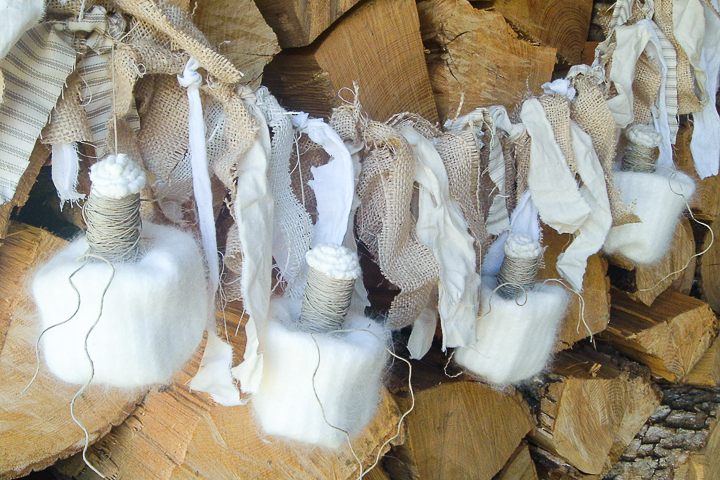 Go ahead and grab a sweater so you can get started on this easy-to-make craft idea that will really spruce up your home and show off your (incredible) fall style!
Love This Fall Garland? More Fall Decor Inspiration
If you love this simple farmhouse-style fall garland project, be sure to check out these other ideas too!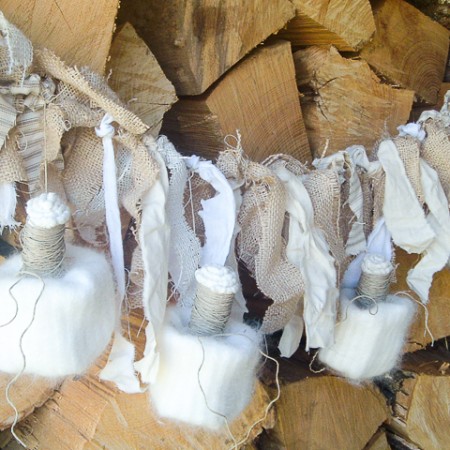 Fall Garland With Shabby Sweater Pumpkins
Make your own fall garland out of sweater pumpkins! Keep reading to learn how to take your shabby sweater and make a lovely pumpkin fall garland with it!
Supplies
Twine

Scrap fabric strips

Hemp cording

DIY sweater pumpkins

already made

Hot glue and a glue gun
Instructions
Make your no-sew sweater pumpkins. Use this tutorial if you need to see how to do it.

Cut a piece of twine the length you want your fall garland to be and begin tying on scrap pieces of fabric.

Tie on little white pumpkins with hemp cording.
Tried this project?
tag us to show off your work!