If you want to add a little flair to your autumn decor, this embroidery hoop pumpkin fall banner is a must! It's simple to make and gives any room a great pop of color!
One of my favorite things about fall is the colors! Vibrant golds, deep oranges, ripe reds, and pretty purples surround us and make us feel alive as we enjoy the cooler days and chilly evenings. I love bringing those colors indoors and decorating the entire house in fall splendor.
And every year I make at least one fall decor item to add to the bunch. This year I decided to make a cute fall banner that I could hang from my mantle.
I absolutely love decorating my mantel for fall. It is my favorite area to fill with colors! I just couldn't resist adding some fall touches to it this year. The bunting just needed a little something special, and that's when I came up with this adorable fall banner idea.
You're gonna love this cute three-dimensional fall banner for your fall home decor. It's unique and perfect for the season! Read on to learn how to make this pumpkin hoop fall banner in just minutes.
If you love easy, colorful fall decor, be sure to check out my Fall Mason Jars, DIY Fall Leaf Wreath, and Mason Jar Candle Holder!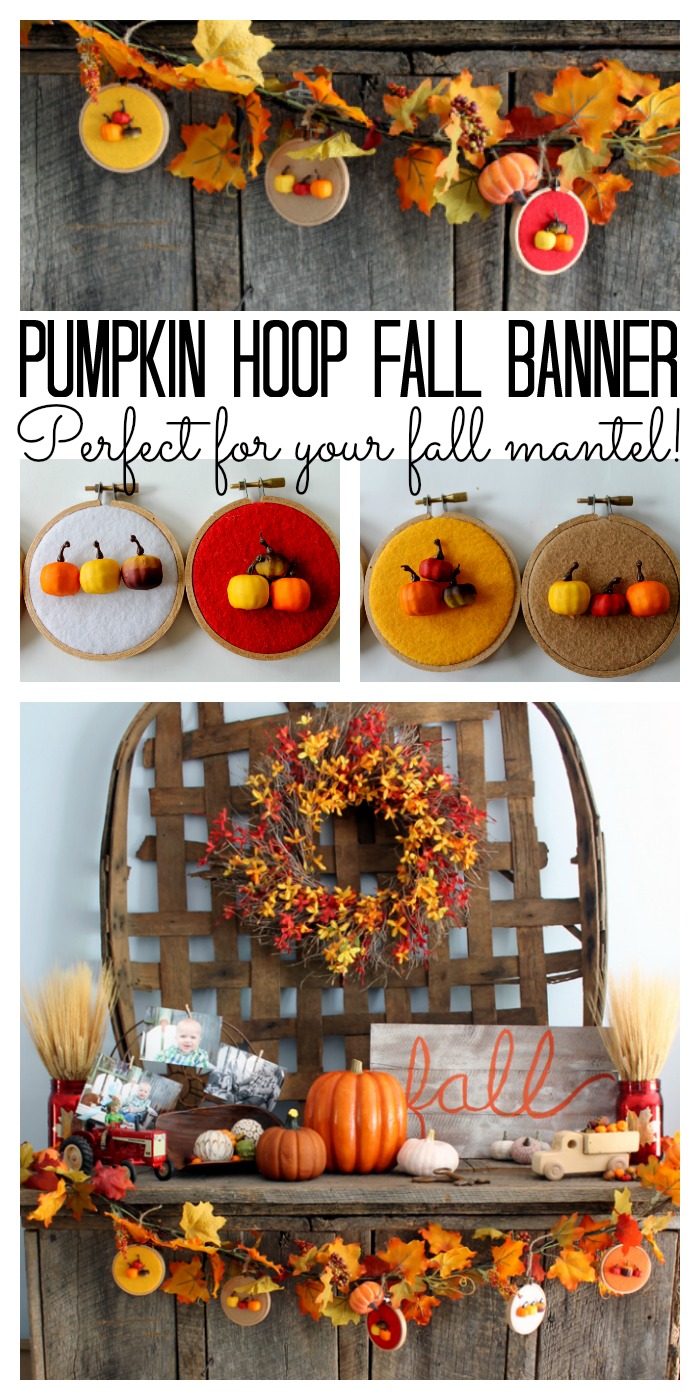 How To Make This Embroidery Hoop Fall Banner With Pumpkins
If you've been hanging around this site for any length of time, you know how much I love quick and easy crafts that yield high visual impact. This craft fits the bill!
Supplies Needed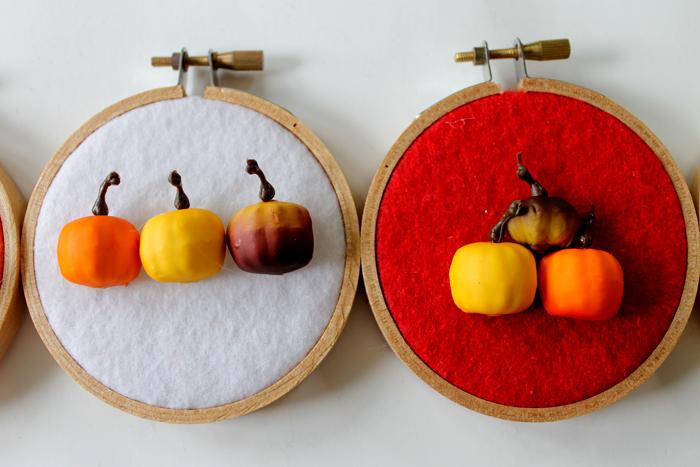 Some links may be affiliate links which means you do not pay anymore but I may receive a small commission to put towards this site.
Mini pumpkins (you only need one package for this craft but they're so affordable and cute you might want to get a bunch – just a warning!)
Embroidery hoops (I used the 4 inch version so they wouldn't overwhelm my mantle, but you can choose the size you want)
Felt (in various fall colors)
Hot glue and glue gun
Jute twine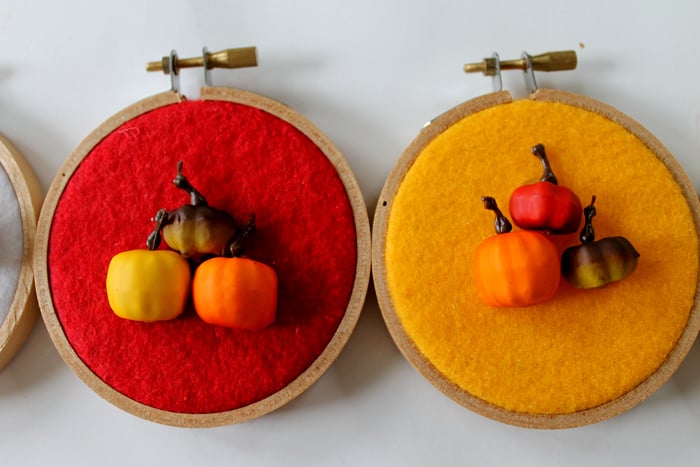 Fall Pumpkin Banner Video Tutorial
If you want to see how I made this craft from start to finish, watch the video below. It's short, and I think it explains the process way better than pictures ever could.
Embroidery Hoop Fall Banner Instructions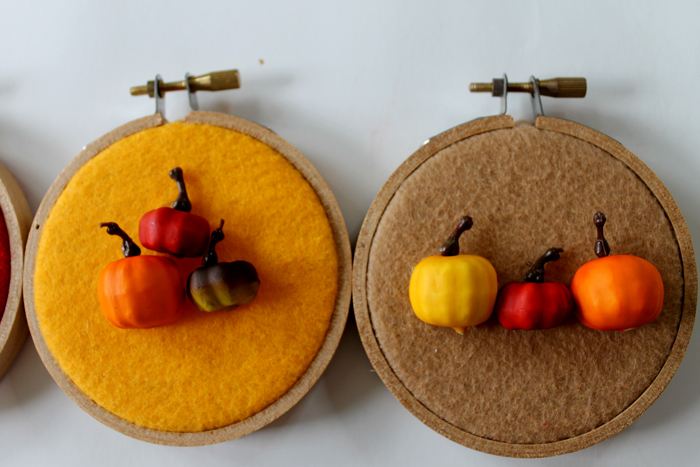 If you can't watch the video or miss part of the process, check out the step-by-step instructions below.
Add felt to embroidery hoop.
Trim any excess felt from back of hoop.
Cut mini pumpkins into two pieces using a craft knife. Be sure to include the stem in one of the pieces.
Use hot glue to secure the mini pumpkins in various ways to the felt in the hoops.
Use jute twine to hang your embroidery hoops on your fall mantel. I used an existing fall garland to add my hoops as shown below.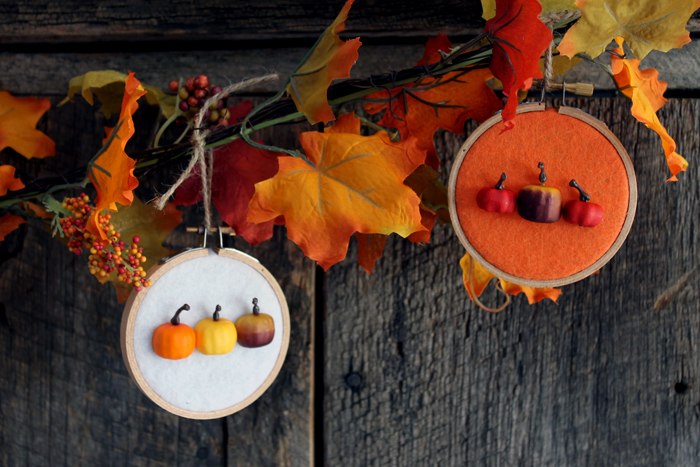 FAQs
If you have questions, check below to see if I've already answered them. If I haven't, please leave your question in the comments so that I can!
Can I use super glue instead of hot glue?
Yes! Either type of glue will work with this project. I find hot glue to be easier to work with for very simple projects like this fall banner. But if you don't have hot glue or a hot glue gun, super glue will work too!
What could I use instead of embroidery hoops?
If you don't have embroidery hoops or simply prefer a different style, you could replace them in this fall banner project with anything stiff. Something such as balsa wood cut into circles would give you the same general look without the embroidery hoops.
If you use choose to go this route, wrap your felt around the circle and glue it in place on the backside. Then make sure you cut a hole in the wood for your jute twine.
Make This Fall Banner For Your Home
I love the three-dimensional look of this fall banner. Aren't the small hoops adorable? This banner is so easy to make, and those mini pumpkins just make me smile y'all!
I have been using mini pumpkins like these in tons of areas around my home. They look great in any container for a touch of fall in any room.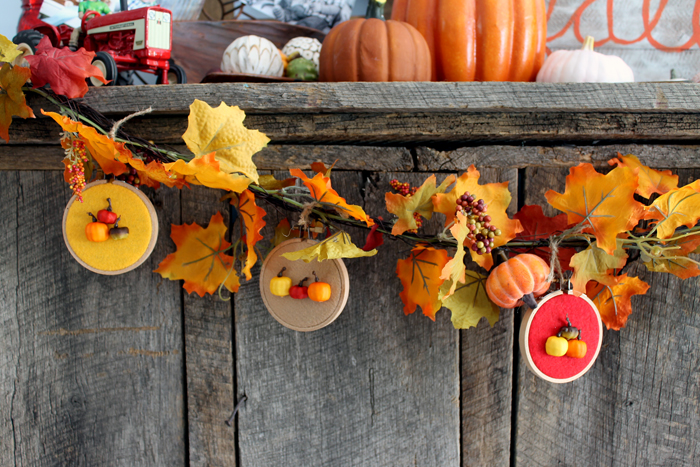 Don't have a fall garland to hang your hoops on? Be sure to click here and pick one of those up on Amazon as well. You can use this pumpkin hoop fall banner year after year in your home!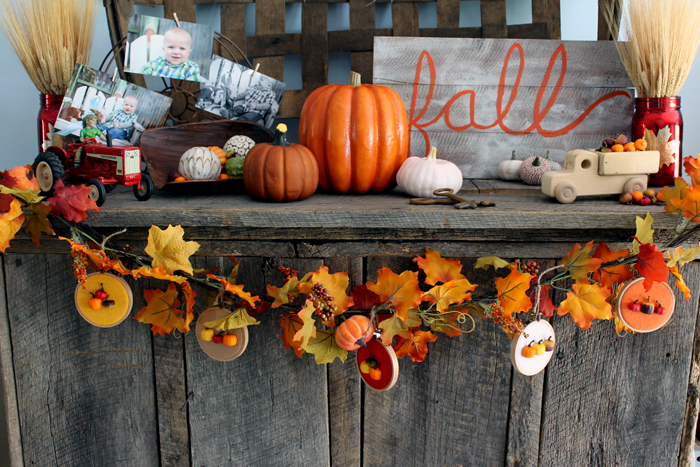 Love the rest of the items on my fall mantel? See how to make each of those below!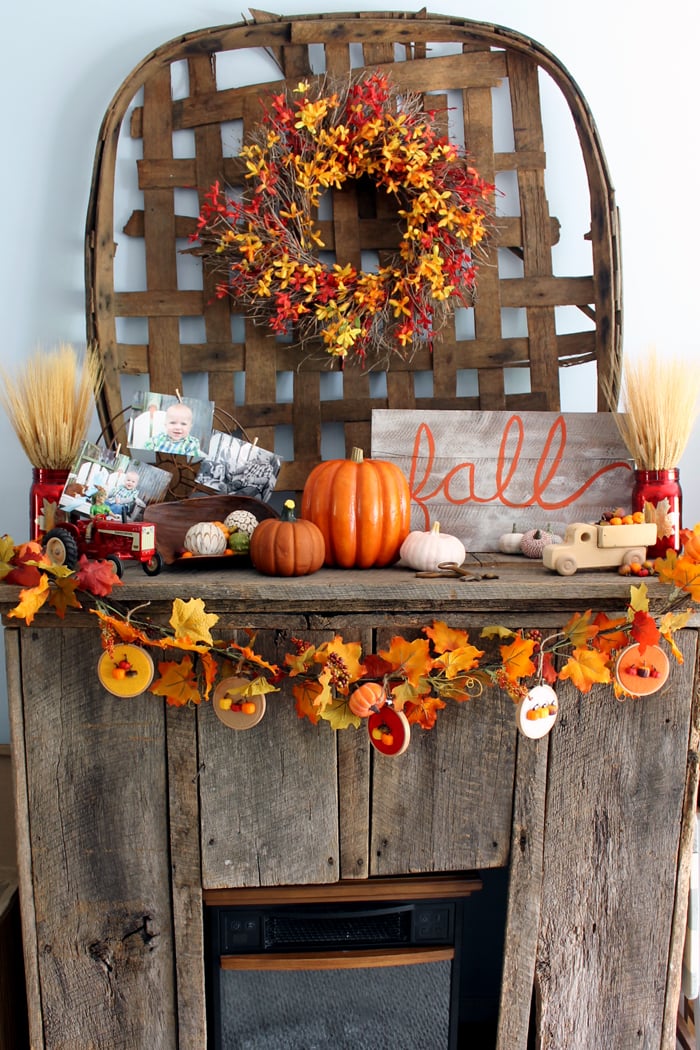 More Fall Fun To Check Out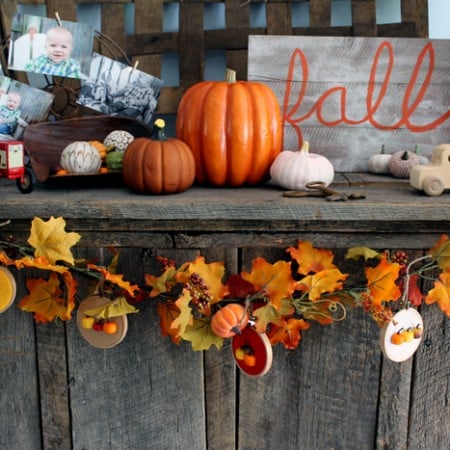 Embroidery Hoop Mini Pumpkin Fall Banner
If you want to add a little fall flair to your autumn decor, make this embroidery hoop pumpkin fall banner to give any room a great pop of color!
Instructions
Add felt to your embroidery hoop.

Once the embroidery hoop is secured, trim off any excess material in the pack of the hoop.

If your mini pumpkins are attached to each other, cut them apart, leaving the stem on one of the pumpkins.

Attach your mini pumpkins to your felt hoops in various arrangements using hot glue.

Attach jute twine to your hoops and use that twine to tie your hoops onto your autumn garland.
Tried this project?
tag us to show off your work!