Felt is the perfect material to make and add color to rustic holiday decorations! Learn how to make these beautiful felt Christmas trees to add to your indoor holiday decor.
Rustic holiday decorations are my favorite. Just as displaying an evergreen Christmas tree brings an element of nature inside the home, other rustic decorations do a similar thing.
And that natural beauty draws me in every time!
I often use wood and burlap when I make rustic decor like these DIY Wooden Christmas Trees.
But, felt is another perfect material to use for all your DIY rustic decorations. And, as it turns out, Christmas decorations made with felt are right up my alley.
These DIY cute felt Christmas trees are a simple project to make when you want to add a forest of evergreen trees to your home. This project is perfect for Christmas as well as your winter decor. 🙂
Life gets busy, and I don't always have time to change out my decor, so I love a project that I can leave up for a few months…don't you?
If you love rustic Christmas decor, be sure to check out my Red Truck With Christmas Tree Ornament, Santa Wood Slice Ornaments, and Farmhouse Front Porch Christmas Decoration ideas!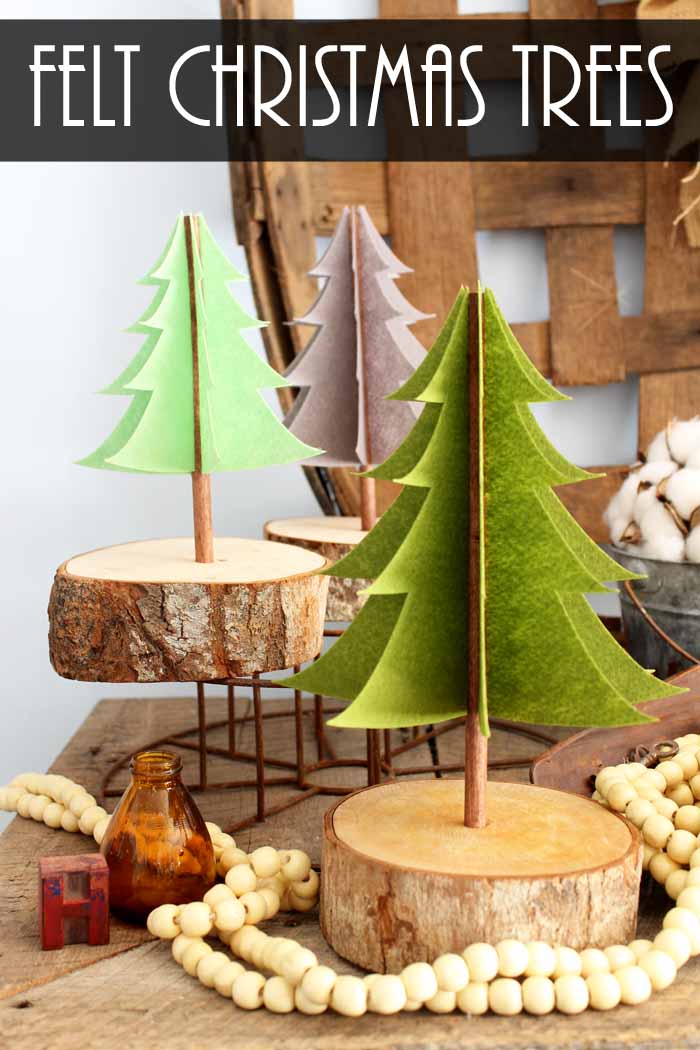 Supplies Needed
Here is a quick list of everything you will need to make this fun and easy project.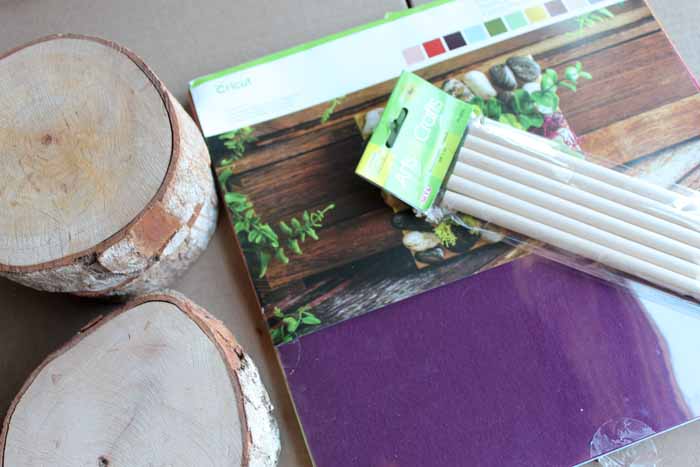 How To Make Felt Christmas Trees
The process for making this project is quick and easy which means you can make several of these and create a "forest" in a short period of time!
Step 1
Start by pulling up the cut file in Cricut Design Space.
Tip: If you are new to Cricut, click here to get my free guide for Cricut Design Space.
Step 2
Cut the felt into the tree shapes. Each tree is designed to be cut from one 12×12 sheet of Cricut felt.
All three of these colors come in this sampler pack!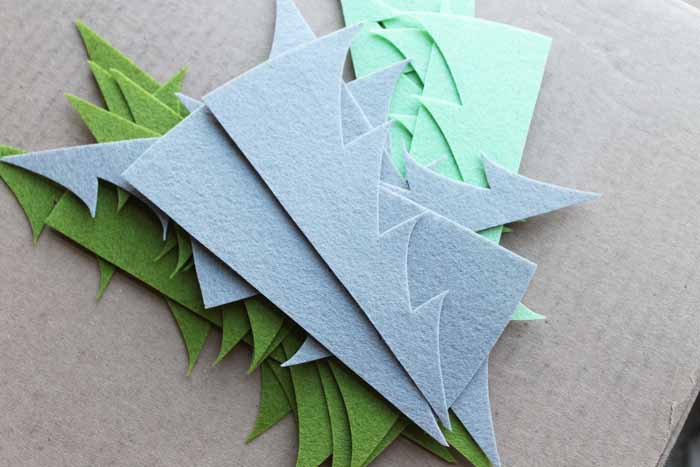 Step 3
Then, you need to cut your dowels to length. I used my trees themselves for a rough measurement and marked each dowel. I recommend just cutting them off using a saw.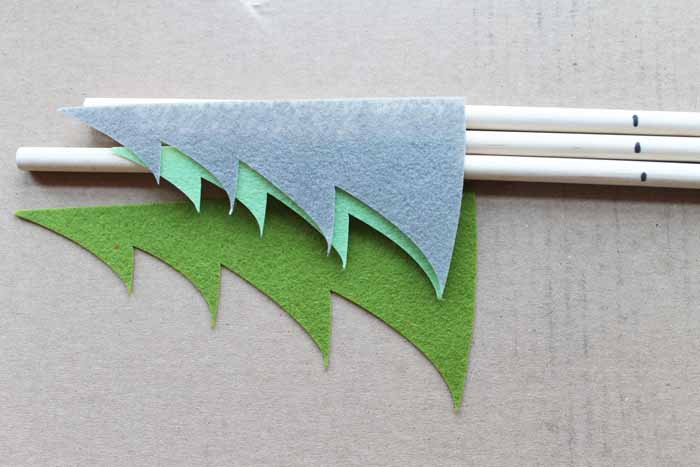 Step 4
After they are cut, you will want to stain them a dark color.
Paint on your stain with a brush, allow to sit a few minutes, and then wipe away any excess with a rag.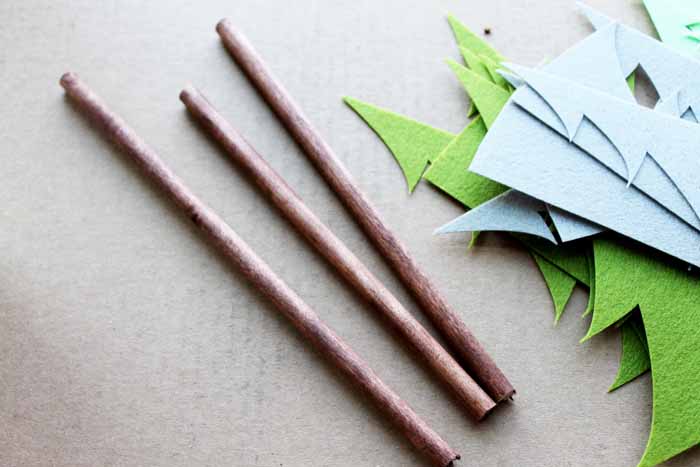 Step 5
While your stain is drying, drill holes in the center of each of your wood slices. Your holes should be snug for the dowels.
Step 6
Add the dried dowel rods to the holes in the wood slices.
Tip: You may also need a hammer to drive them in tight.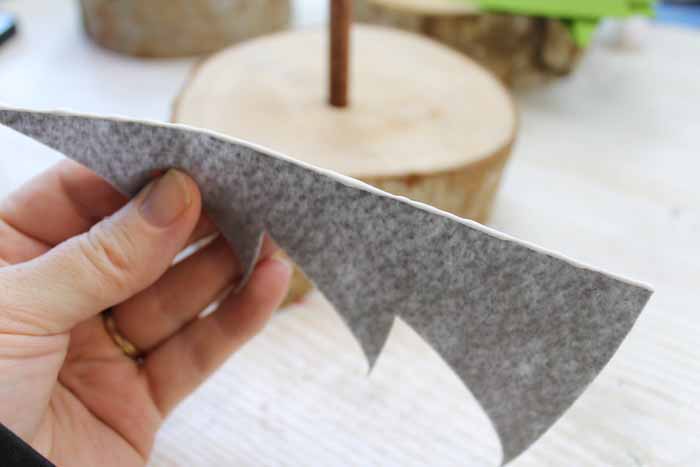 Step 7
Add tacky glue down the edge of each of your felt tree pieces as shown above.
Then, stick the felt pieces to the tree. Each of these felt Christmas decorations get 8 of the tree pieces. Evenly space them around the dowel rod as shown.
I also wanted mine to stick up just a bit above the top of the dowel.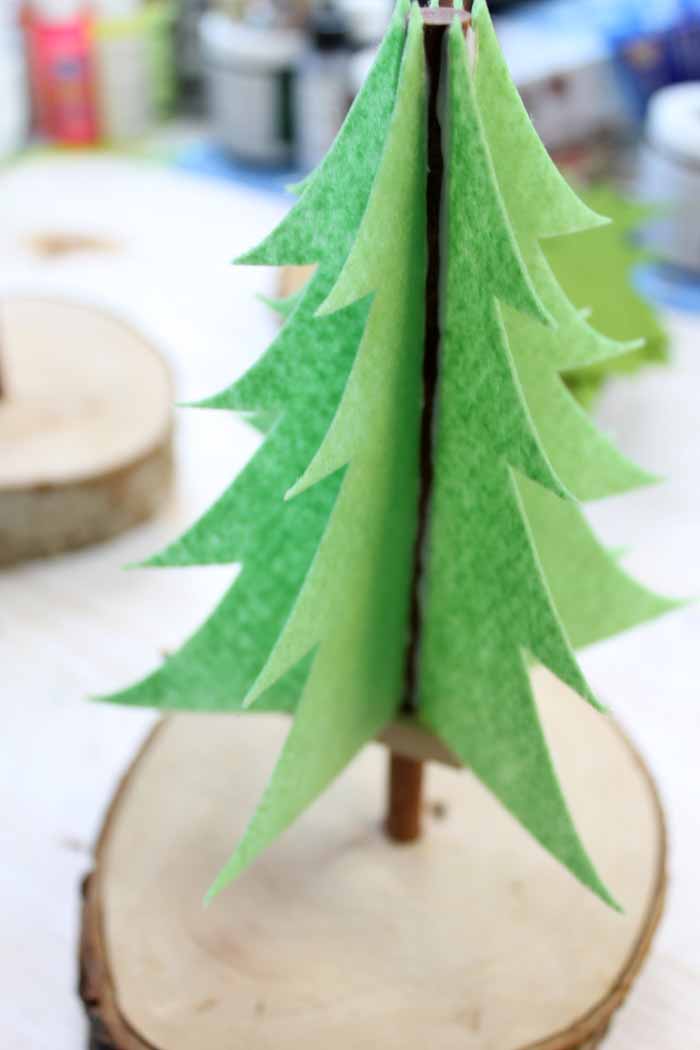 Step 8
Allow your glue to dry overnight and then your felt Christmas trees are ready to display around your home!
Quick Tips:
I changed the blade to the rotary one to get a better cut. However, it does leave a tiny bit uncut on the very end of those pointed tips. You may have to also clip them with scissors when removing them from your mat.
Wrap a tape "flag" around the drill bit at the depth desired. When the tape hits the top of the wood slice, you know you are deep enough.
They may want to slide down on you a bit while the glue is still wet. You can use a clothespin at the bottom to hold everything up until it dries (see below).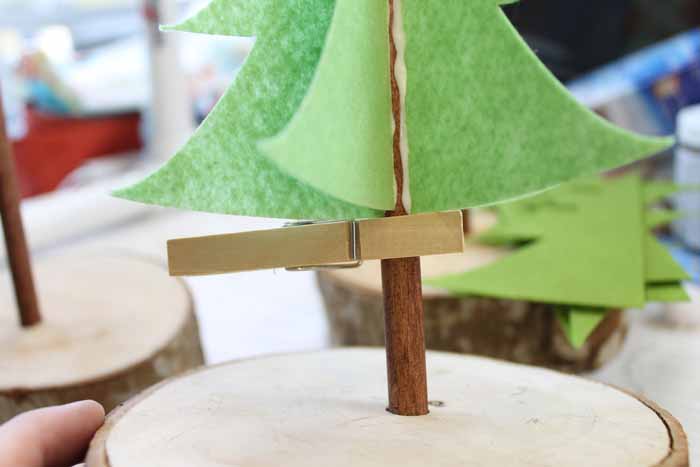 FAQs
Here are questions I frequently see readers ask about this felt Christmas tree project. If you have a question but don't see it answered down below, please leave it in the comments so I can answer it for you.
Can I use different kind of glue?
If you don't have tacky glue, you could use craft glue or hot glue to put your felt Christmas trees together. If you do decide to use hot glue, be aware that the dry time will be shorter than the amount of time it takes tacky glue to dry.
Can I use different material for the trees?
Felt is ideal for this project for multiple reasons! First, it's stiff and thick which makes it easier to glue. Also, it gives a rustic, more natural appearance compared to different materials like paper.
Can I reuse these felt Christmas trees?
Yes! You just need to be careful about how you pack and store these felt Christmas trees until next year because they're delicate.
I love these cute little rustic trees and how perfect they look on my mantel. I will definitely be adding them to my holiday decor year after year!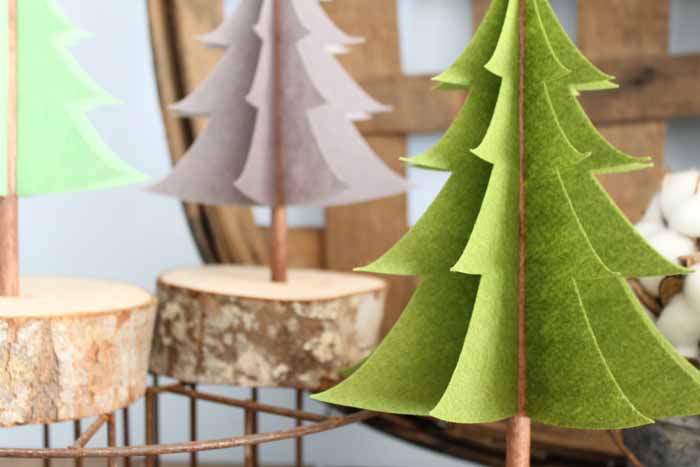 Imagine an entire forest of these at Christmas and through the winter months. They make such a cute way to add some festive cheer to your home!
I just love working with felt for projects like these! The Cricut brand of felt is also fairly stiff so it works particularly well in this project and stands up well.
I hope y'all enjoy these felt Christmas decorations and make a bunch for your home!
More Holiday Decor Inspiration
So, do you love these felt Christmas trees and want more Cricut ideas for your holiday? Try the links below!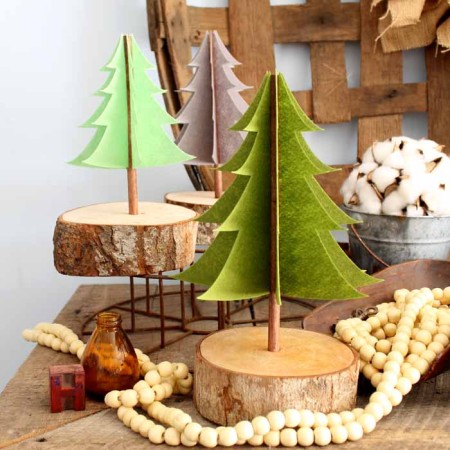 Felt Christmas Trees
Use felt to make beautiful, rustic-looking winter and holiday decorations!
Supplies
Wood dowels

Wood slices

Dark stain

Rag

Drill

Drill bit

Saw

Tacky glue

Clothespins

Hammer
Instructions
Cut the felt into the tree shapes.

Use a saw to cut your dowels to length.

Paint on your dark stain on the dowels with a brush. Then wipe away the excess with a rag after it sits for a few minutes.

Use your drill and drill bit to drill holes in the center of each of your wood slices.

Insert the dried dowel rods to the holes in the wood slices. They should fit snugly.

Next, add tacky glue down the edge of each of your felt tree pieces Then stick the felt pieces to the tree and space them evenly apart.

Let your trees dry overnight then display them around your home!
Tried this project?
tag us to show off your work!
New to Cricut?
Sign up for our email list to download the Beginner's Guide to Cricut Design Space for FREE today!
Sign up to get the guide emailed to you!