Jen Goode is back this month with some strawberry decor you are going to love! This one is perfect for all of your summer parties and it is so easy to make!
Next time you throw a summer party, add a little extra cuteness with DIY Strawberry decor. You can dress up a party, lemonade stand (with strawberry lemonade, of course) or add strawberries to your picnics. This Cricut created art is simple to create and can be customized for a variety of uses.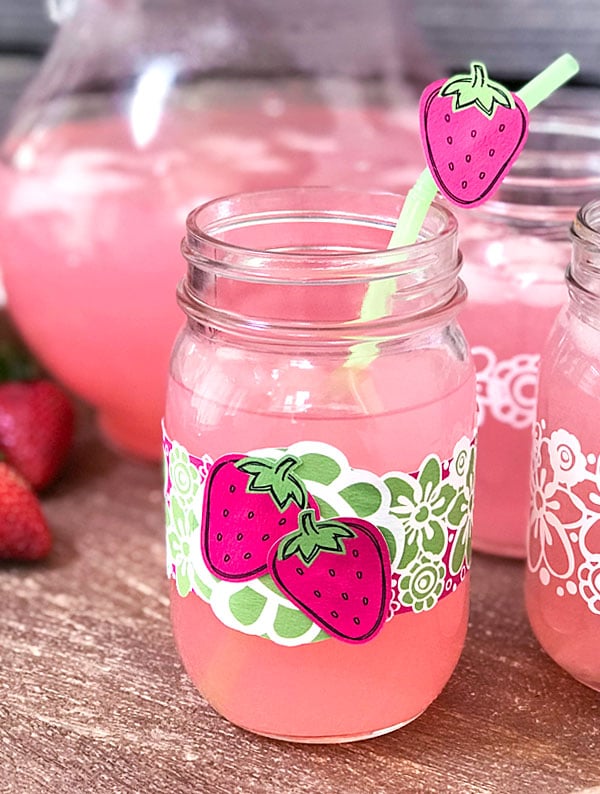 Make Cute Strawberry Decor
I've used these strawberry accents to dress up a pink lemonade drink display. Just add a cute wrapper to mason jars and a little paper strawberry to the straws. You can use these same pieces to decorate your party display, create a cute kitchen art piece and so much more. And the best part, the flower accents are FREE in Cricut Design Space! The strawberry is part of my design sampler and can be purchased individually or as the full design set.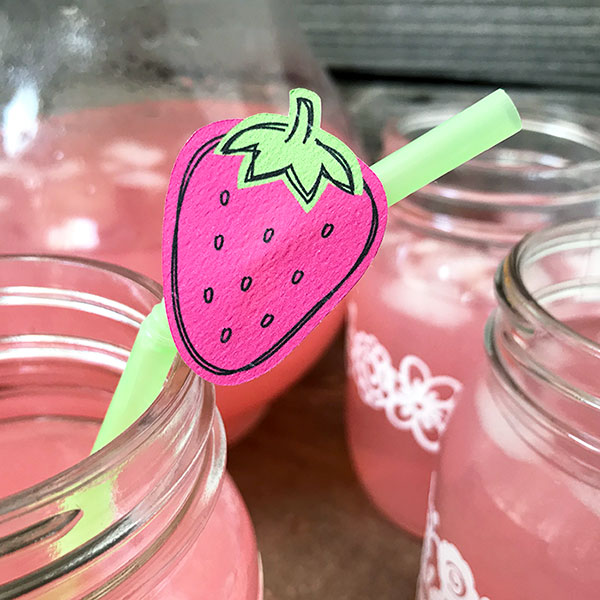 Optionally I wrapped the first mason jar with printed and cut card stock. If you'd like to create something a little fancier and have a bit more time, try the vinyl cut design. It takes a little bit of time to weed the design, but once you're finished you'll have a pretty flower lace pattern you can use to spruce up your summer decor.
Materials
Some links below may be affiliate links which means that you do not pay anymore, however, a portion of your purchase will go to support this site.
Cricut Design Space
Flower cut design and strawberry cut design by Jen Goode
Mason jars
Craft glue
Optional – vinyl and transfer tape as needed – you can use printable vinyl too!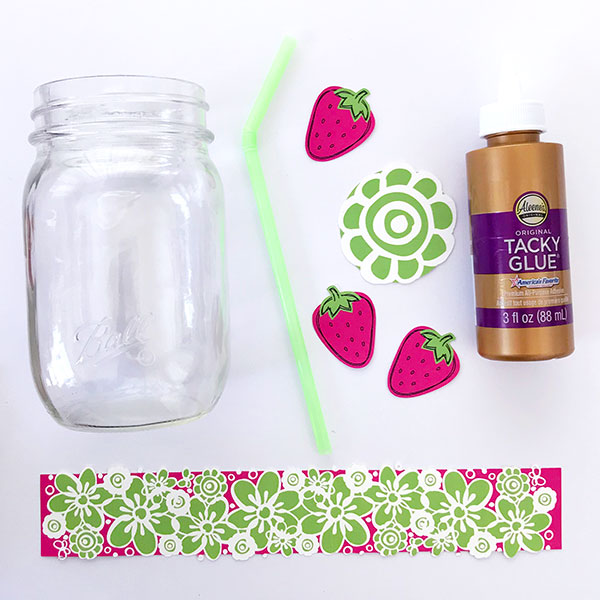 Instructions – printed cardstock
Go to the pre-set Strawberry decor Cricut project in Cricut Design Space. I've already set up all the pieces so all you need to do is follow the on-screen instructions to cut the materials you'd like.
Wrap the mason jar with the flower design. Glue the larger circle flower to each end of the pattern to finish off the jar wrap.
Then glue the strawberries to the circle flower.
Glue a strawberry to the top of a straw, leaving 1/2-1 inch of space from the top of the straw.
Allow glue to dry before using these pieces.
Note: some of the cut design layers are hidden when you first open the project. Feel free to view all the layers and play with them to create the look you prefer.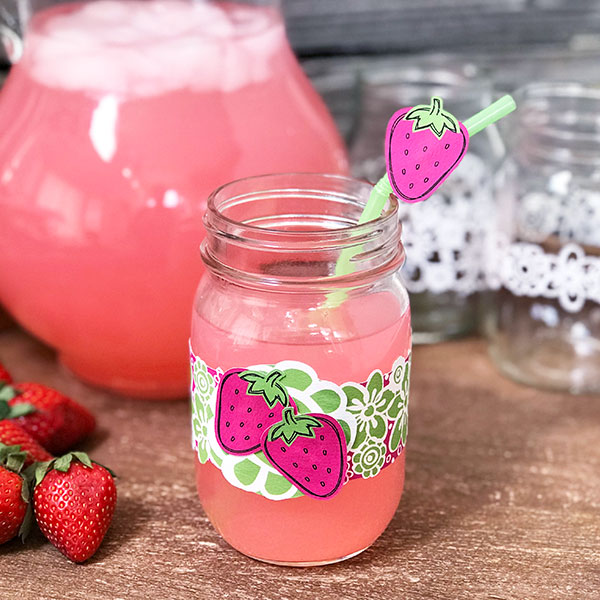 Instructions – vinyl
Go to the pre-set Strawberry Cricut project in Cricut Design Space. Follow the on-screen instructions to cut the designs.
Use transfer tape to remove vinyl cut design from it's backing paper.
Apply vinyl design to the jar. Rub into place.
You can use printable vinyl to create the strawberries or layer colored vinyl cut into separate pieces.
As for lemonade – you can use a pre-made lemonade or create your own. I have a yummy strawberry ginger lemonade recipe you have to go try! If you're not a fan of ginger, just leave it out.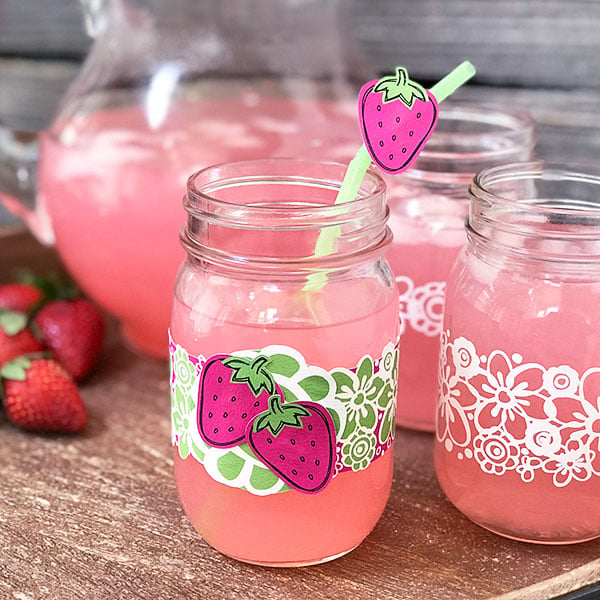 This strawberry decor project is ready and waiting for you to create with in Cricut Design Space. Some of the pieces have been flattened so they will print and then cut. You can edit these pieces by simple unflattening the art and then modifying as you'd like. You can change the colors, change to cut or even change to draw.
Have fun creating all your cute strawberry party pieces!