Make mom smile with a special homemade gift: a DIY tassel keychain. It's the perfect type of project that kids can easily make themselves! Learn how to make a tassel keyring to gift as a thoughtful Mother's Day gift.
What do moms love more than flowers, chocolates, or breakfast in bed for Mother's Day? How about a homemade gift? Homemade gifts give that special "from the heart" touch that will make Mom smile, tear up, and hug their kids all at the same time.
This year, instead of simply giving her flowers and a card, make something that she can actually use! You can make a tassel keychain in only minutes for a perfect simple and useful Mother's Day gift idea she'll love. Plus, this is a fun craft idea that older kids can make for mom all by themselves.
If you want more Mother's Day craft inspiration, be sure to check out Easy Mother's Day Fortune Teller Craft, Free Mother's Day Printable Art Perfect for Framing, and 15 Minute Mother's Day Craft Ideas.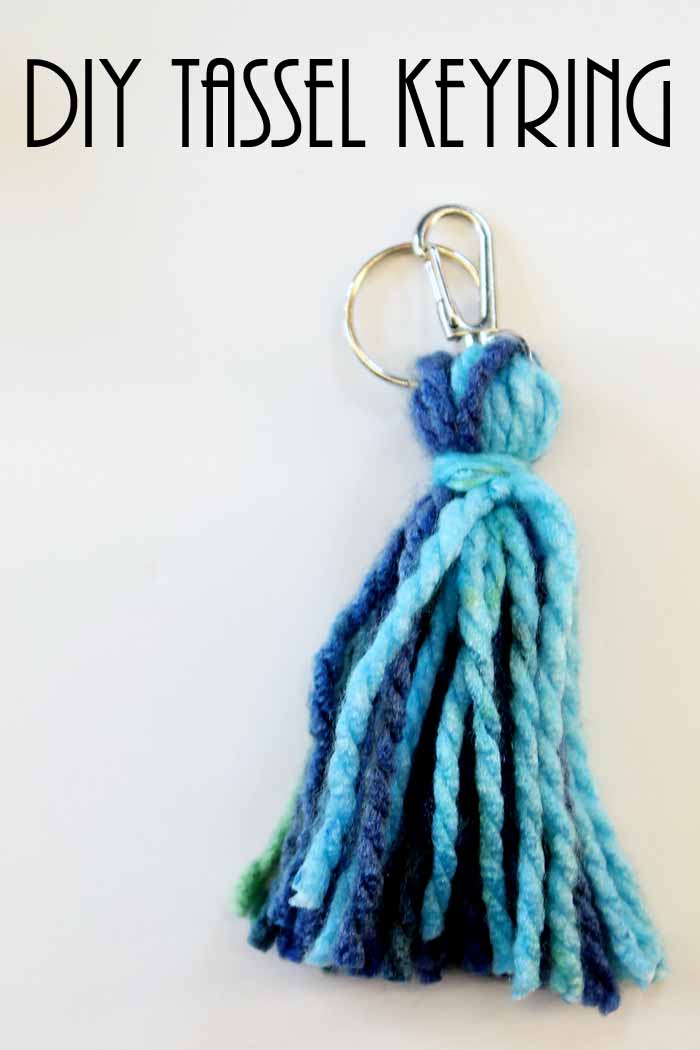 Supplies Needed To Make A Tassel Keychain
Here is the list of all the supplies you'll need to complete this project. In addition, I've included handy links for some items to help you find them easier.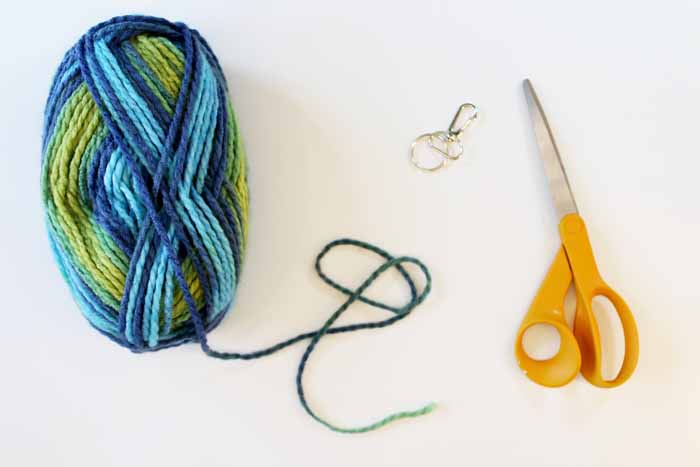 How To Make A Tassel Keychain For Mother's Day
This simple craft is a snap to put together, so kids can make it themselves. Here's how to do it!
Step 1
Start by determining how long you want your tassel then double that length. Cut a piece of your yarn to that length.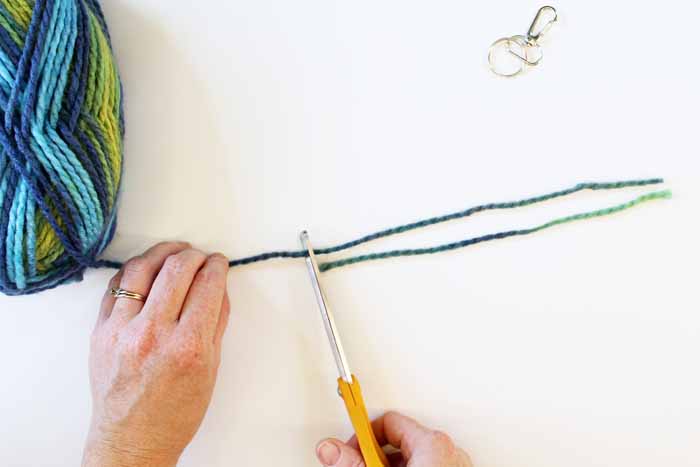 Step 2
Now, cut several strands to that same length. Don't skimp on how many strands you cut because you want your tassel to be nice and full!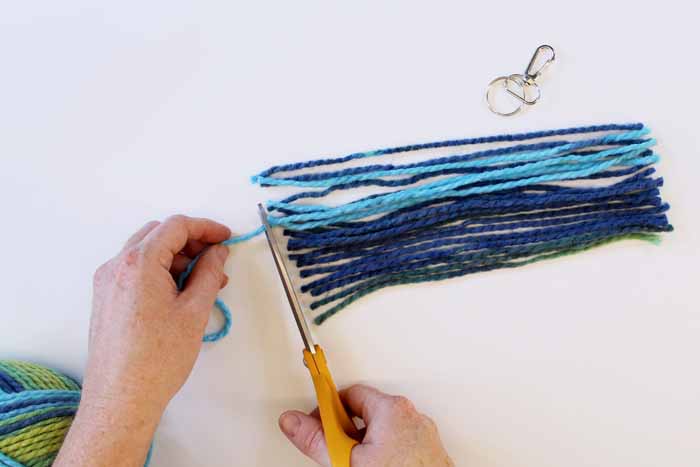 Step 3
Gather the strands together and put all of the strands through the hook portion of the keyring.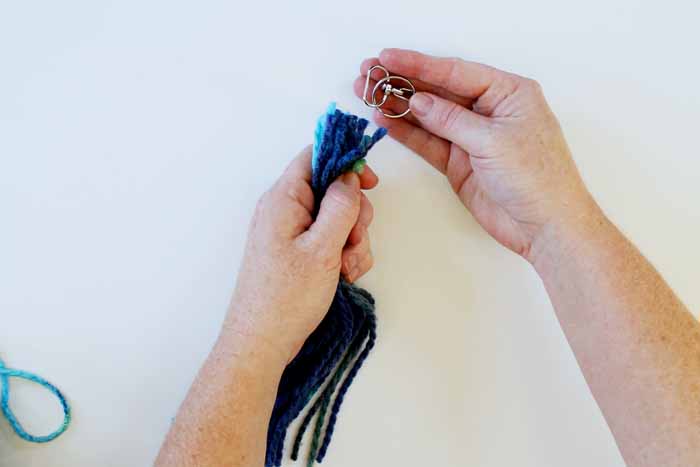 Step 4
While holding the end of your yarn, pull the keyring to the center of your yarn pieces.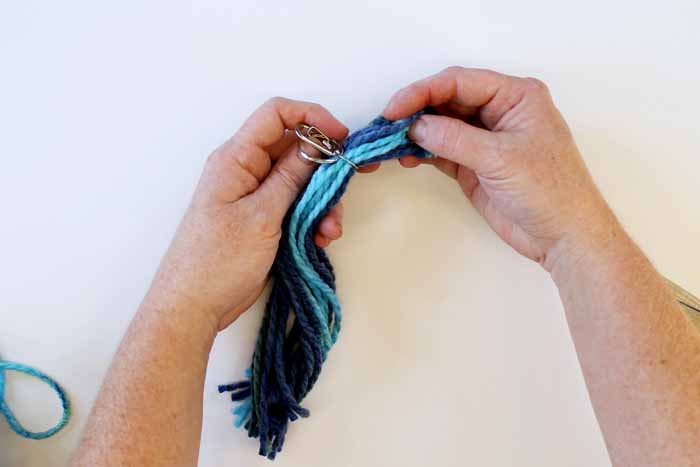 Step 5
Cut another length of yarn (make this one really long and you can trim it down later).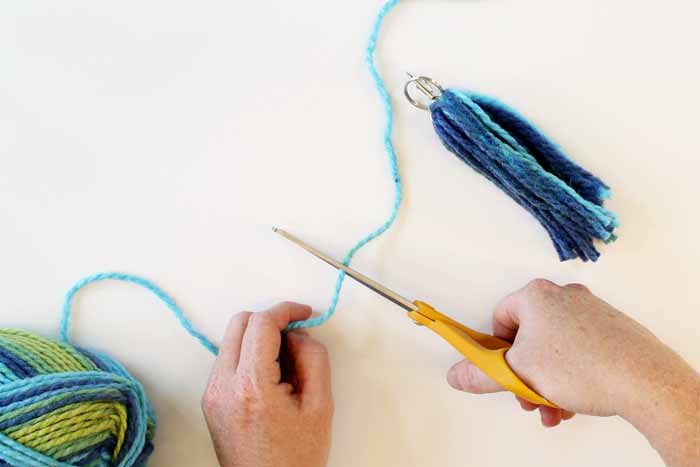 Step 6
Tie the yarn around the tassel as shown below. Then, wrap it around your tassel several times.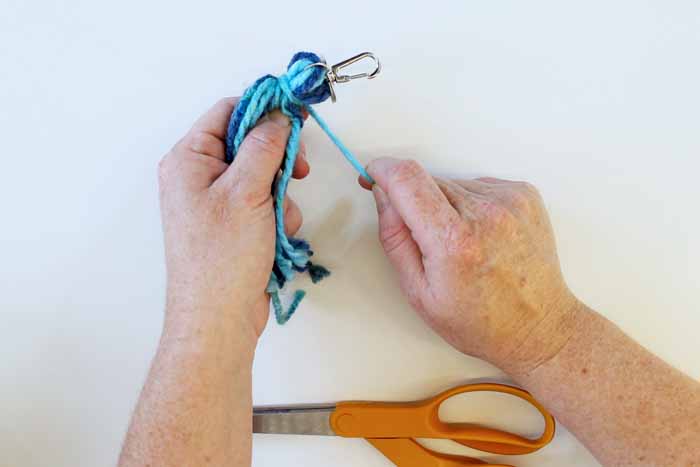 Tie it a second time with a double knot.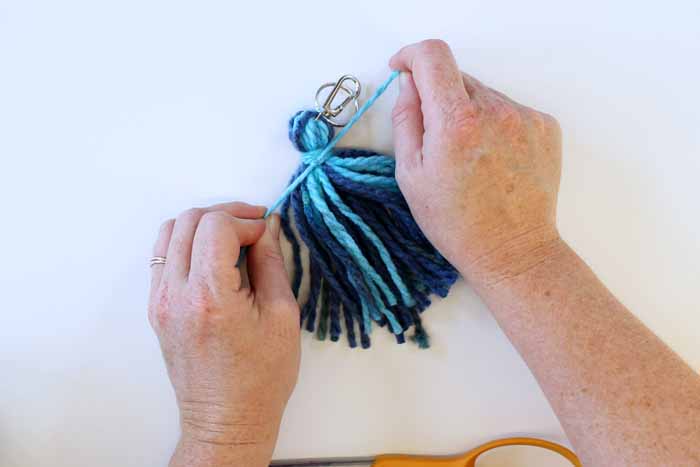 Step 7
Trim all of the yarn to the same length (including these tie strings) with scissors.
Your tassel keyring is complete and ready for gift giving! It's a perfect gift for Mom for Mother's Day or any occasion. You could also make these for friends, family, or yourself!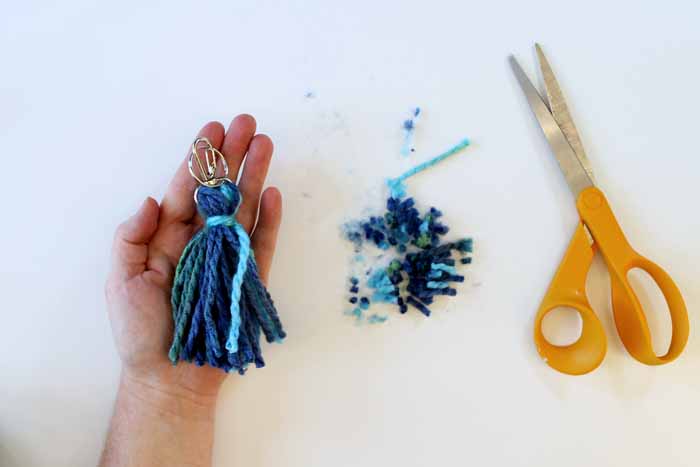 It's quick and simple, right? In fact, this craft is so quick that you can make a bunch of these in just minutes. You might also want to try to make our pom pom key chain.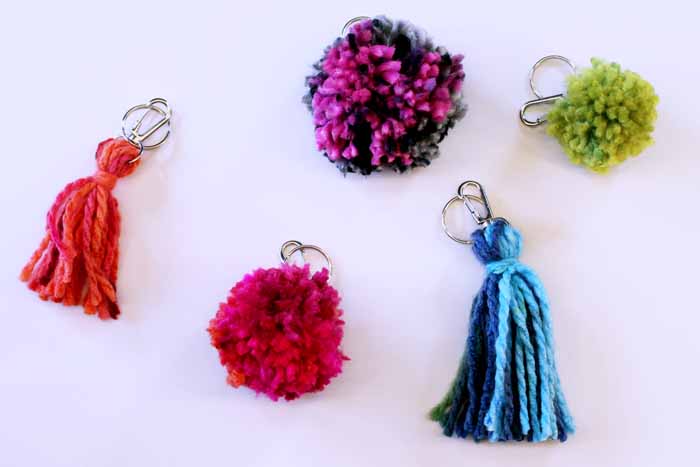 Mom will love this simple gift idea and it's even something she can actually use. The kids will love making them and seeing mom use them. Be sure to pick up mom's favorite color when shopping for the yarn!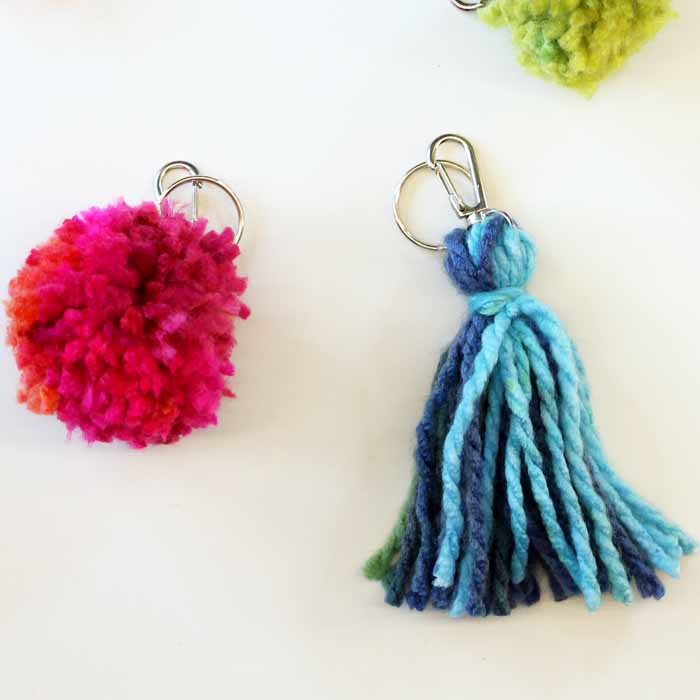 Not sure what you want for Mother's Day? We have a little quiz to help you determine what kind of mom you are! At the end, you can get gift ideas delivered right to your inbox. Let us know what your result is in the comment section below.
Love This Tassel Keychain? Here Are More Mother's Day Gift Ideas
Make this tassel keyring or check out some other DIY Mother's Day ideas. Here are some impressive 15-minute craft ideas that Mom will love from some of my friends!
If you have a gift made but need some creative wrapping, Let Pet Scribbles show you how to paint paper mache boxes to wrap gifts. This is so cute! Don't forget the card!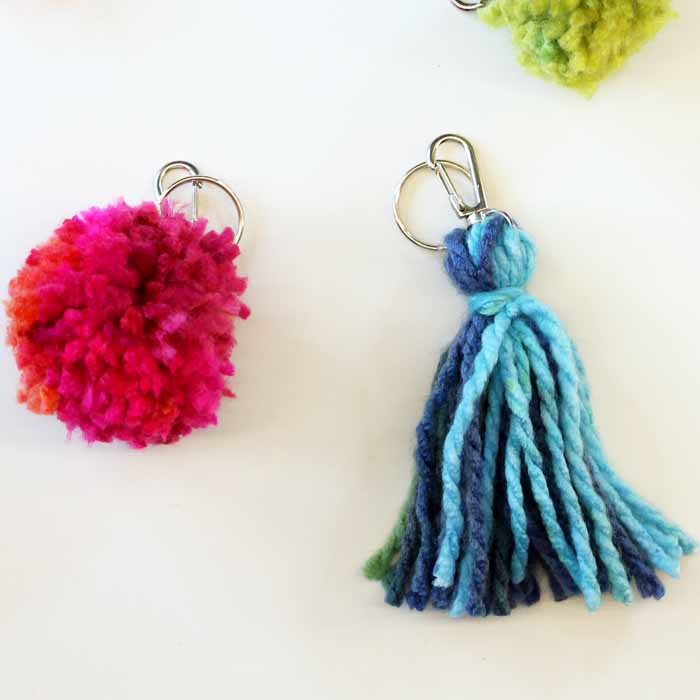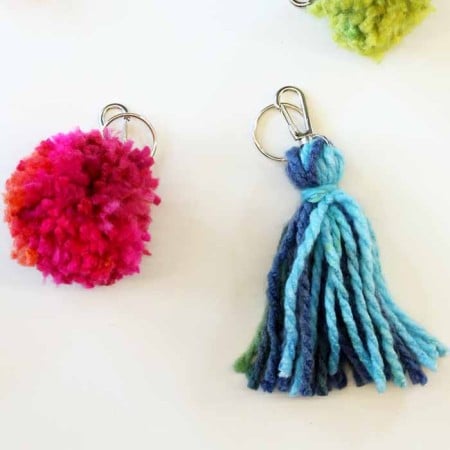 How To Make A Tassel Keychain
This quick and simple craft makes a wonderful gift idea for Mom at Mother's Day or any time of the year! It's so quick and easy, that you can make one for everyone you know.
Supplies
Yarn

in Mom's favorite colors

keychain with clasp

Ruler
Instructions
Decide how long you want the tassel to be. Double that length and cut a strip of your yarn to that doubled lenth.

Cut many strands of yarn to the same length to create a full tassel.

Pull the yarn strands through the hook part of the keychain.

Pull the keychain to the center of your yarn strands.

Cut a longer piece of yarn.

Tie the longer strand of yarn to your tassel near the top and wrap it around the tassel several times. Tie off the yarn piece with a double knot.

Use scissors to trim all the yarn pieces to the same length. Your tassel is complete!
Tried this project?
tag us to show off your work!