If you're searching for the perfect gift for Mom this year, check out this 'You Are My Sunshine' Cricut Mother's Day card! It's the perfect DIY craft to let kids make their own special gift for mom or grandma and add their own special touch!
It's cliché to say that moms do so much, but hey, clichés are clichés because they're true, right? Moms often don't get the thanks they deserve, and they're ok with that. But, it's nice to take a day to shower mom in some love on Mother's Day and show her just how much she's loved and appreciated.
And, homemade gifts from their little ones are one of the best ways to show her she's loved. Need ideas? Make her a Mother's Day Printable Art Perfect for Framing, Hand Print Tray, or Tassel Keychain.
Next up on the list: a Mother's Day card!
Learn how to make an adorable Mother's Day card with your Cricut machine. This cute 'You Are My Sunshine' Cricut Mother's Day card is something even toddlers and preschoolers can help with since it has a handprint right on the front!
Mother's day card ideas like this one make touching gifts every mom will love.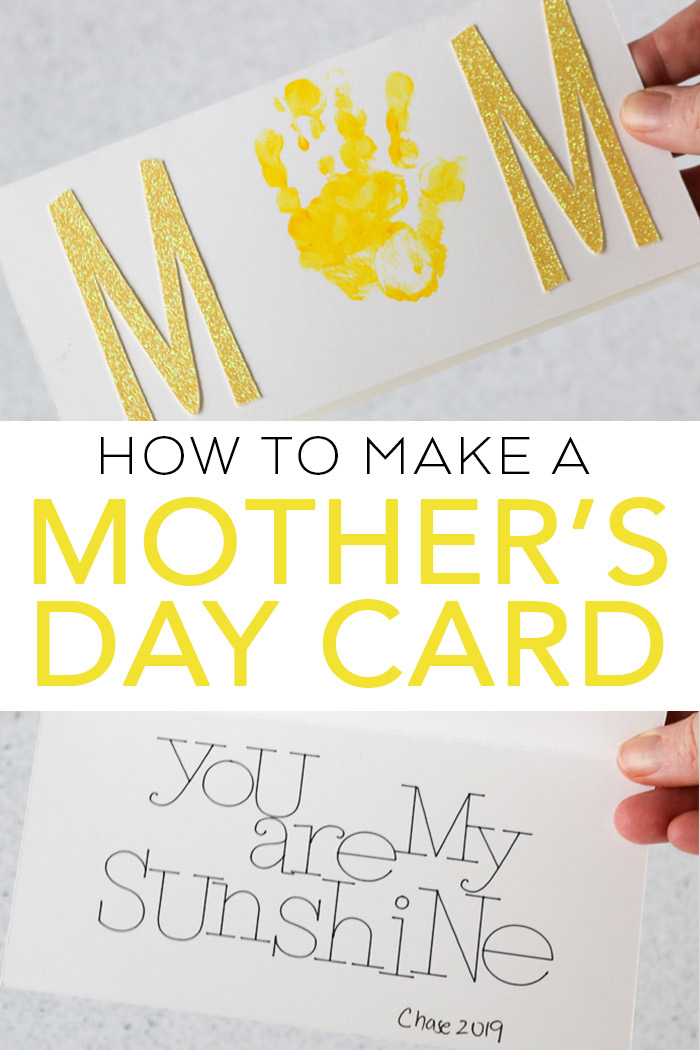 How To Make A Cricut Mother's Day Card
Your Cricut machine will do all the heavy work with this project. All you have to do is put it together and add the handprint! Here's what you'll need to gather for supplies and how to make the card.
Supplies Needed
I've included a few links to make finding certain items faster and easier.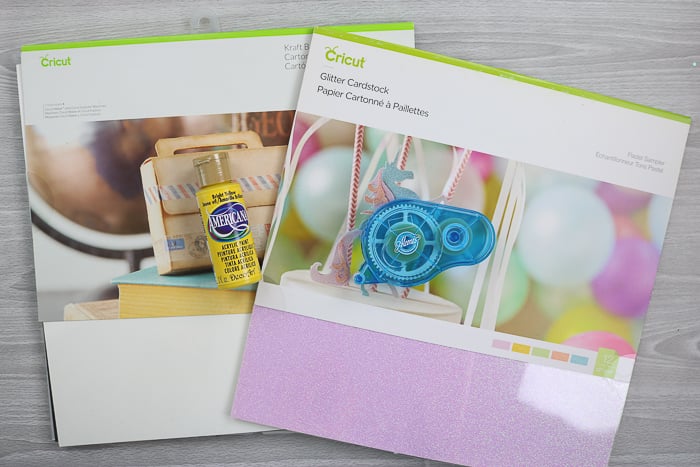 Instructions
Here's your step-by-step guide to making a Mother's Day card she'll treasure!
Step 1
First, you will need to cut your pieces with your Cricut machine. Click here to access the file and resize it if you need to before cutting!
The machine will ask for your pen to draw the inside lettering before cutting the card. You will also need a scoring wheel or stylus, and the machine will ask for those as well when it's ready for them.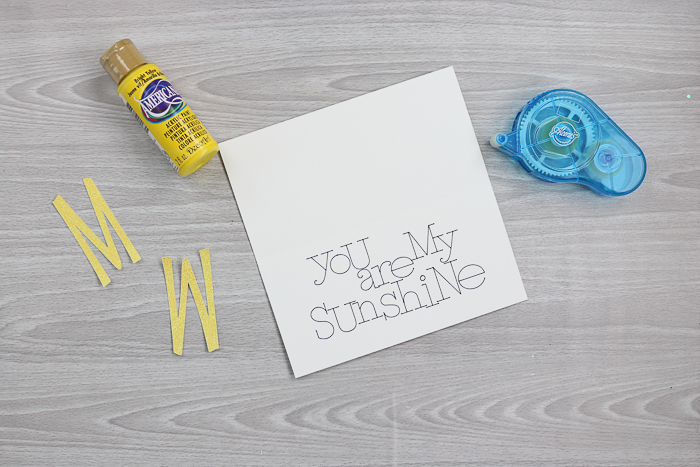 Step 2
Fold the card along the scoreline.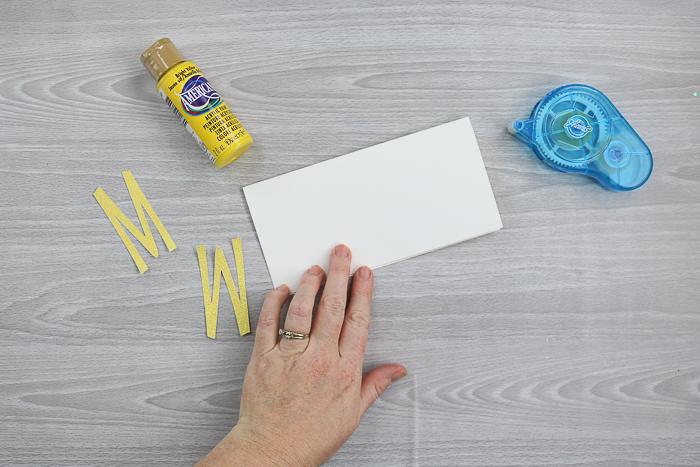 Then, place your letters on the card without adhesive to get an idea of how much room you will have in the center.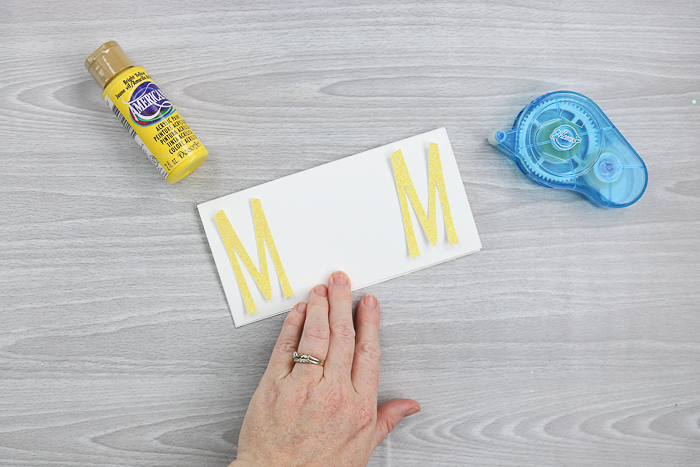 Step 3
Let's add the handprint! Paint yellow paint on the child's hand with a paintbrush and push it down gently on the center of the card as shown. Allow the paint to dry completely.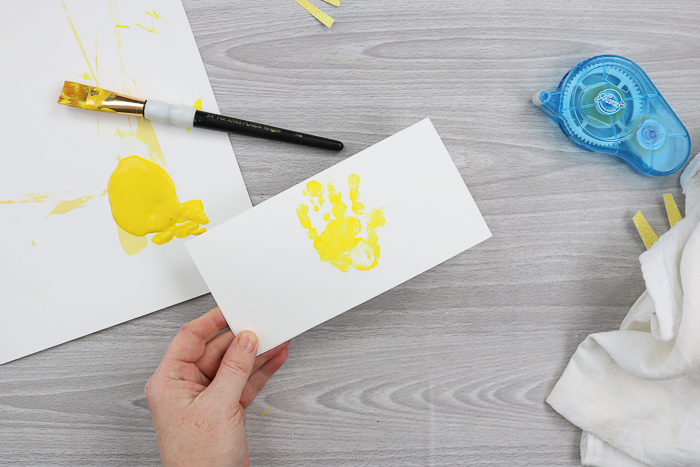 Step 4
Now use adhesive to add on the letters on both sides.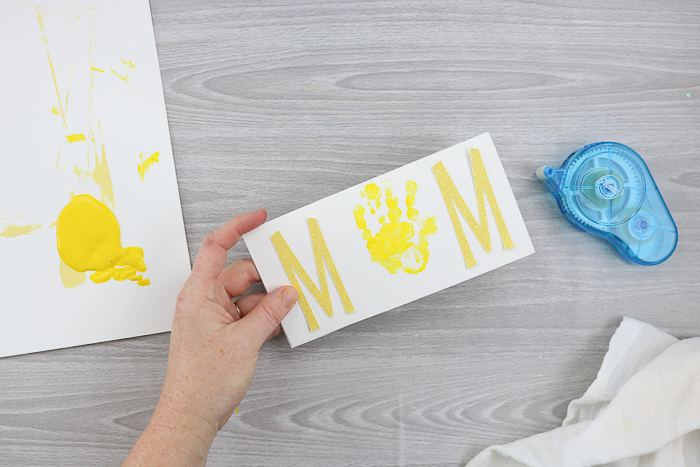 Step 5
Write the child's name and date on the inside of the card. You can have them do this if they are old enough.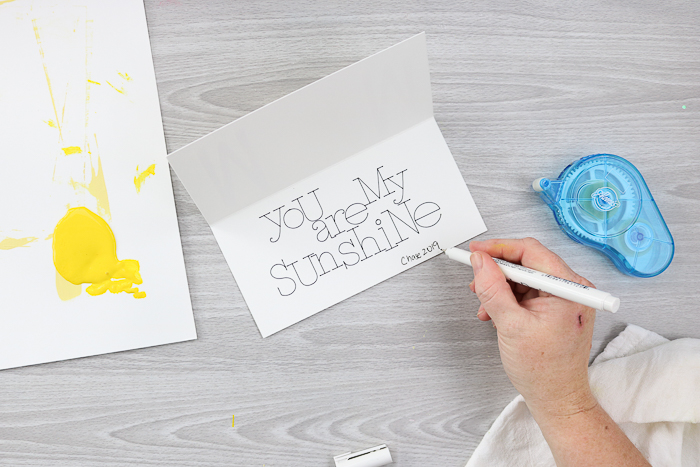 And your card is done! Now that you have learned how to make a Mother's Day card, did you know just how simple it could be?
In fact, it's so quick and easy that it's easier to make this card than it is to go to the store and search for one to buy.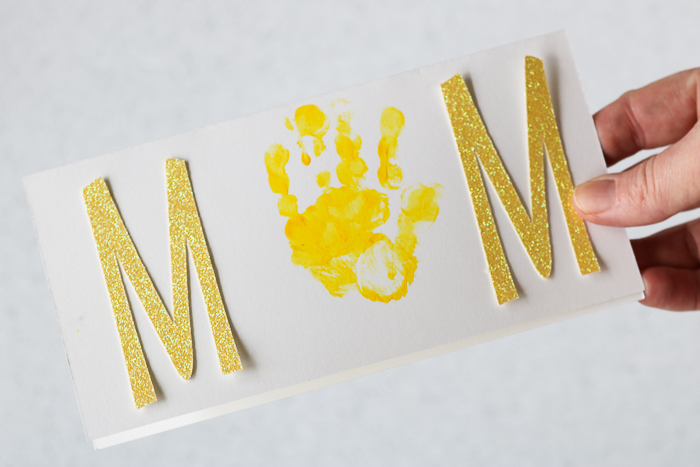 Mom will treasure that cute handprint on the front.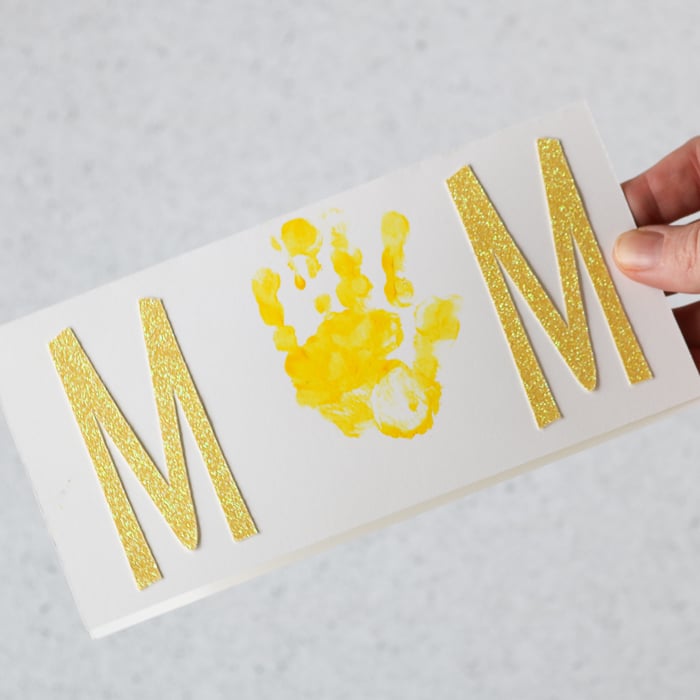 FAQs
Here are a couple of questions that I see readers ask regarding how to make projects like this Cricut Mother's Day Card. If you have a question, please check to see if it's already answered below. Don't see it down below? Leave it for me in the comments!
Which Cricut machine should I use?
You can use any Cricut machine to make these DIY Mother's Day cards! It really doesn't matter for this project, so use it if you only have one. On the other hand, if you're like me and have multiple, use the machine you prefer most.
Can I use regular printer paper instead of cardstock?
Technically, yes, you can. However, I wouldn't recommend it because the paper is too flimsy and will bend or tear quickly. If you don't have cardstock on hand, it's worth buying it for this and other card crafts you want to make because it's much sturdier.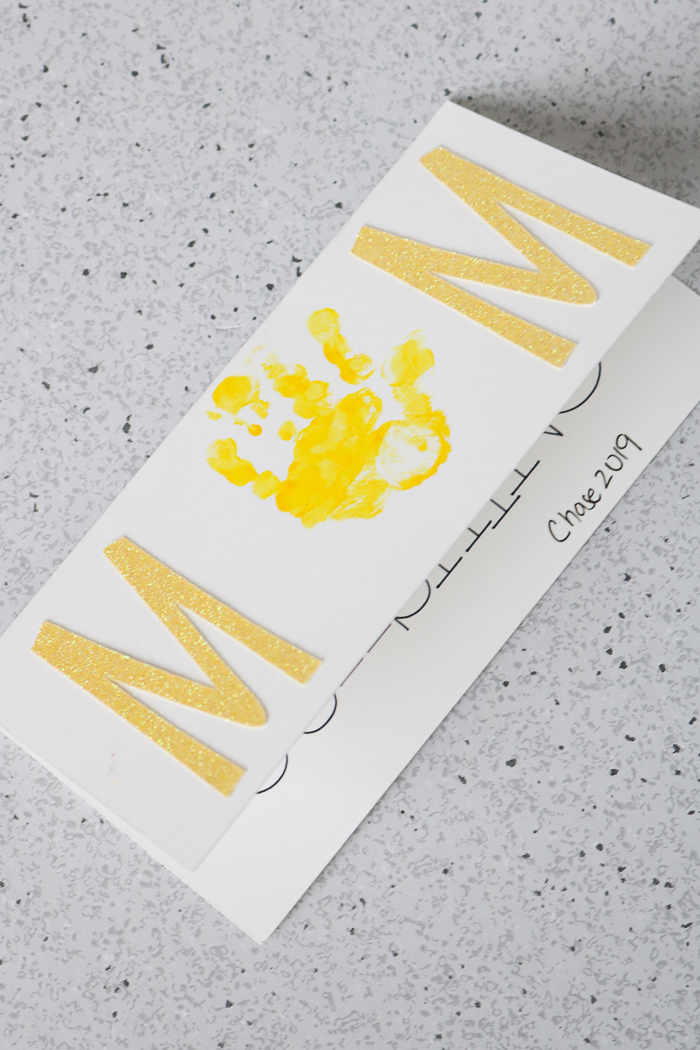 You can't go wrong with a handmade card for mom! Make your own Mother's Day card to surprise mom with this year.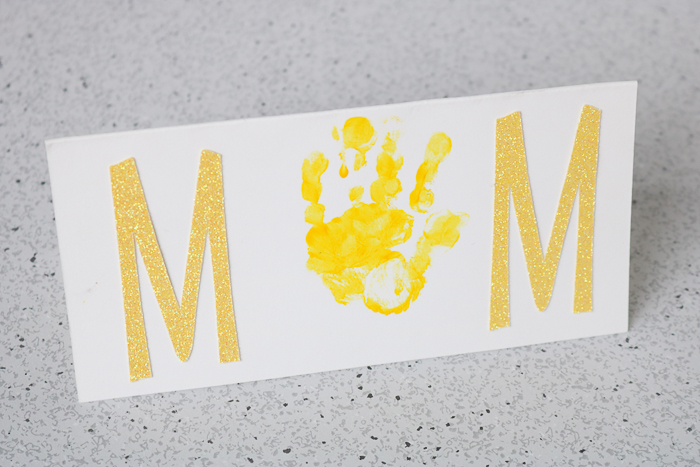 This is one card she will treasure for many years to come!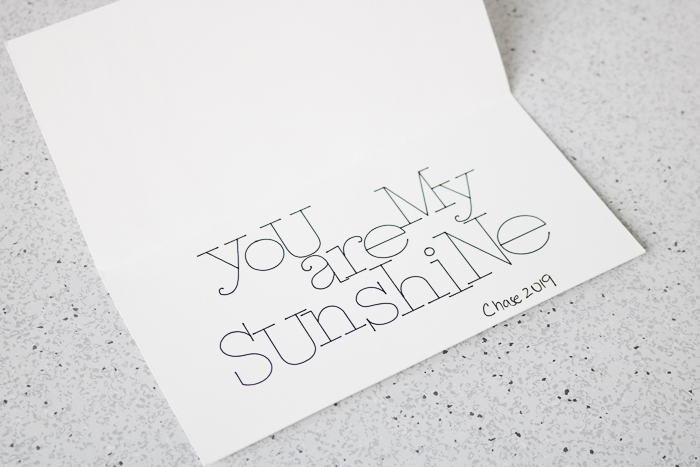 Now that you know how to make greeting cards for Mother's Day at home, what will you make this year? Use our tutorial on how to make a Mother's Day card to make this fun card or try one of the other ideas mentioned above!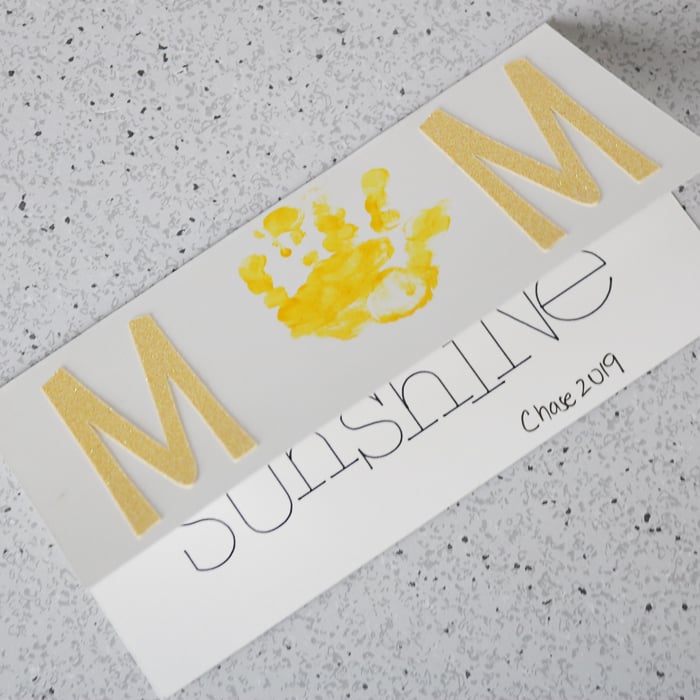 More Cricut Mother's Day Card (And Other) Ideas To Make For Mom
Need some more ideas to make mom smile? Try the cards and gift ideas below! You'll find options that kids of all ages can make.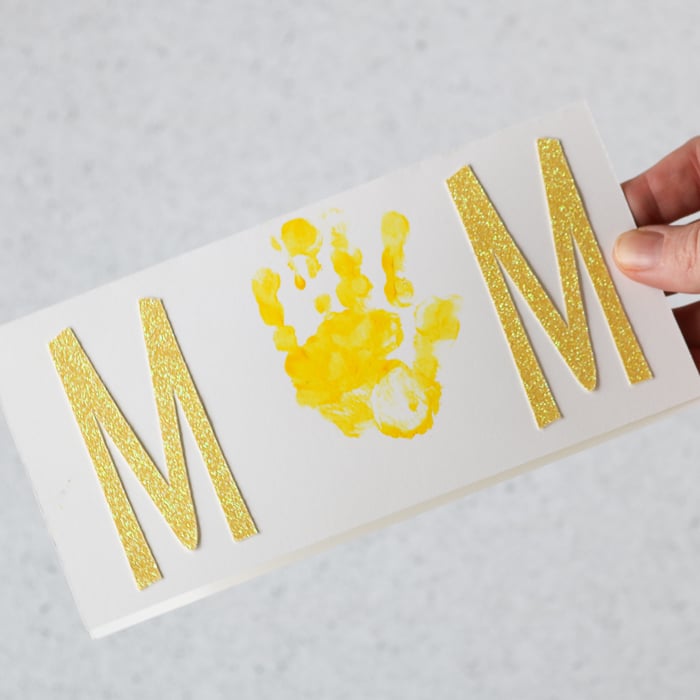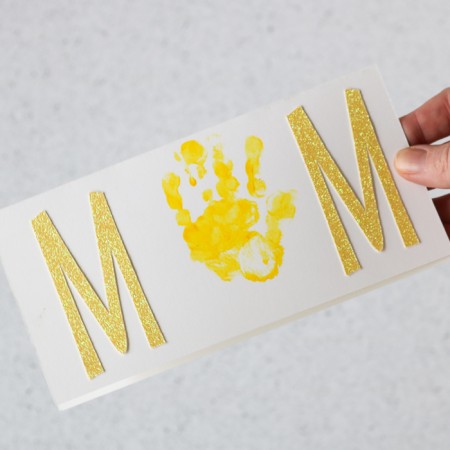 You Are My Sunshine Mother's Day Card
Use your Cricut to make this quick and easy Mother's Day card that mom will treasure. It's even easier than going to the store to buy a card, and she'll appreciate it even more!
Supplies
Glitter card stock

Cricut machine

Yellow paint

Adhesive

Cricut pens

Scoring stylus

or wheel
Instructions
Grab the access file and resize it if you need to before cutting. Cut out the "M" pieces and have your Cricut machine write on the inside of the card.

Fold the card on the score line and place the letters on the front of the card for spacing.

Use a paintbrush to paint yellow paint on a child's hand. Press the child's hand gently but firmly down on the paper in the center. Allow the paint to fully dry.

Use adhesive to apply the "M"s to the card on either side of the handprint.

Handwrite the child's name and year on the inside of the card. Your card is now ready to give to mom!
Tried this project?
tag us to show off your work!
New to Cricut?
Sign up for our email list to download the Beginner's Guide to Cricut Design Space for FREE today!
Sign up to get the guide emailed to you!