Ever wanted to learn how to use watercolor pencils? I am here to show you! I have been using watercolor pencils for some time and absolutely love them! I believe it is the easiest way to do watercolor art. I think anyone can make watercolor art with these tools. Note that some links in this post may be affiliate links.

How to Use Watercolor Pencils
Start with a pack of watercolor pencils (I think any brand will work). You will also need an image to color. My friend Dawn Nicole asked me to review her book Words to Live By and this was the perfect opportunity to give it a test drive. I used one of the pages in the book as my example. If you think this book would be a fabulous addition to your home, be sure to read to the bottom of this post where I am giving one away!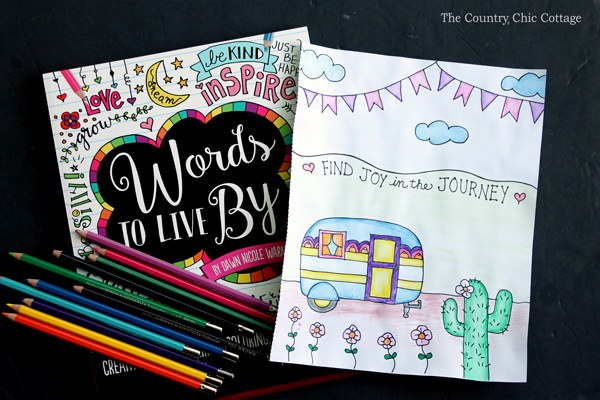 To really teach you how to use watercolor pencils, I needed to show you! So I did a brief video with my techniques for using them. You can watch the video below.
I use a few techniques that are demonstrated in the video:
Apply pencil to the outside edges of a shape then fill in with a wet paint brush.
Apply water to an area then color in with a pencil. This results in darker colors.
Apply pencil lightly over very large areas and use the wet paint brush to fill it in.
Overall using watercolor pencils is extremely easy. Play around with the above mentioned techniques and you will be an expert in no time.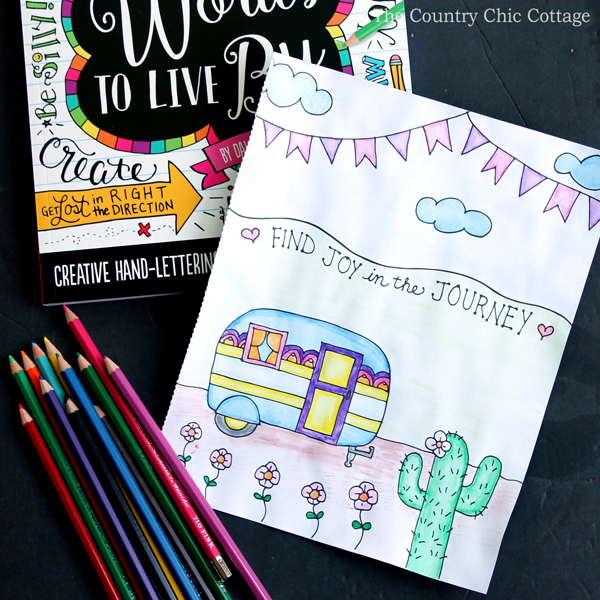 A few more important notes about using watercolor pencils is to make sure that you have a really thick piece of paper to start. Regular paper just will not work as it will get too wet. Also if you use a page printed from your printer you have to be extremely careful that the ink does not bleed when you get it wet. That is why the pages in the Words to Live By book are perfect for practicing your watercolor pencil skills. They are thick and the ink will not bleed when wet. What else will you find in the book? Words to Live By is a unique combination of inspirational quotes, hand-lettering tips and techniques, and fun coloring pages. You can learn to hand letter and get 24 coloring pages all in the same book! It really is a gorgeous book that is perfect for those that either want to hand letter or are loving the adult coloring trend.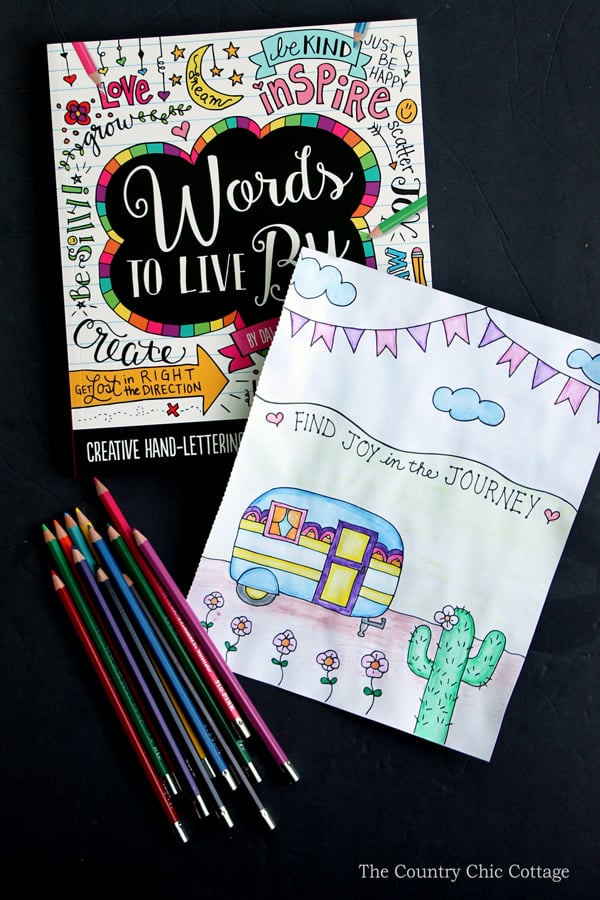 You can actually click here if you would like to download this camper coloring page for free and print at home. Or you can click here to buy the entire book from Amazon. Feeling lucky? You can enter to win your own copy in the widget below. Must be 18 years or older and live in the US to enter. Void where prohibited. Winner will be announced in the widget below when the contest ends. Winner has 48 hours to supply shipping information before another winner is chosen. Good luck!
I hope y'all enjoyed learned how to use watercolor pencils. I know that they will be in your "must have" list of craft supplies in no time at all! Pick up the book Words to Live By from Dawn Nicole as well. The quality of this book alone for the price will make you smile! Bonus….you get 24 pages of cuteness to practice your watercolor pencil skills!