Jen Goode with 100 Directions is back again this month with this easy watercolor art banner decor that you can make for your home. I love watercolor! If you do as well, be sure to follow along below!
Over the years I've been working on making my craft room a place to enjoy, not just make stuff. I've been trying to add little personal touches and decor accents. Today I'm going to show you how to make your own art banner you can use to decorate your own craft room. This is also an easy banner to make for a party.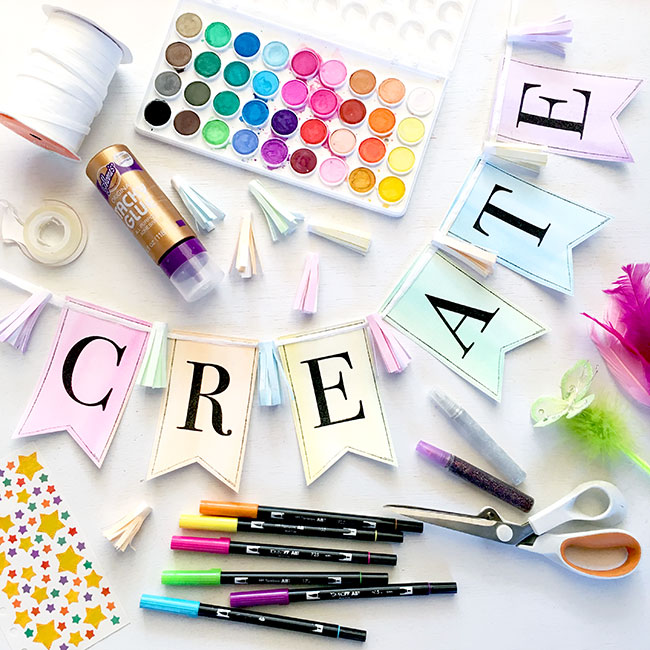 Easy Watercolor Art Banner Decor
For this project I made the word "Create". You can make any word you'd like. Pick something that will inspire you and add a little extra fun to your creative space. I also made my own quick watercolor wash to add extra color to the banner. You can also use colored paper if prefer.
Materials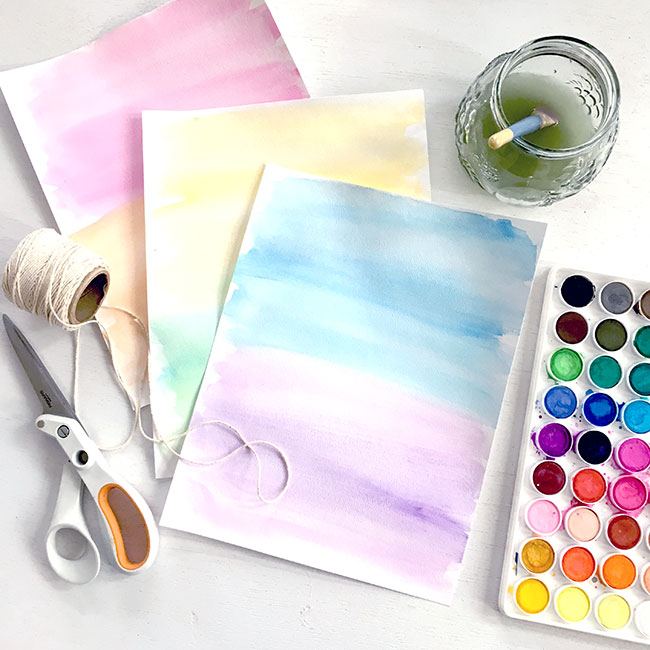 Instructions
Paint the paper with a watercolor wash and allow to dry. I added two colors to each page, making sure to apply the colors in order you want create your banner. In this case, I made a rainbow with the color so red (pink) and then orange, yellow, etc.
Print the alphabet letters on to the cardstock. Make sure to flip the paper in the right order so your printer prints on the colored side of your paper. I like to test this on a blank page first. Resize the letters to create the banner size you'd like. I printed these letters at 70% of the original size.
Cut out each letter banner.
Lay all the letters out in order and then glue the twine to the front of each letter. Allow to dry.
For extra fun, use the leftover colored paper to make your own tassels and then glue the tassels to your banner.
Hang it up to display and enjoy!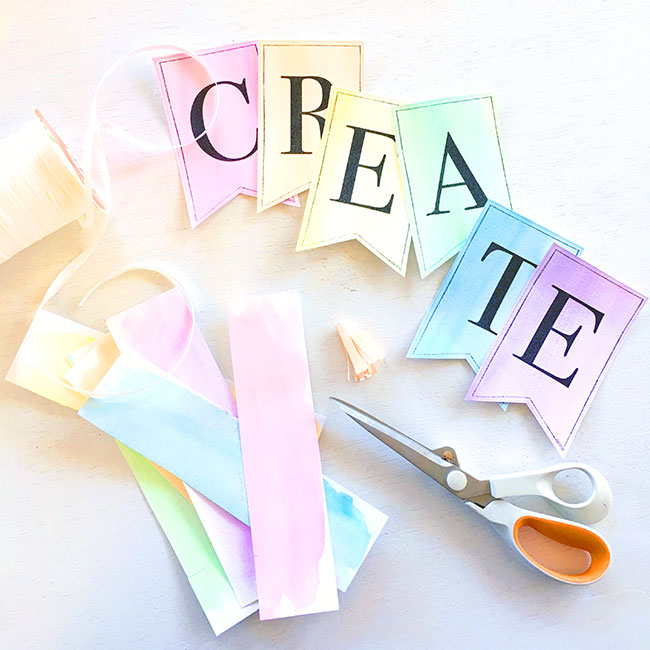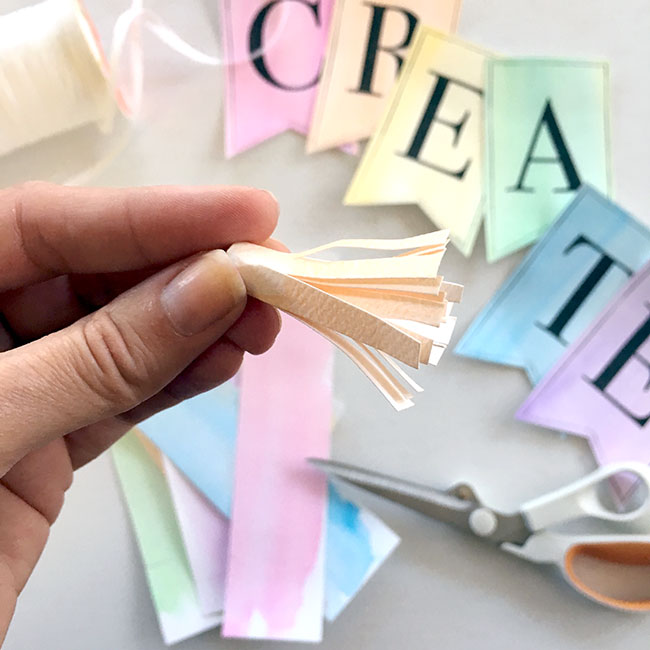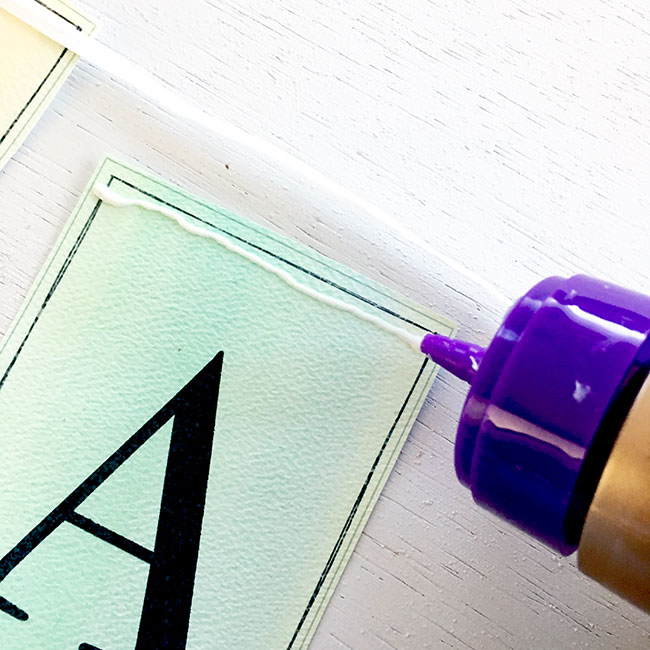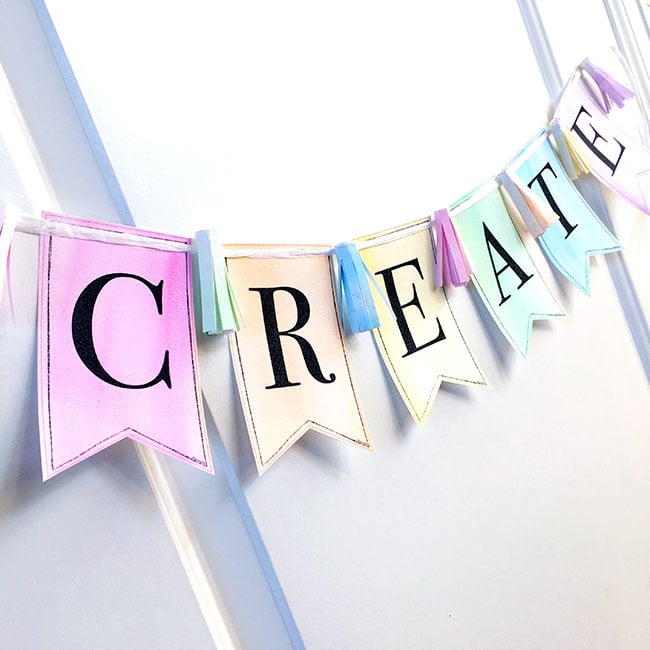 You can have so much fun with this art banner project. Make a bunch of different words and string them up together to create a motivational banner decor piece for your craft room. Or make multiples of the same word to hang as a decorative garland. You can also make mini banners to use for fun party decor.
Download your copy of the alphabet banner letters here.
Make your own Happy banner – tutorial
I can't wait to hear what you create!