Do you love to color? I sure do! And I'm excited to share my favorite tips for using watercolor pencils with you. Watercolor pencils are a great way to add some extra color and life to your coloring pages. In this post, I'll teach you how to use them like a pro!
I have been using watercolor pencils for some time and absolutely love them! I believe it is the easiest way to do any kind of watercolor art.
While many commonly use watercolor paints and brushes to paint, I find that using this kind of pencil is a great way to start. The pigment is already in the pencil so you can just start drawing and adding color to your work.
I think anyone can make watercolor art with these tools!
Note: If you love watercolor projects, check out my tutorials for Watercolor Hoop Art and this easy Watercolor Art Banner.

How To Use Watercolor Pencils
The key with watercolor pencils is to layer the colors. Add light layers of color at first and then build up the intensity as needed. You can also add water to the color to create a wash effect!
Supplies Needed:
Here is everything you need to get started with your own watercolor pencil projects…
My friend Dawn Nicole asked me to review her book Words to Live By and this was the perfect opportunity to give it a test drive!
I used one of the pages in the book as my example.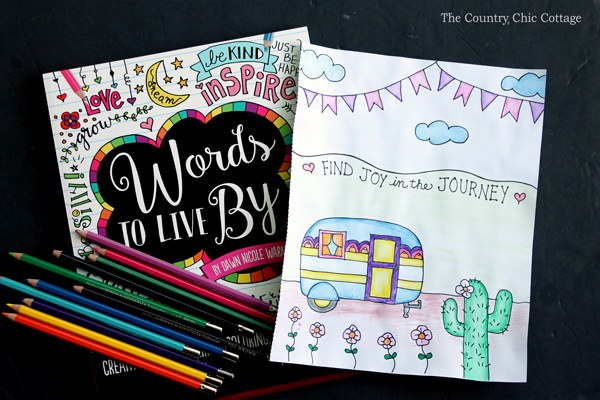 Watch My Video Tutorial!
To really teach you how to use watercolor pencils, I needed to show you! So I did a brief video with my techniques for using them. You can watch the video below.
My Most Used Techniques When Using Watercolor Pencils
I've played with my watercolor pencils for a while now and I think I've finally nailed down 3 techniques I love the most:
Apply the pencil to the outside edges of a shape then fill in with a wet paintbrush.
Gently add water to an area then color in with a pencil. This results in darker colors.
Apply the watercolor pencil lightly over very large areas and use the wet paintbrush to fill it in.
Overall using watercolor pencils is extremely easy. Play around with the above-mentioned techniques and you will be an expert in no time!
The Best Tips For Using Watercolor Pencils
A few more important notes about using these colorful pencils…
Take this opportunity to experiment with different colors. I love making my own color palette using a few watercolor pencils.
If you make a mistake, don't worry! You can use a wet paintbrush to erase any mistakes (or color over it).
Make sure that you have a really thick piece of paper to start. Regular paper just will not work as it will get too wet. Using textured paper makes a HUGE difference!
Also, if you use a page printed from your printer, you have to be extremely careful that the ink does not bleed when you get it wet.
That is why the pages in the Words to Live By book are perfect for practicing your watercolor pencil skills. They are thick and the ink will not bleed when wet!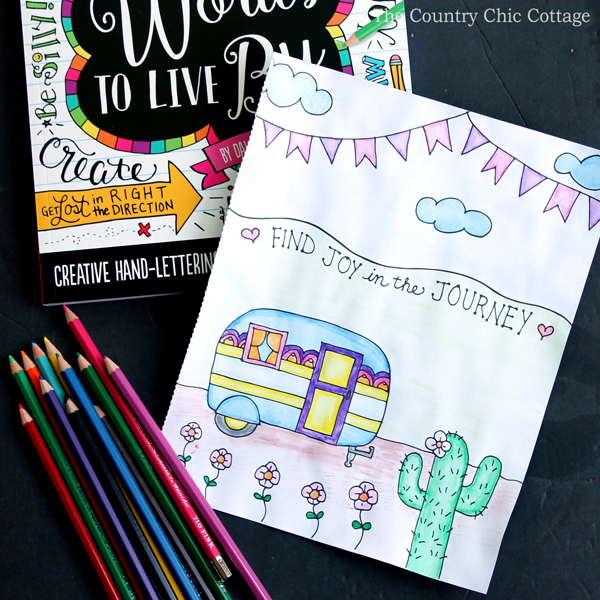 FAQs
Here are a couple of questions that I see readers ask about learning how to use watercolor pencils. If you have a question, please check to see if I've already answered it below. Don't see it? Leave it for me in the comments!
What is the difference between watercolor pencils and colored pencils?
The main difference between watercolor pencils and colored pencils is that you add water to the watercolor pencil to create a wash effect. This makes the color lighter and more transparent. With colored pencils, you would just add more layers of color to achieve a similar result.
Can you use watercolor pencils dry?
Yes, you can use watercolor pencils dry. However, I find that they work best when you add a little bit of water to them.
Are watercolor pencils good for beginners?
Watercolor pencils are great for beginners because they are easy to use and the pigment is already in the pencil. You don't have to worry about mixing colors or anything like that.
Just start coloring and you will be able to create beautiful artwork!
What else will you find in the coloring book, Words To Live By?
Words To Live By is a unique combination of inspirational quotes, hand-lettering tips and techniques, and fun coloring pages. You can learn to hand letter and get 24 coloring pages all in the same book!
It really is a gorgeous book that is perfect for those who either want to hand letter or are loving the adult coloring trend.
Grab Your Freebie!
You can actually click here if you would like to download this camper coloring page for free and print it at home. Or, you can click here to buy the entire book from Amazon.
I hope y'all enjoyed learning how to use watercolor pencils. I know that they will be in your "must-have" list of craft supplies in no time at all!
Pick up the book Words to Live By from Dawn Nicole as well. The quality of this book alone for the price will make you smile! Bonus….you get 24 pages of cuteness to practice your watercolor pencil skills!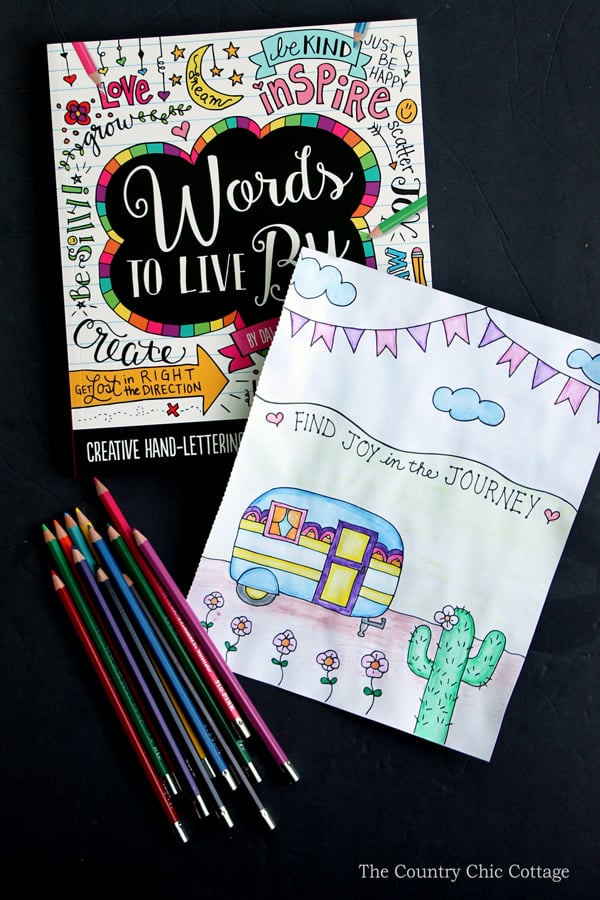 More Watercoloring Projects: